Seeking vegan delights? Wondering if there's anything vegan or vegetarian on the Outback menu? Dive into our guide to "What are the vegan options at Outback" and find the perfect plant-based meal to satisfy your taste buds.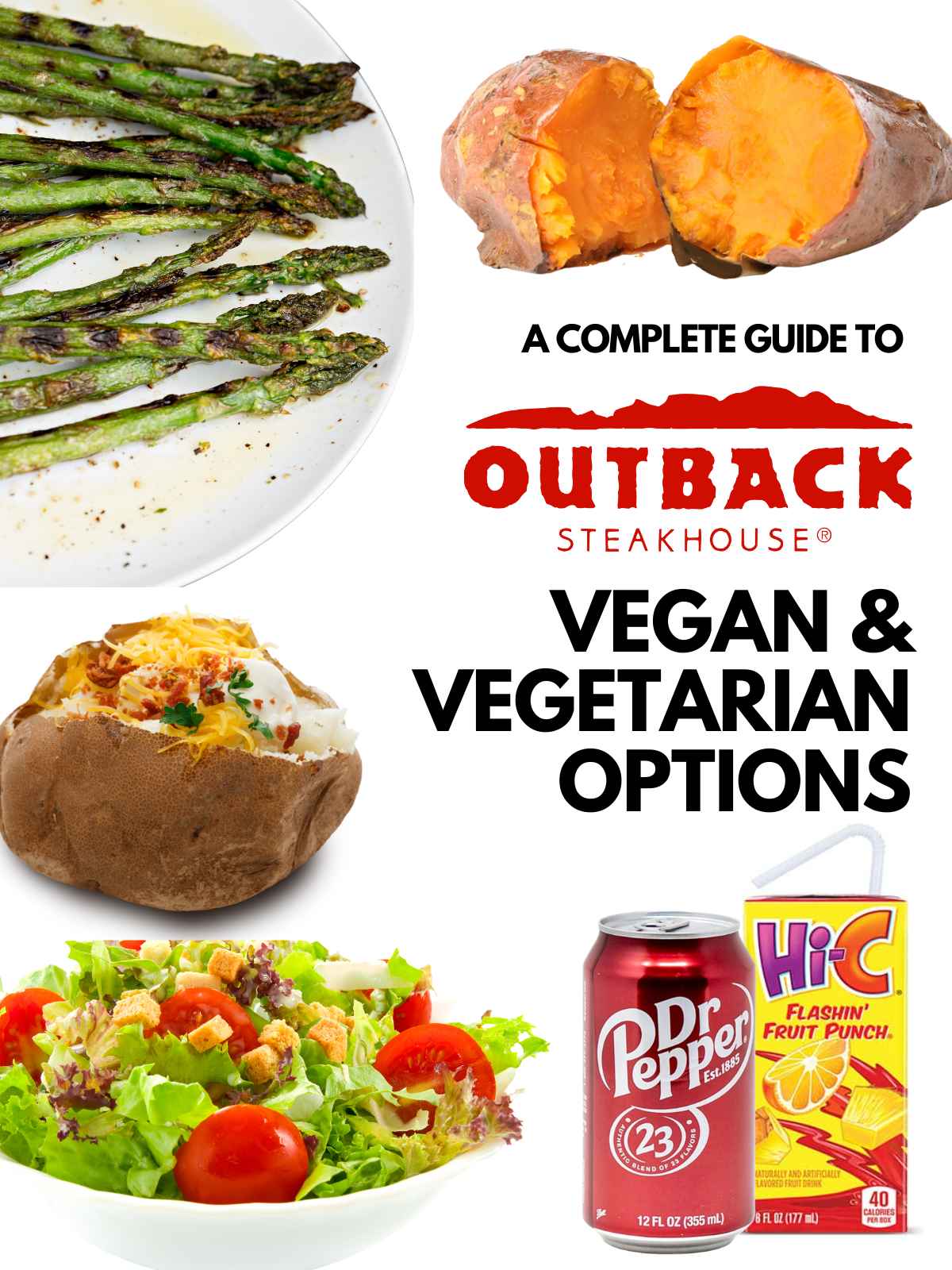 While Outback Steakhouse is a meat lover's paradise, it may not be the top choice for vegans looking for a satisfying meal. Unfortunately, the menu doesn't offer any specific vegan options. If you're a vegan, you might be disappointed by the lack of suitable choices at Outback Steakhouse, and I wouldn't necessarily recommend it as your first choice for a fulfilling dinner.
That said, if you find yourself in an Outback Steakhouse with friends or colleagues who are meat enthusiasts, there are a few accidentally vegan items on the menu that can help you enjoy a meal without compromising your vegan principles. Here are some potential vegan options you might discover at Outback Steakhouse.
Jump to:
House Side Salad
House salad at Outback Steakhouse is made up of fresh mixed greens, dressing of choice, cucumbers, Monterey Jack and Cheddar cheese, tomatoes, red onions, and homemade croutons.
To make it vegan you can order a house salad without cheese and croutons and ask for a vegan salad dressing option.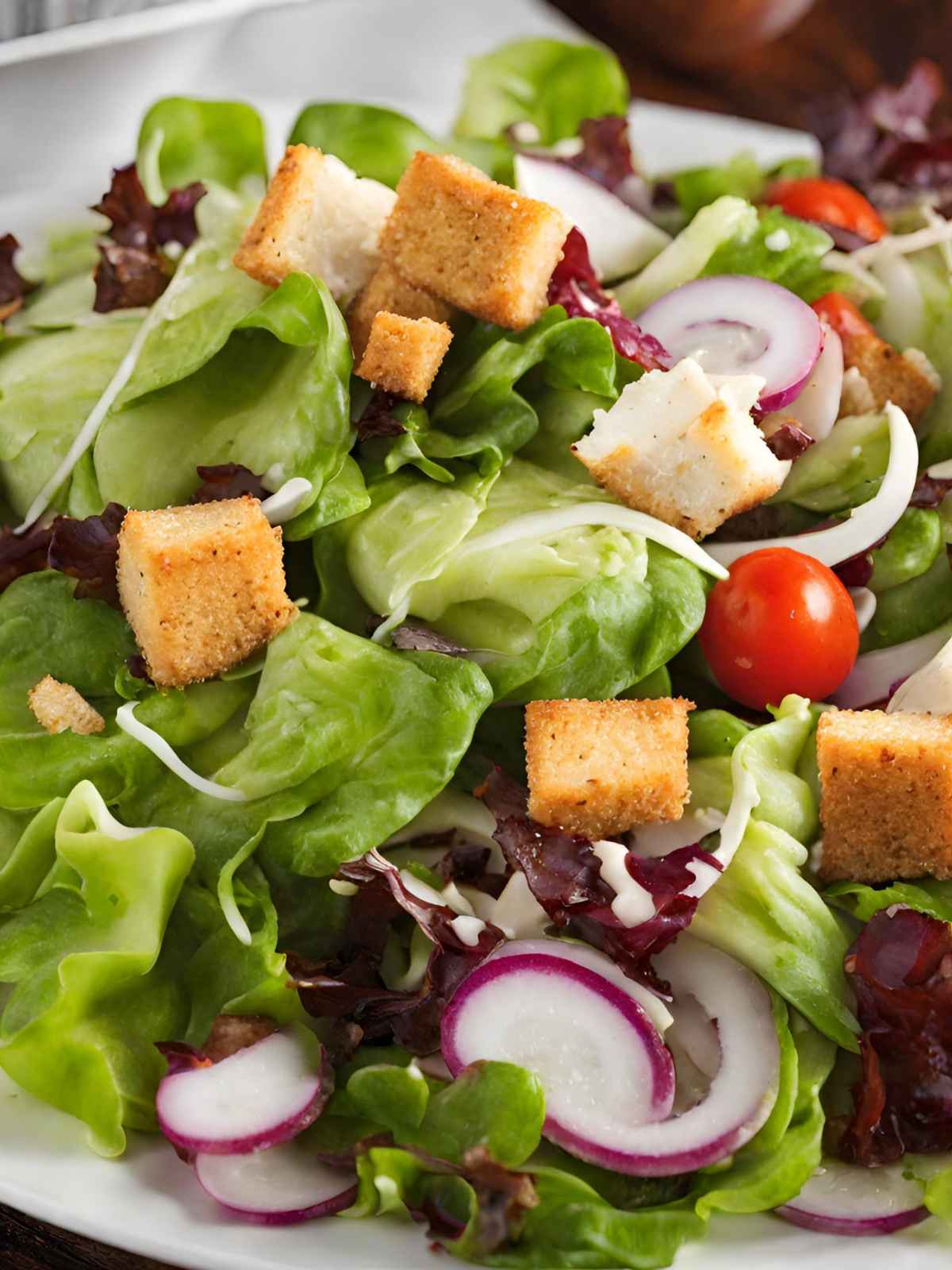 Blue Cheese Pecan Chopped Salad
This salad at Outback comprises chopped-style mixed greens with red cabbage, shredded carrots, Aussie Crunch, cinnamon pecans, and green onions, all tossed with Blue Cheese vinaigrette and topped with Blue Cheese crumbles.
To make this salad vegan-friendly, you can simply request it without the blue cheese crumbles and ask for a vegan salad dressing instead of the blue cheese vinaigrette. I've personally found that tangy tomato salad dressing pairs wonderfully with this salad.
Vegan Salad Dressings
If you look at the Allergen Information of the Outback most of their salad dressings have egg and dairy in them making them not suitable for vegans. Salad dressings that are vegan at Outback are
Tangy Tomato
Light Balsamic Vinaigrette
Mustard Vinaigrette
Oil & Vinegar
Choose any of these four salad dressings to make your salads vegan.
Dressed Baked Potato
Dressed baked potatoes are filled with butter, cheese, sour cream, bacon, and chives after baking.
You can customize your baked potato by ordering it plain with just salt and chives. It's disappointing that there aren't more vegan topping choices available. However, if you'd like, you can always bring along a small pack of peanut butter or vegan butter to add your preferred dressing to the plain baked potato.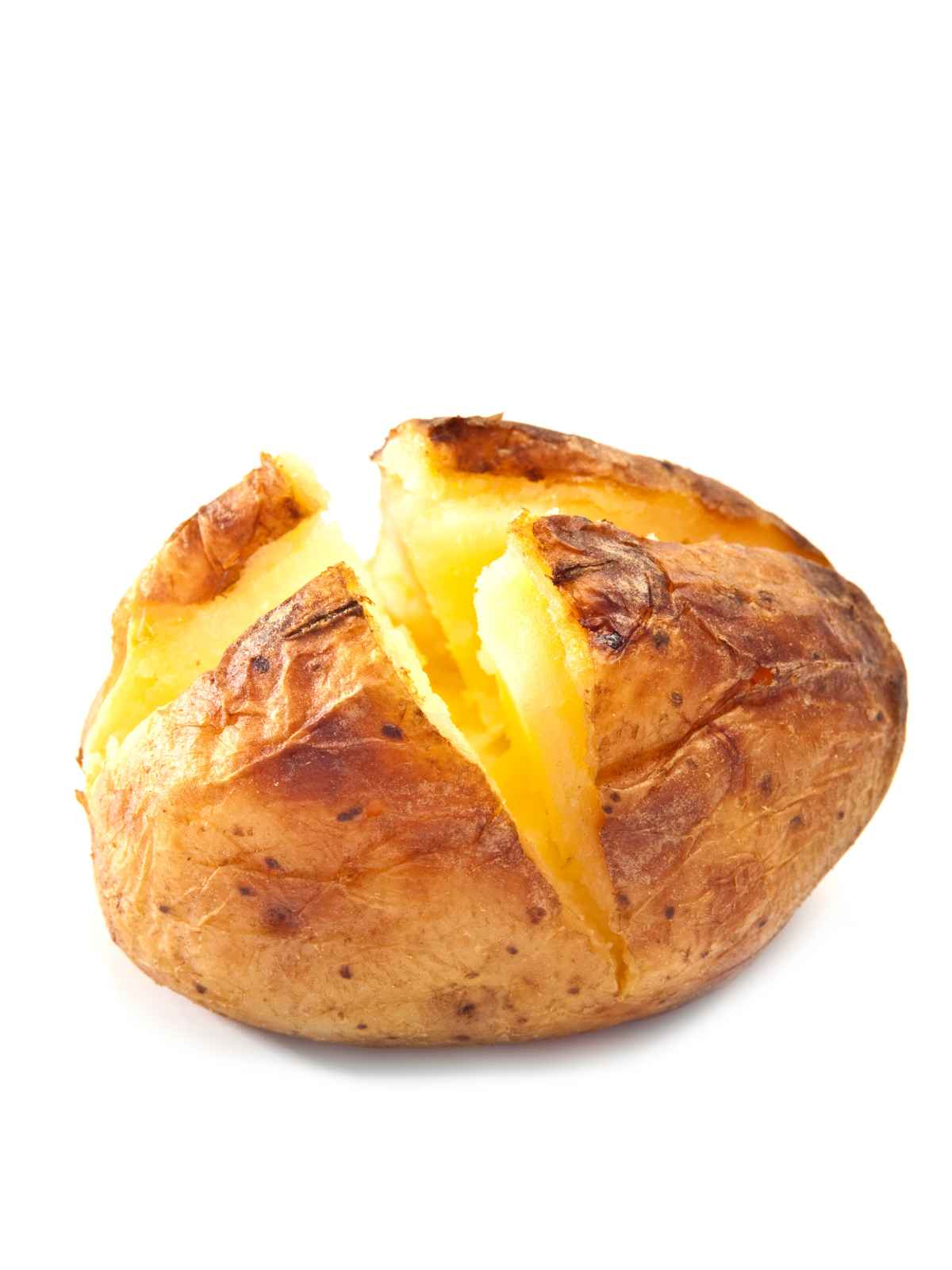 Fresh Steamed Seasonal Veggies
Outback Steakhouse includes fresh steamed seasonal veggies on their menu as a side option. You can easily incorporate them into your meal. Just remember to specify "no butter, please" when you place your order.
Grilled Asparagus
You have the option to order Grilled Asparagus at Outback, and it's completely vegan. The asparagus is prepared by tossing it in olive oil, seasoning it, and cooking it on a wood-fire grill. It's a tasty and vegan-friendly choice! Make sure to mention no cross-contamination with meat items, if it is a concern for you.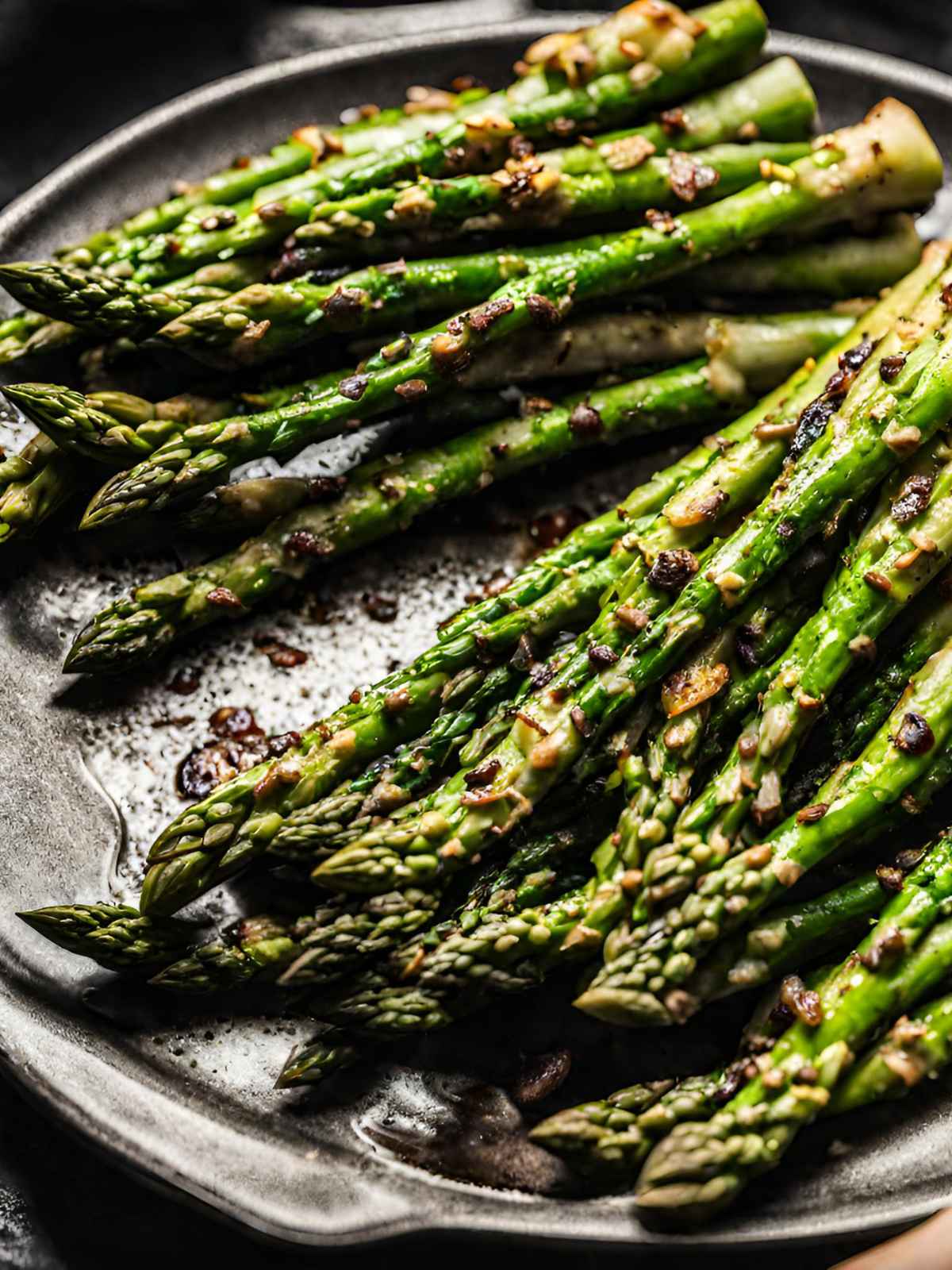 Sweet Potato with Honey & Brown Sugar
Outback Steakhouse serves baked sweet potatoes that are usually topped with honey butter, brown sugar, and cinnamon. However, if you prefer a vegan option, you can simply order a plain baked sweet potato or ask for it to be topped with just brown sugar and cinnamon for a flavorful twist.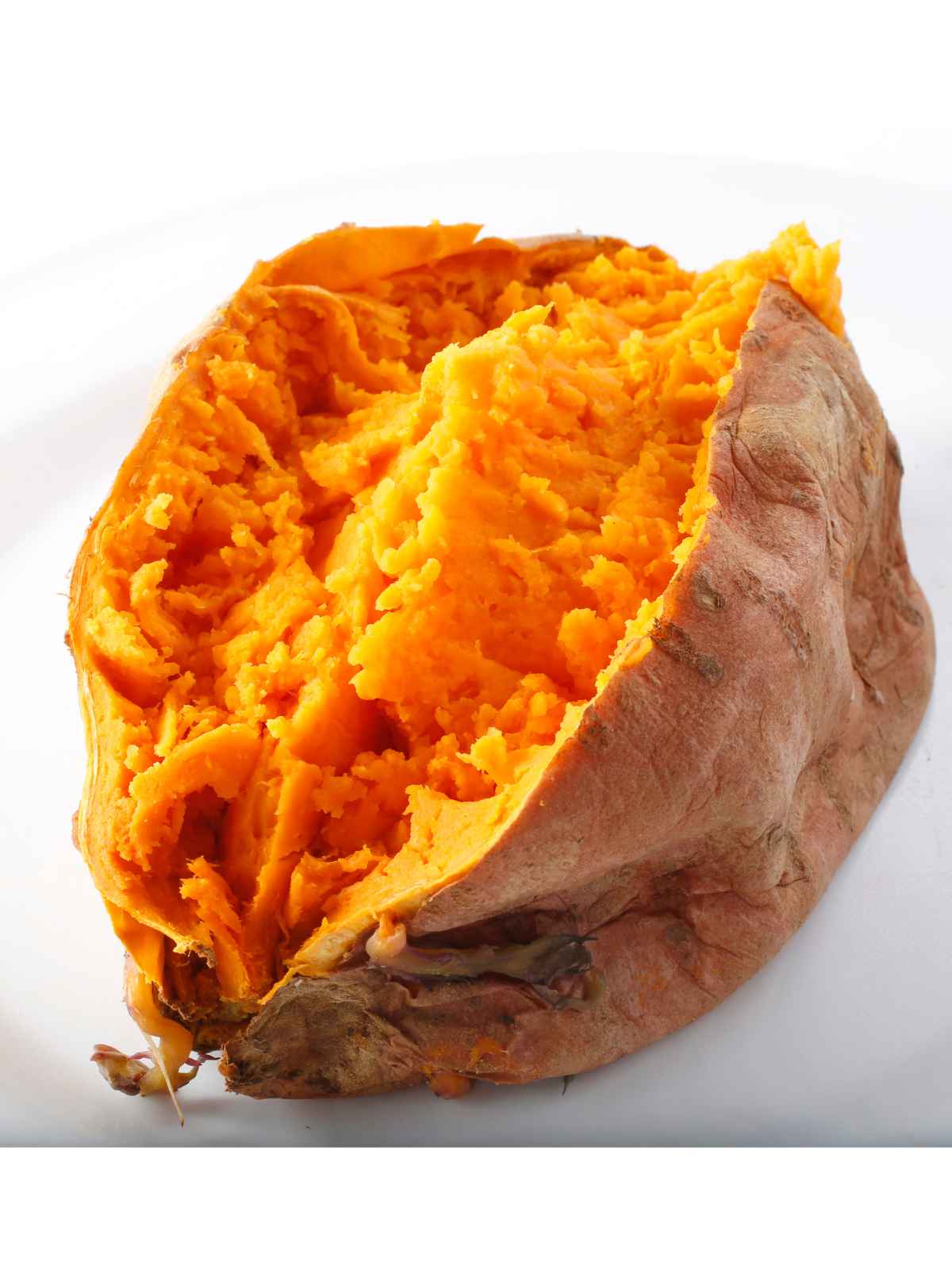 Fresh Steamed Broccoli
You have the option to order fresh steamed broccoli from Outback Steakhouse's kids' menu, which is listed under the "Joey Menu." According to their allergen information, this steamed broccoli doesn't contain dairy, so it's likely prepared without butter. If you want to be absolutely sure, you can double-check with the staff at the counter when you place your order.
Fresh Fruit
You can also consider ordering fresh fruit from the kids' menu at Outback Steakhouse, and it's a vegan option. Please note that the availability of fresh fruit may vary from one location to another, and the serving size is usually quite small. It's a healthy and vegan-friendly choice if it's offered at your specific Outback Steakhouse branch.
Vegan Dessert
Unfortunately, Outback Steakhouse does not offer any vegan dessert options on its menu. You might consider enjoying a vegan dessert at another restaurant.
Vegan Drinks
Vegan Non-Alcoholic drinks at Outback are
Coca Cola® Products
Hi-C® Fruit Punch
Dr. Pepper
Lemonade
Strawberry Lemonade
Expert Tips
If you're fortunate enough to have a cooperative staff member at Outback Steakhouse, there are a few creative options you can explore:
You can request items like pickles, extra lettuce, and condiments such as ketchup or chili sauce to enhance your meal.
Consider bringing along some convenient items like peanut butter or vegan butter sachets, nutritional yeast, or garlic saltshakers. These can be handy for enhancing the flavor of your meal and customizing it to your taste.
You might ask the kitchen to prepare grilled onions and sautéed mushrooms from their sides section, making sure to specify that you'd like them prepared without butter and beef stock if possible. This could provide you with some extra flavor and variety for your meal.
Remember, effective communication with the staff can often lead to more accommodating dining experiences.
Vegetarian Options at Outback Steakhouse
House Bread and Butter
Queensland Pasta
Queensland Pasta with Veggies
Queensland Pasta with Broccoli
Salads
Steakhouse Salad without Sirloin
Aussie Cobb Salad (without bacon)
Brisbane Caesar Salad
Steakhouse Salad (without proteins)
Wedge and Sirloin Salad (without protein and bacon)
House Salad
Sides
Fresh Steamed Broccoli with seasoned butter
Fresh Steamed Mixed Vegetables with seasoned butter
Homestyle Mashed Potatoes
Steakhouse Mac and Cheese
Baked Potato without bacon
Loaded Mashed Potatoes (without bacon)
Sweet Potato with honey butter and brown sugar
Grilled Asparagus
Broccoli and Cheese
Drinks
All vegan drinks and
Vanilla Mini Milkshake
Chocolate Mini Milkshake
Strawberry Mini Milkshake
Oreo Mini Milkshake
Dessert
Sweet Adventure Dessert Sampler Trio
Triple-Layer Carrot Cake
New York-Style Cheesecake
Tim Tam® Brownie Cake
Salted Caramel Cookie Skillet
Fresh Strawberry Porfarait
Classic Cheesecake
Carrot Cake
Chocolate Thunder from Down Under
Fried Items at Outback
It's important for both vegans and vegetarians to be aware that many fried options, including the famous Bloomin' Onion®and Aussie Fries at Outback Steakhouse, are not suitable for their diets. These items are fried in a shared fryer using beef tallow, making them unsuitable for both vegan and vegetarian preferences. It's always a good idea to inquire about the cooking methods and ingredients used in the preparation of fried dishes at any restaurant to ensure they align with your dietary choices.
Frequently Asked Questions
Are Outback french fries vegan?
No, they are not vegan as they are fried in a shared fryer using beef tallow.
Is Outback baked potato soup vegetarian?
No, there is chicken broth in it.
Is Outback Bread vegan?
Yes, it is vegan as it is dairy and egg-free.
Is the blooming onion at Outback vegan?
No, it is not vegan. It has egg and dairy in it and is fried in beef tallow.
More Fast Food Chains Vegan Guide
If you like this article you may also like
In conclusion, Outback Steakhouse may not be the first choice for vegans due to the limited vegan options on their menu. However, there are a few alternatives and creative ways to fill your stomach if you find yourself dining there. While the vegan choices are somewhat disappointing, you can still enjoy some simple and satisfying dishes by customizing your order and being resourceful. Don't forget to check with the staff for the most up-to-date information on vegan offerings at your local Outback Steakhouse.