Let's dive into the world of fast food and discover the delightful vegan options at Whataburger. Whether you're a longtime vegan or simply looking to explore new plant-based choices, it has some delicious options to satisfy your cravings.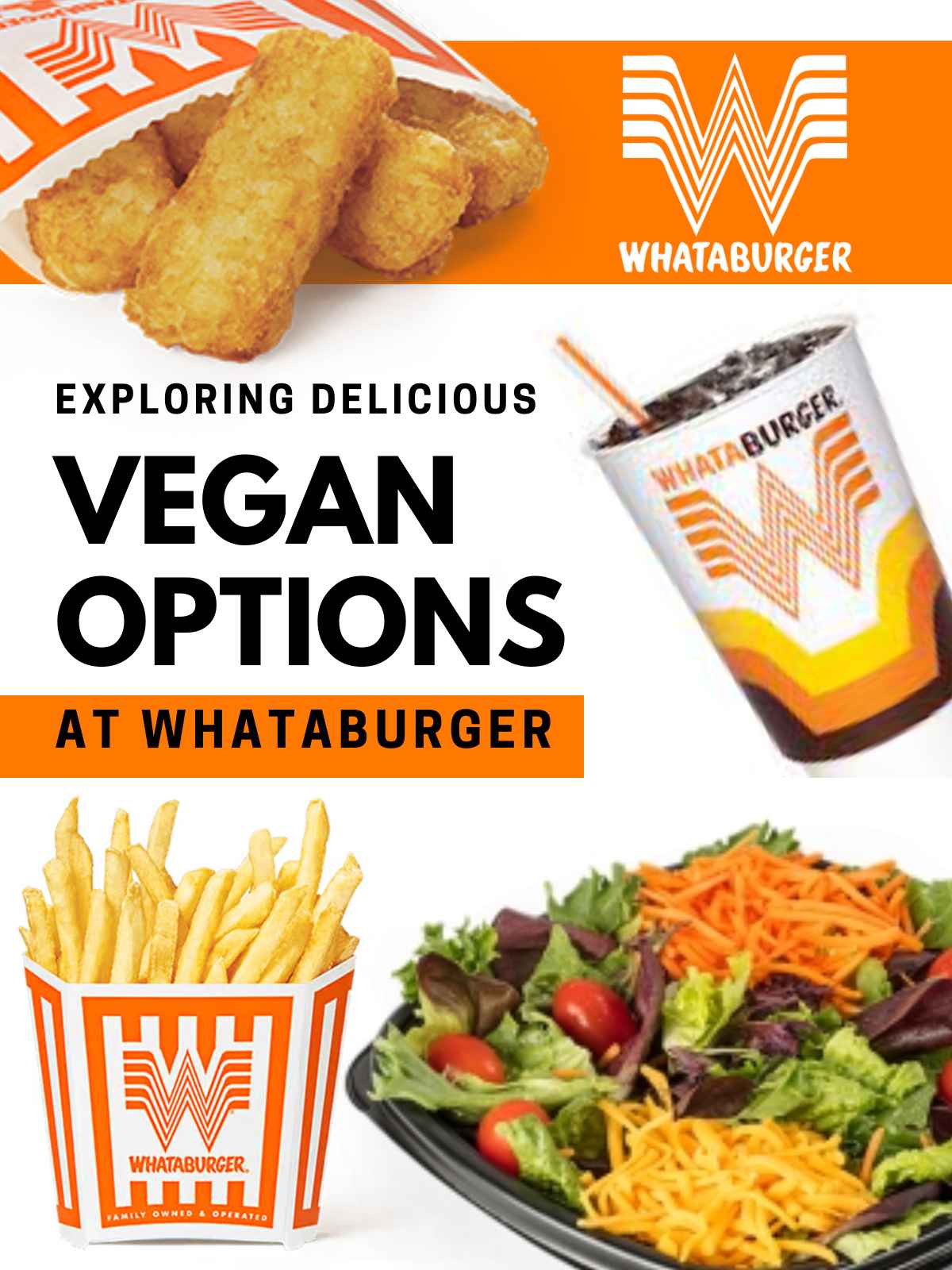 Jump to:
What is Vegan at Whataburger
Whataburger is a popular fast-food chain that is known for its delicious burgers and fries. However, for those who follow a vegan diet, finding options can be a bit of a challenge. While Whataburger is not a vegan restaurant, there are still some options that are vegan-friendly.
Following are the vegan options available at Whataburger until May 2023. 
Garden Salad
For a lighter option, Whataburger's garden salad is a refreshing choice. Packed with fresh lettuce, ripe tomatoes, and crispy cucumbers, this salad provides a burst of flavor. Customize it by removing any non-vegan ingredients, such as chicken cheese or croutons, and top it with the Herb or Balsamic Vinaigrette.
French Fries
Whataburger's classic french fries are a vegan-friendly side option as they are cooked in soybean liquid shortening. These golden, crispy fries are cooked to perfection and make for a delicious accompaniment to your veggie burger or salad. One more thing that you should consider is that they are cooked with other non-vegan options in the same fryer and you have to skip them if cross-contamination is a concern to you. 
Hash Brown
Hash Brown is one of the vegan-friendly options that Whataburger offers for breakfast only. They are served from 11 PM to 11 AM at Whataburger restaurants. Again, they are fried with other non-vegan options in the same fryer and you have to skip them if cross-contamination is a concern to you.
Apple Slices
Apple Slices on the kid's menu are vegan-friendly. You can always snack on them when hungry or can add them to your green salad bowl to make it tastier and nutrient-rich.
Vegan Toppings
Luckily Whataburger offers a decent variety in their vegan topping options. They have
Grilled Peppers and Onions  
Fire Roasted Mushrooms 
Fresh Jalapeños  
Grilled Jalapeños 
Lettuce 
Avocado 
Tomato Slices and Pickles. 
Sauces and Condiments
Whataburger provides a range of vegan-friendly sauces and condiments to enhance the flavors of your meal. They are
Fancy Ketchup 
Spicy Ketchup 
Herb Vinaigrette  
Balsamic Vinaigrette 
Mustard 
Vegan Drinks at Whataburger
Whataburger offers a decent variety of drinks to satisfy your soul. They offer fountain soda varieties like
Sprite
Coke
Diet Coke
Pepsi
Orange Fanta
Strawberry Fanta
Mountain Dew
Along with some other drinks options like
Dr. Pepper
Honest Apple Juice
Simply Orange Juice
Hawaiian Punch
Coffee
Hot Tea
Sweet and unsweetened Tea
Customize Your own Veggie Burger
Whataburger doesn't offer any vegan burgers but you can always check them if they can entertain the idea of making a customized veggie burger. Creating a vegan burger at Whataburger allows you to enjoy a satisfying and customized meal that aligns with your plant-based lifestyle. So, get creative with your toppings, savor the flavors, and relish your delicious vegan creation at Whataburger.
Select the Bread
Start with a vegan bread option that is
White bun  
Texas Toast and 
Flour Tortilla 
Bun oil at Whataburger is vegan-friendly so you can always go for a toasted option providing a flavorful and hearty base for your burger.
Load Up on Toppings
Sadly, Whataburger doesn't offer any vegan-friendly burger patty but you can make a burger by filling it with your favorite toppings like grilled peppers and onions, some fire-roasted mushrooms, and fresh or grilled Jalapeños. Add some freshness with lettuce, avocado, and tomato slices.
Tip: If it's breakfast time you can also order some hashbrown sticks to fill in your breakfast burrito.
Drizzle Some Sauces
You can never go wrong with spicy ketchup and mustard sauce to add flavor to your burger and they are vegan-friendly.
Add some extra flavor by sprinkling salt, pepper, or your favorite herbs and spices. Your customized burger is ready.
Complete your meal by pairing your vegan burger with vegan-friendly sides and refreshing drinks. You can also opt for french fries, a side salad, or enjoy their hash browns during breakfast hours.
Communicate Your Dietary Preferences
When placing your order, be sure to inform the staff that you want a vegan burger and ask them to exclude any non-vegan ingredients or sauces. This helps ensure your burger is prepared according to your dietary needs.
Does Whataburger sell vegan burgers?
Whataburger does not have a specific vegan burger on its menu. However, they offer customization options that could potentially allow you to create a vegan-friendly meal. You could request a burger without meat or cheese and add additional vegetable toppings or condiments to suit your preferences.
Are onion rings at Whataburger vegan?
Whataburger's onion rings are not considered vegan. They typically contain milk and egg ingredients in the batter or coating. However, it's important to note that restaurant menus and ingredients can change over time, so I recommend checking with the specific Whataburger location or consulting their current menu to verify the vegan status of their onion rings.
Are whataburger fries vegan?
Whataburger's French fries are generally considered vegan-friendly. The ingredients for their fries typically include potatoes, vegetable oil, and salt, which are all plant-based. However, it's important to note that cross-contamination can occur during cooking or preparation, so there is always a risk of contact with non-vegan ingredients if the fries are fried in the same oil as other non-vegan items.
Is the apple pie at Whataburger vegan?
No, they contain milk and eggs.
In conclusion, while Whataburger may not have a plethora of vegan options, there are still a few items to choose from. By customizing your meal and being mindful of shared cooking equipment, you can enjoy a vegan-friendly meal at Whataburger. So, the next time you're at Whataburger, give these vegan options a try and savor the flavors without compromising your dietary choices.
Other Vegan Fast Food Options
If you like this article check out some other fast food options you can enjoy at