Discover delicious meatless twists on your favorite classics! Dive into the ultimate resource for Arby's vegan and vegetarian choices. From hearty sandwiches to savory sides, we've got you covered!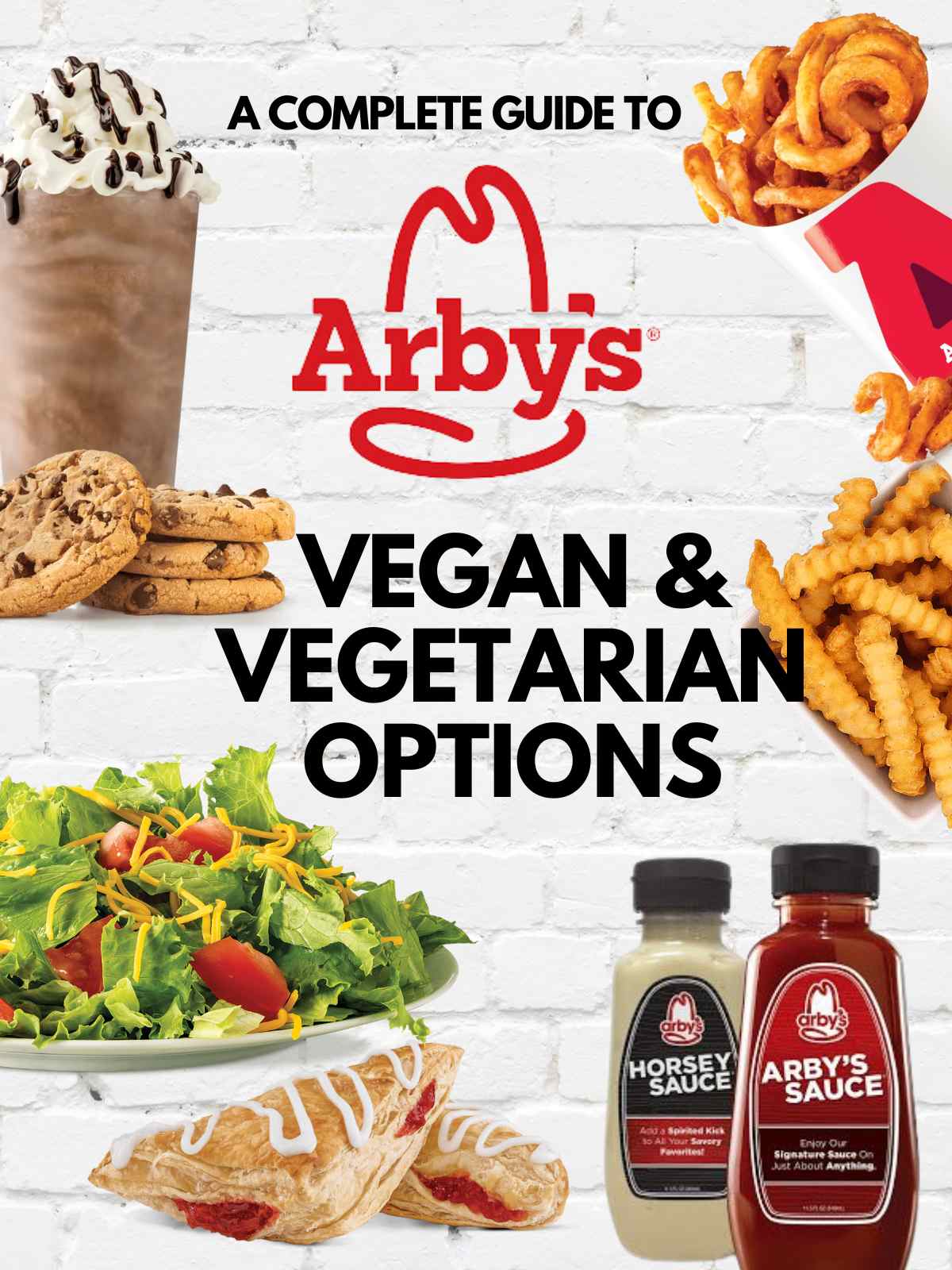 Jump to:
Vegan Options at Arbys
Arby's is famous for its roast beef sandwiches and its slogan "We Have The Meats." The restaurant chain is known for its meat-centric menu and may not be the first place that comes to mind when thinking about vegan and vegetarian dining options. However, Arby's vegan options are far better than other fast-food chains in the US and you can find some accidentally vegan options on Arby's menu. Let's explore:
Vegan Sides
Arby's, primarily known for its meat-centric menu, offers a limited selection of vegan sides. While they may not have an extensive range of plant-based options, there are still a few vegan-friendly side items you can enjoy when dining at Arby's:
Curly Fries
Arby's famous Curly Fries are a vegan option. These spiral-cut potato fries are seasoned with a blend of spices, giving them a unique and flavorful twist. They're often a favorite among Arby's customers, and they make for a satisfying vegan side dish. Arby's vegan Curly fries have the following ingredients.
Curly fries Ingredients
Potatoes, Vegetable Oil, Enriched Bleached Flour, Salt, Corn Starch, Onion Powder, Yellow Corn Meal, Spices, Garlic Powder, Leavening, Modified Corn Starch, Dextrose, Spice and Coloring, Natural Flavor, Dried Torula Yeast, Xanthan Gum, Sodium Acid Pyrophosphate.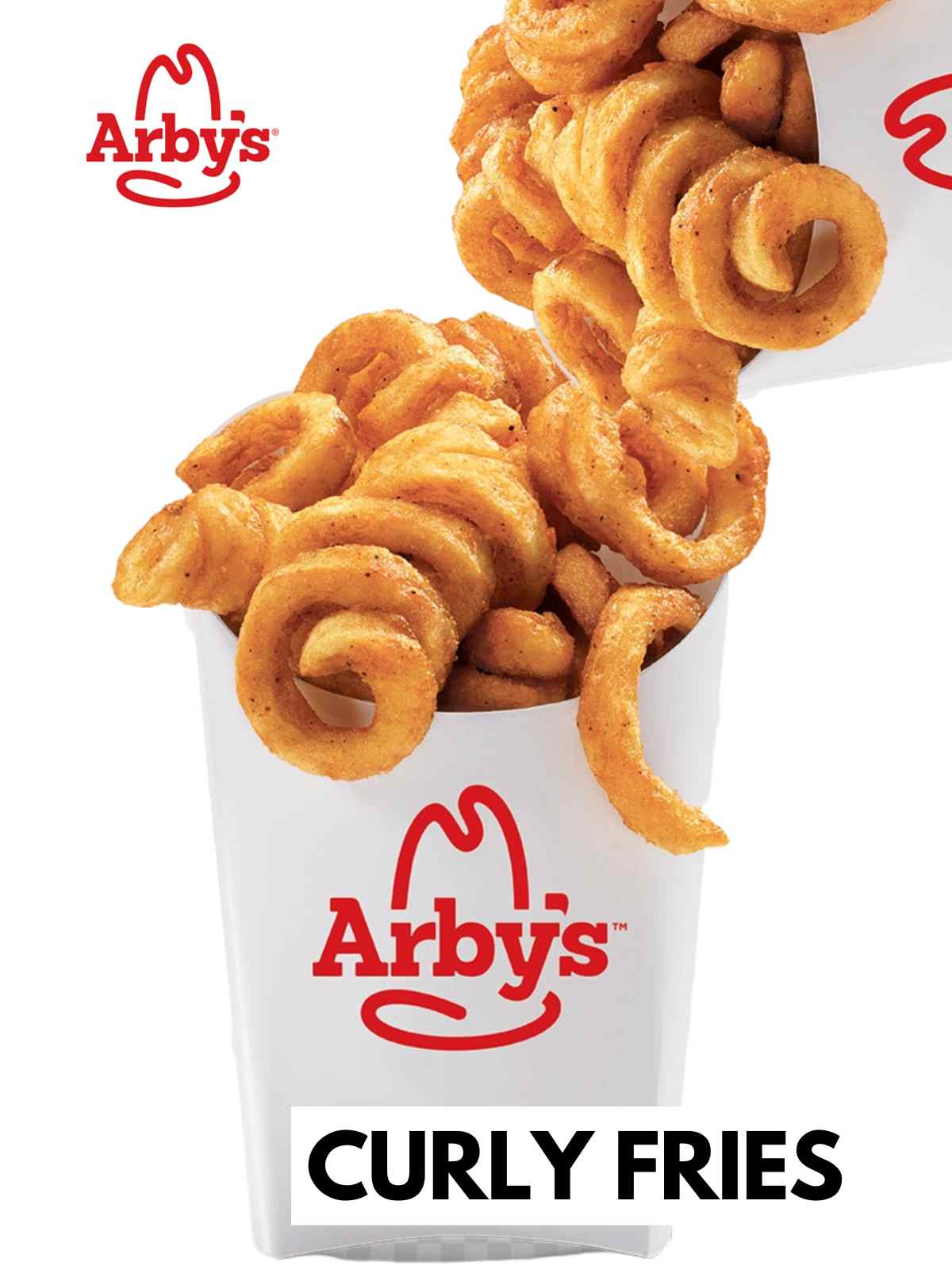 Crinkle Fries
Arby's Crinkle Fries are considered vegan. These crinkle-cut fries are typically made from potatoes, vegetable oil, and seasonings, which do not contain any animal-derived ingredients making them suitable for vegans and vegetarians.
Homestyle Fries (on selected Outlets)
Arby's also offers vegan-friendly Homestyle Fries; however, it's important to note that these fries are only available at selected Arby's outlets. When you have delicious vegan-friendly options like Curly Fries and Crinkle Fries, who really needs Homestyle Fries?
Chopped Side Salad
Arby's typically offers a chopped side salad that you can customize to make it vegan by omitting the cheese. While it may be a simple option, it can add some freshness to your meal.
Arby's Market Fresh Chopped Side Salad is made with fresh green and shredded iceberg lettuce, cheddar cheese, chopped red onion, and ripe tomatoes. To make it vegan simply skip the cheese and go for simple Italian dressing.
Salad Dressings
Vegan salad dressings at Arby's are
Balsamic Vinaigrette: Balsamic vinaigrette is a classic vegan salad dressing made from balsamic vinegar, oil, and seasonings. It's often available at Arby's and is suitable for vegans.
Italian Dressing: Italian dressing is another common vegan option. It typically consists of oil, vinegar, and various herbs and spices.
Olive Oil and Balsamic Vinegar Packets: Some Arby's locations may provide individual packets of olive oil and balsamic vinegar. You can use these to create a simple vegan salad dressing.
Arbys Vegan Breads
While Arby's does not offer any dedicated vegan or vegetarian patty or sandwich options, you can create a satisfying meal by filling their bread with salads, fresh vegetables, fries, and sauces of your choice. Their vegan breads are
Standard Bun
Marble Rye Bread
Harvest Wheat Bun
Sesame Seed Bun
Hearty Grain Wrap
Sourdough Breakfast Bread
Split Top Bun
Star Cut Bun
Flat Bread
Slider Bun
Sub Roll
Hearty Grain Wrap
Artisan Wrap
Brioche Bun
Stuff Your Bread with
To stuff the above-mentioned bread, our choices are quite restricted because there are no vegan meats or plant-based patties available. One of my favorite options used to be their Potato cakes, but unfortunately, they were discontinued in 2021 and are no longer offered at any of their outlets (sigh).
However, we can still make it work by filling our bread with the following plant-based options:
Red Onion
Leaf Lettuce
Iceberg Lettuce
Tomatoes
Banana Peppers
Jalapenos
Sweet Garlic & Dill Pickles
Sauerkraut
Gyro Seasoning
Vegan Sauces
Arby's offers quite a few vegan-friendly sauce options. These options may vary by location, so it's essential to check with your local Arby's for their specific offerings. Here are some standard vegan sauce options that are available at Arby's
Arby's Original Sauce
Ketchup
Bronco Berry
Marinara
Spicy Three Pepper Sauce
Red Ranch Sauce
Smoky Q Sauce
Tangy Barbeque Sauce
Dark Cherry Steak Sauce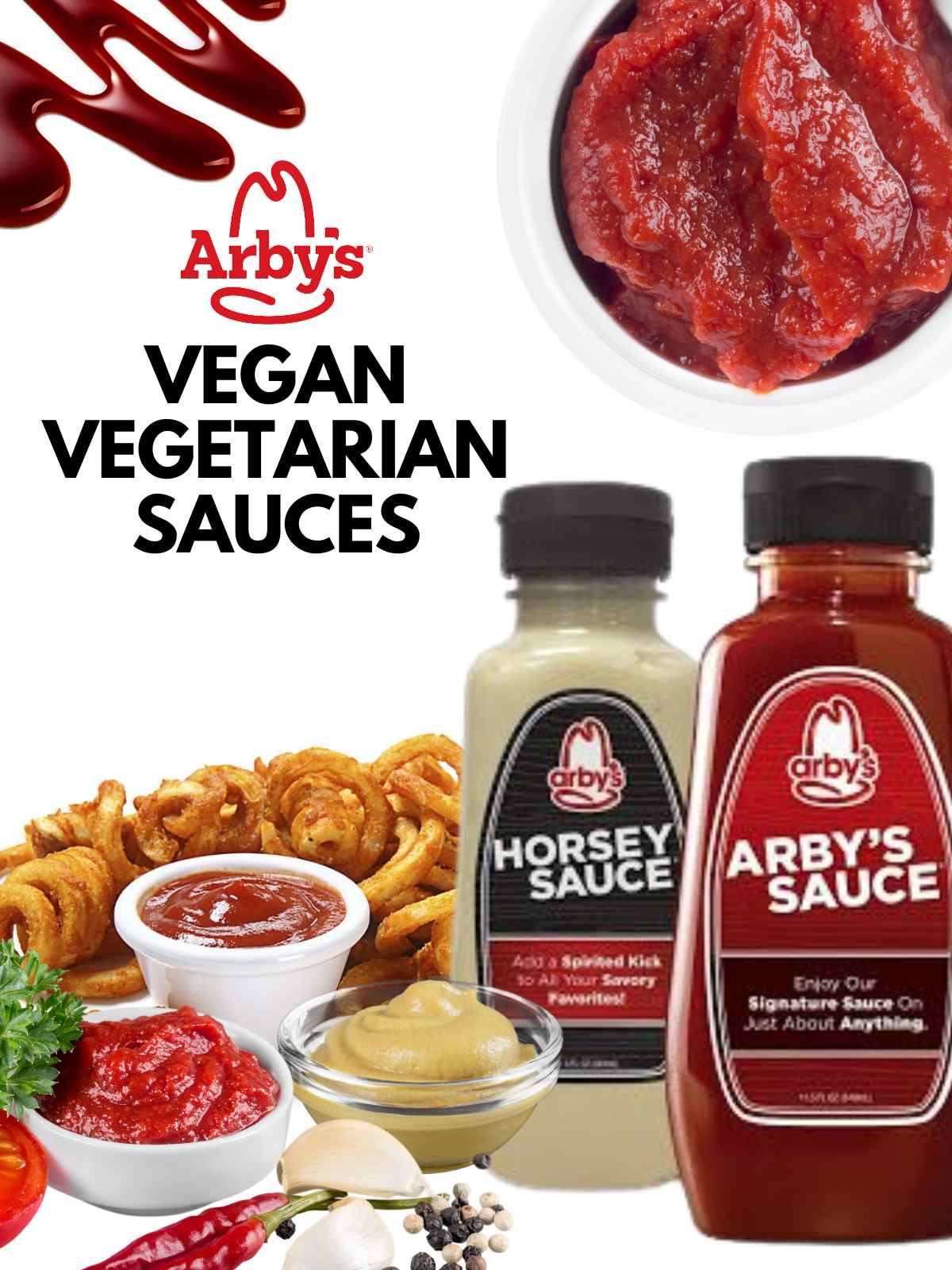 Vegan Desserts at Arby's
It's great to know that one of Arby's dessert options is accidentally vegan-friendly.
Apple and Cherry Turn Over
It's always a pleasant surprise when a classic item like the Apple and Cherry Turnover happens to align with a vegan diet. This provides an option for individuals looking for a sweet treat while dining at Arby's. These turnovers typically consist of a pastry filled with fruit filling.
Ingredients
Enriched Flour, Water, Apples, High Fructose Corn Syrup, Sugar, Modified Food Starch, Corn Syrup, Salt, Raisins, Malic Acid, Sodium Benzoate and Potassium Sorbate (preservatives), Spices, Margarine (palm oil, palm kernel oil, soybean oil, water, salt, mono and diglycerides, polyglycerol esters of fatty acids, soy lecithin, natural flavor, citric acid, vitamin A palmitate, beta carotene [color]), Gum Blend, Sugar, Water, Corn syrup, Vegetable Shortening (palm oil), Contains 2% or less of the following: Natural Flavor, Agar, Potassium Sorbate, Citric acid, Mono and Diglycerides, Locust Bean Gum.
Arby's Vegan Kids Menu 
There are no noteworthy vegan options available on Arby's kids' menu. These vegan items are
Tree top apple sauce
Apple slices
Honest Kids Organic Apple Juice Drink
Drinks
Arby's typically offers a range of vegan-friendly beverage options. However, it's important to note that beverage offerings may vary by location.
Nestle Pure Life Bottled Water
Minute Maid Light Lemonade
Strawberry Lemonade
Peach Lemonade
Mello Yello
Coca-Cola Products ( Sprite, Fanta, Coke, Diet Coke)
Simply Orange® Juice
Dr Pepper
Honest Apple Juice
Iced Tea, Unsweet Tea
Hi-C Flashin' Fruit Punch
Mountain Berry Blast Powerade
Make a Vegan Meal at Arby's
Creating a vegan meal at Arby's can be a bit of a DIY (Do-It-Yourself) process since the menu primarily focuses on meat-based items. However, there's a custom vegan meal idea using the vegan-friendly options available:
Start with a serving of Arby's famous Curly Fries. These are typically vegan and a must-try at Arby's.
Choose a vegan sauce for dipping your fries. Options like ketchup, barbecue sauce, or Arby's house sauce are often vegan-friendly.
If available, order a Chopped Side Salad with simple Italian dressing fill it in some sesame seed bun, and drizzle some dark cherry steak sauce or three pepper sauce.
You can ask for some extra lettuce, tomatoes, and dill pickles to fill your bun.
Choose a vegan beverage from Arby's selection, such as a soft drink or orange juice.
Finish your meal with a cherry turnover to satisfy your sweet cravings.
Arby's Vegetarian Options
Vegetarian options at arbys are more extensive than their vegan offerings, but there isn't a dedicated vegetarian sandwich on their menu. Therefore, vegetarians dining at Arby's often need to assemble their meals themselves. Fortunately, vegetarians can enjoy all the vegan menu items mentioned earlier, and they also have additional vegetarian options to choose from. Arby's vegetarian items are as follows
Vegetarian Sides at Arby's
Along with curly, crinkle, and home fries, vegetarians can also enjoy
Mozzarella sticks
Jalapeno Bites
Crispy Onions
Vegetarian Breads
Vegetarians at Arby's can Indulge in all the delicious vegan bread options as well as
Honey Wheat Bread and
Croissants
Vegetarian Bread Fillers
Vegetarians can fill these options in their breads and buns along with all the vegetables and pickles mentioned above.
Egg Patty
Cage Free Egg Patty
Swiss Cheese
Smoked Gouda Cheese
Cheddar Cheese (Mild Slice)
Cheddar Cheese Sauce
Cheddar Cheese (Shredded)
Sauces
Along with all vegan sauces mentioned above vegetarians can also have
Dijon Honey Mustard Sandwich Sauce
Gyro Sauce
Mayonnaise
Buttermilk Ranch Dressing
Parmesan Peppercorn Ranch Sauce
Buffalo Dipping Sauce
Buffalo Sauce
Horsey Sauce
Spicy Brown Honey Mustard Sauce
Tartar Sauce
Thousand Island Spread
Desserts
Vegetarians can not only enjoy those accidentally vegan fruit turnovers but they can also have:
Jamocha Shake
Chocolate Shake
Vanilla Handcrafted Shake
Mint Chocolate Shake
Whipped Topping
Salted Caramel & Chocolate Cookie
Triple Chocolate Cookie
Arby's Vegetarian Kids Menu
Arby's vegetarian kid's menu is still disappointing. kids can have
Shamrock Farms Lowfat White Milk
Shamrock Farms Lowfat Chocolate Milk
Make a Vegetarian Meal at Arby's
Creating a vegetarian meal at Arby's involves customizing items from their menu to exclude meat. Here's a suggested vegetarian meal you can order:
Customize your Sandwich
Begin by selecting one of their sandwiches and kindly request that they exclude the meat. Ensure they use vegan or vegetarian-friendly sauces. Some examples are
Creamy Mediterranean Roast Chicken Wrap (without chicken)
Greek Gyro (Omit gyro meat)
Turkey & Swiss Sandwich (Skip the roast turkey)
Sides, drinks, and Dessert
If you prefer, you can also personalize any of their breakfast sandwiches or croissants by omitting ham, sausage, and bacon.
For side dishes, consider adding Arby's Curly Fries or Mozzarella Sticks served with Horsey Sauce.
Next, choose a beverage of your liking from Arby's drink menu, which includes soft drinks, iced tea, and more.
To conclude your meal on a sweet note, indulge in some Salted Caramel & Chocolate Cookies.
Is Arby sauce vegan?
Yes, it is vegan.
Is Arby's Red Ranch vegan?
Yes, It is vegan.
What are the ingredients in Arby's fries?
Arby's crinkle fries ingredients are: Potatoes, Vegetable Oil (contains one or more of the following: canola, palm, soybean, sunflower), Modified Food Starch
(potato, corn, tapioca), Rice Flour, Dextrin, Salt, Leavening (disodium
dihydrogen pyrophosphate, sodium bicarbonate, Dextrose, Xanthan
Gum. Cooked in Vegetable Oil.
Do Arby's fries have meat?
No, They don't have meat in them but they are cooked in the same oil as menu items that contain Egg, Milk, Soy, Wheat, and Fish.
Is Arby's Lemonade vegan?
Yes, It is vegan.
Are Arby's cheese sticks vegetarian?
Yes, They are vegetarian.
Is Arby's apple pie vegan?
Yes, Arby's apple pie also known as Apple Turnover is Vegan.
Final Thoughts
In conclusion, Arby's may have limited options for vegans and vegetarians, but with a few modifications, you can still enjoy a satisfying meal that fills your stomach. By customizing sandwiches, skipping meat, (dairy in case of vegan), and ensuring vegan, vegetarian-friendly sauces, you can make the most of the available choices. While the selection may not be as extensive as some other restaurants, Arby's can still accommodate those with vegan and vegetarian preferences, allowing you to enjoy a meal that suits your dietary needs.
OTHER VEGAN FAST FOOD OPTIONS
If you like this article check out some other fast-food options
All the information provided is sourced from Arby's Ingredient list and Allergen information, but it's important to note that restaurants often update their menus and ingredients over time. As a result, the information provided here may become outdated or inaccurate.
If you come across any discrepancies or changes in Arby's menu offerings and ingredients in the future, please notify us, and we will promptly update the information to ensure its accuracy. Restaurant menus can evolve, so staying informed about any modifications is essential to make informed choices when dining.