McDonald's, known for its iconic golden arches, may not be the first place that comes to mind when you think of vegan dining. However, the fast-food chain has been gradually expanding its vegan offerings in response to the growing demand for plant-based options.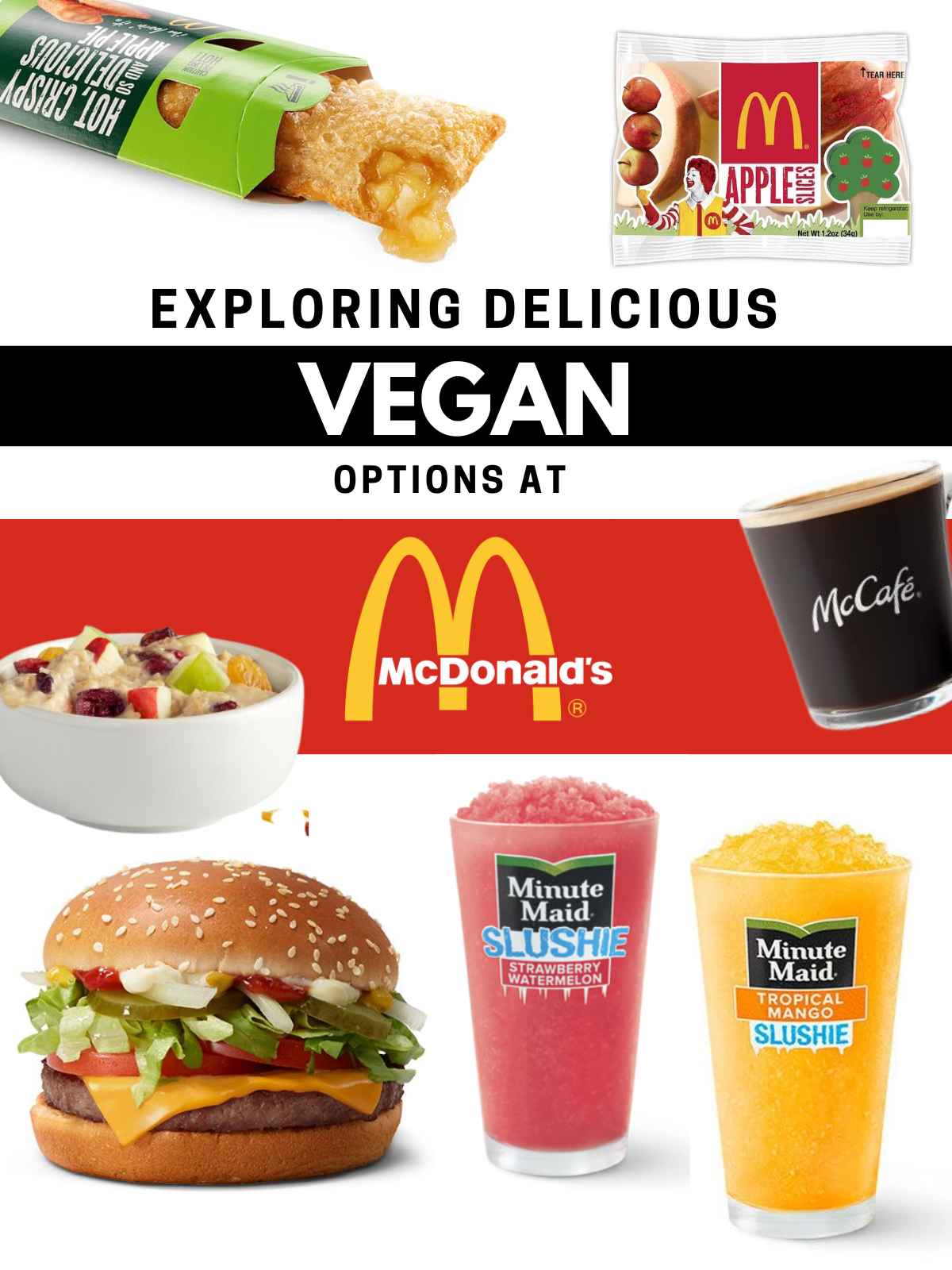 In this blog post, we will delve into the vegan options available at McDonald's in America, highlighting menu items that are suitable for a plant-based lifestyle.
Jump to:
What is Vegan at Mcdonald's?
McDonald's stores in America aren't keeping pace with other nations that offer more vegan options. They are offering just one plant-based burger to cater the vegan needs but still, you can order bits and pieces from here and there on the McDonald's menu to make a complete meal. Let's find out some of the menu items that are suitable for a vegan diet and how you can get creative with the limited Vegan options at McDonald's.
MCPlant Burger
The McPlant Burger is a plant-based burger created by McDonald's in collaboration with Beyond Meat. It is designed to provide a meat-like experience using a patty made from plant-based ingredients like peas, rice, and potatoes. The burger is typically served on a sesame seed bun with tomato slices, lettuce, pickles, onions, mayonnaise-style sauce, ketchup, mustard, and American cheeses. MCPlant has 510 Calories and you can make a meal with a drink and sides.
Note: In addition to the plant-based patty, the McPlant in the U.S. contains non-plant-based ingredients such as American cheese and mayonnaise. It's also cooked on the same grill as meat-based products and eggs. You can customize and request to hold the cheese and mayonnaise, or any other ingredients as per your needs.
MCPlant Locations in the USA
Right now, MCPlant is only available in a very limited number of restaurants throughout the USA. You can find the complete list of the restaurants here that are offering MCPlant.
McDonald's Vegan Breakfast
Fruit and Maple Oatmeal
You can order a healthy fruit and maple oatmeal bowl for breakfast at McDonald's. Although you have to specify no milk or cream until now, they don't offer any plant-based substitute so it's just water-based oats which is unfortunate.
Premium Roast Coffee
Treat yourself to a cup of McCafé® Premium Roast Coffee. It is made with 100% Arabica beans and filtered water. It is expertly roasted and freshly brewed every 30 minutes. I recommend enjoying the coffee with a pinch of sugar. Unfortunately, their creamers contain dairy so Avoid them.
Americano
I'm a huge coffee fan, so when I heard about Wakeup with bold flavor Americano coffee - I was instantly sold. It is vegan and has no dairy in it. It is made with signature McCafé espresso combined with hot water, for those who prefer a bolder cup of coffee this will be a treat.
Orange Juice
Minute Maid orange juice is vegan-friendly and tastes like fresh oranges. It's great for making your morning meal delicious too!
Baked Apple Pie
To your surprise, McDonald's has a vegan baked apple pie. It is so far the most appetizing vegan option available in American McDonald's stores. The flakey pastry layers have a crispy texture while the gooey sweet filling will satisfy your craving for something light and fresh!
Vegan Bread at McDonald's
Bread types that are vegan at Mcdonald's are
Flour tortillas
English muffins
Artisan Roll
You can fill them up with a choice of veggies and dips to create a DIY veggie sandwich.
Mcdonald's Vegan Lunch and Dinner Options
Lunch and dinner options at McDonald's are quite limited and not very appetizing.
Salads
McDonald's does not offer a great range of salads for their vegan customers they can only have
Side salad (without dressing)
Southwest Salad (without Southwest dressing and cheese)
Premium Bacon Ranch Salad (without bacon, cheese, or Ranch dressing)
During the pandemic, McDonald's announced the removal of their less-popular items from their menu, and salad was among one them. According to Insider, the decision was said to be a temporary move to simplify and speed up operations.
McDonald's website menu and chains still do not offer any salads for their customers. If they bring their salad range back vegans can enjoy some of their salads to make a side or meal.
Salad Dressings
Vegans can enjoy their salads by adding these dairy-free and vegan dressings.
Newman's Own Creamy French Dressing
Newman's Own Balsamic Vinaigrette and White Balsamic Vinaigrette
Newman's Own Classic Oil and Vinegar.
Raspberry Walnut Vinaigrette.
Drinks
You have a wide selection of drinks to choose from at McDonald's. Unfortunately, their shakes and smoothies are not vegan-friendly as they contain dairy products. Vegans can pick any drink option available such as slushies, sodas, or juices which all don't include animal byproducts in them!
Iced Tea (Sweet and Unsweetened)
Minute Maid Strawberry Watermelon Slushie
Minute Maid Pink Lemonade Slushie
Minute Maid Blue Raspberry Slushie
Minute Maid Premium Orange Juice
Vegan Snacks
Apple Slices
Apple slices are basically from the happy meal menu but you can order them as a side. They're good for your health, so try adding them to salads, DIY sandwiches, and oatmeal bowls!
Baked Apple Pie
An exciting snack at McDonald's is Baked Apple Pie and unexpectedly it is vegan all over the world and is Delicious. You can enjoy these crispy flakey layers of pastry with gooey apple cinnamon filling. It is so far the most appetizing vegan option available in American McDonald's stores.
Dipping sauces
Dipping sauces that are vegan at McDonald's are
Are McDonald's fries vegan in the USA?
No, Unfortunately, fries at USA Mcdonald's are not vegan. Fries in Europe and in some other countries are vegan.
Is the McPlant vegan in the USA?
McPlant patty itself is made from plant-based ingredients, but the complete McPlant burger as it is served may not be inherently vegan due to the inclusion of non-vegan condiments and cheese. However, by customizing your order and omitting non-vegan components, you can make the McPlant burger vegan-friendly.
Are McDonald's hash browns vegan in the USA?
No, They have natural beef flavoring.
Is McPlant cooked separately?
No, not in America. McDonald's website states that it is cooked on shared grills.
Customize Your Order
McDonald's is never on my list when eating out because of its limited vegan options. But it's worth noting that you can customize your order to suit your preferences. For example,
You can ask for a burger or sandwich without meat, cheese, or non-vegan sauces, and load it up with vegan-friendly toppings like lettuce, tomato, onions, pickles, and condiments such as ketchup, mustard, or barbecue sauce.
Fruit & Maple Oatmeal Bowl made with water, some maple syrup, and an Americano.
Baked apple pie with a cup of black coffee without sugar.
A tortilla wrap filled with southwest salad without cheese and dressing and some sweet and sour sauce and some mustard. Enjoy it with a glass of Coke.
McDonald's slushies are my all-time favorite and I enjoy them till the last sip.
Some iced coffee with a side salad with sesame ginger dressing.
Tip: Have some coffee mate dairy-free liquid creamers in your bag. Just add them to your oatmeal bowl and it will add a nice creamy flavor and texture. A bag of nuts can make your oatmeal bowl more appetizing.
Remember to communicate your dietary requirements clearly when placing your order to ensure your meal is prepared in accordance with your vegan preferences.
Vegan Options at McDonald's Around the World
Unlike the USA, McDonald's has been gradually expanding its vegan options to cater to the growing demand for plant-based choices in the UK and European countries. While specific options may vary by country and location, here are some of the vegan options that have been available at McDonald's in European countries:
MCPlant
Double McPlant (in UK and Ireland)
Veggie Dippers
The Spicy Veggie One ( vegan vegetable wrap)
Cucumber Sticks
Melon Fruit Bag
Veggie Goujon Happy Meal: This meal includes vegetarian goujons made with red pepper, rice, sundried tomato pesto, and split peas. It is typically served with fries and a beverage.
Spicy Veggie Wrap: This wrap usually contains a breaded vegetable patty, lettuce, tomato, and a spicy sauce.
Vegetable Deluxe: This burger typically consists of a breaded vegetable patty with lettuce, tomato, and sauce.
Side Salad: McDonald's side salad, without cheese or non-vegan dressings, is generally vegan-friendly.
French Fries are vegan in the UK, Canada, India, and most of European Countries.
Falafel Nuggets in Sweden Mcdonalds are vegan.
McVegan is a veggie burger sold in Finland McDonald's.
El Veggo is a vegan burger available at Finland McDonald's. It has a soybean steak and is topped with salsa sauce and fresh veggies.
McAloo Tikki is a chaat twist vegan burger available in India. The burger patty is made with peas, potato, and spices, topped with a tangy, sweet, and spicy green chutney and fresh onions.
It's important to note that availability may vary by country, and McDonald's may continue to introduce new vegan options or modify their menu to better accommodate plant-based diets. Therefore, it's advisable to check with your local McDonald's or visit their official website for the most up-to-date and specific information on vegan offerings in your area.
Vegan options at McDonald's are very limited. There isn't anything on this menu that looks appetizing or fancy so if you're looking for something more than just filling up your stomach in an emergency, I don't recommend going to McDonald's for any dine-out experience.
What do you think? Let me know by commenting below!