Vegan Sweet and sour cauliflower on a bed of rice are what a perfect dinner sounds to me. A simple vegan and gluten-free recipe with amazingly delicious Asian flavors.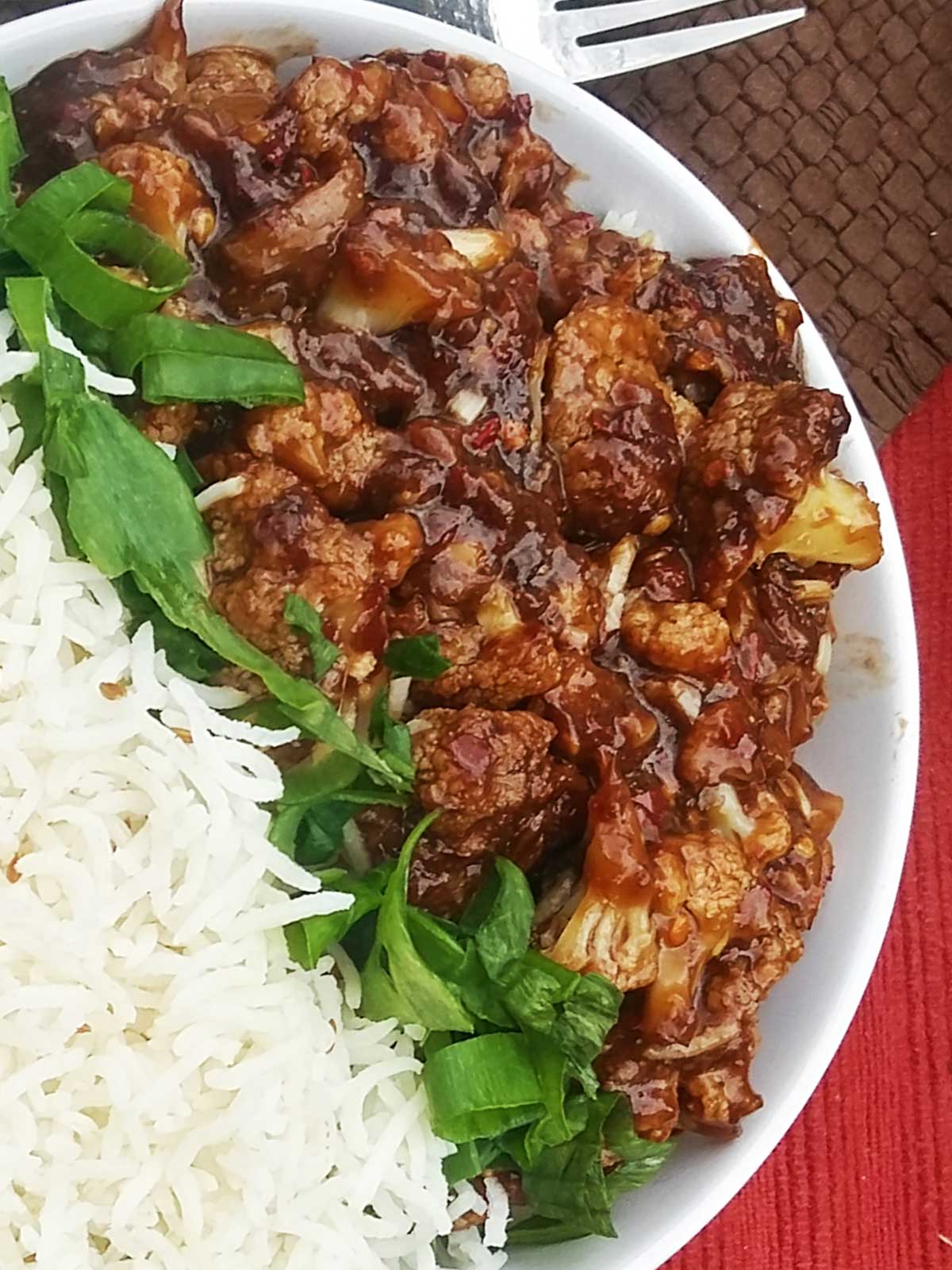 I love to cook for my family at home, but whenever we plan to dine out, usually I prefer Asian food. This is because cooking Asian food at home is sometimes overwhelming and it's a bit tricky to get the same flavors. But this recipe is different as it involves minimum steps. In the end, you get an amazingly delicious cauliflower dish with scrumptious Asian flavors. If you are in search of Asian flavor vegan recipes you might also like my BROCCOLI WITH GARLIC SAUCE recipe.
Cauliflower is a great meat alternative, especially when you're trying to recreate meat-based dishes because if you cook it properly, it absorbs all flavors very well and has a crunchy texture. The best part of this recipe is that there is no breading or frying involved, so it's not only vegan but also a healthy version of Asian deliciousness. Instead of being deep-fried, the cauliflower florets are cooked with less oil and later dunk in Incredibly delicious juicy sweet and sour sauce.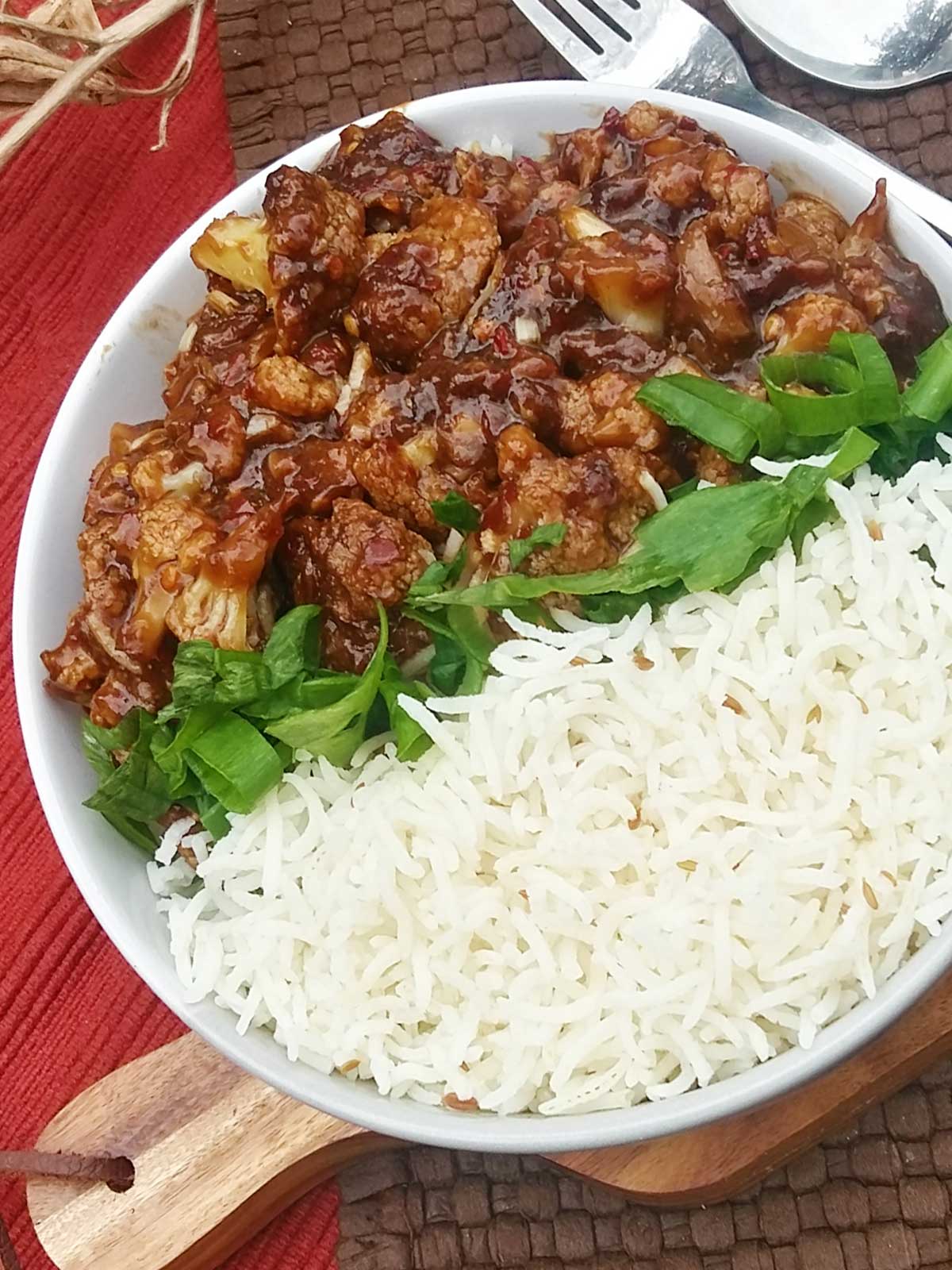 Sweet and Sour Cauliflower Sauce Ingredients:
One of the best parts of this recipe is the sauce, sweet, sour and savory. A good sweet and sour sauce needs to have a nice tangy flavor to it with perfect sweetness. It's so addictive and easy to make with a few simple ingredients you probably already have in your pantry. Ingredients for sauce are
Vegetable Broth  
Soya Sauce, you can also use tamari sauce to make this recipe gluten-free.   
Maple Syrup or Brown Sugar  
Chili Flakes  
Tahini  
Chopped Garlic  
Rice Vinegar (Before I created this recipe without vinegar and it was good, but the sauce was missing that tangy flavor. I have updated the recipe and added vinegar in the sauce. I like this version better and you will love it too.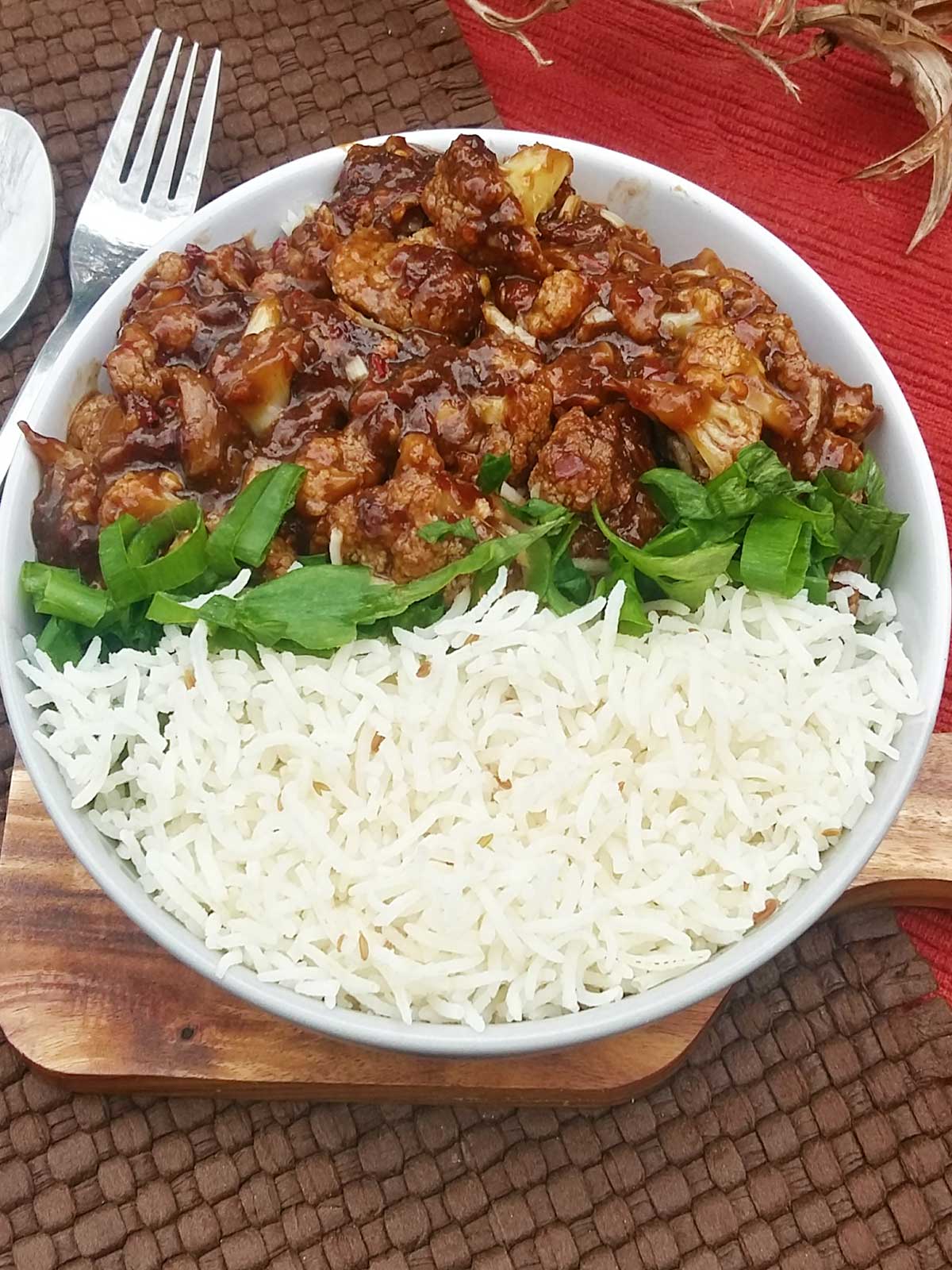 How to Make Vegan Sweet and Sour Cauliflower?
When it comes to making a good Sweet and Sour cauliflower recipe there are a few tips I love to give out.
I am using vegetable stock with salt, if you are using salt-free stock, adjust the taste.  
Make sure you are using the good size (around 2 inches) of cauliflower florets. If they are too small, they get mushy while cooking.   
Cook cauliflower in half of the sauce before adding corn starch as it will ensure that sauce flavors are well absorbed.  
Taste, and adjust the sweet and sour balance as desired by adding more maple syrup or vinegar, ½ teaspoon at a time.  
Use a silicone spatula to turn and toss the cauliflower florets.  
Serve hot over rice and garnish with spring onions and sesame seeds.  
I always love to serve mine with cooked white rice as they taste so good with it but you can serve it with quinoa or noodles too.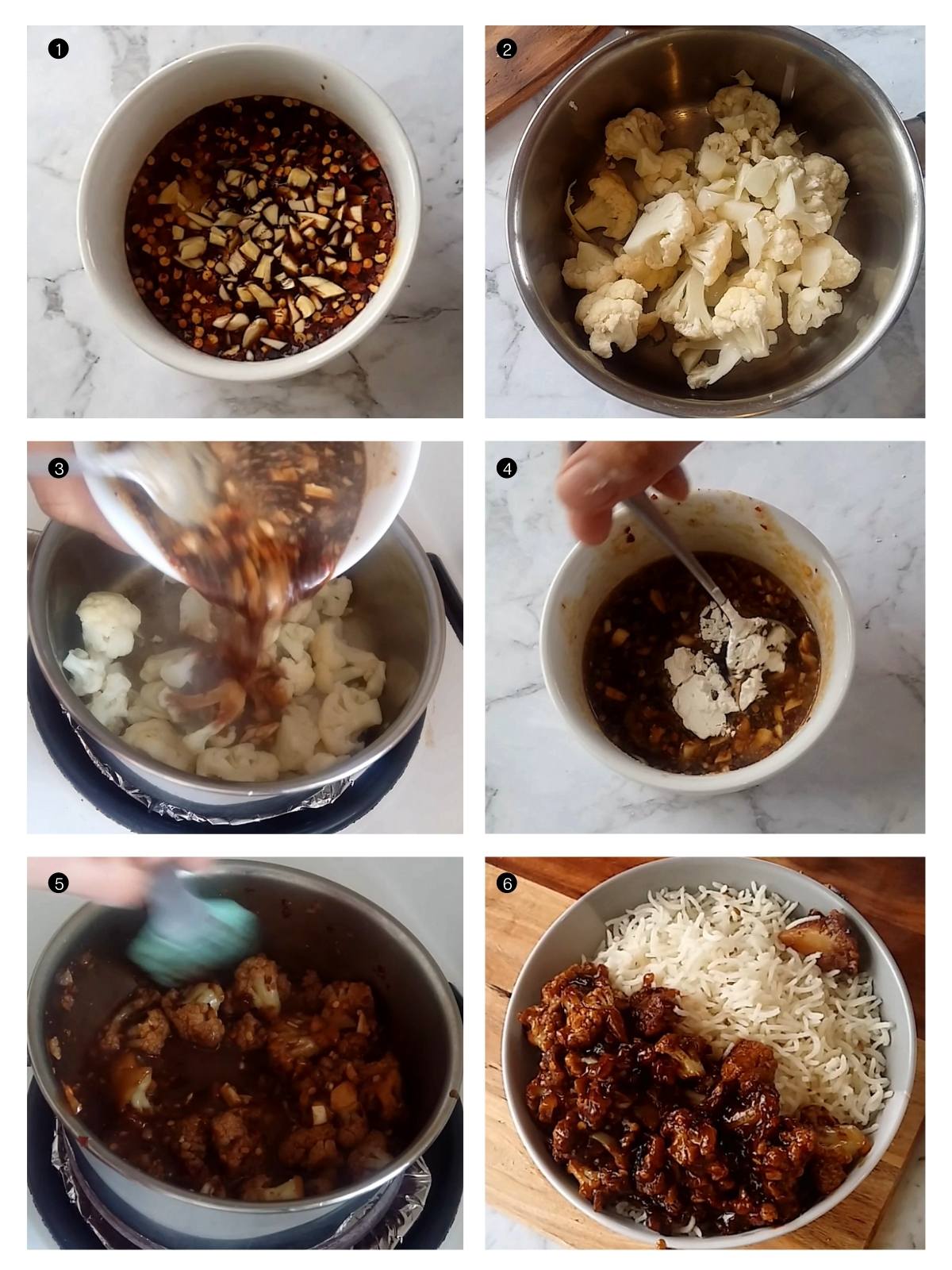 Serve
Serve this delicious saucy cauliflower with plain white rice or rice noodles, it will be a hit. If you are looking some more healthy option you can opt for cooked quinoa, barley or even brown rice.
How to Store and Reheat:
You can refrigerate it in an airtight container for up to 4 days. For reheating simply add a splash of water, cover, and microwave. If you are making this recipe for meal prep, do not store it with rice in the same container. Refrigerate in a separate airtight container and reheat before serving on rice.
You will surely love this sweet and sour cauliflower recipe as it is
Rich   
Satisfying    
Flavorful    
Quick & easy to make    
And seriously delicious.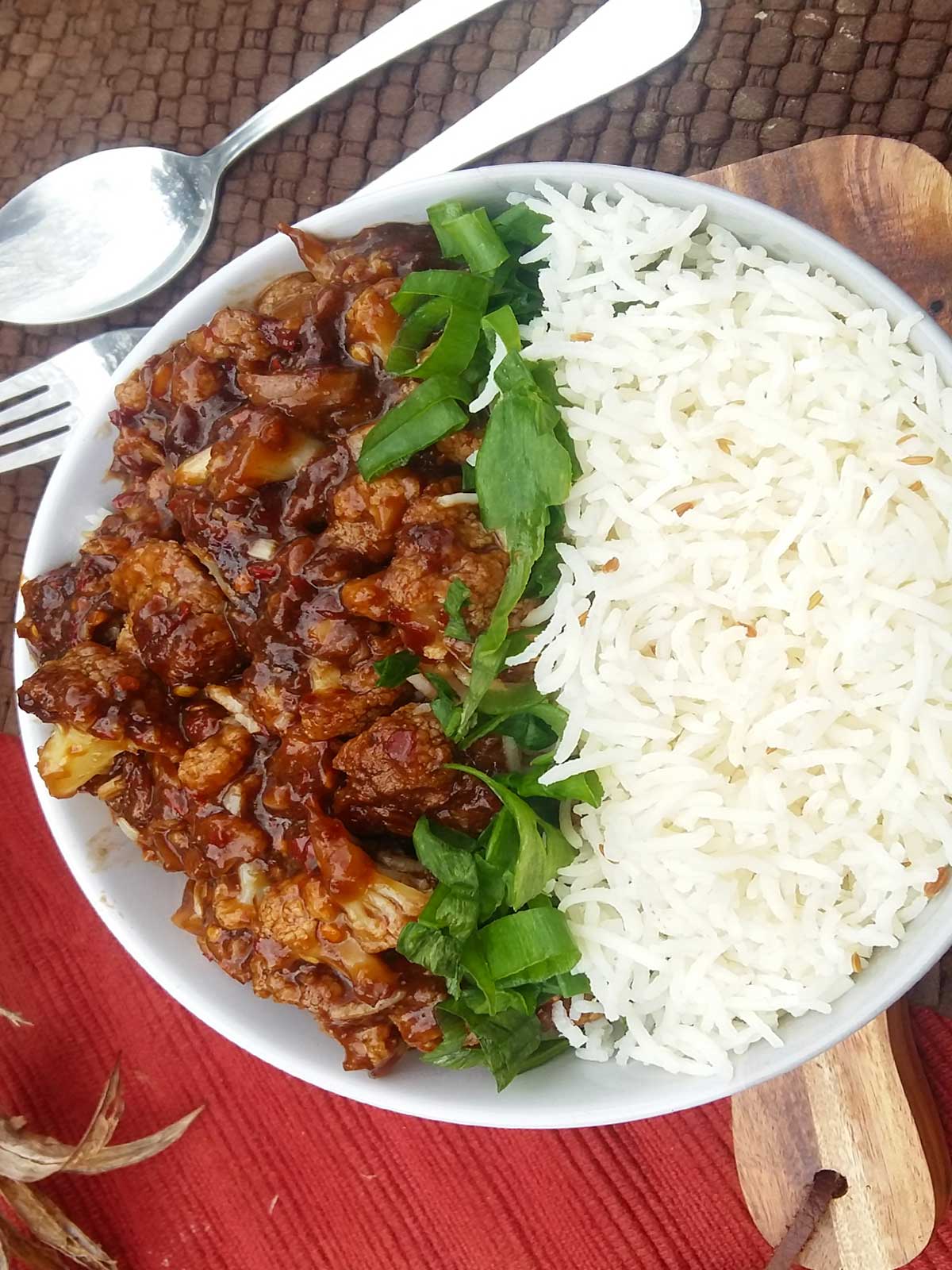 More Vegan Dinner Recipes like This:
If you like this recipe you may also like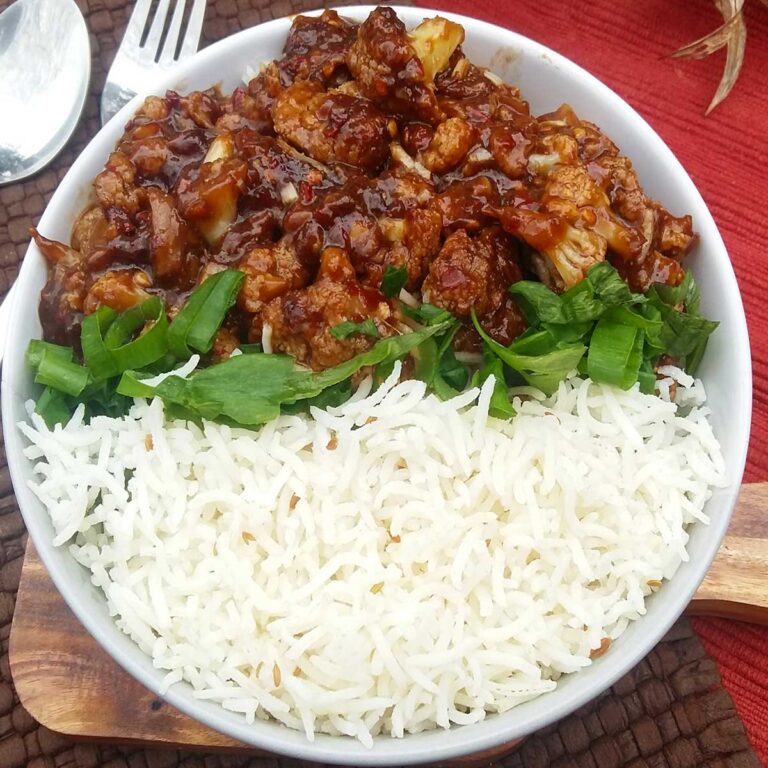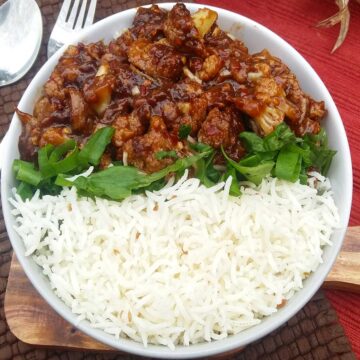 Vegan Sweet and Sour Cauliflower
Sweet and sour cauliflower on a bed of rice is what a perfect dinner sound to me. A simple vegan and gluten-free recipe with amazingly delicious Asian flavors.
Ingredients
1

small head

Cauliflower florets

3

tbs

Olive oil

2

tbs

Water

1½

tbs

Corn starch
For Sauce:
½

cup

Vegetable broth

( I am using home made vegetable stock that is dark in color and this will affect the end result. If you are using clear veg broth your dish might look light beige in color)

¼

cup

Dark Soy sauce / Tamari sauce

2

tbsp

Brown sugar

(Maple syrup if you want it sugar free)

2

tsp

Chili flakes

2

tbsp

Tahini

5-6

cloves

Chopped garlic

3

Tbs

Rice vinegar
Instructions
Prepare the sweet and sour sauce by mixing vegetable broth, soya sauce or tamari sauce, rice vinegar, maple syrup, Tahini, chili flakes, and chopped garlic. 

Wash and cut cauliflower into 1 ½ to 2-inch size florets.  

In a pan add cauliflower oil and a splash of water. Stir and cover, let it cook on slow to medium heat for 4 to 5 minutes.  

Once cauliflower gets soften add half of the sauce and stir.  

Let it simmer for further 3 to 4 minutes or until the sauce is well absorbed. Make sure the heat is medium to low. Do not burn the sauce.  

Add cornflour into the remaining sauce and mix.

Now add the remaining sauce into cauliflower and cook until thickened. 

Serve hot on rice and garnish with spring onions and sesame seeds.  
Notes
Use Tamari sauce instead of soya sauce to make this recipe gluten-free. 

 

I have updated the recipe and added rice vinegar in the sauce. In the video recipe, this step is missing. 

 

Cook your rice before and serve the cauliflower hot right after cooking. They taste delicious when served freshly cooked. 

I am using homemade veg stock it is darker in color and thus this will affect the color of the end product. If you are using light color vegetable stock, your dish might result in light beige color.
Nutrition
Calories:
188
kcal
Carbohydrates:
23
g
Protein:
3
g
Fat:
10
g
Saturated Fat:
1
g
Polyunsaturated Fat:
4
g
Monounsaturated Fat:
4
g
Sodium:
466
mg
Potassium:
131
mg
Fiber:
2
g
Sugar:
12
g
Vitamin A:
775
IU
Vitamin C:
1
mg
Calcium:
46
mg
Iron:
1
mg
If you try this recipe, leave a comment and show some love by rating it in stars. Do not forget to take a picture and tag us @getsetvegan on Instagram. We would love to see it.