Want to know some vegan options at Sonic, You are not alone. Let us be your entourage in introducing you to the exotic vegan options in Sonic. Their menu comprises sandwiches, wraps, frozen drinks, sauces, pickles, fries, and whatnot!
Besides, you can get your sandwich customized with preferred bread, sauces, and veggies.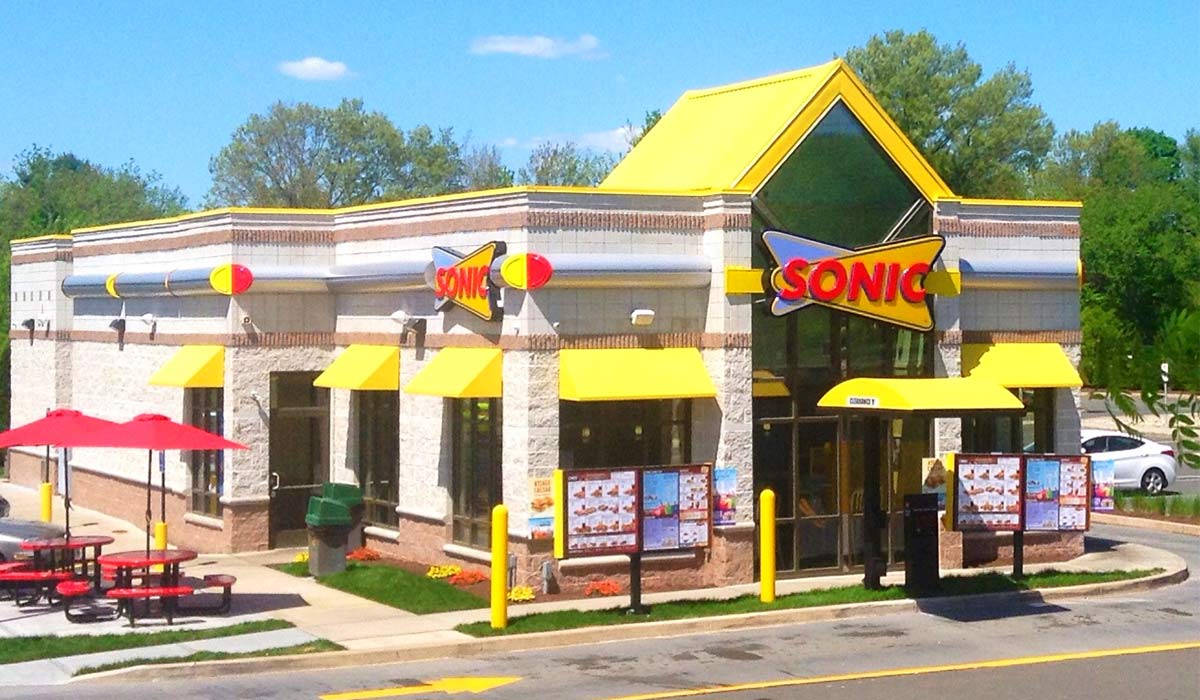 The US has built up a massive number of junk-food outlets in the last few years. Some offer meat-based dishes, whereas some of them offer vegan options. Well, Sonic Drive-In is another eatery outlet in the US that offers assorted food items you would want to try. SONIC is an American drive-in fast-food restaurant chain owned by Inspire Brands. They are known for their fast service and quick and delicious meals across the nation. In the US they have their food stores in around 46 states.
Jump to:
Does Sonic Have Vegan Options?
Customers cannot expect gazillions of vegan items from this fast-food establishment. But they can find a handful of vegan options in Sonic to choose from. Let's have a look at the list of vegan-friendly items Sonic has to offer.
Sonic Vegan Sides
SONIC does not provide a complete ingredient list of their menu on their website but we can have an idea of ingredients by looking at their allergen statement. According to that these sides are vegan at sonic and are fried in plant-based oil and not lard. These vegan sides are
Onion Rings
French Fries
Tater Tots and Sweet Potato Tater Tots
Yes, you read it right, onion rings! Surprisingly, Sonic is perhaps the only fast food outlet selling vegan onion rings. According to some rumors, they may contain some dairy in their onion ring but this is not shown in their allergen guide.
Does Sonic Onion Rings are Still Vegan?
It's unfortunate to hear that Sonic onion rings are no longer considered vegan. The most reliable source of information regarding a product's ingredients and preparation methods is typically the official allergen guide or the company itself.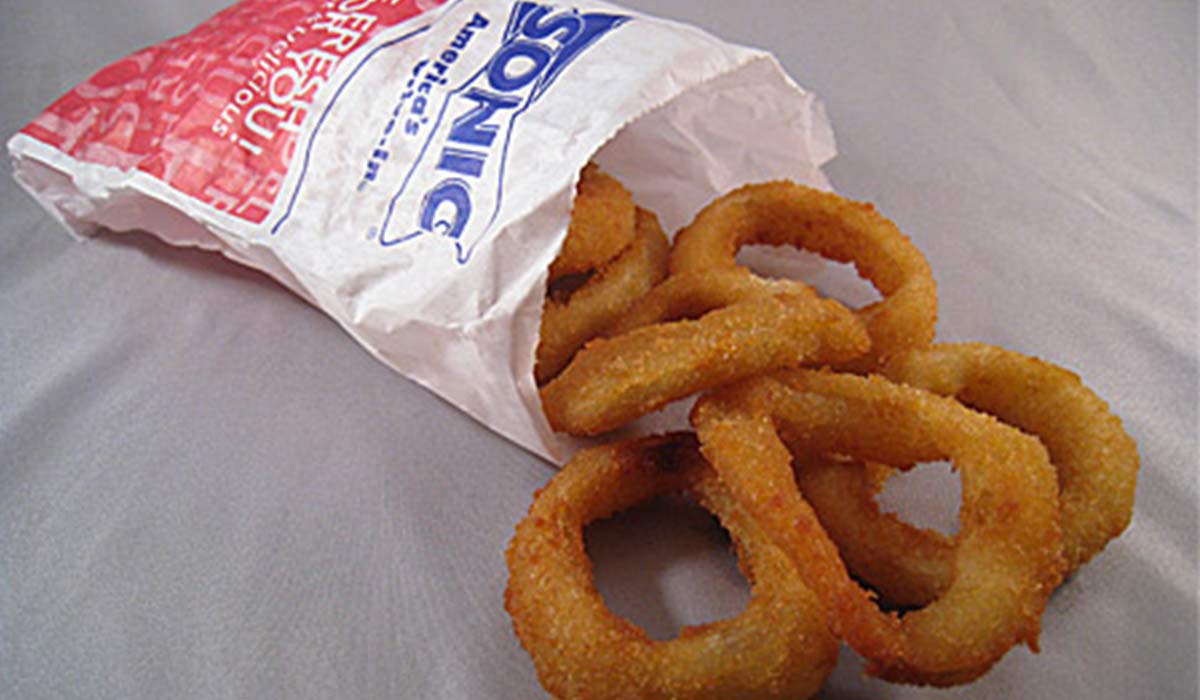 Vegan Breads at Sonic
Sonic offers a range of bread options to its customers. Their Brioche Bun, Biscuits, and Croissants are not vegan as they contain milk and egg all other bread options are vegan that are
Bagel
Hamburger bun
Hot dog bun
Philly Roll
Soft Pretzel Twist
Tortilla
Ciabatta Bun
Poppy Seed Bun
Texas Toast
Some bread products may have traces of milk or egg but are not added as an ingredient in the bread.
According to SONIC certain fresh bread products may have different ingredients because Drive-Ins purchase from local bakeries whose ingredients and allergens may vary. So it's better to ask for ingredients before ordering.
Dips and Sauces
A long list of sauces available at Sonic is vegan. These are
Ketchup
Mustard
Spicy Mustard
Hickory BBQ Sauce
Sweet and Sour Sauce
Grape Jelly, Marinara
Salsa de Sonic
Strawberry Jam
Sweet and Sour Sauce
Sweet Relish
Maple Flavored Syrup
The Buffalo Sauce, Mayonnaise, Ranch, Tartar Sauce, and Signature Sauce contain egg.
Are Sonic Slushies Vegan?
Kids and adults flock in great numbers to enjoy frozen drinks at Sonic. You will be happy to know that all slush bases at Sonic are vegan-friendly. Just choose from vegan syrup flavors and enjoy the frozen drinks.
Lemonade Slush
Limeade Slush
Plain Slush Base (Add flavor from syrup options)
Vegan Flavor Syrups
Most of the syrup flavors are vegan just avoid the candy slush flavors which contain nerds or milk-based candies like M&Ms. Leave the caramel, cookie, cake, and chocolate flavors too. You can slurp slush in flavors of
Blackberry
Blue Coconut
Blue Raspberry
Cherry
Diet Cherry
French Vanilla
Grape
Mango
Peach
Raspberry
Watermelon
Other Drinks That are Vegan at Sonic
The vegan drinks at Sonic will surely refresh your mind. Besides, no allergenic component is reported to be present in these. The list is never-ending. Quench your thirst with
Barq's Root Beer
Coca-Cola
Coca-Cola Zero Sugar
Diet Coke
Diet Dr. Pepper
Dr. Pepper
Fanta Orange
Fresh Brewed Sweet Tea
Fresh Brewed Unsweet Tea
Green Mountain Coffee Roasters' Hot Coffee
Green Tea (Diet)
Green Tea (Sweet)
Hi-C Fruit Punch
Lemonade
Mello Yello
Minute Maid Apple Juice Box
Minute Maid Orange Juice
Powerade
Sonic Wave Bottled Water
Sprite
Sprite Zero
Other Vegan Options at Sonic
Apple Slices (no caramel sauce)
Apple Sauce Packet
Frito's Corn Chips
Oreo cookie pieces
All the listed items are entirely vegan as per their allergen statement. All the sides at Sonic are fried in vegetable oil and they do not use any animal lard.
Customize Your Own Vegan Sandwich
The eatery has come up with a "build-your-own sandwich" concept. Here you can ask the Sonic staff to customize your sandwich, burgers, wraps, or any bread items the way you prefer it. Choose a bread option from vegan breads available at sonic and choose your favorite topping from the list mentioned below.
Tomato
Avocado
Lettuce
Sport Peppers
Diced Onions
Sweet Pickle Relish
Hatch Green Chilies
Dill Pickle Chips and Spears
Jalapenos
Sauerkraut
Grilled Bell Peppers
Grilled onions
Aren't you feeling hungry?
Your sandwich is almost ready. You just need some condiments to make it all the more mouthwatering. Choose from a variety of vegan dips and sauces to add to your vegan sandwich.
Faq's
Lastly, Check out some Frequently Asked Questions about SONIC Vegan-friendly Options.
Are Sonic Buns Dairy-Free? 
The hamburgers and hotdog buns they serve are mostly vegan and dairy-free. Hence, you can generally expect vegan bread at Sonic. But the bread ingredients may vary from place to place as they source their bread products from local bakeries. However, some of their buns may contain milk and eggs. 
Are Sonic Fries Vegan?
Yes! Sonic fries are absolutely vegan. French fries and other delicacies are fried in vegetable oil instead of any lard. 
However, there is scope for being finicky owing to the cooking methods. In some locations, vegan items may be fried in the same oil as dairy products and meats. 
Are Sonic's French Toast Sticks Vegan?
Sonic French toast sticks are not vegan. These delicacies contain milk. Besides, these have allergenic components such as gluten, wheat, and soy. However delicious a piece of French toast may look, avoid having it if you are allergic to any of the ingredients. 
Do Sonic Pretzels Have Dairy?
This twisted soft delicacy is completely vegan. But, most of the time it is accompanied by a cheese dip. You should substitute it with a vegan condiment to avoid dairy consumption. Besides, the Sonic allergen guide does not include milk as an allergen component of pretzels. But, sometimes, these can have milk with a change in the supplier. 
Do Sonic Tater Tots Have Dairy? 
Tater tots are one of the best Vegan options in Sonic. Dip it with any sauces from Sonic and savor every bite of this tasty delight. Tots do not contain any dairy products and are purely vegan. 
Does Sonic Have Salads?
Yes! Sonic Salads are a lighter and healthier substitute for other snacks. But, these do not fall under vegan options in Sonic. Sonic has an exciting line of 3 salads, which are completely non-vegan and contain chicken. The signature salads at Sonic Drive-In are grilled chicken salad, jumbo popcorn chicken salad, and Santa Fe grilled chicken salad. Unfortunately, they haven't come along with any vegan salads yet. 
Is Sonic Cinnasnacks Vegan? 
Sonic's allergen statement clearly stated that the Cinnasnacks they serve are not vegan as milk and eggs go into making this food item. Besides, Sonic uses soy, wheat, and gluten, including tree nuts, to make Cinnasnacks, which are allergens for many people. 
Ending Words
Although Sonic Drive-In is primarily known for its meat-centric offerings, the chain does provide several vegan options for those looking for plant-based choices. From the veggie burger to the customizable toppings, sides like french fries and tater tots, and even vegan-friendly dressings, Sonic offers a range of options to accommodate vegans. By staying informed and verifying the ingredients, you can enjoy a satisfying and cruelty-free meal at Sonic.
VEGAN OPTIONS AT OTHER FAST FOOD CHAINS