Are croutons vegan? Let's dive into the world of these crunchy delights and explore the top vegan crouton brands. Discover the perfect salad topper for your plant-based meals.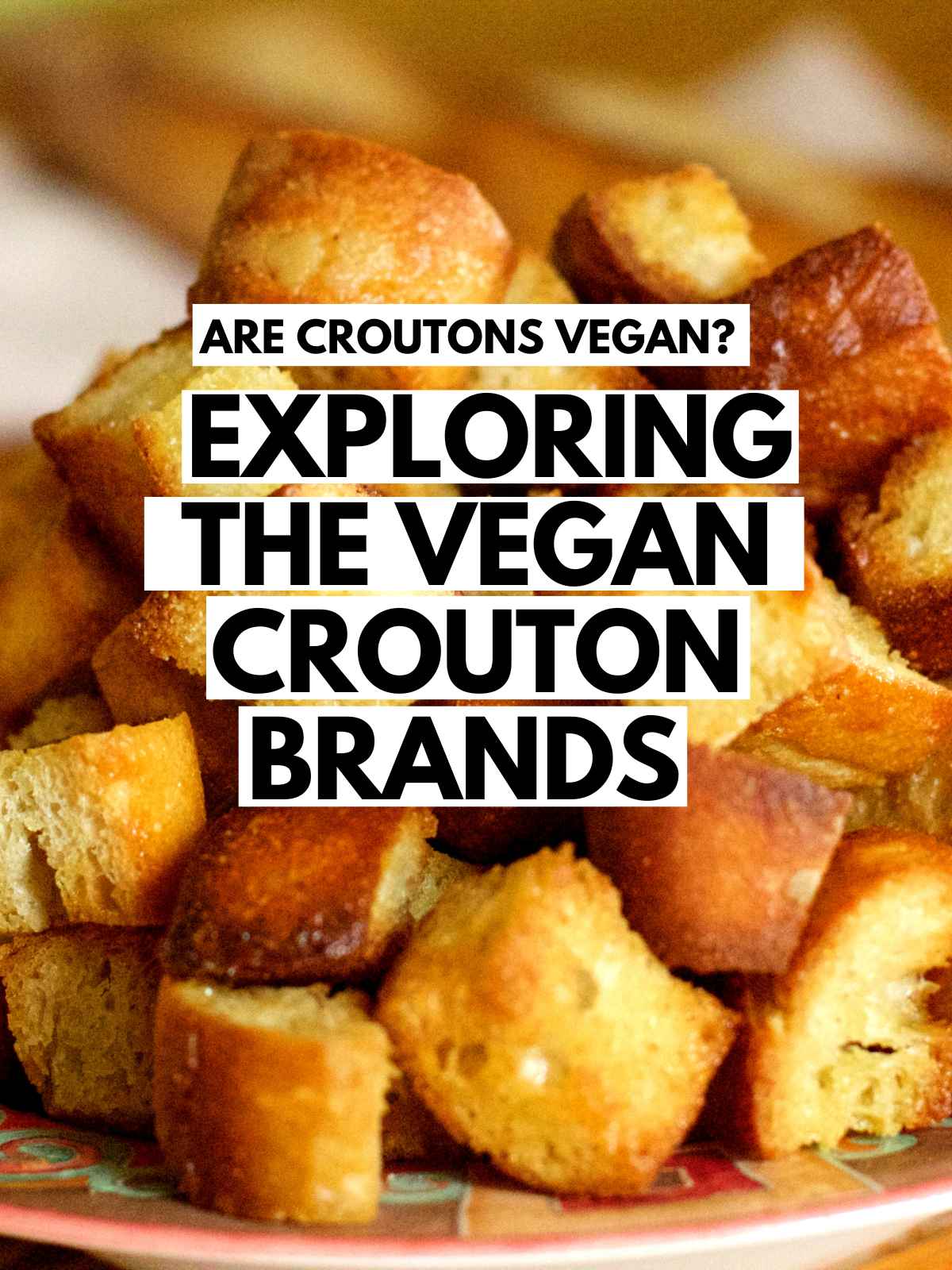 Take a look at this crouton recipe, prepared with bread slices in a stovetop pan. While it's originally a dessert crouton recipe featuring salted caramel flavor, you have the flexibility to customize it with savory seasonings if you prefer.
Jump to:
Are Croutons Vegan?
It's a question that might seem straightforward, but the answer isn't always as simple as you might think. Croutons, those crispy little cubes of toasted bread that add a delightful crunch to salads and soups, can vary in ingredients, and it's essential for vegans to be discerning when selecting their salad toppings.
In this blog post, we will dive into the world of croutons to uncover whether they are vegan-friendly. We will also give you a list of vegan croutons available in the market.
Before we determine the vegan status of croutons, let's take a moment to understand what croutons are and how they are traditionally made.
What Are Croutons?
Croutons are small, crispy pieces of toasted or fried bread. They're often used as a crunchy topping for salads or soups, adding texture and flavor. Croutons can come in various shapes and flavors, and they are a versatile addition to many dishes.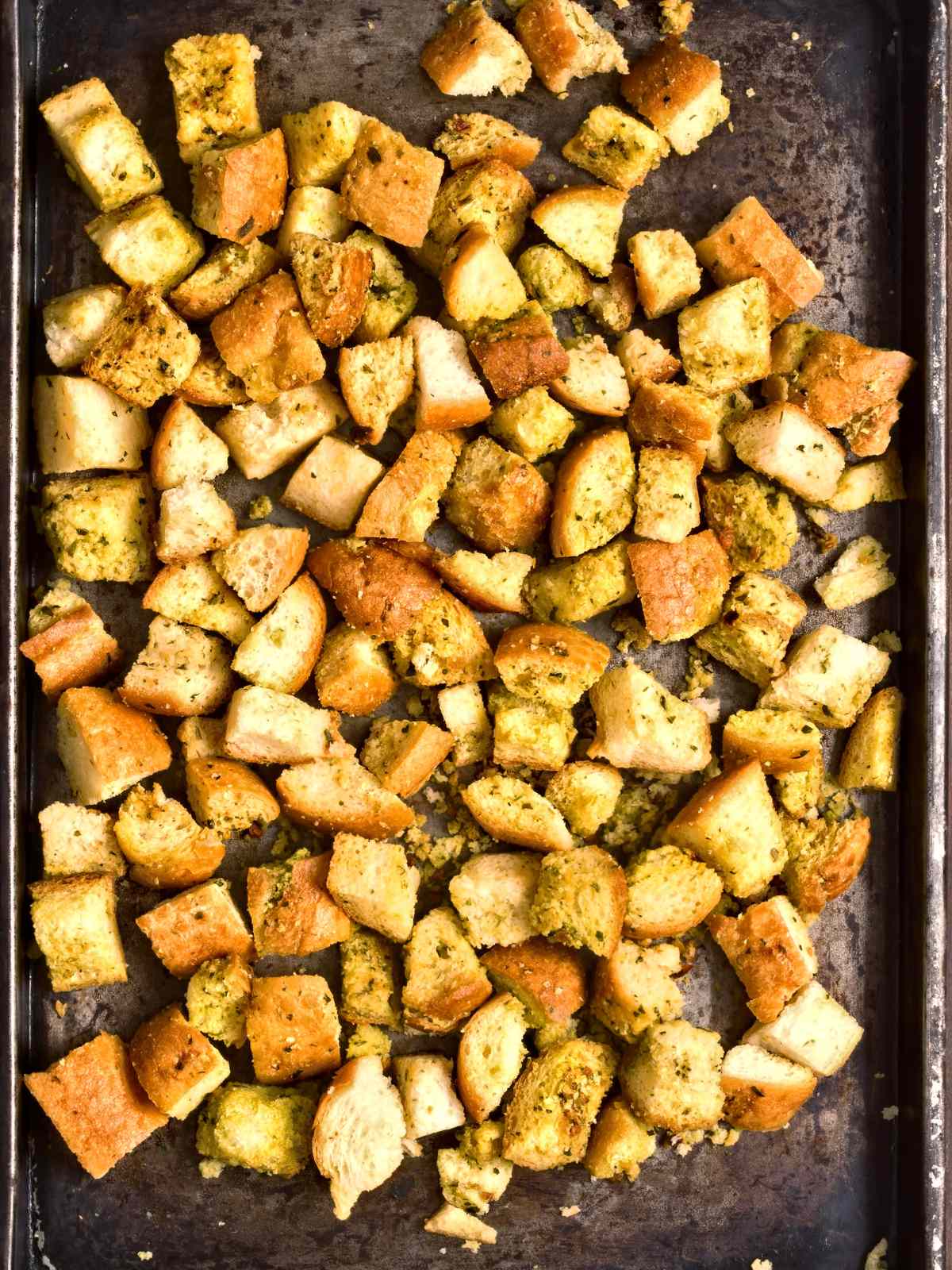 Traditional Crouton Ingredients
The typical ingredients for traditional croutons include:
Bread: Often made from white bread, but some variations use whole wheat or other types of bread.
Oil: Usually, vegetable oil, such as soybean or canola oil.
Seasonings: Salt, garlic powder, onion powder, and herbs like parsley or oregano are commonly used for flavor.
Now, Here's the Twist: While croutons can indeed be made solely from plant-based ingredients, many brands opt to incorporate non-vegan components to enhance richness, flavor, and prolong shelf life.
Non-Vegan Ingredients in the Croutons
Now that we know what croutons are made of let's explore the potential non-vegan ingredients and concerns that vegans might have.
Eggs
Dairy: Most brands available in the market have butter, parmesan cheese, milk solids, condensed milk powder, whey, and other forms of dairy in their croutons. Some crouton brands or recipes include butter or other dairy products for added richness. Make sure to check the allergen statement of the product to see if it contains milk or not.
Honey: A sweetener sometimes used in the seasoning mixture; honey is a controversial ingredient among vegans. While it comes from bees, some vegans choose to exclude it from their diet.
L-Cysteine: This amino acid, often derived from duck feathers or human hair, can condition the dough in bread products, including croutons.
Enzymes: Certain enzymes used in bread-making can be derived from animals, so it's important to look out for terms like "bromelain" or "pancreatin."
Animal-Based Seasoning: Some brands have beef or chicken-flavored seasoning in their croutons making them nonvegan products.
Vegan Croutons
Croutons can be vegan, but it depends on the ingredients and preparation method. Many brands offer vegan crouton options that are made without animal products. To ensure you're choosing a vegan option, check the label for any animal-derived ingredients. Exploring vegan crouton brands is a great way to find the perfect, cruelty-free addition to your salads and soups.
Vegan Crouton Brands
Thankfully, there are numerous vegan-friendly croutons available in stores. To ensure that you are making a cruelty-free choice, consider the following options:
Heaven & Earth Veggie Croutons
Schwartz Brothers Bakery Croutons
Kelly's Gourmet Cheezy Garlic Croutons
Kooshy Croutons - Poco Picante
Kooshy Croutons - Almost Naked
Kooshy Croutons - French Toast
Fresh Gourmet Specialty Croutons (Organic Seasoned)
Olivia's Croutons Traditional Stuffing Mix
Olivia's Croutons Garlic & Herb
365 by Whole Foods Market, Organic Seasoned Croutons
Edward & Sons Organic Croutons, Italian Herbs
Edward & Sons Organic Croutons, Savory Onion
Edward & Sons Organic Croutons, Parmezen
Edward & Sons Organic Croutons, Zesty Ranch
Carrington Farms Garden Herb Organic Crounons
These croutons are made with quinoa and are a vegan gluten-free crouton option.
Gefen Seasoned Croutons
Best Vegan Crouton Brand
When it comes to store-bought vegan croutons, I've tried nearly every brand available in the Market. For the best combination of taste and crispiness, I particularly favor Fresh Gourmet Organic Seasoned Croutons, which happen to be more budget-friendly compared to other brands. Sad to know that among the various flavors they offer, only this one is vegan-friendly.
I also prefer Edward & Sons Organic Croutons however, at times, I find them to be excessively seasoned. Whole Foods Market, Organic Seasoned Croutons are a good choice too, they're appropriately crispy and well-seasoned, but they do contain some tough bits that can be challenging to chew.
Frequently Asked Questions
Do croutons contain milk?
Most of the time brands have milk or milk by-products in their croutons. However, you can locate dairy-free options among store brands.

What are croutons considered?
Croutons are typically considered a type of seasoned or toasted bread cube or small piece that is used as a topping for salads or soups or as a crunchy snack.
What's the difference between croutons and breadcrumbs?
The primary difference between croutons and breadcrumbs is their texture and usage. Croutons are larger, seasoned pieces of toasted or fried bread commonly used as toppings for salads or soups. Breadcrumbs, on the other hand, are finely ground or grated dried bread and are used as a coating for various dishes.
Conclusion
So, are croutons vegan? It depends. While traditional croutons might include non-vegan ingredients like butter, milk, or honey, there are plenty of vegan-friendly alternatives on the market. By being mindful of the ingredients in croutons and opting for cruelty-free choices, vegans can continue to enjoy these crispy delights on their salads and soups. Remember, it's always a good idea to double-check labels and, when in doubt, choose to make your vegan croutons at home for the ultimate peace of mind.