IHOP is a family-friendly restaurant that serves breakfast all day, every day. Their menu has something for everyone, even for vegans and vegetarians. It's the perfect place to bring the whole family for breakfast or lunch.
Unfortunately, IHOP does not have vegan pancakes is a well-known fact in the vegan community. Not only pancakes but also, they do not serve any vegan option in waffles, crepes, french toast, breakfast bowls, or burgers.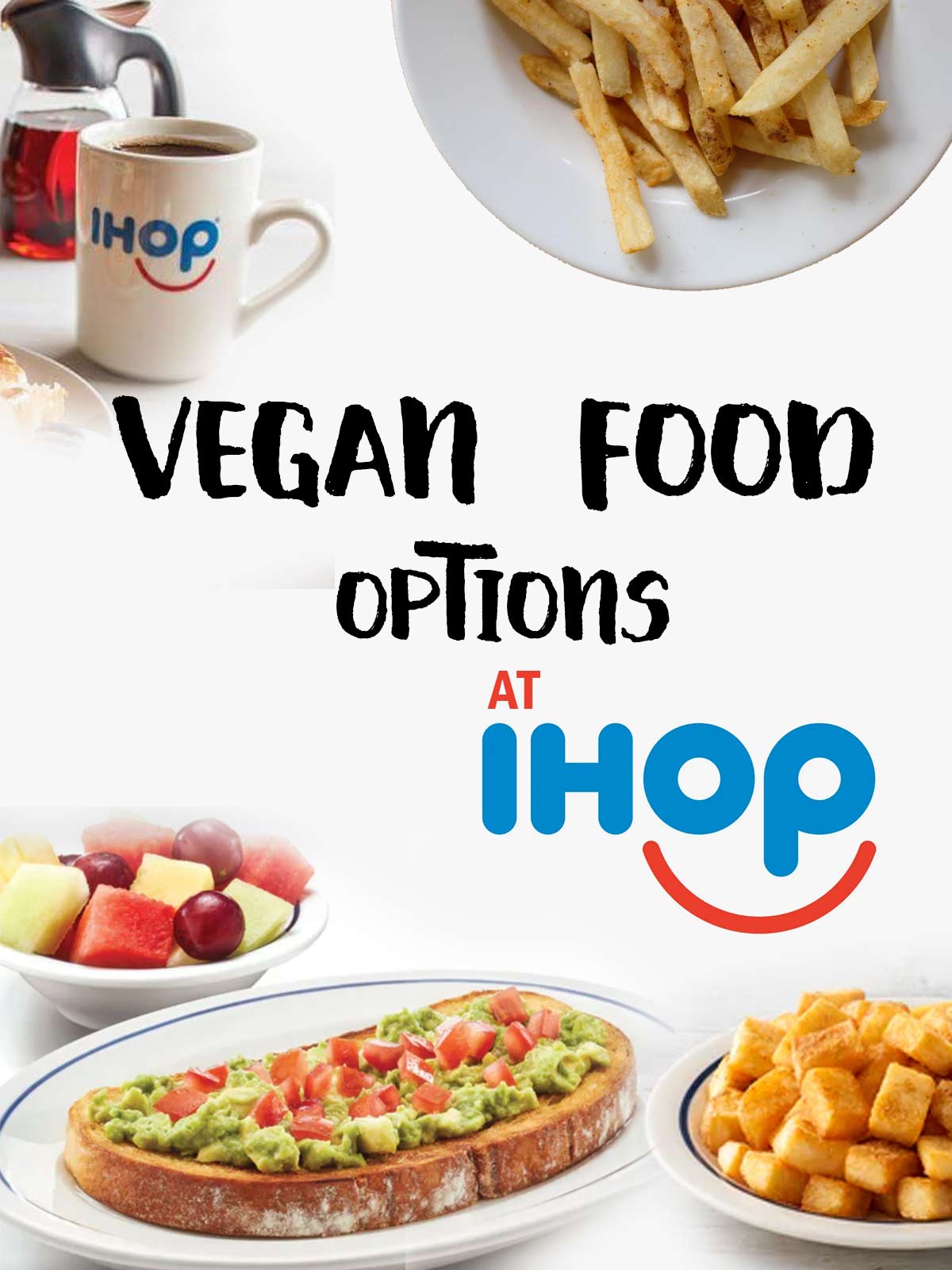 Fear not, animal-loving vegans, there is still plenty of sides option to order that you can enjoy guilt-free and mix and match to make a complete meal.
Below, I will share my tips on how to order these items vegan. You may be surprised by which menu items are NOT vegan.
IHOP Vegan Options to Try
Are there any vegan options at IHOP? Is a commonly asked question
Well, if you're not a fan of pancakes, waffles, or both then this is your best bet. There are plenty of other options that will make for an enjoyable vegan morning meal!
Vegan Breakfast Foods at IHOP
Grits
Oatmeal (It is not vegan as contain milk but you can ask if they can make it in water)
English muffin without butter (do not forget to get some jam instead)
Hash browns without butter (get some avocado slices instead and thank me later)
Crispy potato pancakes
Red potato pepper & onion hash
Fresh fruit cup
Vegan Sides at IHOP
French fries
Hash browns
Crispy potato pancakes
Plain baked potato
Sautéed veggies (onions, peppers, mushroom, spinach)
Steamed broccoli florets
Oven-roasted tomatoes
Fresh veggies (Spinach, tomatoes, green peppers & onions)
Salsa
Sourdough toast without butter
Corn tortillas
Flour tortillas
NOTE: Some of these sides' options are only available at limited stores so always ask for availability at the counter.
Vegan Salads and Soups
House Salad without croutons and with any vegan salad dressing.
Minestrone Soup without crackers as they are usually not vegan.
Vegan Salad Dressings
Balsamic vinaigrette
Raspberry vinaigrette
Creamy italian dressing
Fat-free catalina dressing
Fat-free french dressing
Vegan Syrups and Toppings
Maple flavored sugar-free syrup
Boysenberry syrup
Strawberry syrup
Old fashioned maple syrup
Flavored jellys
Blueberry compote
Glazed strawberries
Banana slices
Chocolate sauce
Brown sugar
Fruit jam
Sautéed spinach and mushroom
Sautéed green peppers & onion
Dill pickle spear
Vegan Beverages
Golden chamomile tea
Organic green tea
International house roast coffee
International house roast decaf coffee
Flavored & regular iced teas
Lemonades
Splashers
Juices (Tomato, orange, apple, cranberry, grapefruit)
Fountain drinks
Selected alcoholic beverages are vegan too.
Make a Vegan Meal at IHOP
Making a vegan meal at IHOP is not so difficult. They have plenty of side options to choose from and their syrup selection will make your taste buds go wild! There are also dressings, drinks, and more that can go well with anything on the menu for an ideal meal. You can try:
Oatmeal Bowl
In IHOP oatmeal is made in milk and it is not vegan. But you can try asking them If they make it dairy-free and use water instead of milk. You can top it with old-fashioned maple syrup or brown sugar for flavor. Do not forget to order a fruit cup as a side to top your oatmeal bowl. Order a cup of black coffee to make a complete breakfast meal.
Grits Bowl
IHOP offers a cornmeal porridge also known as grits. Surprisingly they do not contain any dairy and are made with water. You can enjoy a Savoury bowl of grits, mix some salt and pepper, top it with sauteed veggies, steamed broccoli, and avocado.
You can also make it sweet by adding brown sugar, maple syrup and topping it with some glazed strawberries or banana slices.
English Muffin
English muffins filled with jam and peanut butter are my all-time favorite snack at IHOP. You can pair it with a cup of black coffee and enjoy it any time any day.
If you are in the mood for a Savoury snack fill this muffin with some oven-roasted tomatoes and avocado and fresh spinach. Try adding some flavor with salsa pr ketchup. Ordering all these sides will be a hell of a task but it will be worth the effort. Don't forget to get some lemonade or a splasher as a drink.
DIY Loaded Fries
Order some fries and top it with sautéed vegetables, avocado, and some salsa or dill pickle spear. Believe me, you will love it. Pair it with some fizzy drink to complete the meal.
DIY Fresh Salad Sandwich
Order some sourdough toast (without butter), house salad, and avocado. Fill your sour bread toast with avocado and fresh house salad, add some flavor with creamy Italian dressing. You can add ketchup if you like it too. I like my sandwich without ketchup. Orange juice will complement very well with this fresh salad sandwich.
DIY Veggie Burrito
You can also make a veggie breakfast burrito by ordering a flour tortilla, some hash browns, or crispy potato cakes. Fill your tortilla wrap with hashbrown and any topping like avocado, some fresh veggies, dill pickle, sauteed veggies, and/or steamed broccoli. Have some French fries as a side and a fizzy drink to compliment your meal.
Salad Bowl
You can also try house salad without croutons and with any vegan salad dressing. You can also add some baked potato or potato pancakes to turn them into a warm salad.
You may also try other salads from the menu, mention leaving chicken, any other meat, egg, cheese, and sour cream. Add some flavor with any vegan salad dressing.
Minestrone Soup Bowl
Minestrone Soup is the best fulfilling option at IHOP during chilly weather. It is a tomato-based veggie and pasta soup. I love to order some baked potato and sourdough toast with it to make a complete meal.
FAQ About Vegan Food at IHOP
Are pancakes vegan at IHOP?

No, IHOP pancakes have egg and milk in them so they are not vegan.

Are IHOP crispy potato pancakes vegan?

Luckily crispy potato pancakes are vegan at IHOP.

Is IHOP syrup vegan?

Yes all IHOP syrups are vegan except one that is Butter Pecan syrup.

Is the toast at IHOP vegan?

Just Sourdough bread toast is vegan. Always mention No butter while toasting.

Is IHOP hot chocolate vegan?

No, it has milk in it and IHOP does not offer any vegan milk substitute.

Are IHOP eggs vegan?

No, IHOP doesn't offer any vegan egg substitute.

Is IHOP french toast dairy-free?

No, French toast at IHOP has milk in them so they are not dairy-free.

Does IHOP have a vegan burger?

Unfortunately, IHOP doesn't offer any vegan burger options on its menu.

Does IHOP have almond milk?

No, Almond milk is not offered as a milk substitute at IHOP.

Are IHOP waffles vegan?

NO IHOP waffles are not vegan as they have milk and dairy in them just like pancakes.

Are IHOP french fries vegan?

Yes, French fries at IHOP are vegan.
Plenty of sides and a wide variety of breakfasts make IHOP a great place to enjoy vegan meals. So, what if pancakes and waffles are not vegan? There is no need for worry because the menu choices you can order at IHOP will satisfy your appetite, regardless of dietary restrictions.
Do let us know in the comments below which meal options from our list have been your favorite so far!
Vegan Options at Other Fast Food Chains