These vegan oven-baked loaded fries are a fascination for those who love fries, but can't afford to add on tons of fats in their food. Yes, you hear RIGHT. They are fries but not fried. Sweet and garlicky baked fries, fresh veggies, olives and cheese, and a generous amount of pizza and BBQ sauce. That's all that you need to impress your guests at a vegan party or a potluck. By the way, it is equally liked by meat-eaters.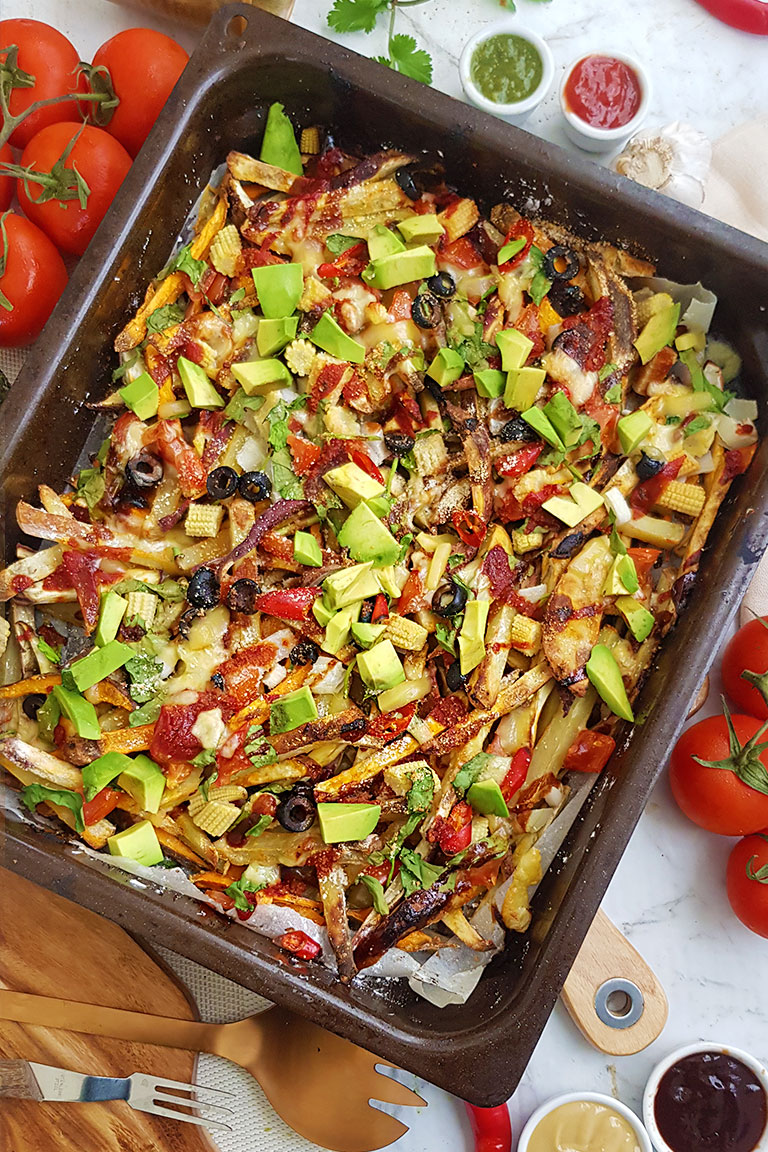 If you are a potato lover like me, Try out these amazing Vegan Potato Recipes, and do let me know which one is you are favorite.
These fries are a mix of sweet, savory and spicy flavors. They have a combination of potatoes and sweet potatoes to double the game of nutrients. Next, they are topped with fresh veggies, sauces, some dairy-free cheese, and avocado.
This recipe brings together all my favorite flavors, it is an amazing vegan potluck party appetizer or a vegan side dish recipe. These loaded fries are super easy to put together. They are refreshing and so delicious with various textures and flavors.
Ingredients for Vegan Oven-Baked Loaded Fries:
Potatoes and Sweat potatoes: For these loaded fries recipe, I am using a mix of potatoes and two kinds of sweet potatoes. This is just to maintain a sweet and savory balance in the recipe.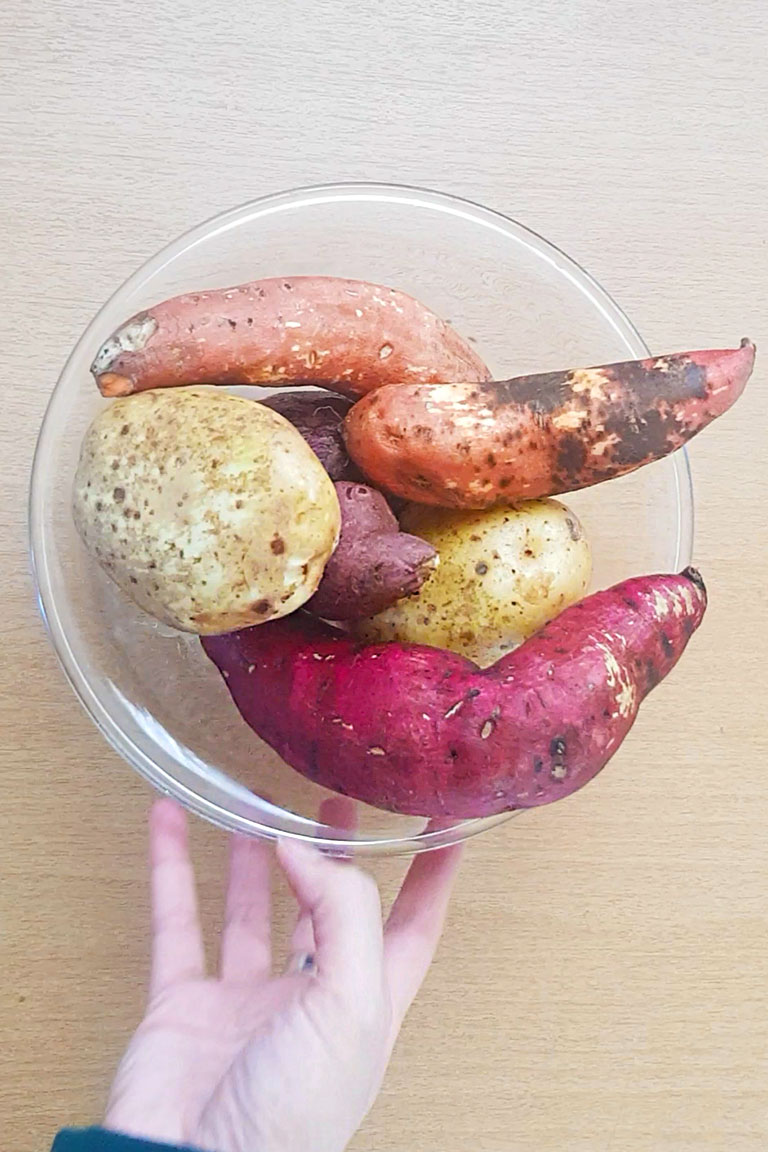 Sriracha Sauce: Fries are topped with a good amount of sriracha sauce. For those who don't know, Sriracha is a type of hot sauce or chili sauce made from a paste of chili peppers, distilled vinegar, garlic, sugar, and salt. (yes, they are spicy too).
Oil, Salt, and Garlic Powder: Oil will help to develop a fried like flavor to them without dipping them in tons of oil. Salt and garlic powder to give a yummy garlicky taste to fries.
Corn Starch: It helps to absorb moisture from fries and give them a crispy coating.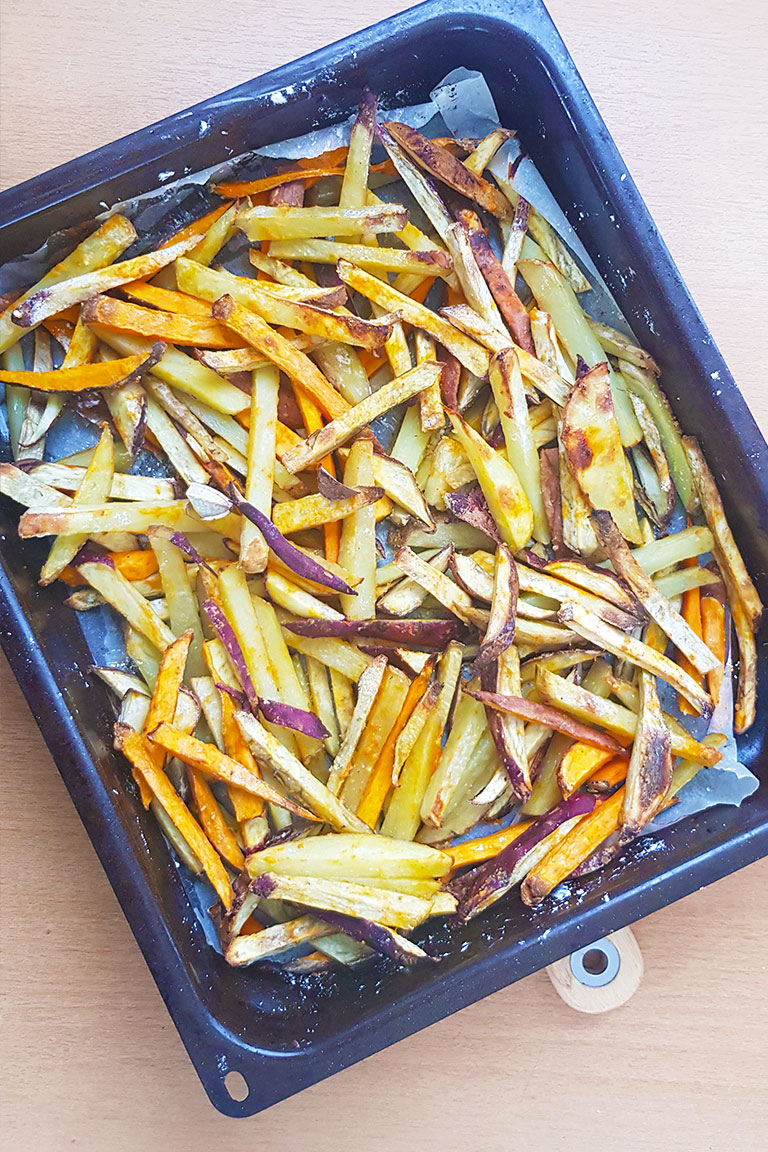 Topping for the vegan oven-baked loaded fries:
There is never a hard and fast rule for toppings of loaded fries. You can simply put anything of your choice as long as you maintain a balance of flavors and textures. Topping which I am using for loaded fries are
Onion
Tomatoes
Spinach
Baby Corn
Olives
Jalapeno Peppers
Pizza Sauce
BBQ Sauce
Dairy-free cheese
Vegan Parmesan
And last but not least Avocado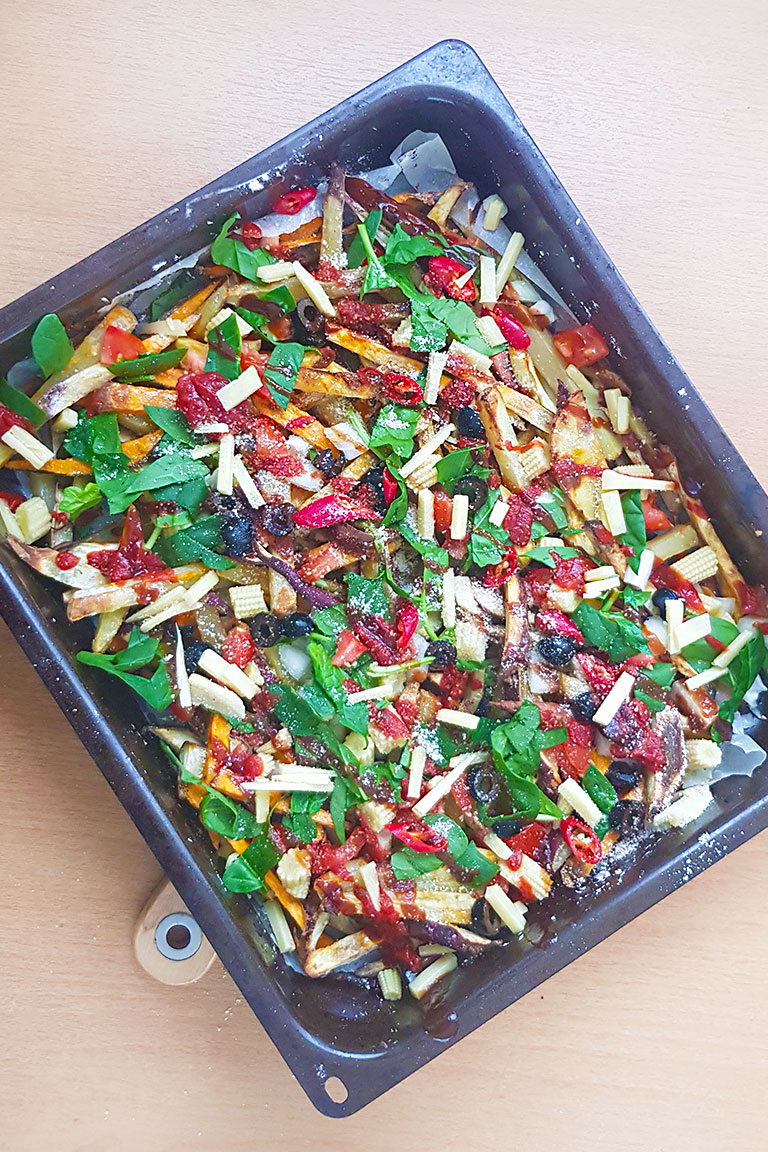 You must make these vegan oven-baked loaded fries, as they are
Healthy
Nutritious
Crispy
Flavorful
Sweet and Savory
Customizable
And SO SO Delicious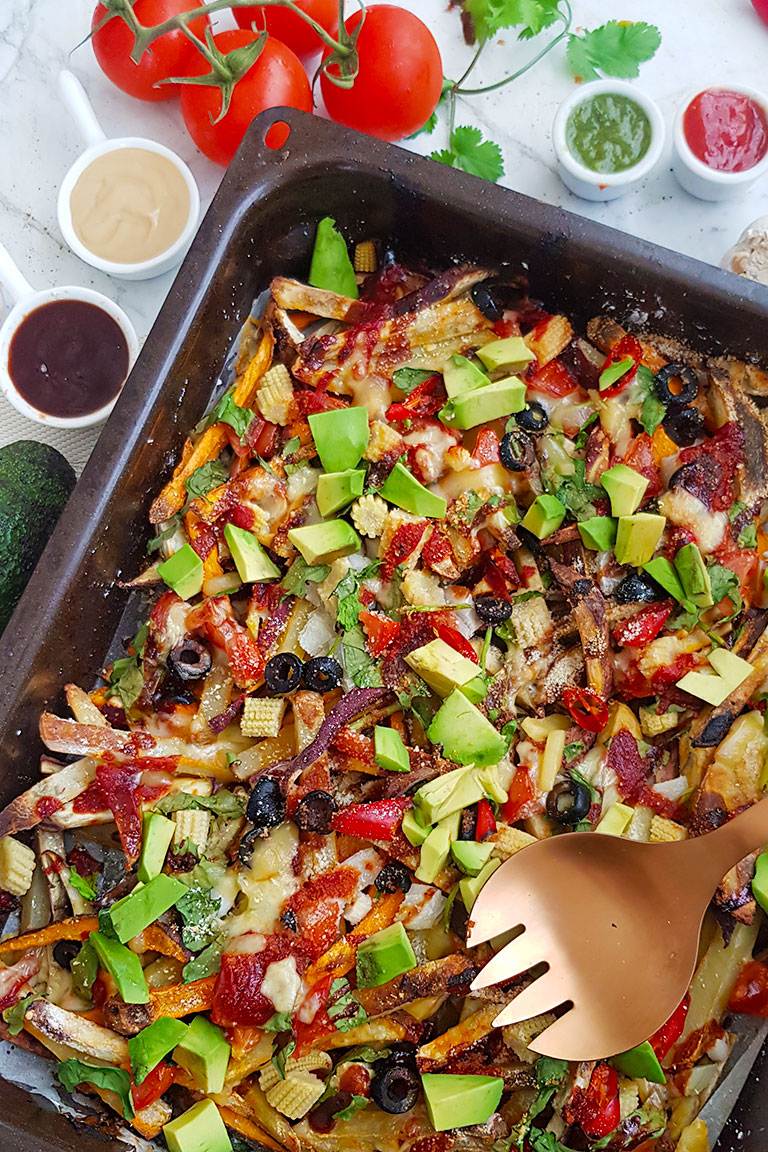 These loaded fries are kind of spicy, but you can always skip of sriracha sauce if you are making these for kids or you don't like spicy stuff. But If you like spicy food like me you may also like my CHILI GARLIC BRUSSELS SPROUTS. They will take your spicy snacking to the next level.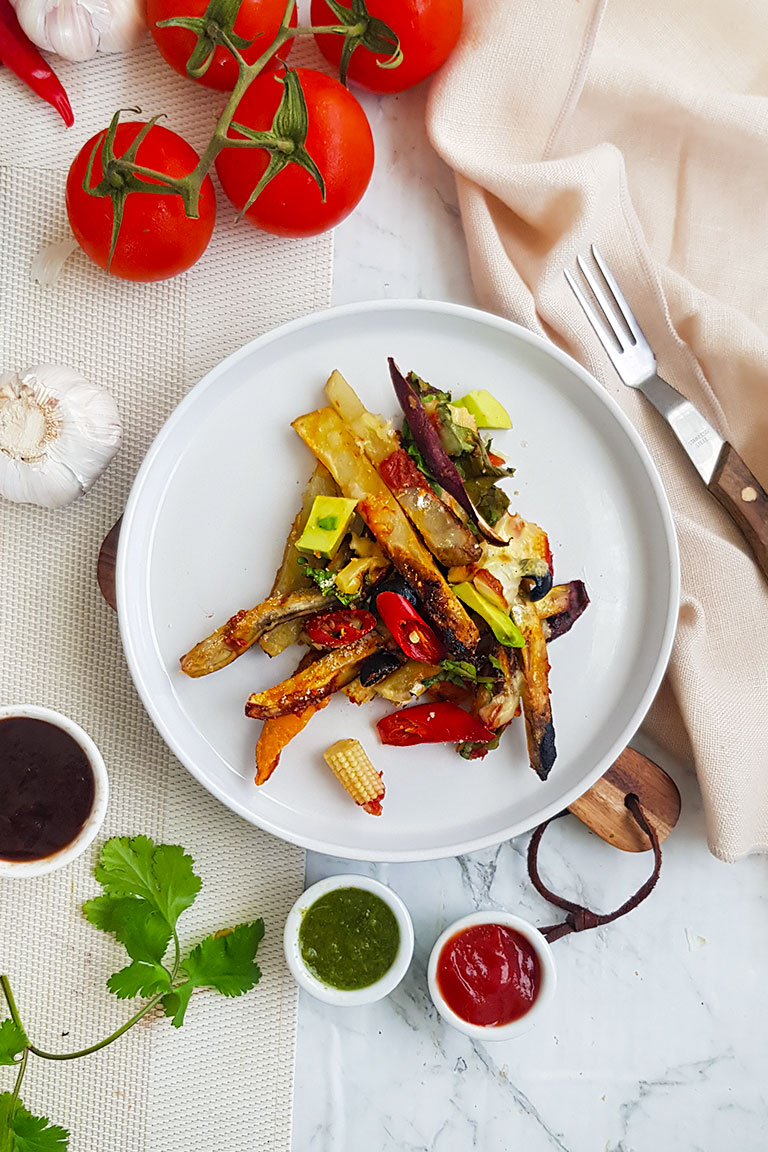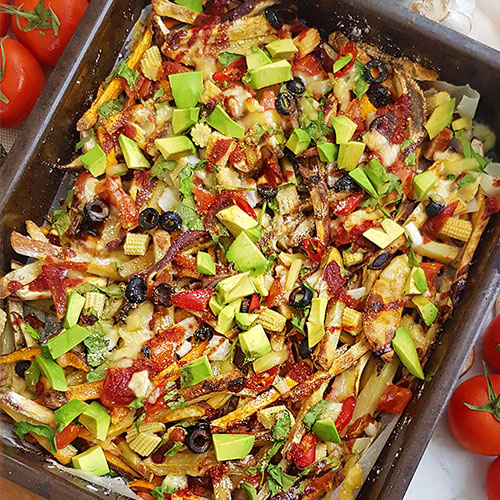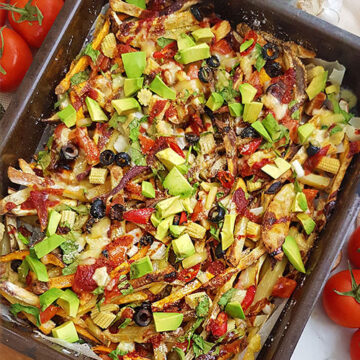 VEGAN OVEN-BAKED LOADED FRIES
Ingredients
2

large

Potato

4

large

Sweet potato

(I used two different kinds of sweet potatoes, to get multiple flavors and nutrients)  

2

tbs

Oil

1 ½

tbs

Sriracha Sauce

1

tbs

Salt

1

tbs

Garlic powder

3

tbs

Corn starch
Toppings
½

cup

Onion

(Chopped) 

½

cup

Tomato

(Chopped) 

1

cup

Baby spinach

(Chopped) 

½

cup

Baby corn

(Chopped) 

2

tbs

Olives

(Chopped) 

1

tbs

Red jalapeno peppers

(Chopped) 

1

sachet

Pizza sauce

(50g)

1

tbs

BBQ sauce

½

cup

Vegan cheese

2

tbs

Vegan parmesan

½

cup

Avocado

(add after baking)
Instructions
Preheat oven to 400 degrees.  

Wash the potatoes and sweet potatoes well and towel dry. Peel if desired (I like to leave the peel on for extra texture and flavor). Cut them into rectangle strips approximate ½ inch thick.  

Pour over oil and sriracha sauce, and toss with salt, garlic powder, and cornstarch.  

Bake for 30 to 35 minutes or until nicely golden and crisp.  

Next, remove from oven and top them with chopped onions, tomatoes, spinach leaves, chopped baby corn, sliced olives, and jalapeno peppers.  

Next squeeze some pizza sauce and BBQ sauce for flavoring and top with dairy-free cheese and vegan parmesan.  

Return the baking dish to the oven for about 8 to 10 minutes or until the cheese is fully melted, and veggies are tender.   

Remove from heat and top with some ripe avocado for extra creaminess. You will surely LOVE IT. 
Video
If you try this recipe, leave a comment and show some love by rating it in stars. Do not forget to take a picture and tag us @getsetvegan on Instagram. We would love to see this.