If you are looking for a new and delicious way to cook your favorite potato, then look no further! There is an entire world of vegan potato recipes that will make any home chef excited. From easy to complicated and from quick and simple to time-consuming, there is a perfect recipe out there for every personality. Not only do these recipes taste great but they also don't break the bank!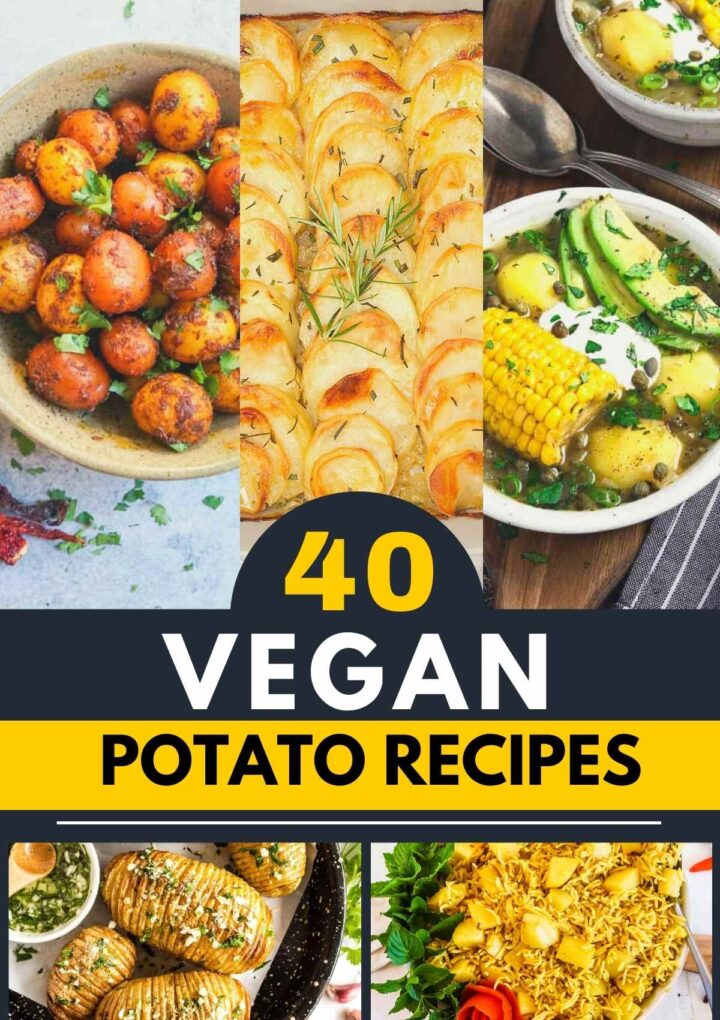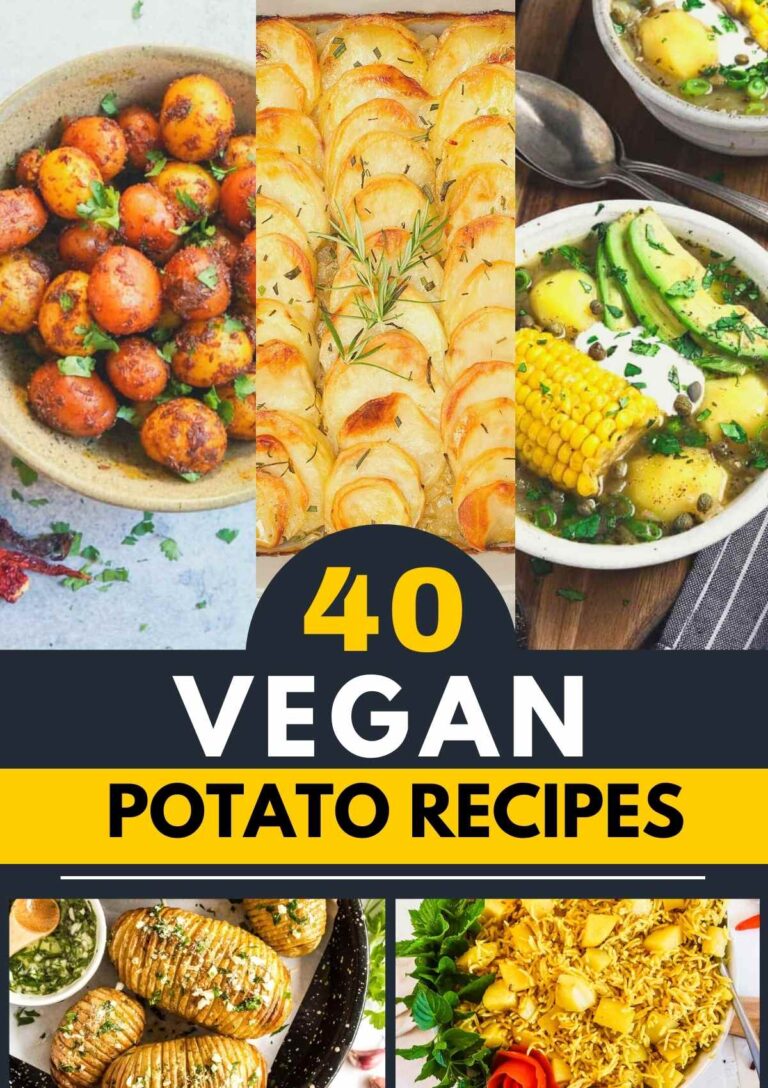 Potatoes are a cheap and easy way to make a family meal. Everyone loves them! They are a staple in most households. They're delicious with just about any dish.
Potatoes are naturally gluten-free, which makes them an excellent food choice for people with gluten sensitivity. They are rich in vitamins, minerals, and antioxidants.
Vegan Recipes With Potatoes
All of these dishes are easy to make and can be served as an appetizer or dinner. Whether you want something savory or sweet, we've got the perfect dish for you in this blog post. Check out these 40 Vegan Potato Recipes that will be sure to please your kids as well as the adults in your home.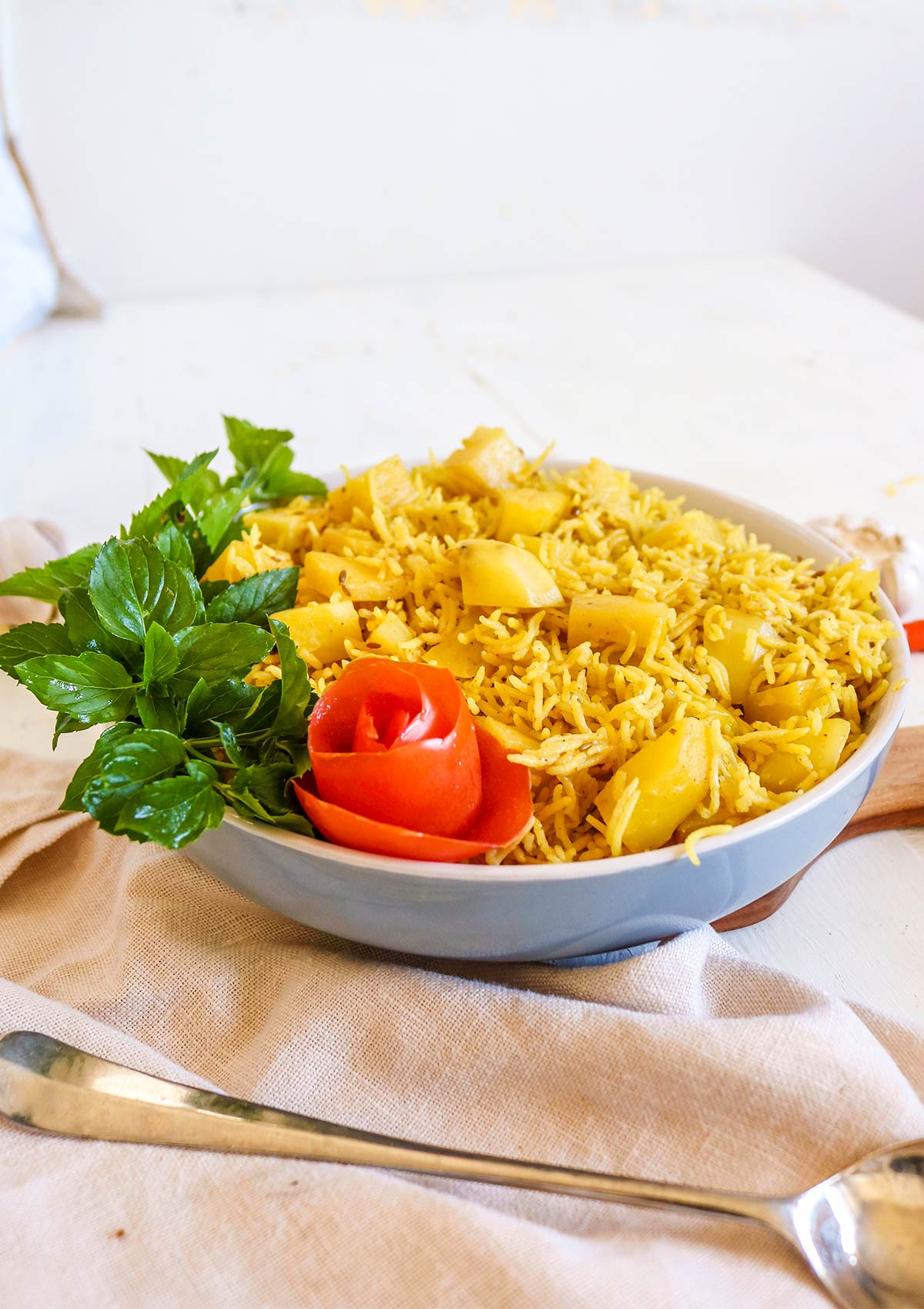 Full Recipe on Get Set Vegan
Try this fragrant potato and rice dish that is lightly spiced with cumin and turmeric. Get it done in just 30 minutes with everyday pantry staples. These fluffy seasoned rice with creamy potatoes are vegan and gluten-free.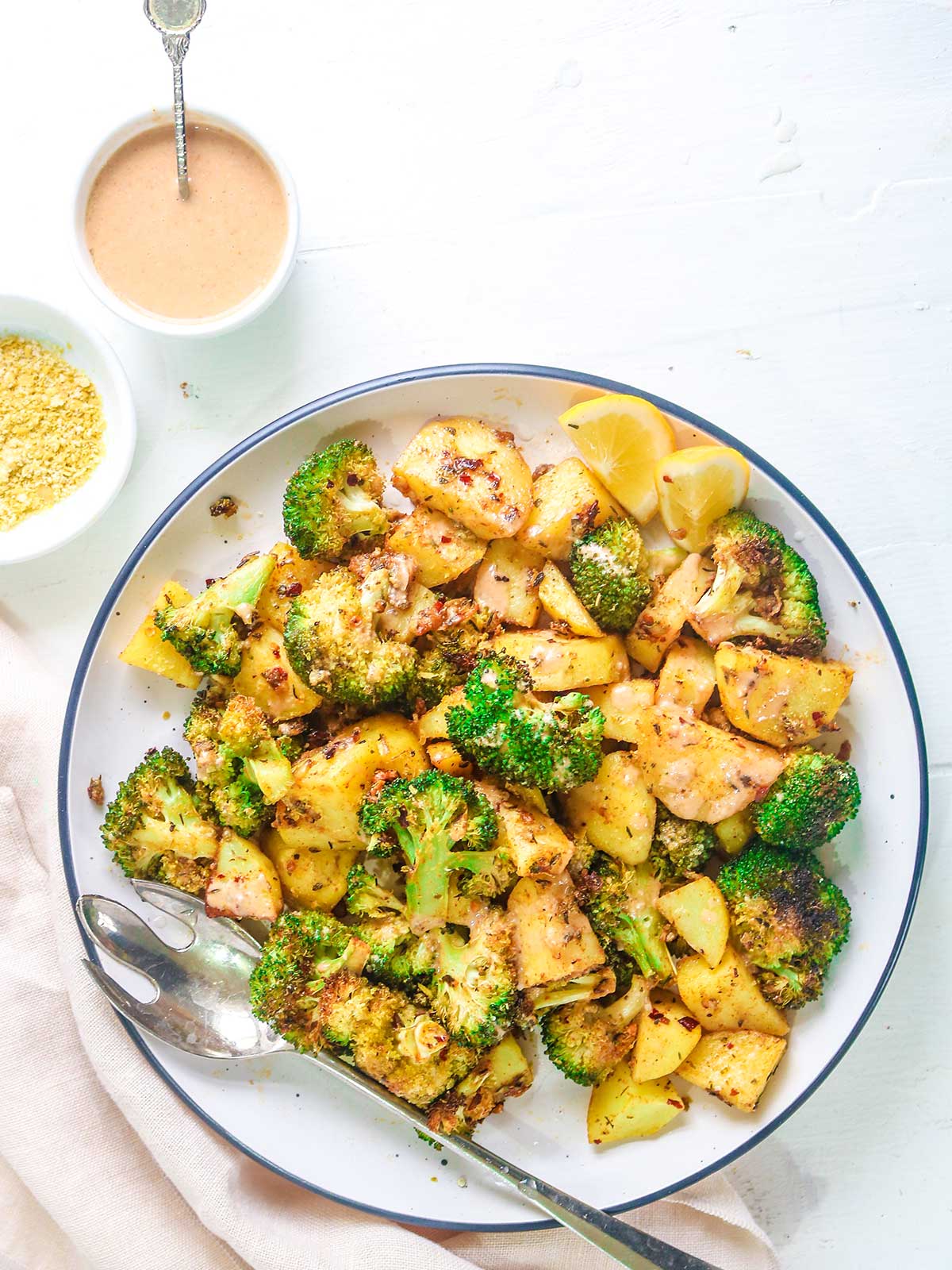 Full Recipe on Get Set Vegan
Roasted Broccoli and Potatoes are perfectly seasoned, coated in oil, garlic, and dry herbs. They are cooked to perfection, slightly crispy from the outside and creamy gooey inner that simply melts in your mouth.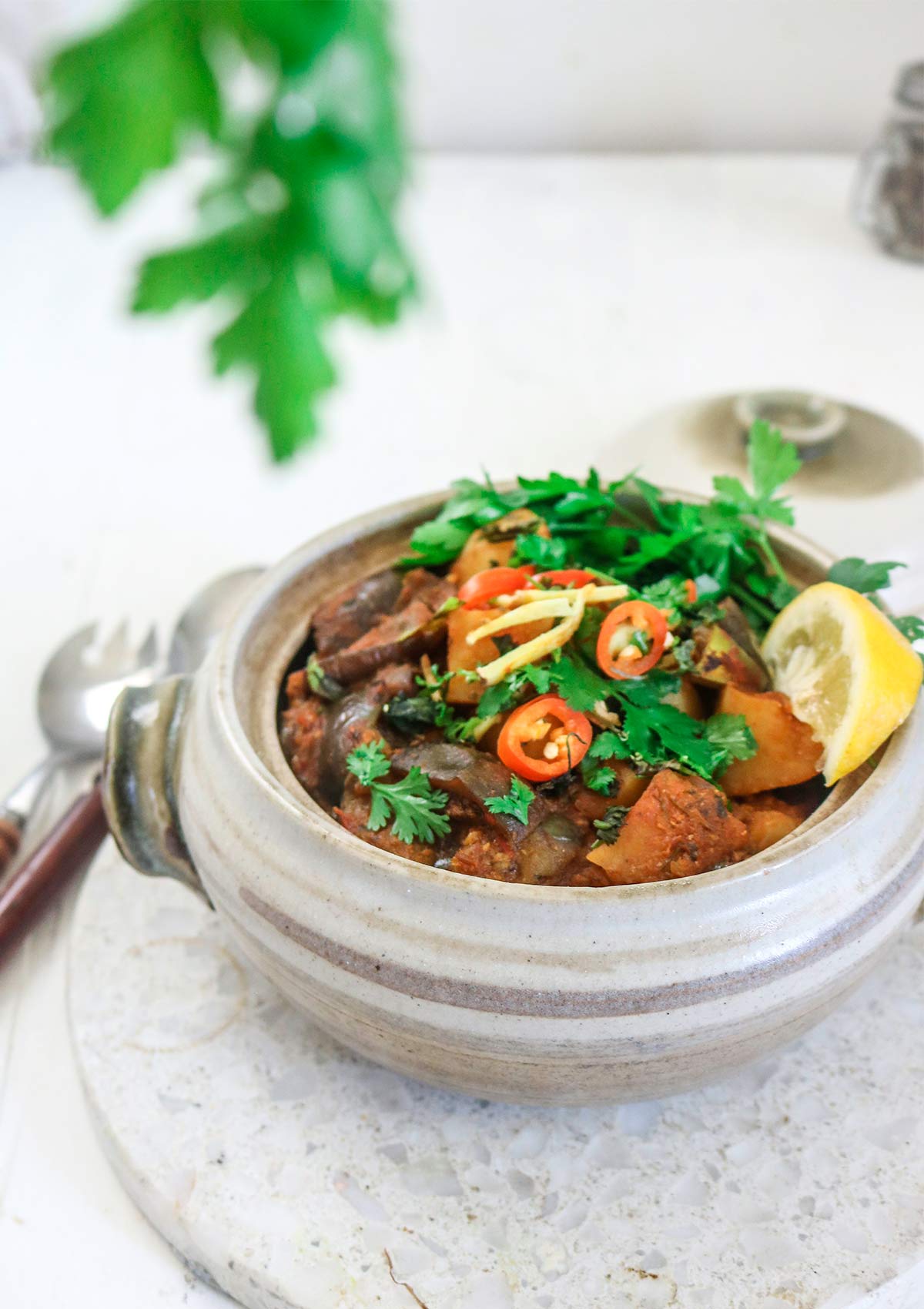 Full Recipe on Get Set Vegan
Turn up the heat with this divine Aloo Baingan recipe. This vegan curry is made from eggplants and potatoes, loaded with classic Indian spicy flavors, and a super appetizing appearance too.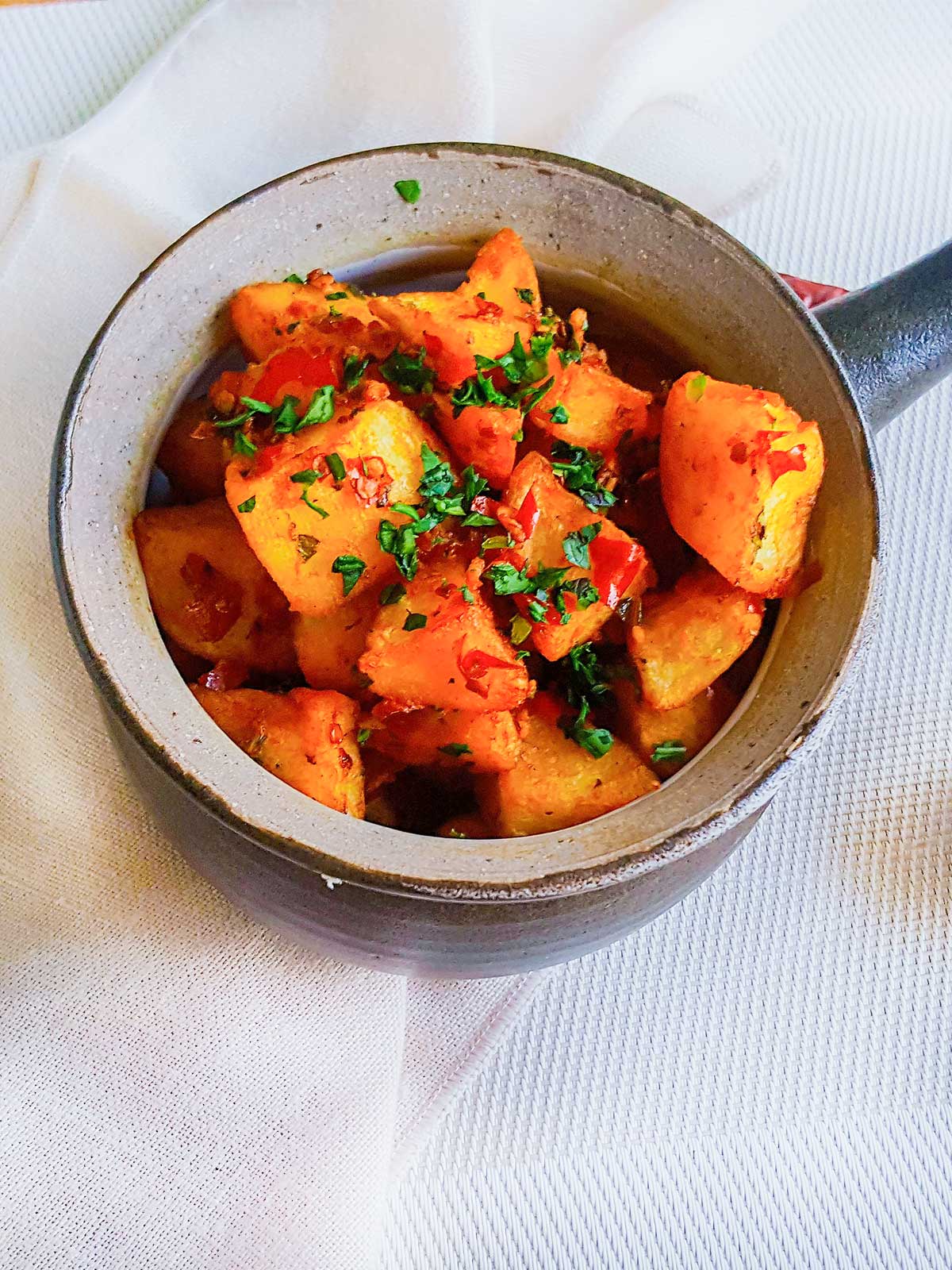 Full Recipe on Get Set Vegan
A perfect vegan potato recipe, Batata Harrah. It is a traditional Lebanese recipe that is very simple to make and requires very little preparation. These are Lebanese spicy potatoes boiled, fried, and then coated in spices, cilantro, and lime.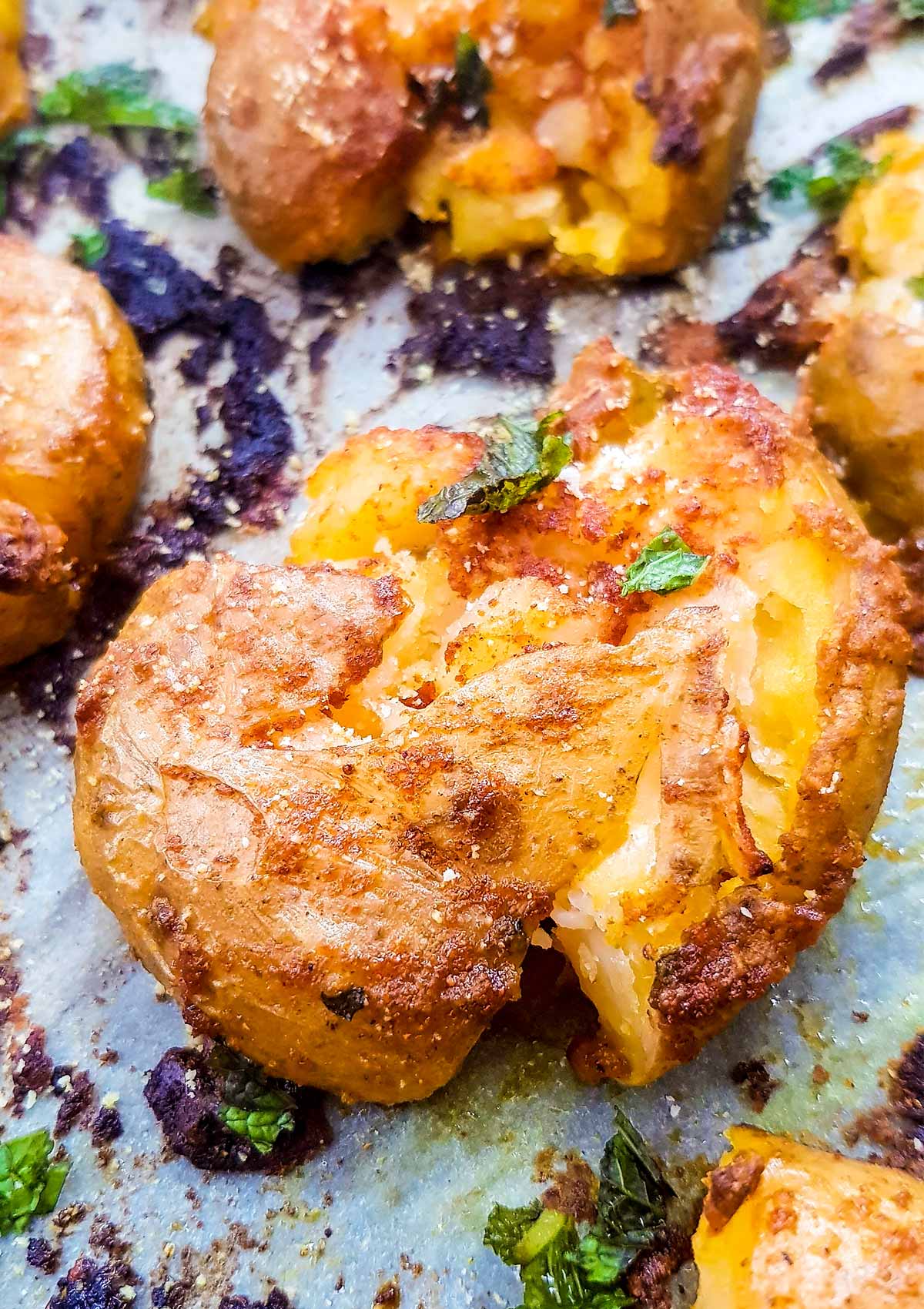 Full Recipe on Get Set Vegan
These Vegan Smashed Potatoes are delightfully crispy from the outside and soft and gooey from the inside. They are flavored with a delicious tandoori spice mix and are baked to perfection.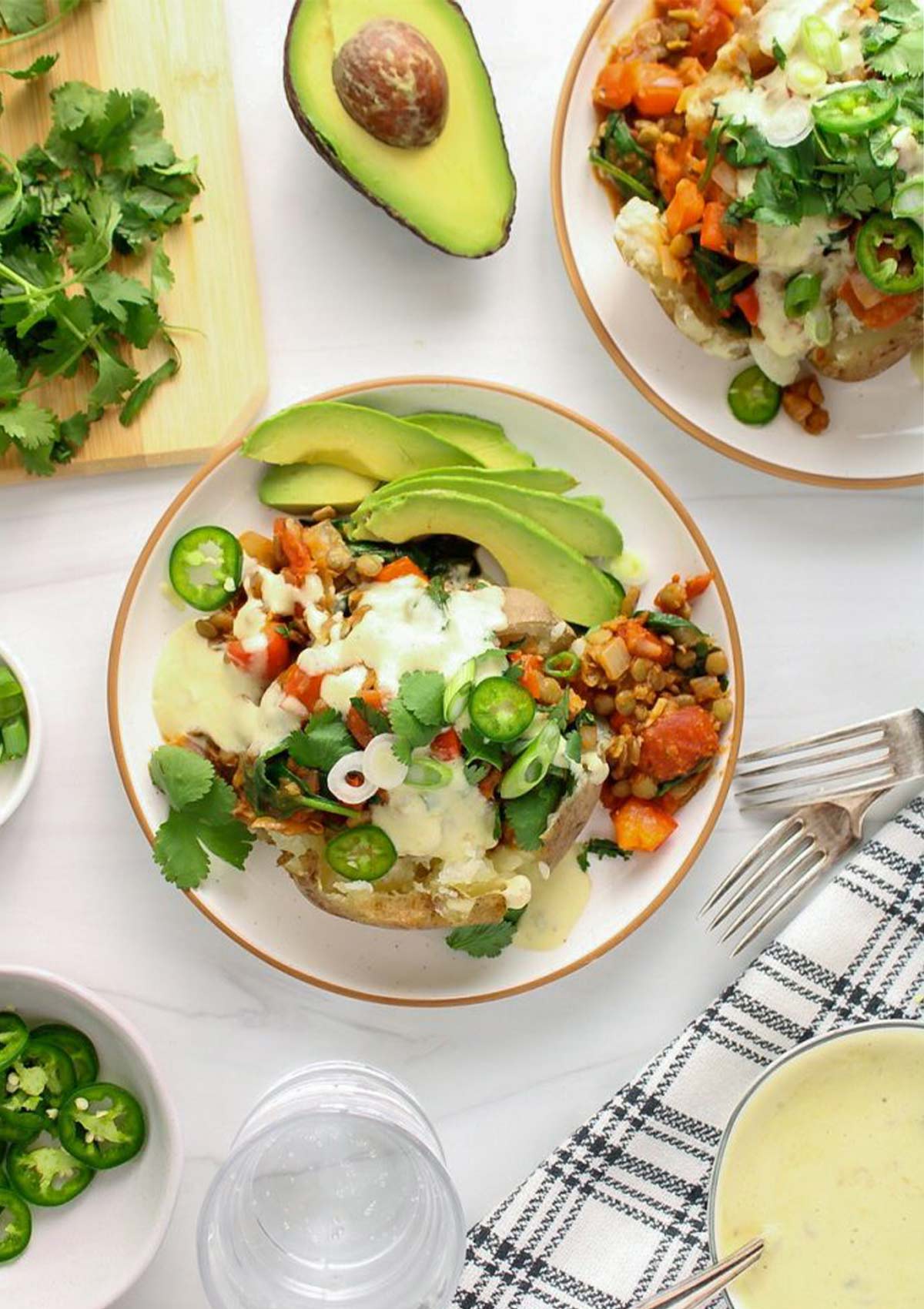 Full Recipe on Plant Based Jess
These Mexican baked potatoes are easy to make and SO satisfying. Baked potatoes are stuffed with a quick lentil-tomato stew and topped with a vegan cheese sauce (also made with potatoes!). Perfect for meal prep, lunches to-go and makes for a fun eye-catching meal.
Full Recipe on Eat Plant-Based
Hands down, this vegan potato recipe is the best you'll ever try. Even people who aren't vegan love these Healthy Loaded Potatoes!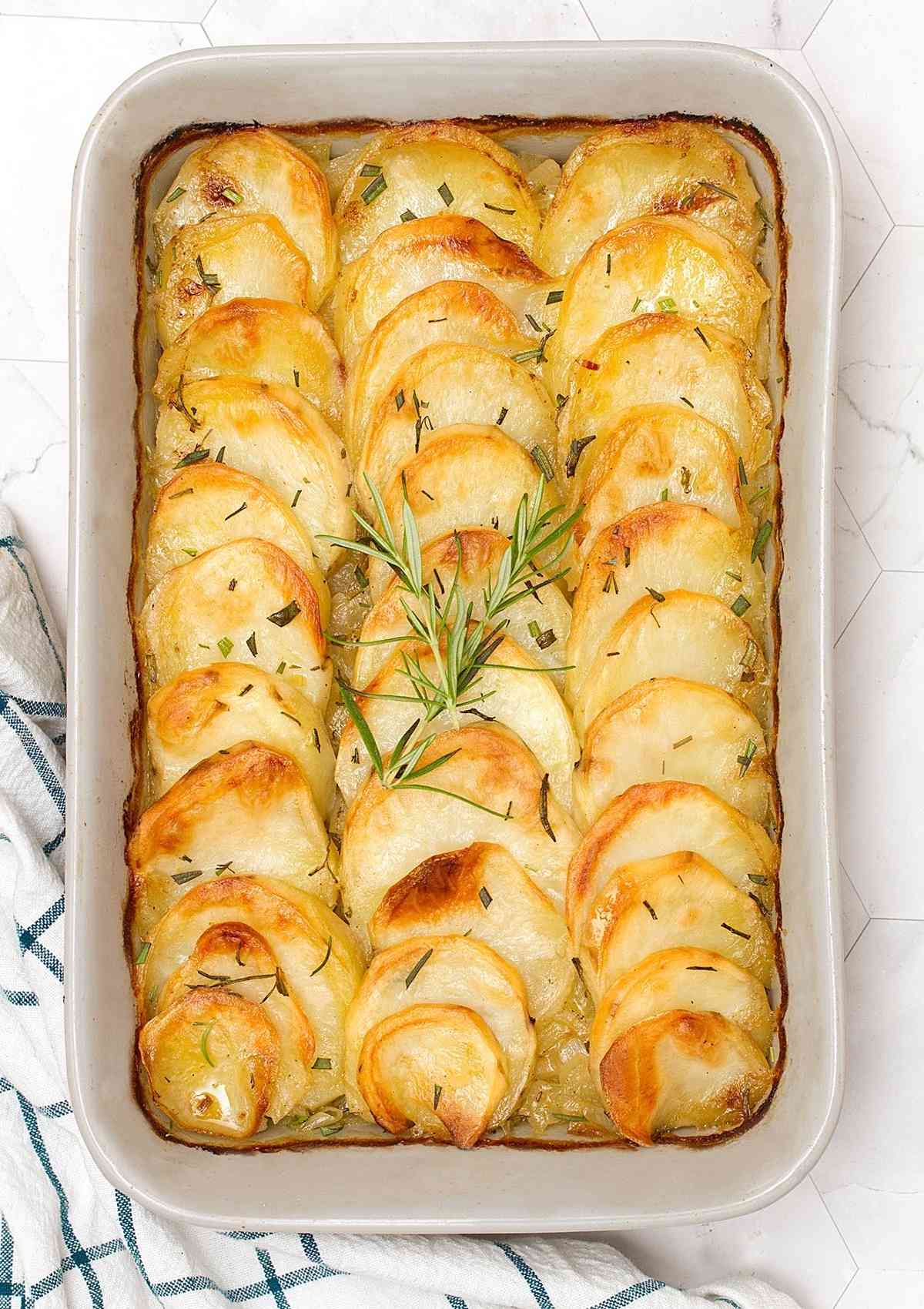 Full Recipe on Daily Dish
This oven-baked baker's potatoes recipe (aka pommes boulangere ) is a must-try side dish. Buttery potatoes are layered with onion and seasoned with rosemary. The best thing about this dish is that you can pop it in the oven and forget about it.
Full Recipe on Vegan Huggs
Vegan Ajiaco is a satisfying, one-pot meal that is made with 3 types of potatoes and served with sliced avocado, capers, and tangy cream. Your taste buds will dance!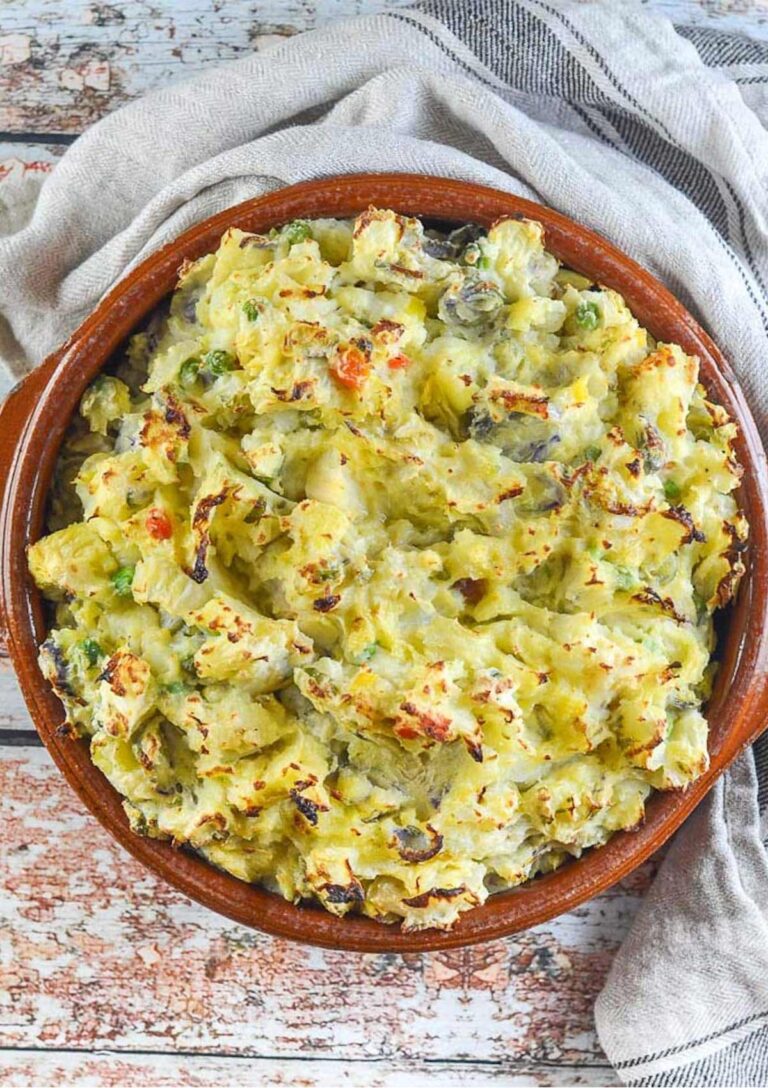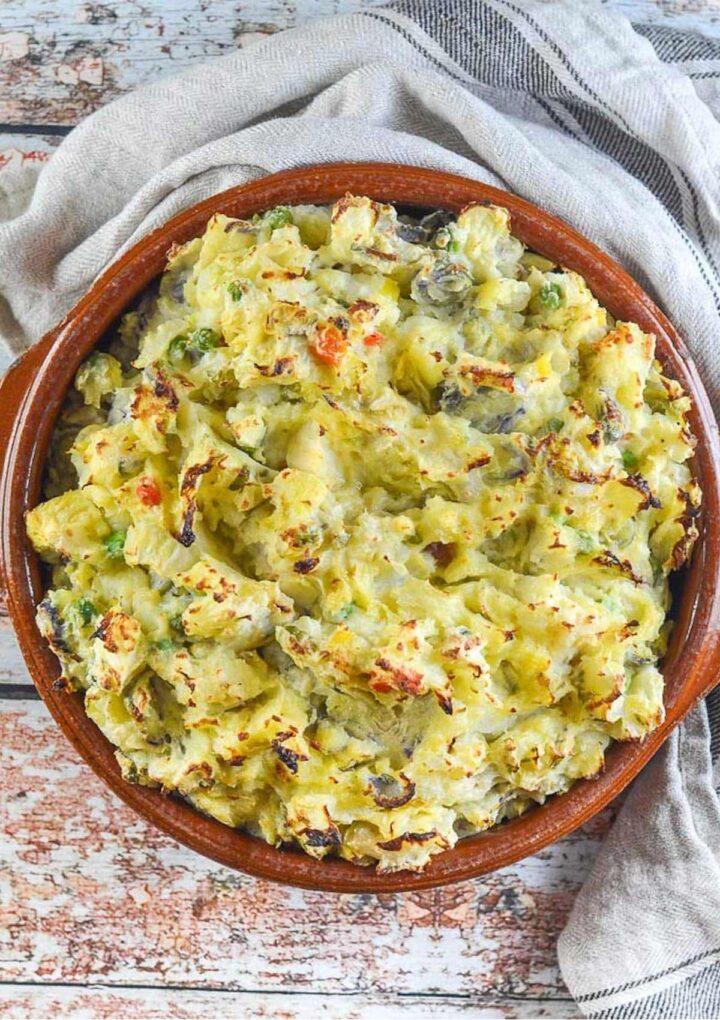 Full Recipe on A Virtual Vegan
Super easy and budget-friendly Bubble & Squeak is a great recipe for using up your leftover veggies. Mix them through mashed potato and bake until golden and crispy on top!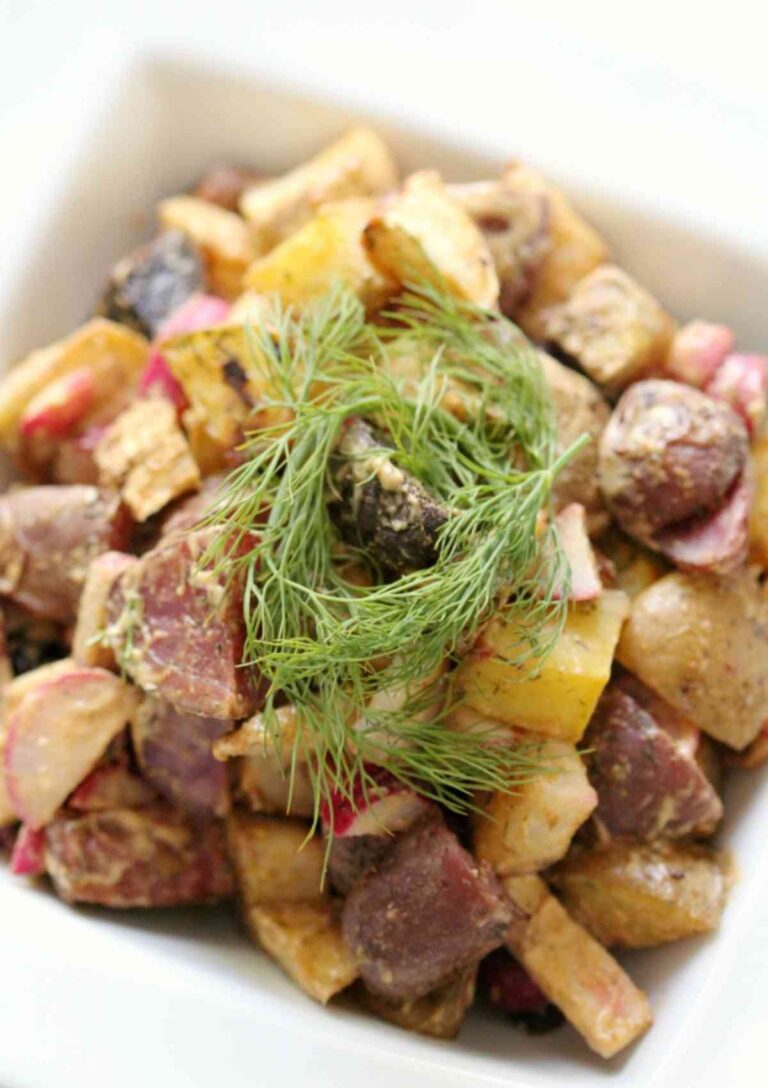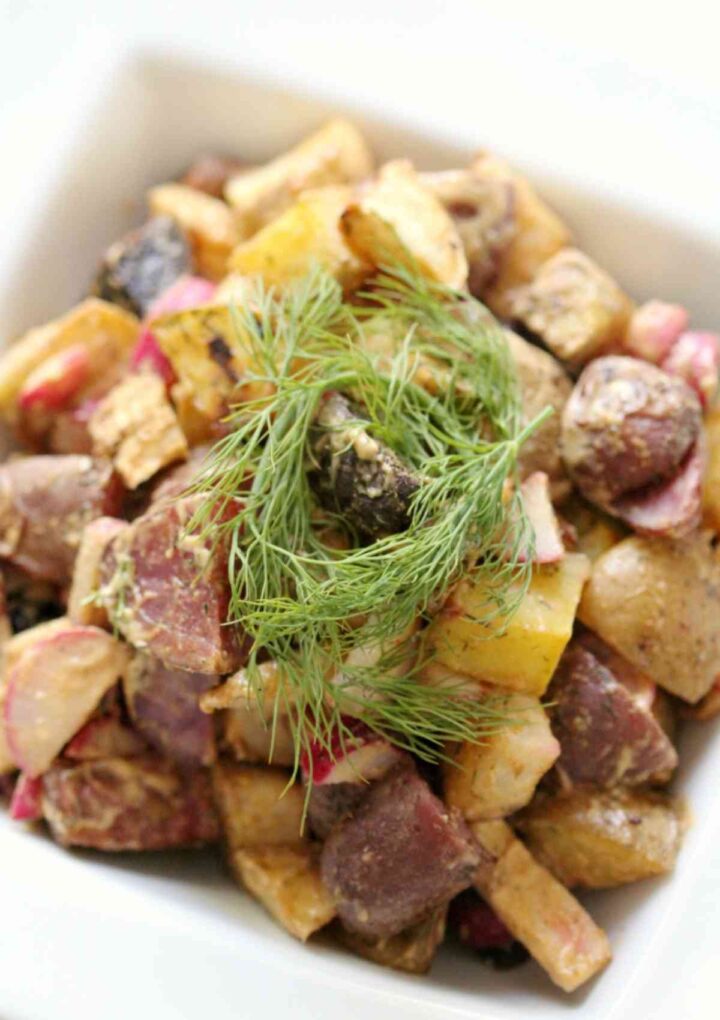 Full Recipe on Strength and Sunshine
Take that boring potato salad up a notch! With roasted tri-color potatoes and celeriac root and a creamy tahini sauce, there's nothing not to love! Gluten-free, vegan, and paleo without the heaviness of the classic, there's a new favorite in town!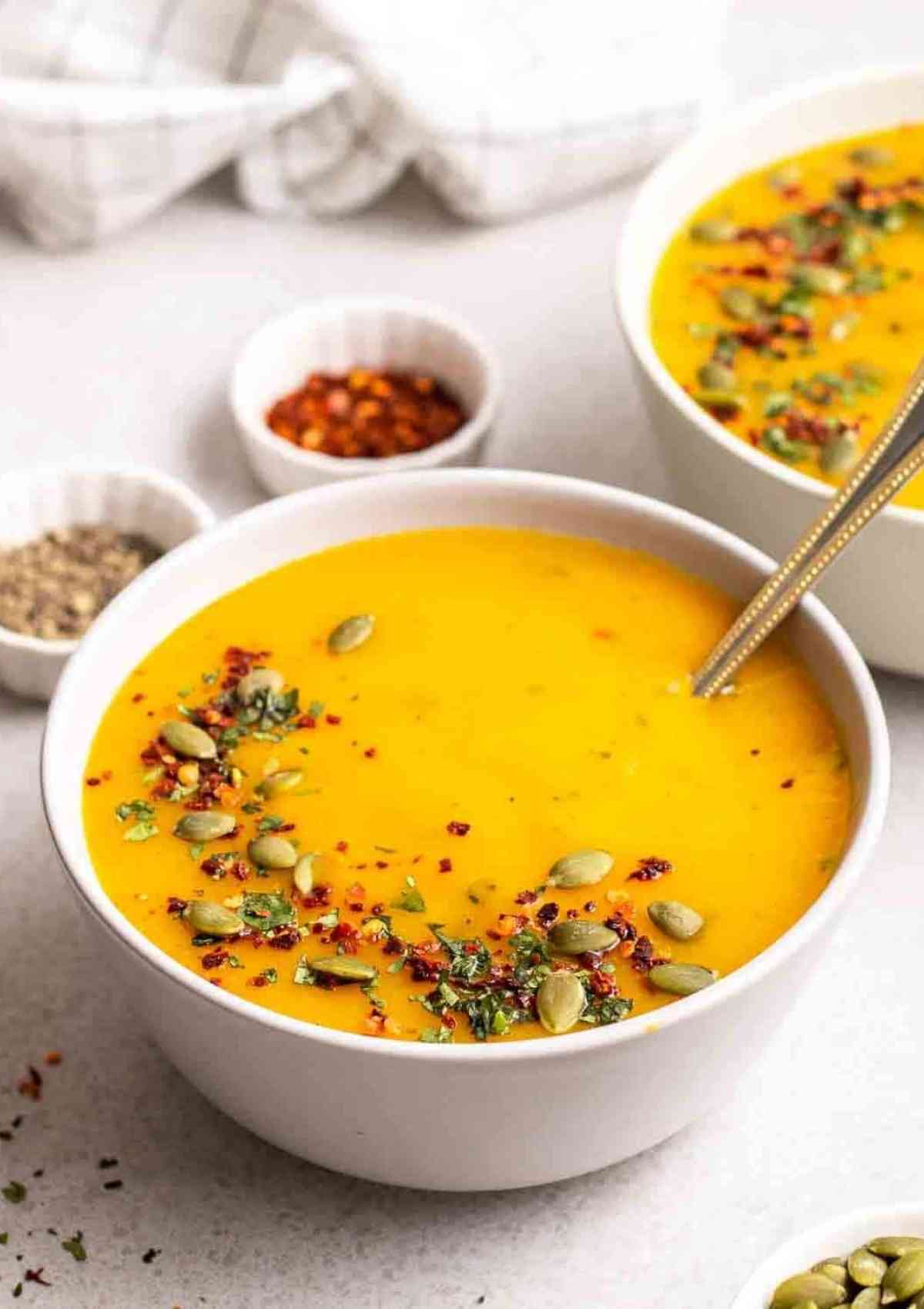 Full Recipe on My Plantiful Cooking
Make some thick and creamy pumpkin potato soup from scratch in just 30 minutes! This luscious one-pot soup also happens to be vegan and gluten-free. Plus, all you need is 5 simple wholesome ingredients.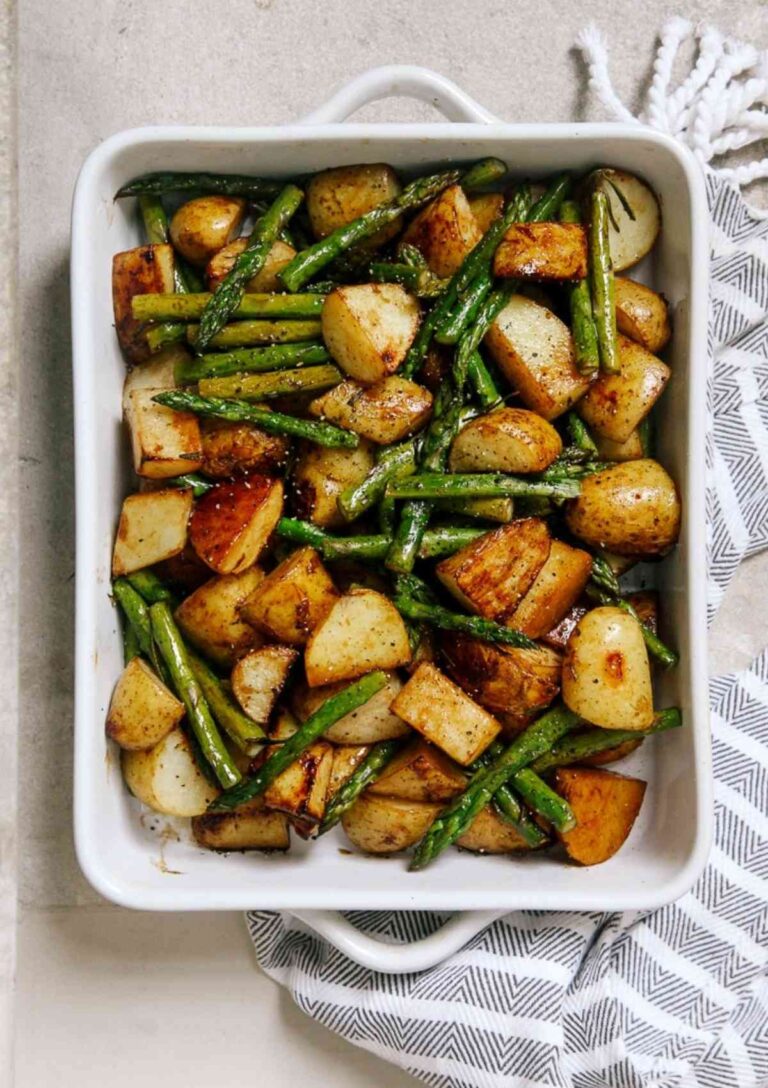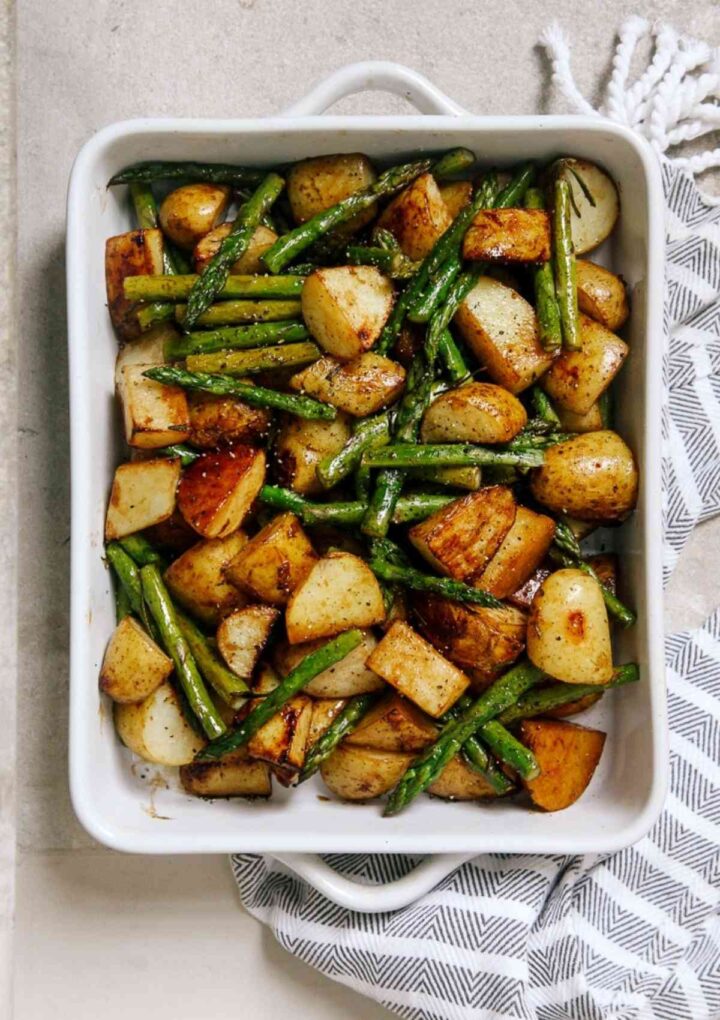 Full Recipe on Wallflower Kitchen
Flavourful and comforting traybake of roasted potatoes with asparagus tips and a splash of balsamic vinegar.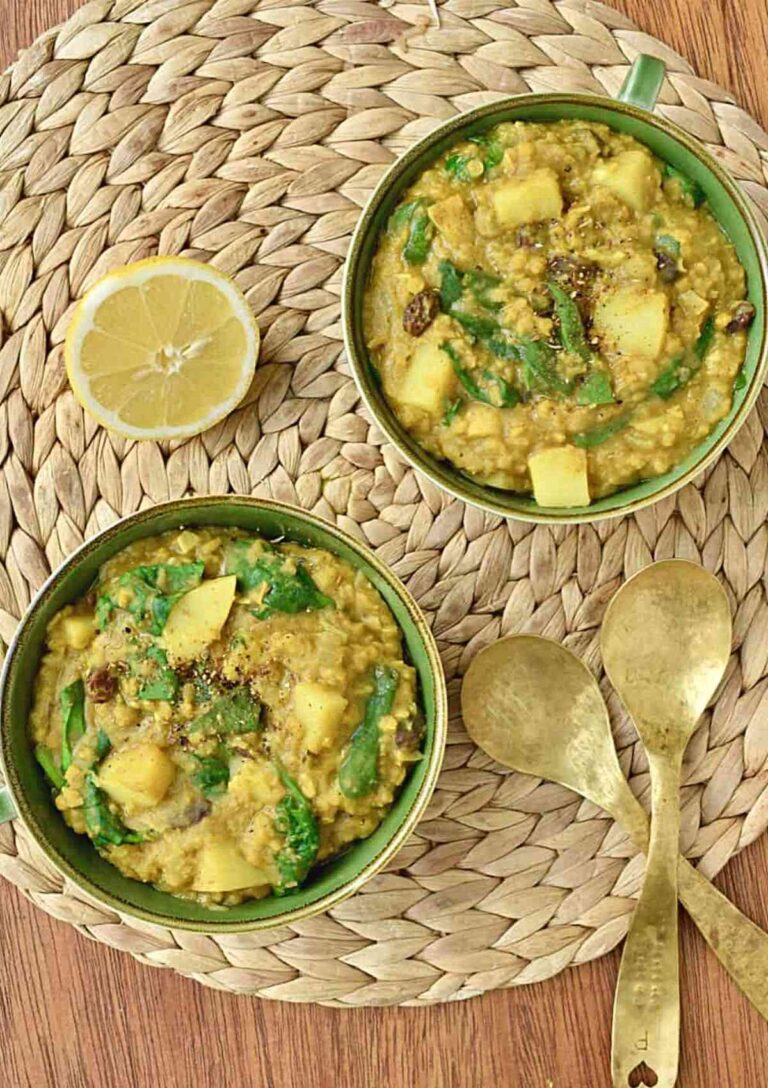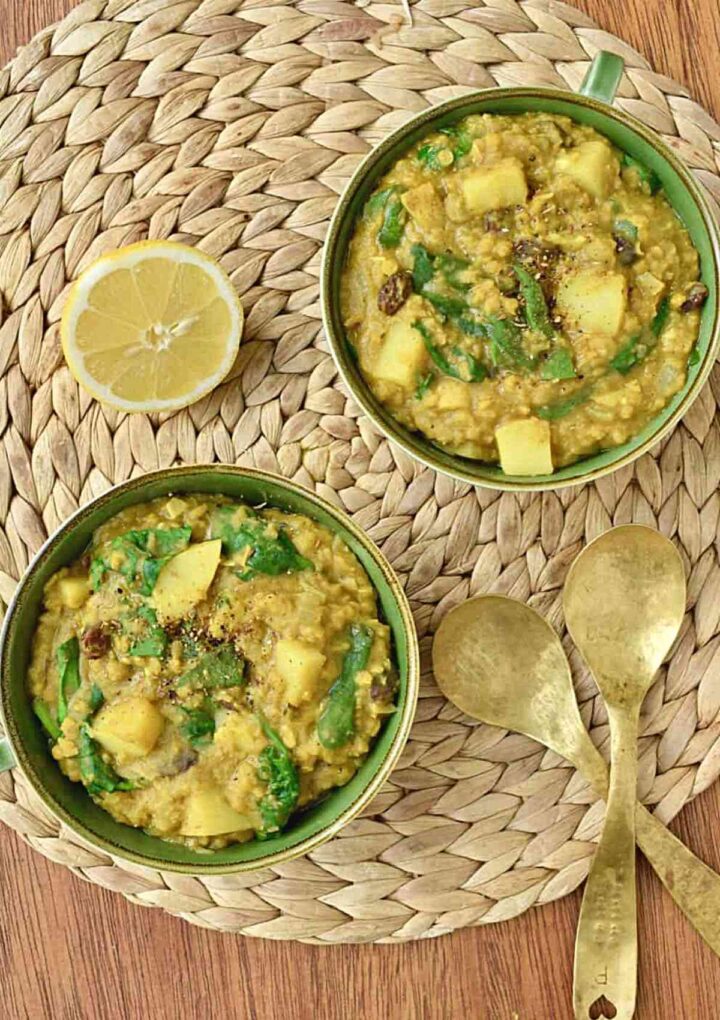 Full Recipe on Vegan on Board
This potato and lentil dahl is a quick one-pot meal. Ready in 25 mins on the stove or just 15 mins if you use a pressure cooker. It's simple, spicy, and nourishing!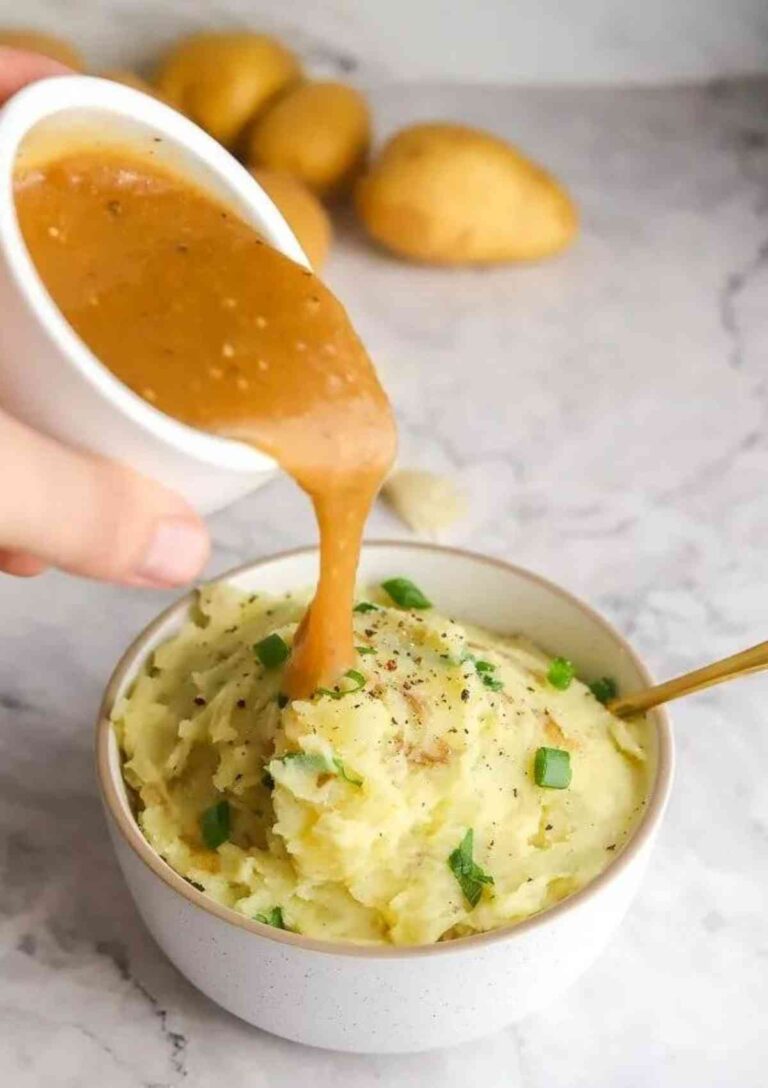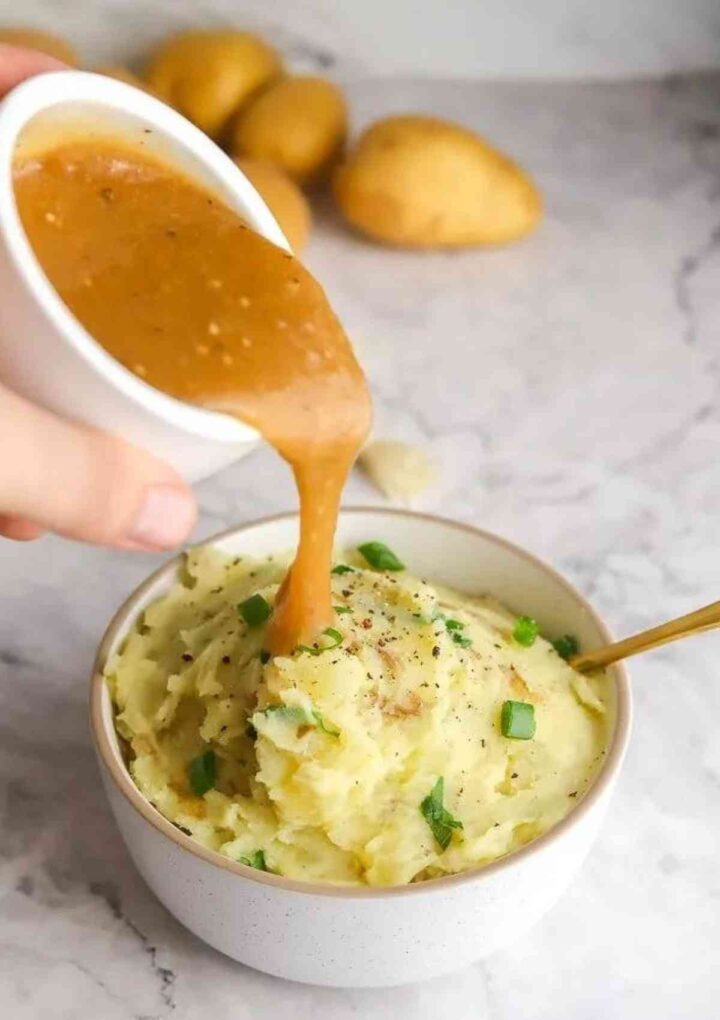 Full Recipe on Rescue Dog Kitchen
It's super easy to make mashed potatoes without milk. This dairy-free mashed potatoes recipe is easy to make, ready in 20 mins and can feed a family; perfect for the holidays or any weeknight!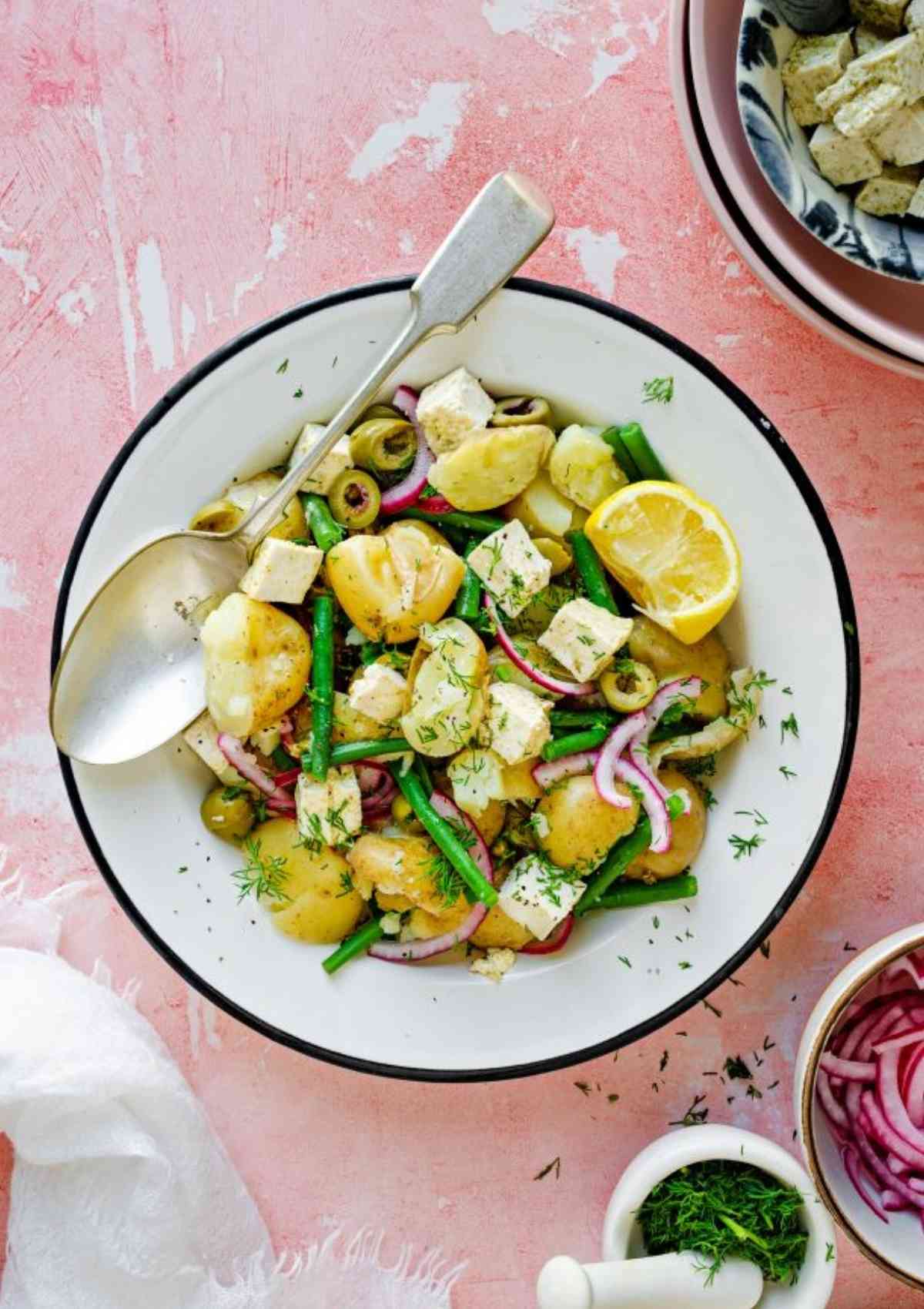 Full Recipe on Lovely Jubley
A delicious and easy potato salad recipe that's at home as a side dish at a summer BBQ or as part of the main plate.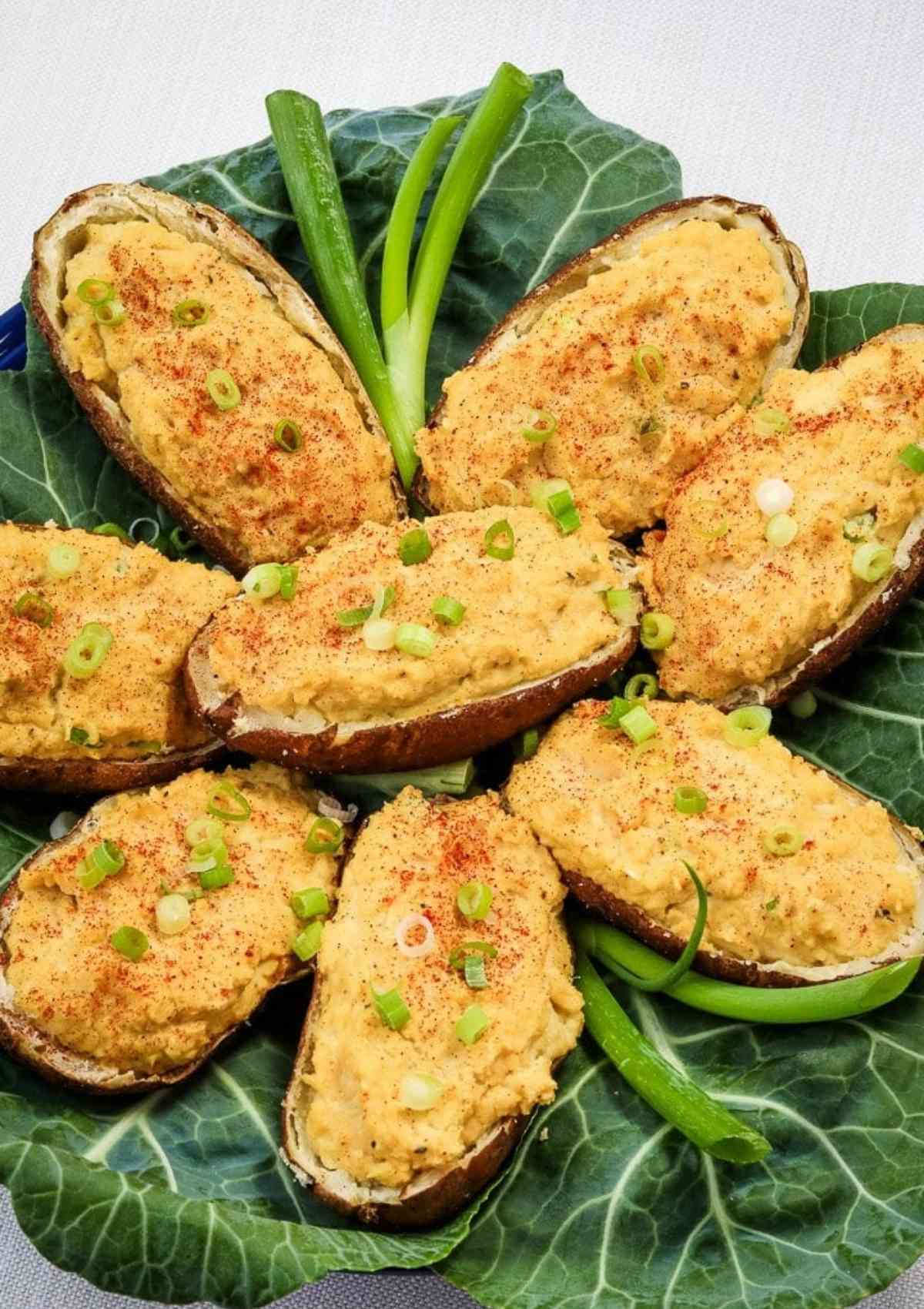 Full Recipe on Healthy Mid Western Girl
This vegan Healthy Twice-Baked Potatoes recipe is so much healthier than traditional twice-baked potatoes. It's dairy-free, oil-free, gluten-free—and includes high-fiber cannellini beans. Twice-baked potatoes are pretty much like making a really yummy mashed potato recipe, then stuffing those potatoes back into their shells. Except we don't boil our potatoes, we bake them. And we hang on to those potato skins.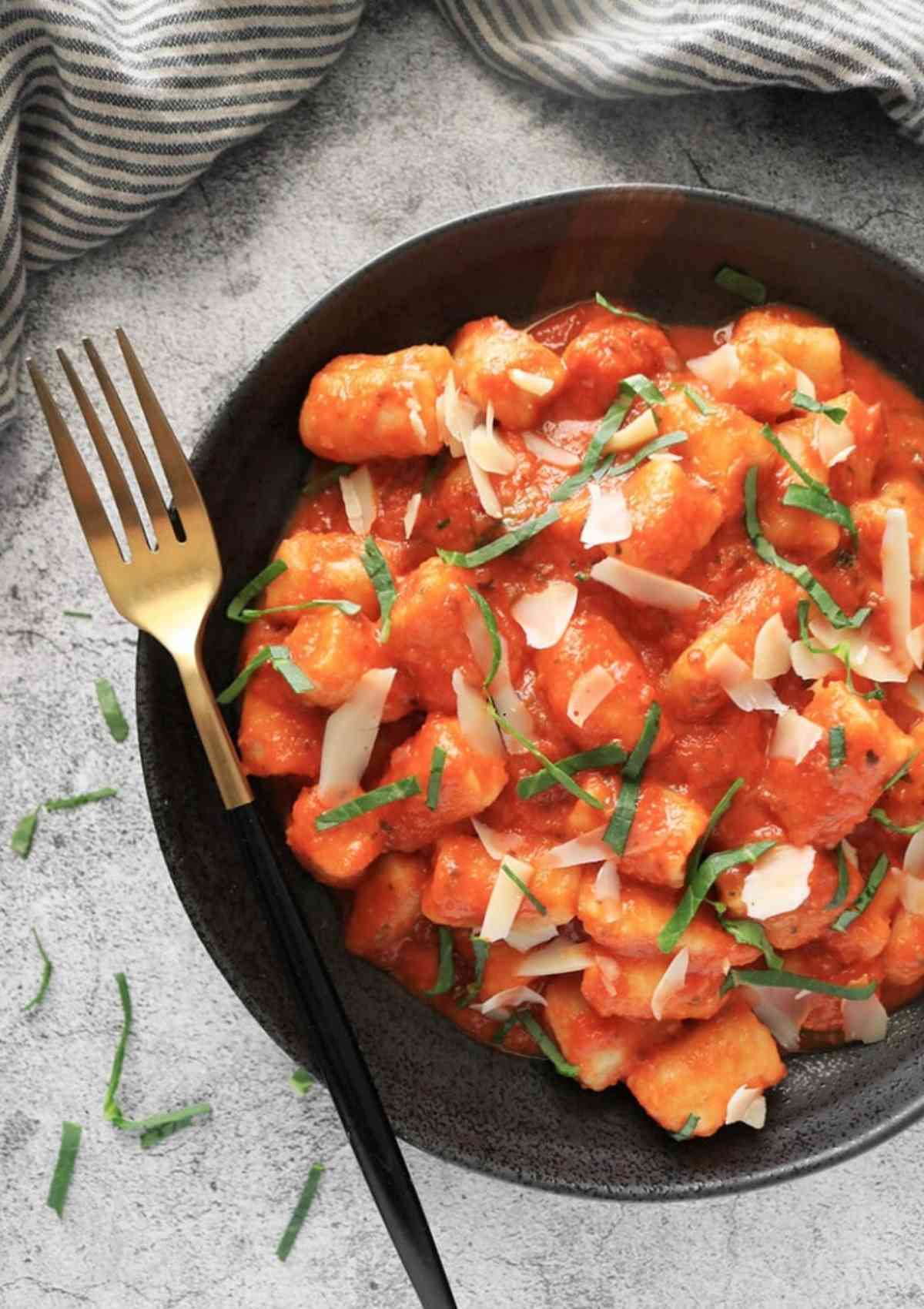 Full Recipe on Clean Green Simple
Learn how to make 3-ingredient potato gnocchi for a hearty homemade dinner. This egg-free recipe pairs well with vegan vodka sauce, pesto, and more.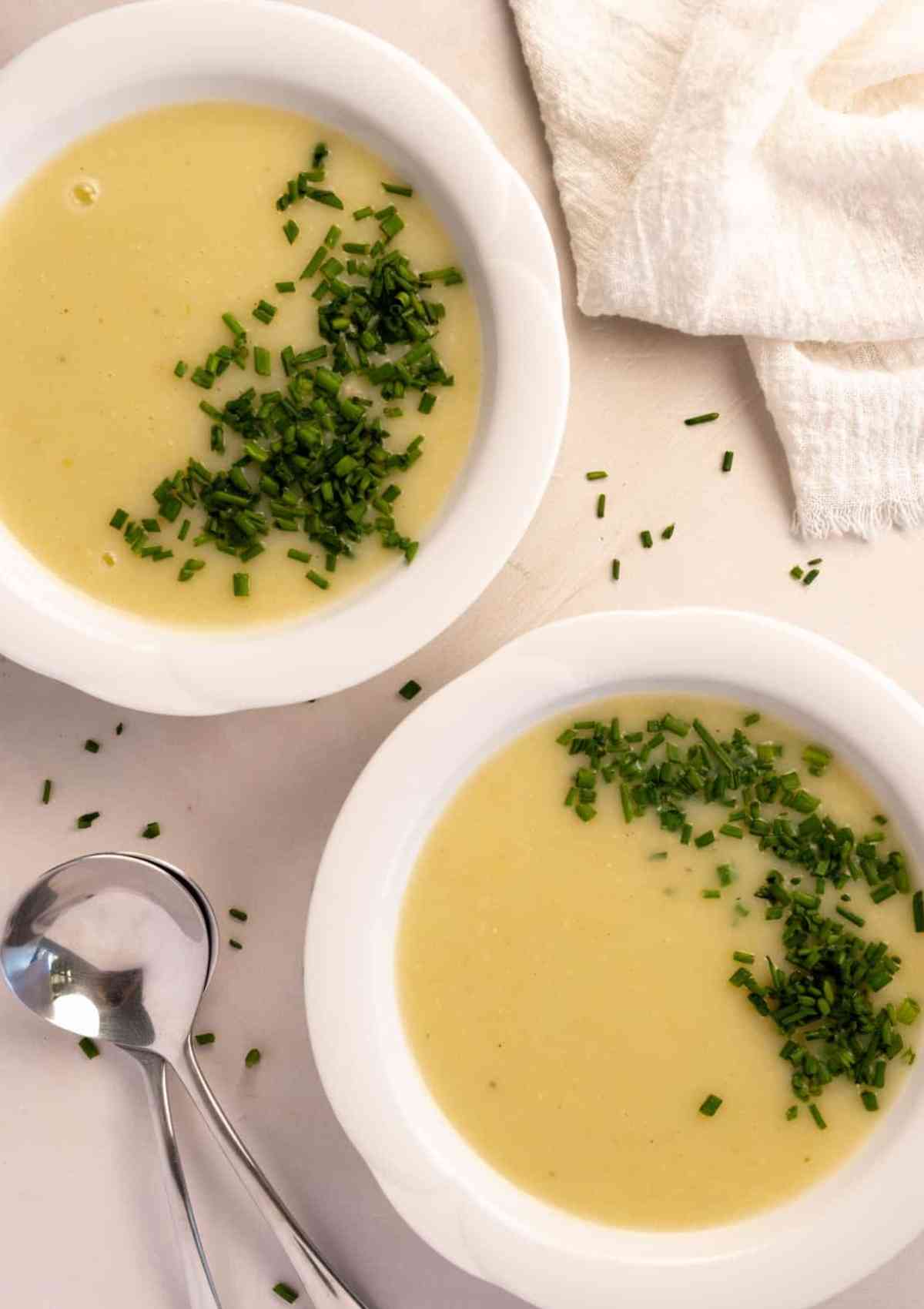 Full Recipe on Plant Based Folk
Vegan potato and leek soup is filling, cozy and creamy using simple ingredients consisting of potatoes, leeks, oats, and broth.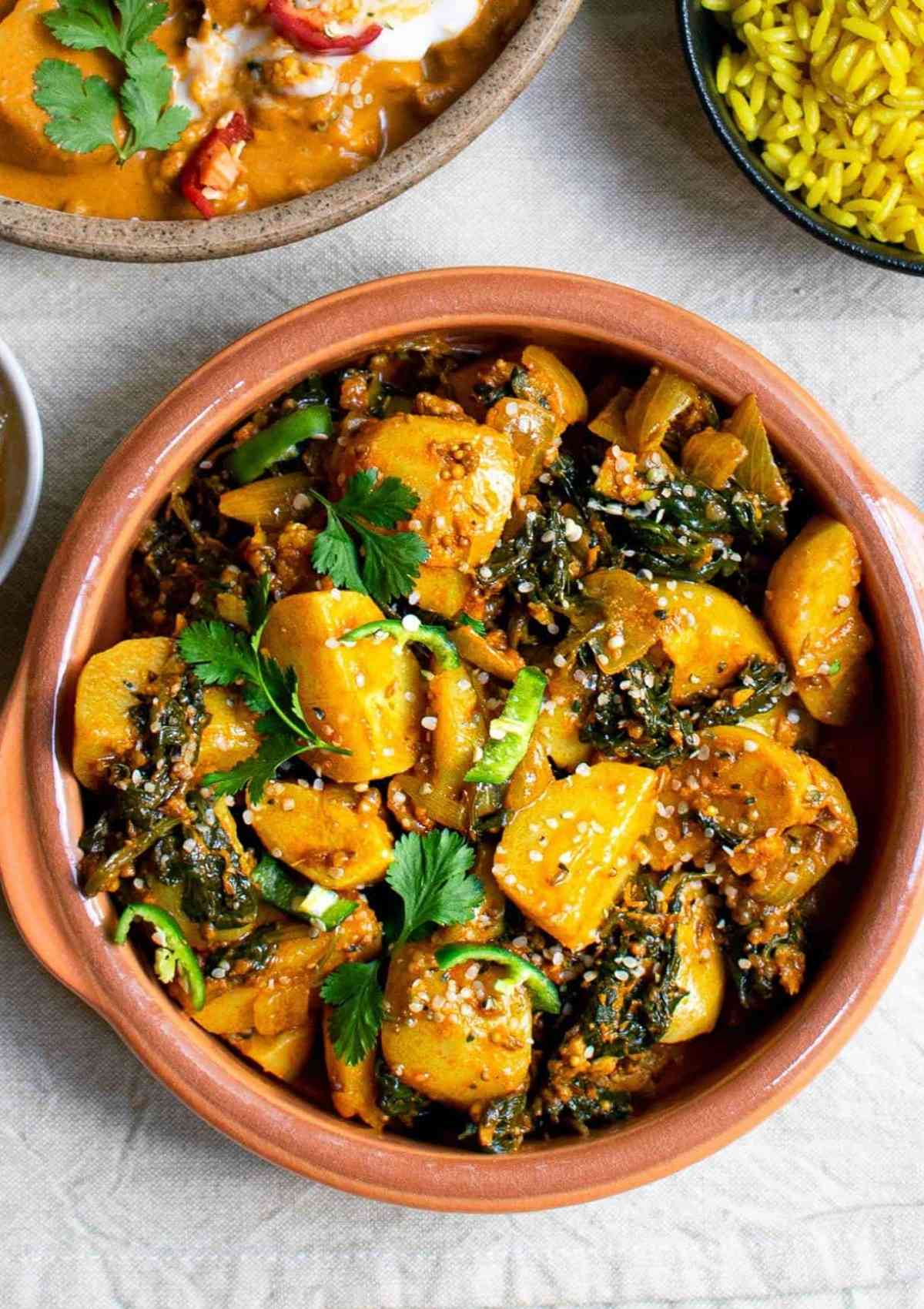 Full Recipe on Vegan Punks
Saag Aloo is one of the most popular North Indian dishes that put potatoes front and center, so here's a delicious vegan version! Ready in just 25 minutes and it's so easy to make.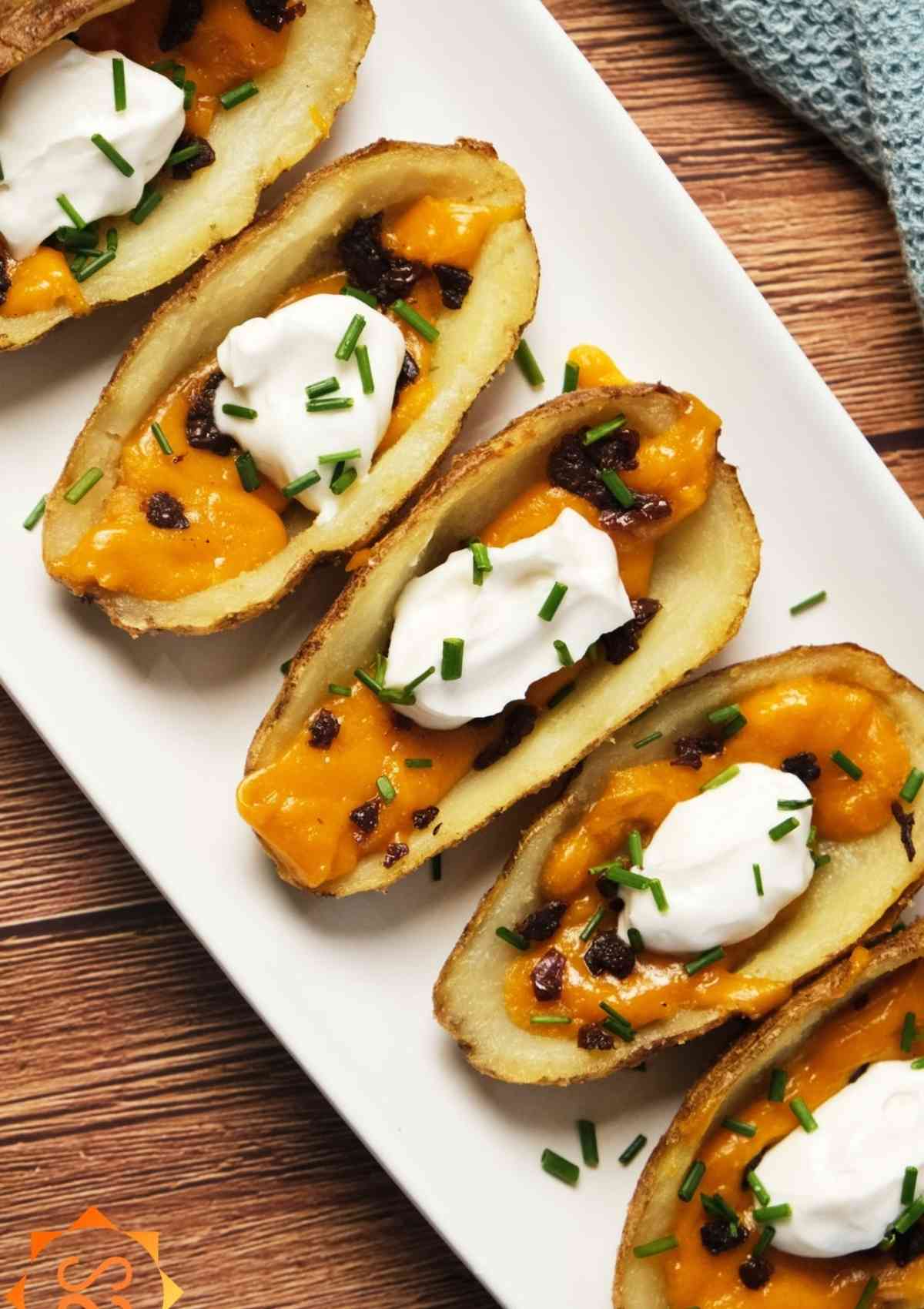 Full Recipe on Steph Sunshine
These potato skins are made vegan with sun-dried tomatoes, chives, Miyoko's cheddar, and Kite Hill sour cream. They're perfect for game day gatherings, parties, or any time you're craving this classic appetizer.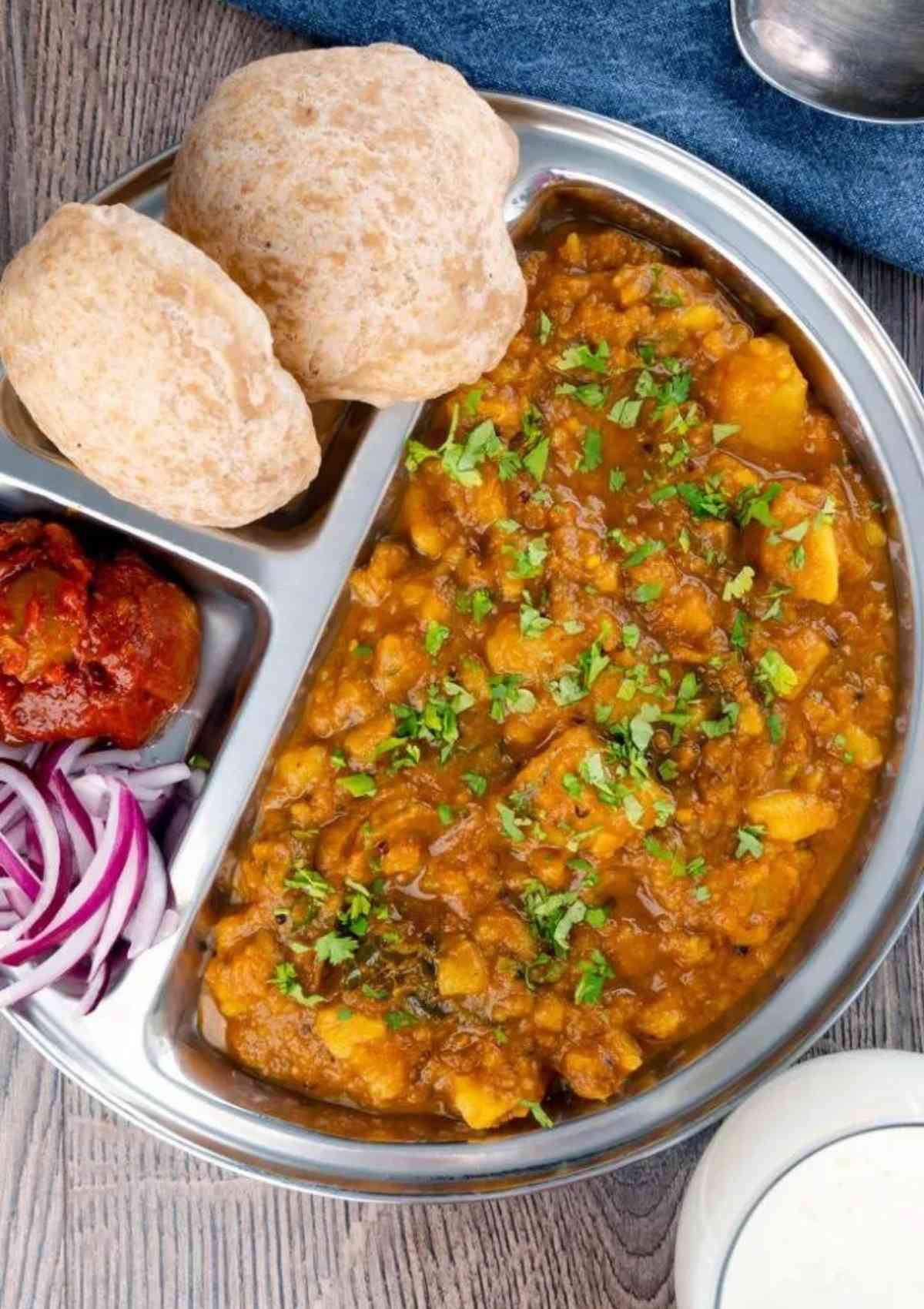 Full Recipe on The Belly Rules the Mind
Easy weeknight potato curry or aloo curry is my go-to easy dinner. When I'm at a loss of what to make, I can make this dinner in less than 15 mins. Bursting with flavor, it will please even the toughest critics in your family.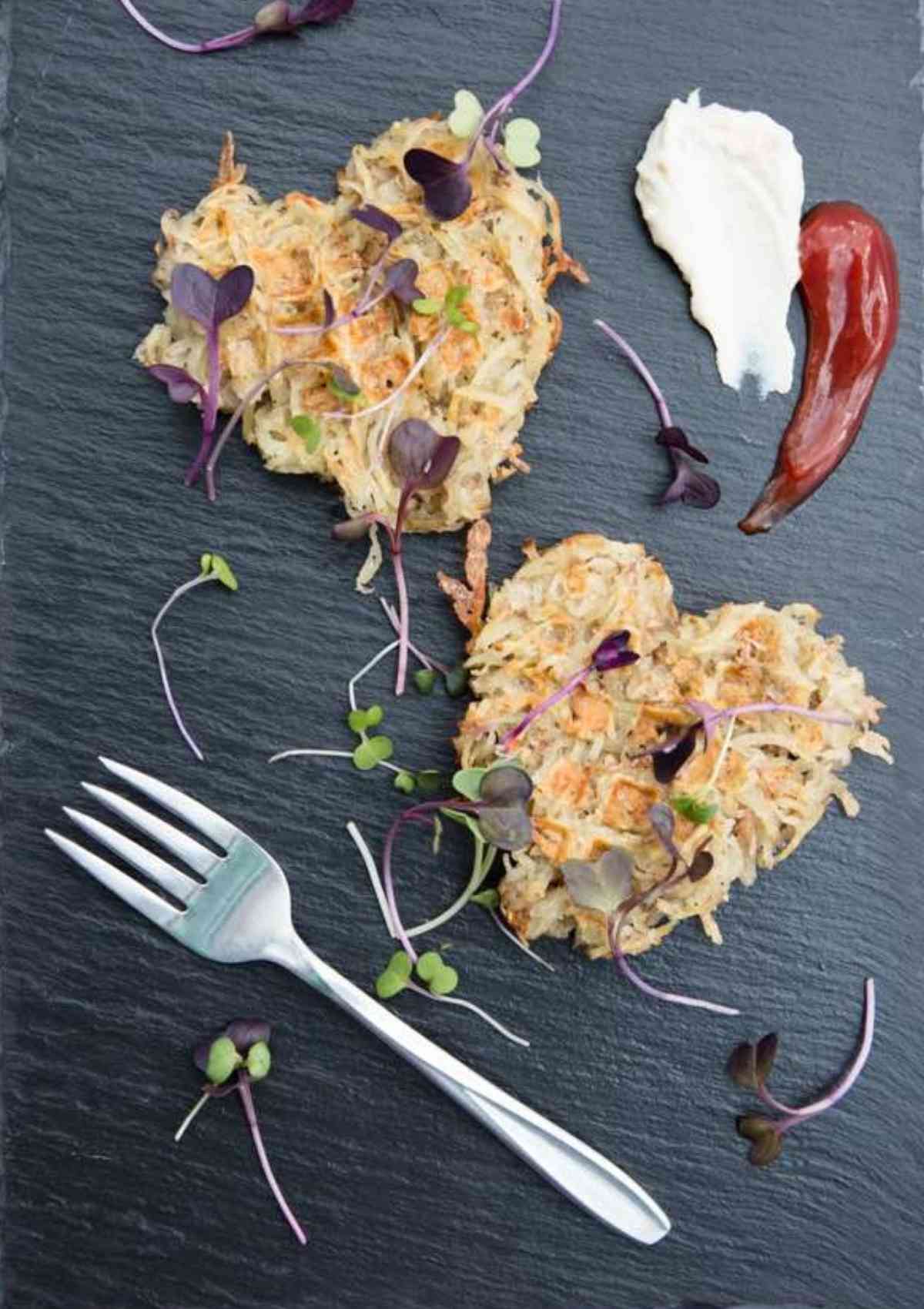 Full Recipe on Vegan Doll House
These vegan hash brown waffles are simply hash browns cooked in your waffle iron. They're a delicious addition to any breakfast, brunch, lunch, or dinner.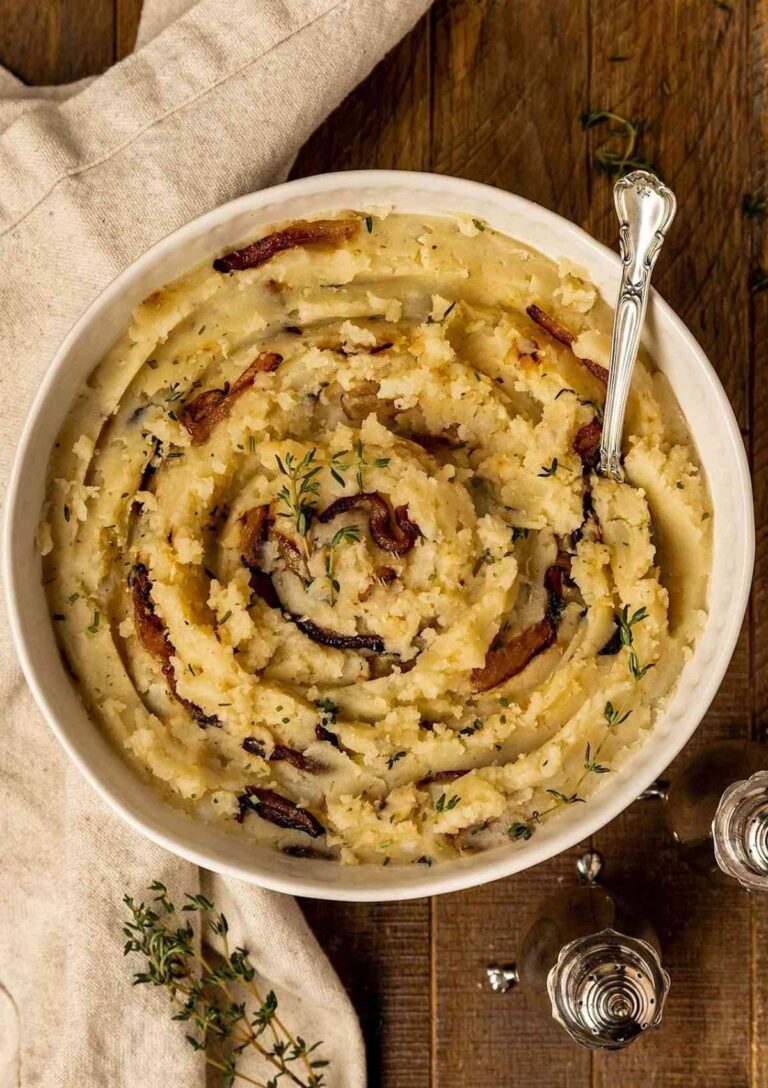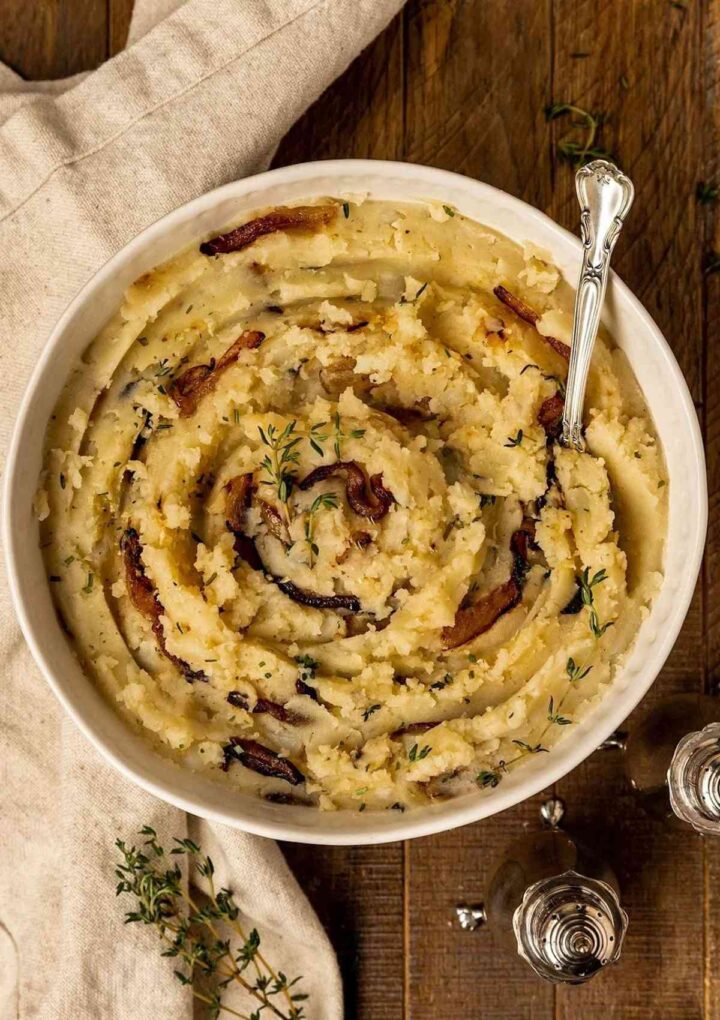 Full Recipe on Short Girl Tall Order
These Vegan Caramelized Onion Mashed Potatoes are no ordinary potato recipe! I may just go far enough to say they are truly the *best* creamy mashed potatoes I have ever made. The best part? Only 8 ingredients are needed for the easiest dairy-free & gluten-free side dish.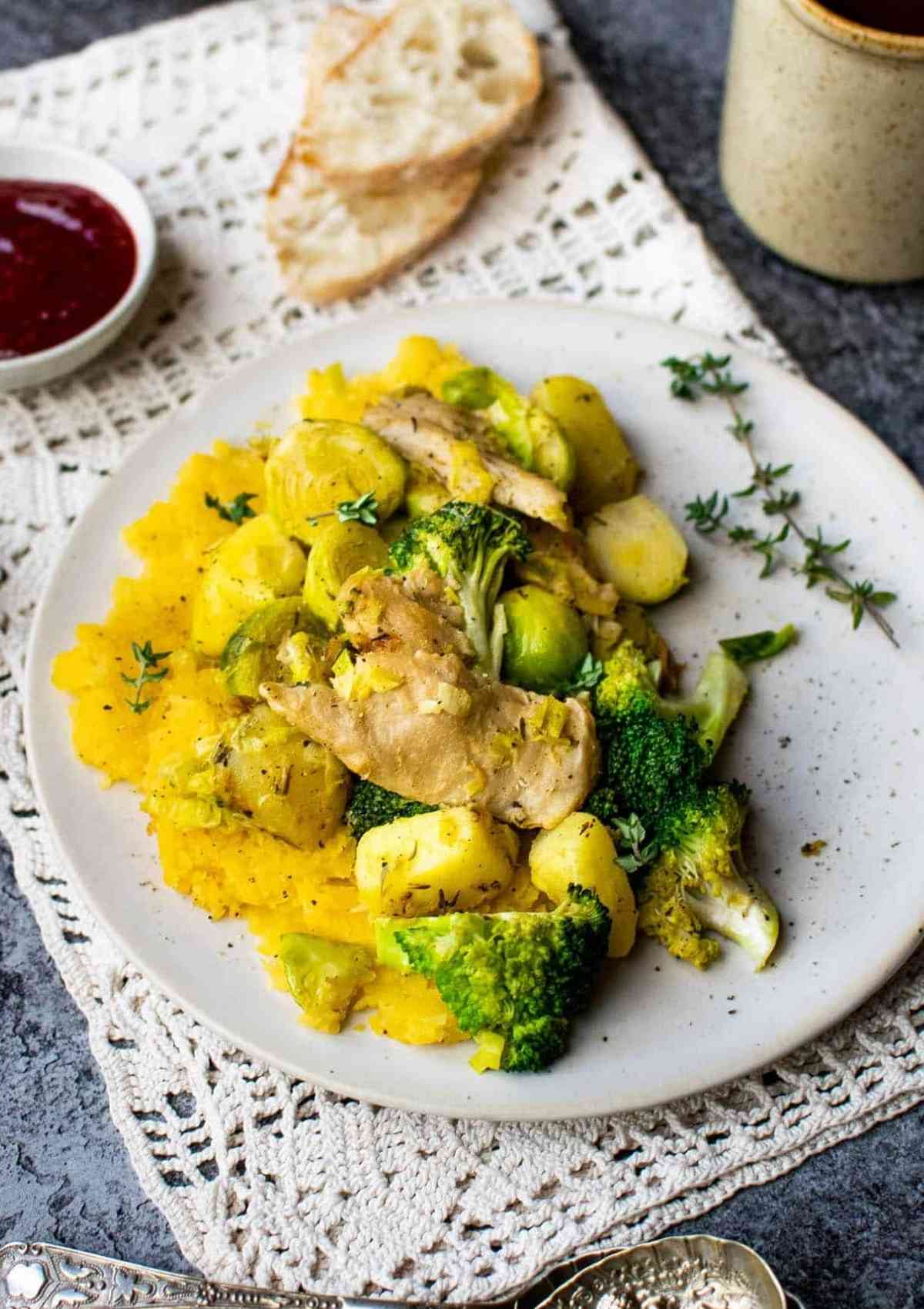 Full Recipe on Vegan Punks
Vegan potato hash is super quick to make (just 30 minutes) and needs just 8 ingredients. And it feels really comforting, even though it's packed full of veg and actually pretty healthy (ish)! It's the perfect dinner for those nights where you just can't be bothered to cook properly!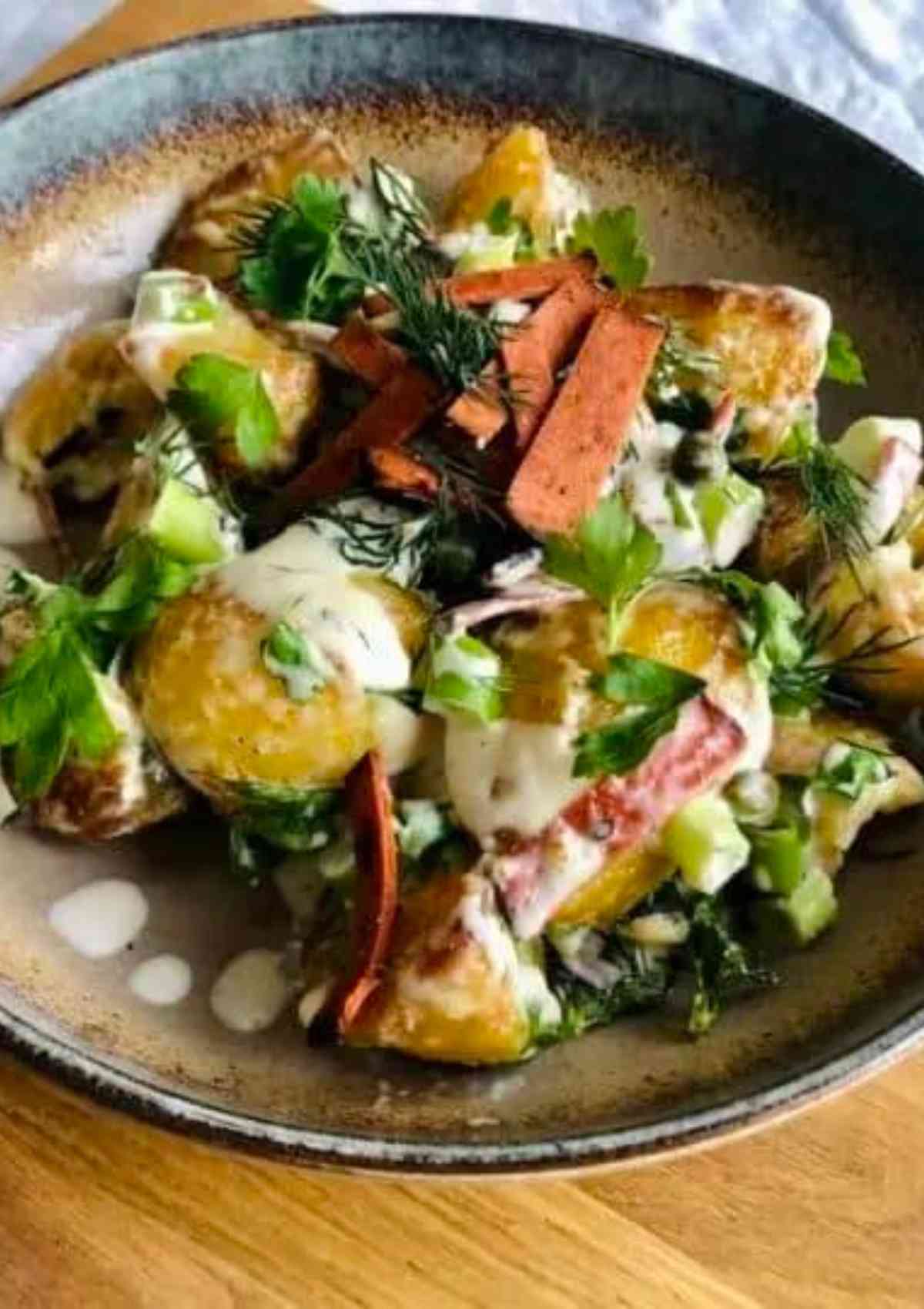 Full Recipe on Yum Vegan Lunch Ideas
This vegan roast potato salad recipe is rich, flavorsome, comforting, and totally delicious. Vegan potato salad has never tasted so good with the beautifully roasted potatoes, coated in a delicious creamy dressing, with fresh herbs and crunch vegan bacon in the mix.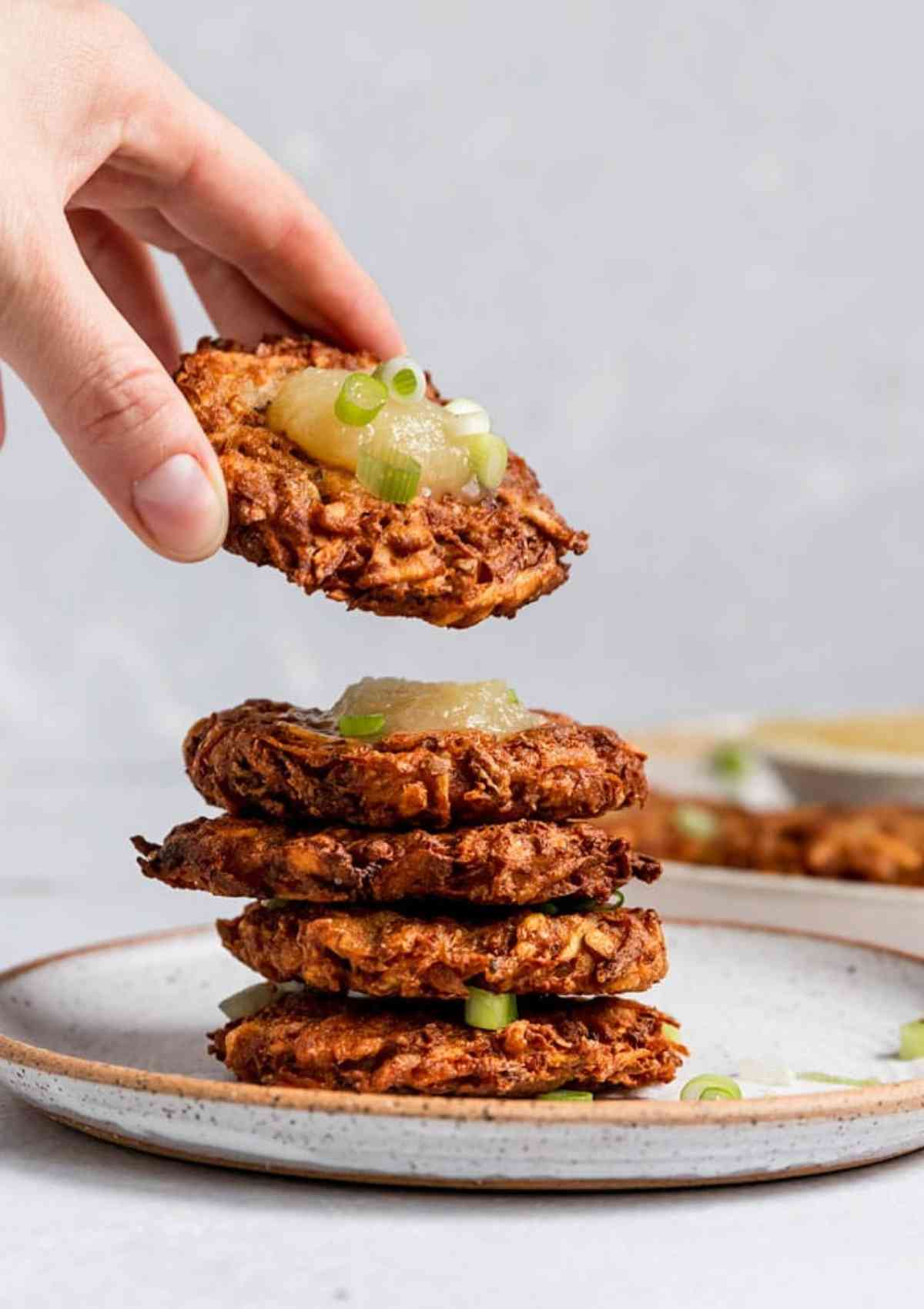 Full Recipe on Short Girl Tall Order
I am BEYOND excited to bring you this recipe for my favorite Jewish comfort food- Vegan Potato Latkes! Though Jewish food isn't traditionally vegan, I was able to perfect the best vegan potato pancake recipe that is perfect for Hanukkah, Rosh Hashanah, or any holiday.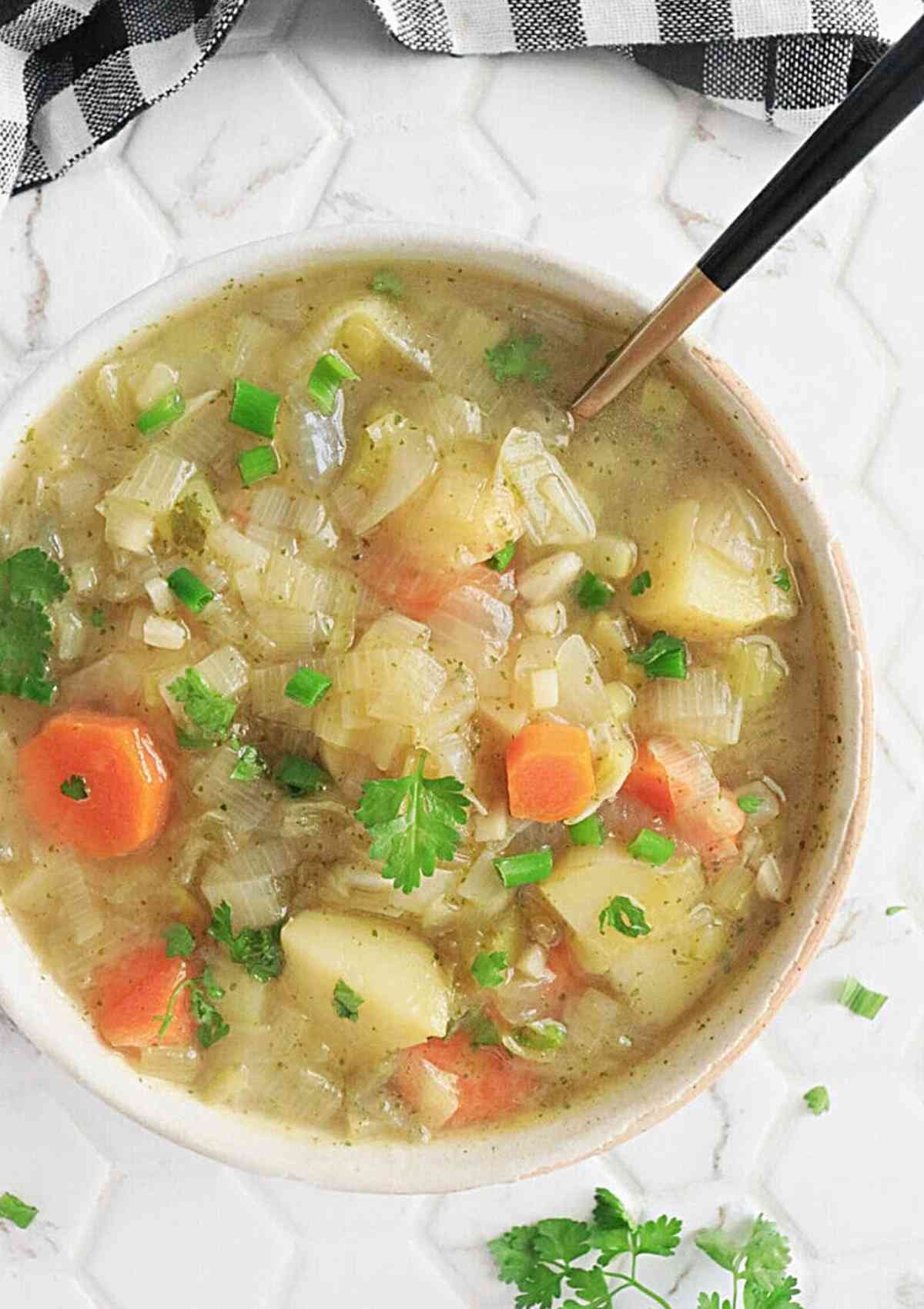 Full Recipe on Clean Green Simple
This chunky vegan potato and leek soup recipe is packed with vegetables. Ready in just 40 minutes, this soup works well as a healthy side dish or an entrée with your favorite bread.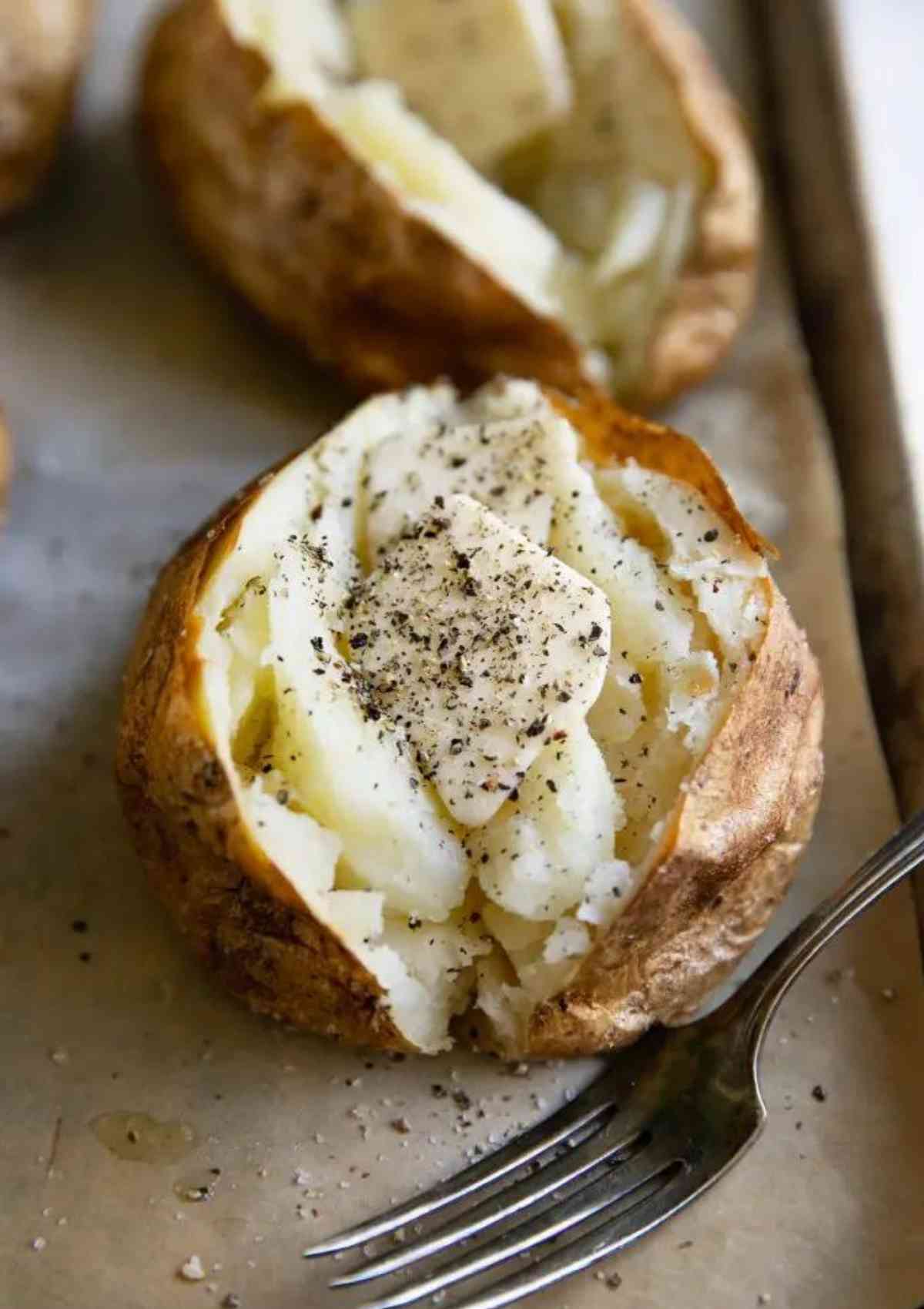 Full Recipe on The Forked Spoon
This Baked Potato Recipe is so easy and guaranteed delicious every time! Perfectly crispy, salty skin and fluffy potato inside, learn how to make the best steakhouse baked potatoes and serve them filled with all your favorite toppings like butter, sour cream, and chives.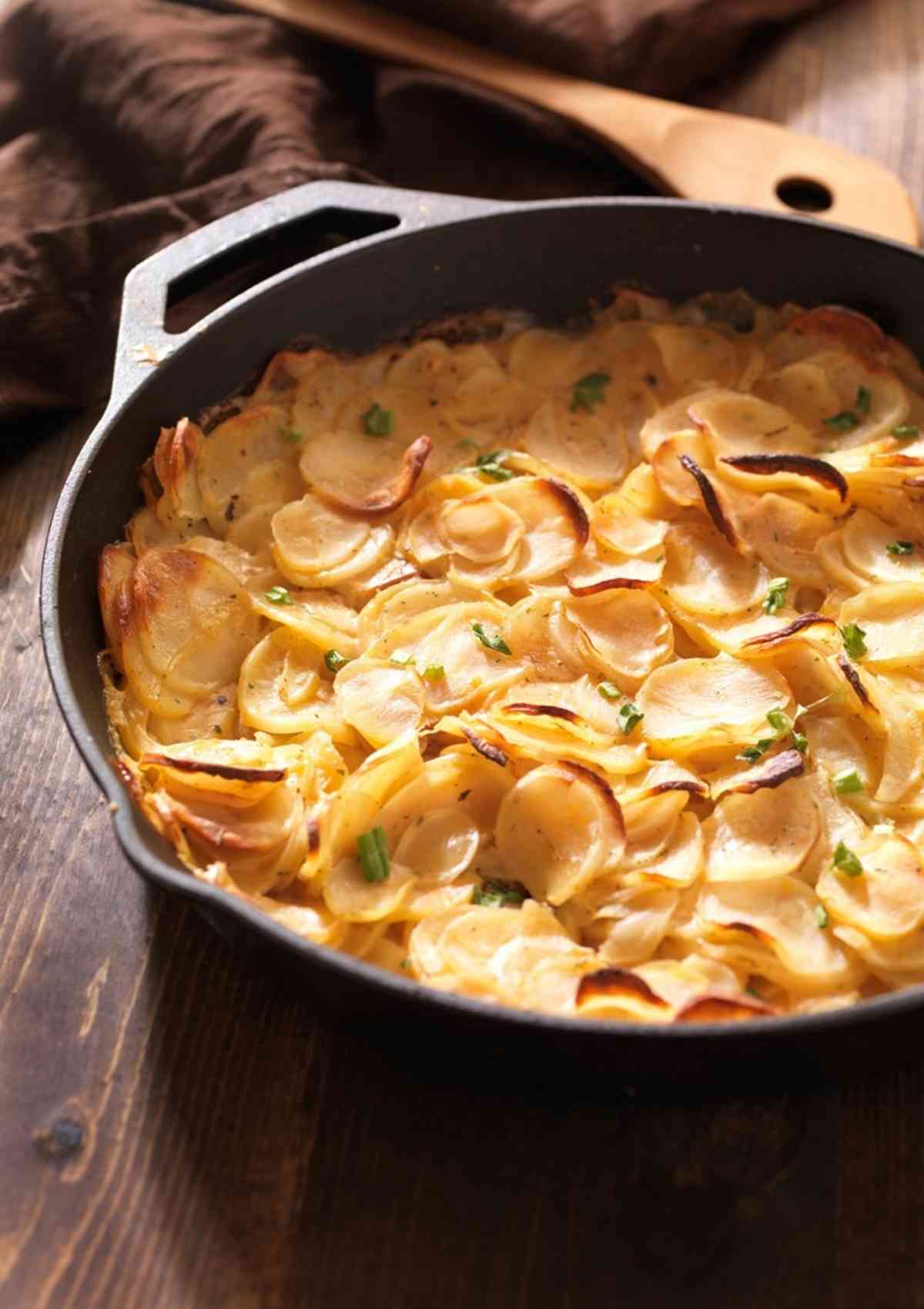 Full Recipe on Go Dairy Free
Dauphinoise potatoes, or gratin dauphinoise, is a traditional dish from the Dauphiné region in southeast France that is similar to scalloped potatoes. But unlike our Americanized versions, they use crème fraîche rather than copious amounts of cheese. To make dairy-free dauphinoise potatoes, this recipe uses a quick creamy sauce made from cashews. It's a wonderfully comforting dish for the cooler months or for the holidays.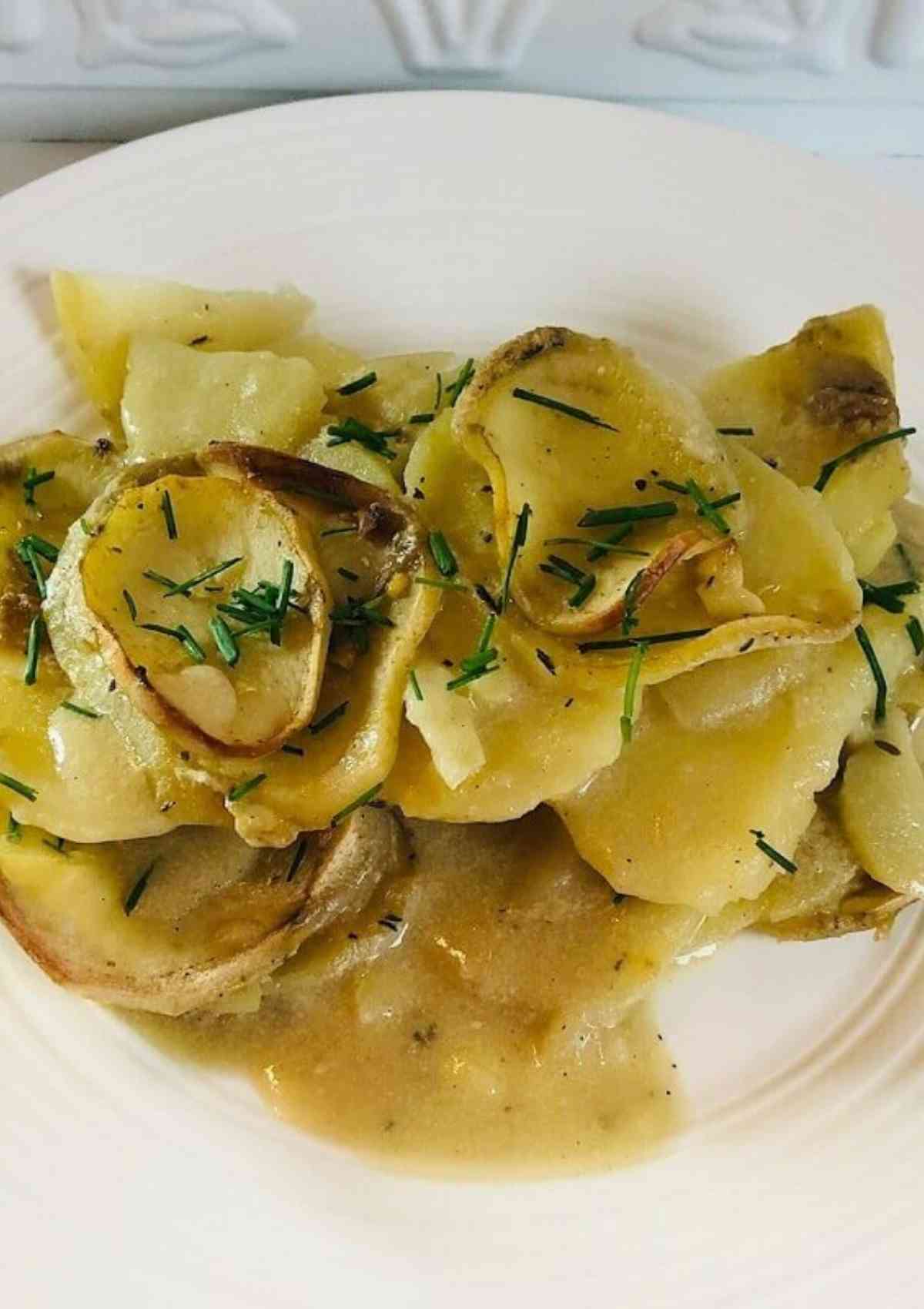 Full Recipe on A Sweet Alternative
These creamy, gluten-free, dairy-free scalloped potatoes are easy to make and perfect for the holidays. They make a delicious plant-based side dish for Christmas, Thanksgiving, or whenever you're craving comfort food. The top layer of these scalloped potatoes is slightly crispy, but the layers beneath are coated in a luscious, creamy, sauce that keeps the potatoes perfectly tender.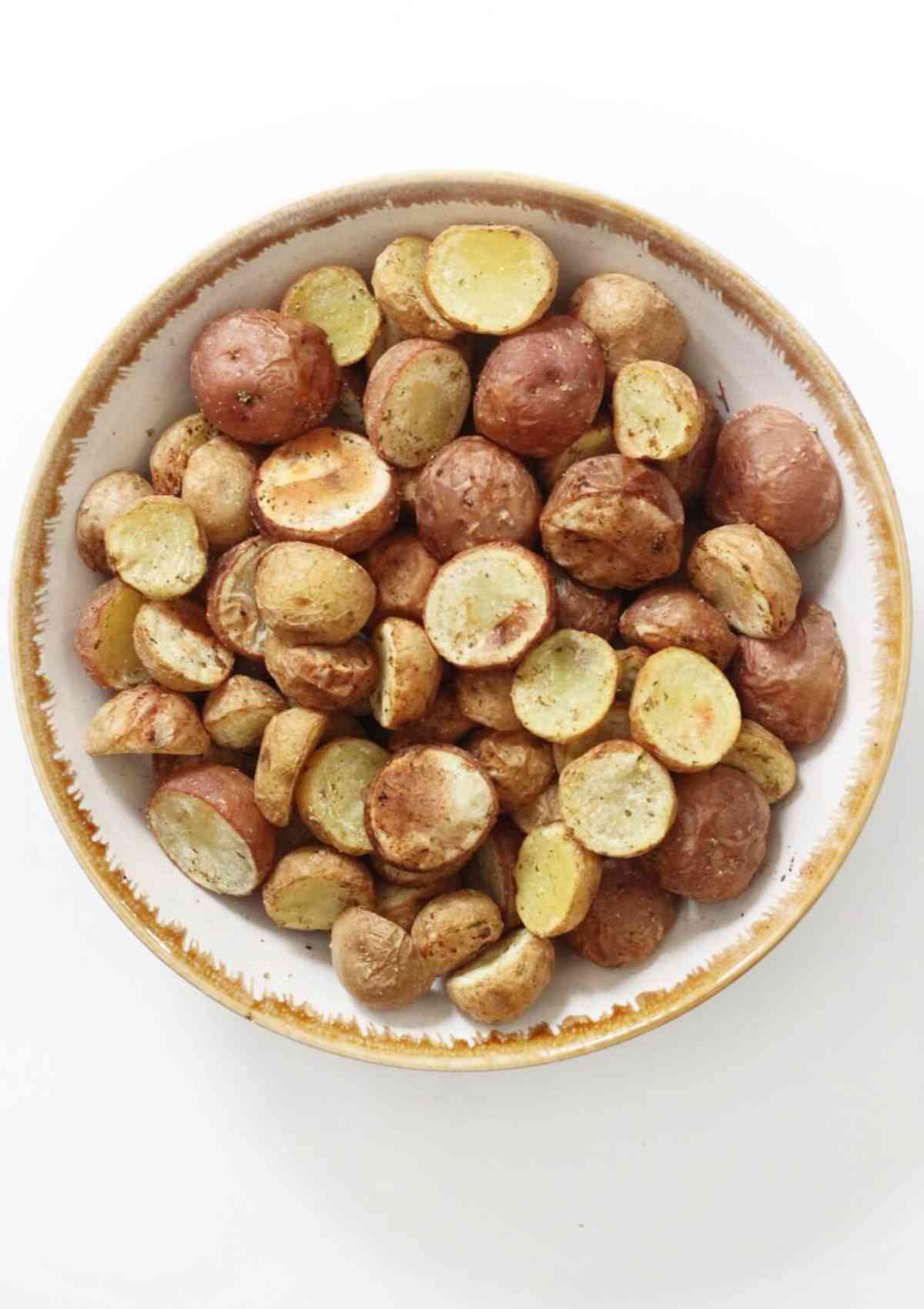 Full Recipe on Strength and Sunshine
These Air Fryer Baby Potatoes are super crispy on the outside, soft and creamy on the inside! They are so easy to make, just baby potatoes and your favorite seasonings to flavor them up! You can have this oil-free and healthy side dish ready in less than 20 minutes! Naturally gluten-free, vegan, and paleo, these potatoes will be a hit!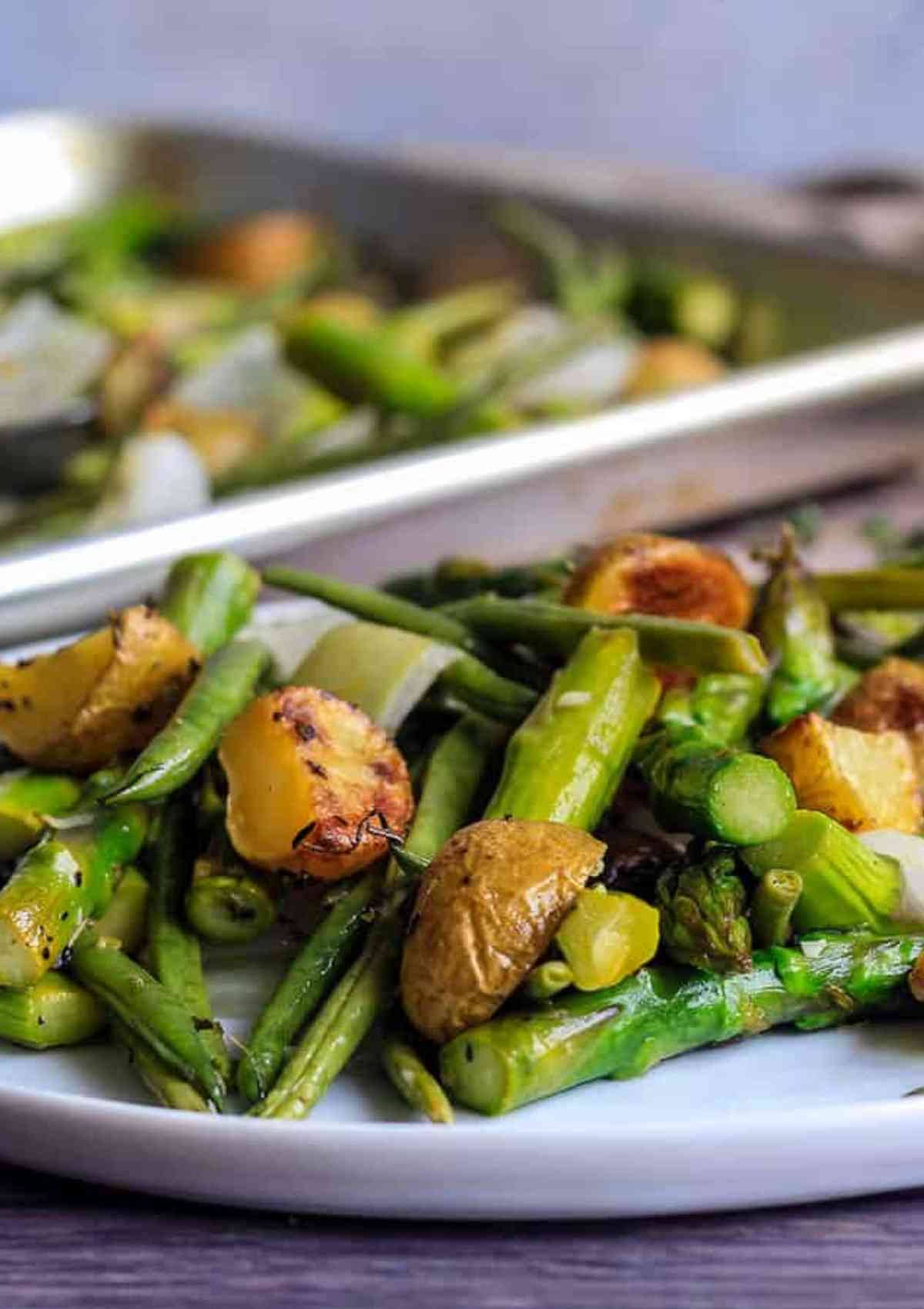 Full Recipe on Cook Eat Live Love
Lemon veggie potato combines roasted potatoes, fresh green beans, asparagus and onions in an easy sheet pan potatoes and veggie side dish. Lemon adds a touch of brightness to this easy side dish recipe while the garlic and fresh herbs add a touch of earthiness to the lemon roasted vegetables and potatoes.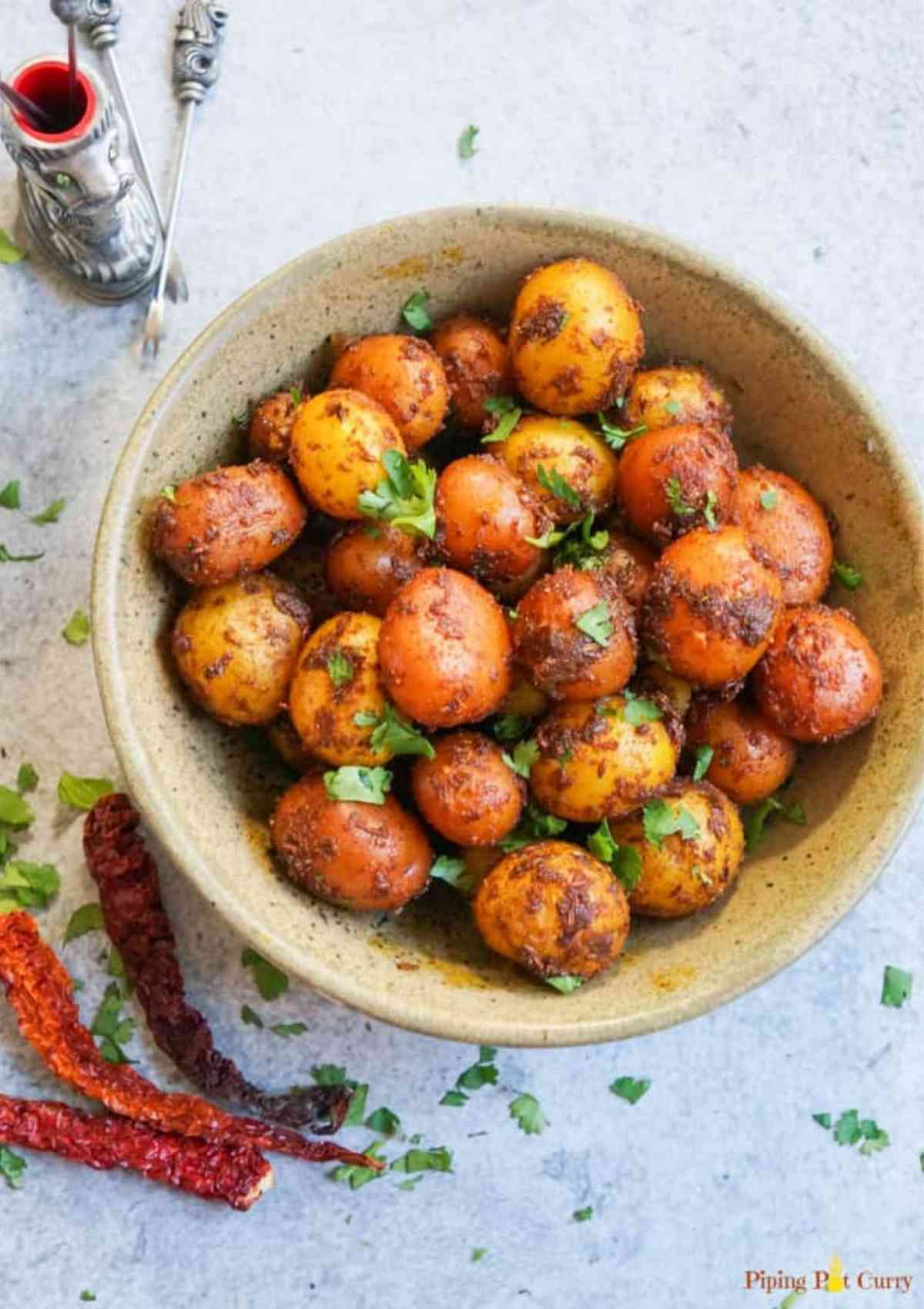 Full Recipe on Piping Pot Curry
If you like spicy food, this is going to be your new favorite - Spicy Bombay Potatoes or Masala Aloo. Baby Potatoes cooked with aromatic spices, as a one-pot dish, are perfect to serve as an appetizer or a side dish. These delicious and easy Bombay Potatoes take just 20 minutes to make in the Instant Pot or on the stovetop. Vegan & Gluten-free.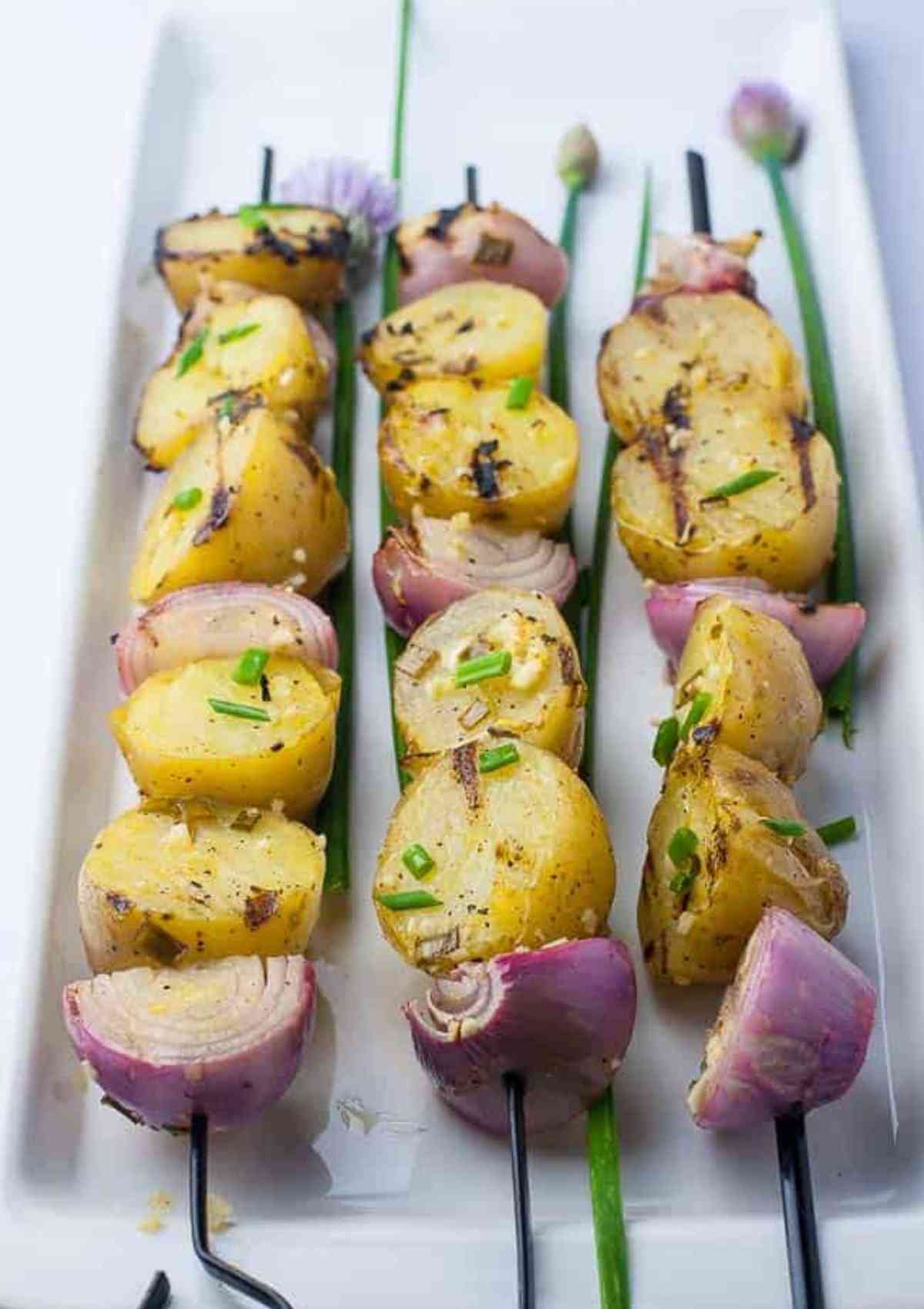 Full Recipe on Flavour and Savour
Lemon Garlic Potato Kabobs, hot off the grill, are crisp on the outside, soft and tender inside. Skewered potato kabobs with shallots, grilled with lemon and garlic round out a casual dinner at any time of year.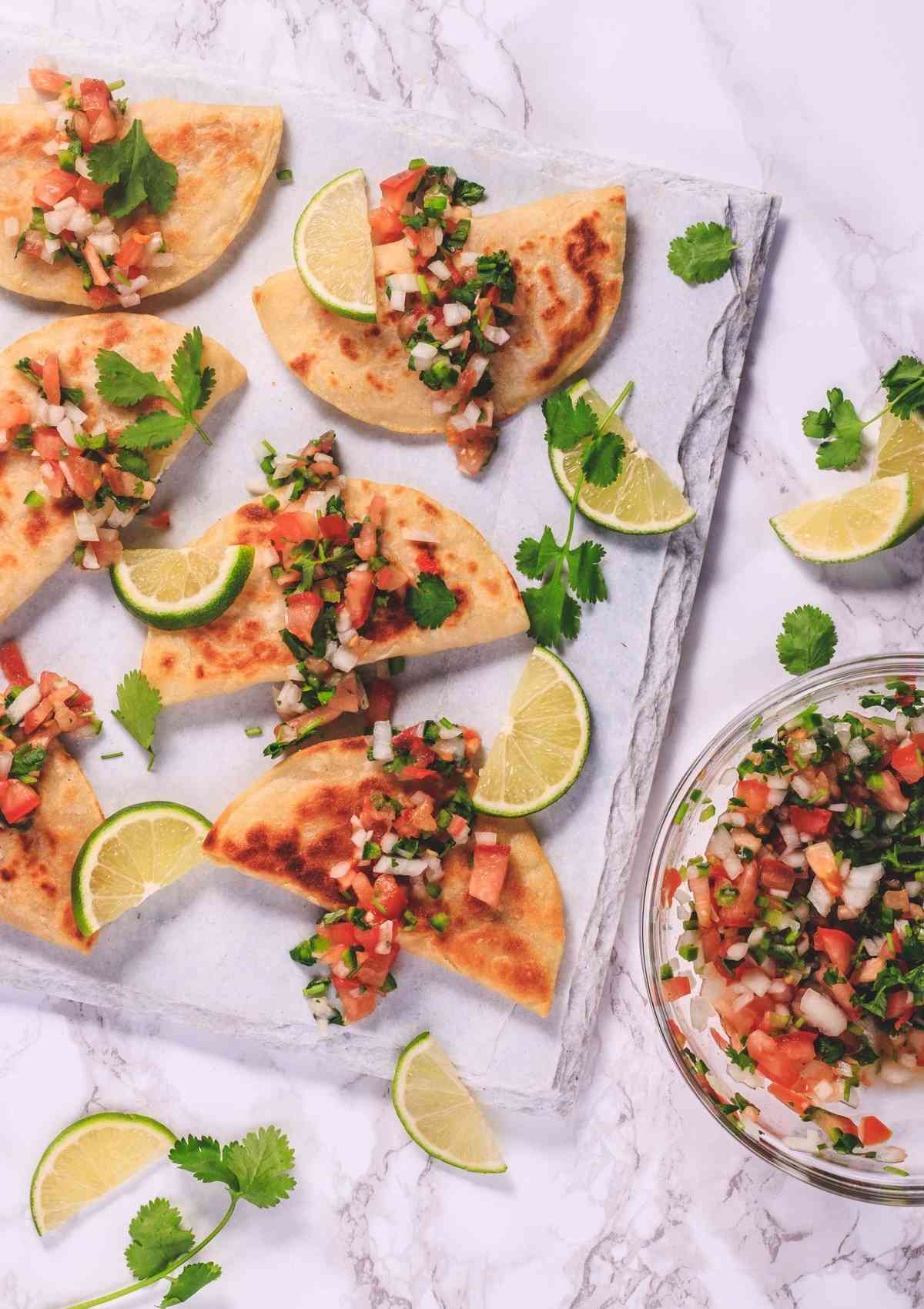 Full Recipe on Spice Up The Curry
These potato tacos are so good and super easy to make as a simple weeknight dinner that sure impresses everyone. You get deliciously Mexican seasoned mashed potatoes layered over corn tortillas and lightly pan-fried to make crunchy, crispy tacos. It is topped with pico de gallo and its fresh, bright flavors go well with creamy potato stuffing.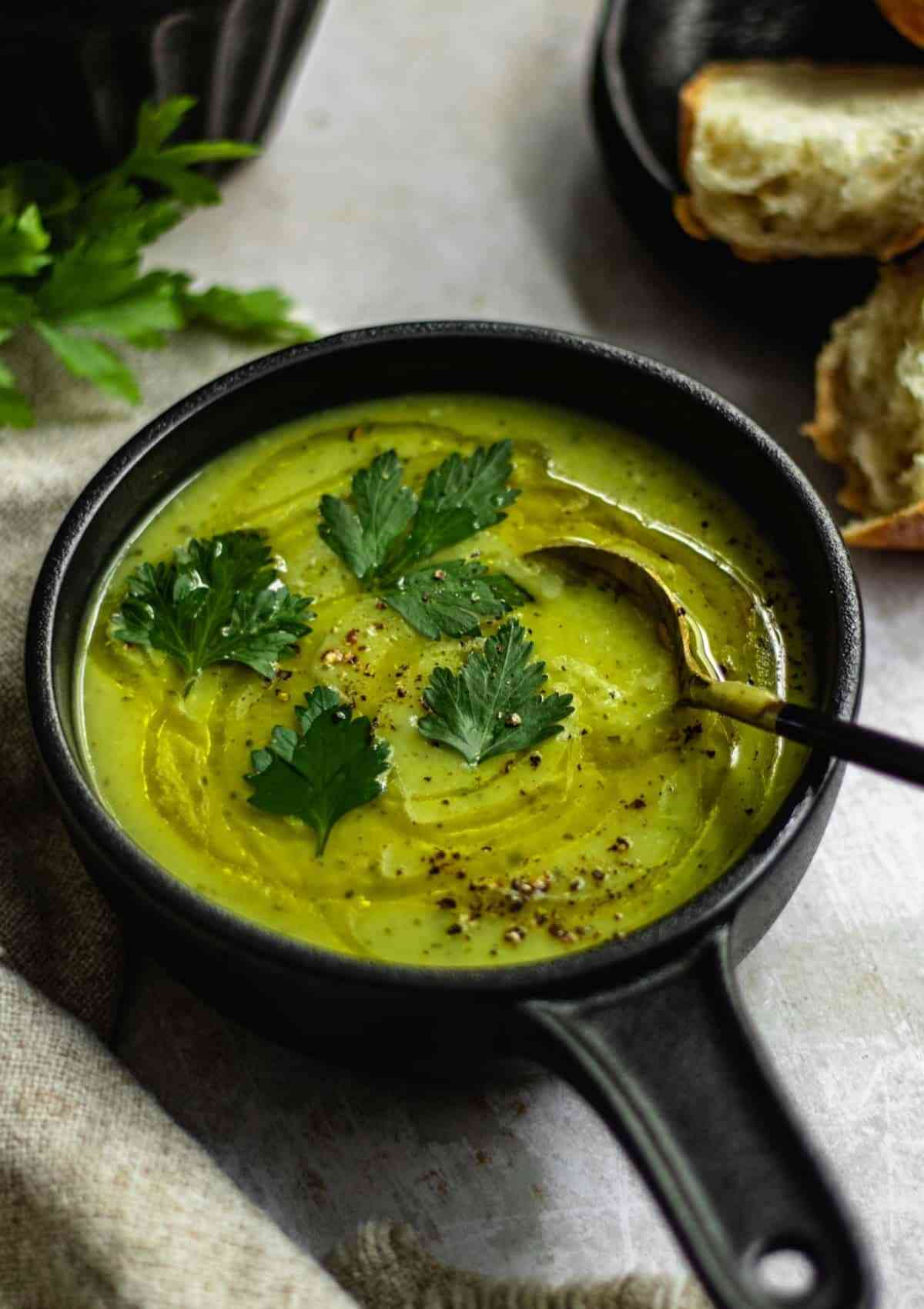 Full Recipe on The Powdered Apron
There's nothing better than a warm, creamy soup on a cold night. This Healthy Creamy Zucchini Potato Soup is so simple to make, and only uses a few ingredients. The potatoes give this soup its creaminess, meaning no dairy is used! This soup is SO healthy and only takes 30 minutes to make!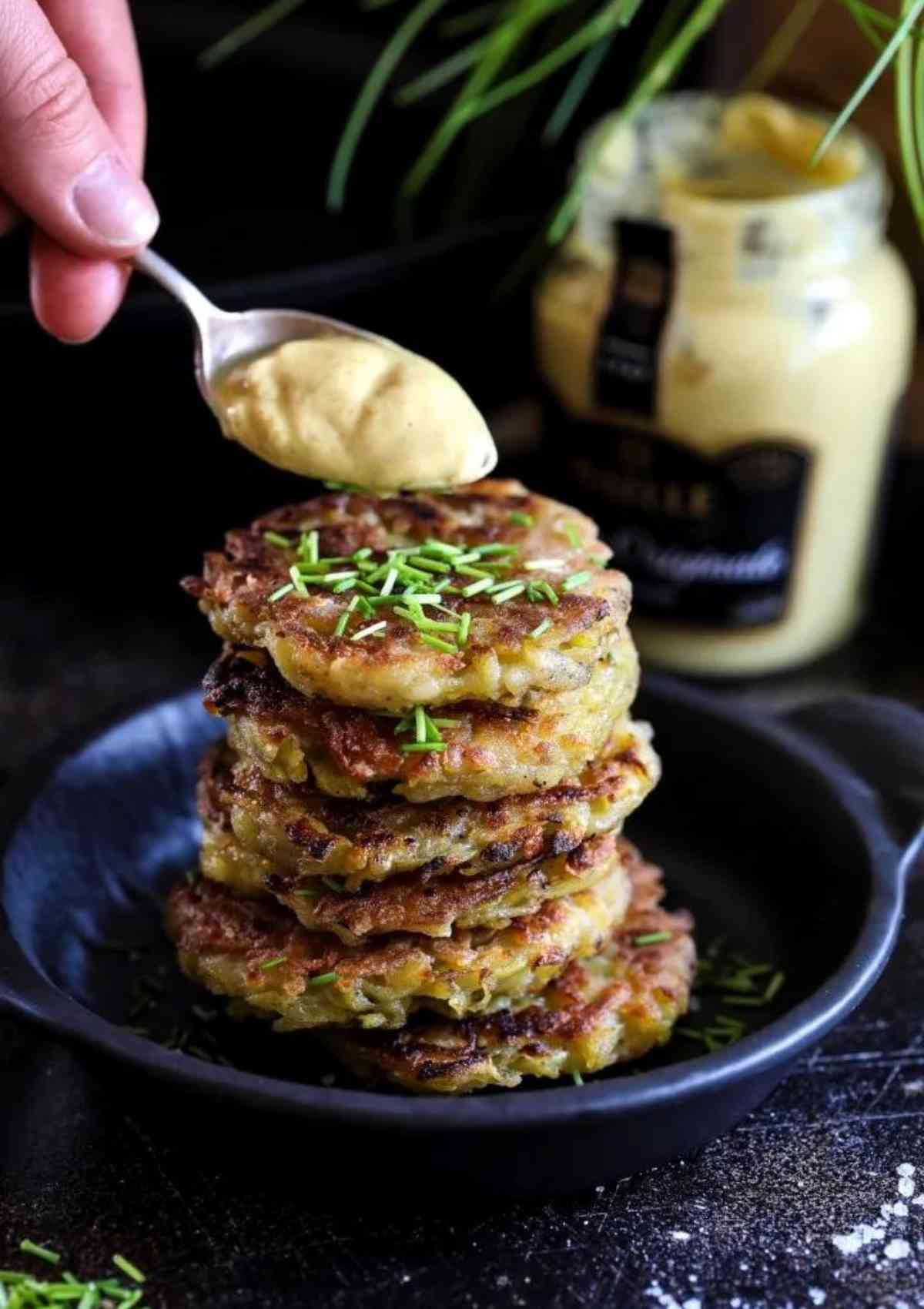 Full Recipe on Happy Kitchen Rocks
These delicious vegan German potato pancakes or Kartoffelpuffer are crispy from the outside and tender on the inside and only require 3 staple ingredients and 30 minutes of your time. They are perfect for a quick and filling breakfast, lunch or dinner meal that everyone will love!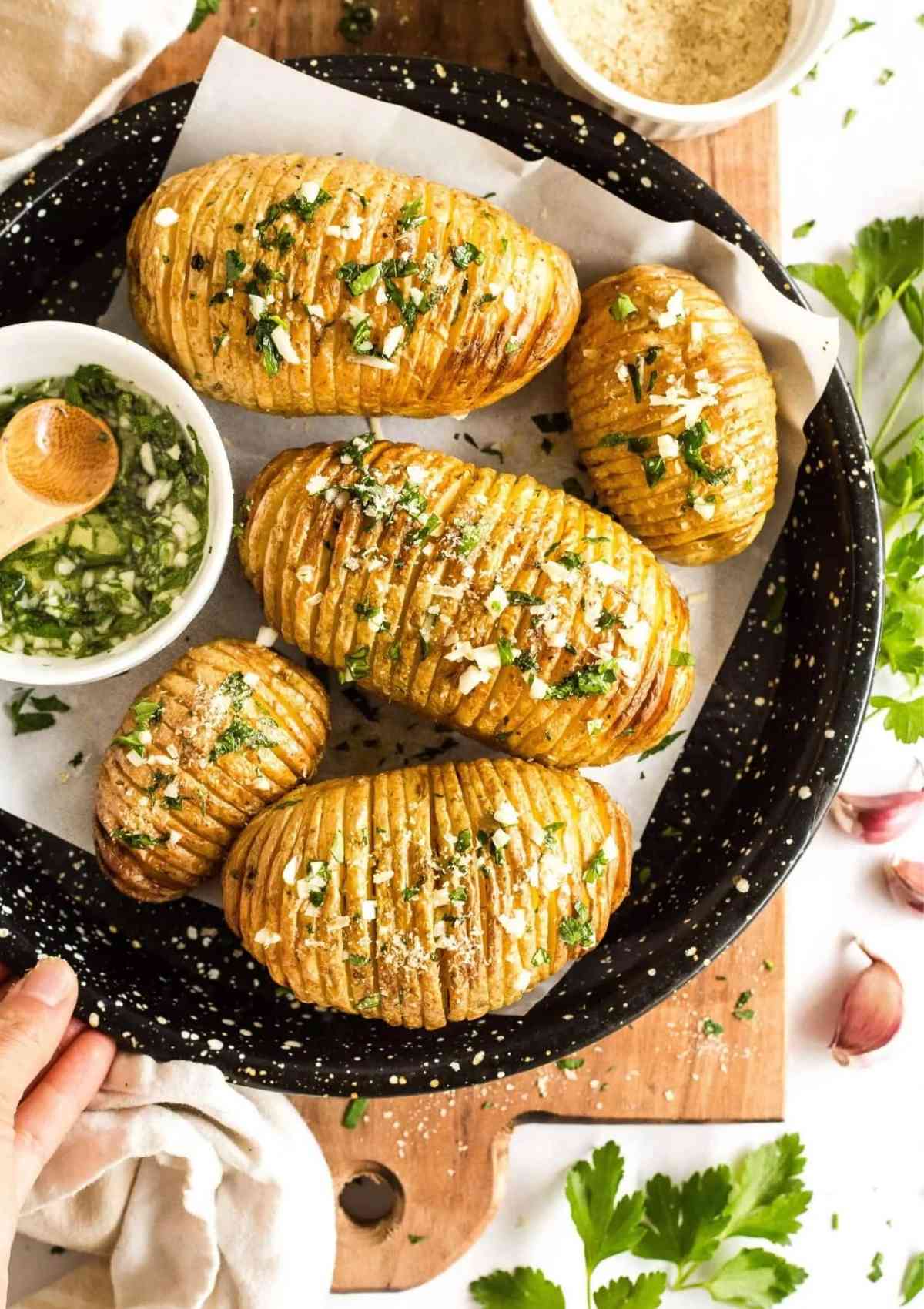 Full Recipe on Dish by Dish
These crispy Hasselback potatoes are super easy to make, have insanely crispy skins with tender soft interiors, and are flavored with fragrant garlic and fresh parsley! Made in the air fryer or oven, they are the perfect side dish or appetizer, and are gluten-free, dairy-free and vegan too! Make them for Thanksgiving or during the holidays because these gorgeous spuds are sure to wow your guests!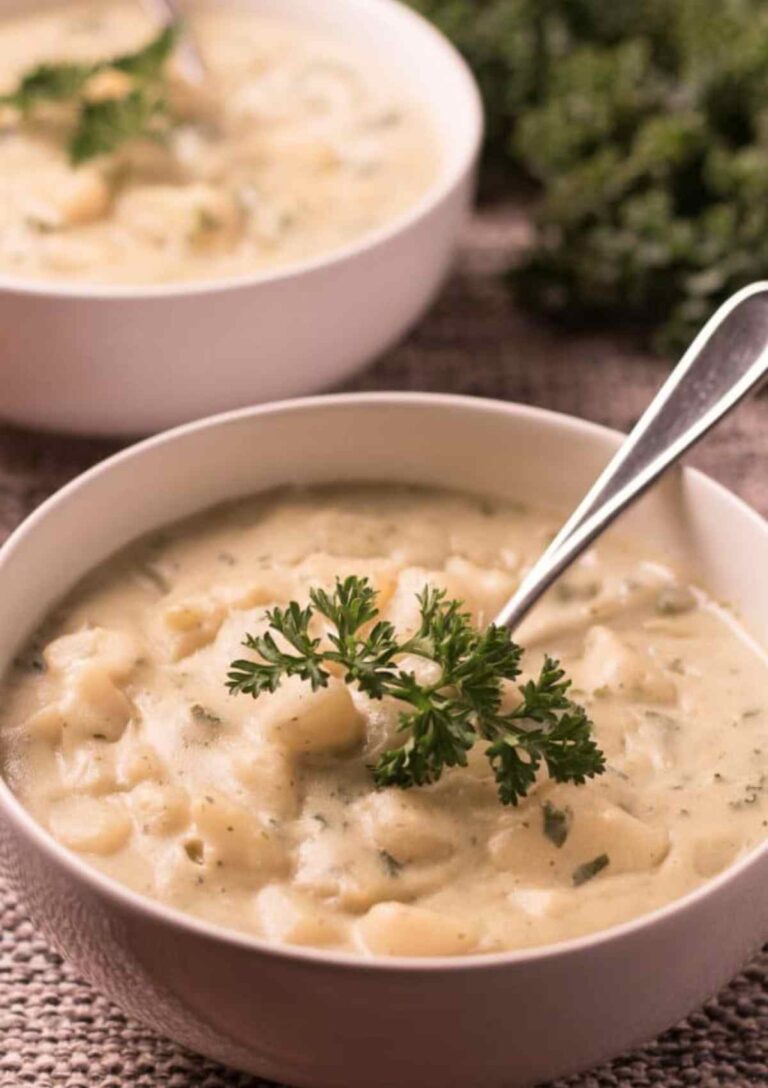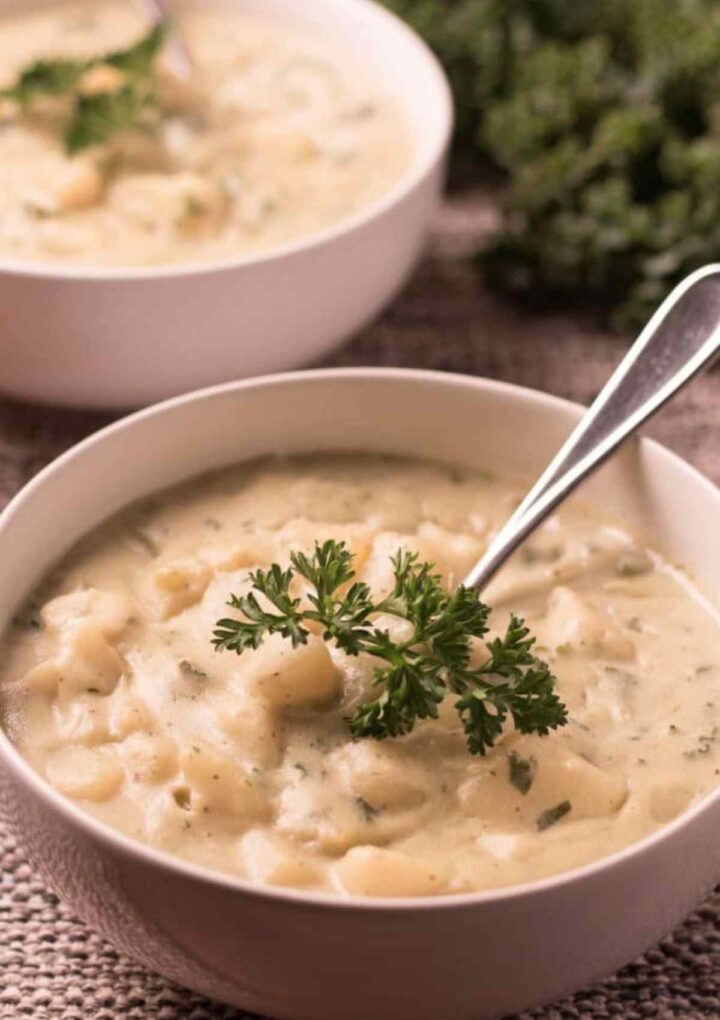 Full Recipe on A Plantiful Path
Get ready to grab a spoon and dip it into this creamy Vegan Potato Kale Soup! This warm, hearty bowl is oil free, vegan, and oh, so good! It cooks quickly in the Instant Pot or on the stove top, making it perfect for busy nights.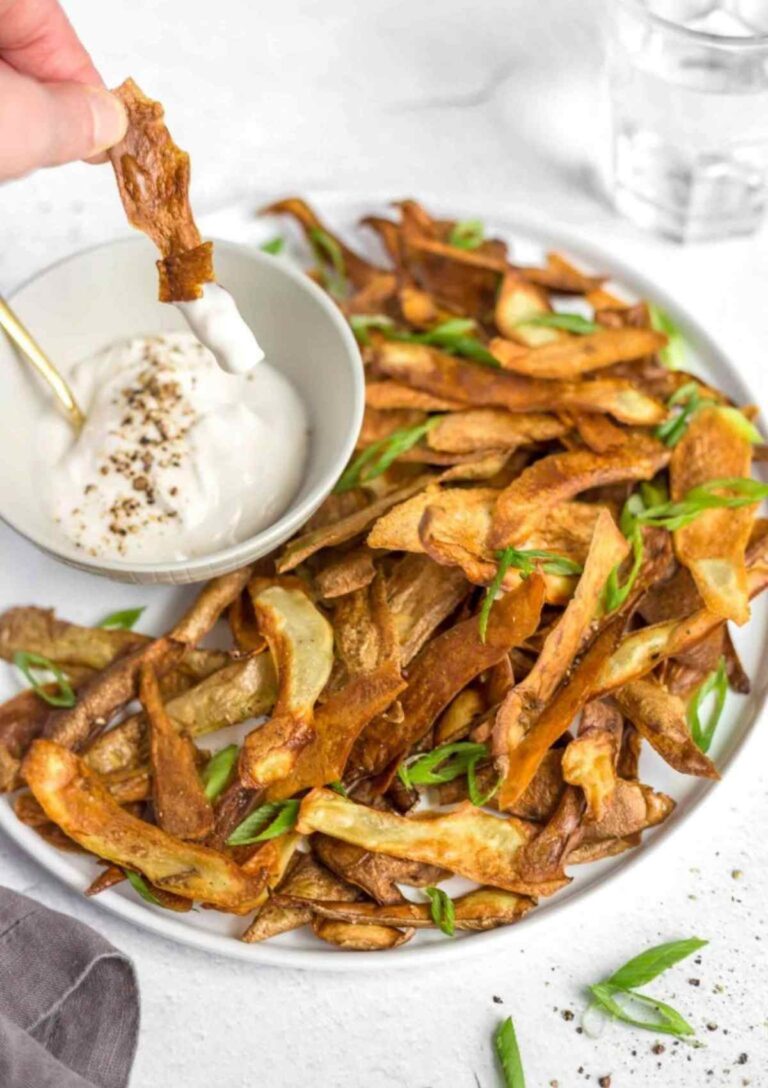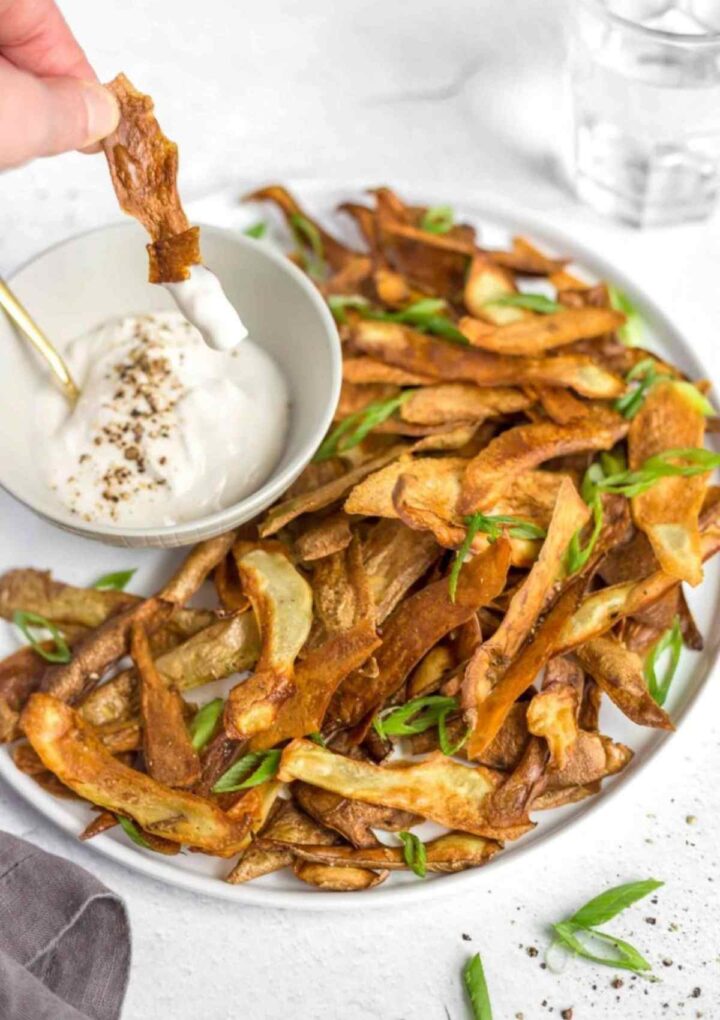 Full Recipe on World of Vegan
Do crispy, seasoned potatoes ap-peel to you? If they do, you must try these vegan potato skin chips! They're light, flaky, and just plain perfect. Enjoy them as a itty-bitty bite when you craving something crunchy or as an entire meal if you so desire.
We hope you enjoyed this list of vegan potato recipes. If you're looking for more plant-based dinner inspiration, be sure to check out our Vegan Dinner Recipes.
Do let us know in the comments which one of these potato recipe you are going to try tonight?