This vegan spinach salad is a simple, healthy, and delicious side dish that can be whipped up in just 20 minutes. It contains fresh veggies and fruits as well as some walnuts for crunch with an addicting dressing that will leave you feeling satisfied!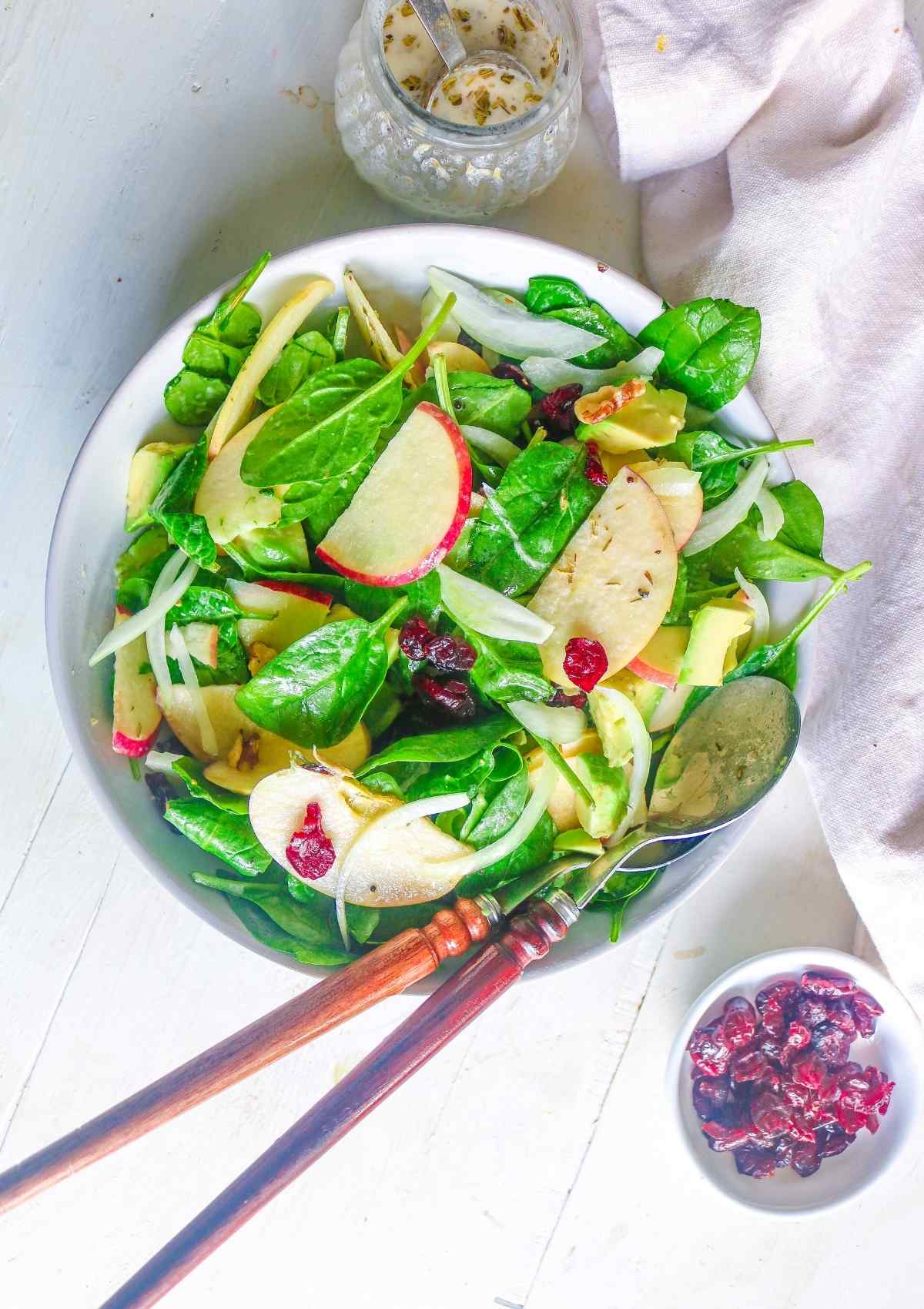 Get ready to make this your new favorite summery meal or get-together recipe at any upcoming event.
No one wants to be a slave to the kitchen! The best way to enjoy your time with family and friends is by making this delicious raw vegan spinach salad, which requires minimum effort and time. This recipe is perfect for the home cook who wants to incorporate more plant-based foods into their diet. The creamy Mayo Apple Cider Vinegar Dressing will take this salad to the next level.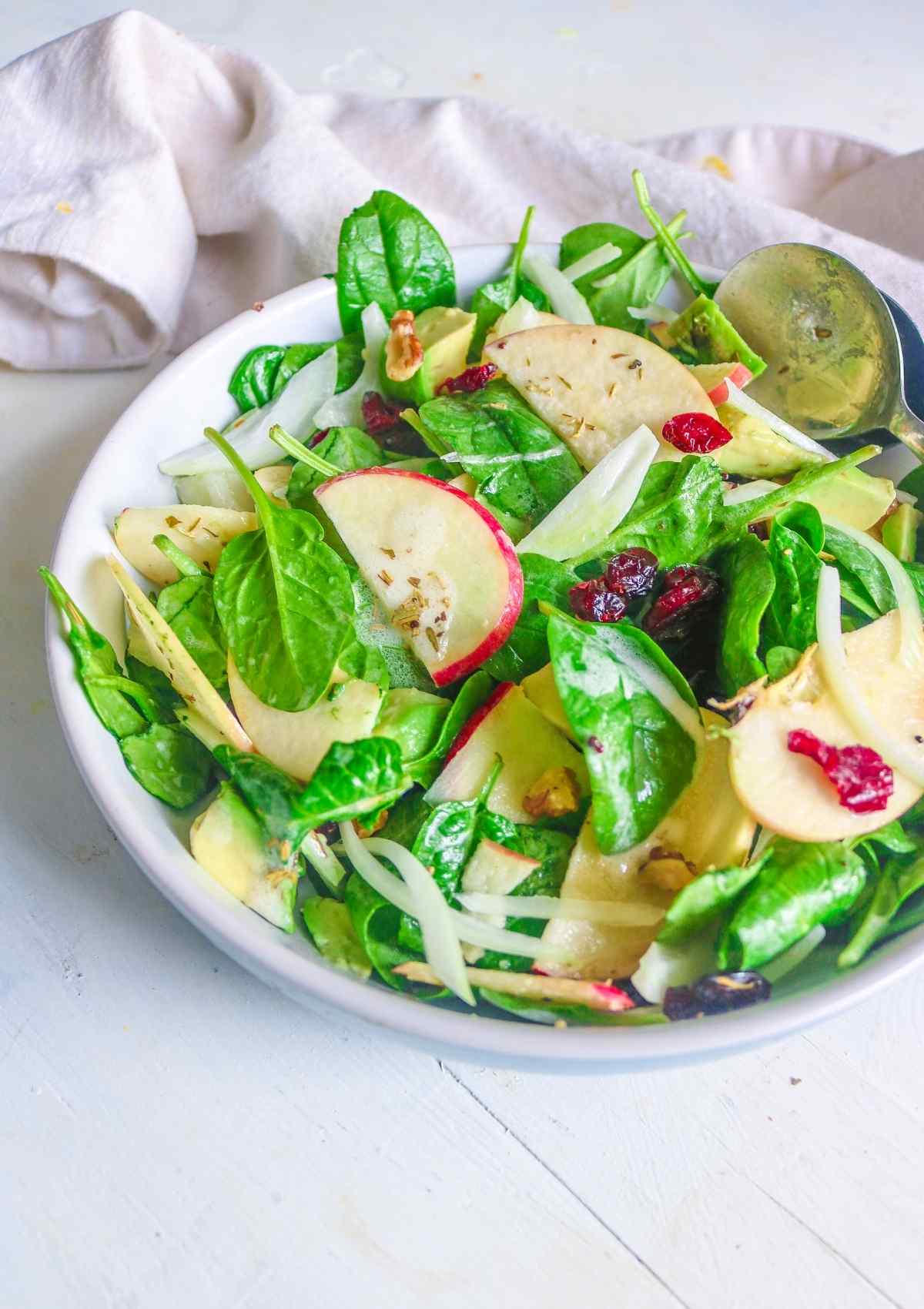 Ingredients You Need
Spinach Leaves: Spinach provides the perfect base for any salad and it is packed with vitamins and minerals. You can always use a blend of arugula and spinach. Baby spinach leaves are always a preferred option for salads.
Apple: Apples add some sweetness, crunch, and color to the salad you can use any kind of apples.
White Onion: White onions are sweet and give a great flavor and crunch to the recipe. Make sure they are thinly sliced.
Avocado: The riper the batter. Ripped avocado gives a creamy texture to the salad.
Dried Cranberries: They look so festive and add an extra sweet and tangy touch to the salad.
Walnuts: Make sure walnuts are toasted. Toasting always gives extra crunch and flavor.
Salad Dressing: I found this Mayo Apple Cider Vinegar Dressing a perfect vegan salad dressing for spinach salad. It has the perfect creaminess with a sweet and tangy flavor. It is a mixture of Apple Cider Vinegar, Oil, Vegan Mayonnaise, Oregano, Dried Rosemary, Dried Thyme, Mustard Seeds, Salt, and Pepper.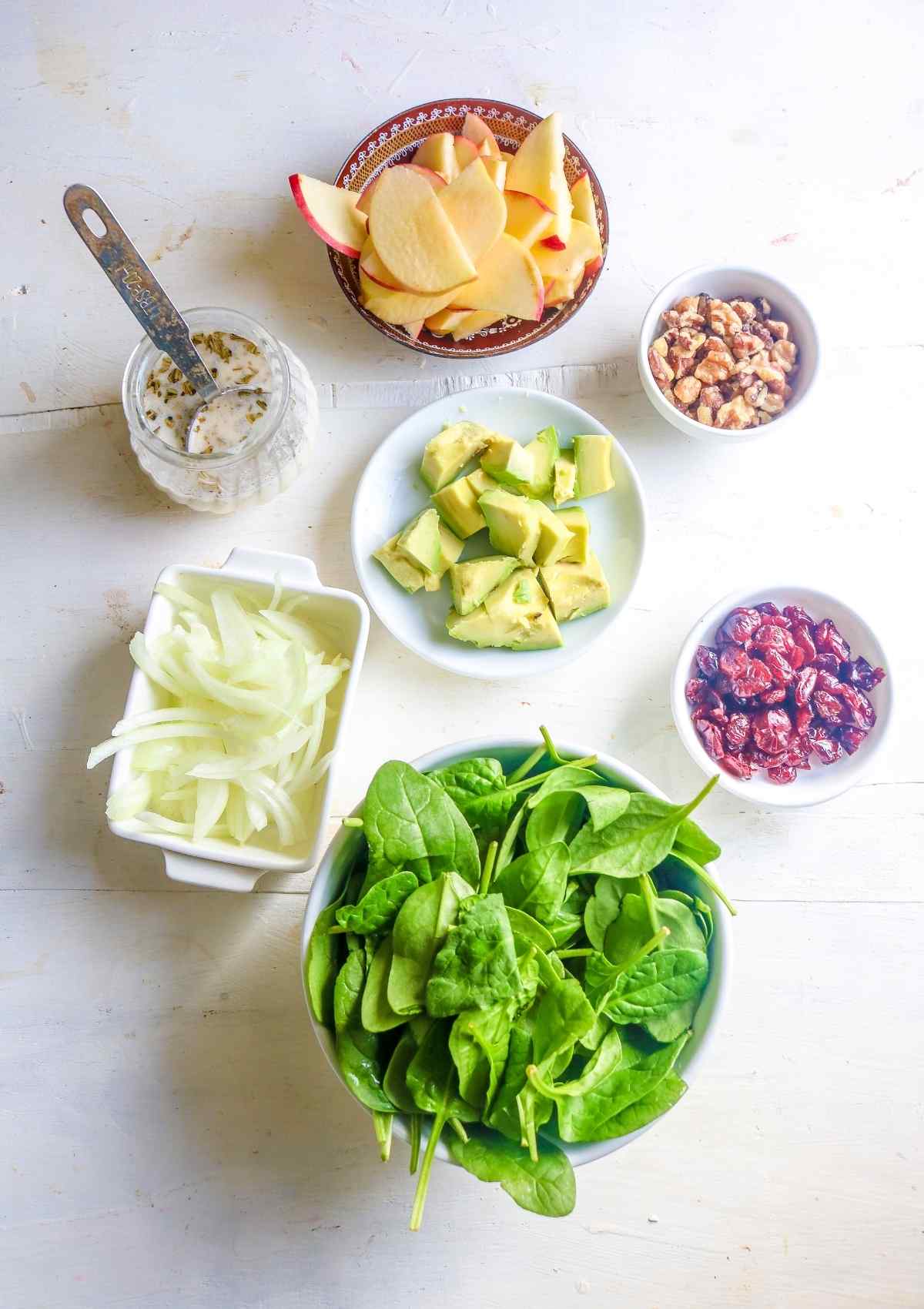 How to Make Vegan Spinach Salad
Preparation: Wash and thinly slice apples and onions. Peel and slice the avocado and wash the spinach. Toast the walnuts.
Assemble: In a large place spinach leaves, apple and onion slices, then avocado, walnuts, and cranberries.
Make the dressing: In a small bowl add all mayo apple cider vinegar dressing ingredients and whisk all together until creamy and well combined.
Toss, Toss, and Toss: Pour dressing over salad and then toss gently. Add a small amount of dressing and taste and adjust as much as you need.
Serve: This vegan spinach salad is the best right after you toss the spinach and avocado with the dressing. But you can always assemble the salad in the bowl and drizzle with dressing when you are ready to serve.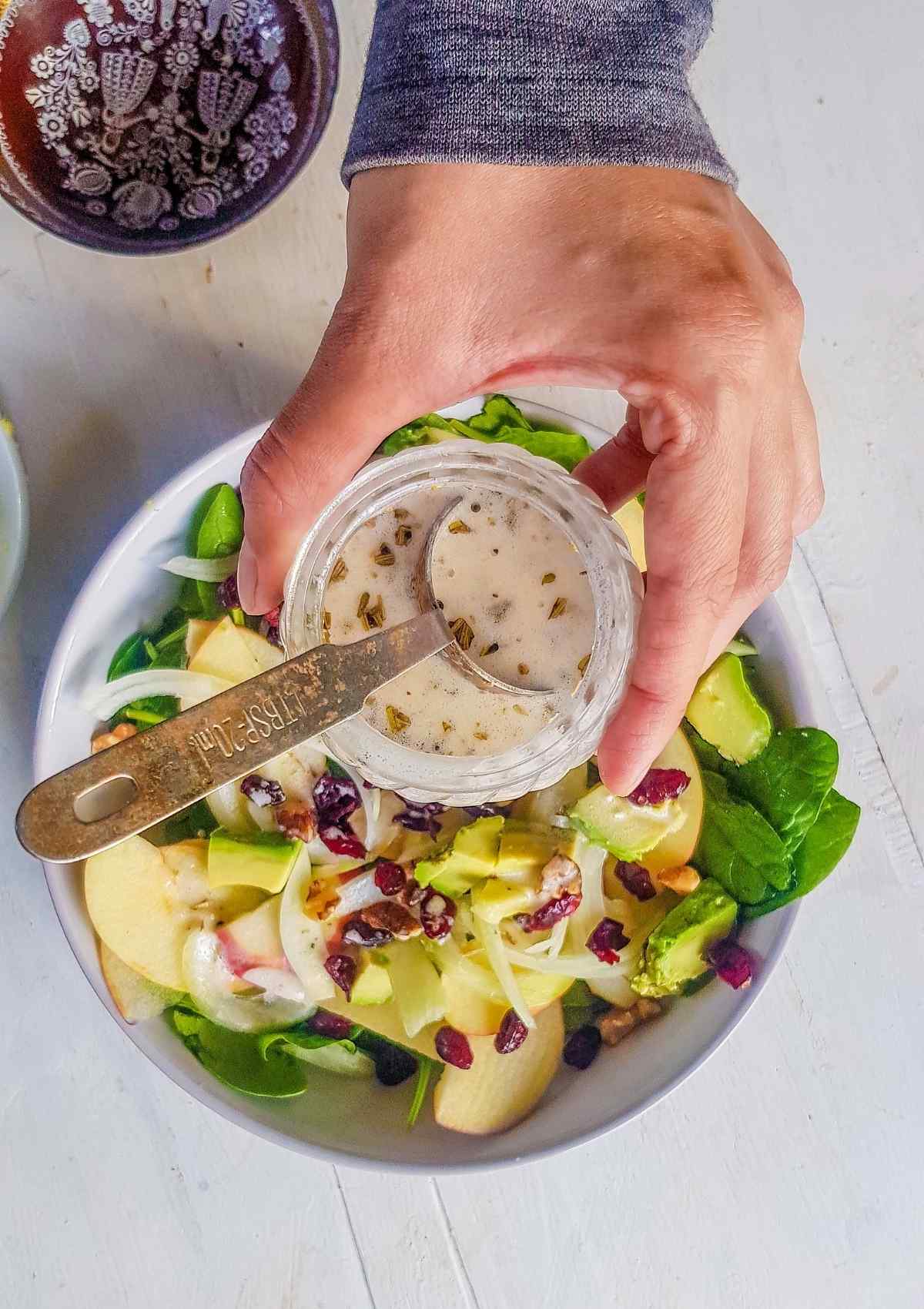 What to Serve with This Spinach Salad?
This salad is a perfect appetizer and a delicious colorful side to any meal. You can serve it with Mushroom Enchiladas, Lentil Curry, or some mouthwatering Vegan Biryani.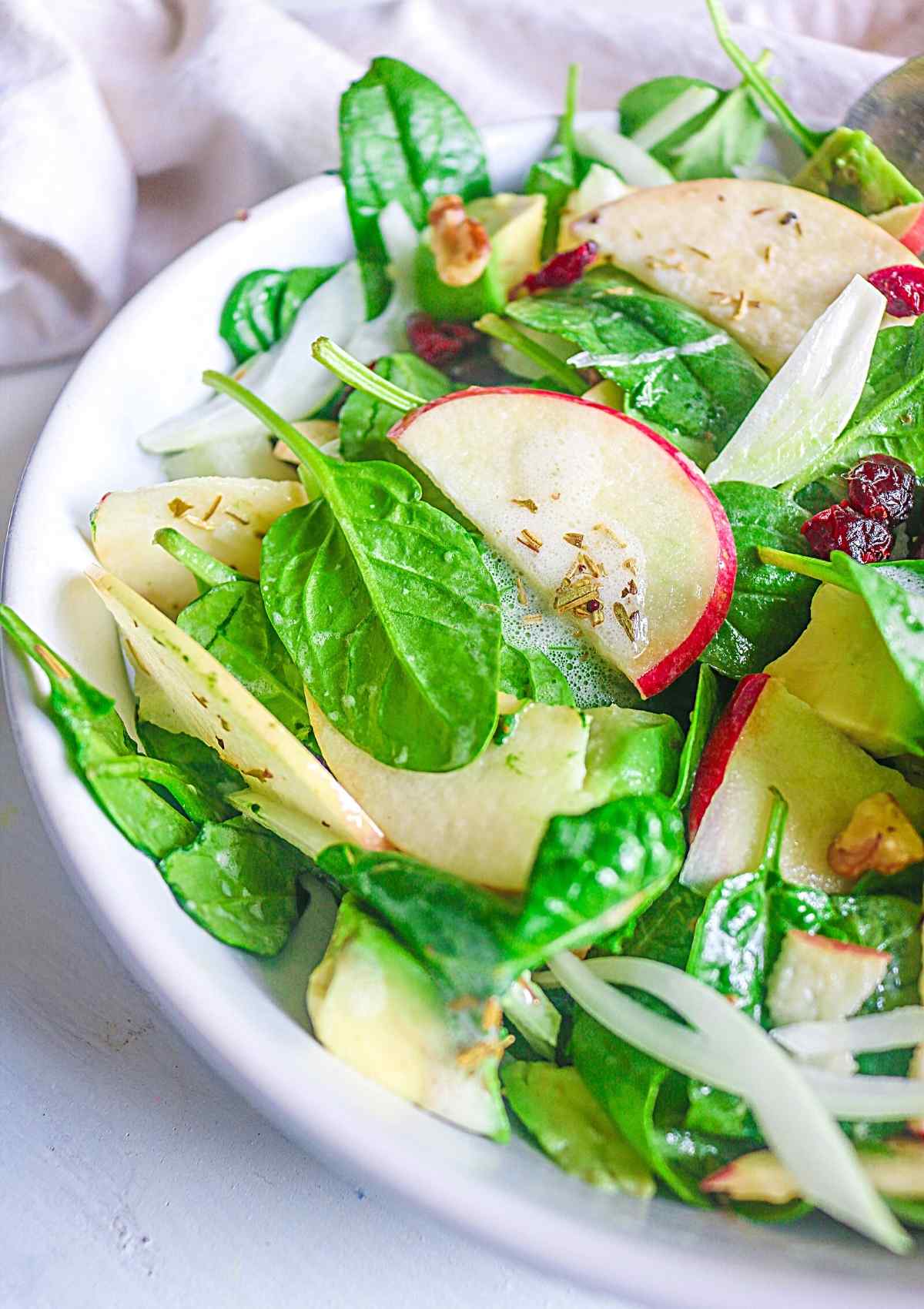 Other Variations
This salad recipe is quite flexible and you can try some amazing variations, like
Add some plant-based protein like chickpeas, red beans, or quinoa. You can also try some (Affiliate >>) Vegan Jerky.
Instead of walnuts try some other nuts like pecans, slivered almonds, pistachios, or sunflower seeds.
Instead of apples use pear, guava, grapes, cherry tomatoes, or cucumbers.
Top your salad with some Vegan Parmesan Cheese or tossed white sesame seeds for some extra flavor.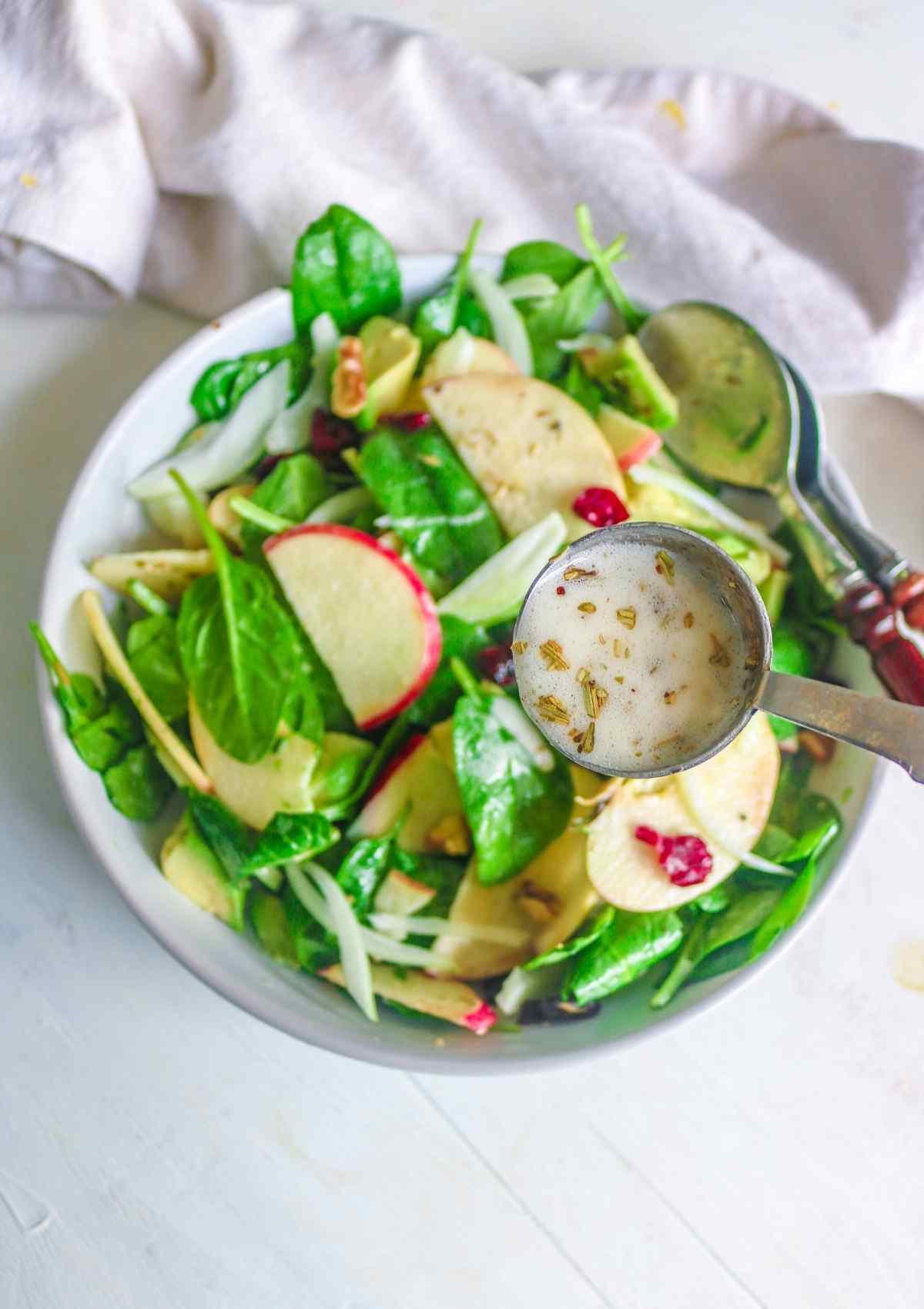 Other Spinach Recipes
Try these amazing spinach recipes and you will love them.
If you try this recipe, leave a comment, and show some love by rating it in stars. Do not forget to take a picture and tag us @getsetvegan on Instagram. We would love to see this.