Dive into a world of sweet indulgence with a variety of the best Chocolate Fondue Dippers! Discover what to dip in chocolate fondue and make your dessert table a hit.
Laughter, indulgence, and a whole lot of chocolatey bliss await you and your guests. Get ready to dip, devour, and create lasting sweet memories. Enjoy!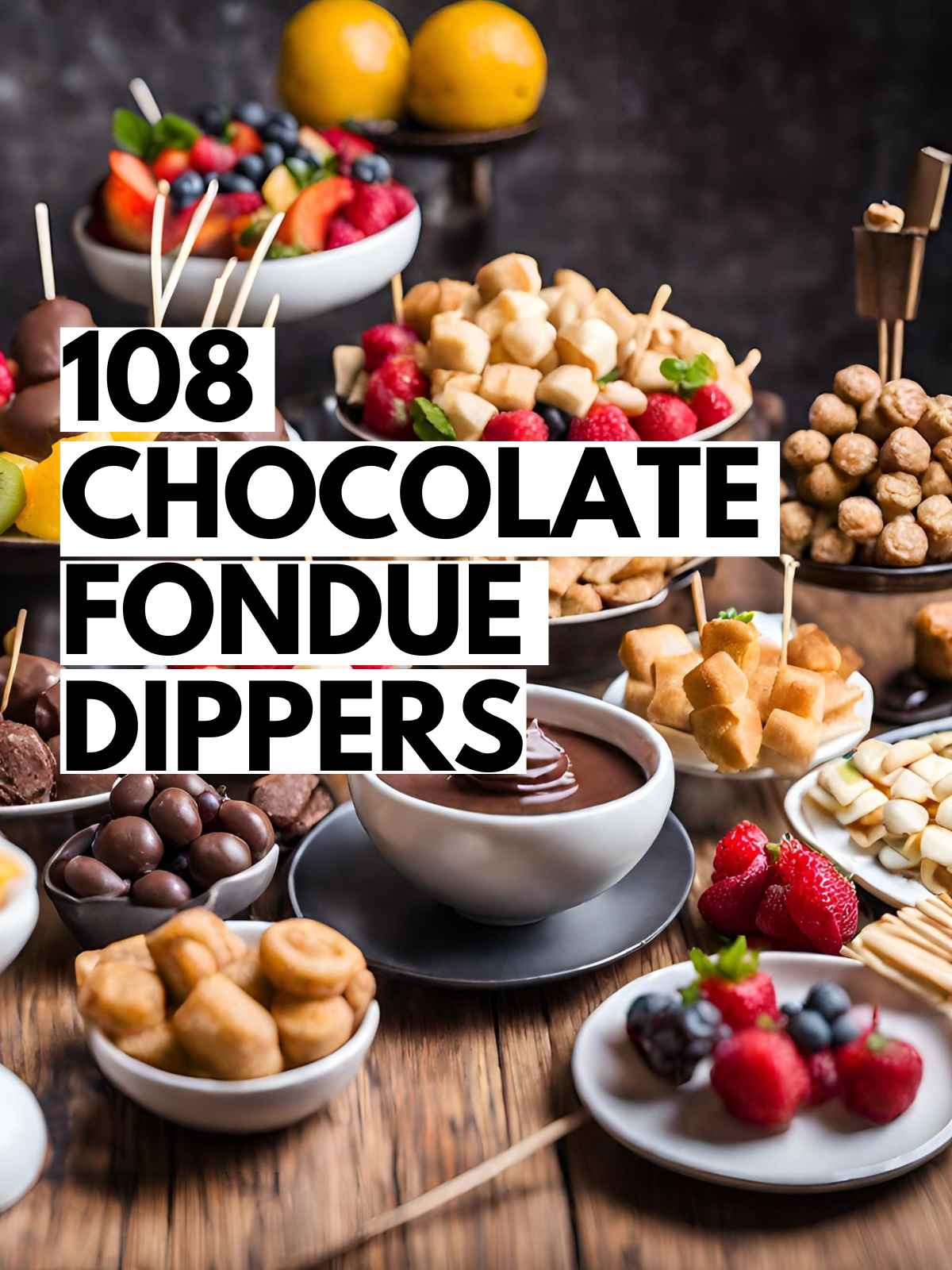 Jump to:
What is Chocolate Fondue?
Chocolate fondue is a popular and indulgent dessert or snack that involves melted chocolate served in a communal pot, typically called a fondue pot. The term "fondue" comes from the French word "fondre," which means "to melt." In a chocolate fondue, the chocolate is melted to a smooth and velvety consistency, and it is kept warm and liquid in the pot using a heat source, such as a candle or burner.
You dip foods like fruit, cookies, or marshmallows into the melted chocolate. It's a fun way to enjoy chocolate with friends or on special occasions.
In essence, chocolate fondue is more than just a dessert; it's an engaging and enjoyable social experience where everyone can savor the warmth and sweetness of melted chocolate together.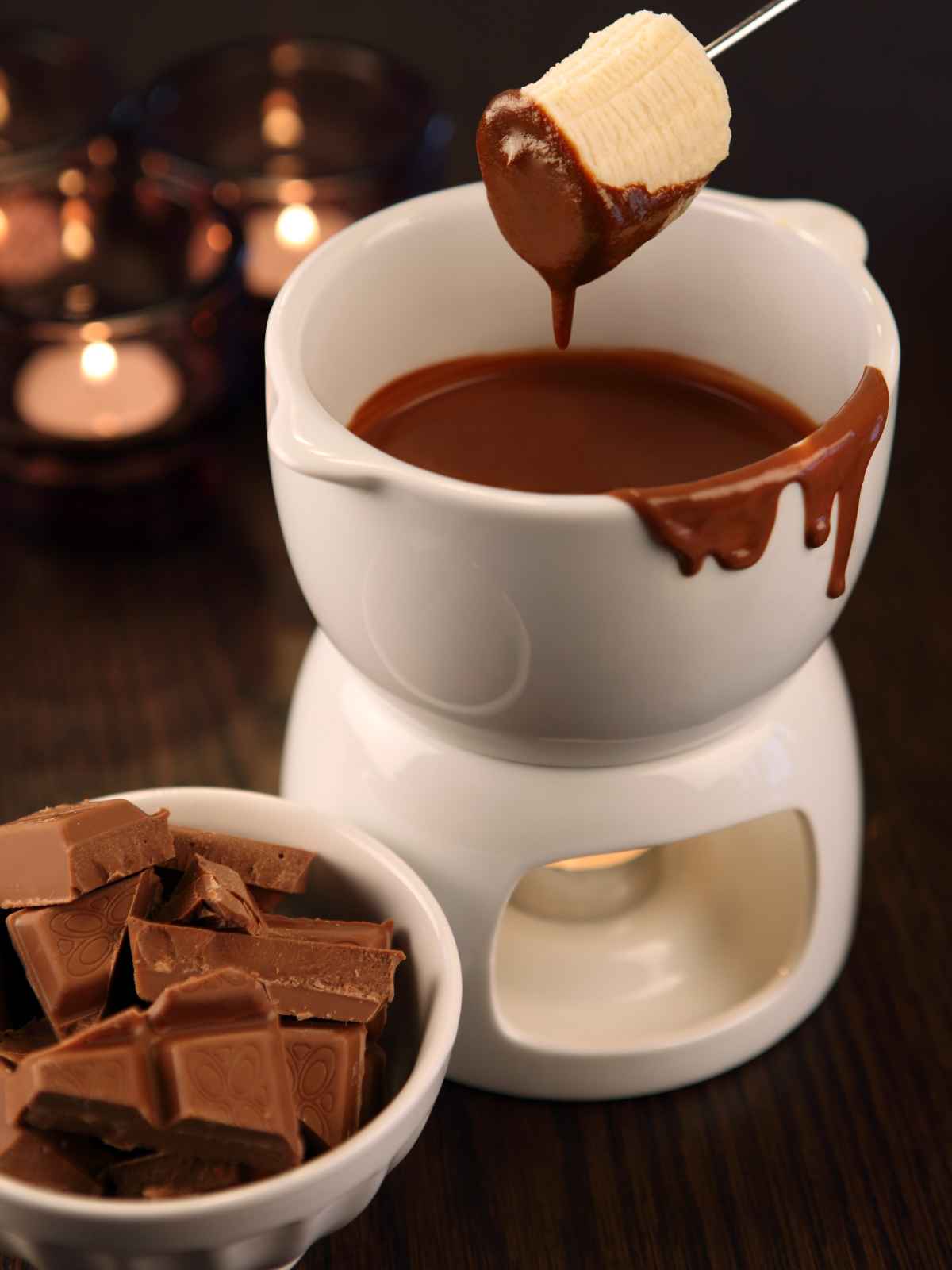 What to Dip in Chocolate Fondue
Chocolate fondue is a delightful and versatile treat that can be enjoyed with a wide range of dippers. While sweet dippers are the most common choice for chocolate fondue, it's important to remember that you can also experiment with savory dippers for a unique and contrasting flavor experience.
Most common chocolate fondue dippers include fresh strawberries, marshmallows, bananas, pretzels, and assorted mini pastries. Here's a list of both traditional and unconventional items to dip in a chocolate fountain or fondue.
Fresh Fruits
When it comes to chocolate fondue, the best fruits are those that pair well with the rich, sweet, and velvety texture of melted chocolate. Here are some of the best fruits to dip in chocolate fondue:
Strawberries: Fresh strawberries are a classic and delicious choice. Their natural sweetness pairs perfectly with the rich, velvety chocolate.
Bananas: Slices of ripe bananas are not only tasty but provide a creamy contrast to the chocolate.
Pineapple chunks: Pineapple chunks bring a tropical twist, offering a zesty and sweet option.
Grapes
Raspberries or Blackberries: These can provide a tart contrast to the sweet chocolate.
Kiwi cubes
Cantaloupe Cubes
Apples slices
Pears slices
Fresh Figs
Apricot halves
Fresh coconut slices
Fruit Skewers: Create colorful fruit skewers with a combination of melon, grapes, and berries for a healthy and visually appealing dipping option.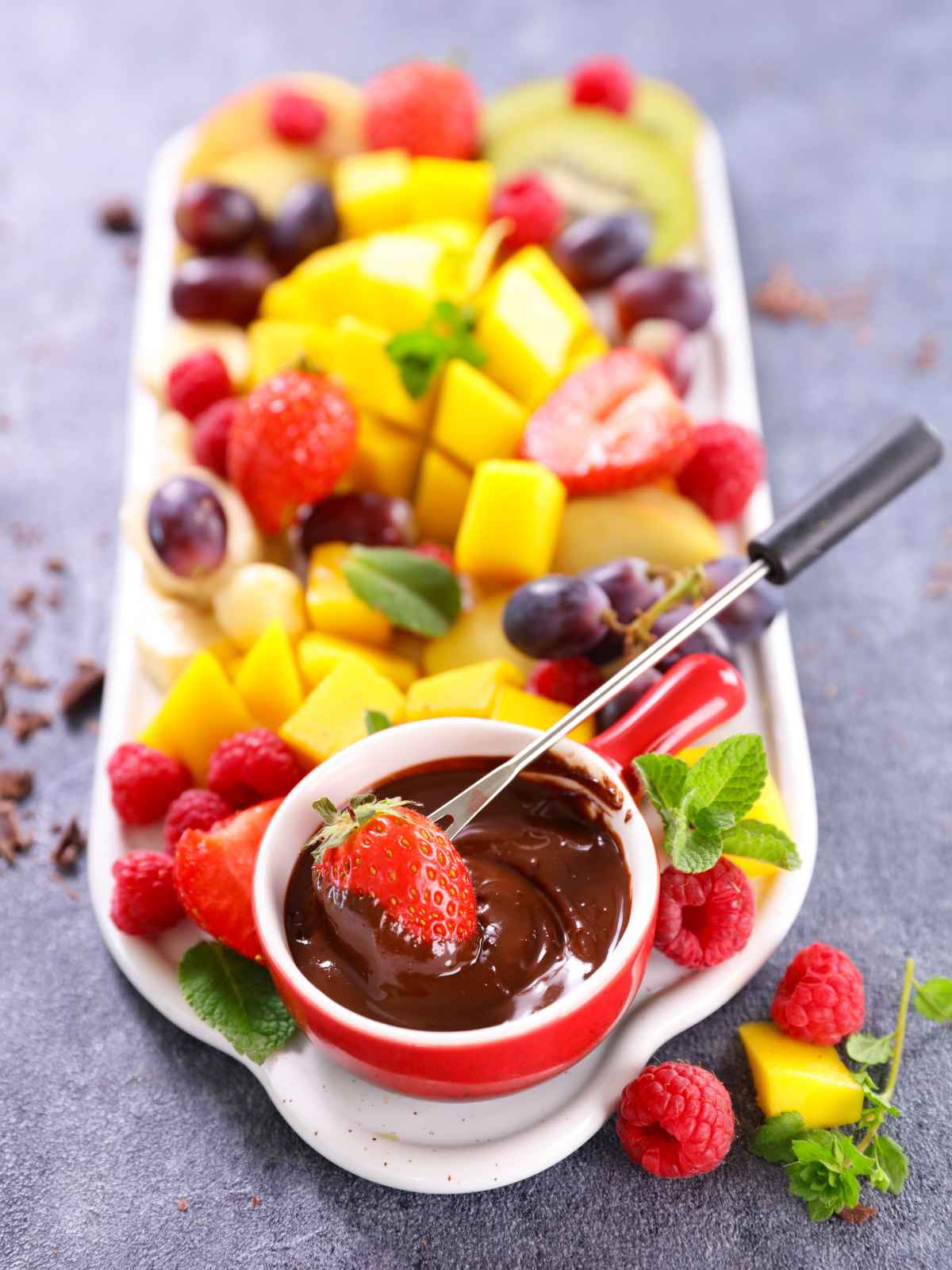 These fruits offer a diverse range of flavors, textures, and colors that can make your chocolate fondue experience both delicious and visually appealing.
Dry Fruits
Dry fruits offer a chewy, and sweet-tart element to your dipping selection.
Dates: Make sure to remove the seeds.
Prunes
Dried Peaches
Dried Apricots
Dried Pineapple slices
Dried Apple Slices
Dried Figs
Dried Kiwi slices
Dried mango slices
Dried Orange Slices
Candied Fruits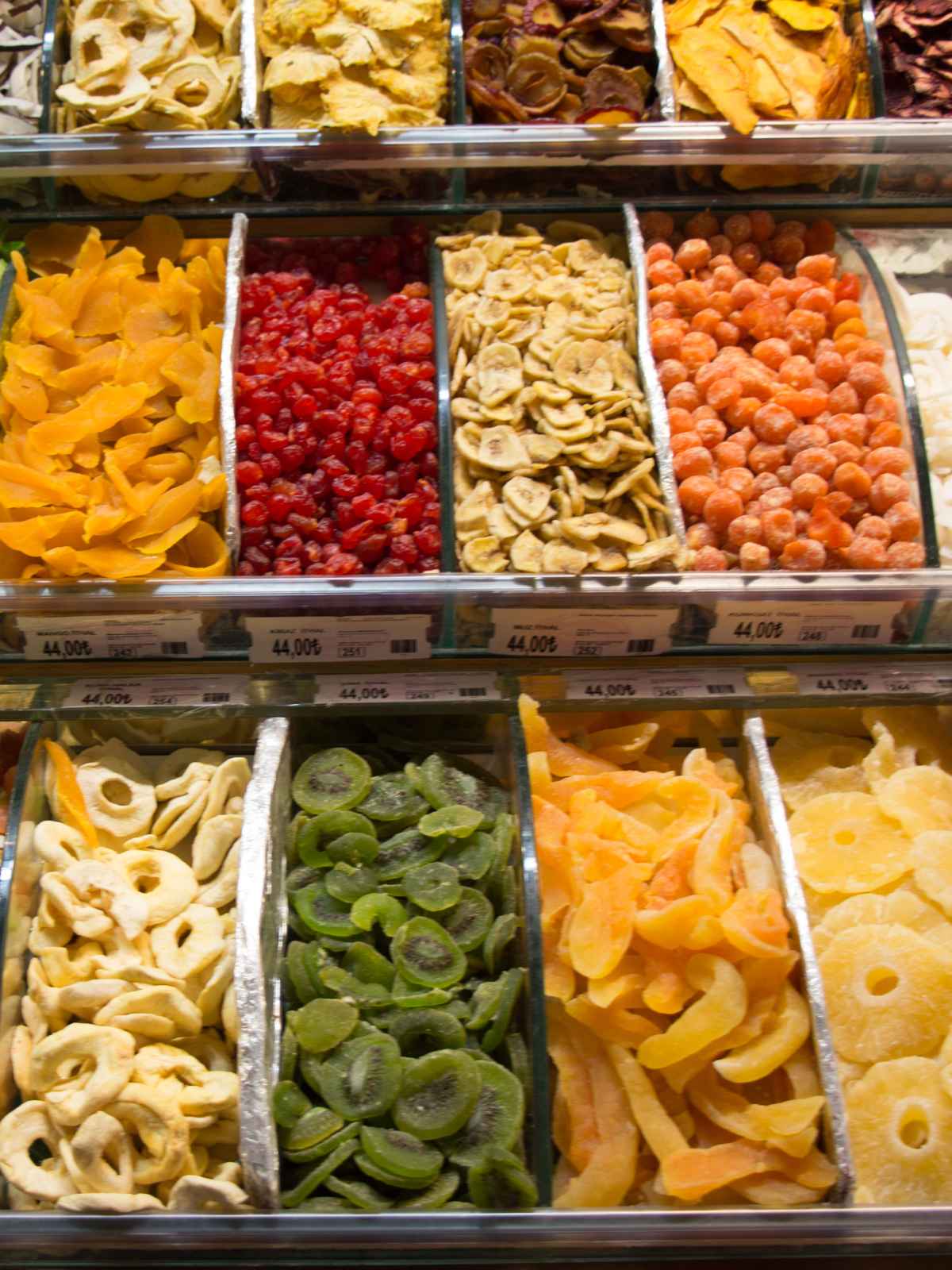 Sweet Fondue Dippers
Sweet dippers are a dessert lover's dream when dipped in chocolate. They have solved the problem of what to serve with chocolate fondue in such a sweet manner.
Marshmallows: Large, fluffy marshmallows are a favorite for chocolate fountains. They become gooey and soft when coated with the warm chocolate.
Pound Cake: Bite-sized cubes of pound cake are a dense and moist option for soaking up the chocolate.
Fruit cake
Mini Eclairs: These filled pastries can be a delightful addition to your chocolate fountain, offering a creamy center surrounded by chocolate.
Chocolate Brownies without Frosting
Mini Muffins
Biscotti: The biscuit-like texture of biscotti pairs well with chocolate, and the crunchy nature can be quite satisfying.
Cinnamon Rolls: Mini cinnamon rolls are both decadent and comforting when coated in warm, melted chocolate.
Rice Krispies Treats: The crispy texture of Rice Krispies Treats combines wonderfully with the smooth chocolate coating.
Fudge
Turkish Delight
Donut Holes: Mini donuts provide a fun and fluffy option for dipping.
Mini pancakes
Mini Waffles: Tiny waffles or waffle cubes can be a fun and unexpected option for dipping. Use these baking molds to get the perfact shape.
Scones
Baked cheesecake Cubes
Churros: If you're going for a Spanish-inspired chocolate experience, churros are a perfect choice.
Mini Croissants: Tiny croissants can be a delightful, buttery, and flaky choice for dipping.
Peanut Butter balls.
Candies: Miniature candy bars, jellybeans, or gummy candies can add a playful and colorful element.
Macarons: Colorful and delicate macarons add a touch of elegance to your chocolate fountain.
Caramel Popcorn: Caramel popcorn clusters can bring a delightful mix of sweet and savory to your fountain.
Fruit Turnover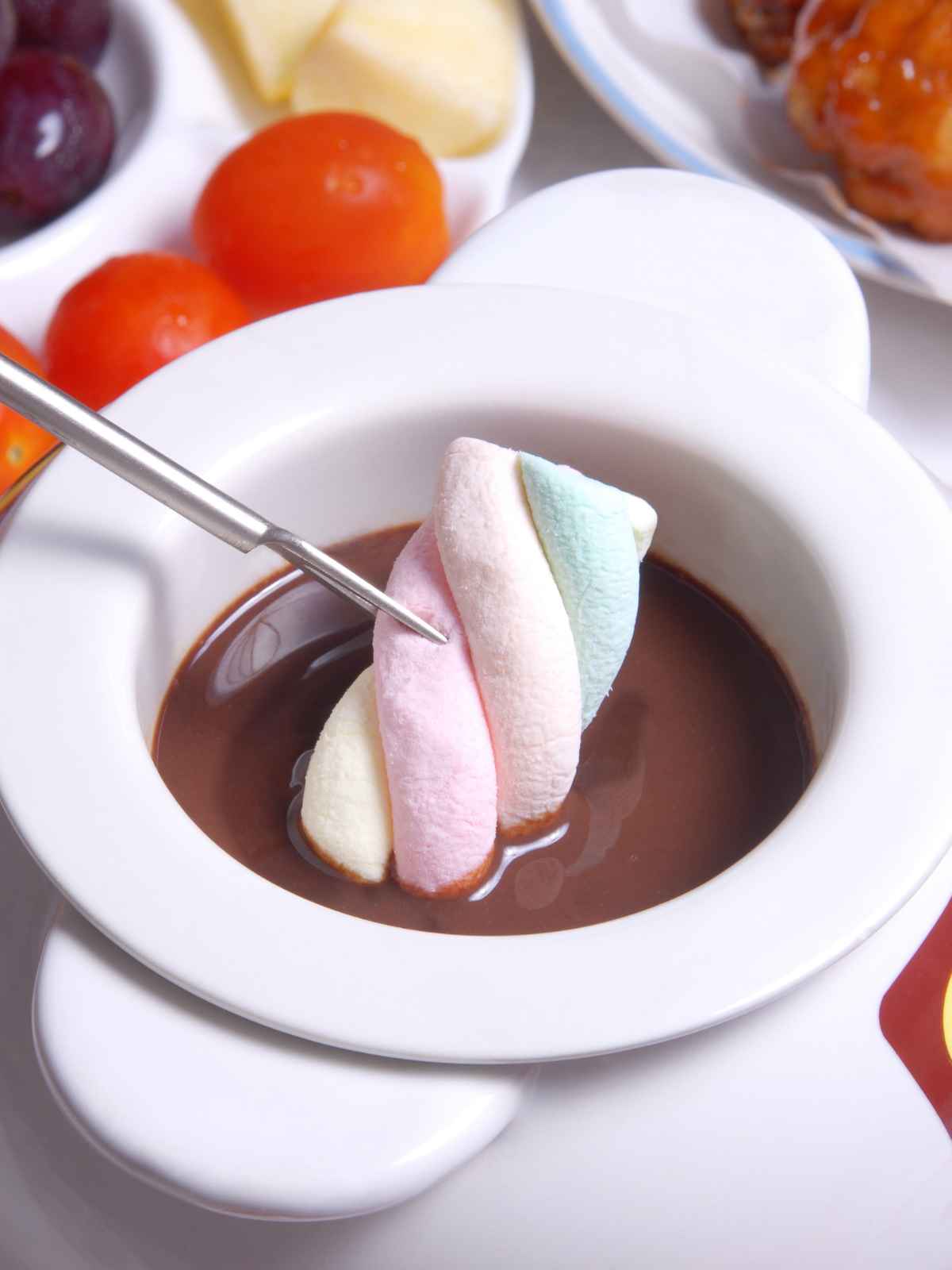 Cookies and Biscuits
Cookies and biscuits make excellent dippers for chocolate fondue. Feel free to mix and match the cookies and biscuits to create a diverse selection for your chocolate fondue. Your guests are sure to enjoy this sweet and crunchy combination. Here are some delicious options:
Lady Fingers
Mini Oreo
Graham Crackers: These can add a hint of a s'mores-like experience to your chocolate fondue.
Biscoff Cookies
Digestive Biscuits: These are simple, slightly sweet, and have a pleasant crunch.
Wafer: Light and crispy wafers come in various flavors like vanilla, chocolate, and hazelnut.
Gingerbread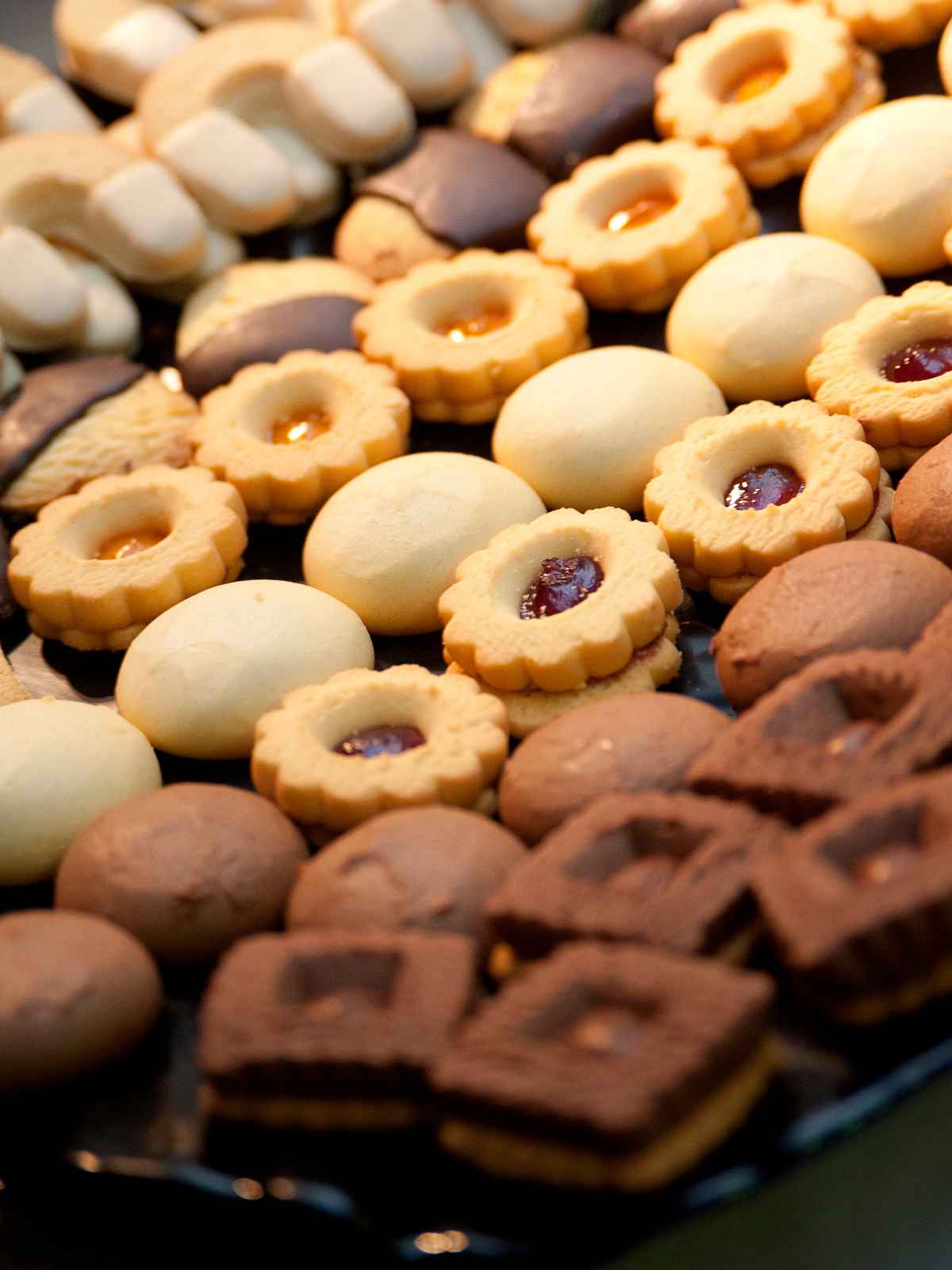 Savory Dippers
While chocolate fondue is traditionally associated with sweet dippers, you can also enjoy a unique and delicious experience by incorporating some savory dippers. Here are some savory options to dip into chocolate fondue:
Pretzels: Both regular and mini pretzels provide a satisfying salty crunch that complements the sweetness of the chocolate.
Pretzel Rods: Longer pretzel rods are an excellent choice for dipping due to their handy handles and the added surface area for chocolate coverage.
Potato Crisps
Savory Crackers
Flaxseed Crackers
Tortilla Chips
Bread Sticks
Sourdough Bread Cubes
Sesame Sticks
Popcorn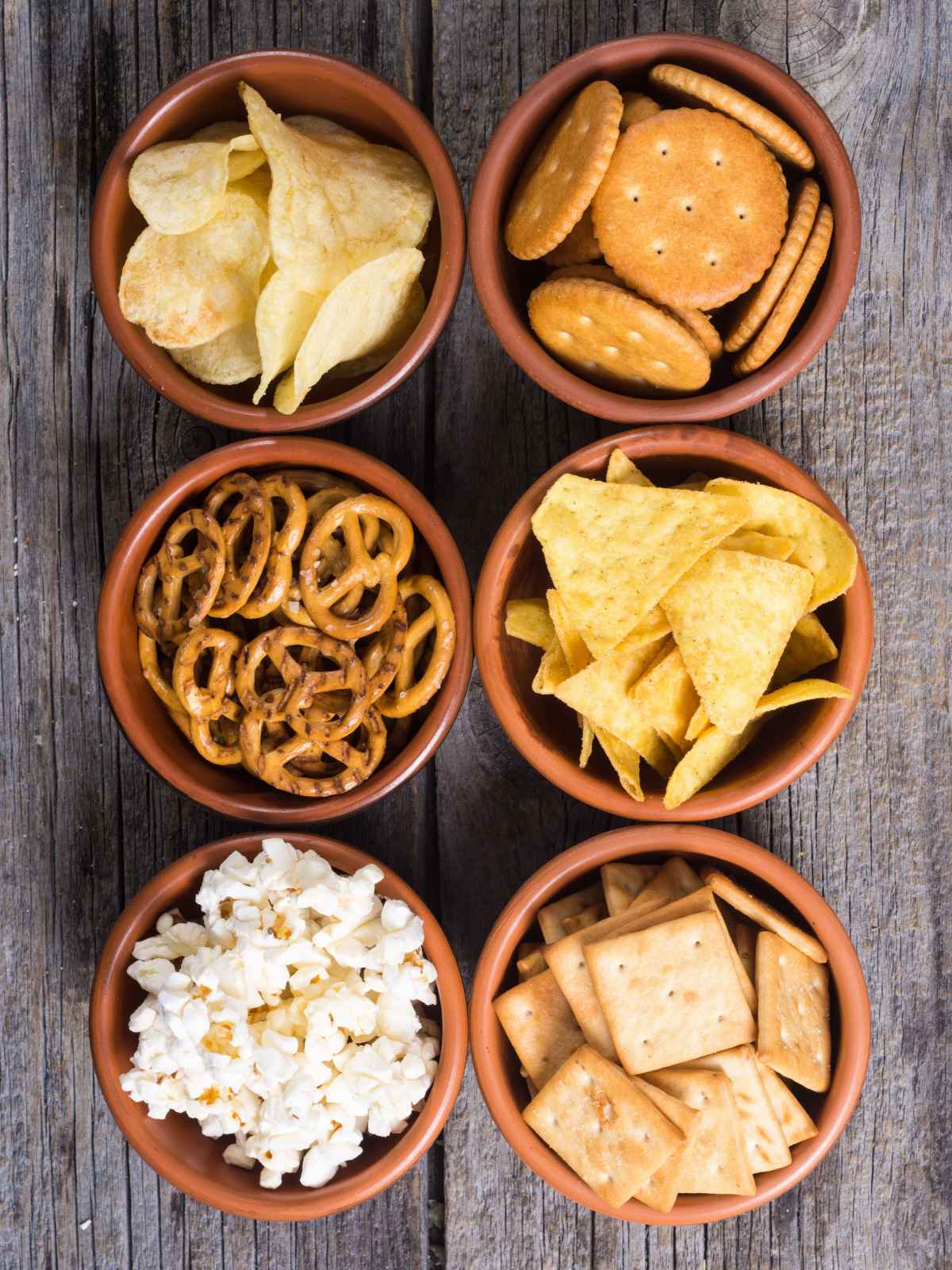 Nuts
Nuts have a crunchy texture and a nutty flavor that pairs well with chocolate. Choose big-size nuts so you can dip them in chocolate by hand, even if they don't stay on the skewer.
Almonds,
Cashews
Hazelnuts
Walnut halves
Cashews
Brazilian Nuts
Macadamia nuts
Pecan halves
Peanut Brittle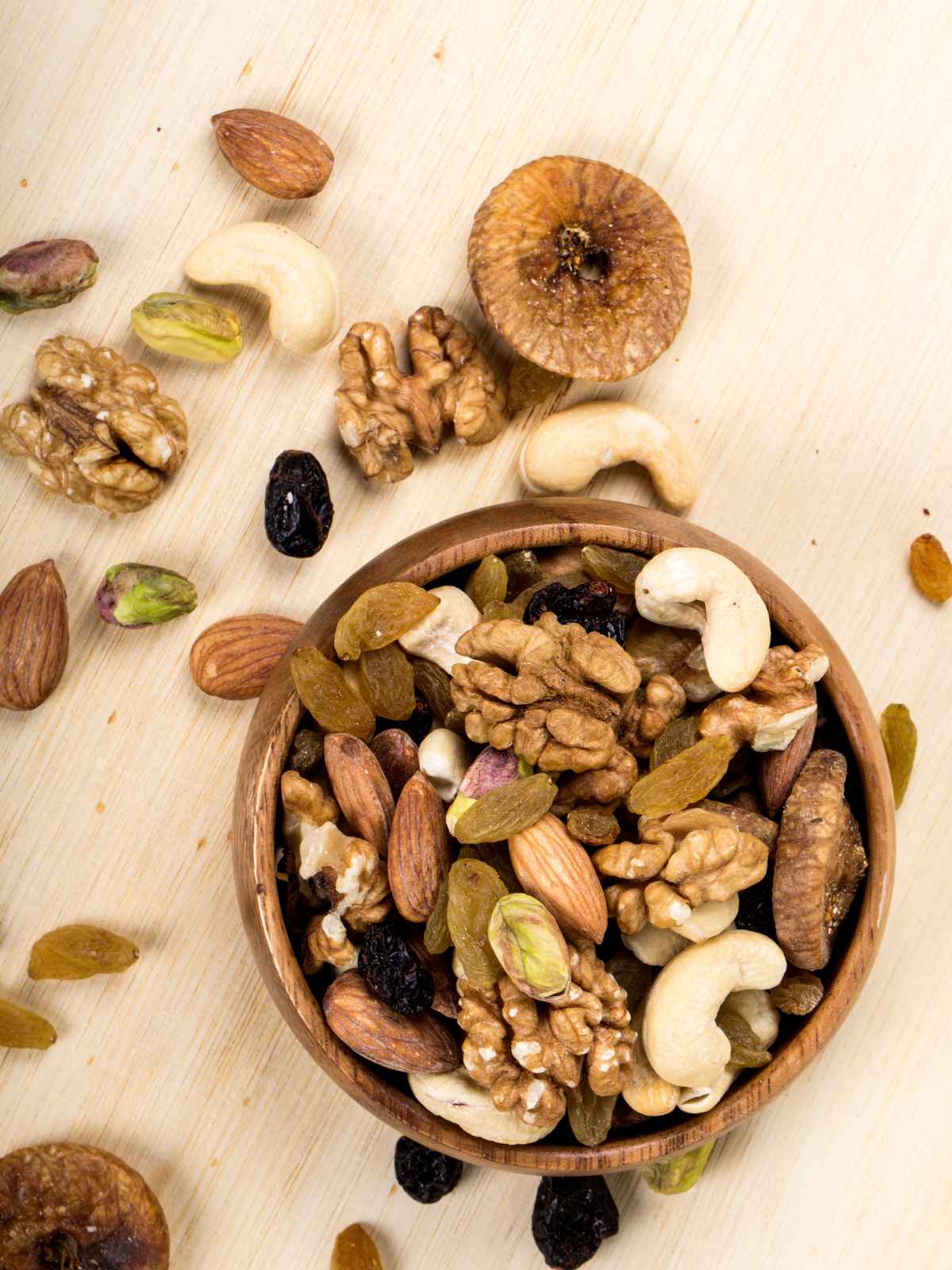 Unusual Things to Dip in Chocolate Fondue
If you're looking to create a unique and adventurous chocolate fondue experience, consider dipping some unusual items into your melted chocolate. While these options may not be traditional, they can add an interesting and unexpected twist to your fondue. Here are some unusual things to dip in chocolate fondue:
French Fries: I Personally found them interesting to eat dipped in chocolate.
Jalapeño Slices: For a spicy kick, dip jalapeño slices into dark chocolate.
Sourdough Bread Cubes: The tangy flavor of sourdough can create an interesting balance with sweet chocolate.
Cherry Tomatoes: The combination of chocolate and fresh tomatoes might surprise your taste buds.
Grilled Tofu Cubes: Dipping tofu into chocolate can provide an interesting contrast of flavors and textures.
Candied Ginger: Sweet and Peppery Ginger can provide a unique contrast.
Edible Flowers: Use edible blooms like pansies, violets, or rose petals for a visually stunning and unique dipping experience.
Fried Snap Peas
Chili Peppers: If you like it hot, dip whole or sliced chili peppers into chocolate.
Make Your Own Fondue Dippers
Creating your dippers for chocolate fondue can be a fun and creative process. Here are some ideas for making your dippers:
Fruit Kabobs: Skewer bite-sized pieces of fruit like strawberries, bananas, and pineapple on wooden skewers for a colorful and easy-to-dip option.
Brownie Bites: Make mini brownie bites and serve them for a soft and fudgy dipping experience.
Cake Pops: Create cake pops with leftover pound cake crumbs.
Nut Clusters: Create your nut clusters by mixing your favorite nuts with chocolate and letting them set in small clusters.
Bite-Sized Pastries: Miniature pastries like mini éclairs, cream puffs, or turnovers can be a delightful choice.
Miniature Crepes: Mini crepes can be rolled and dipped in chocolate for a delicate and indulgent treat.
Peanut Butter Stuffed Dates
Mini Pancakes
Almond Stuffed Dates
Pound Cake Sandwiches: Slice pound cake into thin rounds, add a layer of jam or fruit preserve in between and then dip these mini cake sandwiches in chocolate.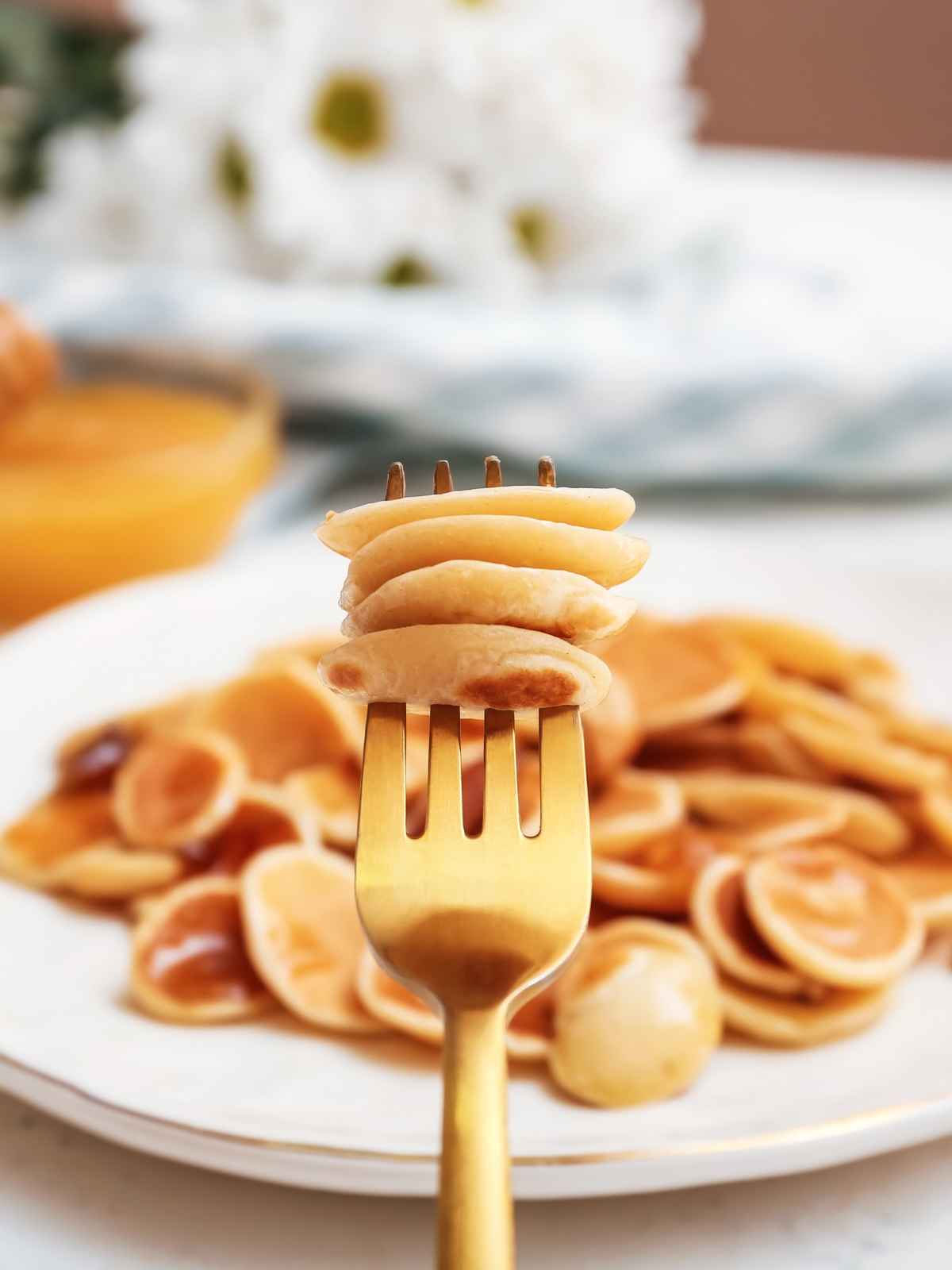 Mix and match your favorites from this list to create a diverse and unforgettable dipping experience at your chocolate fountain or fondue. The possibilities are virtually endless, and you can customize your selection to suit the theme and preferences of your event.
Dipper to Avoid
While there are many delicious options for chocolate fondue dippers, some choices may not be ideal because they can become messy, have an undesirable texture, or not pair well with the chocolate. Here are some dippers to avoid or consider carefully:
Citrus fruits: Their acidity clashes with the chocolate and can make it grainy.
Water-heavy fruits: These can dilute the chocolate, making it too thin.
Soft or crumbly cookies: They may break apart and create a mess.
Oily snacks: Items with excessive oils affect the chocolate's texture.
Delicate pastries: Flaky pastries can disintegrate in the warm chocolate.
Large or heavy dippers: These can be challenging to dip and manage.
Spicy or strongly flavored items: They can overpower the chocolate.
Overly ripe or mushy fruits: They can be messy and lack contrast with chocolate.
Expert Tips
Selecting the right dippers for your chocolate fondue can greatly enhance the overall experience. Here are some tips for choosing and preparing chocolate fondue dippers:
Variety: Offer a variety of dippers to cater to different tastes and textures. A mix of sweet, salty, and fruity options works well.
Preparing fruit: If you're serving fruits, make sure they are fresh and ripe. Cut them into manageable, bite-sized pieces for easy dipping. Sprinkle lemon juice on fruits like apples and pears to prevent browning.
Skewers or forks: Provide long forks or skewers for dipping. It's a good idea to label them with different colors or patterns so that each guest can easily identify their fork.
Presentation: Consider the aesthetics of your platter. Arrange the dippers on a platter in an appealing and organized manner. You can even use small bowls or ramekins for certain dippers.
Bite-sized: Ensure that all dippers are small enough to be easily dipped and consumed in one or two bites.
Accompaniments: Consider offering additional accompaniments such as chopped nuts, shredded coconut, or sprinkles for guests to customize their dipped treats.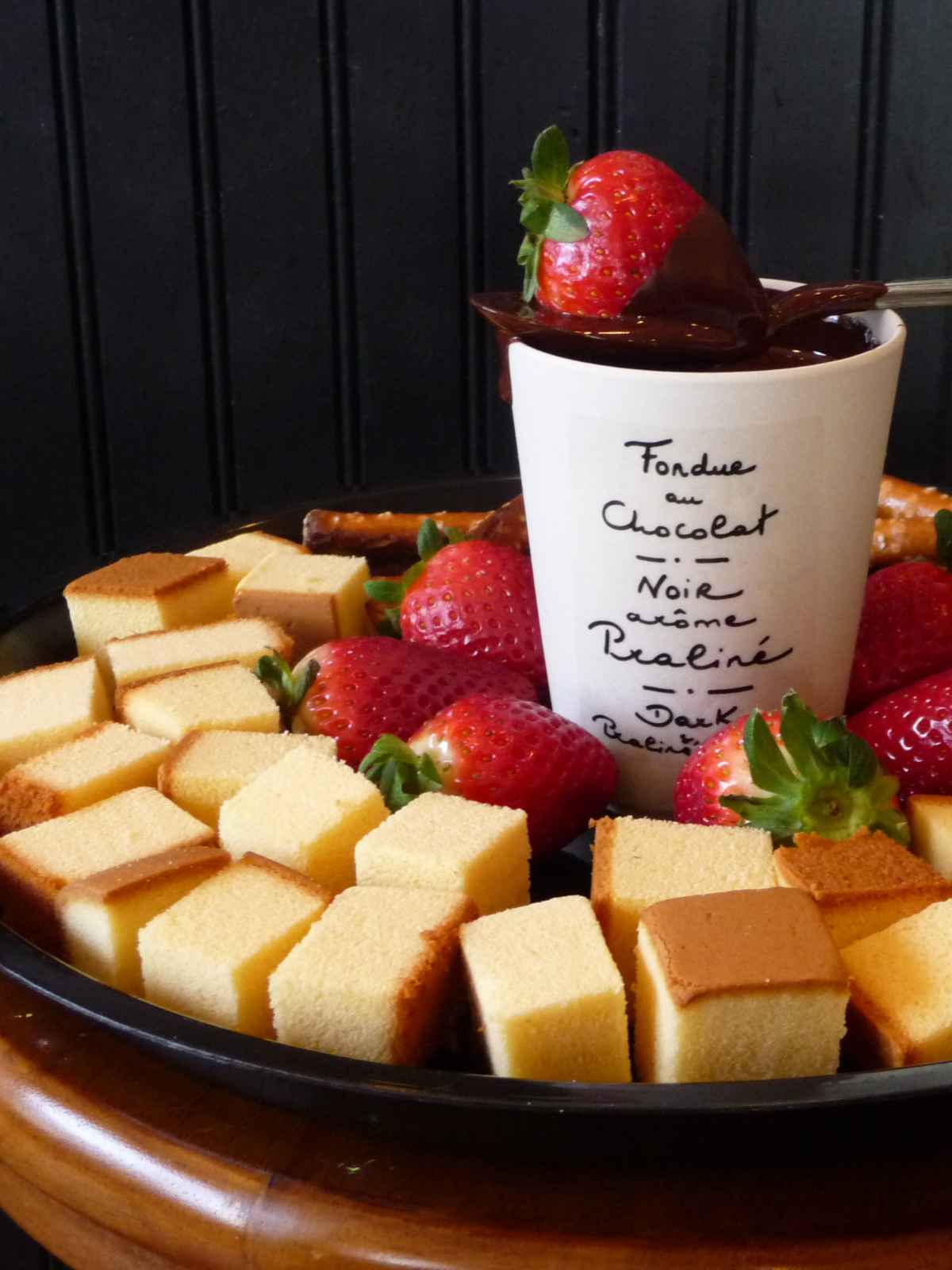 Frequently Asked Questions
What is traditionally dipped in fondue?
Traditionally, fruits such as strawberries and bananas, along with marshmallows, and crackers are common choices to dip in chocolate fondue.
What is chocolate fondue made of?
Chocolate fondue is typically made with a combination of high-quality chocolate, often dark, milk, or white, and a small amount of heavy cream to achieve a smooth, dippable consistency. Other ingredients like butter or flavorings may be added for variations in taste and texture.
Is chocolate fondue a fountain?
No, chocolate fondue is not a fountain. Fondue is served in a pot for dipping, while a chocolate fountain continuously circulates melted chocolate for dipping.
What is the secret to good fondue?
The secret to good fondue is maintaining the right balance of ingredients and heat. Use high-quality chocolate, keep the heat low and steady, and stir regularly to achieve a smooth and creamy texture. Additionally, choosing the right dippers and enjoying it in good company adds to the fondue experience.
More Dessert Recipes
Remember that the key to a successful chocolate fondue or fountain experience is variety and creativity. Offering a mix of sweet, savory, and fruity options will cater to a wide range of tastes and preferences, ensuring your guests have a memorable and enjoyable time dipping their favorite treats in the flowing chocolate.