Elevate your baking game with our fantastic vegan pound cake recipes. These easy, moist, and delicious delights will satisfy your sweet cravings. Perfect your pound cake skills today!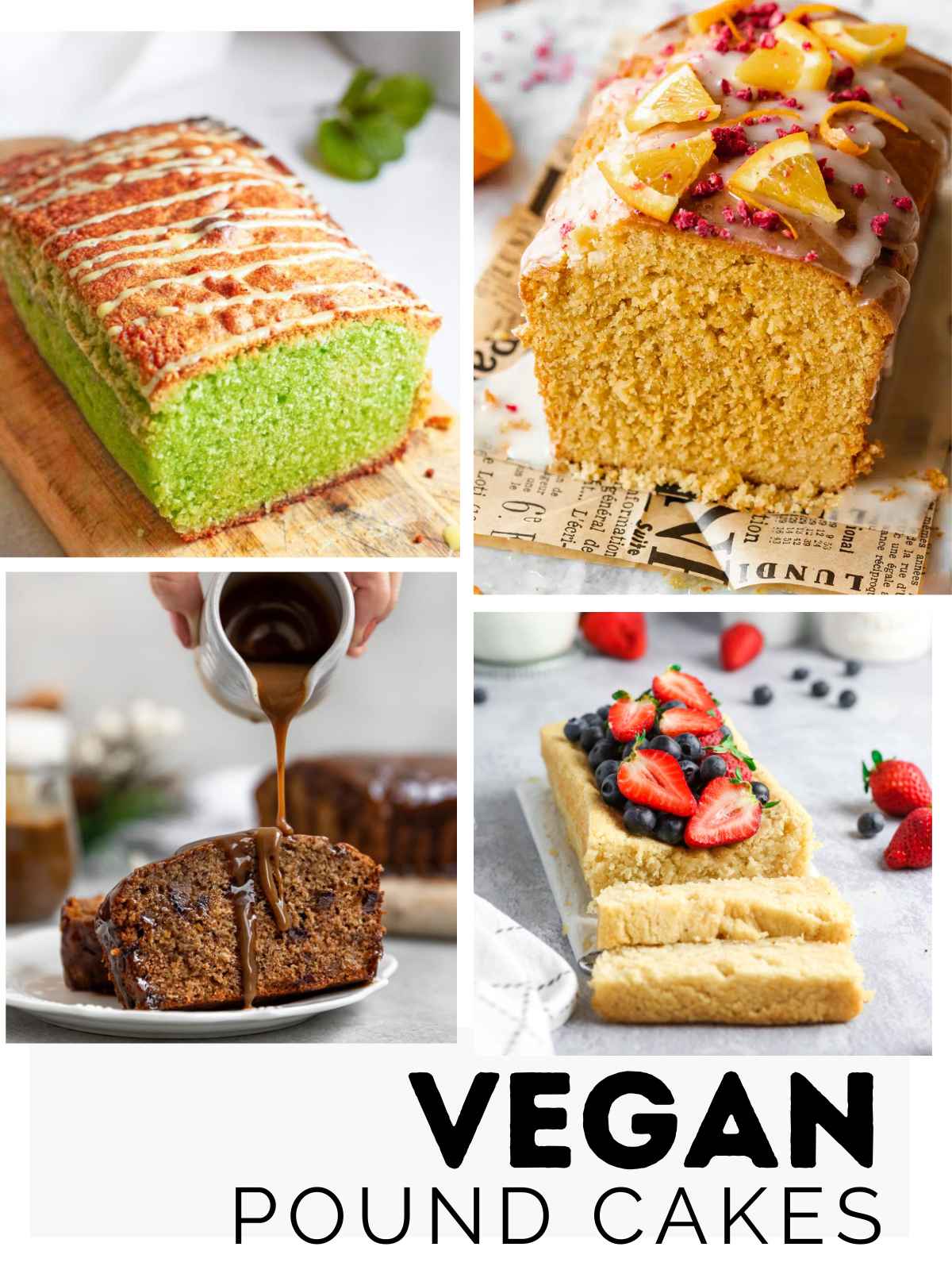 Vegan baking has come a long way, and today, we're here to celebrate the marvel that is vegan pound cake! Pound cake is a classic dessert loved for its rich, buttery flavor and dense, moist texture.
With a few clever swaps, you can create vegan pound cakes that are every bit as indulgent and delicious as their traditional counterparts. In this post, we've curated a collection of scrumptious vegan pound cake recipes that will satisfy your sweet tooth and delight your taste buds.
Jump to:
Before you indulge in these delicious vegan pound recipes, I invite you to take a moment to explore our favorite Pumpkin Bundt Cake and Vegan Coffee Cake recipes.
This is truly the best classic vanilla vegan pound cake ever made! It's super fluffy, tender, soft, and moist, and full of vanilla flavor. Absolutely no one will know that this vanilla pound cake is entirely dairy-free, eggless, and easily gluten-free!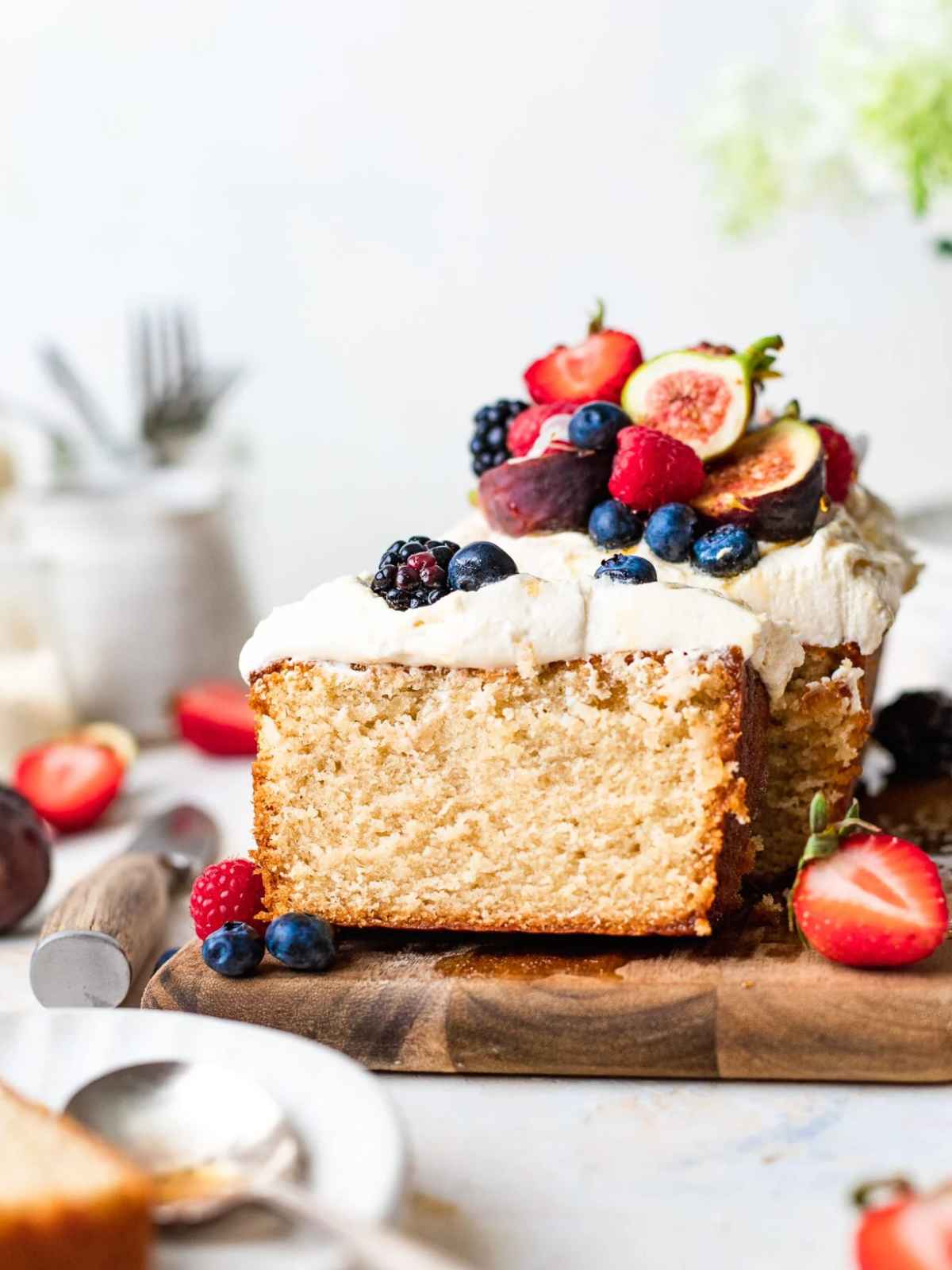 This vegan pound cake is rich, buttery, and full of flavor! Perfect for serving on its own, or with your favorite toppings. The best part is that this delicious vegan loaf cake is super easy to make, requiring only eight ingredients and one bowl!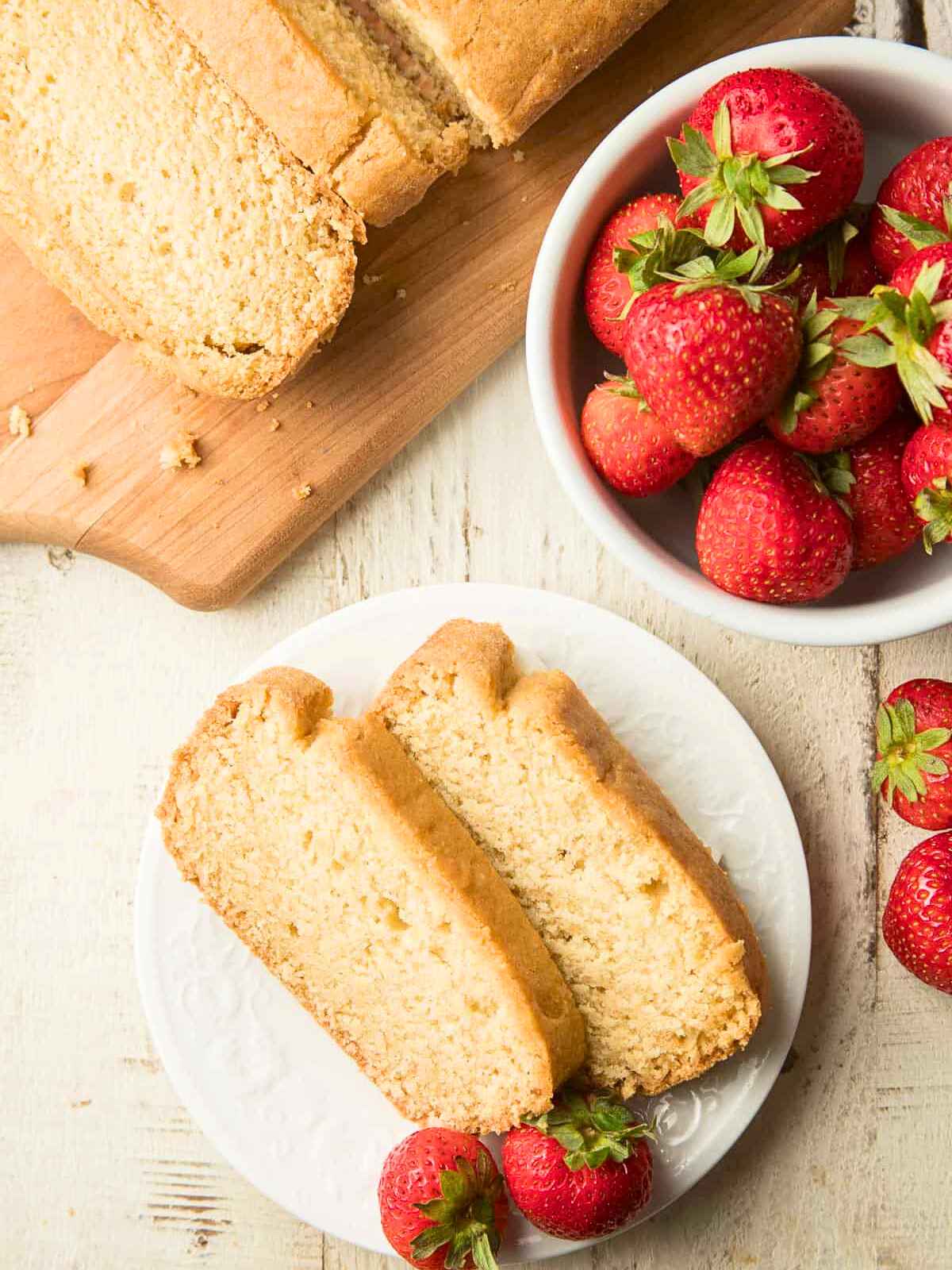 Fluffy and easy vegan orange cake drizzled with zesty orange icing. Comes together in one bowl with pantry staple ingredients!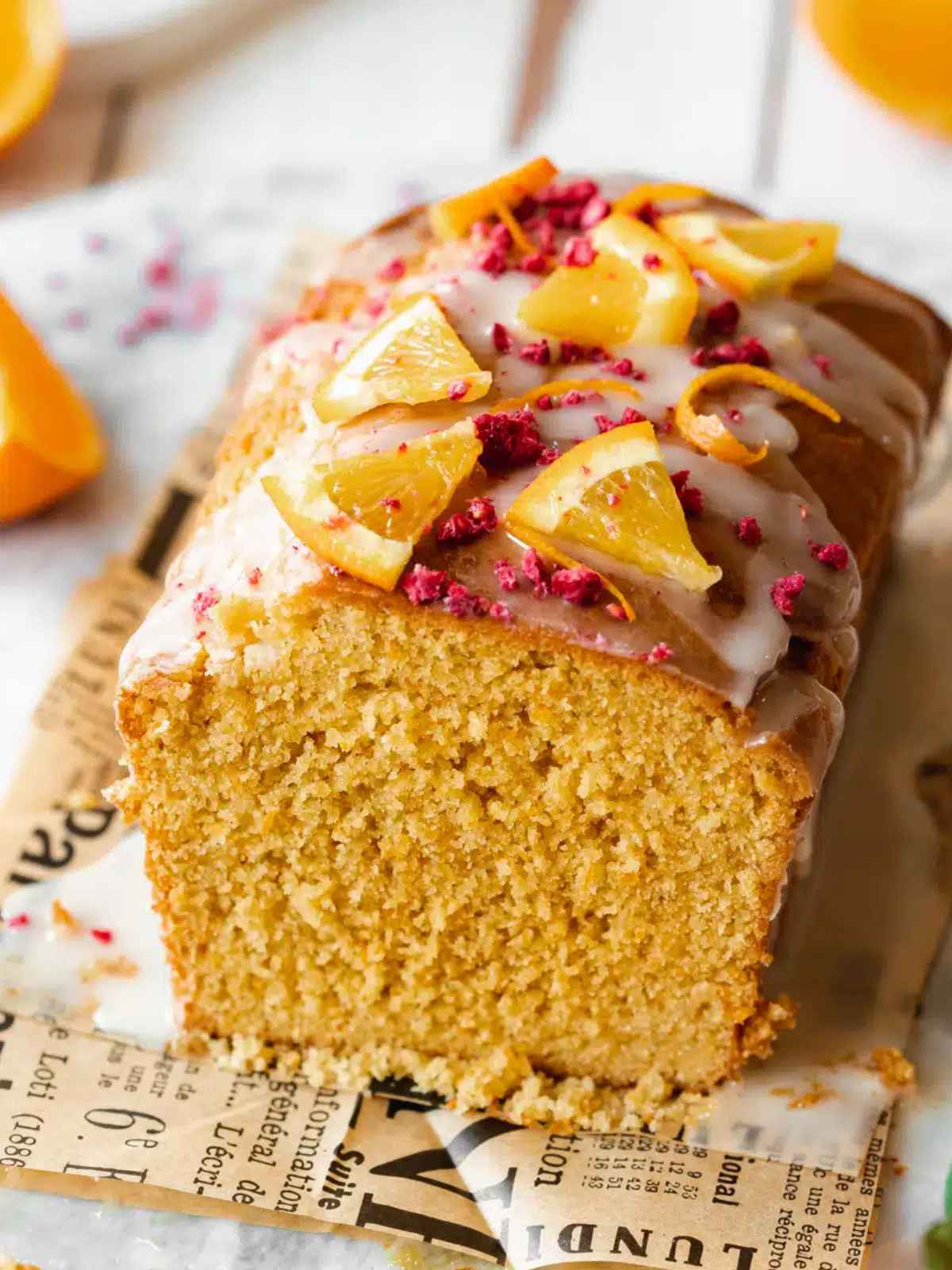 This delicious cake is soft, moist, and lemony with the classic dense, melt-in-the-mouth texture of a perfect pound cake. You can also use this recipe to make a vegan vanilla pound cake if you prefer!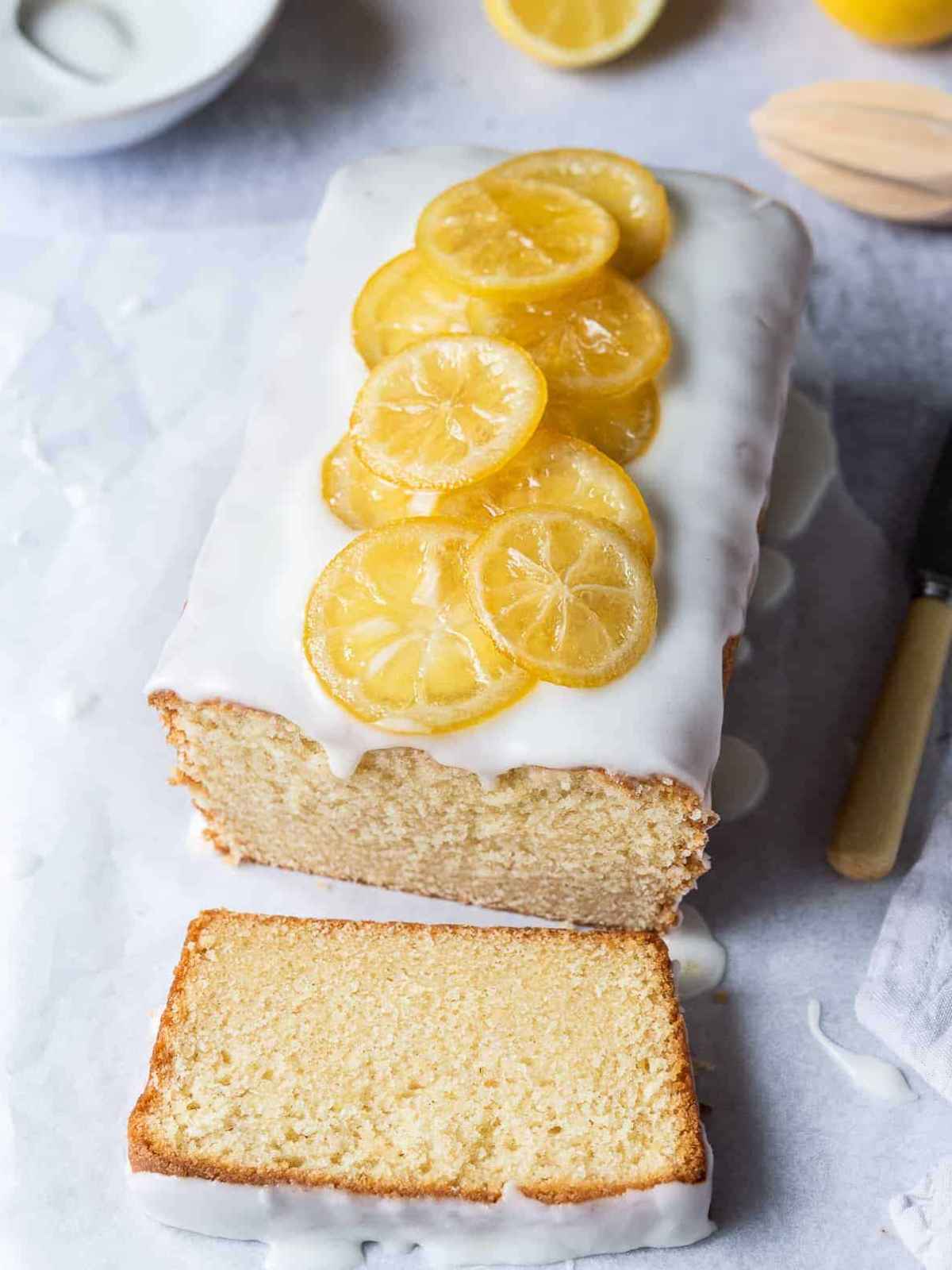 This Vegan Date Loaf Cake is SO moist, perfectly sweet thanks to the Medjool dates, and topped with a delicious & homemade salted caramel sauce!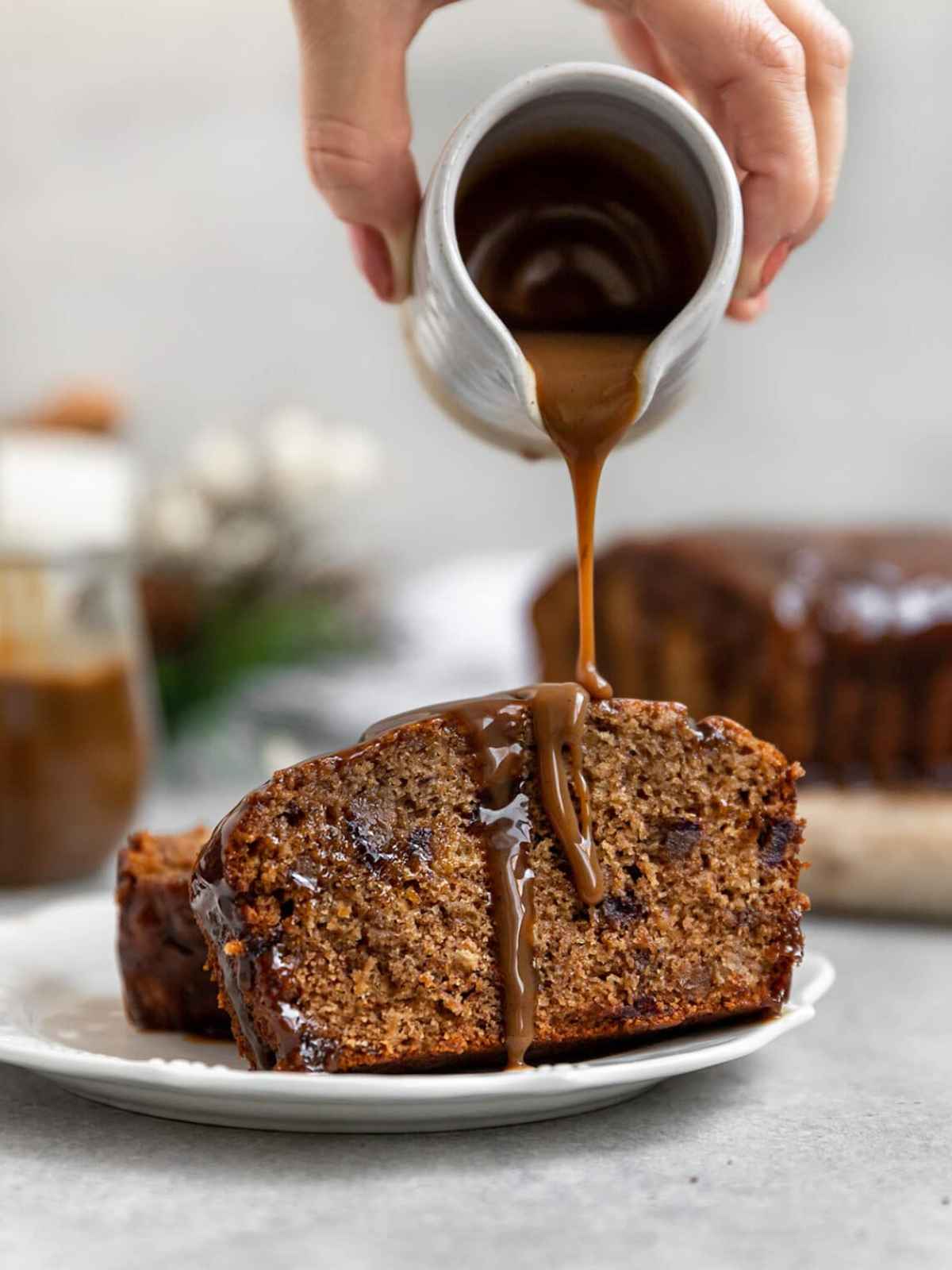 Savor the goodness of vegan matcha pound cake – unbelievably moist, incredibly easy to make, and looks so flavorful. The perfect teatime snack that is surprisingly easy to bake, and oh-so-delicious.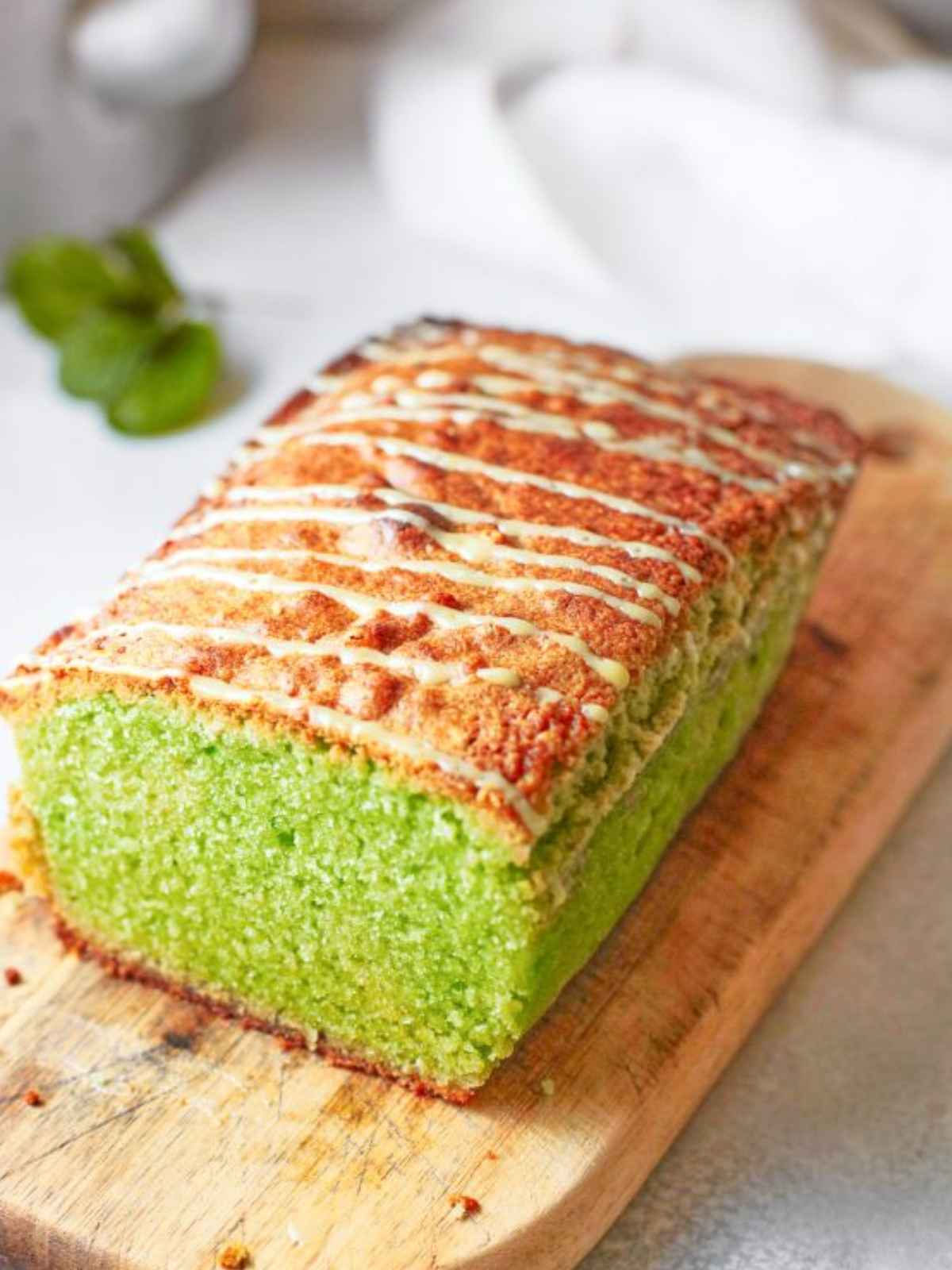 Enjoy this gluten-free vegan pound cake with its fantastic moist texture and rich buttery vanilla flavor. You won't believe it, but this cake is made without eggs, butter, or dairy and uses healthy ingredients like applesauce and gluten-free flour. It tastes just like heavenly vanilla cake, and every bite is pure melt-in-your-mouth goodness!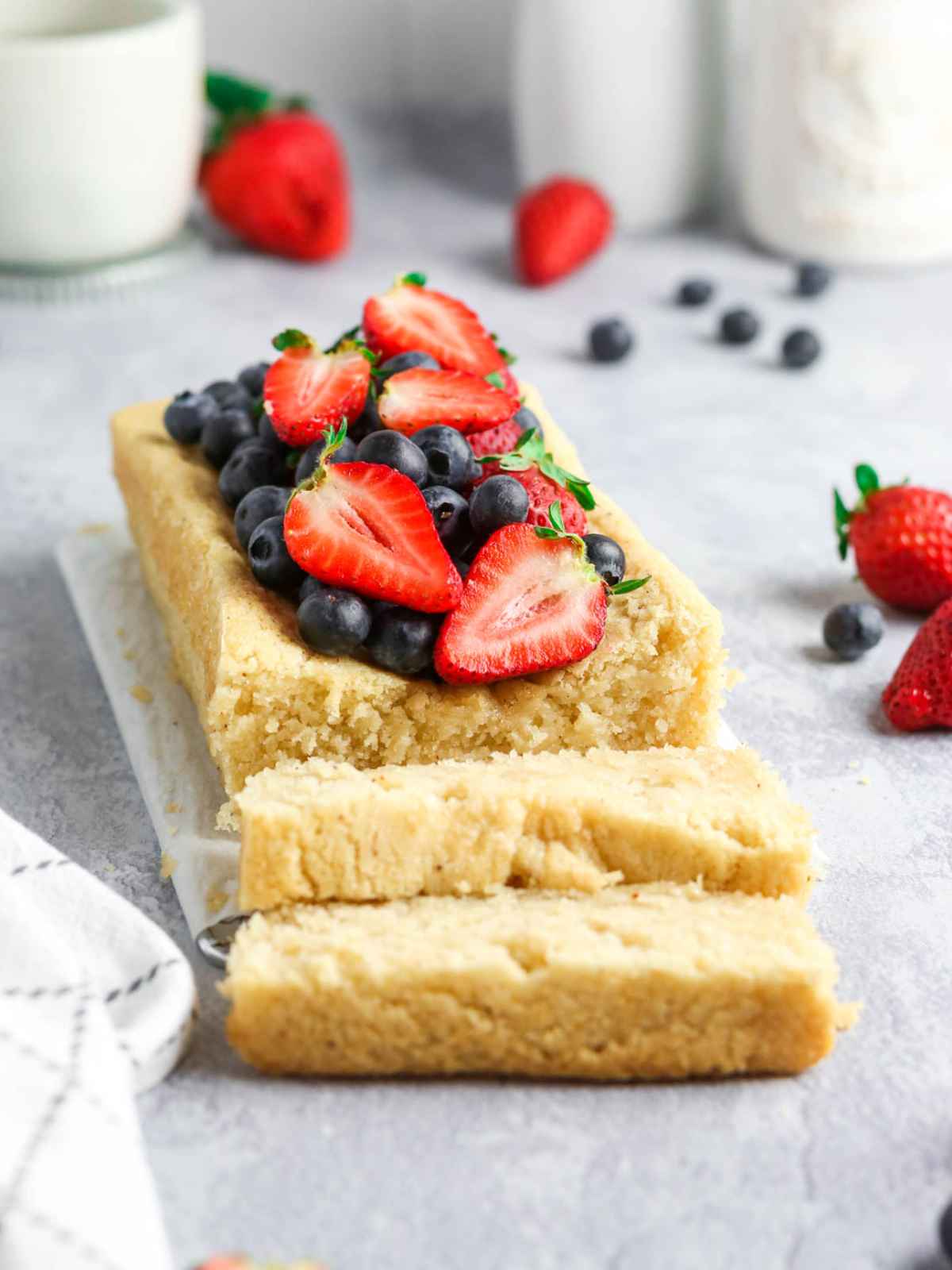 This easy vegan lemon pound cake is a moist and light vegan cake with tangy lemon flavors and a sweet thick layer of lemon icing. If you enjoy pound cakes, this is the easiest vegan pound cake ever to celebrate springtime.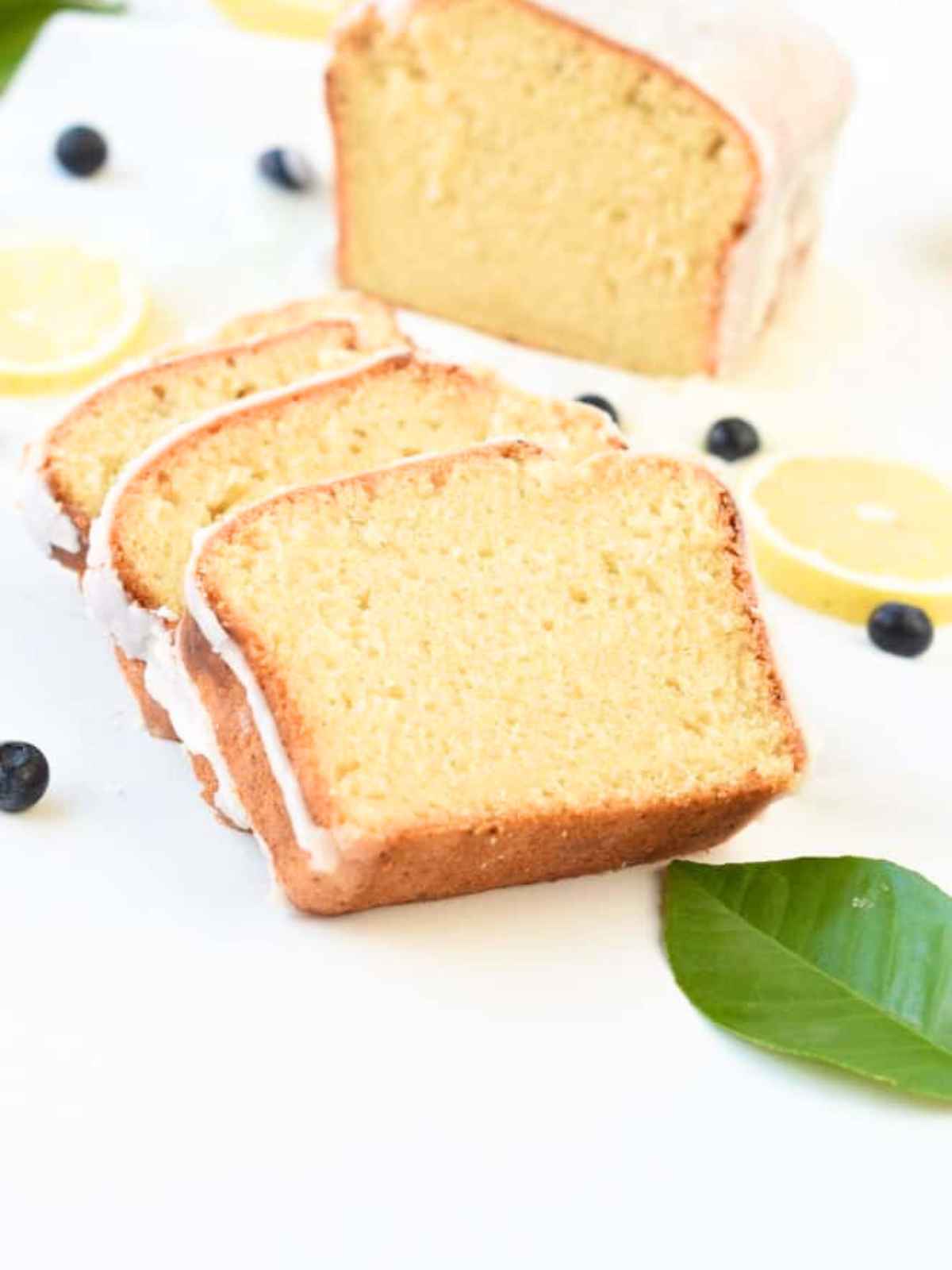 This Vegan Vanilla Pound Cake Recipe contains no eggs or dairy and is flavored with real vanilla bean. Its buttery, soft, and moist and is perfect on its own or served with berries and whipped cream.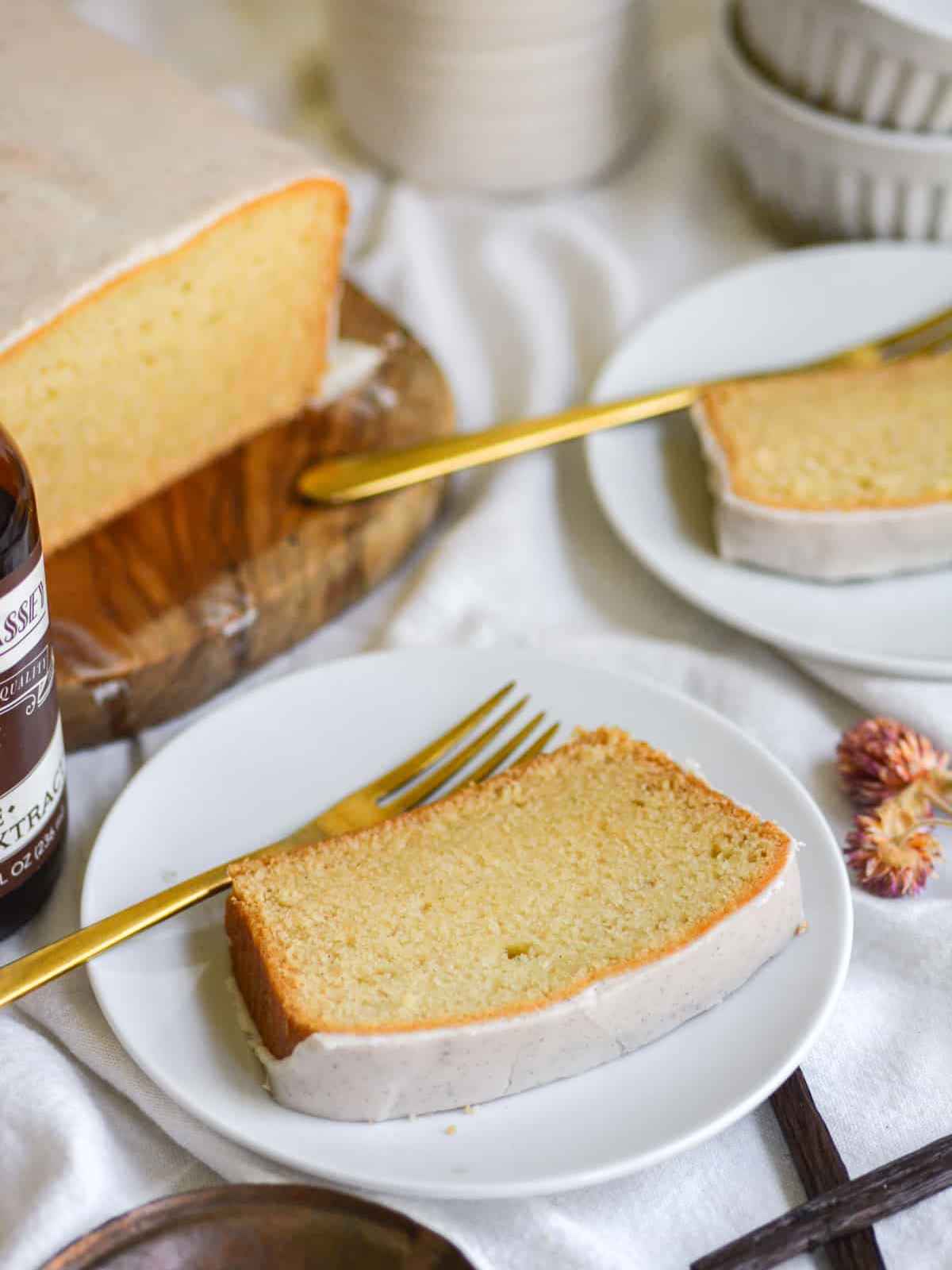 This Vegan Cookies and Cream Pound Cake recipe is what sweet dreams are made of! Moist cake with your favorite cookie throughout.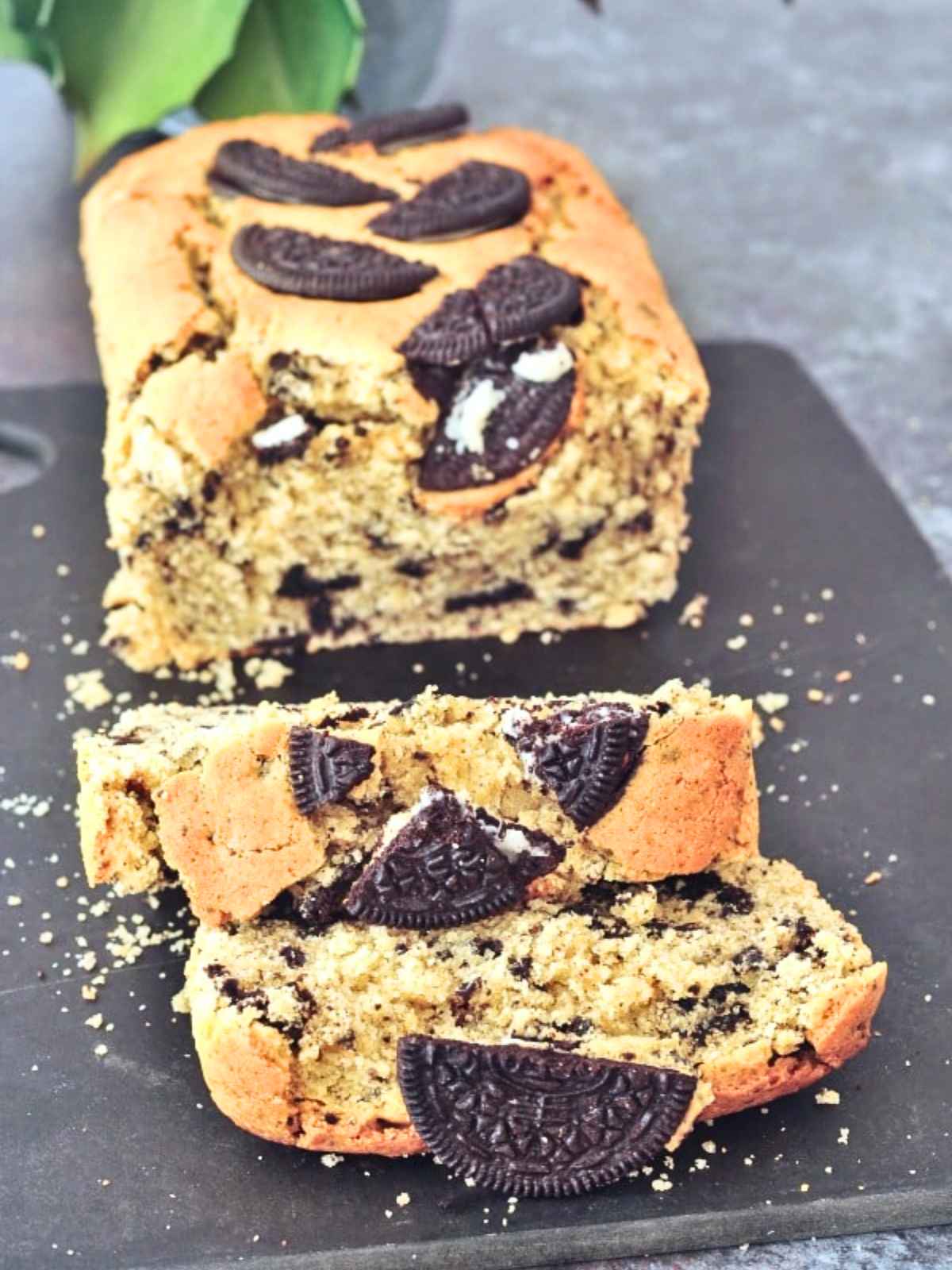 Why is It Called a Pound Cake?
A pound cake is a classic dessert made from equal parts of butter, sugar, eggs, and flour, with its name coming from its original one-pound proportions. It's dense, moist, and buttery, often served with toppings or flavored with extracts. Modern versions may include extra ingredients like baking powder, milk, or sour cream.
Vegan Egg Substitutes for Pound Cake
For vegan pound cake, consider these egg substitutes:
Applesauce: Replace 1 egg with ¼ cup unsweetened applesauce for moisture and a hint of apple flavor.
Silken Tofu: Blend ¼ cup of pureed silken tofu per egg for a dense, creamy texture.
Mashed Banana: Swap 1 egg for ¼ cup mashed ripe banana, adding sweetness and moisture.
Vegan Butter Milk: ¼ cup of plant-based milk mixed with lemon juice or vinegar.
Vegan Yogurt: Use ¼ cup of almond or soy yogurt per egg for moisture and creaminess.
Flax or Chia "Egg": Mix 1 tbsp ground flax or chia seeds with 3 tbsp water and let it thicken to replace 1 egg.
Commercial Egg Replacers: Follow package instructions for store-bought egg replacers, designed for baking. Experiment to find your preferred texture and flavor. Ensure all other ingredients are vegan-friendly for a fully vegan pound cake.
Expert Tips
Ensure precise measurements for foolproof baking. If you do not have a kitchen scale take help from our guide to effortlessly convert your recipes from pounds to cups.
Choose the Right Vegan Butter: Select a high-quality, non-dairy butter substitute. Look for options that are specifically designed for baking, as they will provide a better texture and flavor.
Whisk Thoroughly: Ensure that all your wet ingredients are well mixed. Vigorous whisking helps incorporate air into the batter, leading to a lighter cake.
Don't Overmix: Once you add the dry ingredients, mix just until they are fully incorporated. Overmixing can make the cake dense.
Patience is Key: After baking, allow the cake to cool in the pan for a bit before transferring it to a wire rack. This helps maintain the structure and prevents it from falling apart.
Variations: Pound cakes are versatile. You can add ingredients like chocolate chips, nuts, or fruit to create unique flavor combinations.
By following these expert tips, you can create a pound cake with a perfect crumb and delightful flavor.
More Vegan Desserts
Baking Must-haves
Get ready to embark on a delightful journey of making and indulging in these mouthwatering vegan pound cake recipes. It doesn't matter if you're a seasoned pro or a newbie when it comes to vegan desserts; these treats are bound to satisfy your taste buds and leave your loved ones in awe. So, put on your apron, start baking, and let your kitchen be filled with the sweet aroma of compassion and creativity. Happy baking!