When it comes to refreshing frozen treats, sorbet is a popular choice for many people, especially those following a vegan lifestyle.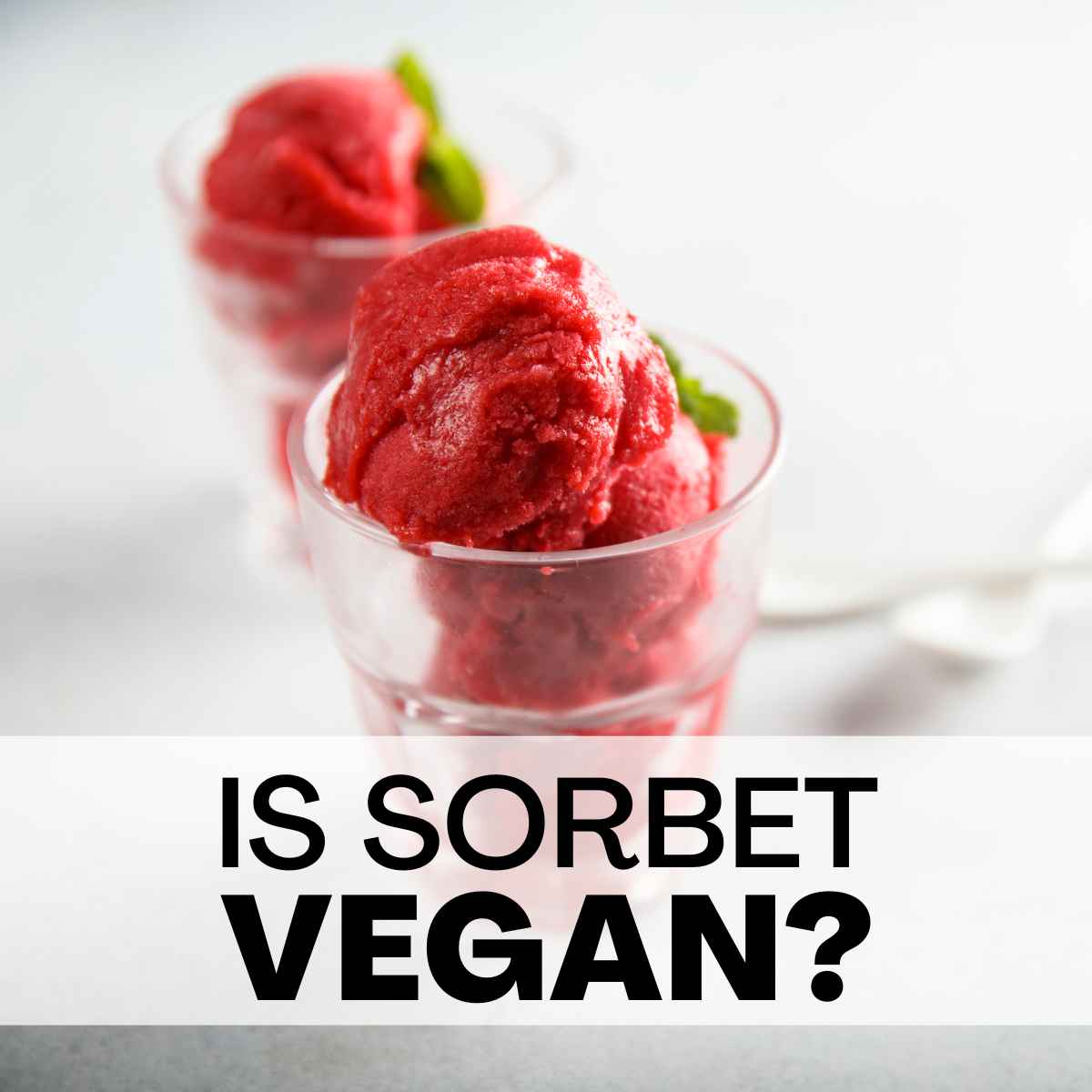 But is sorbet genuinely vegan?
In this article, we will explore sorbet, examine its ingredients, provide a delicious vegan sorbet recipe, and answer some frequently asked questions about sorbet. 
Jump to:
What is Sorbet?
Sorbet is a frozen dessert that originated in Persia and made its way to Europe in the Middle Ages. Unlike ice cream or gelato, sorbet doesn't contain any dairy or eggs, making it a suitable option for vegans and those with lactose intolerance.
It is typically made by blending fruit or fruit juice with sugar and water, and sometimes incorporating other flavorings like herbs, spices, or liqueurs. Sorbet has a refreshing and light texture, making it an ideal treat for hot summer days or as a palate cleanser between courses in a meal.
Sorbet Ingredients
Most of the time sorbet is made of the following ingredients,
Fruit: The primary ingredient in sorbet is fruit. You can use almost any fruit to make sorbet, but popular choices include watermelon, pineapple, strawberries, raspberries, mangoes, lemons, and oranges. It's important to use ripe and flavorful fruit for the best results.
Sugar: Sorbet requires a sweetener to balance the natural tartness of the fruit. Traditional sorbet recipes use granulated sugar, but you can also experiment with alternative sweeteners like agave syrup or maple syrup.
Water: Water is added to create the desired texture and consistency of the sorbet. The amount of water used depends on the fruit's juiciness and personal preference.
Optional Flavorings: Sorbet can be enhanced with additional flavorings such as mint leaves, basil, ginger, vanilla extract, or even a splash of liqueur. These ingredients can add depth and complexity to the final product. 
Is Sorbet Vegan?
Sorbet is generally vegan, as it typically does not contain any dairy or animal-derived ingredients. However, it's important to check the ingredient list or look for vegan-certified brands to ensure there are no non-vegan additives.
Are All Sorbet Brands in the Market Vegan?
While traditional sorbet recipes are vegan, commercially produced sorbets may include additives or flavorings that are derived from animal sources such as milk, eggs, gelatin, honey, or certain food colorings like carmine (derived from insects).
Look for sorbet brands that explicitly state they are vegan or made without animal ingredients. Therefore, it is essential to read the ingredient list carefully or look for sorbet brands that specifically label their products as vegan.
Vegan Sorbet Brands
There are some brands that commercially produce vegan sorbets. They are
How to Make Vegan Sorbet at Home?
Sorbet is a delightful frozen dessert that offers a vegan-friendly option for those seeking a refreshing treat. By using ripe fruit, sugar, water, and optional flavorings, you can create your own delicious vegan sorbet at home.
You just have to puree the fruit in fast pace blender. You can use frozen fruits or freeze the puree after blending them. Invest in a good quality sorbet maker for a foolproof sorbet every time.
Vegan Sorbet Recipes
One of my favorite vegan sorbet recipes are
Experiment with different fruits and flavors to find your favorite combinations and enjoy the delightful taste of this frozen delicacy. 
FAQs about Sorbet
Is sorbet always vegan?
Traditional sorbet recipes are vegan, as they do not contain any dairy or eggs. However, it's always a good idea to check the specific ingredients or consult with the manufacturer to ensure there are no animal-derived additives. 
Can I make sorbet without an ice cream maker?
Yes, you can make sorbet without an ice cream maker. Follow the recipe instructions provided, but instead of using an ice cream maker, pour the mixture into a shallow dish and freeze it. Remember to stir the mixture every 30 minutes to prevent ice crystals from forming. 
Can I store sorbet in the freezer for a long time?
Sorbet can be stored in the freezer for several weeks, but it's best consumed within a month for optimal flavor and texture. Make sure to store it in an airtight container to prevent freezer burn. 
Vegan Guide to Other Food Items
If you like this read you may also like
Conclusion
Sorbet is often considered a vegan dessert option since it is typically made without dairy or animal-derived ingredients. However, it's crucial to read the ingredient list or choose vegan-certified brands to ensure that the sorbet you consume aligns with a vegan lifestyle.