These vegan almond flour cookies got a very delicious almond and cinnamon flavor along with the crispy texture. They are gluten-free and dairy-free.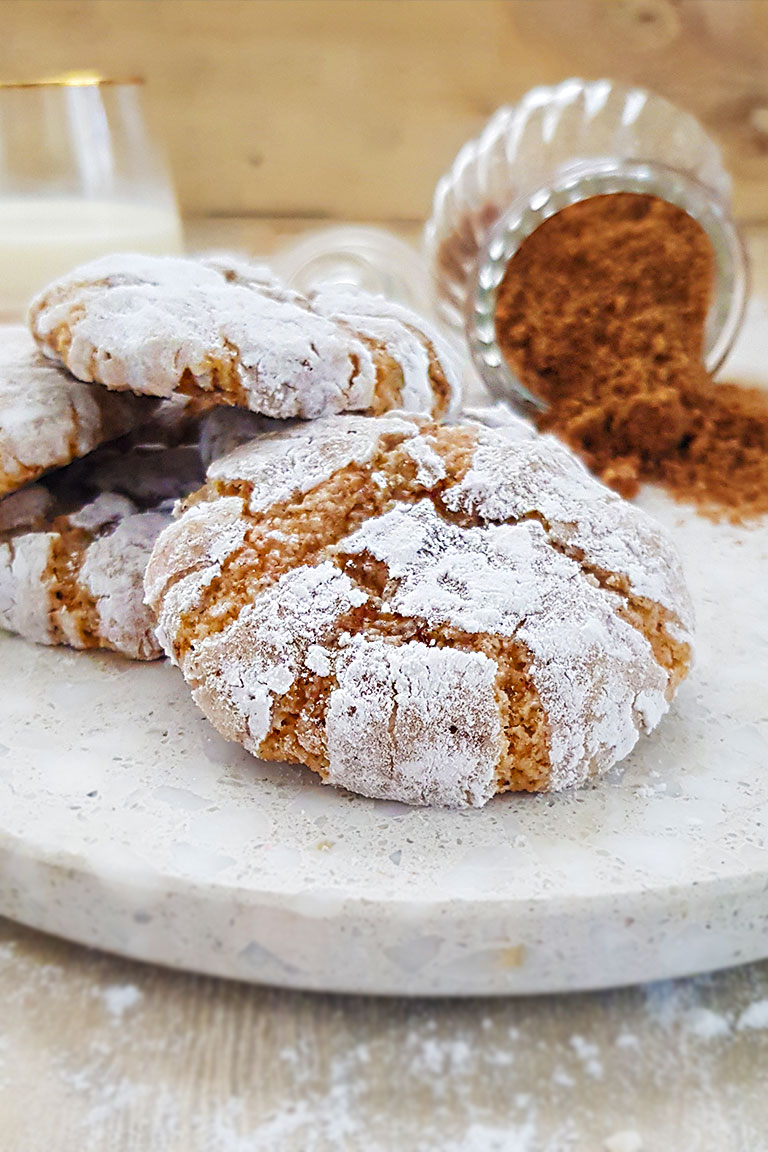 These are one of my all-time favorite cookies, they not only look beautiful on your holiday cookie platter but also a perfect any time treat. Soft fudgy and the crinkly texture of these almond flour cookies just melts in your mouth. I made these cookies as a part of my vegan crinkle cookies series for Christmas and it's a gift for those who strive for gluten-free treats.
How to Make Vegan Almond Flour Cookies?
Make flax meal egg by mixing it with water and let it sit for 5 to 10 minutes to thicken.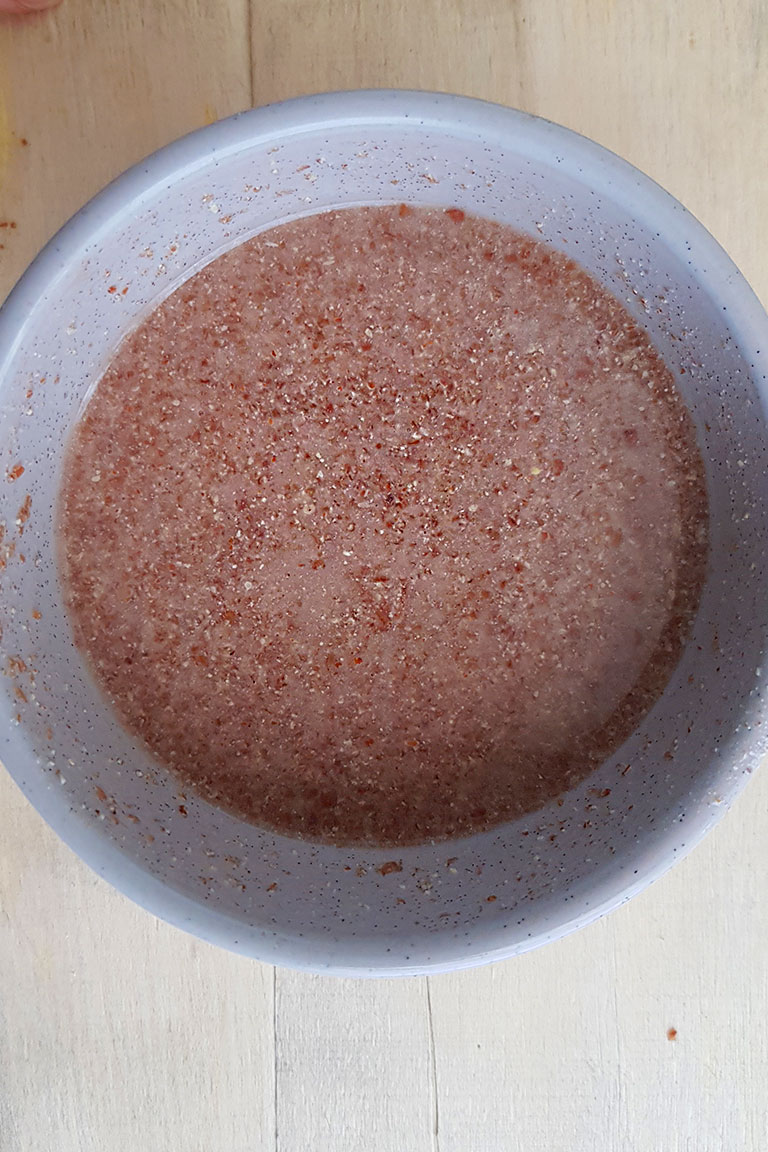 Start with melting the vegan butter, make sure you bring it to room temperature before mixing it with other ingredients.
Whisk together, sugar, vegan butter, flax egg and a splash of almond essence just to enhance the almond flavor.
Mix dry ingredients. You need almond flour or almond meal, gluten-free flour, cinnamon powder, baking powder, and salt.
Combine wet and dry ingredients together and mix well.
Make sure you chill the cookie dough for at least 3 to 4 hours. The dough is super sticky and easier to manage once it has been chilled. Sometimes I chill it overnight. Chilled cookie dough is not only easy to handle but also it bakes thicker cookies.
After chilling, roll the cookie dough into balls, about 1 Tablespoon of dough per cookie.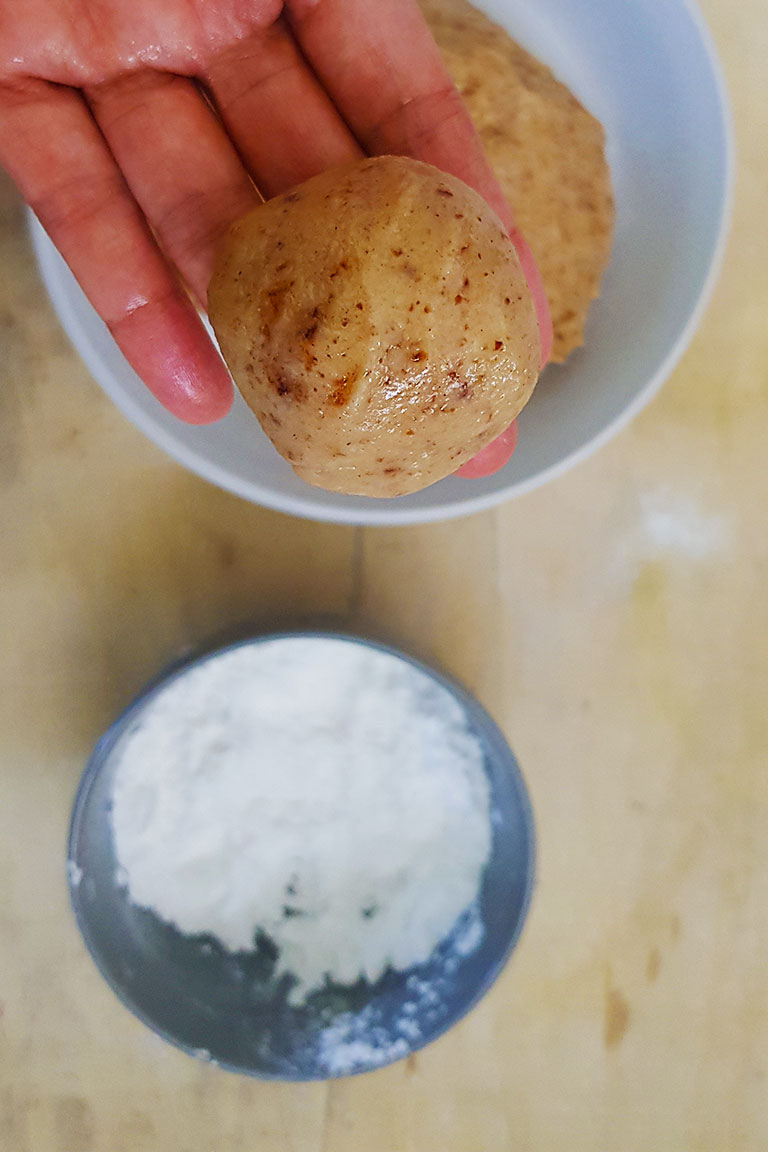 To form the better crinkles DO NOT press dough balls, they will naturally bake into shape.
Make sure your oven is well hot before putting your cookies. Cookies will be super soft when they come out of the oven and harden as they cool. Let them sit for some time on the baking tray before transferring to a cooling rack. If you bake them for too long, the center will not be fudgy.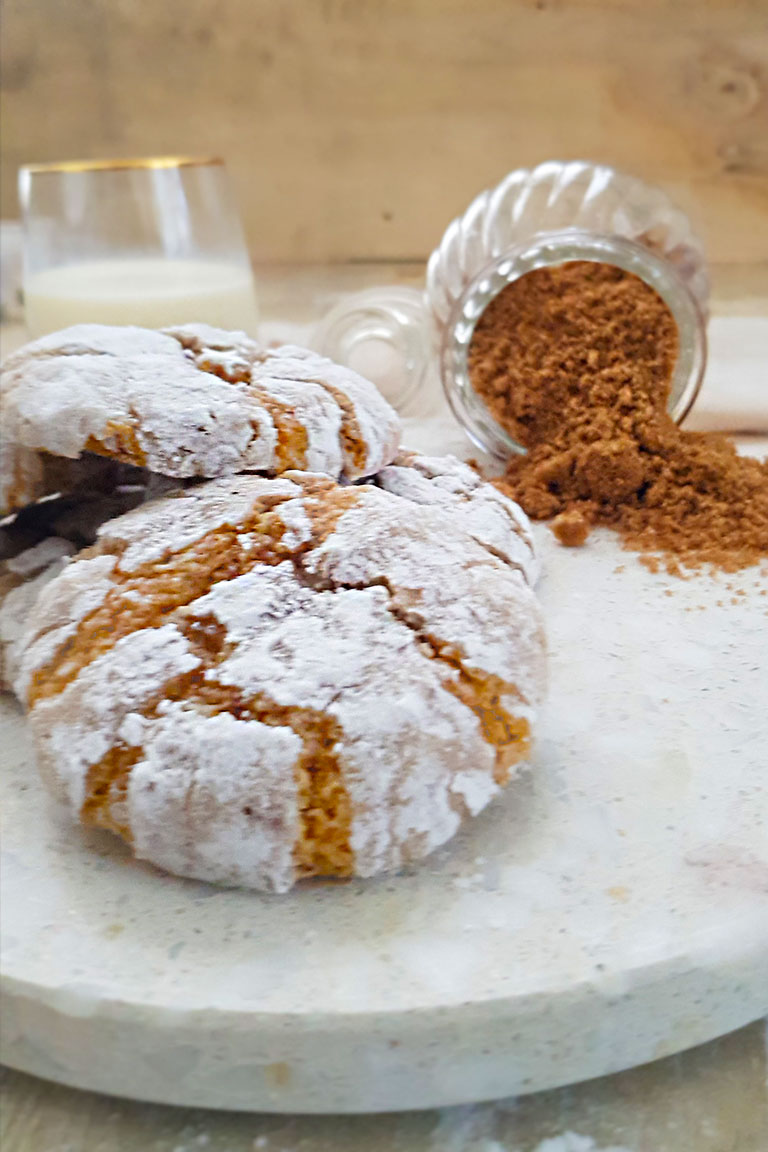 Difference Between Almond Flour and Almond Meal:
Almond flour and almond meals are both ground almonds and are gluten-free but with a slight difference. Most of the time Almond flour is made from blanched almonds means, without almonds skins. It is finer in texture and lighter in color. On the other hand, Almond meal is made from whole almonds, including their skins. That's why it contains brown specks of almonds skin and is coarse in texture. Both can be used interchangeably but it will slightly affect the texture and color of cookies.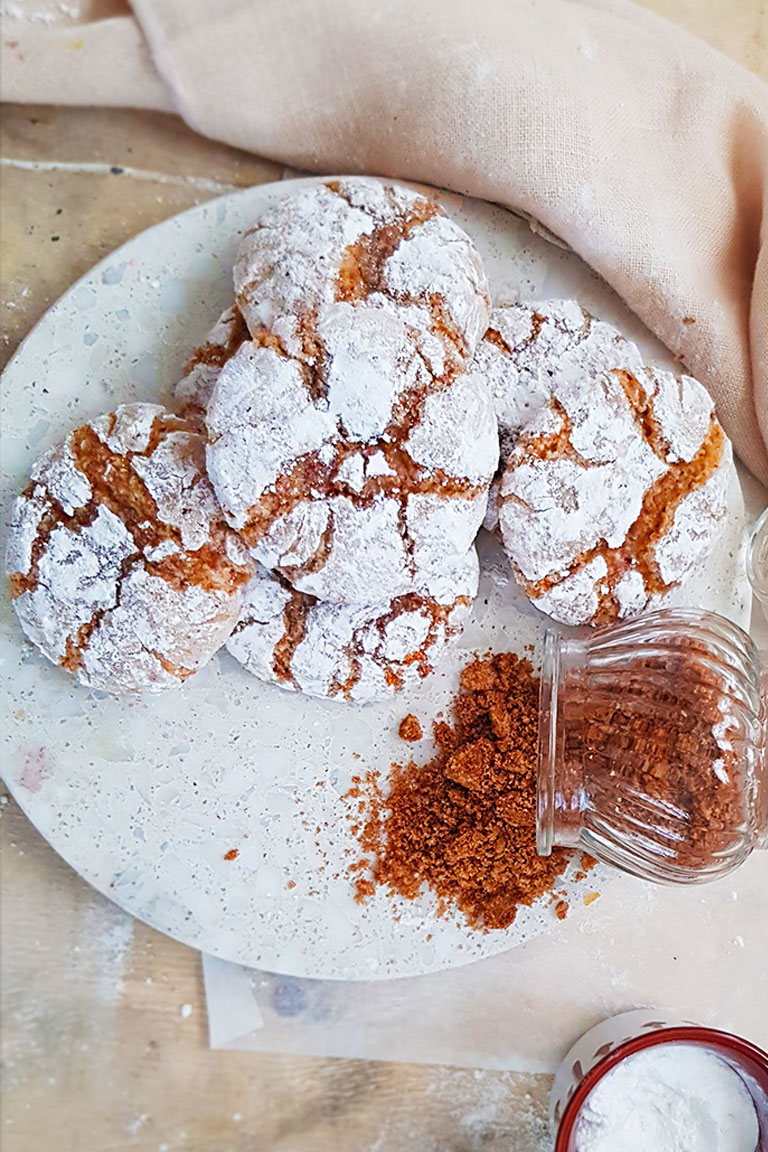 If you are on a vegan and gluten-free diet give these almond flour cookies a try, I am sure you will love them, they are so fudgy and juicy. They melt in the mouth in no time.
You will like these foolproof vegan almond flour cookies as they are
Fudgy
Crinkly
Crispy from the outside
Melts in the Mouth
And So Tasty.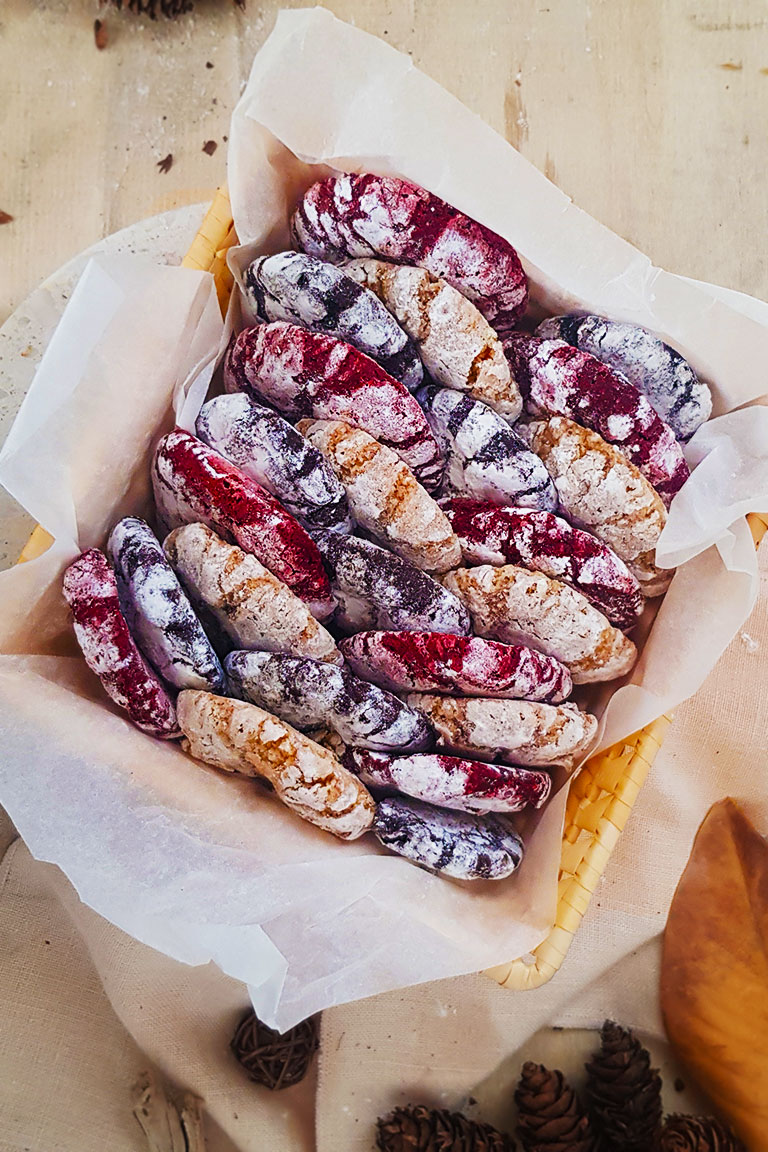 This beautiful cookie basket is made-up of Almond flour cookies, Chocolate Crinkle Cookies, and Red Velvet Crinkle Cookies. I hope you will try all those recipes and create something delicious for your friends and family to share.  
Watch How to Make Almond Flour Cookies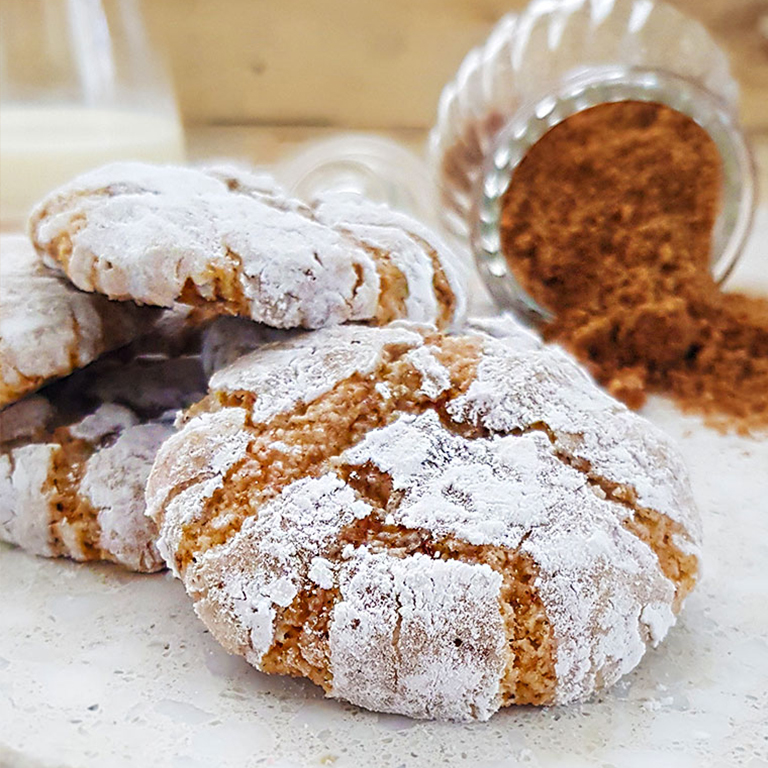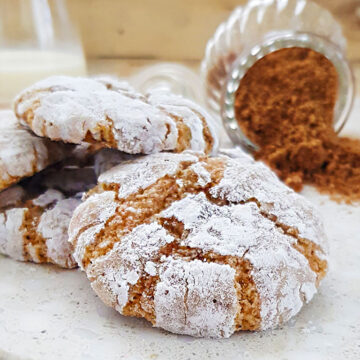 VEGAN ALMOND FLOUR COOKIES
These vegan almond flour cookies got a very delicious almond and cinnamon flavor along with the crispy texture. They are gluten-free and dairy-free. 
Instructions
In a small bowl, combine 1 tablespoon of ground flaxseed with 3 tablespoons of water. Mix and set aside for at least 5 to 10 minutes.  

In another bowl, add sugar and melted vegan butter and stir with a silicone spatula until well combined. Next add the ground flax seed mixture, and almond essence, and mix well.

In another, medium-sized bowl, Sift in the almond flour, gluten-free flour, baking powder, cinnamon powder, and salt.   

Add the wet ingredients to the dry ingredients and mix until combined.

Cover the bowl with cling wrap and let it sit in the fridge for 3 to 4 hours to let the mixture get firm. You can also leave it overnight.   

Preheat the oven to 350 degrees F. Line baking sheet with parchment paper.  

Place icing sugar in a small bowl.  

Once the dough is chilled and firm, roll it into 1 tbsp balls and then roll in the icing sugar, making sure to coat the balls generously. Make sure you cover all sides. The more powdered sugar, the better the crinkling pattern on the cookies.

Bake for 10 to 12 minutes. They will appear slightly undercooked but will get firm once cooled down. Make sure you don't overbake them! If you leave them in the oven too long, they will end up dry inside.  

Once cooled down you will get a crispy outside with a fudge-like center.   

Cool on the baking sheet for at least 7 to 10 minutes, then transfer to a wire rack. Store any extra cookies in an airtight container for a week.  
Video
Notes
Use canola oil or coconut oil If you can't find any vegan butter option. 

 

Make sure you leave the dough for at least 3 to 4 hours to get a firm consistency to roll into a ball. 

 

You can make this dough ahead of time and leave it overnight.  

 

Use oil on your hands for rolling the dough so it won't stick to your hands.

 
Nutrition
Calories:
216
kcal
Carbohydrates:
23
g
Protein:
3
g
Fat:
13
g
Saturated Fat:
2
g
Polyunsaturated Fat:
2
g
Monounsaturated Fat:
3
g
Trans Fat:
0.04
g
Sodium:
193
mg
Potassium:
9
mg
Fiber:
2
g
Sugar:
18
g
Vitamin A:
360
IU
Vitamin C:
0.01
mg
Calcium:
55
mg
Iron:
1
mg
If you try this recipe, leave a comment and show some love by rating it in stars. Do not forget to take a picture and tag us @getsetvegan on Instagram. We would love to see this.