The Best Homemade Pizza Sauce, ready in just 30 minutes without any fuss. This pizza sauce recipe will take your pizza nights to the next level!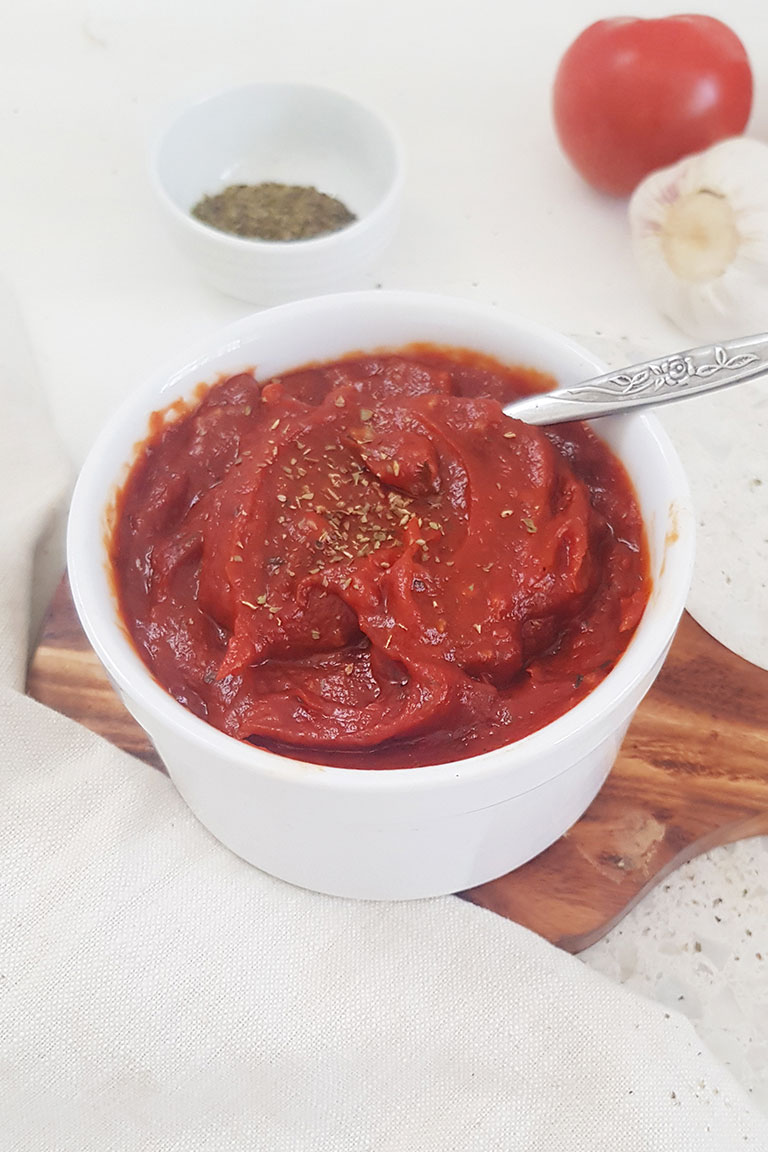 There's nothing quite as tasty as some delicious, hot pizza. And it is, even more, satisfying with homemade pizza sauce. It is versatile and flavorful and tastes like heaven. This pizza sauce is vegan and gluten-free and you can store it for up to six months.
How to Make Homemade Pizza Sauce From Scratch?
Pizza sauce can be made at home in three ways
Pizza sauce with fresh tomatoes
If you do use fresh tomatoes, here are some things to remember: fresh tomatoes have pieces that need to be removed like the stems, cores, and skins. The first two are easy, just need a knife. But for the skins, you have two choices: blanch the tomatoes or puree your sauce after it has cooked down. This process is competitively quite time consuming and messy.
Pizza sauce with canned tomatoes
There may be those that say you have to use fresh tomatoes, but the reality is that canned or fresh will do the job nicely. If you are craving that homemade goodness and fresh tomatoes aren't available, canned is a reliable, tasty, nutritious. and affordable alternative. Plus, canned tomatoes literally cut out a lot of work! This is an amazing time-saver, without compromising flavor!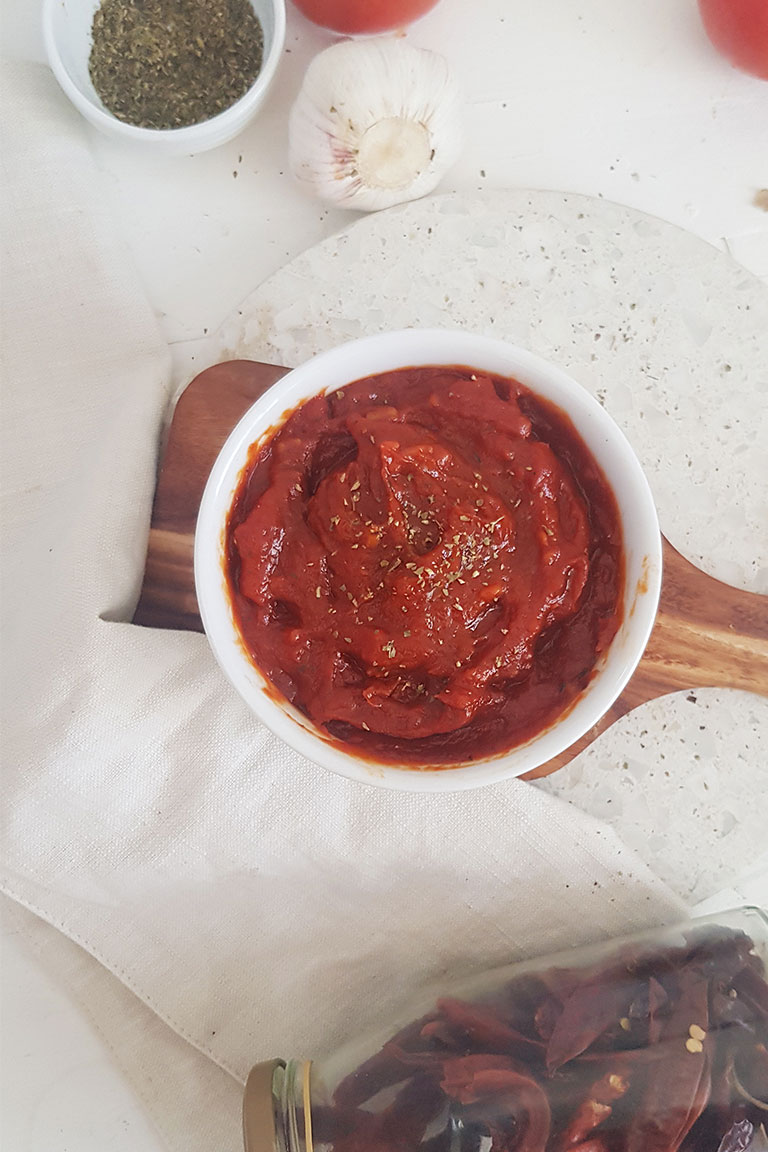 Pizza sauce with tomato sauce
Her come the quickest and easiest way to make homemade pizza sauce. All you need is one pot , all ingredients mix them up and let them simmer on low to medium heat. once it is reduced to the right consistency its all done. By the way reducing this pizza sauce is much easier and quicker than the other two ways.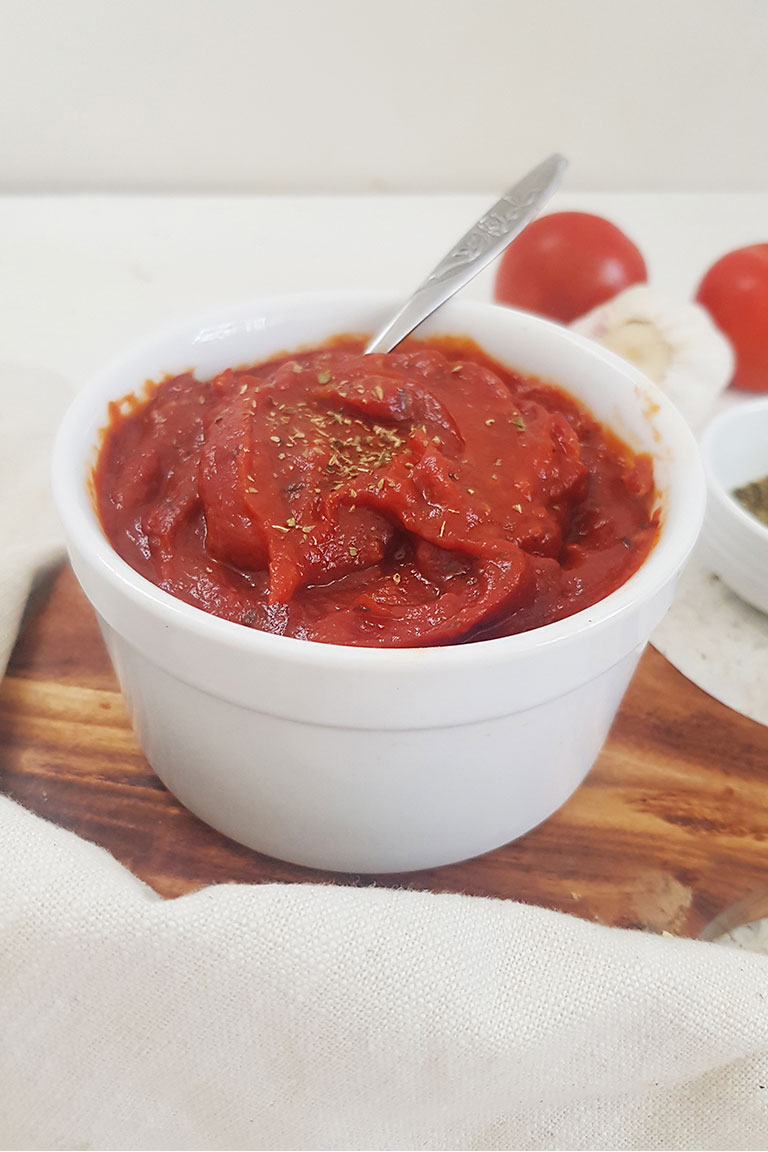 Homemade Pizza Sauce Ingredients
Oil: Any kind of oil will do the task but I would suggest olive or canola oil as they are tasteless and will not add any extra flavor to the sauce.
Garlic: When shopping for fresh garlic, you want a bulb that is tight, none of those falling apart ones! Tighter is fresher; also avoid any that are sprouting. There are many opinions about peeling the garlic, but for me, the easiest thing is smashing the clove with the back of your knife. Most of the time the peel will come right off. 
Tomato Sauce: Be as fancy as you like here, but remember that we will be seasoning the tomatoes, so avoid pre-seasoned tomato sauce. Plain works perfectly; fire-roasted adds another dimension. I am using the light one with reduced salt.
Tomato Paste: Tomato paste can be a game-changer in many recipes. It is an excellent way to thicken what you are cooking from soups, chilis, sauces, and quesadillas! The best part, to me about tomato paste is that it packs a punch of flavor. It will give your homemade pizza sauce the much-needed flavor and aroma.
Herbs: What could be a pizza sauce without the flavors or herbs. Here I am using oregano and dried basil. You can use fresh basil leaves too but they are strong in flavor so make sure don't overdo it.
Chili Flakes: Those little circles of love from peppers are what you need here. But as always, be advised that they can be quite spicy. So, add as you see fit but remember they are sneaky spice fiends. They are completely optional and if your kids are going to eat this pizza you can simply skip them.
Salt and Sugar: the basic flavoring for the sauce.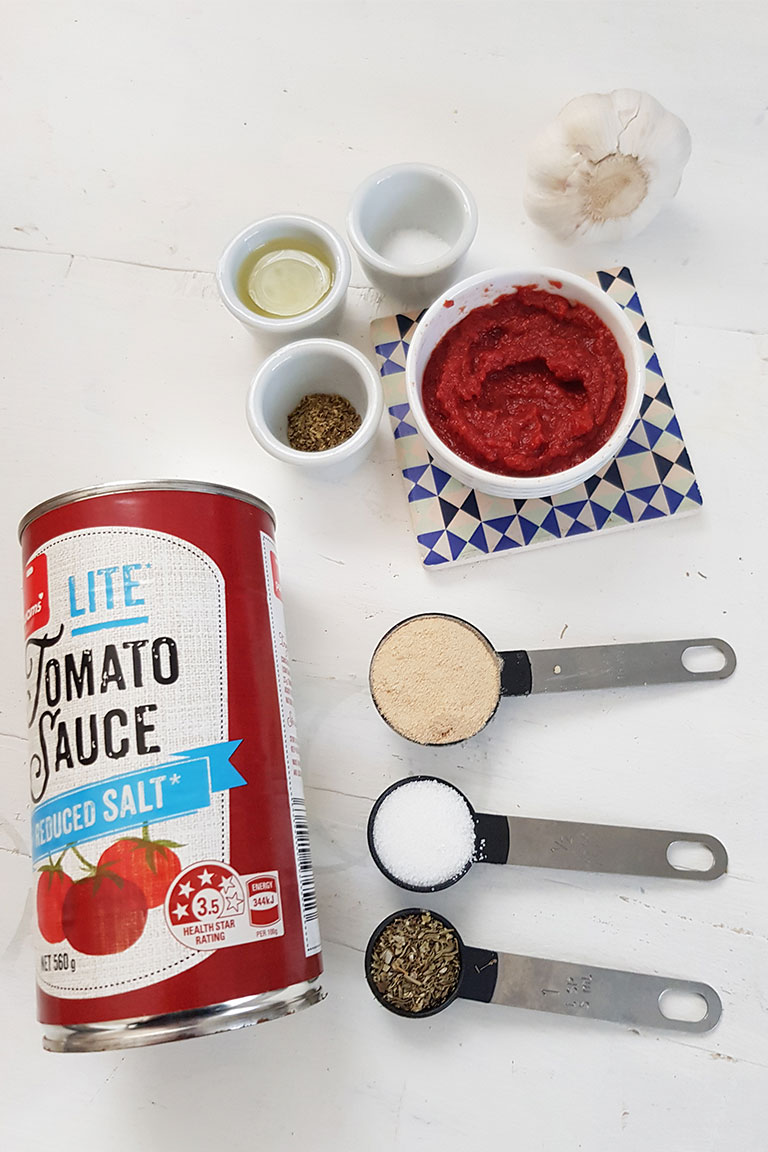 How to Make Homemade Pizza Sauce
To start, bring out a large frying pan and add olive oil over medium heat. Things like tomatoes and garlic can burn quickly and splatter making the kitchen look like a mess; stay on medium heat. Any higher and you will have a mess, trust me. When the oil is warm, add your chopped garlic cloves and cook them for just a couple minutes. Add your tomato sauce and tomato paste (Carefully! Remember the splatter!) Stir it together constantly for 2 minutes. The stirring helps mitigate the popping. Add in the spices and stir.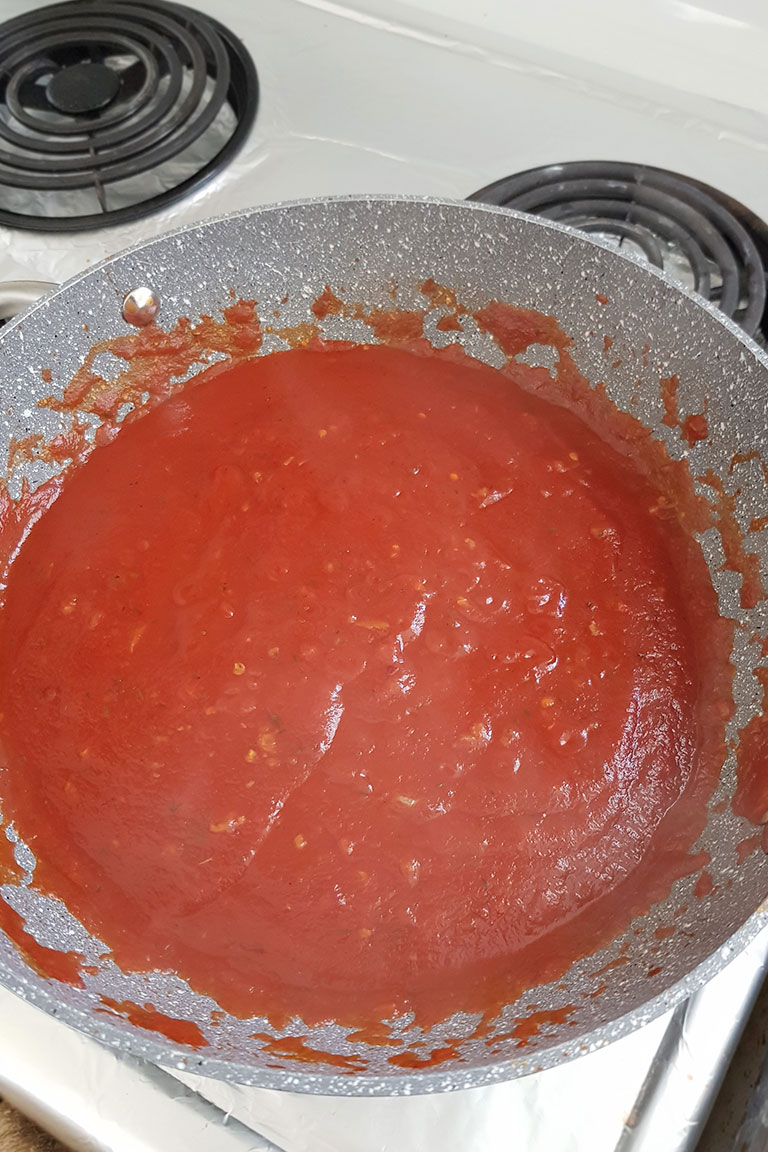 Bring the sauce to a gentle simmer. This means the bubbles are slowly coming to the surface and popping. Nothing crazy like a full boil where the bubbles are smaller and faster. Hotter and faster is not always better and definitely true in this case. When the bubbles are doing their thing, add in a half cup of water. Allow this lovely pan of pizza goodness to simmer on low-medium heat for 20 to 30 minutes. The sauce will thicken and reduce, cooking out any extra liquid. Stir it occasionally, but don't feel like you have to hover over it.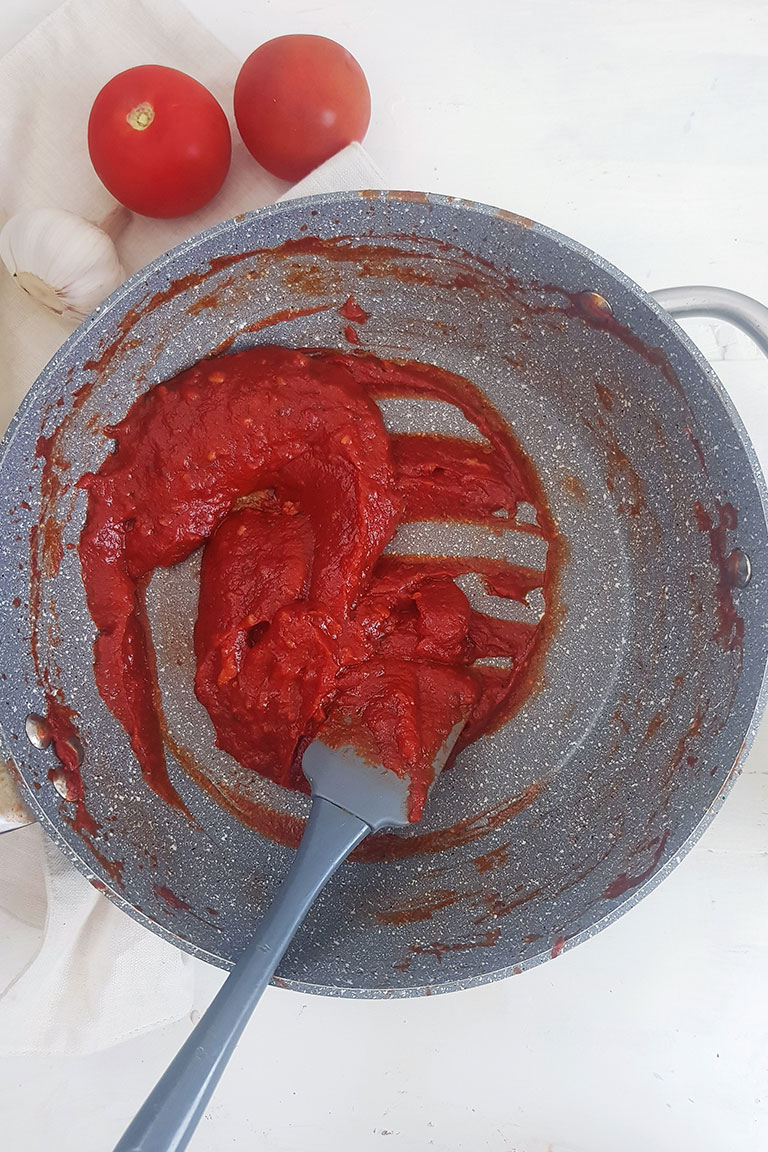 I would recommend covering your pan if you can so the bubbles don't leave their mark on your stovetop. The longer you allow this to cook, the more flavor you will develop. Allow the sauce to cool before topping your pizzas or the heat will make your crusts soggy.
Watch How to Make Pizza Sauce
Storage:
Store it in an airtight jar in the refrigerator for up to 2-3 weeks. You can also freeze in small jars for later use. A great idea, since you are already making the tomato sauce is to make a double or triple batch and freeze it for later (up to 6 months!), then you are ready for impromptu pizza and game nights!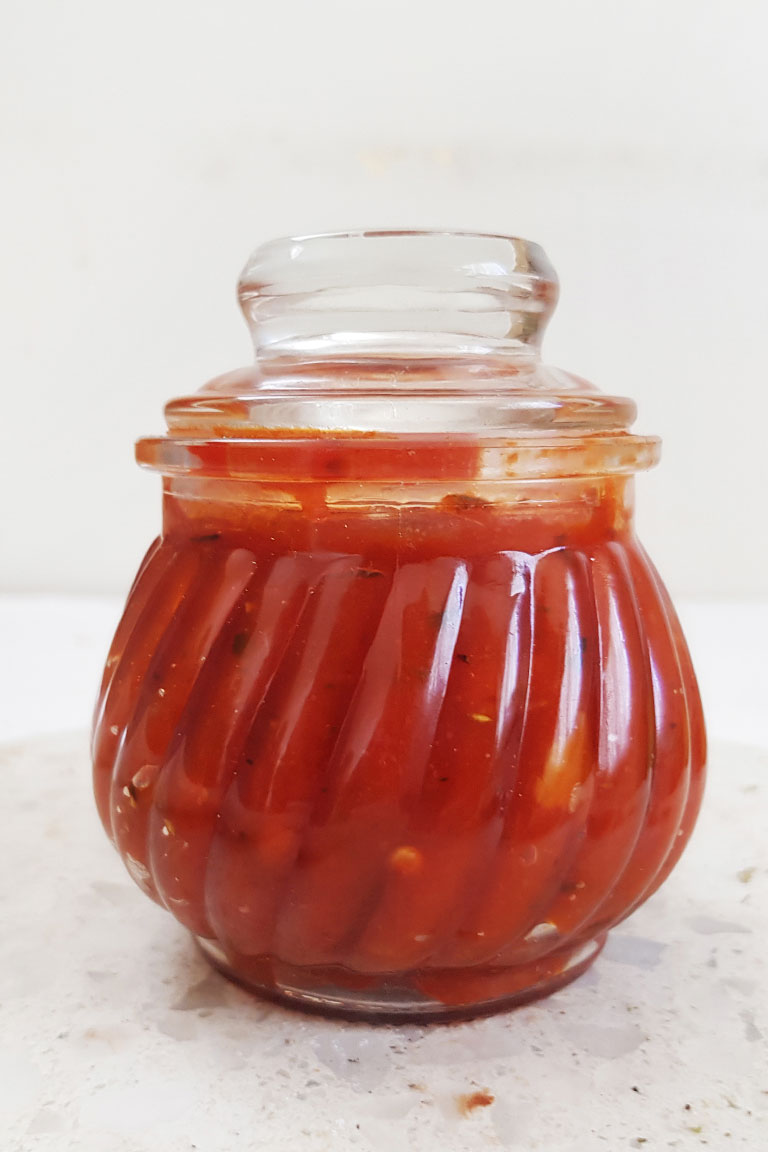 Other Uses for This Sauce:
This can add great flavor to quesadillas, spread a tablespoon on your tortillas. Try using it on pasta with veggies. It would be delightful to cook into some spaghetti squash or zucchini. Make some homemade breadsticks and this is the sauce!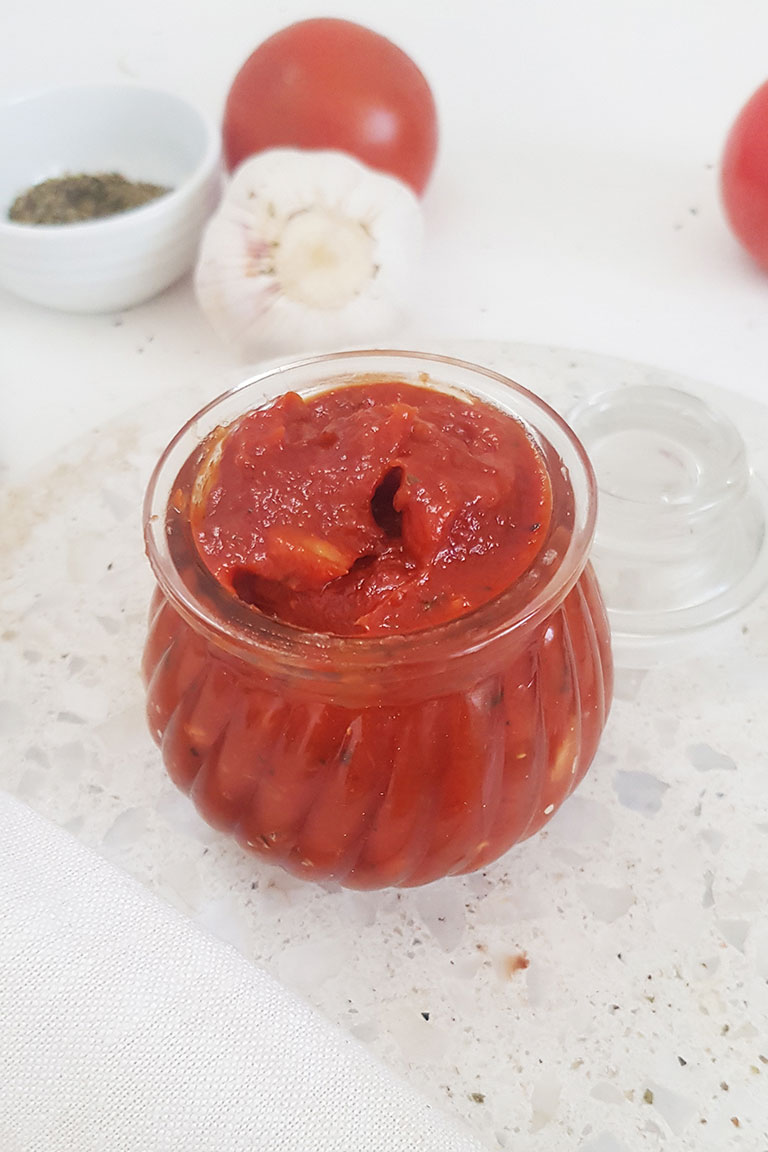 Finally, sauces like this add a lot of excellent flavor to soups and stews, so don't be afraid to experiment!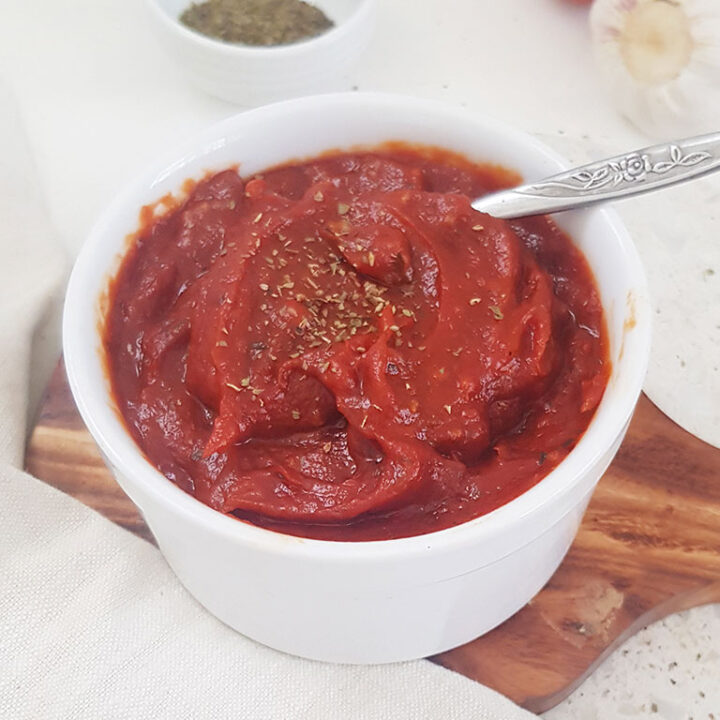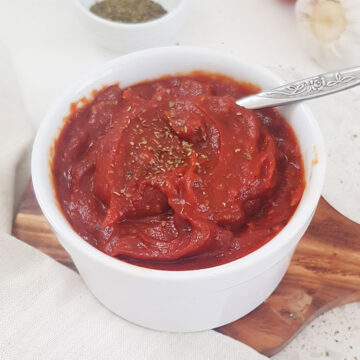 Homemade Pizza Sauce
The Best Homemade Pizza Sauce, ready in just 30 minutes without any fuss. This pizza sauce recipe will take your pizza nights to the next level! 
Ingredients
1

Tbs

Olive Oil

4

Cloves

Garlic:

(Crushed)

1

Can

Tomato Sauce

(560g)

4

Tbs

Tomato Paste

2

Tsp

Onion Powder

¼

Tsp

Chili Flakes

1

Tsp

Dried Basil

½

Tsp

Oregano

½

Tsp

Sugar

(If your tomato sauce is sweet you can skip suagr)

½

Tsp

Salt

1

Cup

Water
Instructions
Heat the Oil in a deep frypan over medium heat. Sauté crushed garlic for a minutes. Do not burn the garlic it will ruine your sauce.

Add a can of tomato sauce, tomato paste and cook stirring for about 2 minutes. Stir in, onion powder, chili flakes, oregano, dried basil, salt and sugar. 

Bring to a gentle simmer and add in half a cup of water. 

Cook on a low-medium heat for about 20 to 25 minutes or until thickened and reduced. Stir occasionally.  

Keep the frying pan slightly covered as the sauce will bubble. The longer it cooks, the more flavor it will develop. 

Allow cooling before spreading on bases. You can store it in airtight containers. 
Video
Notes
Keep the heat low to medium throughout as it should not stick to the base otherwise, it will develop a burned taste.

Do not spread hot sauce over the pizza bases it will make the base soggy.

If your tomato sauce is sweet enough do not add sugar.
Always store pizza sauce in airtight jars. 
Nutrition
Calories:
136
kcal
Carbohydrates:
30
g
Protein:
6
g
Fat:
2
g
Saturated Fat:
0.3
g
Polyunsaturated Fat:
1
g
Monounsaturated Fat:
1
g
Sodium:
2521
mg
Potassium:
1404
mg
Fiber:
7
g
Sugar:
17
g
Vitamin A:
2063
IU
Vitamin C:
33
mg
Calcium:
104
mg
Iron:
5
mg
If you try this recipe, leave a comment, and show some love by rating it in stars. Do not forget to take a picture and tag us @getsetvegan on Instagram. We would love to see this.