These Mushroom Enchiladas will make your mouth water with their cheesy, tender flavor. These savory vegan enchiladas are made of homemade enchilada sauce and mushrooms in addition to bell pepper for an extra zing!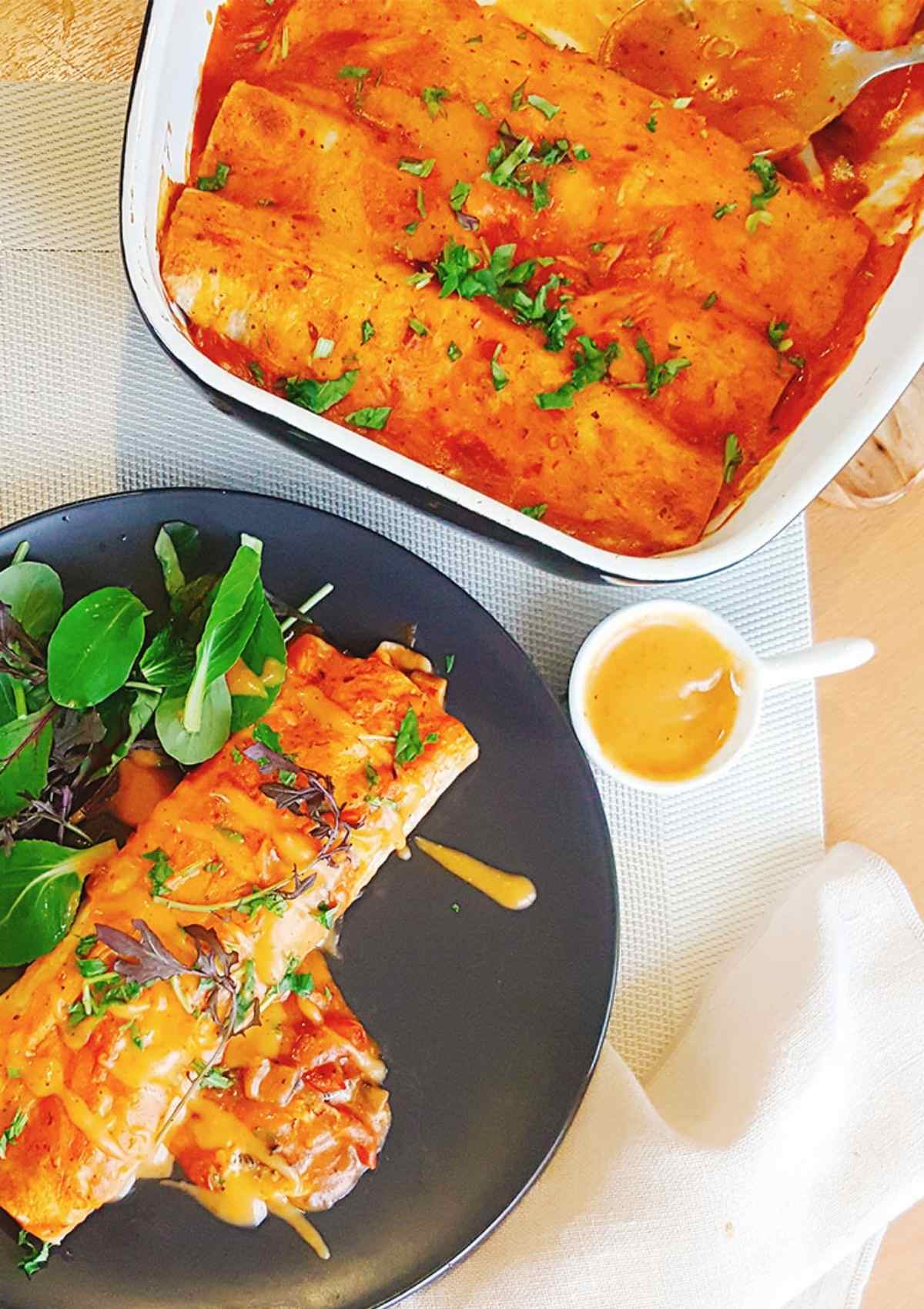 A perfect dish as the weather cools down a bit more each day - comfort food at its finest.
If you are looking for something simple, satisfying, and above all delicious, then you don't have to look any further than these Vegan Mushroom Enchiladas. They are sure to satisfy all your needs for some comforting food.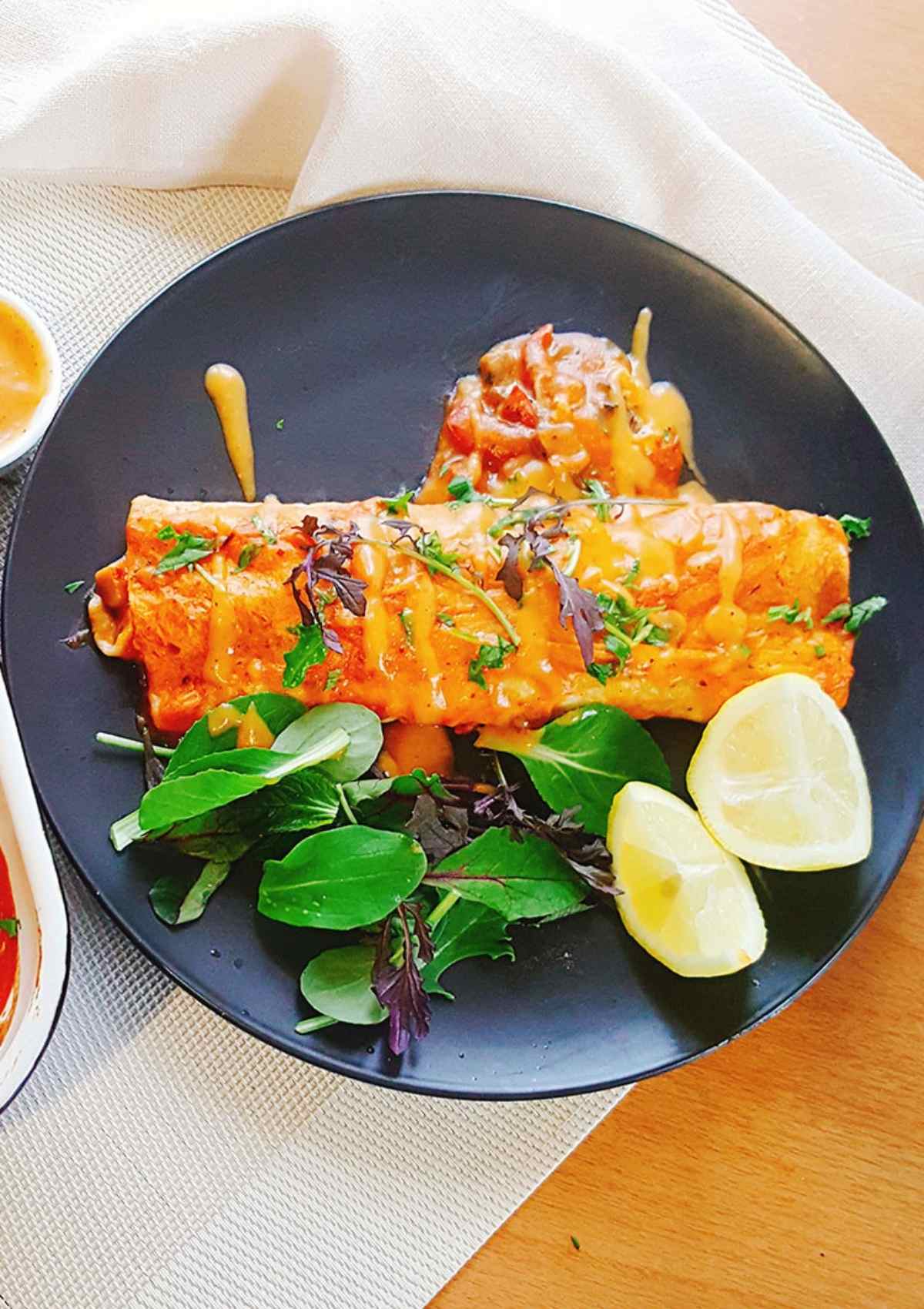 When I remember the good old days, nothing beats a comforting dish to make me feel right at home. And there is no better way of doing that than with these Mushroom Enchiladas! They're easy and flavorful like everyone wants in enchiladas; plus they have plenty of dairy-free cheese sauce so you won't be hungry before dinner time has passed anyway…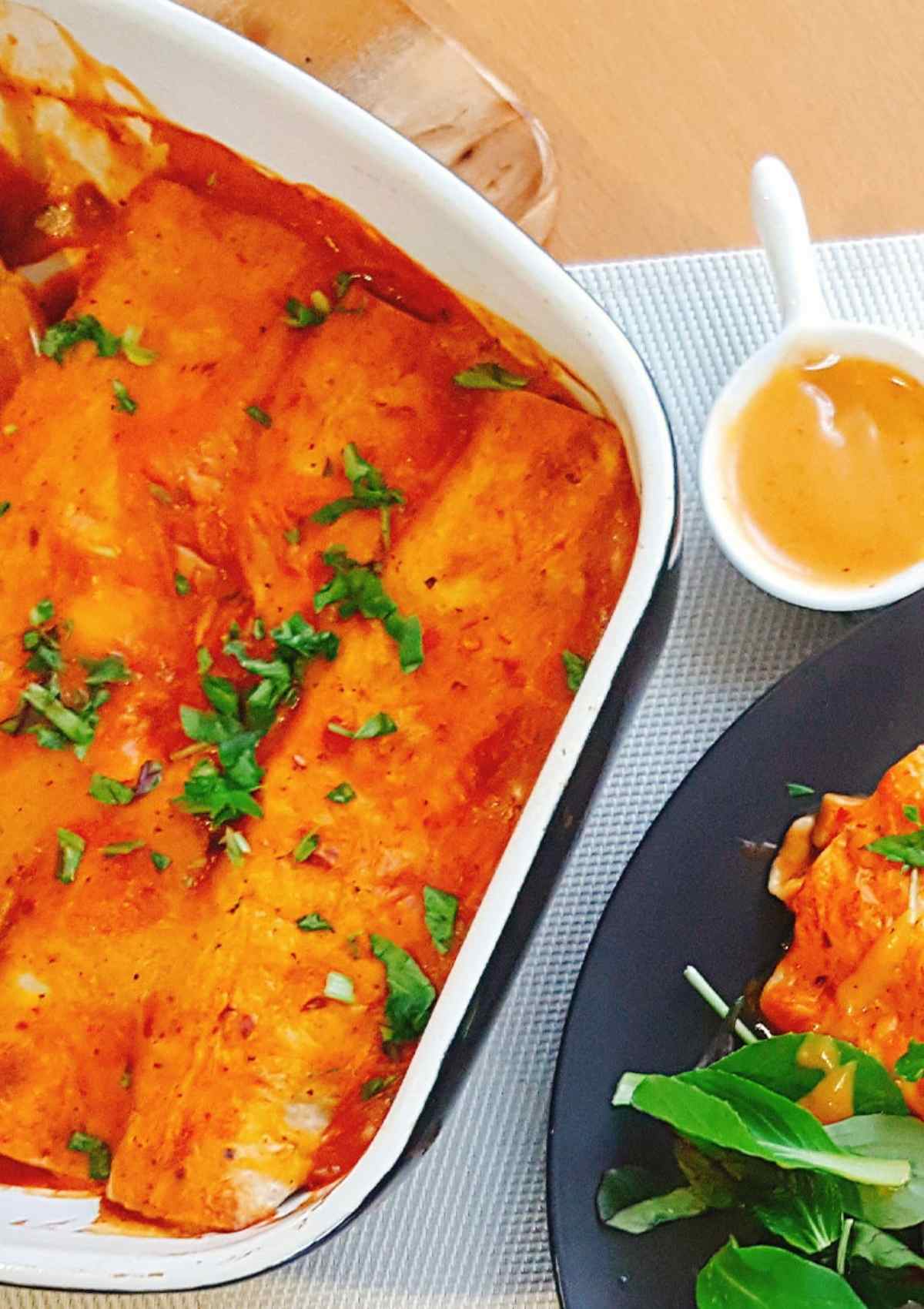 What You Need for Mushroom Enchiladas
Oil: Any oil you have on hand will work for this recipe, including olive, vegetable, or canola.
Flour: Just your basic all-purpose flour, nothing too crazy; you can substitute gluten-free as necessary.
Tomato Paste: This not only acts as a thickener to the sauce, but it adds a lovely tomato richness.
Vegetable Stock/Water: Water is an easy substitute for stock if you don't have any on hand, but the vegetable stock will add more flavor as well as nutrition.
Chili Flakes: These are those little red and orange speckles of love from peppers; use as much as you are comfortable with, but note they definitely pack a punch. If you haven't used them before or are not in love with spicy food, try using only half of the amount and see how you feel.
Potatoes: Use whatever is available, be it yellow, red, or purple. Sweet potatoes are not recommended for this recipe. Make sure when you cook them to reserve some of the water for making the sauce!
Vegan Butter: Whatever brand you prefer or what you have on hand. Do not feel like you need to spend large for this recipe; it's supposed to be easy!
Nutritional Yeast: Easily a vegan's best friend if you are missing cheese flavor in your life. Look for this in your baking aisle with other specialty ingredients like flaxseed or bee pollen. It is flakes of golden goodness that add a cheesy, nutty flavor to whatever you are making. I use it in all sorts of things from stir fry to vegan ricotta cheese and salad dressings.
Mushrooms: I like small mushrooms when cooking, like white buttons or creminis, but you can certainly mix and match based on what is available to you or what flavors you prefer. Some mushrooms, like portabellas and hen-of-woods, offer "meatier" tastes, where others are more subtle. That's the best part about this recipe, you can customize it for your life!
How to Make Mushroom Enchiladas
There are four main steps that involve in making these delicious mushroom enchiladas.
Vegan enchiladas sauce
The vegan cheese Sauce
Filling for mushroom enchiladas
Rolling and assembling of enchiladas (see the Video)
Vegan Enchiladas Sauce
First, you are going to make the vegan enchiladas sauce which coats the enchiladas in a tomato hug. Heat your oil in a pan, stirring in the flour to make a roux. Add the tomato paste and continue to stir. Slowly, add small amounts of water or stock and continue stirring. The best device for this is a whisk if you have one, it will break down the lumps of flour and keep your sauce smooth and luscious. A fork can also work; just keep stirring! Continue to add the remaining water and add the seasoning; allow it to lightly boil for a few minutes and then remove from heat. That was easy, wasn't it?
Even better: you can make a double batch of this sauce and freeze it for a future meal (up to three months)!
The Vegan Cheese Sauce
Next, make the cheese sauce, which sounds intimidating, but trust me… it isn't. Peel your potatoes and cut them into rough cubes. Drop them into boiling water and cook until soft. When they are soft; do not drain all of the water! You use it to make the cheese sauce! In the blender, add the potatoes, the seasoning, nutritional yeast, vinegar, and butter. Blend into a smooth paste, adding some of the potato water in small amounts to smooth it out and bring everything together.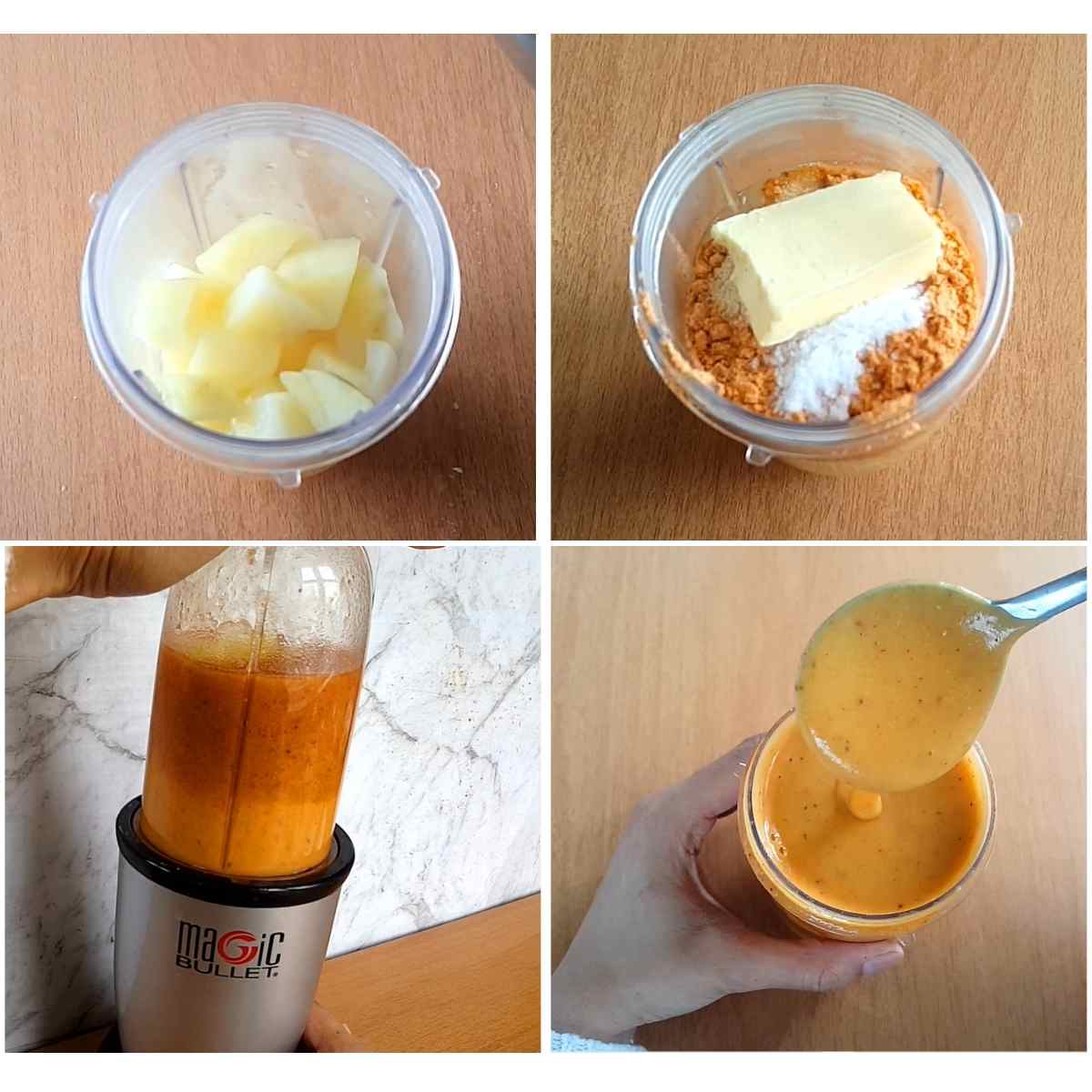 Filling for Mushroom Enchiladas
For the filling, heat oil over medium heat. This is important, you don't want to burn your onions and scald your oil; ask me how I know! Add the onions and cook until they are translucent. Add the mushrooms of your choice. When the mushrooms are cooked down, add the bell peppers and cook for a few more minutes. It is tempting to throw everything in together, but different vegetables require different cooking times and we want the peppers to be tender but not mushy.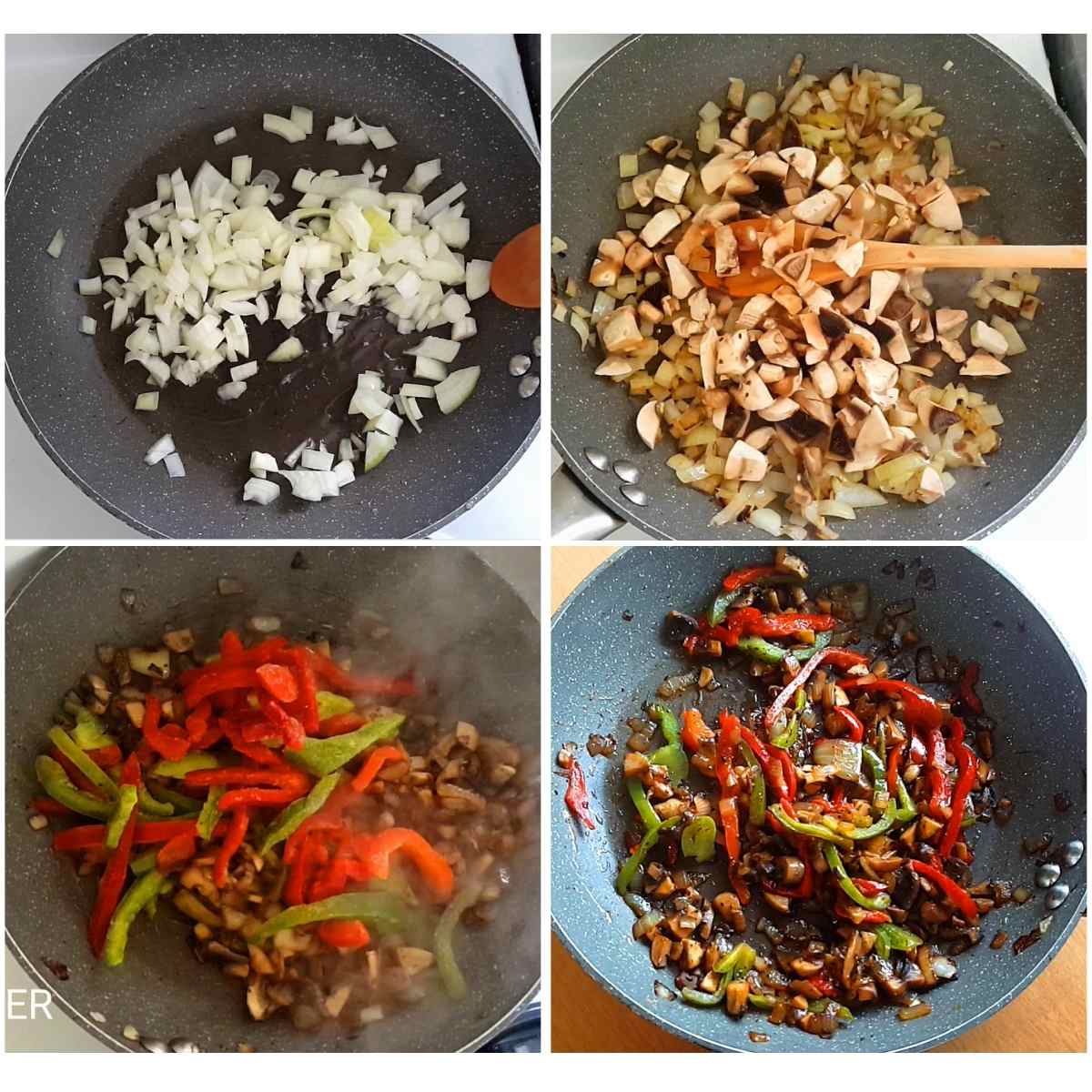 Rolling and Assembling
In your baking dish, spread a bit of enchilada sauce on the bottom, this helps the enchiladas from sticking but also makes sure that the flavor is embedded in all of the cracks and crevices of your enchiladas. Take a vegan tortilla and add a couple of spoonfuls of the cheese sauce and then a generous scoop of the vegetable mixture. Roll the tortilla up and place it in the baking dish. Repeat this process. I like doing this on a large cutting board because I can easily drop the cutting board in the sink and I save the mess on my counter.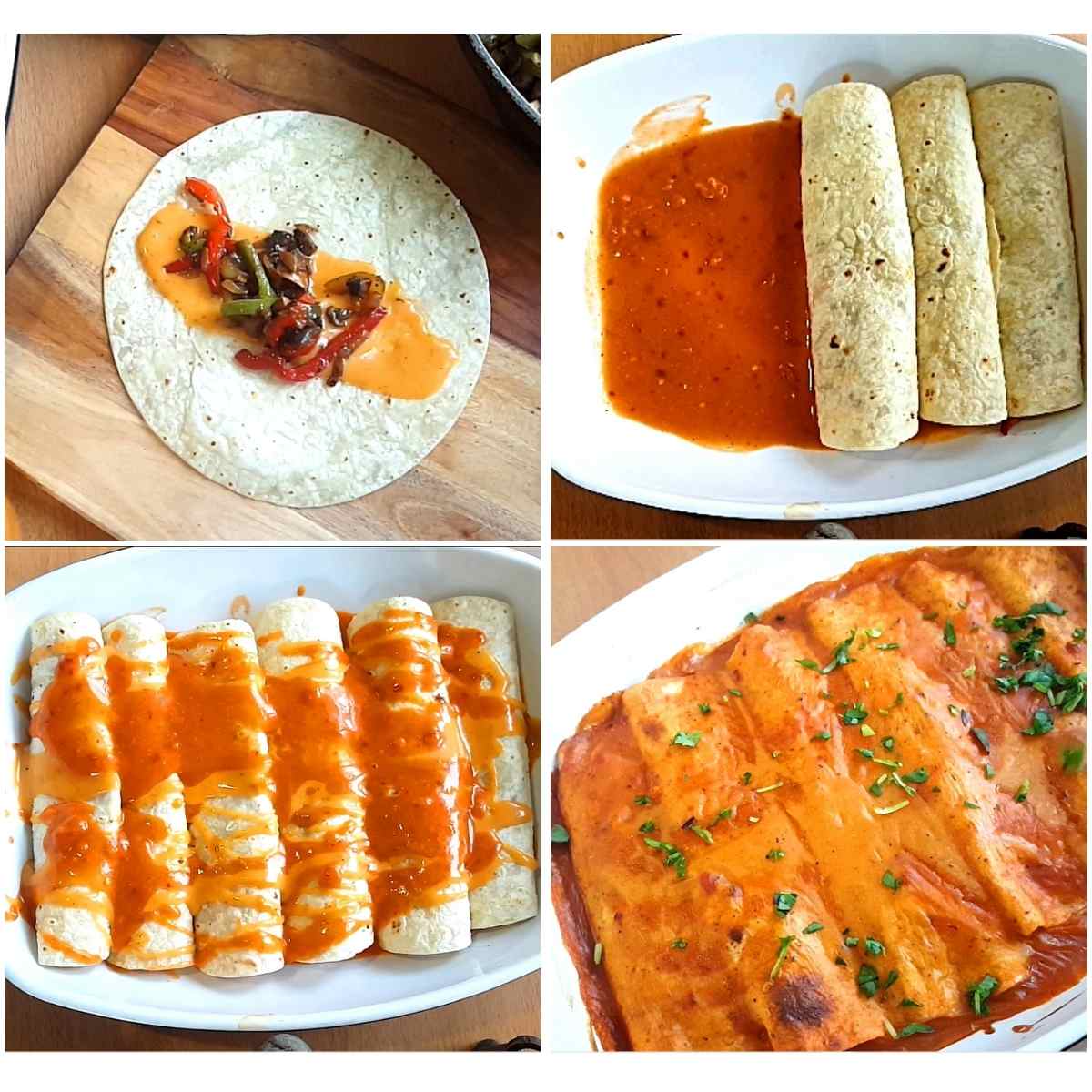 When all of your enchiladas are prepared, cover them in the remaining enchilada and cheese sauces, slide them into the preheated oven and bake for around 25 minutes. Ovens all cook differently, so monitor them. When the tortillas are slightly crispy on the outside, they are ready to eat! Add some rice or beans to them to have a truly Latin experience that is sure to be delicious!
How to Store Mushroom Enchiladas
If there are any leftovers (don't be surprised if there aren't!), cover the baking dish and store them in the refrigerator. They will last several days in the fridge and because there is no dairy in this recipe, you could even freeze them for a couple of months.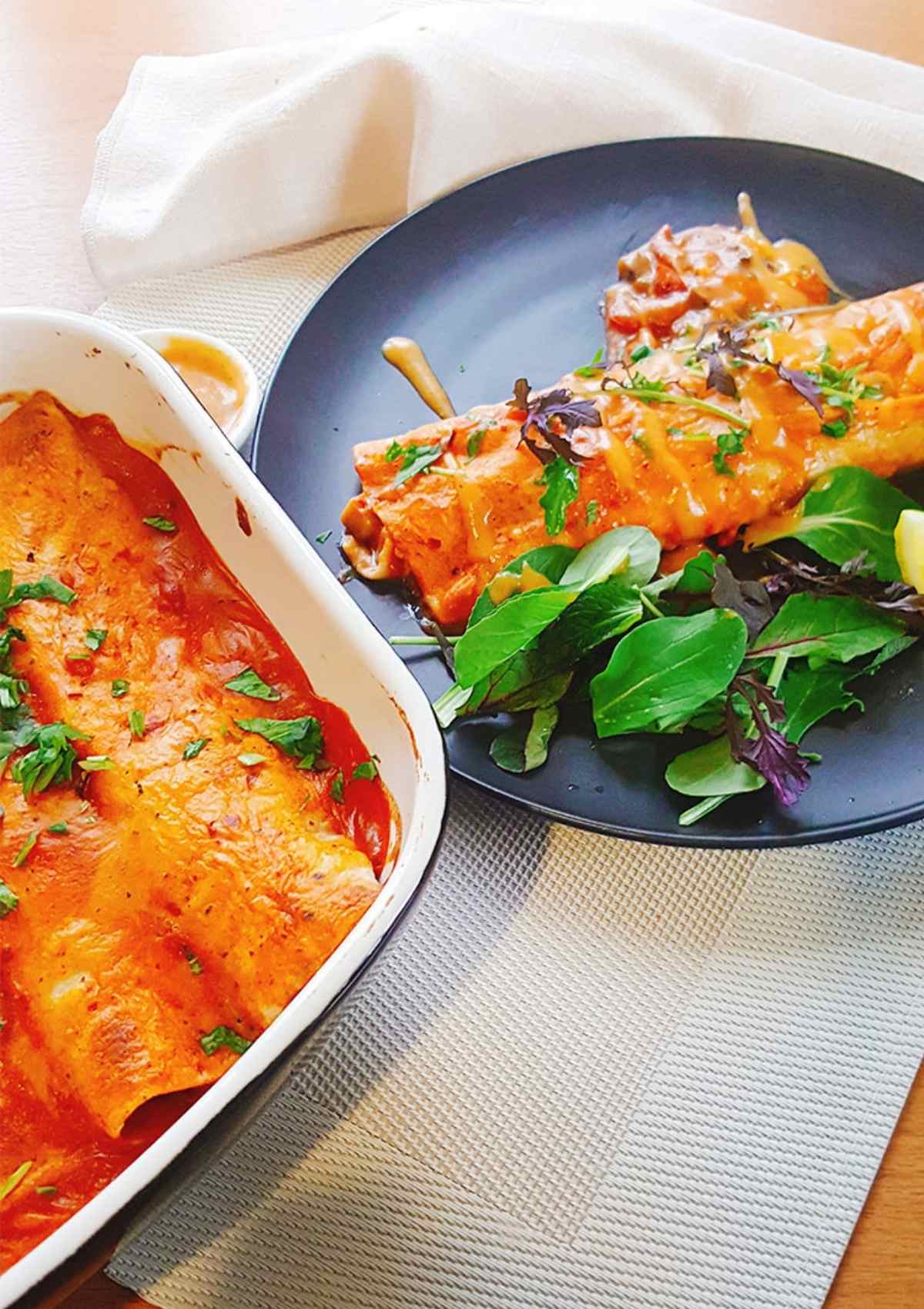 Prepare Ahead of Time
If you want to prepare these delicious mushroom enchiladas ahead of time simply prepare enchiladas sauce, cheese sauce, and filling for enchiladas a day before you want to serve them and simply assemble them within 10 minutes of time and bake. It's as easy as it sounds.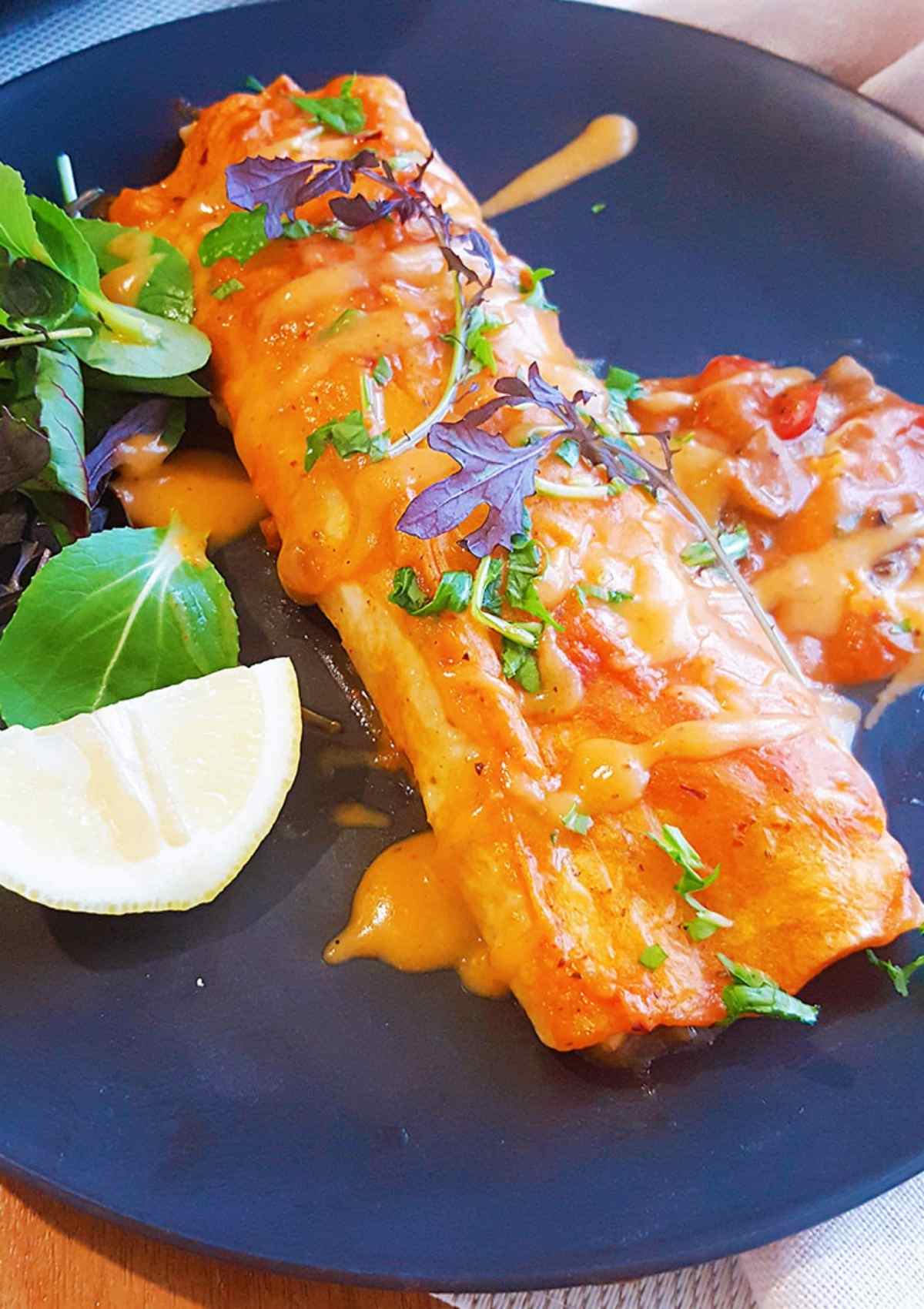 More Comforting Vegan Dinner Recipes
If you love this recipe, try these other recipes too, and thank us later.
Coming back to the Mushroom Enchiladas, This recipe is not only delicious but also healthy, It's dairy-free and vegan.
This dish has the perfect balance of flavors and textures that will leave your dinner guests satisfied, while still being able to enjoy it themselves. Hope you will enjoy it.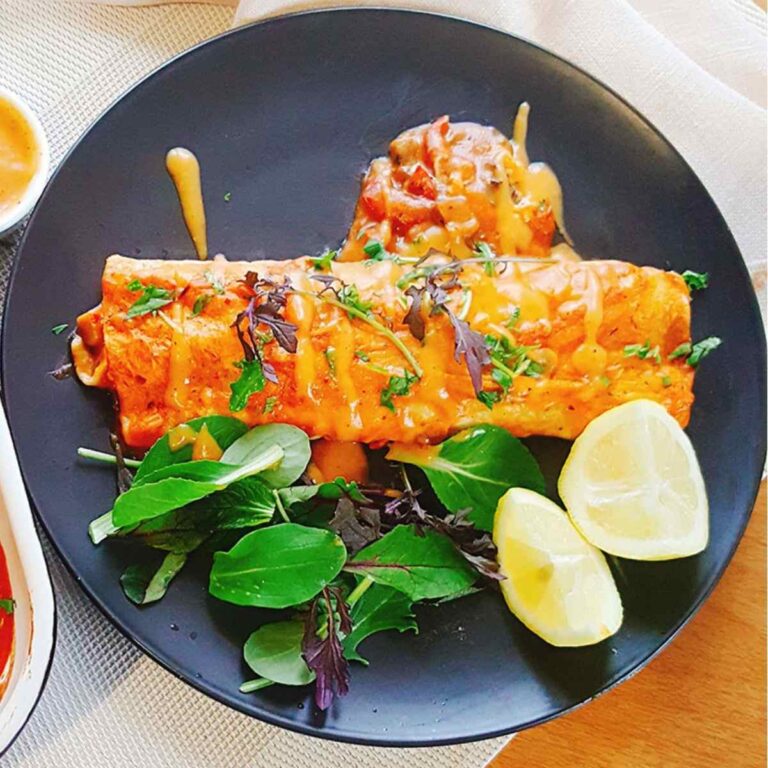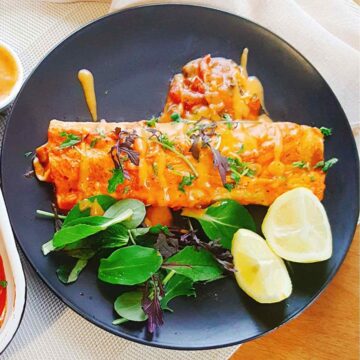 Mushroom Enchiladas
These Mushroom Enchiladas are full of Mexican comfort food flavors. This tasty Mexican meal is made with homemade enchiladas sauce, mushroom, bell pepper, and creamy vegan cheese sauce. These vegan enchiladas are easy, they're cheesy, flavourful and tender.
Ingredients
Enchiladas Sauce
2

tbs

Oil

2

tbs

Flour

2

tbs

Tomato paste

2

cups

 Water/Vegetable stock

½

tsp

Salt

1

tsp

Chili flakes

½

tsp

Garlic powder

¼

tsp

Cumin powder

¼

tsp

Oregano
Enchiladas Filling
1

tbs

Oil

1

medium

Onion

250

g

Mushrooms

½

tsp

Salt
Instructions
Vegan Enchiladas sauce
Prepare enchilada sauce, Heat oil in a saucepan. Then whisk in the flour until combined and cook for a minute or so. Then add Tomato paste and stir. Add some water or vegetable stock and keep stirring. Gradually whisk in your sauce until most of the lumps have dissolved and the sauce is smooth.

Now add remaining water and bring it to boil. Add seasoning and let it simmer for 2 to 3 minutes and its ready. You can refrigerate this sauce for a week or freeze for up to 3 months.
Vegan Chesse Suace
For cheese sauce peel and cut potatoes in cubes and boil. Now in a blender add potatoes and some of their stock, seasoning, nutritional yeast, apple cider vinegar, and vegan butter. Blend into a smooth paste.
Filling for Mushroom Enchiladas
For enchiladas filling, in a large frying pan, heat oil over medium heat. Add onion and sauté for 2-3 minutes. Add sliced mushrooms and season it. Once Mushrooms and onions are
done add bell peppers and sauté for 3 more minutes. stirring occasionally. When bell peppers get tender remove pan from heat and set aside.
Rolling and Assembling
To assemble the enchiladas, spread enchilada sauce on the dish. Spread two tablespoons of cheese sauce over the surface of the wheat tortilla. Add a generous spoonful of the mushroom bell pepper mixture in a line down the center of the tortilla. Roll up tortilla and place in the enchilada dish. Assemble the remaining enchiladas. Then spread remaining enchilada and cheese sauce evenly over the top of the enchiladas.
Baking
Bake uncovered for 25 minutes or until the enchiladas are cooked through and the tortillas are slightly crispy on the outside. Remove pan from the oven and serve the enchiladas while they're nice and warm.

Garnish with fresh coriander and some more cheese sauce because who doesn't like cheesy enchiladas.
Notes
If there are any leftovers (don't be surprised if there aren't!), cover the baking dish 
and 
store them in the refrigerator. They will last several days in the fridge and because there is no dairy in this recipe, you could even freeze them
for
a couple of months. 
Nutrition
Calories:
210
kcal
Carbohydrates:
27
g
Protein:
7
g
Fat:
9
g
Saturated Fat:
1
g
Polyunsaturated Fat:
3
g
Monounsaturated Fat:
5
g
Trans Fat:
0.04
g
Sodium:
558
mg
Potassium:
780
mg
Fiber:
5
g
Sugar:
3
g
Vitamin A:
281
IU
Vitamin C:
24
mg
Calcium:
24
mg
Iron:
2
mg
If you try this recipe, leave a comment and show some love by rating it in stars. Do not forget to take a picture and tag us @getsetvegan on Instagram. We would love to see this.