Indulge guilt-free with our Chocolate Nice Cream! This vegan and sugar-free treat is pure happiness in a bowl. No dairy, Just 4 Ingredients, and ready in 5 Minutes!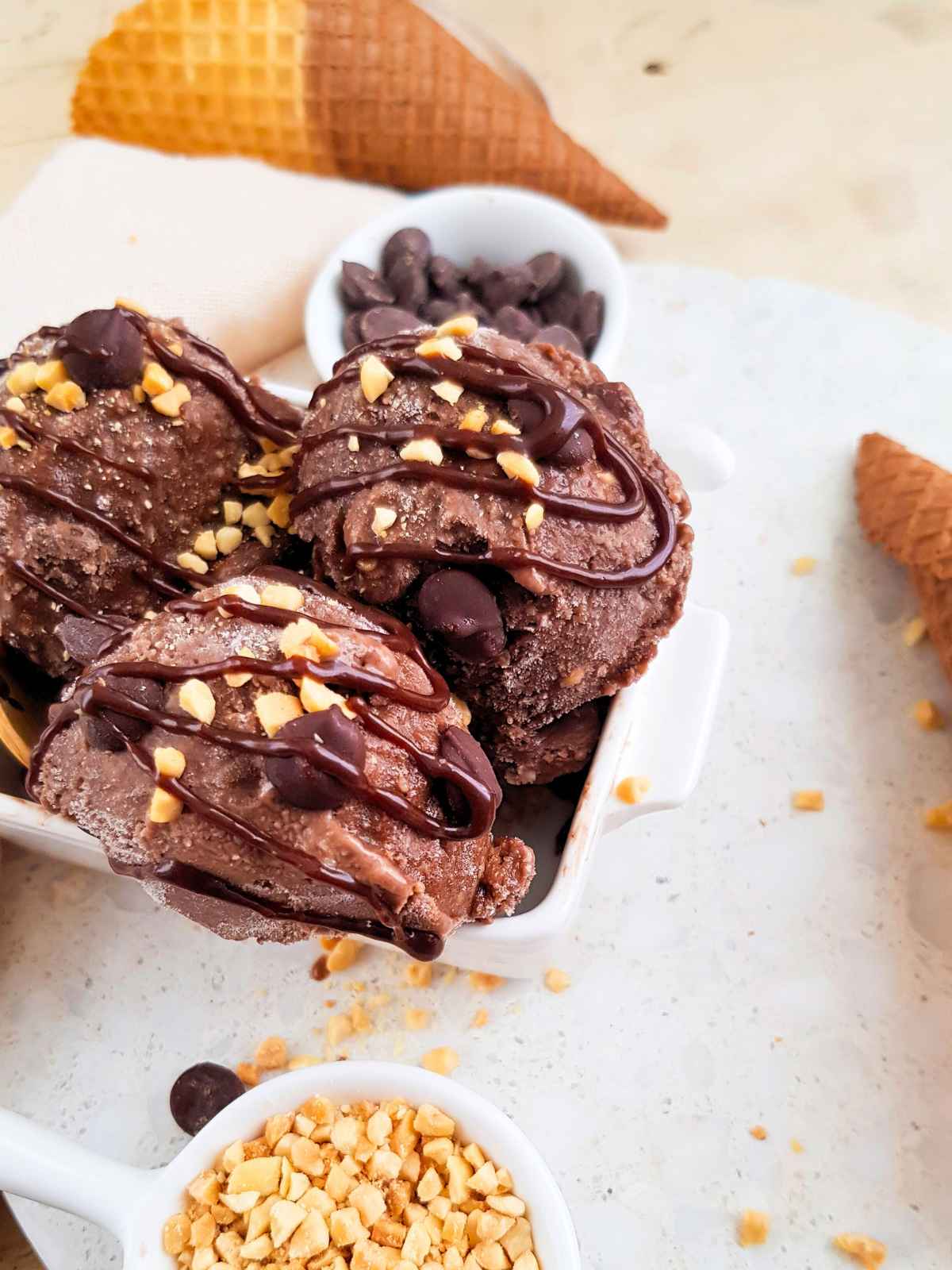 When it comes to satisfying your sweet tooth without compromising your health or values, this recipe for chocolate nice cream is a game-changer. This frozen treat is not only vegan but also incredibly easy to make. With just a few simple ingredients and a high-speed blender, you can whip up a creamy and decadent dessert that's sure to become a household favorite. Let's dive into the world of guilt-free indulgence!
Ingredients you Need
Banana: Opt for ripe bananas in this sugar-free nice cream recipe, as they naturally sweeten the dessert, making it a healthier and sweeter alternative.
Peanut Butter: Peanut butter will give your nice cream a yummy roasted and nutty twist. If you prefer, you can opt for almond or cashew butter for variety. For a nut-free version, use full-fat coconut cream to infuse a slightly tropical flavor into your chocolate nice cream.
Cocoa Powder: Consider using high-quality unsweetened cocoa powder. Look for brands that are known for their rich cocoa flavor and smooth texture, as this will ensure your nice cream is intensely chocolaty and velvety.
Almond Milk: You can simply go for any plant-based milk but here I am using sugar-free almond milk. You can use some chocolate-flavored milk too.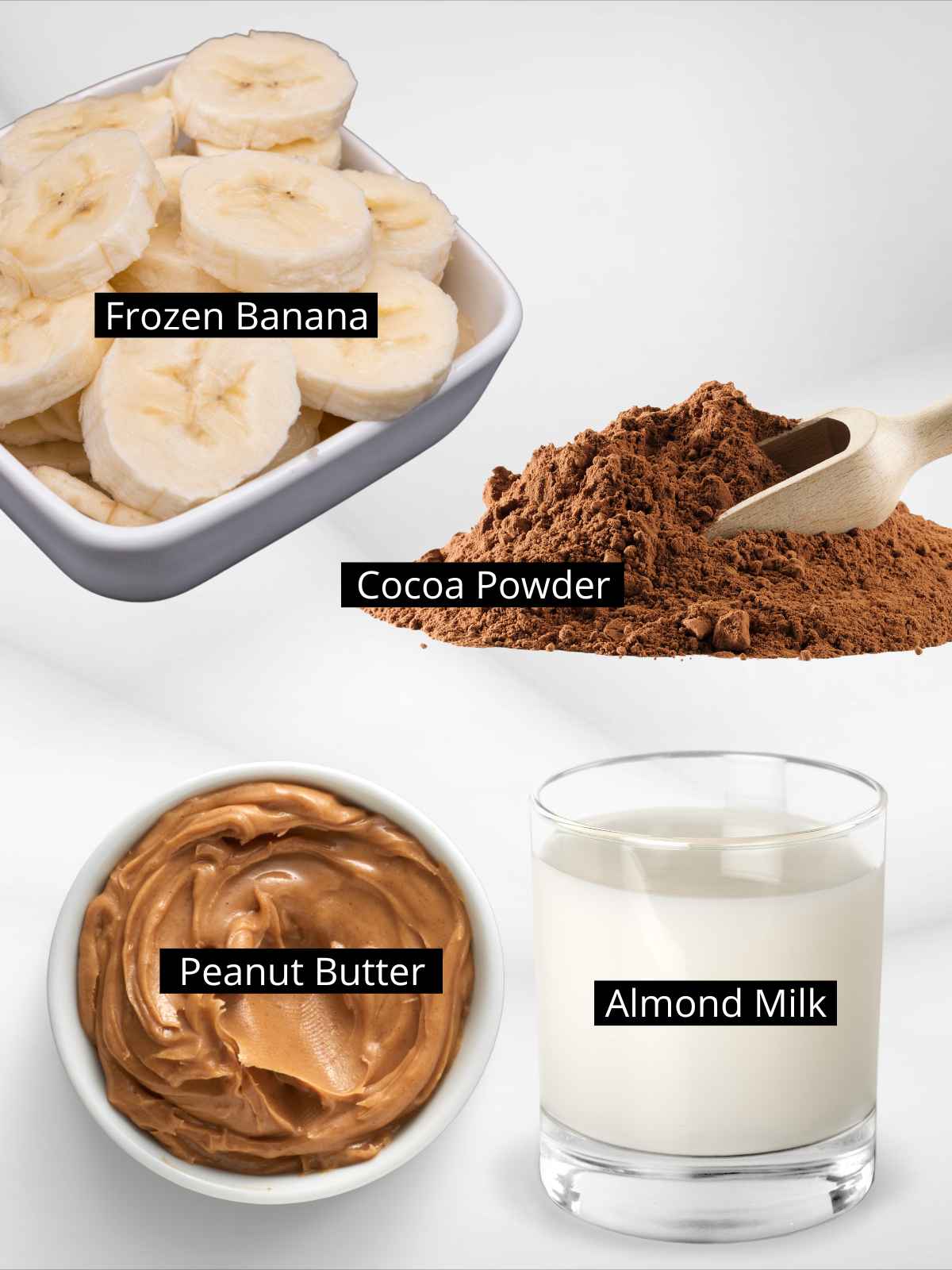 How to Make Chocolate Nice Cream
Freeze the Bananas
Freezing bananas for perfect nice cream is a breeze. Begin with ripe bananas, peel and slice them into evenly sized pieces. Lay these slices on a tray, ensuring they don't touch, and freeze for at least 2-3 hours until they're solid. After that, transfer the frozen banana slices to an airtight container or freezer-safe bag, and don't forget to label it with the date for reference. You can store these slices for several months in the freezer.
Blend to Creamy Perfection
Place the frozen banana chunks into a high-speed blender. Blend the bananas, scraping down the sides as needed. At first, it may seem crumbly, but continue blending until the mixture becomes smooth and creamy. This should take a few minutes.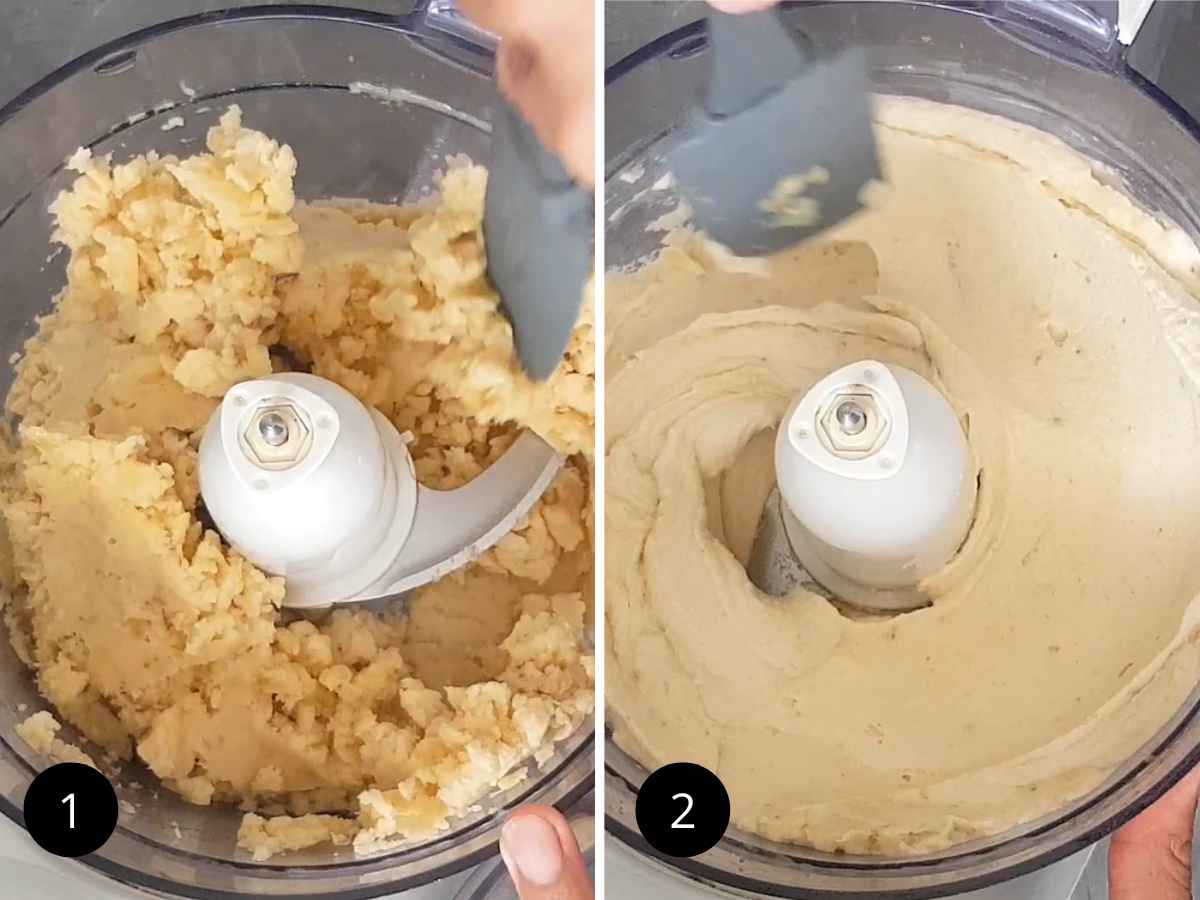 Add the Flavors
Once your banana base is smooth, add in the cocoa powder, peanut butter, and almond milk. Continue blending until all the ingredients are fully incorporated, and you have a luscious chocolate banana nice cream with peanut butter goodness.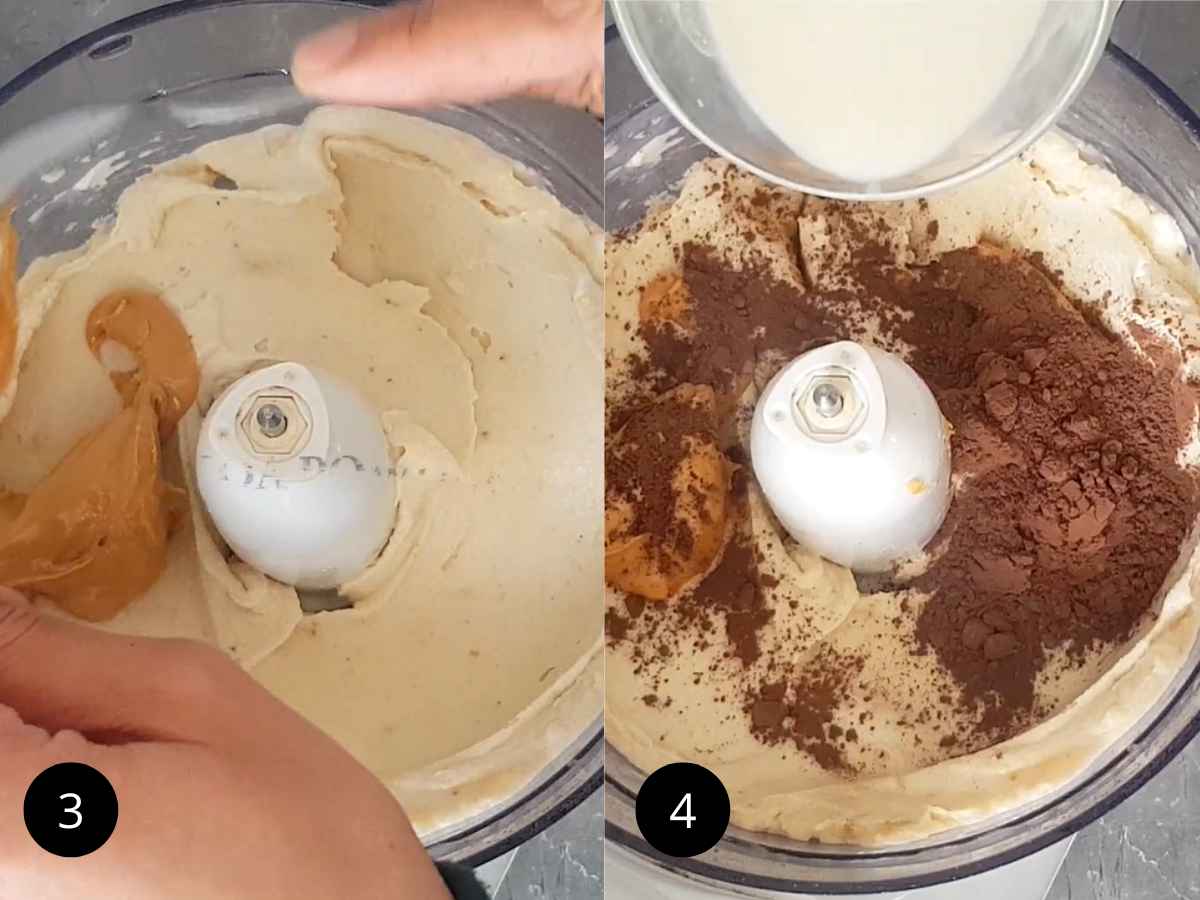 Serve or Freeze
You can serve it as a soft serve ice cream right away or freeze it for another 2 to 3 hours for a more structured texture to scoop out.
To freeze simply pour the nice cream mixture into a loaf tin or a small container. To enhance the presentation, top it with some chocolate chips and roasted chopped peanuts. These additions add extra flavor and a delightful crunch.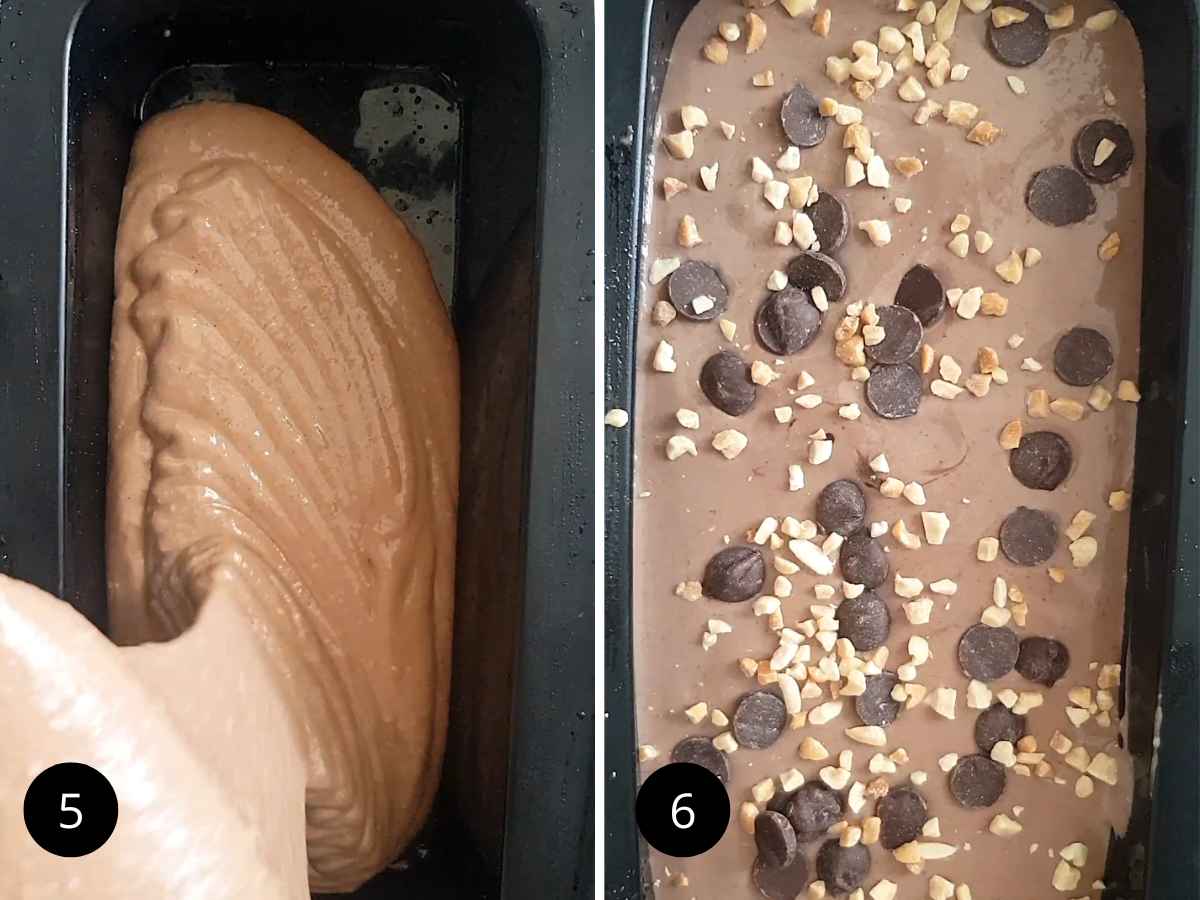 Cover your container and place it in the freezer for 2 to 3 hours, or until the nice cream is firm enough to be scooped with an ice cream scoop. If you leave it in the freezer longer, the mixture will become very firm. In this case, allow it to sit at room temperature for 30-60 minutes to soften slightly.
Serve and Enjoy
Once your vegan chocolate nice Cream has reached the desired consistency, scoop it out and serve. Top it with more chocolate chips, chopped peanuts, and a drizzle of chocolate syrup for the ultimate indulgence.
Nice Cream Toppings
Toppings can add texture, flavor, and visual appeal to your nice cream, making it even more enjoyable. Here are some delicious toppings you can consider for your nice cream:
Fresh Fruit
Nuts and Seeds
Granola
Shredded Coconut
Chocolate Chips
Nut Butter
Sprinkles
Dried Fruit
Cookie Crumbs or Cereal
Fresh Mint Leaves
Spices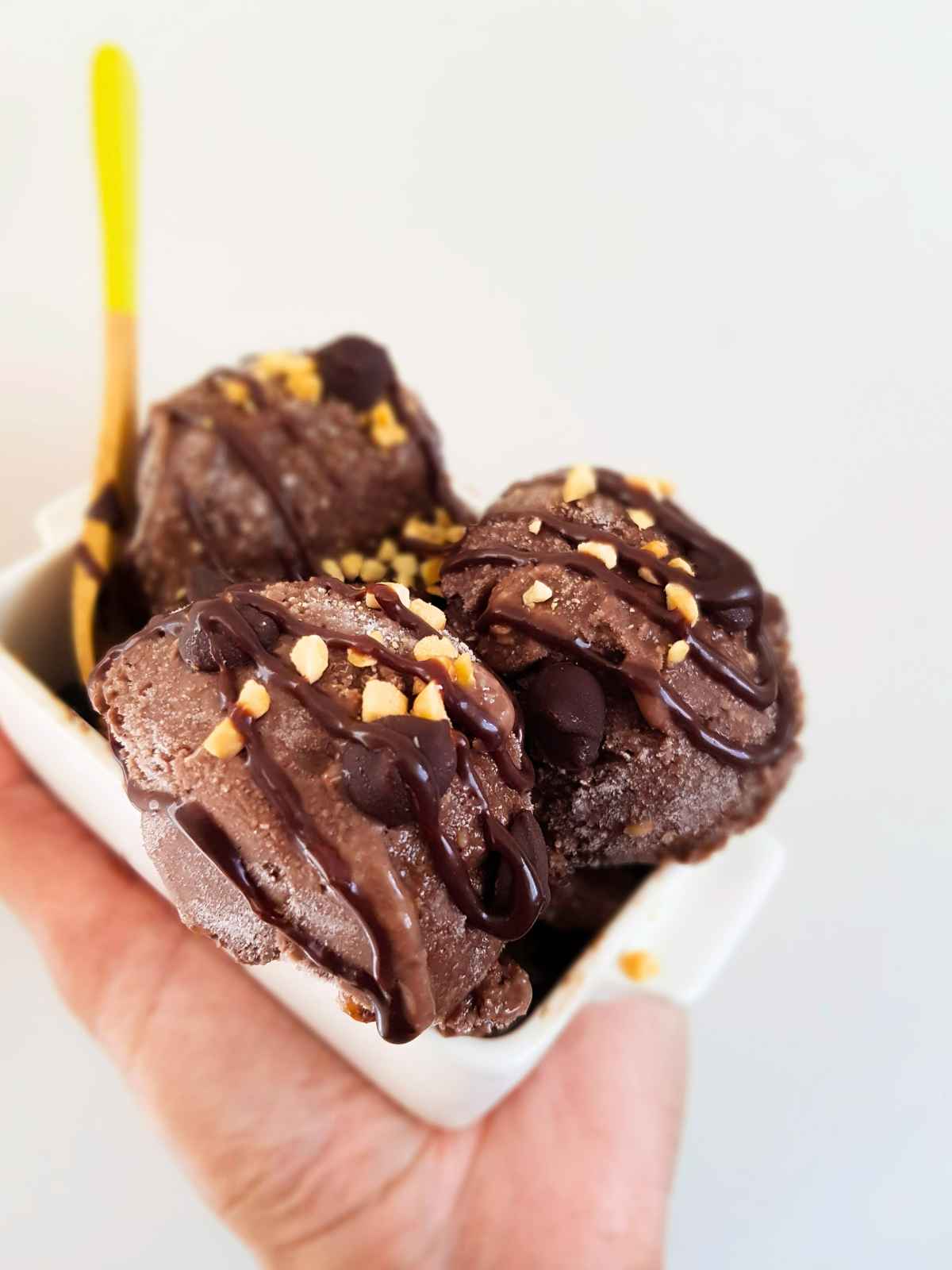 What to Serve with Chocolate Nice Cream
When serving chocolate nice cream, you can complement its rich and creamy flavor with a variety of accompaniments. Here are some ideas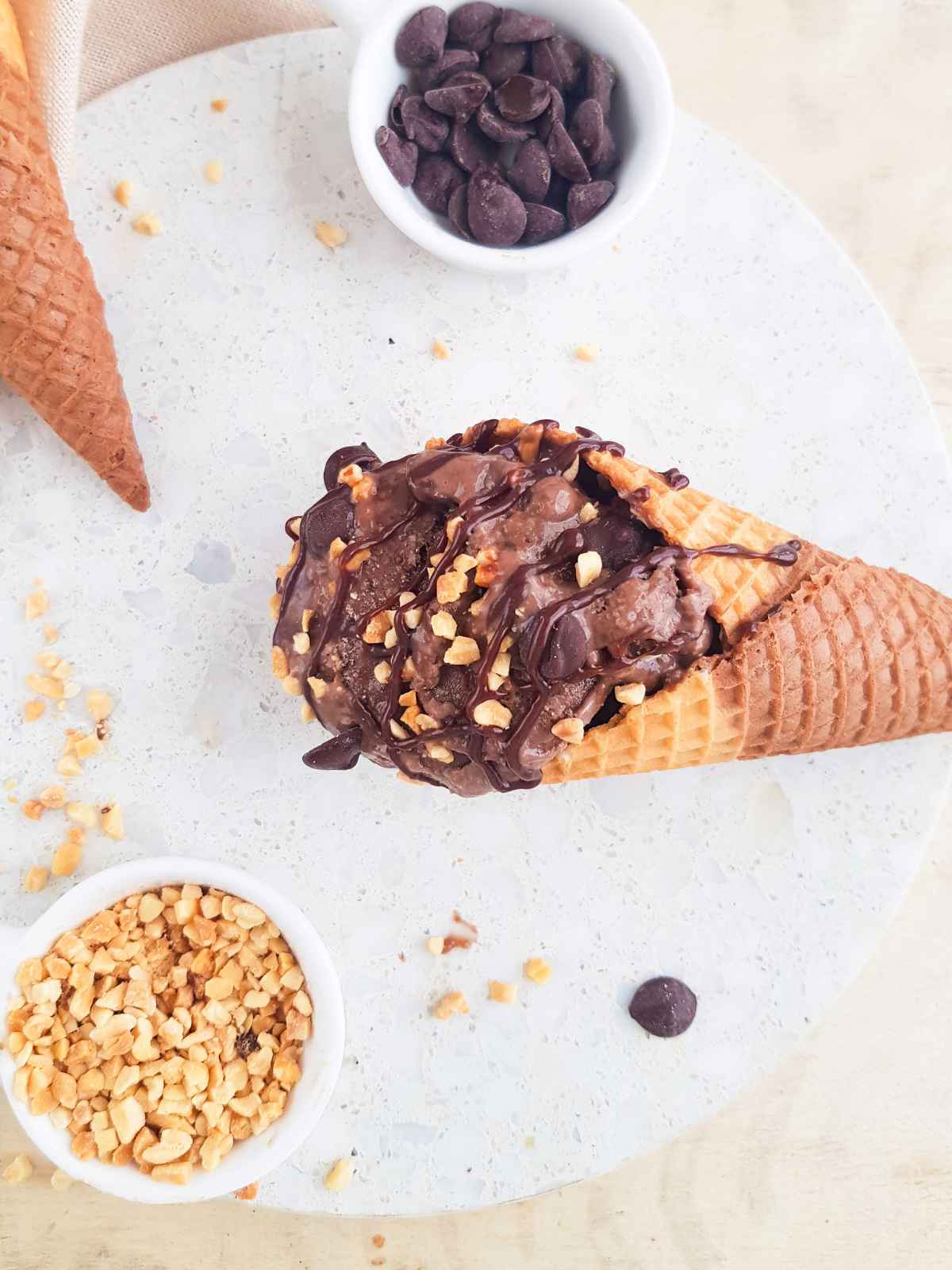 Why This Nice Cream
This Vegan Chocolate nice cream is heavenly good, and it is
Indulgent
Decadent
Sugar-free
Dairy-free
& So So Rich.
Love this Recipe? Please leave a 5-star 🌟🌟🌟🌟🌟rating on the recipe card below and, if you REALLY like this, consider leaving a comment with your thoughts!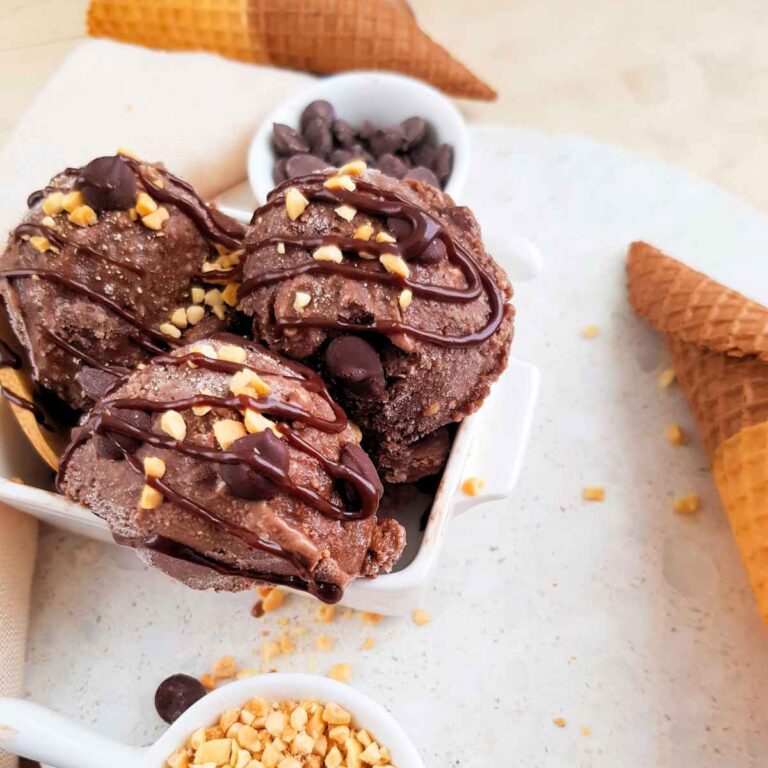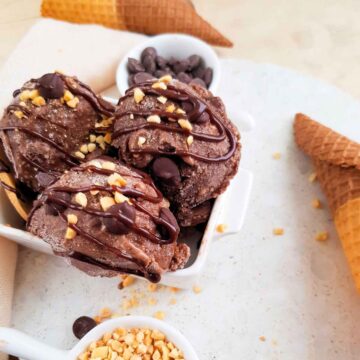 Chocolate Nice Cream
Satisfy your sweet tooth with Chocolate Nice Cream! It's vegan, sugar-free, and takes only 5 minutes to whip up. Say goodbye to dairy but hello to creamy delight!
Ingredients
Toppings (Optional)
1

Tbsp

Chocolate Chips

1

Tbsp

Chopped Peanuts
Instructions
Place frozen ripe banana into a high-speed blender. And blend scraping down the sides as needed. Blend until smooth and creamy.   

Next add cocoa powder, peanut butter, almond milk and blend all ingredients until very smooth.  

Pour into a loaf tin or a small container top with some chocolate chip and roasted chopped peanuts.  

Cover and freeze for 2 to 3 hours or until it's firm enough to be scooped with an ice cream scoop.  

If you freeze it longer than a few hours, the mixture will become firm. In this case, let it sit at room temperature for 30-60 minutes.   

Scoop out and serve topped with more chocolate chips and chopped peanuts and some chocolate syrup drizzle. 
Notes
Use Overripe Bananas: Choose ripe bananas with brown spots for natural sweetness and a creamy texture. The riper, the better.
Slice and Freeze: Slice the bananas into even pieces before freezing. This ensures easy blending and a smoother consistency.
Don't Rush Blending: Blend the frozen banana slices patiently. It may take some time to achieve a creamy, ice cream-like texture. Pause and scrape down the sides as needed.
Serve Immediately: Nice cream is best served immediately for a soft-serve texture. If you want a firmer consistency, you can freeze it for a short time.
Nutrition
Calories:
53
kcal
Carbohydrates:
3
g
Protein:
2
g
Fat:
4
g
Saturated Fat:
1
g
Polyunsaturated Fat:
1
g
Monounsaturated Fat:
2
g
Sodium:
48
mg
Potassium:
70
mg
Fiber:
1
g
Sugar:
1
g
Calcium:
19
mg
Iron:
0.4
mg
If you try this recipe, leave a comment and show some love by rating it in stars. Do not forget to take a picture and tag us @getsetvegan on Instagram. We would love to see this.