These Delicious Gluten-free vegan crepes are so easy to make. They look super cool and you can make them both in savory or sweet flavors. As they are vegan crepes there are no eggs or milk used in the recipe.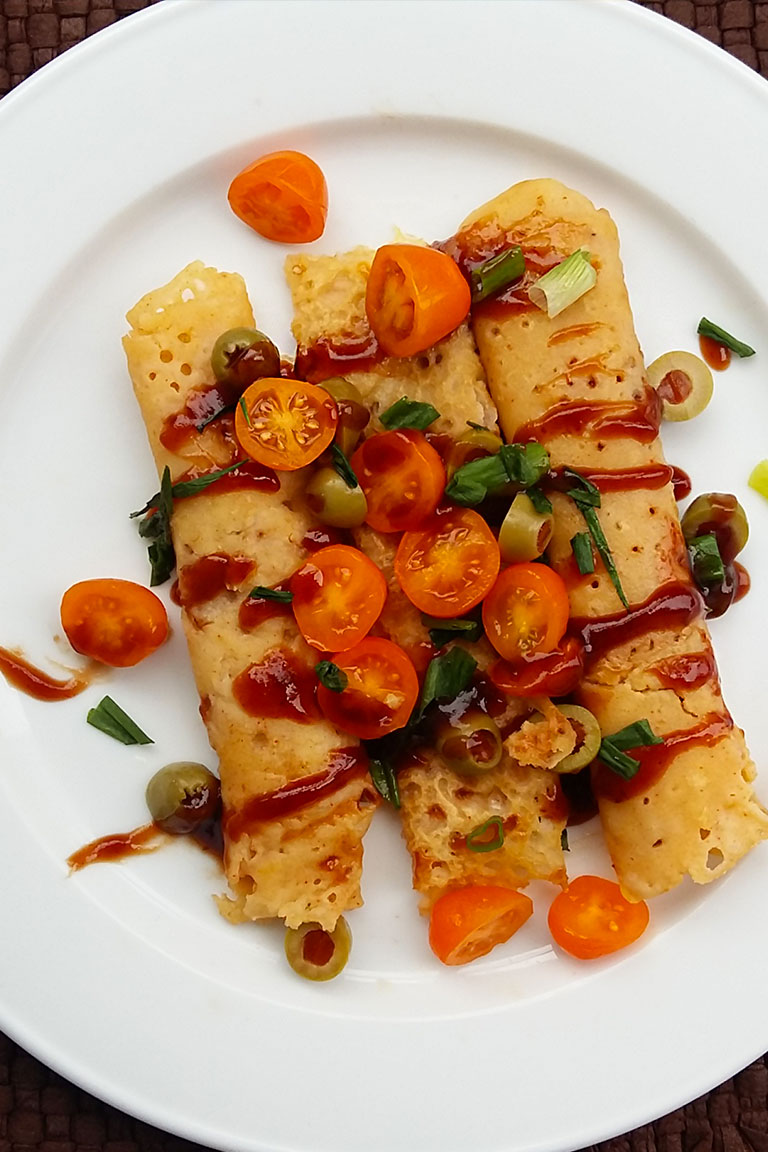 Gluten Free Vegan Crepes Batter
Both pancakes and crepes make a perfact breakfast but they are different in texture and taste. Crepe batter is in running consistency, whereas pancake batter is a lot thicker.  
Crepe batter is meant to be very thin and make sure the batter is lump free. You can whisk the batter with hand but If you want to speed up the process you can use blender.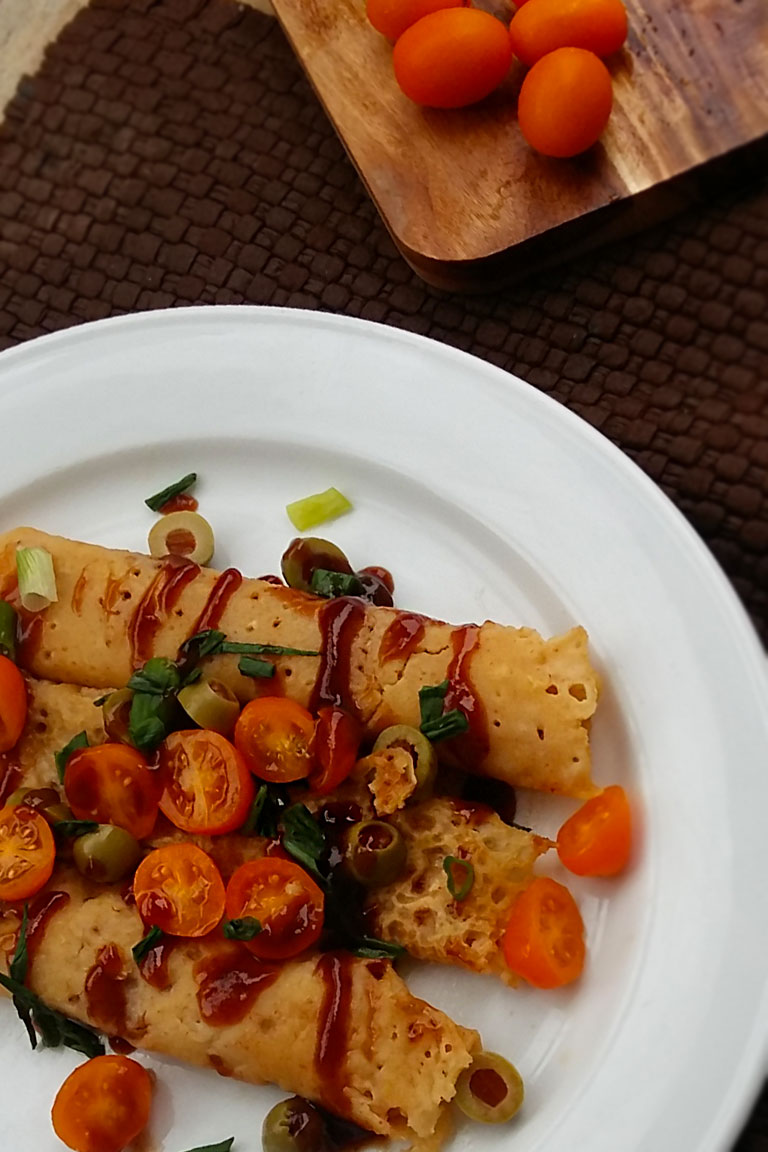 Savory or Sweet Crepes 
You can make these crepes sweet or savory whatever you prefer, just swap the ¼ tsp of salt to ½ Tsp of sugar.  
Topping for Gluten-Free Vegan Crepes  
Savoury Vegan Crepes: If you made a savory version of crepes you can use cherry tomatoes, olives, caramelized onions or bell peppers, sauté mushrooms and so much more.  For sauces, you can use bbq sauce, chili sauce, chili garlic sauce, pesto. 
Sweet Vegan Crepes: There are endless options you can fill your sweet crepes with. Fresh berries, jam, nut butter, dairy-free yogurt, whipped coconut cream, and much more. 
Quick Tips
Use Blender for quick and foolproof crepe batter.
 Tilt and swirl the pan in a circular motion to form the shape of crepes.
Always cook your crepes on medium to low heat.
Do Not touch the crepe for flipping until golden from one side.
Use your fingers to flip.
Storage
Crepes keep well refrigerated for a week. And you can simply microwave them before serving. They can be frozen In an airtight box, make sure you place butter paper layers in between each crepe.
Other Gluten Free Vegan Recipes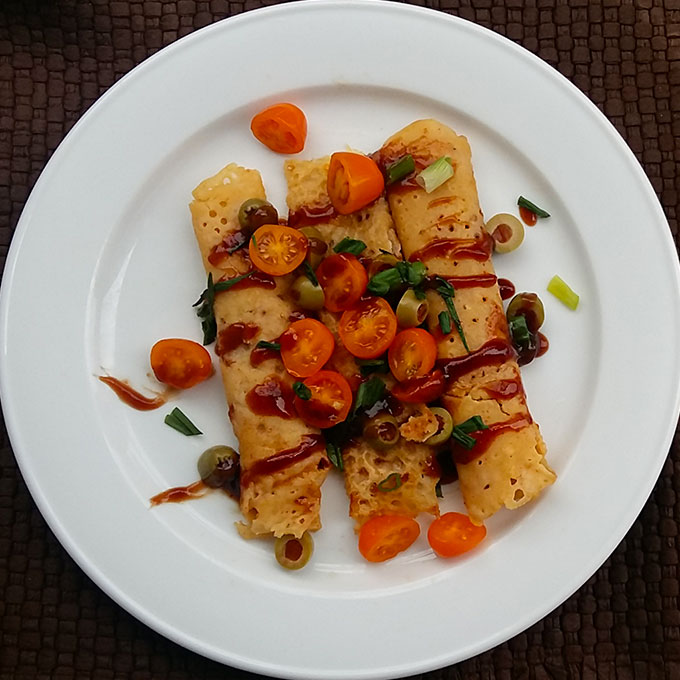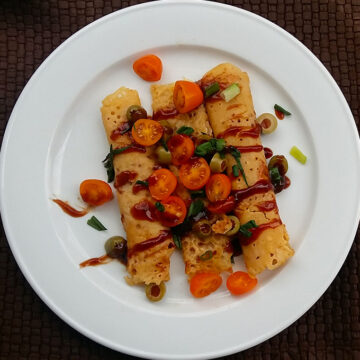 Gluten Free Vegan Crepes
Ingredients
½

cup

Rice flour

¼

cup

Chickpea flour

½

tsp

Baking powder

2

tbs

Coconut oil

¼

tsp

Salt

½

tsp

Red chili powder

¼

tsp

Cumin powder

¾

cup

Water
Garnish
BBQ Sauce

Cherry Tomatoes

Olives Pickle

Spring Onions
Instructions
Put all your dry ingredients into a large bowl, Stir in water and get rid of any lumps, Batter should not be thick and it should be in a running consistency, unlike pancake batter.

Heat a lightly greased, non-stick skillet over medium heat.

Pour ¼ cup of batter into skillet and swirl to evenly distribute batter into a circle. Cook about 30 seconds per side until crepe to bubbles. Flip and cook on the other side for 30 seconds until crepe begins to a golden brown.

For serving spread BBQ sauce evenly on crepes and garnish with cherry tomatoes, olives, and spring onion. perfect savory crepes for a cold morning are ready to serve.
Video
If you try this recipe, leave a comment and show some love by rating it in stars. Do not forget to take a picture and tag us @getsetvegan on Instagram. We would love to see this.