The ultimate classic recipe for Veg Manchurian with crispy fried vegetable balls dipped in thick Manchurian sauce, ready in less than 30 minutes. Quick, economical, easy, and a great way to use vegetables for an insanely delicious dinner.
If you have been looking for a perfect vegan alternative to the traditional Indo Chinese Manchurian, then this Veg Manchurian Recipe is the right fit for you. Using this recipe, you can skip using chicken or any other meat in your Manchurian, and you can replace it with fried vegetable balls, which complements the authentic Manchurian's taste and texture perfectly.
Make your vegan dinner menu more exciting with this super delicious and colorful vegetable Manchurian recipe. Try it at home and spread the joy of warming flavors everywhere around.
What Do You Need to Make the Veg Manchurian?
You can divide the ingredients into two main parts! Firstly, there are these Manchurian Balls and then the Manchurian sauce in which the balls are dipped.
Manchurian Balls:
Here's what you need.
Veggies: I am using a combination of Cabbage, Carrots, and Spring onion.
Flour: It is used for binding all the veggies chunks together.
Oil: for deep frying.
Salt and Pepper
Manchurian Gravy:
Without a good gravy, you cannot really expect your Veg Manchurian to turn out to be delicious. The gravy itself is a mixture of sauces, spices, seasonings, and vegetables. To add particular Manchurian flavor to the recipe we use:
Soy sauce
Ketchup
Chili Sauce
Salt
Black pepper
The seasonings and sauces are mixed with sautéed veggies, including ginger, garlic, onion, bell pepper, and white part of the spring onion. Keep the green part of the spring onion, chopped, and ready for garnishing.
I have added water to make the base of the gravy. It is a good option, especially when you want to minimize the calories. However, vegetable broth is another good option to use as the base. It adds more flavor to the gravy. Add cornstarch and water solution to thicken this gravy.
How to Make Veg Manchurian?
For the Manchurian balls, your veggies should be as finely chopped as possible. Either pass them through a grater or chop them in a food processor. Just make sure that veggies are chopped not blended together. It is important to keep the crumbly and crunchy texture of the balls. When your veggies are ready, you simply have to mix them together with flour, salt, and black pepper in any suitable bowl. The flour should be evenly mixed with the veggies; there should be no lumps in this mixture. Then lightly grease your hands with oil and make small meatballs-sized balls out of the veggie mixture. Once done either deep fry them or bake but the end result should be crispy golden-brown vegetable balls.
For Gravy, first sauté the spring onions, garlic, and ginger. Add all the sauce and spices and then add the onions and bell peppers. Lightly cook these veggies together then add the water and cornstarch mixture. Mix well and cook for a few minutes to get a thick gravy-like consistency. If it gets too thick, add more water, or add more cornstarch if the gravy gets too thin. You can always adjust the consistency later.
When the gravy is ready and warm, add the fried Manchurian balls and gently mix them in the gravy only to coat them with their sauce. Your Veg Manchurian is now ready to serve with your favorite garnishing on top.
What to Serve with Veg Manchurian
1. Plain Boiled Rice: You can serve the vegetable Manchurian with plain boiled rice. That is probably the best match for this saucy combination.
2. Vegetable Fried rice: If you don't like plain white rice, then replace them with nicely cooked vegetable fried rice. It a much healthier and richer combination.
3. Rice Noodles: Noodles lovers can try this saucy combination with boiled rice noodles.
Storage and Tips
For delayed servings, it is best to keep the fried balls and the Manchurian sauce separate until you are ready to serve. In this way, the balls will not get too soggy at the time of serving.
You can store the leftover Manchurian in a sealable container in your refrigerator. But since the gravy is thick and made out of cornstarch, it is best to serve it the same day. Else the gravy loses its consistency.
Watch How to Make Veg Manchurian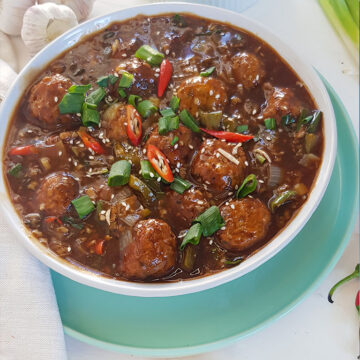 Veg Manchurian Recipe
The ultimate classic recipe for Veg Manchurian with crispy fried vegetable balls dipped in thick Manchurian sauce, ready in less than 30 minutes.
Ingredients
Manchurian Balls
1½

Cup

Cabbage

(Chopped)

1

Cup

Carrots

(Chopped)

½

Cup

Spring onion

(Chopped)

1

Tsp

Salt

½

Tsp

Pepper

½

Cup

Flour

Oil for frying 
For Gravy 
1

Tbs

Oil

¼

Cup

Spring onion

(White parts)

2

Tbs

Garlic

(Chopped)

1

Tbs

Ginger

(Chopped)

¼

Cup

Soy sauce

1½

Tbs

Ketchup

1½

Tbs

Chili Sauce

1

Tsp

Salt

½

Tsp

Pepper

¼

Cup

Onion

¼

Cup

Green bell pepper

2

Cups

Water

1

Tbs

Corn Starch
Garnish: 
Spring onion

Red Chilies

White Sesame seeds  
Instructions
Finely Chop cabbage, carrots and spring onion. You can use food processor or grater for fine consistent chopping. 

Next mix all chopped vegetables in a bowl. Add salt and pepper and gradually mix flour into the vegetables. 

Mix making sure everything is well combined, then take a small portion of the mixture in your hands and form balls.  

In a pan heat oil and gently place the balls in the hot oil. The oil has to be medium hot. Stir occasionally, until the balls turn golden brown. Fry the balls till crisp and golden. 

For gravy heat a tablespoon of oil in pan and add white part of spring onions, chopped garlic, chopped ginger and fry until soft.  

Add soy sauce, tomatoes ketchup, chili sauce, salt and pepper. Mix well and cook for a minute. Next add cubed onions and bell pepper. Sauté for a minute and add water and bring to boil. 

Meanwhile In another small bowl take 1 tablespoon corn starch and 2 tablespoons water. Mix very well and keep aside. 

Add corn flour paste into the gravy mixture, make sure you are stirring continuously so it wont form any lumps. 

Let it simmer until the sauce thickens and you see a glaze on it. This will take about 3 to 4 minutes on a medium flame. If the sauce is too thick, you can add some warm water or If it is too thin then you can add some more corn starch. 

Turn off the heat and add vegetable balls just before serving. Garnish with some more spring onions, red chilies and sesame seeds.  

You can serve it with plain white rice or rice noodles. ENJOY. 
Video
If you try this recipe, leave a comment and show some love by rating it in stars. Do not forget to take a picture and tag us @getsetvegan on Instagram. We would love to see this.