A simple and delicious Easy One Pot Vegan Rice Recipe made with simple ingredients on the stovetop. This dish is prepped and cooked all in one pan in about 30 minutes, making it a great midweek, last-minute dinner. It is Gluten-free, Vegan and is one of those super satisfying meals that I look forward to every time I make it.
For this recipe, I am using basmati rice as I love them because of their long grain and aroma. But you can make this with brown or wild rice if you want a healthier version.
Ingredients
How to make this vegan one pot rice dish in 5 steps?
Sauté onion, garlic paste, and chopped green chilies, in oil.
Add all seasoning, chickpeas, and peas and stir fry.
Add water and bring to boil, next add rice and cook
Once all the water is absorbed and rice are cooked, top it with sliced bell peppers and cover and let it sit for 10 minutes.
Toss gently and serve.
This Dish is quite amazing, It's
One pot
Insanely easy
Fluffy
Colorful
Satisfying
& Seriously delicious
This one pot rice dish would be the perfect thing to serve for a weekday quick dinner or make ahead for your weekly meal prep and refrigerate. Enjoy throughout the week as a dinner or leftover will make a great filling for your breakfast burritos.
If you like this rice recipe make sure to check out our Mujadara – Lentils And Rice With Crispy Onions.
One Pot Vegan Rice Video Recipe: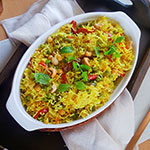 Print Recipe
One Pot Vegan Rice
Ingredients
1/4

cup

Oil

1

medium

Onion

1 ½

tbs

Garlic paste

2

small

Green chilies

1

tbs

Cumin seeds

1/2

tsp

Chili powder

1/4

tsp

Turmeric powder

1

whole

Cinnamon stick

2

whole

Dried chipotle pepper

(optional)

2

Cloves

1

400g can

Chickpeas

1 ½

cup

Peas

1 ½

tbs

Salt

4

cup

Water

2

cup

Rice

1 ½

cup

Bell peppers
For Garnish:   
Mint leaves  

Cashew nuts  

Lemon  
Instructions
Begin by soaking the basmati rice in cold water for about an hour. Meanwhile, the rice is soaking, chop 1 medium size onion and slice bell peppers.  

 Heat oil in a Wok or saucepan, add chopped onions and fry on medium heat.  

Once onion gets transparent add garlic paste, chopped green chilies, and cumin seeds. Sauté on a low flame and stir often for uniform frying.  

Add chili powder, turmeric powder, cinnamon stick, dried chipotle pepper, and cloves. Keep heat from low to medium and keep on stirring, Sauté for few seconds, don't burn spices otherwise it will ruin the taste and color of rice.   

Next add chickpeas, peas, and salt and stir fry for 2 to 3 minutes

Pour water, cover with the lid and increase heat to high until the mixture reaches to boil.  

Drain the rice in a strainer and add it in boiling mixture, Give it a good gentle stir. 

Then reduce heat to a medium, cover, and set a timer for 15 minutes. Do not open the lid until the timer goes off. At this point, all liquid should be absorbed. you can tilt the pot to check.  

Turn off the heat, working quickly, scatter sliced bell peppers across the surface, put the lid back on. 

Let the rice rest for 10 minutes before removing the lid so the moisture can redistribute. this will help prevent mushy rice. Next, take a fork and toss it to separate the rice grains gently.  

Garnished with mint leaves, cashew nuts and some drops of lemon juice to take this rice dish to the next level. 
Video
Notes
As white rice tends to get overly sticky, especially when cooking as a One-pot dish or on the stove. To prevent this from happening, you can rinse your rice first to remove most of the excess starch. Rinse in a strainer until running water gets clear. 
If you try this recipe, leave a comment and show some love by rating it in stars. Do not forget to take a picture and tag us @getsetvegan on Instagram. We would love to see this.