Mujadara is a deliciously simple Middle Eastern dish of rice and lentils garnished with crispy caramelized onions. It is a budget-friendly, nutritious and gluten-free vegan recipe.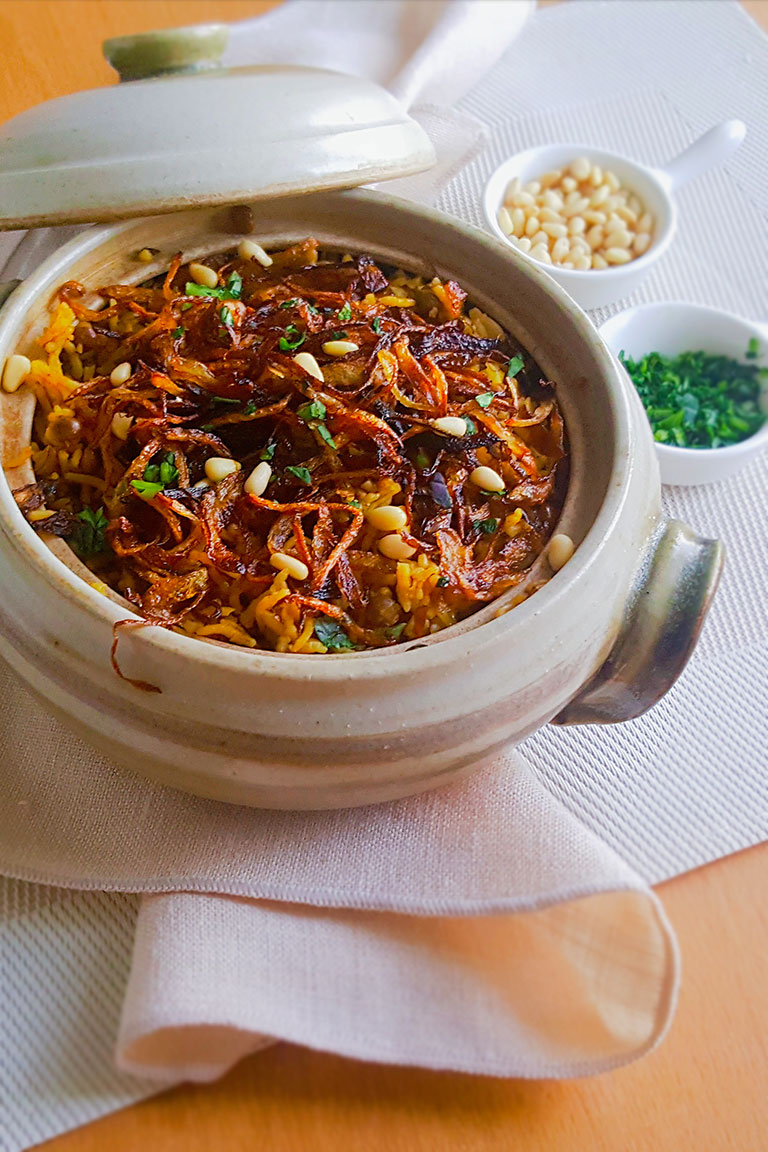 What is Mujadara?
Mujadara is also known as Mujadarra or Mujadarah. It is an ancient traditional middle eastern dish made with rice and lentils, topped with crispy onions. bulgur is also used as a core ingredient in some recipes.
Once the dish is ready it is topped with crispy caramelized onions, that are the king of this recipe and give a completely new direction to the flavors of this recipe.
You will find its roots in almost all Arab. It is a famous dish in Lebanese, Jordanian, Syrian and Palestinian cuisine. It is so simple, made with few inexpensive ingredients and is so comforting.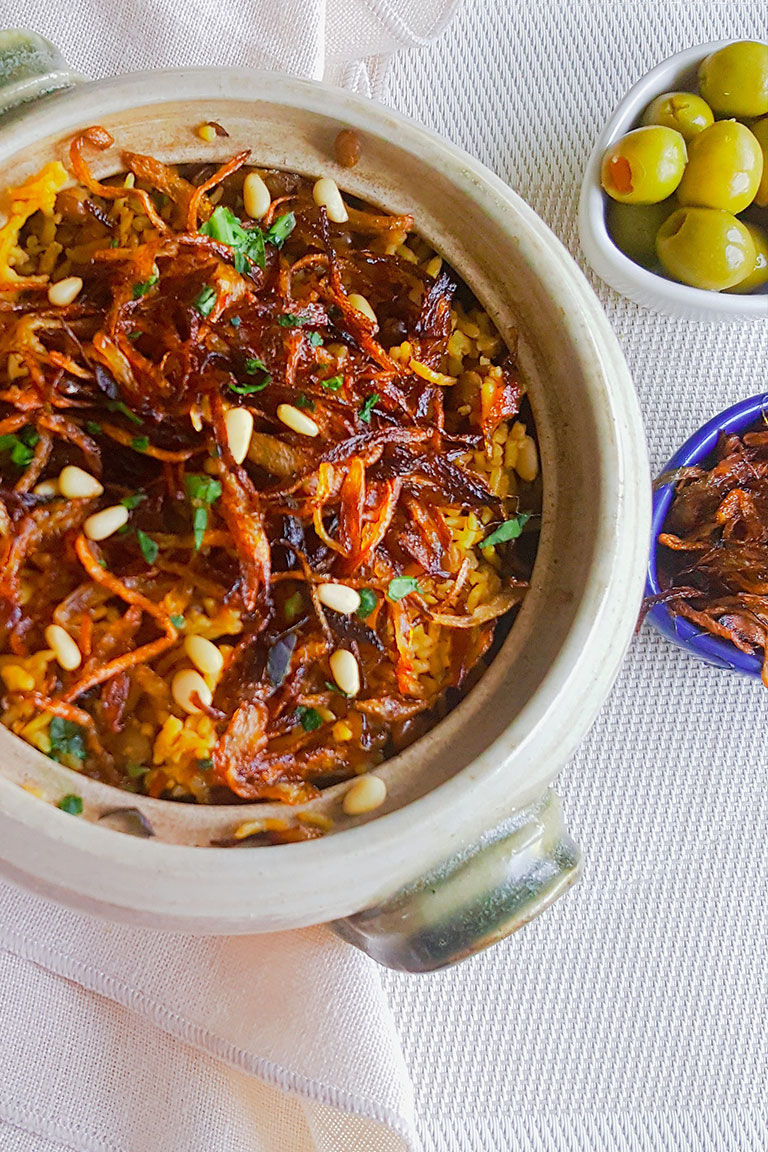 Ingredients for Making Mujadara
Olive oil: Olive oil gives a distinct taste to mujadara; you can use any vegetable oil but olive oil will give an extra middle eastern punch to the recipe.
Onion: As I mentioned before, Onions are the king of this recipe. They are thinly sliced and fried until dark brown. These crispy onions are the real flavor maker in mujadara.
Brown lentils: I am using Brown lentils but, in some recipes, black lentils are also used. Do not go for orange or yellow lentils as they have a soft texture and don't perform well in this recipe as they get mushy.
Basmati rice: White Basmati rice work well in mujadara because of their long grains and less sticky texture.
Seasoning: Cumin seeds, Coriander seeds, Cinnamon, Chili powder, Turmeric powder, Cumin powder, Allspice powder, Salt.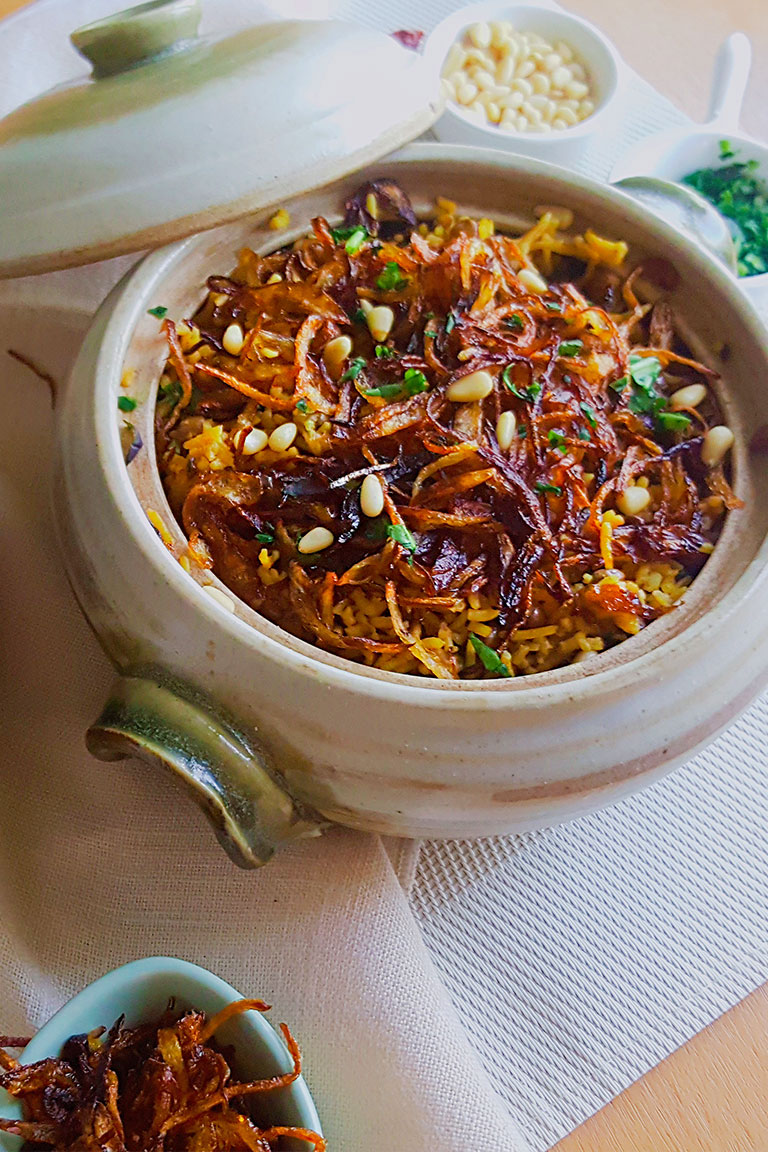 How to Make Mujadara?
Soak and wash lentils, cook for 20 minutes or until tender. Do not overcook them. While draining save some lentil water, as we will use this water later in rice cooking to add extra taste.
Finely slice onions and fry them on high heat. Fry them in batches and on high heat, this will assure a crispy texture.
Next heat a pan and roast cumin seeds, coriander seeds and cinnamon stick. Roast until fragrant.
Add the rice, olive oil, chili powder, turmeric, cumin powder, allspice, a teaspoon of salt. Stir to coat the rice with oil, then add the cooked lentils and stock water.
Bring to boil, cover and simmer on very low heat for 15 minutes. Turn off the heat and keep the lid on for another 5 minutes.
Top with crispy caramelized onions and pine nuts.
Tips for Making Mujadara:
When cooking Mujadara, you have to keep in mind that lentils take longer to cook so the first most important thing to do here is soak the lentils ahead of time.
The onions play such an important role in this dish you want the onions to have a deep brown color but not be burnt. So watch the color of the onions as you fry them. If they are browning too quickly and not evenly, reduce the heat.
Be patient as onion frying will take ages but it's worth it. Fry onions in batches to get a crispy texture.
Lentils cooking time may differ depending upon what kind of lentils you are using and how hard your water is. Refer to package instructions for the right cooking time and keep an eye on them so they don't get mushy.
Wash rice grains well and removes all starch. It will help in getting a fluffy rice texture.
Keep the lid on for 5 minutes and let the rice cook in the steam.
Serve warm and top with loads and loads of fried onion. The more the better.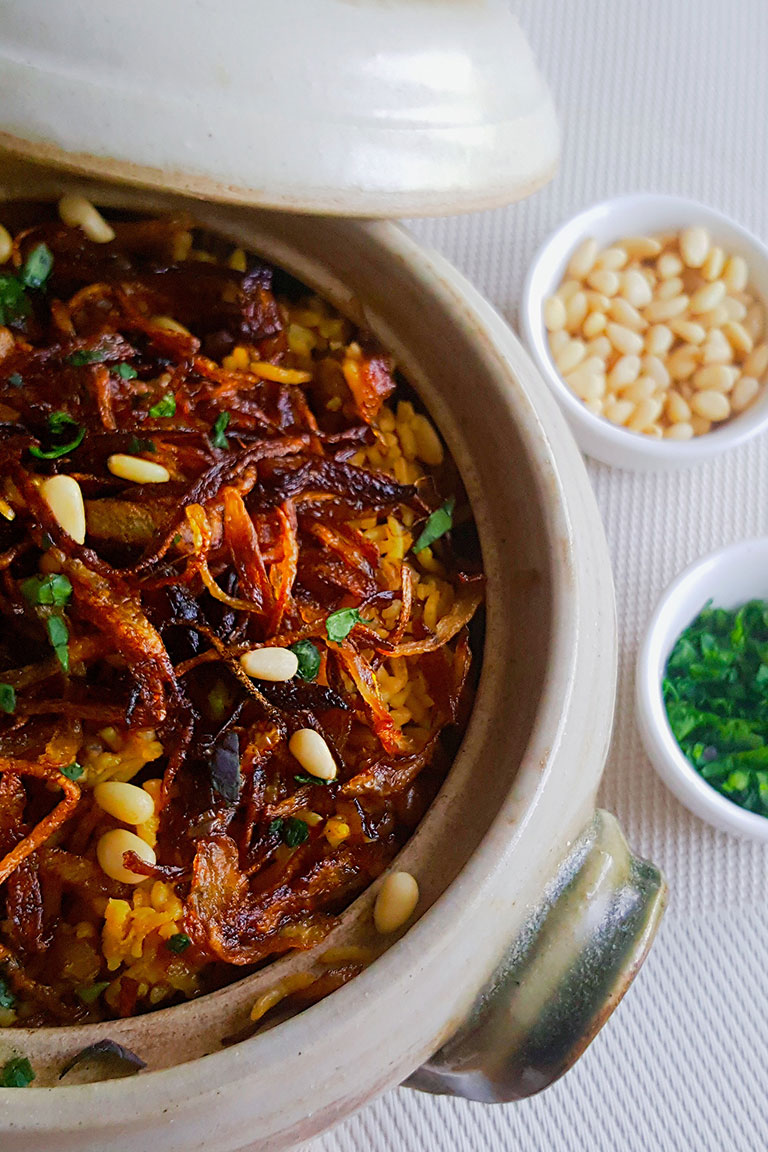 Tips for Making Crispy Onions:
Cut onions in thin slices and make sure they all are cut similarly. This will assure the same cooking time and color and crispiness of onions.
Sprinkle some salt over sliced onions and mix.
Next heat oil. Oil should be hot enough that if you put an onion it should sizzle vigorously.
Once you put onion in oil turn the heat medium. If the heat is too high it will burn the thin sides of onion slices.
Make sure you stir onions frequently for even cooking.
Fry them in batches. Do not overfill your pan.
Once removed from the oil, put them on a paper towel.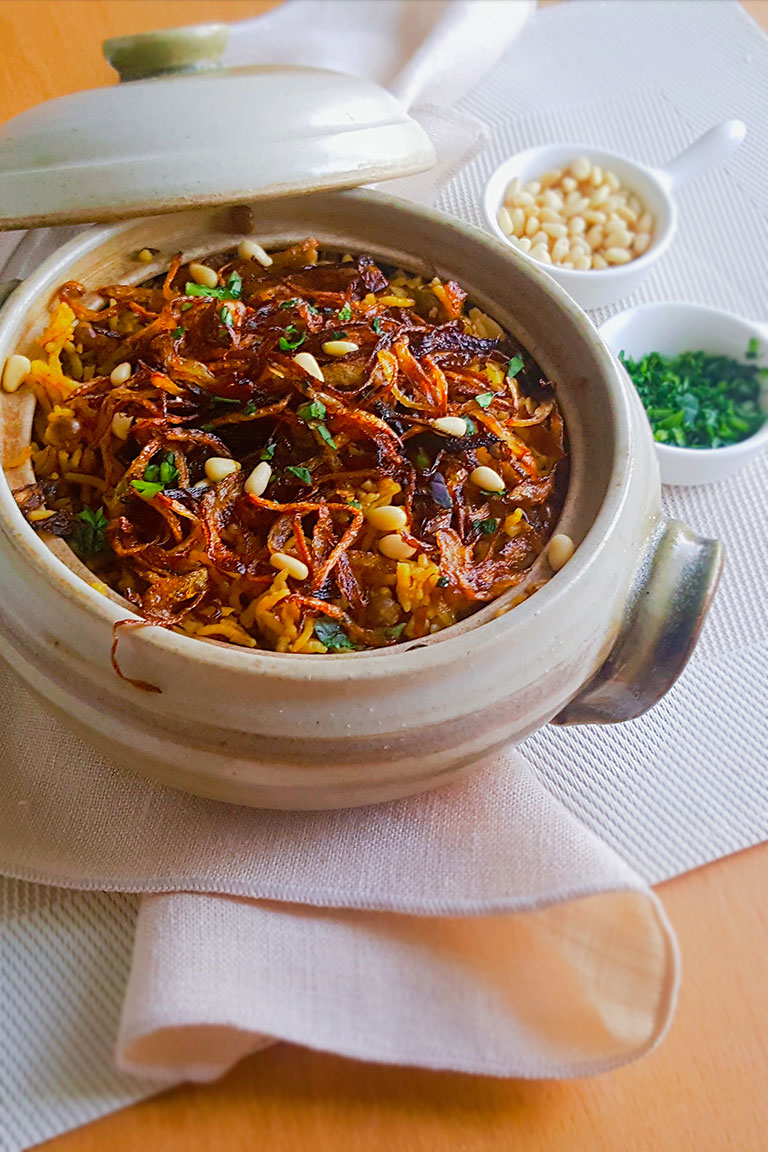 How to Serve Mujadara
There are plenty of options you can try as a side with mujadara, but as it is such a rich full of flavors dish, I would suggest a simple fresh salad will do wonders. Try this easy Israeli Salad Recipe from a fellow blogger and you will love it. Batata Harra is another great option as a side and it goes very well with mujadara.
More Lentil Recipes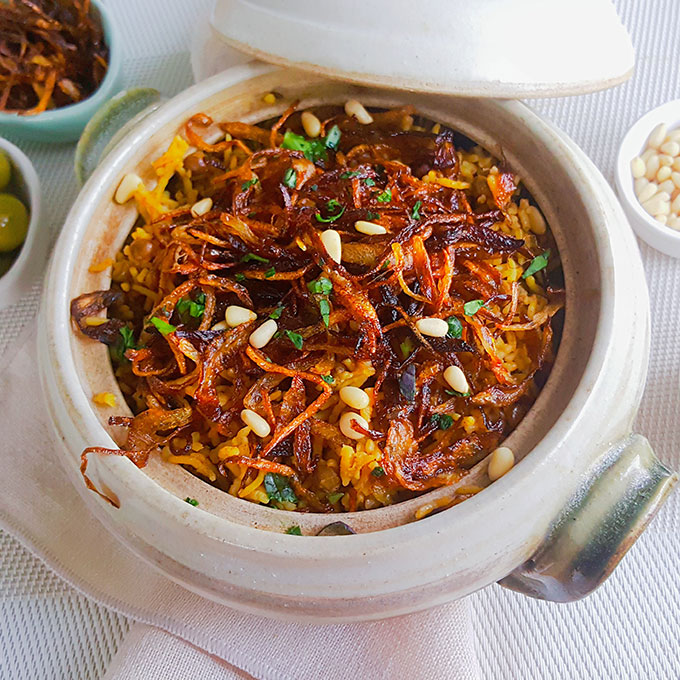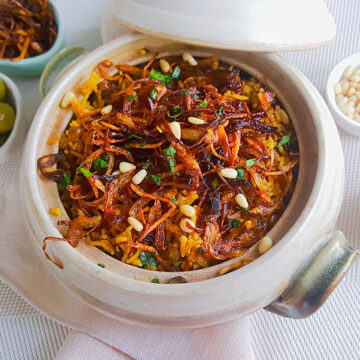 Mujadara
Lentils and Rice with Crispy Onions
Ingredients
1

cup

Brown lentils

1

cup

Basmati rice

½

cup

Olive oil

3

medium

Onion

(Thinly Sliced)

1

tsp

Cumin seeds

1

tsp

Coriander seeds

1

stick

Cinnamon

1

tsp

Chili powder

1

tsp

Turmeric powder

1

tsp

Cumin powder

1

tsp

Allspice powder

To taste

Salt

3

cups

Lentil stock

(Stock saved from boiled lentil)
Instructions
Soak lentil for 2 to 3 hours. Drain and wash thoroughly.

Throw the lentils into a medium saucepan. Fill with enough water to cover the lentils by about an inch. Bring it to a boil over medium-high heat, then turn down to simmer and cook until the lentils are tender but not mushy about 20 minutes.

Drain into a colander and save the stock which we will use for cooking later.

Meanwhile, finely slice the onion and sprinkle with a dash of salt.

Next Heat the oil in a medium-size heavy-based saucepan. When hot, carefully add sliced onion. Fry for 10-15 minutes, stirring occasionally with a wooden spoon until the onion takes on a nice brown color and turns crispy. Use the spoon to transfer the onion to a colander.

Heat a pan and drop in the cumin and coriander seeds and cinnamon stick. Place over medium heat and toast for a minute or two, until they release those distinctive aromas.

Add the rice, olive oil (use the same oil which you used for frying onions), chili powder, turmeric, cumin powder, allspice, a teaspoon of salt. Stir to coat the rice with oil, then add the cooked lentils and stock water.

Bring to boil, cover and simmer on very low heat for 15 minutes. Turn off the heat, keep the lid on, and allow the rice to steam undisturbed for about 5 minutes. Taste the rice for seasoning.

Serve with the caramelized onions, pine nuts, and some fresh coriander.
Video
Nutrition
Calories:
271
kcal
Carbohydrates:
51
g
Protein:
11
g
Fat:
3
g
Saturated Fat:
0.4
g
Polyunsaturated Fat:
0.4
g
Monounsaturated Fat:
2
g
Sodium:
188
mg
Potassium:
460
mg
Fiber:
12
g
Sugar:
3
g
Vitamin A:
167
IU
Vitamin C:
6
mg
Calcium:
61
mg
Iron:
4
mg
If you try this recipe, leave a comment and show some love by rating it in stars. Do not forget to take a picture and tag us @getsetvegan on Instagram. We would love to see this.