This easy Vegan Kale Salad features crunchy kale, fresh strawberry, crispy turmeric chickpeas, and a super creamy tahini dressing. This is the ultimate fireworks of flavor anyone can think of.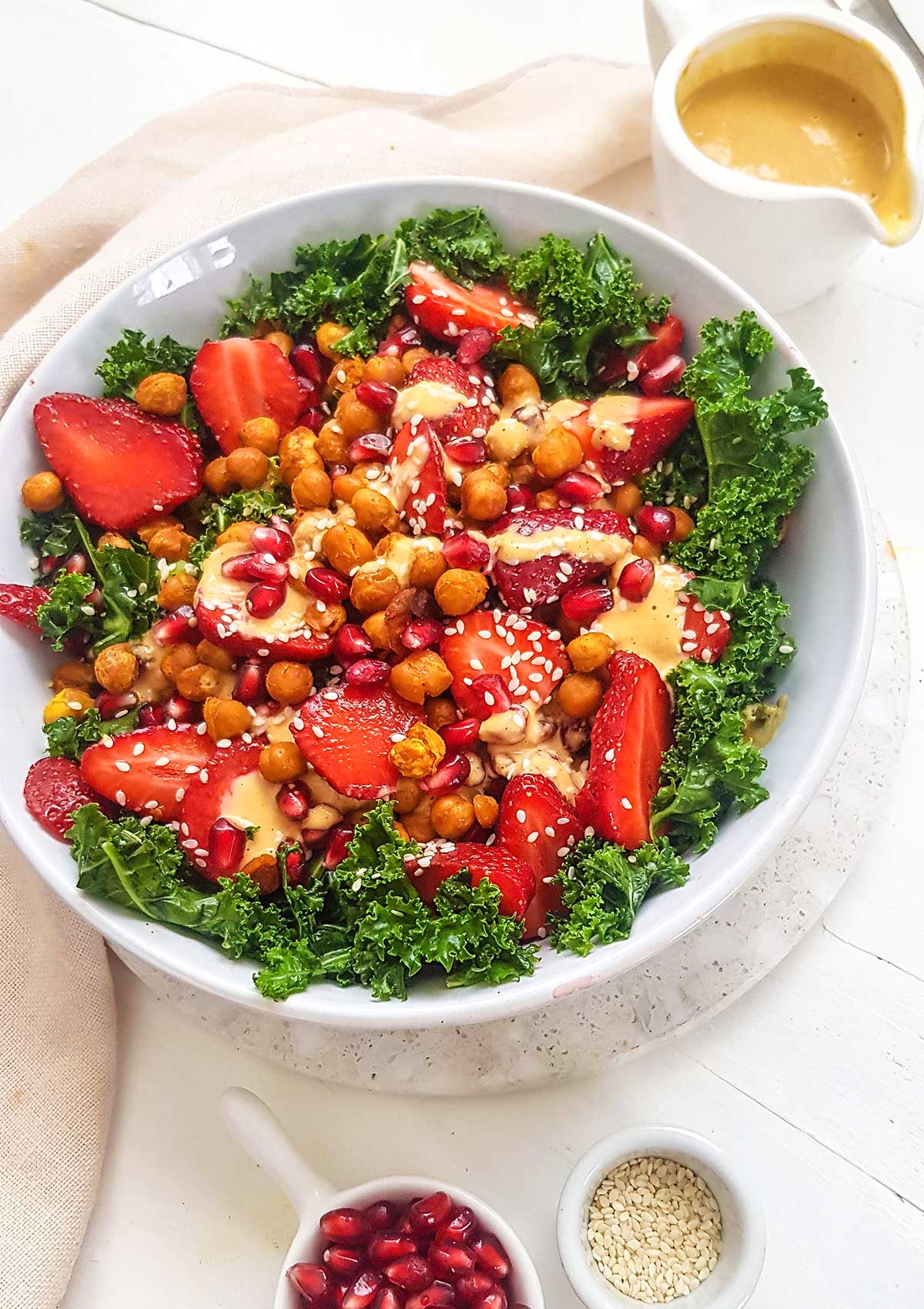 This is a high-protein vegan salad and can make a perfect lunch and dinner side. This not only tastes delicious but also looks so appetizing and can easily take your holiday meals to a next level.
What You Need?
To make this luxurious salad you need
Massaged Kale: Massage the kale leaves with oil, lemon juice, and salt
Fresh Fruits: I am using fresh sliced strawberries and pomegranate
Roasted Turmeric chickpeas: To make these chickpeas we will season them with turmeric, paprika, and salt.
Tahini dressing: It is made with tahini paste, orange juice, garlic powder, and salt.
Sesame seeds: For top garnishing.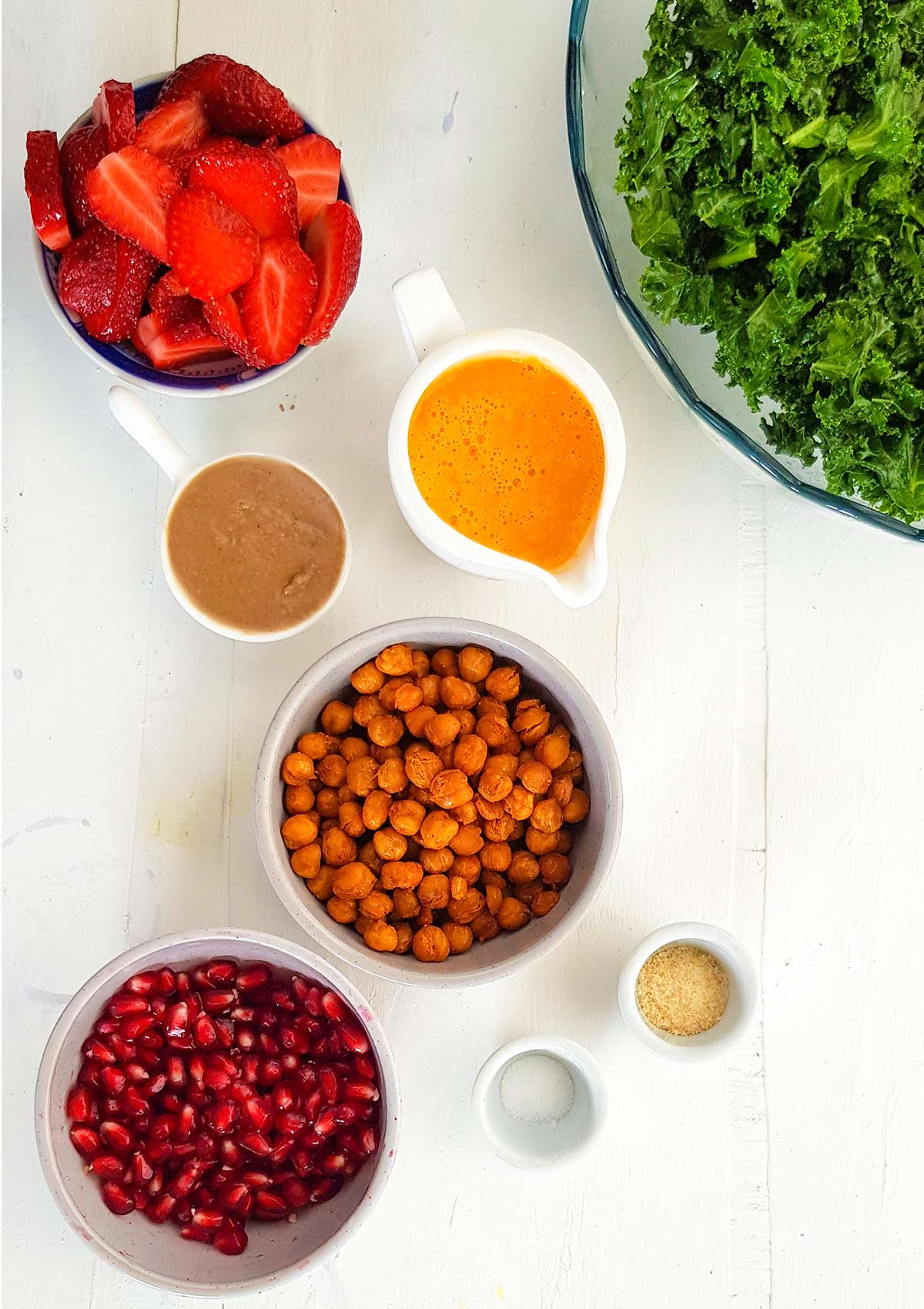 How to Make Vegan Kale Salad?
There are multiple but easy steps involved in creating this delicious mouthwatering kale salad. These steps are 
Roasting turmeric spiced chickpeas in the oven. 
Washing, Chopping, and Massaging the kale leaves. 
Washing, slicing strawberries, and deseeding Pomegranate seeds. 
Making Tahini Dressing and finally assembling all ingredients in a large salad bowl.  
These steps seem a bit overwhelming but believe me they all worth it. I am explaining each step in a little detail so you can do it easily.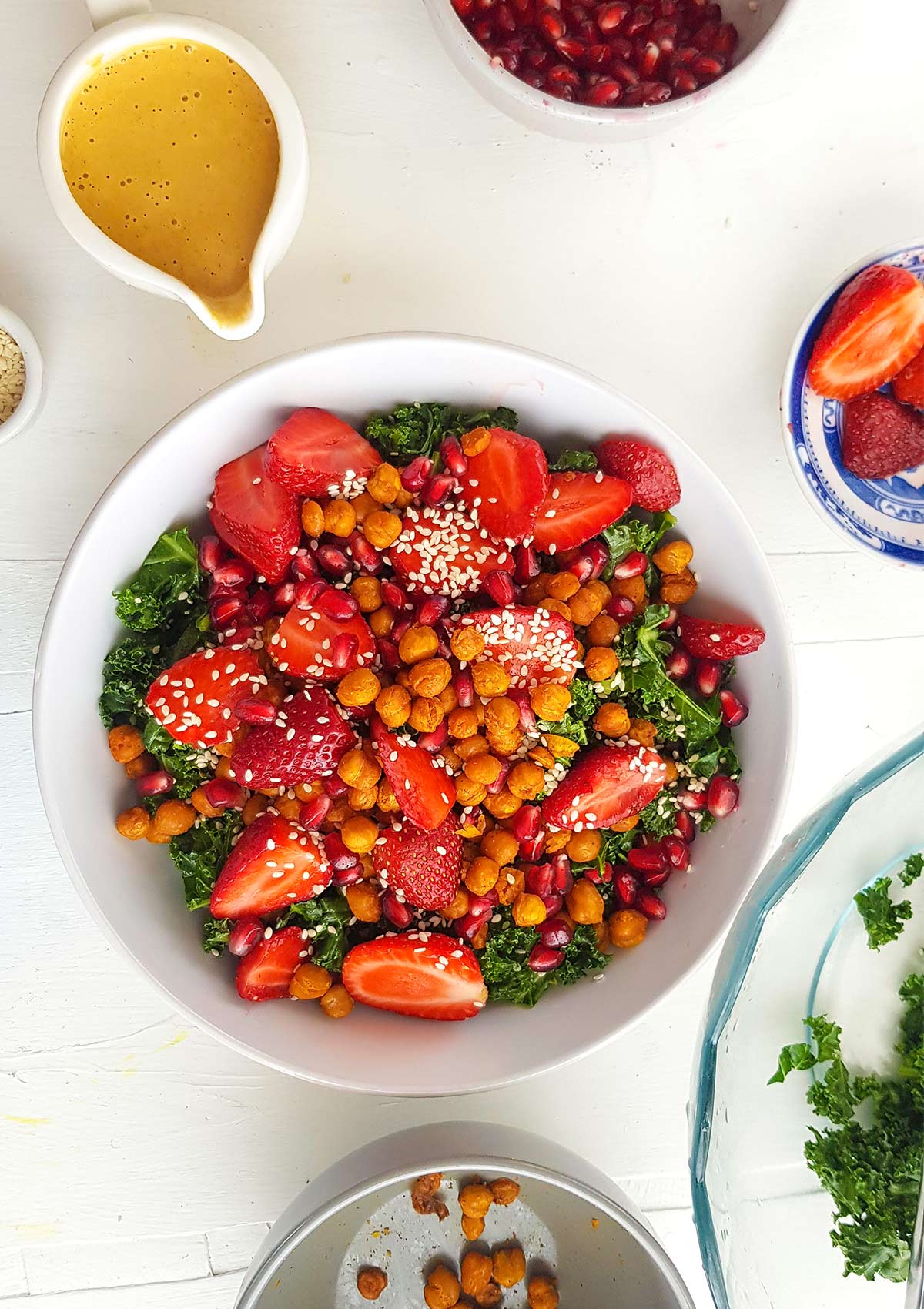 How to Massage Kale?
A lot of people say they don't like the taste of kale. This is because they don't know how to prepare kale for salad. Massaging kale is the real magic trick that will transform your kale salad texture and taste in a good way.
For this start with washing the kale leaves thoroughly. Make sure there are no dirt particles left behind. Next pat dry leaves with a paper towel.
Remove all stems or midribs of kale leaves leaving behind just crinkly, curly leaves.
Next sprinkle some salt, a tablespoon of olive oil and juice of half a lemon.
Start rubbing kale in between your fingers. Massage kale leaves until they get soften and dark green in color. It's as simple as it is.
You can do this with the whole bunch of kale and put this is a bag or airtight container and leave for about a week and use whenever you need it in your salad, pasta or any other meals.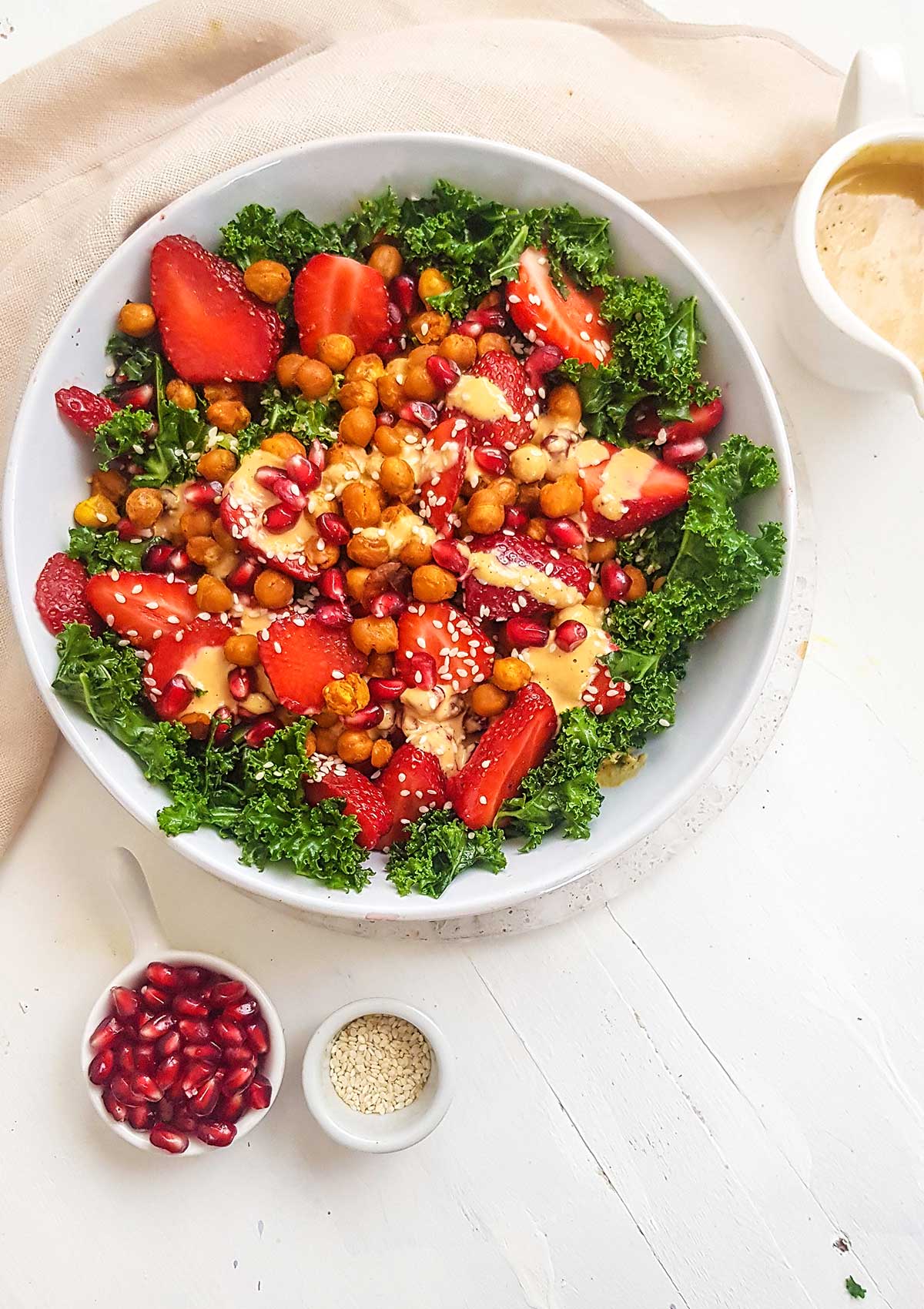 Roasted Turmeric Chickpeas
Roasted Turmeric Chickpeas will not only give a great crispy texture but also a delicious spicy flavor to this kale salad. As Chickpeas are high in protein, they are a great healthy alternative to simple bread croutons. 
 Simply wash, drain and pat dry chickpeas. Next add Turmeric, smoked paprika, salt and olive oil to chickpeas and mix. Bake for 20 to 30 minutes (depending on your oven) or until crispy.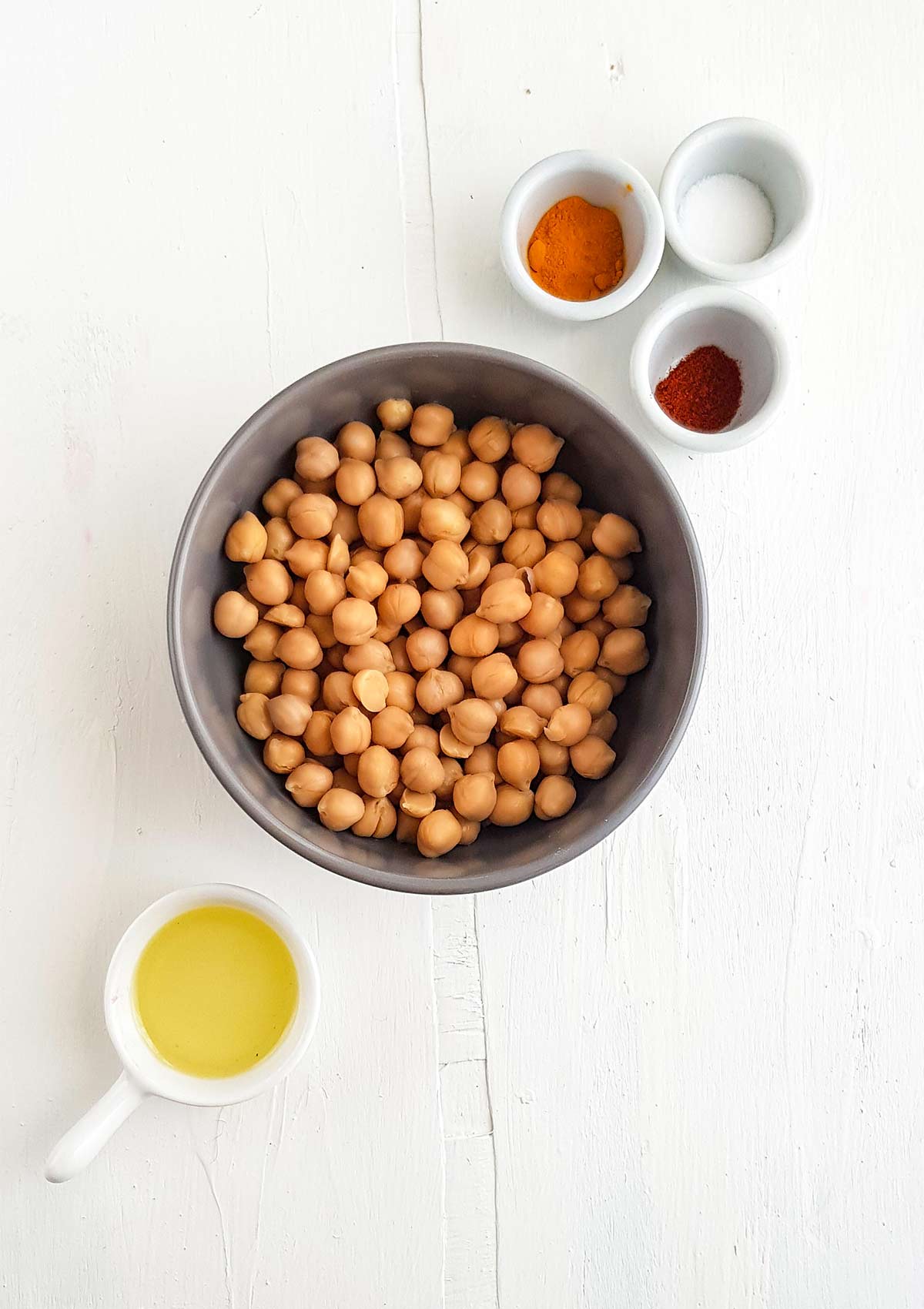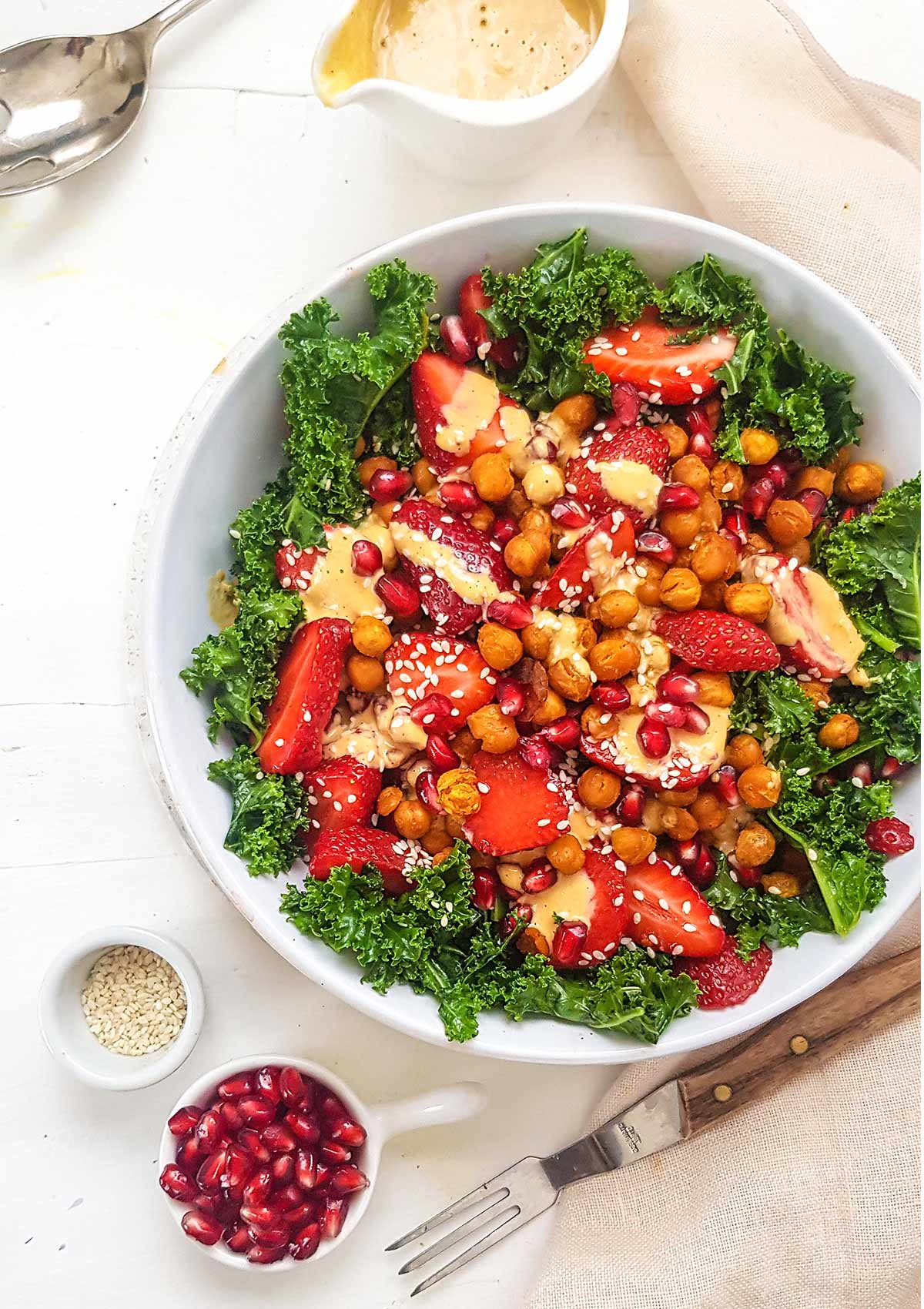 Tahini Dressing for Kale Salad
This Tahini dressing is a creamy, citrusy and flavorful addition to this kale salad. It is so simple and made just by mixing together, Tahini paste, orange juice, salt, and garlic powder.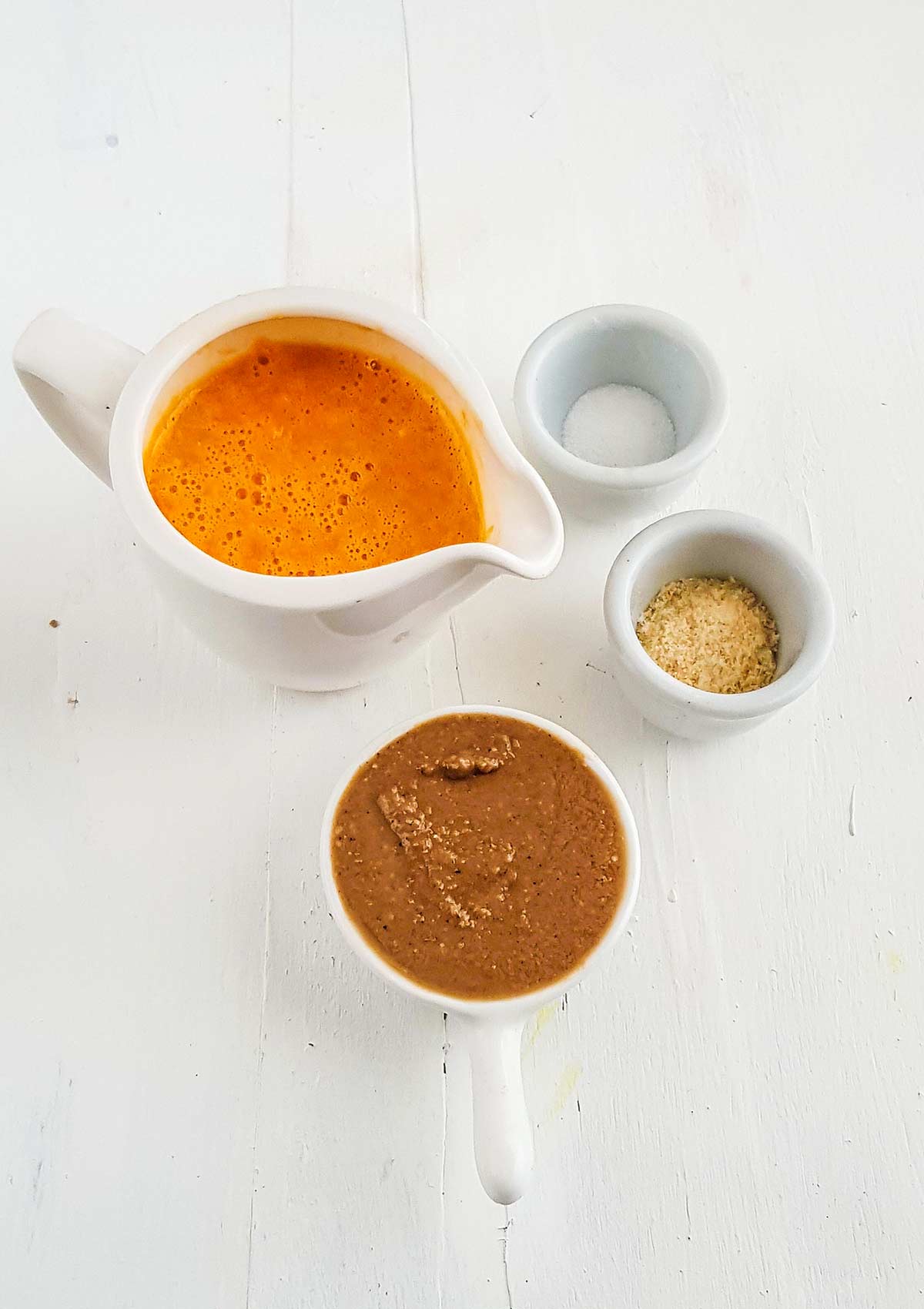 I am using orange juice with pulp to give more texture and flavor of orange to the dressing. You can use orange juice without pulp if you want a more running kind of dressing. If the dressing is too thick add a splash of hot water and mix.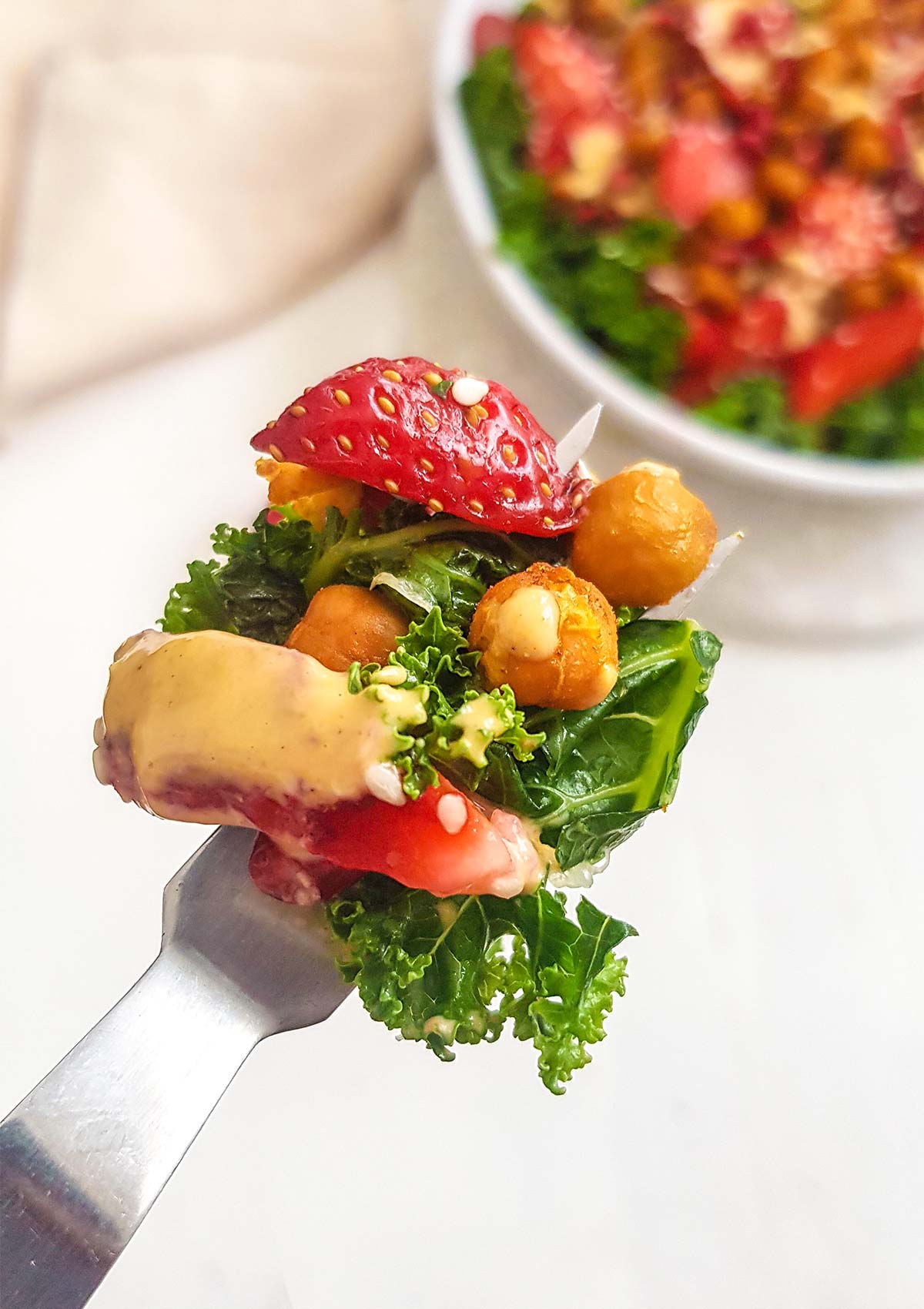 Assemble The Vegan Kale Salad
First, place the massaged kale leaves in the salad bowl. Followed by roasted turmeric chickpeas, strawberries, and pomegranate seeds. Next, sprinkle some sesame seeds and Tahini dressing and Voila it's all done.
This kale salad is itself a complete meal it has fiber, protein, healthy fats, and whatnot. But still, for a luxury dinner, you can enjoy it with my One Pot Vegan Rice or Potato and Rice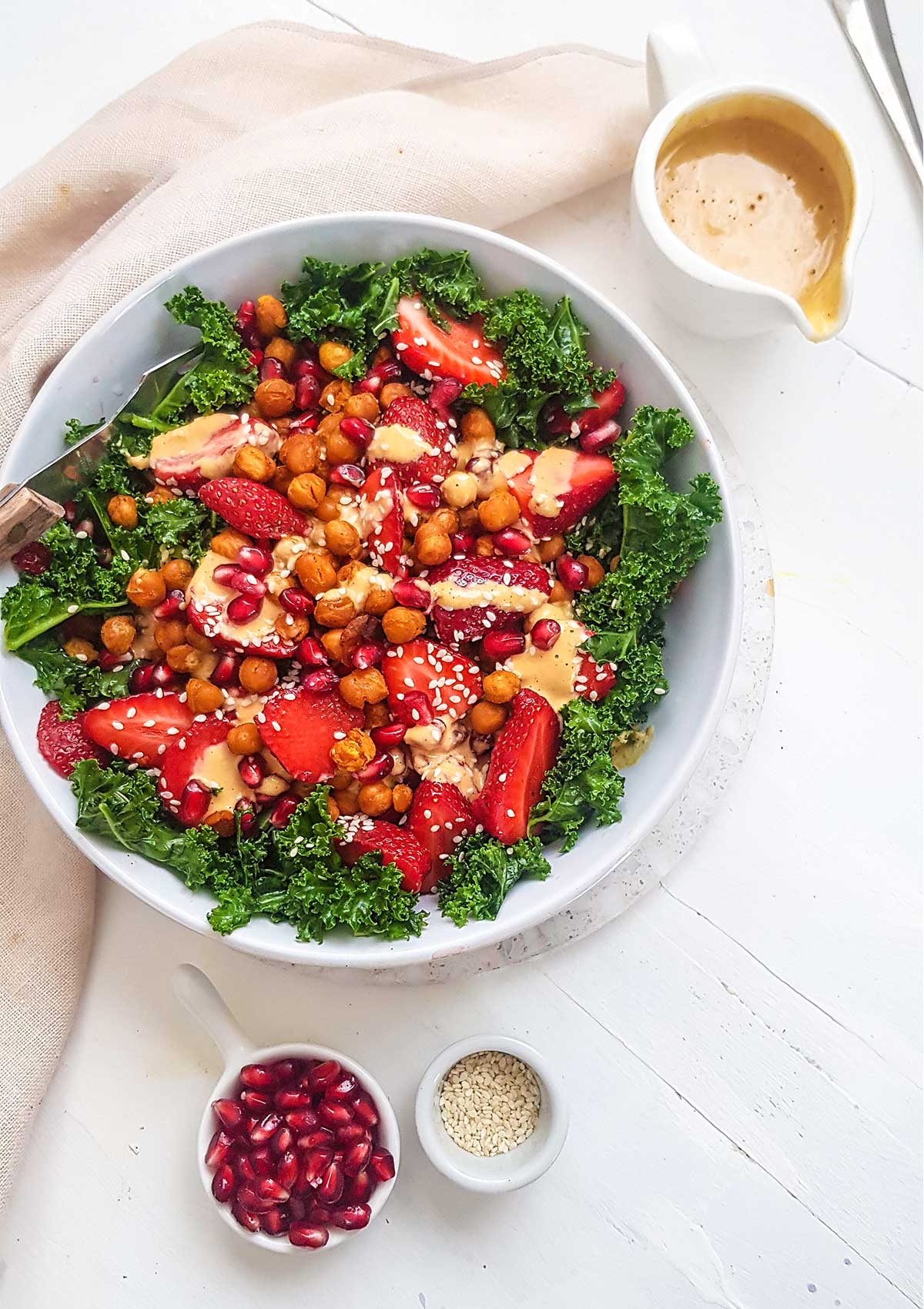 Hope you will like this Vegan Kale Salad with Tahini Dressing as it is
Refreshing
Hearty,
Flavorful,
Colorful,
And so Delicious.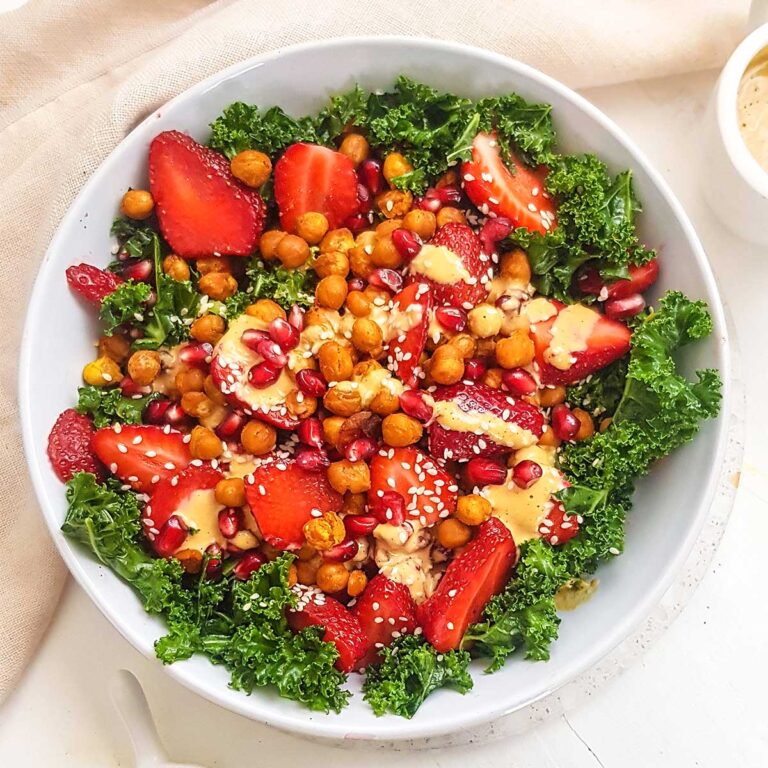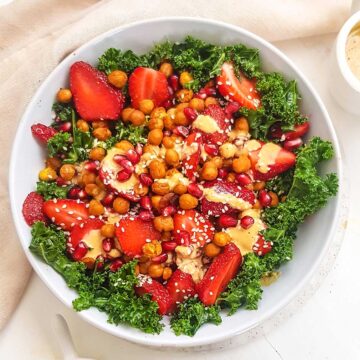 VEGAN KALE SALAD WITH TAHINI DRESSING
This easy vegan kale salad features crunchy kale, fresh fruits, crispy chickpeas, and a super creamy Tahini dressing. This is an ultimate high protein vegan lunch anyone can think of.  
Ingredients
Instructions
Preheat oven at 200C. Line a baking tray with parchment paper.

Wash and drain chickpeas. Add oil, Turmeric powder smoked paprika and salt to chickpeas and mix. Spread on a lined baking sheet and baked for about 20 to 25 minutes or until crispy. 

Next, wash kale leaves. Make sure all dirt is removed from kale leaves. Remove hard stems and separate the leaves from stems. Next roughly chop the kale leaves. 

In a large salad bowl place kale leaves, add oil, salt, and lemon juice. Massage with your hands for about 3 to 4 minutes. Once It is soft and tender to touch and turn into the dark green shade, kale is ready. Set aside.

Next prepare fruit, remove strawberry leaves and slice. Deseed pomegranate. 

Prepare salad dressing by mixing tahini paste, orange juice, garlic powder, and salt. I am using orange juice with pulp, but if you don't like pulp you can use simple orange juice. You can use a splash of hot water to slightly dilute the dressing if it's too thick. 

In a large salad, bowl place massaged kale leaves, top with roasted turmeric chickpeas, strawberries, and pomegranate seeds.  

Sprinkle over some white sesame seeds and drizzle prepared salad dressing. 
Nutrition
Calories:
147
kcal
Carbohydrates:
16
g
Protein:
3
g
Fat:
9
g
Saturated Fat:
1
g
Polyunsaturated Fat:
3
g
Monounsaturated Fat:
4
g
Trans Fat:
0.01
g
Sodium:
1521
mg
Potassium:
260
mg
Fiber:
3
g
Sugar:
10
g
Vitamin A:
199
IU
Vitamin C:
38
mg
Calcium:
37
mg
Iron:
1
mg
If you try this recipe, leave a comment and show some love by rating it in stars. Do not forget to take a picture and tag us @getsetvegan on Instagram. We would love to see this.