Spice up your meals with our diverse selection of Tofu Curries. Whether you prefer Thai, Indian, or fusion-inspired flavors, there's a curry recipe to suit every palate. Get ready for a mouthwatering journey!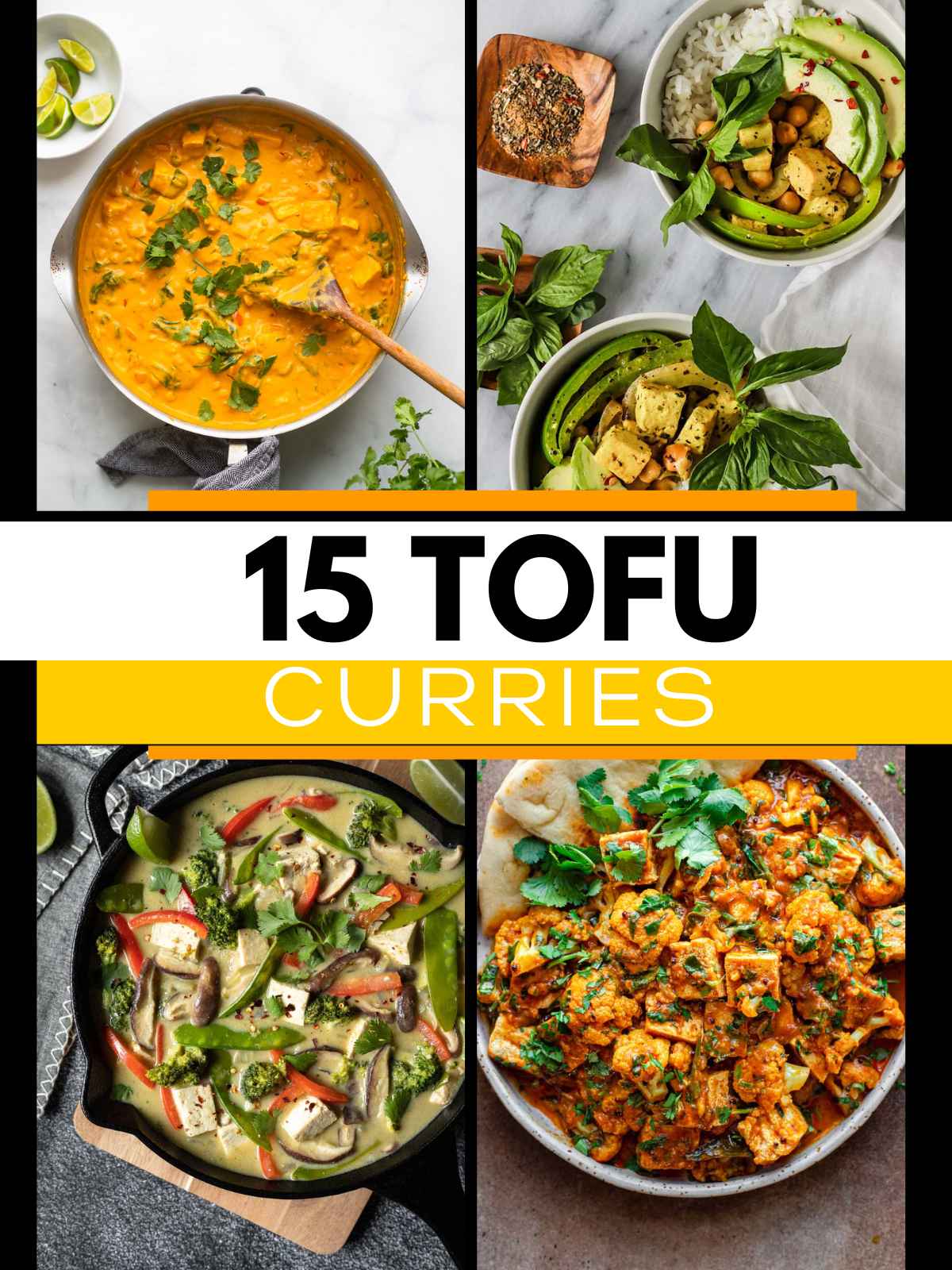 Jump to:
What Exactly is Tofu? 
Tofu, also known as bean curd, is a popular plant-based protein made from condensed soy milk. It is a staple ingredient in many Asian cuisines and has gained popularity worldwide as a versatile and nutritious food.
Tofu serves as an excellent plant-based protein source, making it an ideal choice for those following vegan or vegetarian diets. It is also low in saturated fat and cholesterol-free, making it a healthier alternative to animal-based proteins. Tofu's ability to absorb flavors makes it an ideal canvas for the aromatic spices and herbs used in curry dishes.
Tofu Curries the Perfect Delight 
One of the key attractions of tofu curry is its versatility. From mild and creamy coconut-based tofu curries to spicy and aromatic Indian curries, tofu can be incorporated into various curry recipes from different cuisines. It can be easily customized to suit individual taste preferences by adjusting the spice level, choice of vegetables, and types of curry pastes or powders used.
Overall, tofu's protein content, versatile texture, ability to absorb flavors, and nutritional benefits make it a fantastic choice for curries. 
Prepare the Tofu For Curry
Here's a simple guide on how to prepare tofu for curries
Choosing firm or extra-firm tofu works well for curries as they hold their shape better during cooking. Silken tofu is delicate and better suited for soups or blended sauces.
Next, remove the tofu from its packaging and drain any excess liquid. Gently pat it dry with paper towels to remove surface moisture.
If you have time, you can press the tofu to remove excess moisture. Place the tofu between layers of paper towels or clean kitchen towels. Add weight on top and let it sit for 15-30 minutes to press out the moisture. This step helps the tofu become firmer and absorb curry flavors better.
Once pressed, cut the tofu into cubes, slices, or any desired shape suitable for your curry. Smaller cubes or slices tend to absorb flavors more effectively.
15 Tofu Curry Recipes for a Wholesome Meal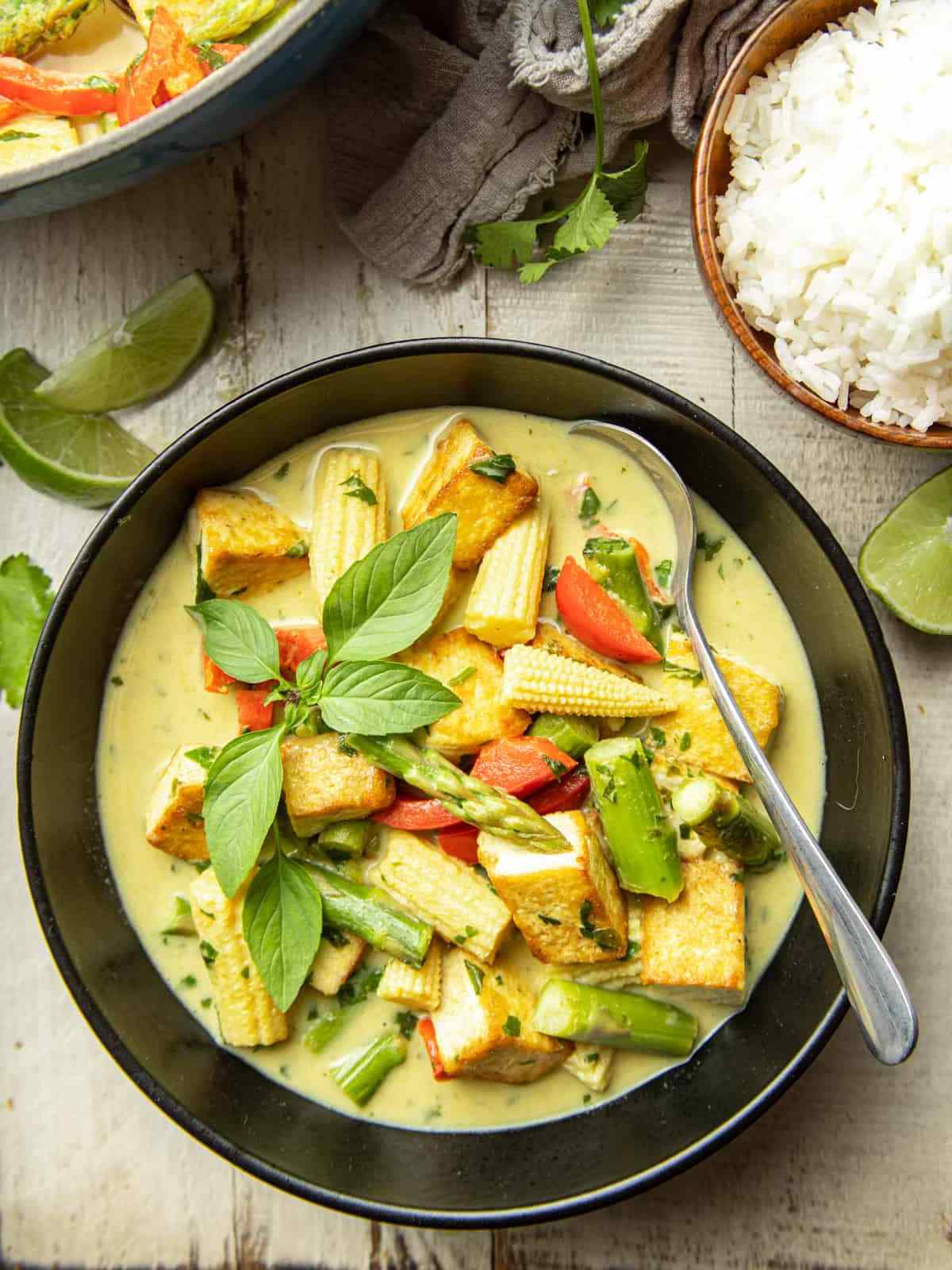 Full Recipe on Connoisseurus Veg
This homemade vegan Thai green curry is better than takeout and easy enough for a weeknight! Packed with spicy Thai flavors, crispy pan-fried tofu and tender veggies in a creamy coconut milk base, this easy dinner will become a favorite that you'll want to make again and again.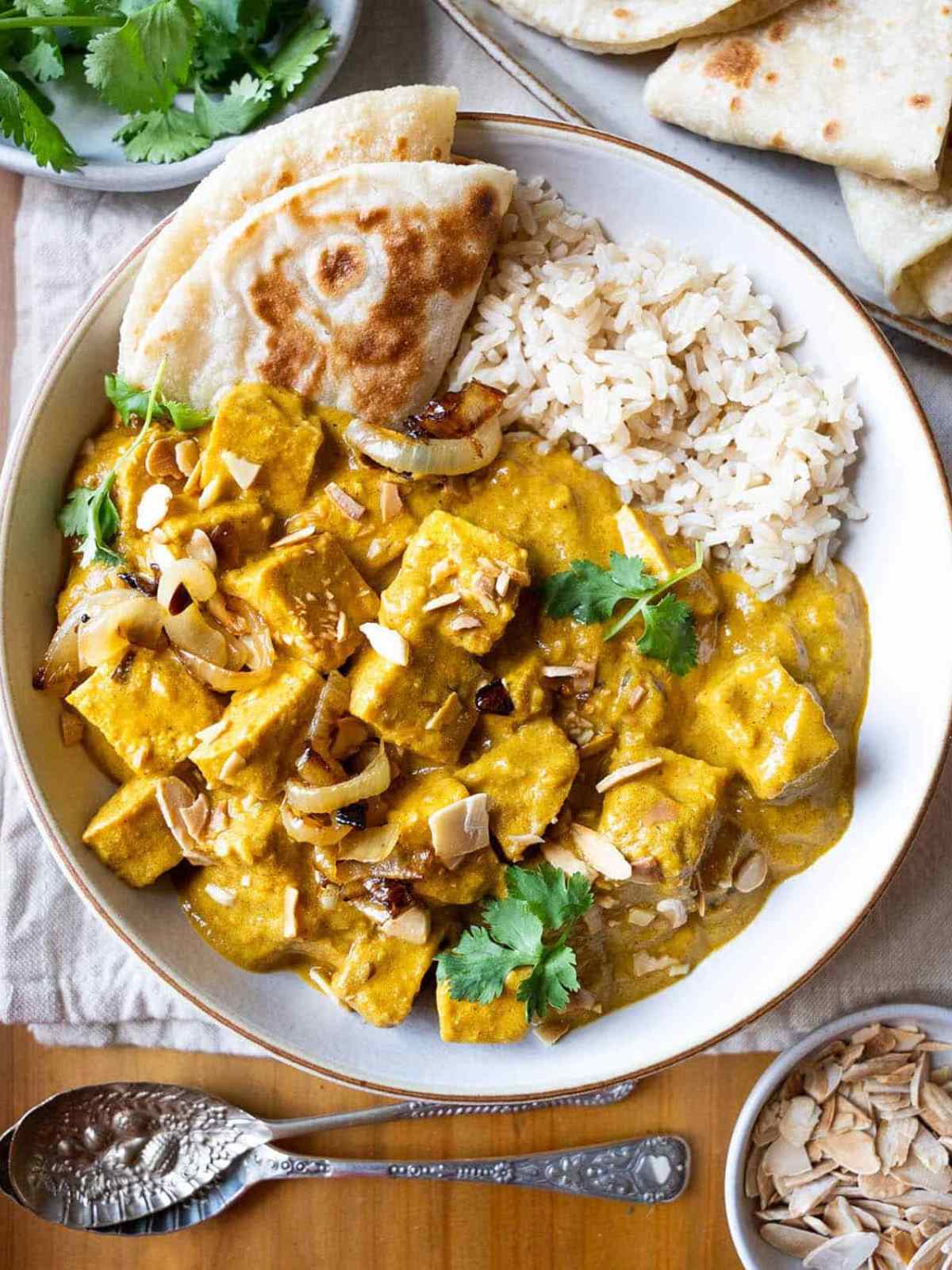 Full Recipe on Vegan Punks
A creamy and indulgent classic curry house style korma made vegan. Tofu korma is easy to make and one of the most popular types of curries ever.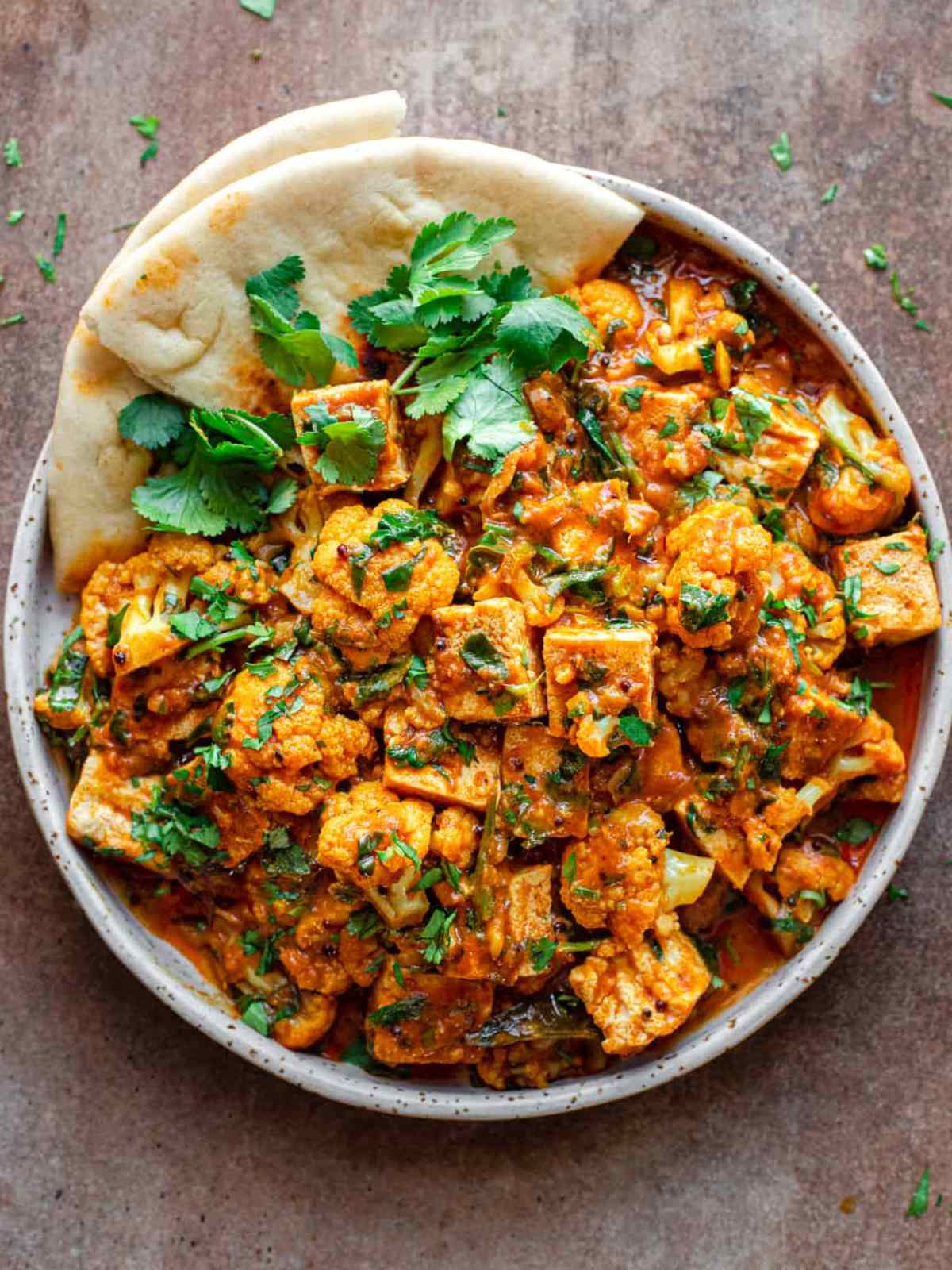 Full Recipe on Rainbow Plant Life
This Vegan Curry with Tofu brings gourmet Indian flavors to your dinner table in under 45 minutes! A creamy plant-based curry with warming Indian spices, nutrient-dense cauliflower and spinach, and protein-packed tofu, it's the perfect harmony of indulgent and wholesome.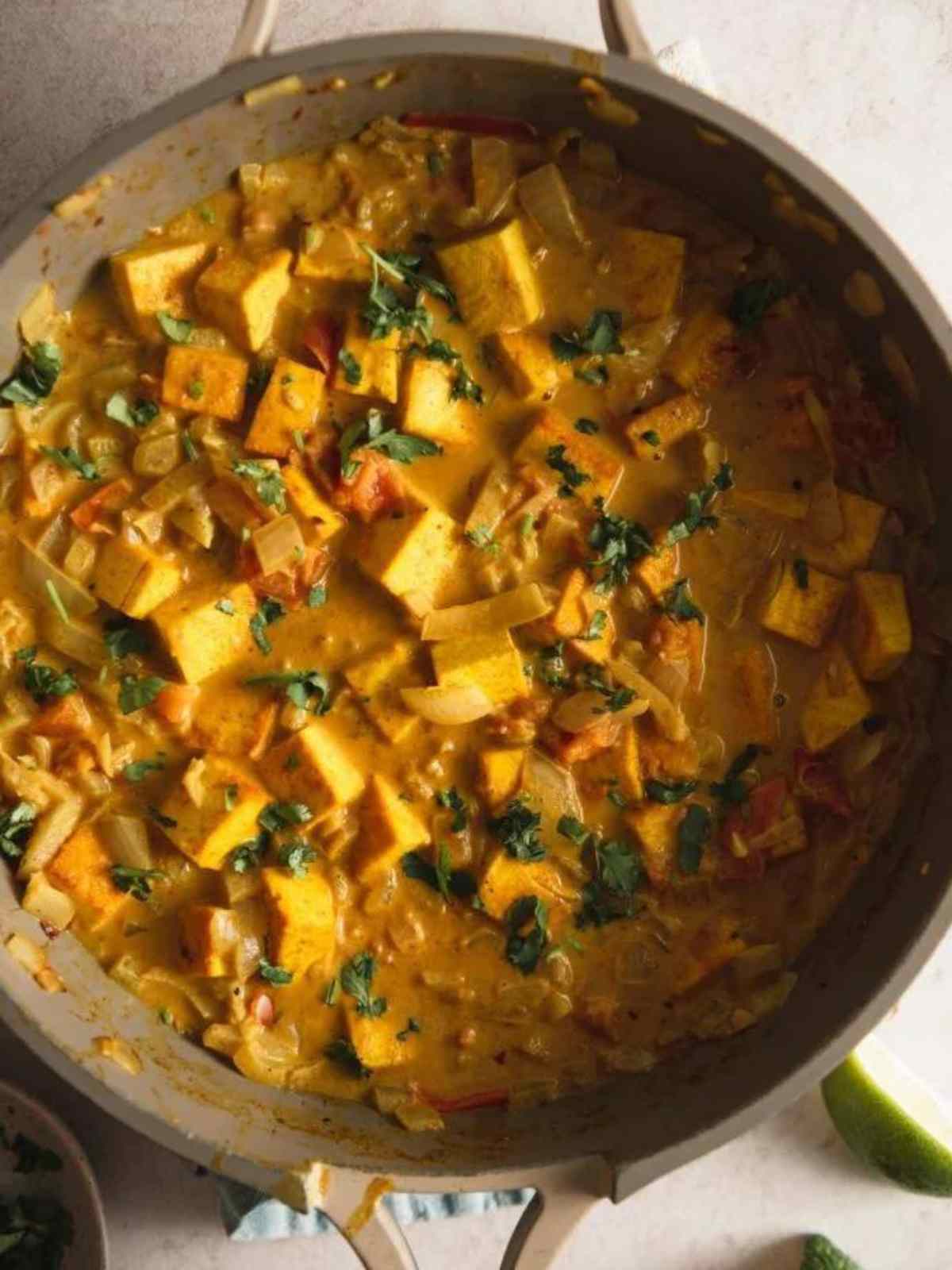 Full Recipe on Running on Real Food
This vegan curried tofu recipe is quick and easy to prepare and features crispy tofu in a creamy coconut curry sauce with a blend of fragrant spices.
Full Recipe on The Daily Dish
This vegan jalfrezi is packed full of veggies and baked tofu. The aromatic spices and chili pepper give it a spicy kick which can be adjusted to suite your preference. Serve it with rice or naan bread for a delicious vegan dinner.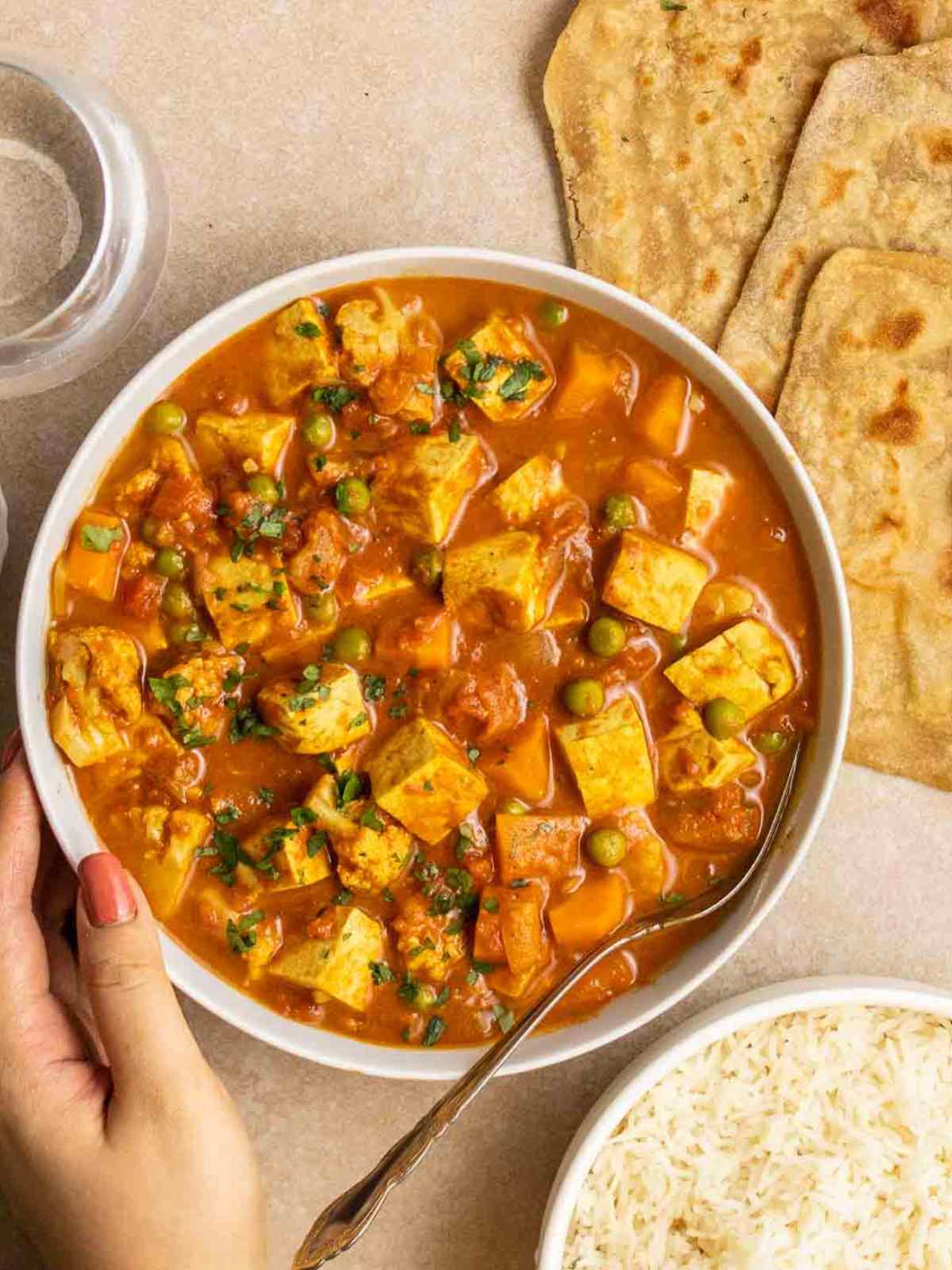 Full Recipe on My Plantiful Cooking
Spicy, fiery, and creamy, this Vegan Madras Curry will leave you craving for more! This one-pot curry is packed with colorful veggies and tofu, making it incredibly hearty to have. A simple weeknight dinner that is ready in 30 minutes.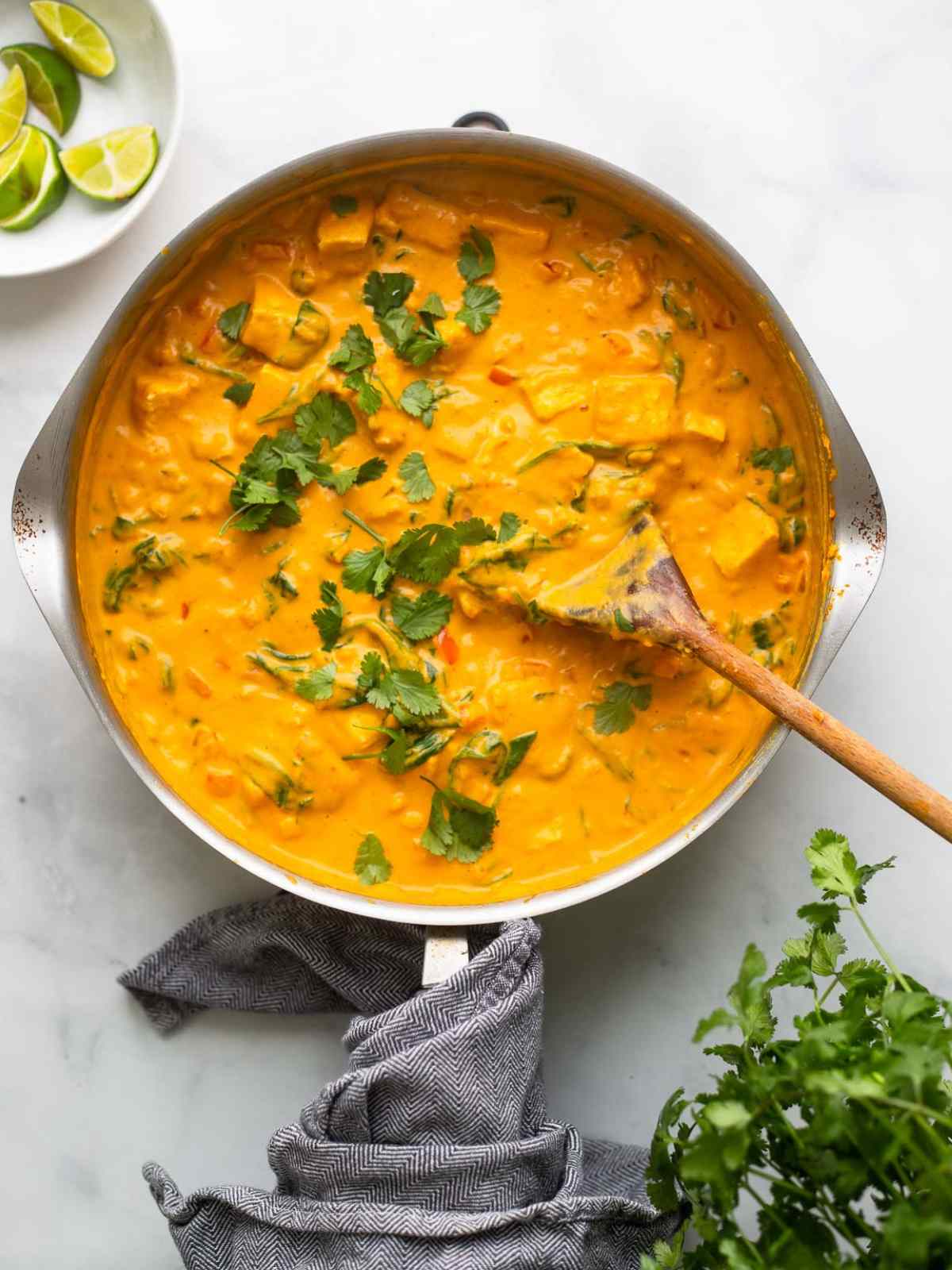 Full Recipe on Dietitian Debbie
This delicious easy tofu pumpkin curry can be ready to eat in just about 30 minutes and has a short and sweet ingredient list. Thai red curry paste add tons of flavor and some heat that is balanced out by the sweetness in canned pumpkin.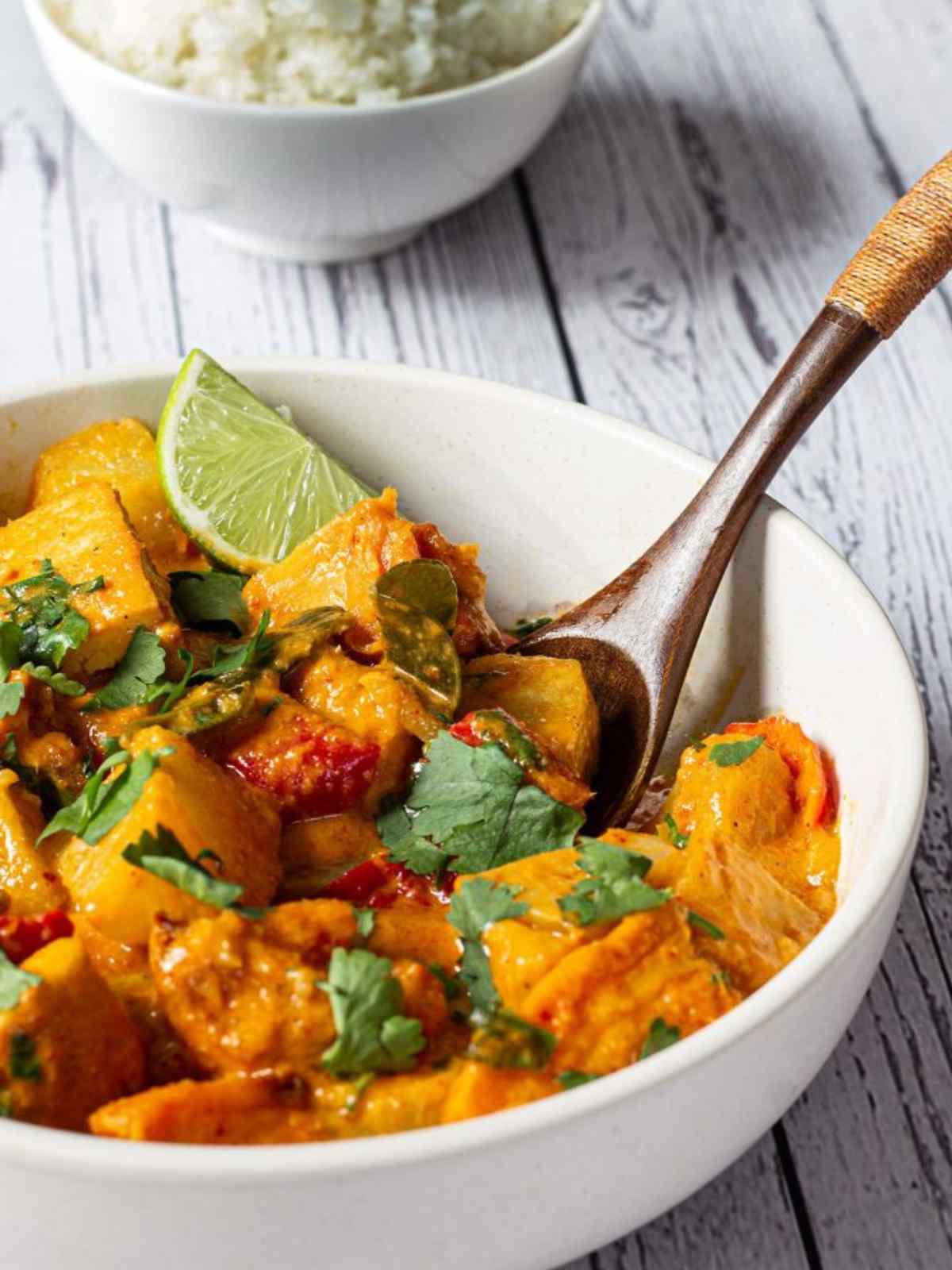 Full Recipe on Knife and Soul
This Sweet Potato and Tofu Red Curry is healthy, bursting with flavour and relatively easy to make. Each bowl is warming, hearty and packed with a variety of savoury, tangy and sweet tastes.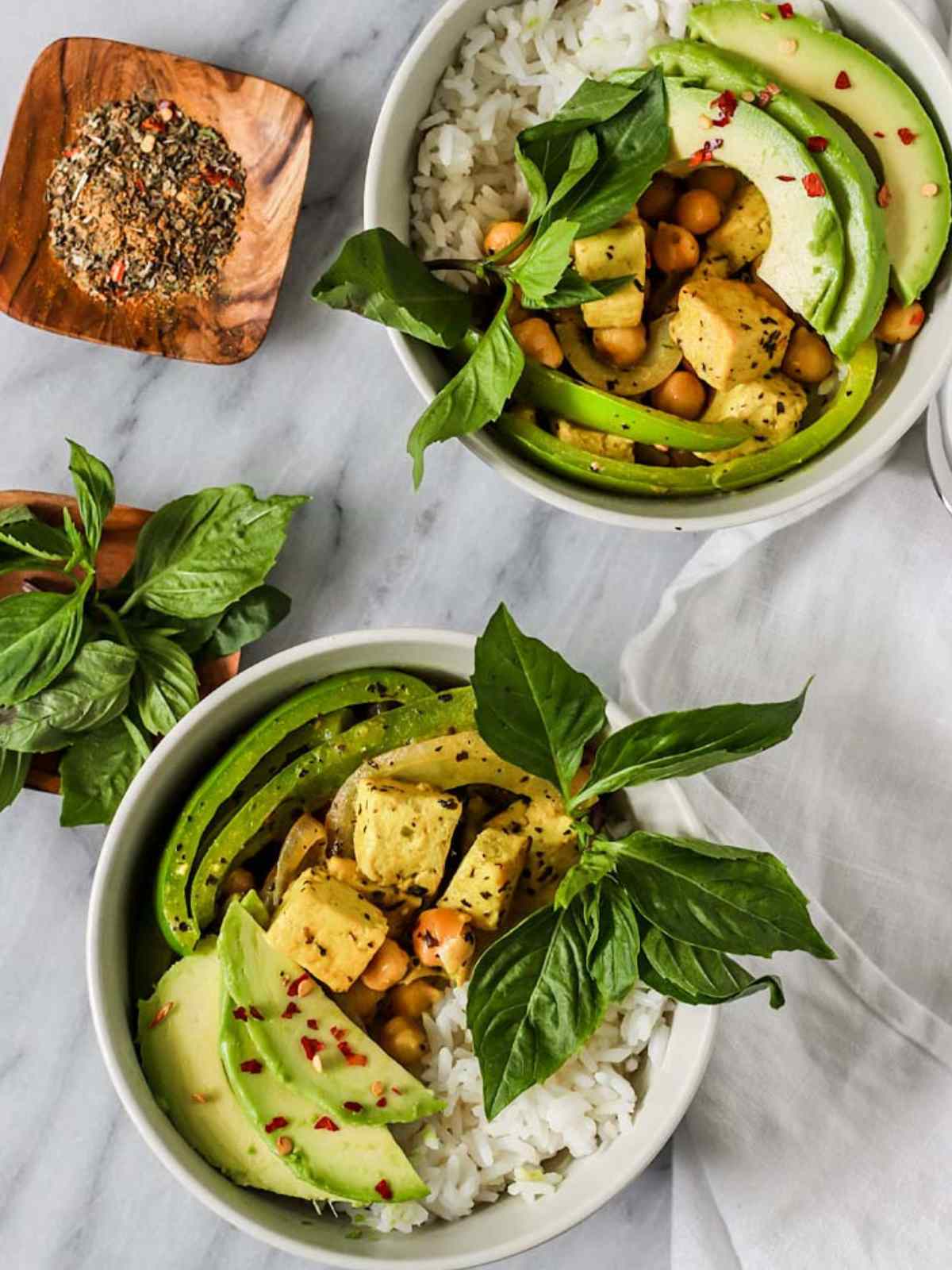 Full Recipe on Short Girl Tall Order
Looking for a warming, comforting, and healthy vegan curry that is also packed with 19 grams of protein per serving? Then this Vegan Thai Basil Tofu Coconut Curry with Avocado is perfect & even includes a recipe for a homemade basil curry spice. Get ready for the coziest vegan coconut curry filled with chickpeas, tofu, avocado, and loads of curry spices!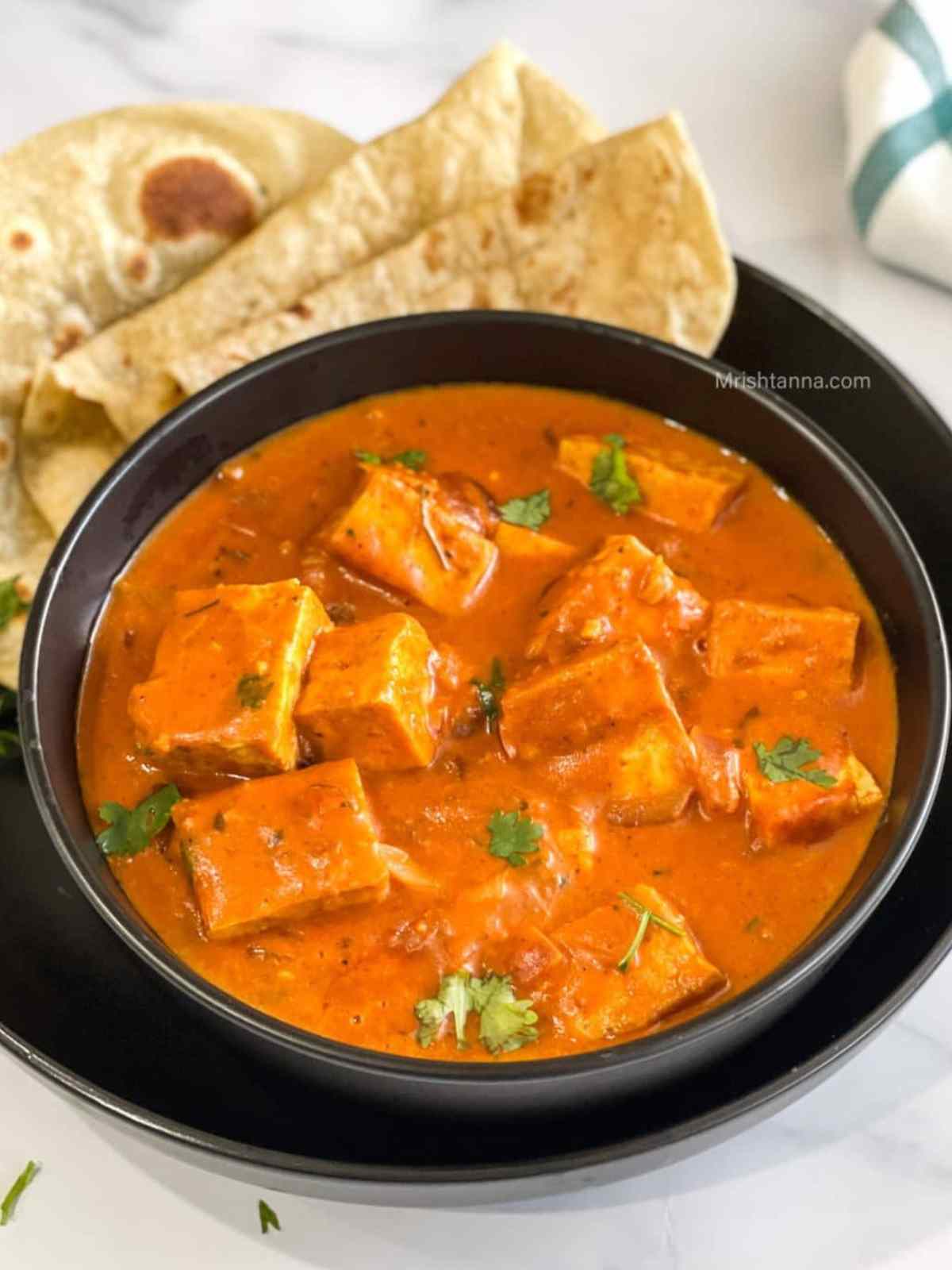 Full Recipe on Simple Sumptuous Cooking
If you're a fan of Indian cuisine, you'll love this Indian recipe for vegan tikka masala sauce prepared with simple ingredients. It's creamy, flavorful, and so satisfying.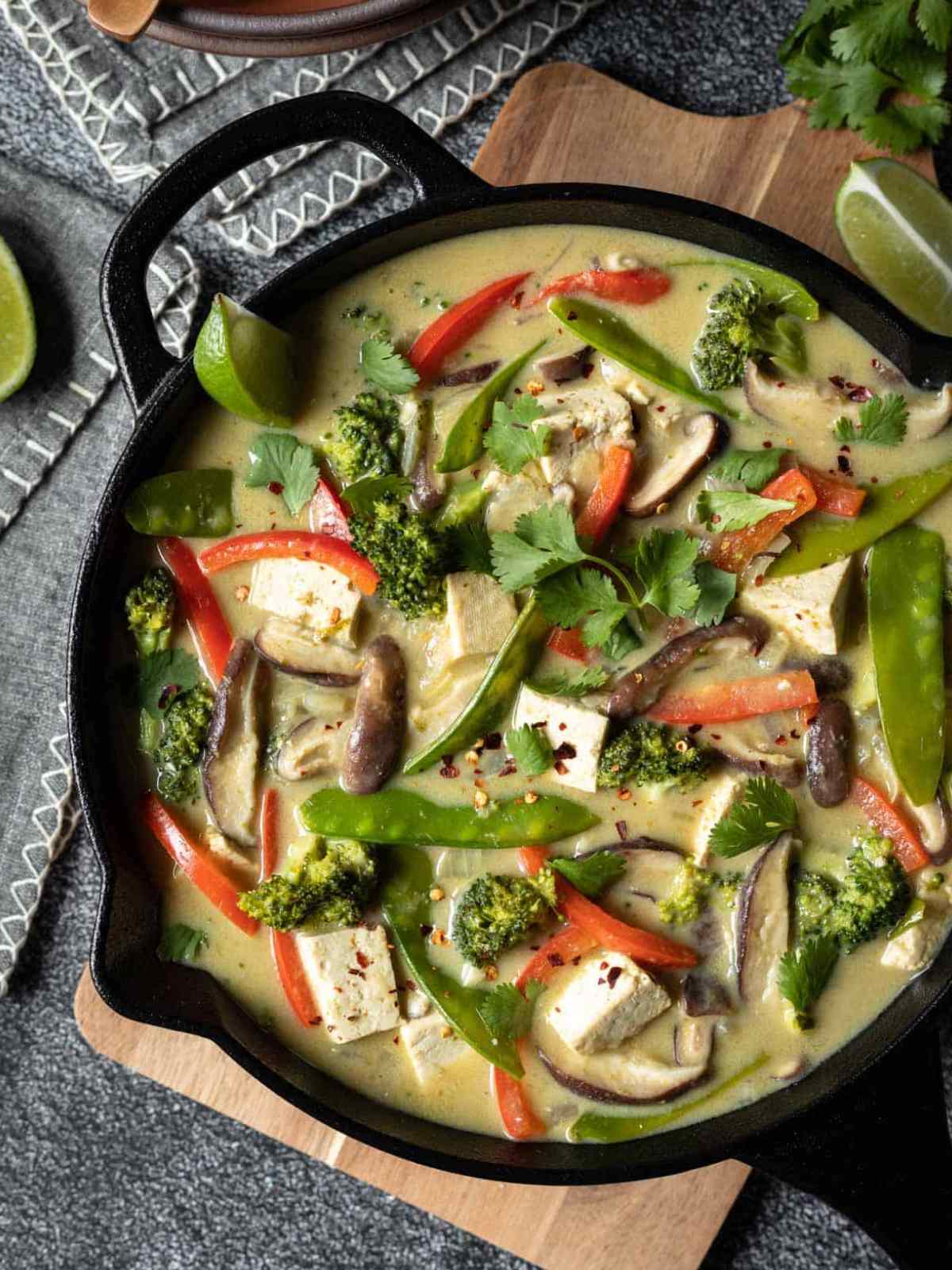 Full Recipe on My Quiet Kitchen
Our Thai green curry tofu is a simplified version inspired by authentic recipes. Made with ingredients you can find at the grocery store, this easy tofu curry comes together in one pan in 30 minutes.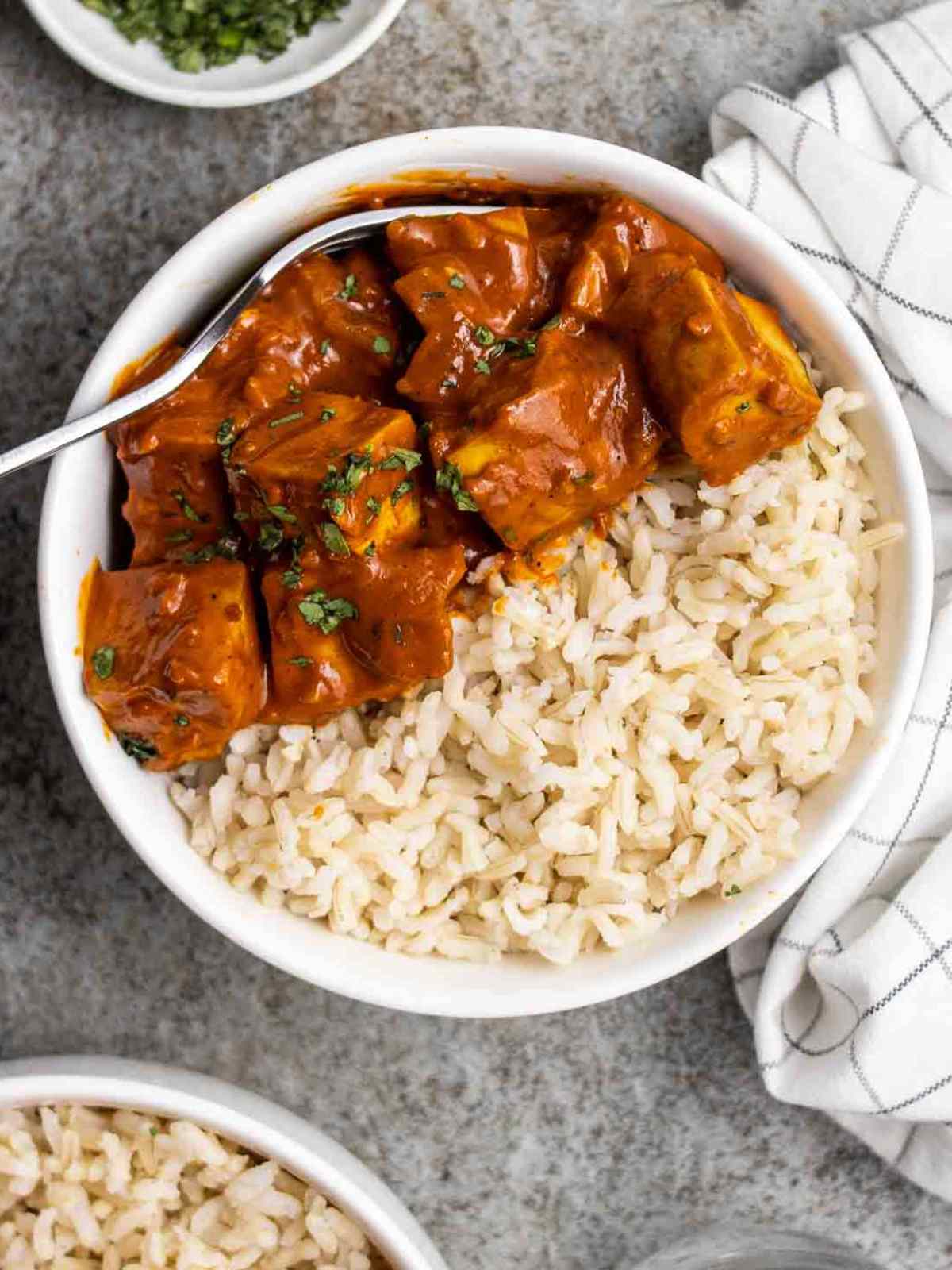 Full Recipe on My Plantiful Cooking
Bold, vibrant, and creamy, this Indian tofu curry will leave you craving more! All you need is a few simple ingredients and 30 minutes to make this recipe.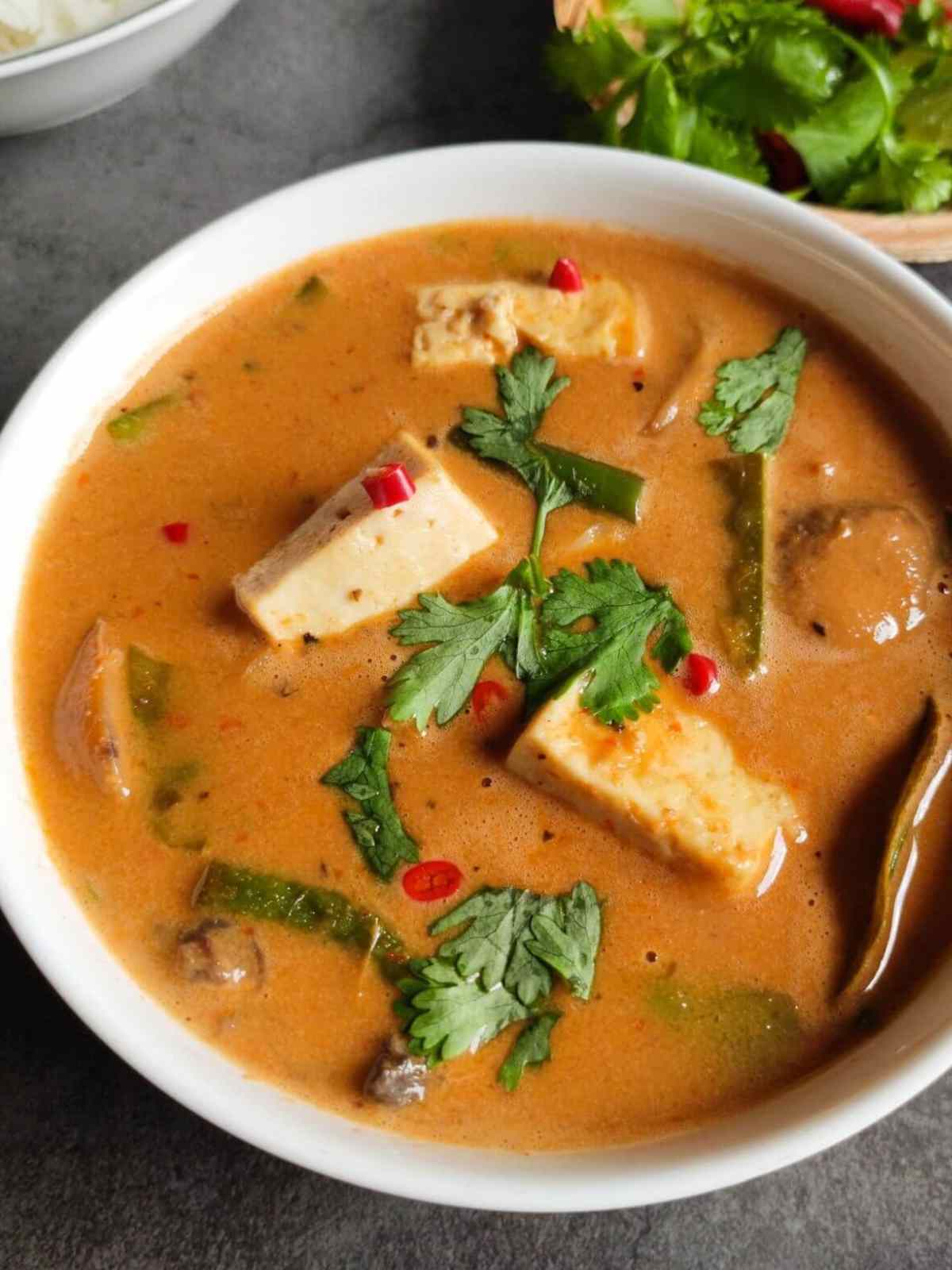 Full Recipe on Green Bowl 2 Soul
This easy Vegan Thai red curry has a base of coconut milk and is loaded with vegetables and tofu. It's made from scratch and even the red curry paste is homemade. This vegetable Thai curry is suitable to be consumed by vegans and vegetarians.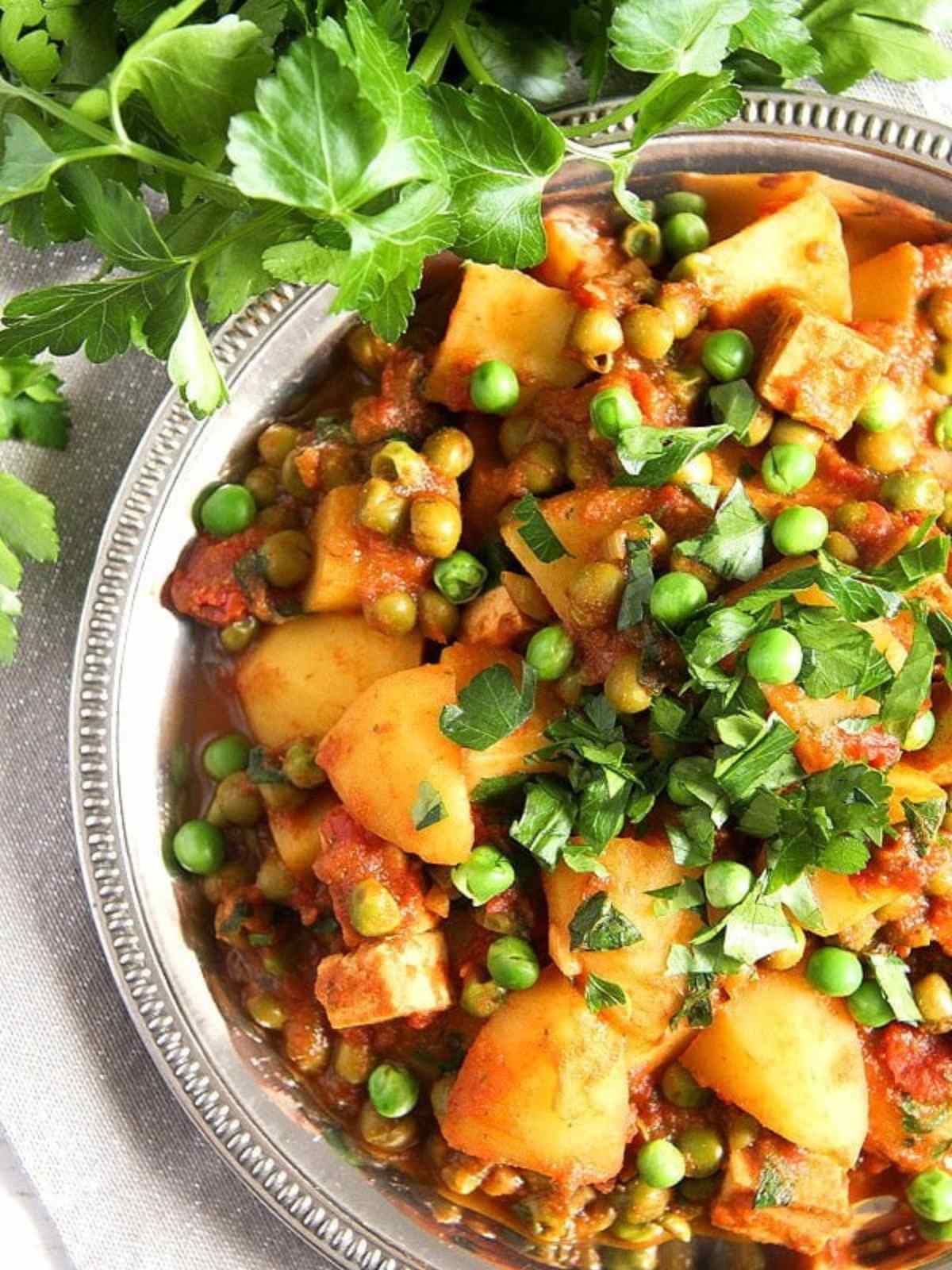 Full Recipe on Where is My Spoon
An easy and quick vegan recipe for tofu potato curry with peas. Simple ingredients simmered in a flavorful sauce – this vegan curry makes a really satisfying and healthy lunch or dinner.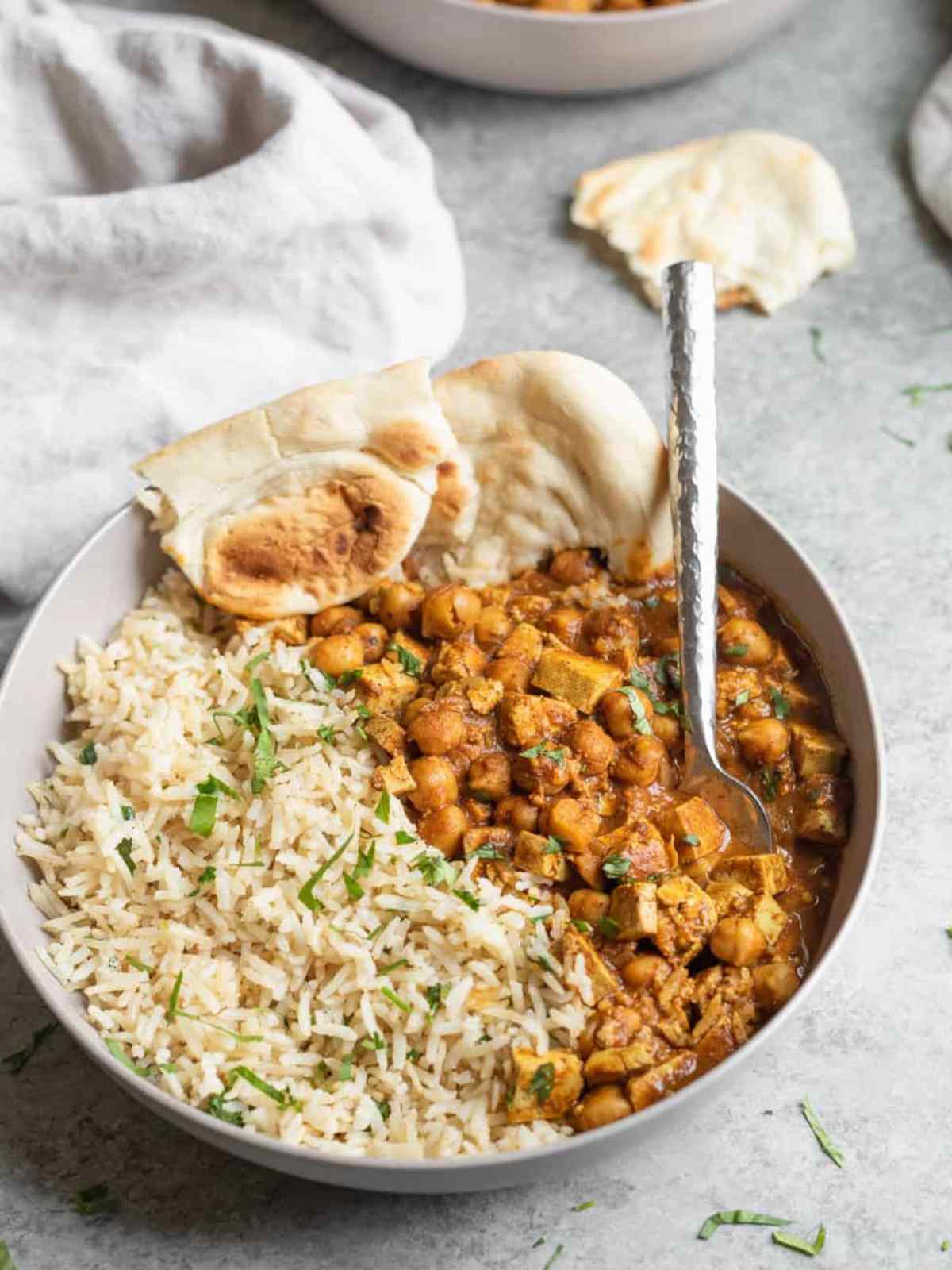 Full Recipe on Delish Knowledge
Vegan Butter Chickpeas! If you love the favorite Indian dish, Butter Chicken, then you'll love this version made vegan and simple in the slow cooker.
Expert Tips
If you are a frequent tofu eater invest in some good Tofu press. It is optional but will make a huge difference.
Simmering the curry over low heat allows the flavors to meld together and develop richness. The cooking time may vary depending on the recipe and ingredients used.
Tofu pairs well with a wide range of vegetables, feel free to mix and match them to create a colorful and nutritious curry alongside tofu.
Tofu curry can typically be stored in the refrigerator for up to 3-4 days. Beyond this time, the flavors may degrade, and there is an increased risk of bacterial growth.
More Vegan Main Dishes For Dinner
These 15 tofu curry recipes provide a wide range of flavorful and satisfying options for those who appreciate the versatility of tofu in curries. From the fragrant and spicy Thai red curry to the rich and creamy coconut curry, each recipe offers a unique combination of spices, vegetables, and sauces that complement the tofu perfectly.