Elevate your culinary game with our top-rated Chinese five spice powder substitute! Explore delicious alternatives to this versatile seasoning blend and spice up your dishes today.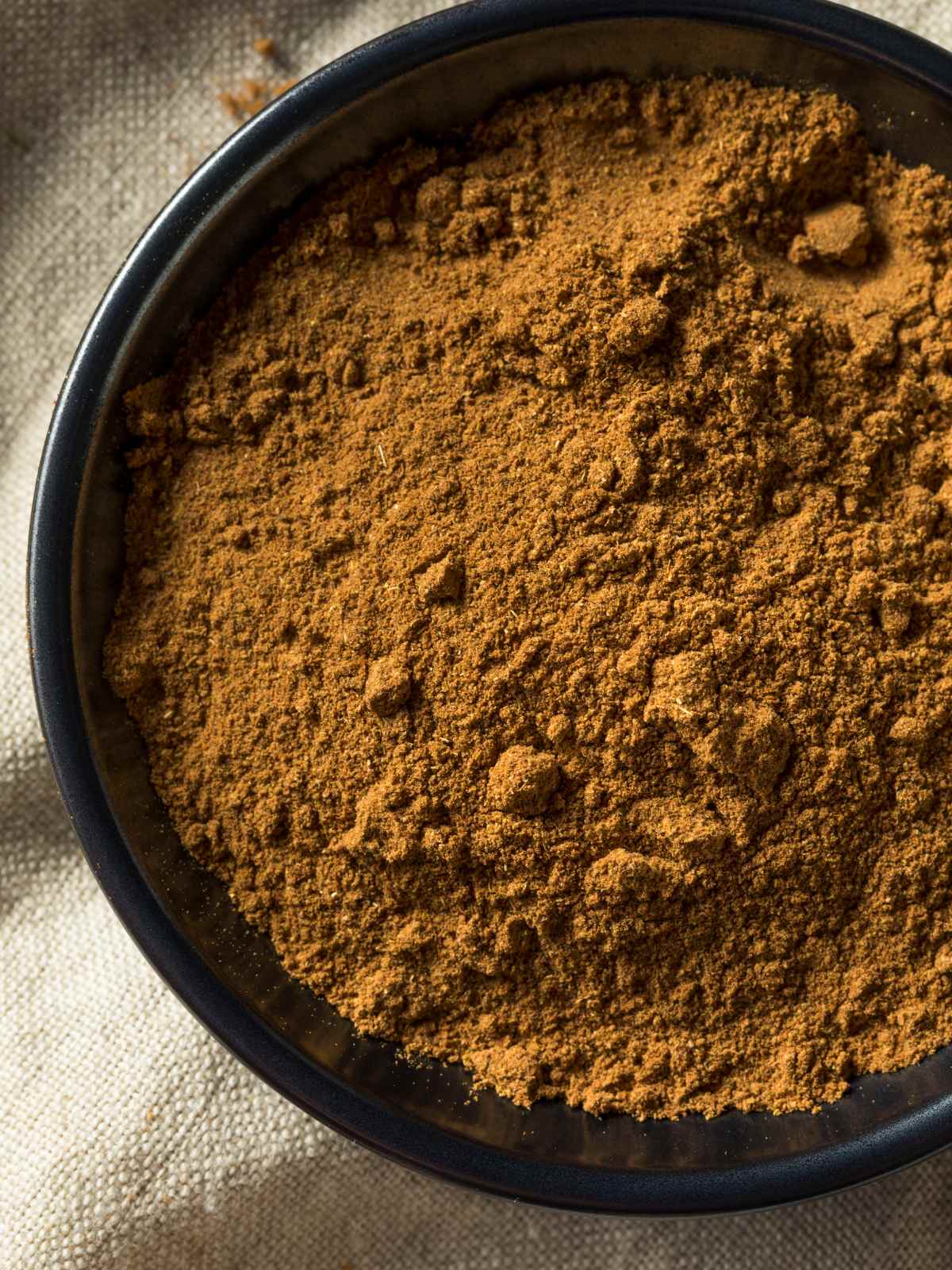 Jump to:
What is Five Spice Powder?
Five spice powder is a popular spice blend used in Chinese and Asian cuisine. It typically consists of five key spices, although the exact composition may vary slightly from region to region and brand to brand. The traditional five spices that are commonly included in this blend are:
Five Spice Ingredients
The traditional five-spice powder blend typically consists of the following five key ingredients:
Star Anise: This star-shaped spice has a strong, licorice-like flavor. It's one of the most prominent components of five-spice powder. 
Cloves: Cloves contribute a warm and slightly sweet flavor to the blend. They also add a hint of spiciness. 
Chinese Cinnamon (or Cassia): This type of cinnamon has a stronger, more intense flavor than the common cinnamon you may be familiar with. It adds a sweet and woody note. 
Sichuan (or Chinese) Peppercorns: Sichuan peppercorns are known for their unique mouth-numbing sensation. They have a citrusy and slightly floral flavor, which adds a distinctive element to the spice mix. 
Fennel Seeds: Fennel seeds provide a mild licorice or anise-like flavor, contributing to the overall sweetness of the blend.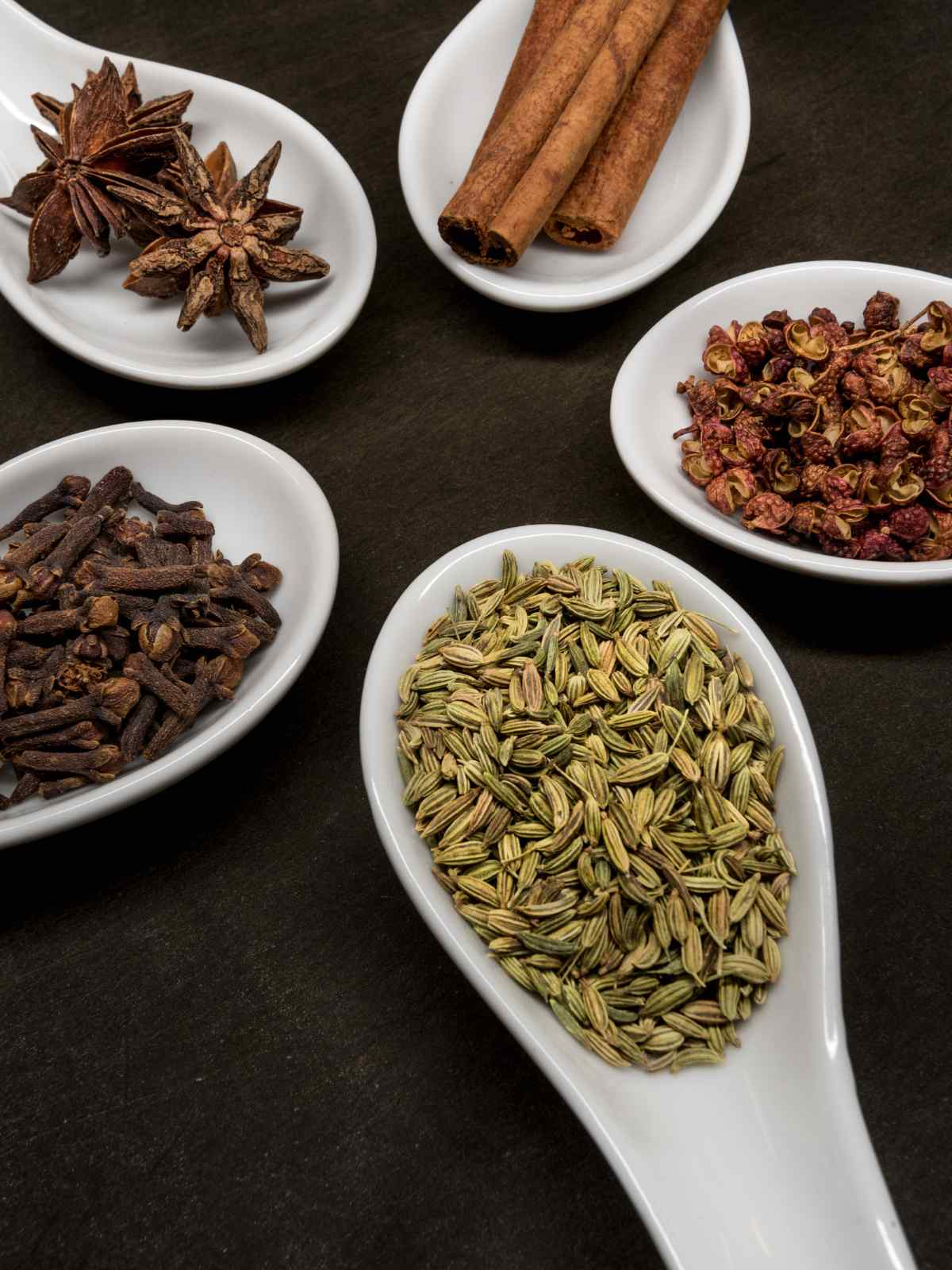 These five spices are typically ground and combined in varying proportions to create a five-spice powder.
Five Spice Powder Substitute
If you don't have Chinese five spice powder on hand or prefer to avoid it due to allergies or personal taste, there are several alternatives you can use to replicate its unique flavor profile. Here are some common substitutes:
Make Your Own 5 Spice Powder 
If you don't have five-spice powder available and you're looking for a quick and easy substitute to add depth and flavor to your dishes, consider using a combination of common spices that you likely have in your pantry. Here's a simple homemade substitute:
Ingredients
1 Tsp Cinnamon Powder
½ Tsp Cloves (ground)
5-6 Pcs Star Anise
1 Tbs Fennel Seeds
2 Tsp Sichuan peppercorns Powder
Instructions
Roast any whole dry ingredient in a heavy-bottomed skillet.
Place all the ingredients in a spice grinder and grind until it forms a smooth powder-like consistency.
Store in an air-tight jar
This homemade blend will be one of the best Chinese 5 spice alternatives and will mimic the flavors incorporating elements of warmth, sweetness, and a hint of spice. Adjust the proportions to suit your taste preferences, and feel free to experiment with the balance of spices until you achieve the desired flavor profile.
Garam Masala
Garam masala is an Indian spice blend with warming flavors. It includes cinnamon, cloves, and sometimes black peppercorns. While it lacks anise and Sichuan peppercorns of 5 spice powder, it can still provide depth and complexity to your dish. Use it sparingly, as it can be quite potent.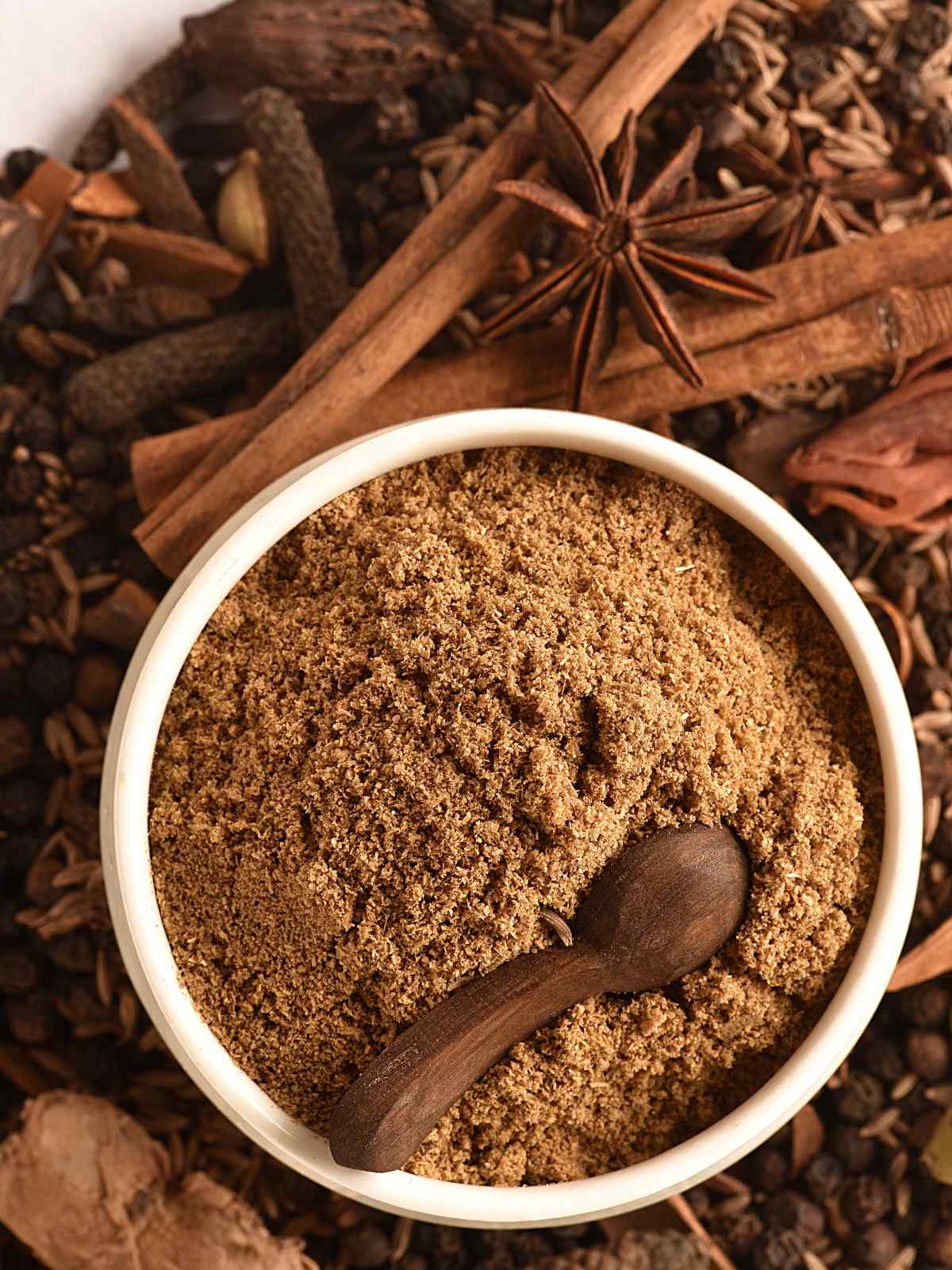 Pumpkin Pie Spice
Pumpkin pie spice includes cinnamon, cloves, and sometimes nutmeg and allspice. It can work as a substitute if you're in a pinch, although it lacks fennel seeds and Sichuan peppercorns. Adjust the quantity to balance the flavors.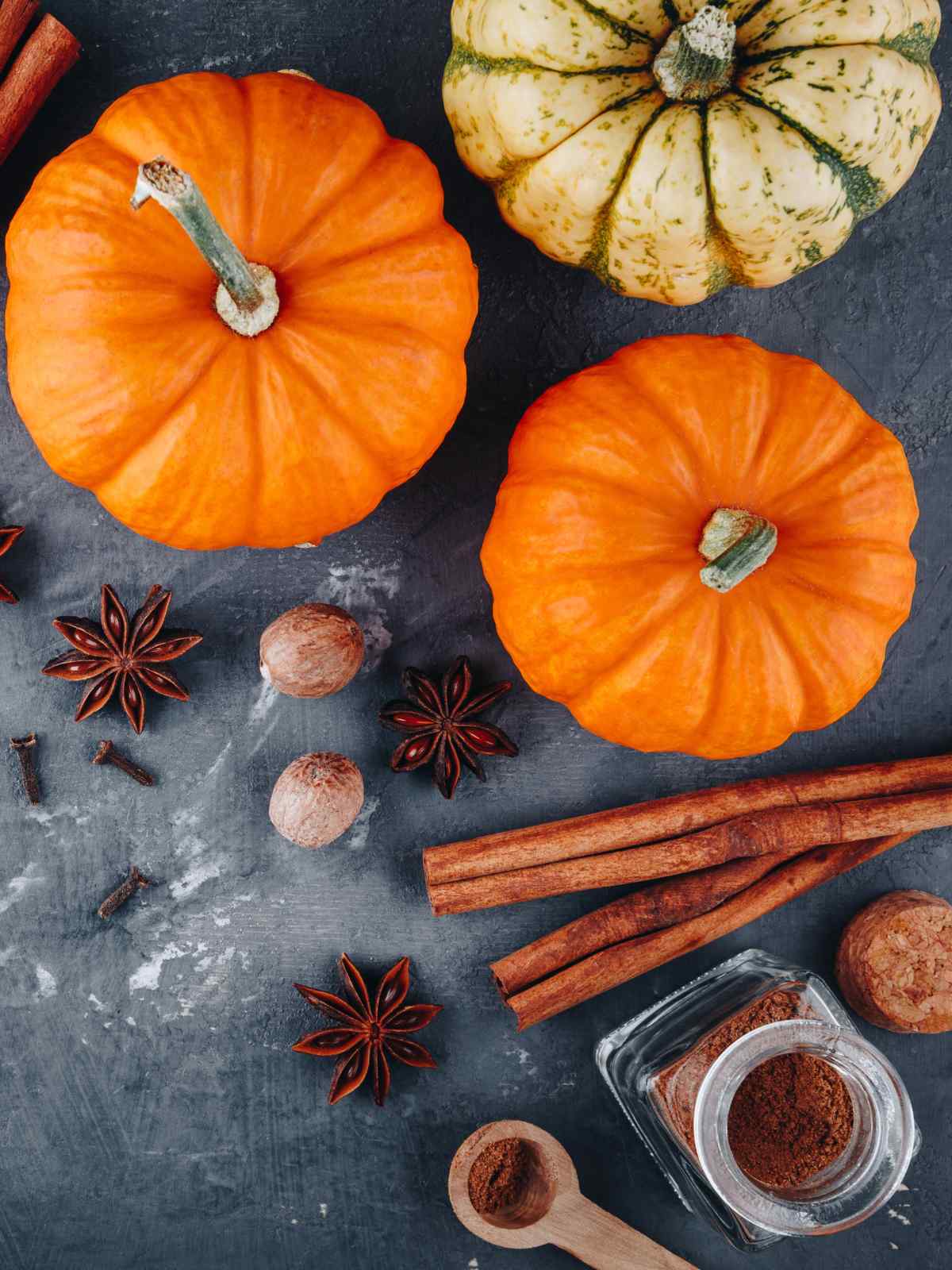 All Spice
While allspice and five-spice powder are distinct spice blends with different flavor profiles, you can use allspice as a substitute for five-spice powder in a pinch if you're in need of a quick alternative. Keep in mind that the flavors won't be identical, but allspice can provide a similar warm and slightly sweet background note. To substitute allspice for five-spice powder, use it in a 1:1 ratio.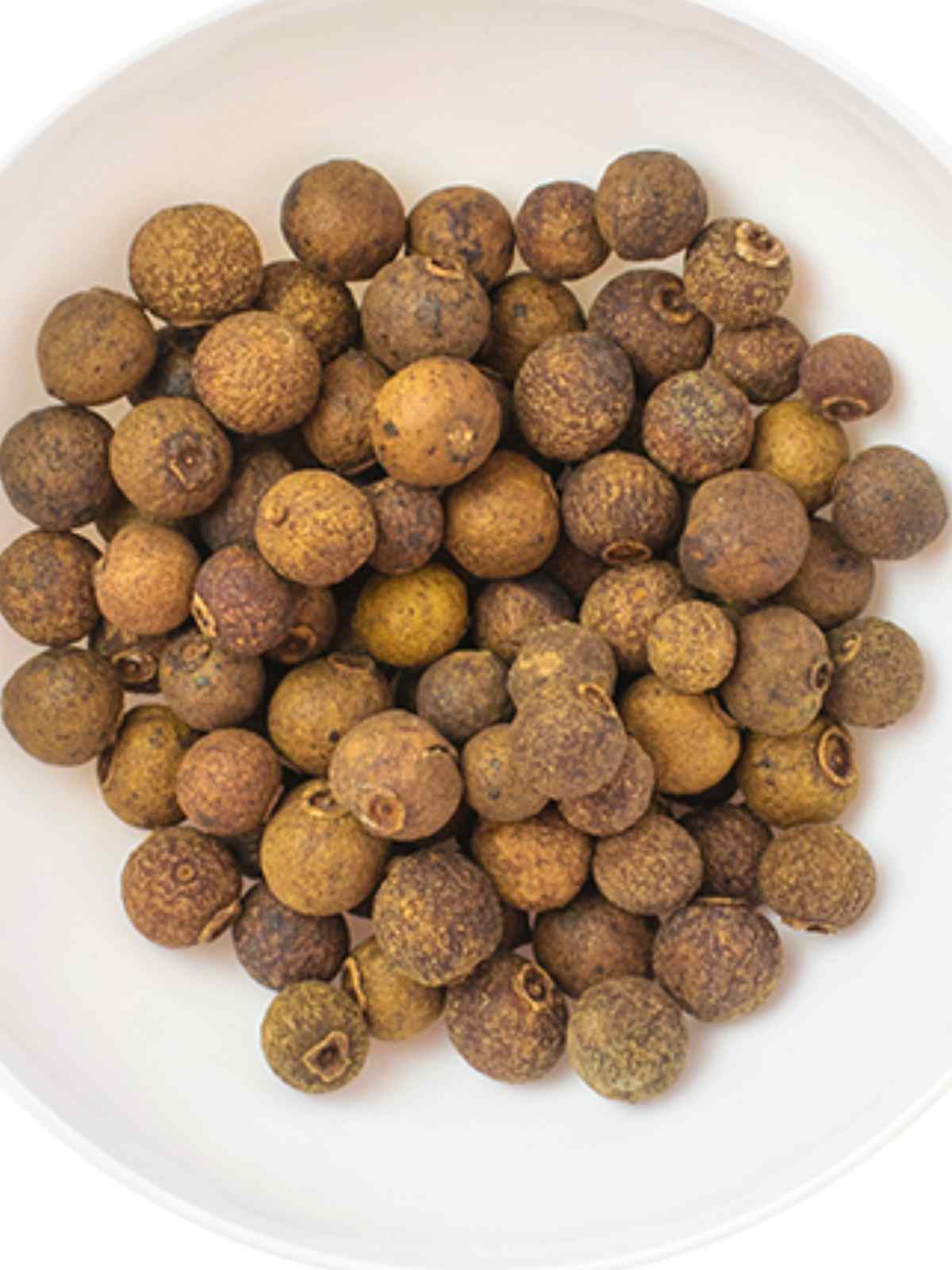 Experiment with Individual Spices
If you're missing only one or two spices in 5 spice powder, you can try using a combination of what you have. For example, if you lack star anise, you can focus on the other spices and adjust the quantities accordingly. 
Tips for Perfect Substitution
Here are some tips to help you successfully substitute Chinese five spice powder
Adjust the Ingredients: Depending on what spices you have available and your flavor preferences, you can tweak the substitute blend. For example, if you don't have star anise or dislike its flavor, you can omit it or increase the amount of another spice.
Consider Other Spices: Explore other spices that complement your dish. For sweetness and warmth, you can add a touch of ground nutmeg, allspice, or ginger. Just be mindful of the overall balance.
Taste and Adjust: These five-spice powder alternatives can make or break your recipe. Always taste your dish as you go along. Start with a smaller amount of your substitute blend and gradually add more until you achieve the desired flavor. This way, you can avoid overseasoning.
Keep It Simple: In some cases, a blend of cinnamon and cloves alone can provide a warm and sweet profile that works well in many dishes, even if it's not an exact match for five spice powder.
Remember that the key is to adapt and experiment based on the specific dish you're preparing and your personal taste preferences. With some creativity, you can still achieve delicious results without Chinese five-spice powder.
Is 5 spice strong?
Yes, five-spice powder is typically strong in flavor due to its blend of aromatic and pungent spices, including ingredients like star anise, cloves, and Szechuan peppercorns.
Where does 5 spice come from?
Five-spice powder is believed to have originated in China, where it has been used for centuries in Chinese cuisine.
What does 5 Spice smell like?
It typically has a strong, sweet, and slightly spicy aroma with hints of licorice-like sweetness from the star anise, warmth from the cloves, and earthy notes from the Szechuan peppercorns and cinnamon
Is 5 spice salty?
No, five-spice powder is not inherently salty.
How long does 5 spice last?
Unopened five-spice powder can last 2-3 years if stored properly. Once opened, it's best to use it within 6 months to a year for optimal flavor.
What Colour is five spice?
Five-spice powder is typically brown in color. Its exact shade of brown can vary depending on the specific blend and the proportions of the individual spices used, but it usually has a medium to dark brown appearance.
Chinese Five Spice Uses
Chinese five-spice powder is a versatile spice blend that's widely used in Chinese cuisine and beyond. Here are some common uses for Chinese five-spice powder:
Marinades
Stir-Fries
Braising
Noodles and Rice Dishes
Soup and Broths
Desserts
Sauces and Dressings
Snacks
More Food Substitutes in Cooking
In summary, while there's no perfect substitute for 5 spice powder, you can create a similar flavor profile using a combination of other spices. Experimentation and adjustments to suit your preferences and the specific dish you're preparing are key.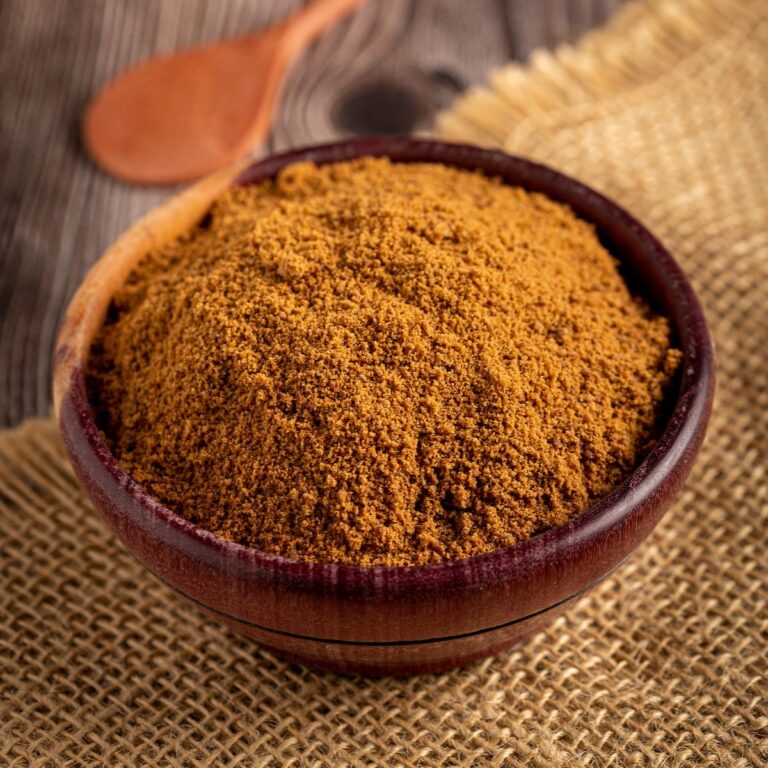 Five Spice Powder Substitute
Simple homemade substitute for five spice powder ready in five minute with 5 pantry staple ingredients.
Instructions
Roast any whole dry ingredient in a heavy bottom skillet.

Place all the ingredients in a spice grinder and grind until it forms a smooth powder like consistency.

Store in an air tight jar
Nutrition
Calories:
44
kcal
Carbohydrates:
8
g
Protein:
2
g
Fat:
2
g
Saturated Fat:
0.1
g
Polyunsaturated Fat:
0.3
g
Monounsaturated Fat:
1
g
Sodium:
8
mg
Potassium:
187
mg
Fiber:
4
g
Sugar:
0.1
g
Vitamin A:
30
IU
Vitamin C:
2
mg
Calcium:
127
mg
Iron:
3
mg