Are you out of teff flour or looking for alternative options?
Our comprehensive guide to Teff Flour Substitutes is here to help you navigate the world of alternative flour with confidence.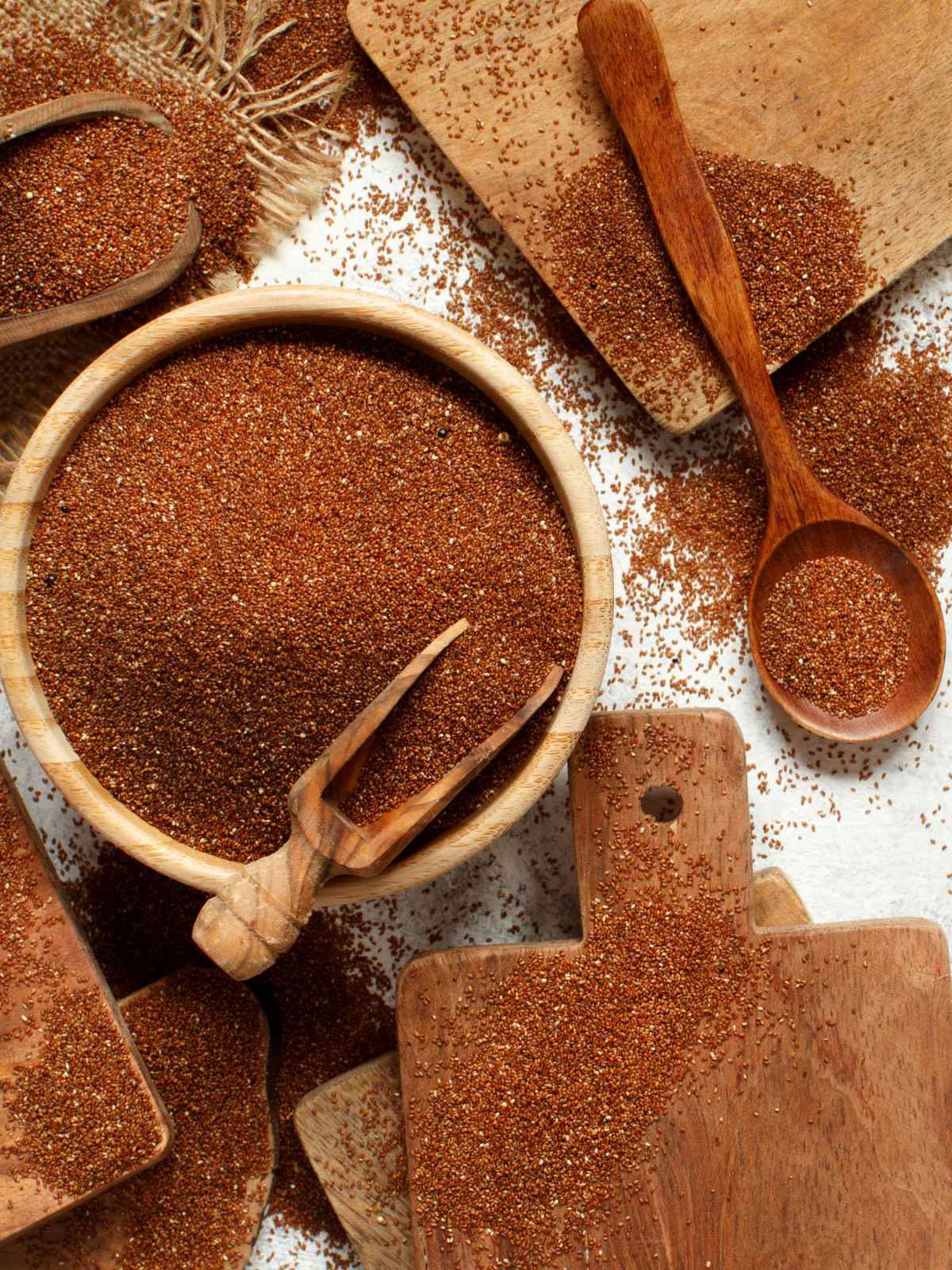 Whether you're following a gluten-free diet, adapting to ingredient shortages, or simply curious about diversifying your pantry, we've got you covered. Explore a range of teff flour replacements, each with its unique flavor, texture, and culinary applications.
Jump to:
What is Teff Flour?
Teff flour is a fantastic ingredient that every home chef should know about! It's a type of flour made by grinding the tiny seeds of the teff plant. Teff, scientifically known as Eragrostis tef, is an ancient grain that has been grown in Ethiopia for centuries and is a staple in Ethiopian cuisine.
What's unique about teff flour is its gluten-free nature, making it an excellent choice for people with gluten sensitivities or those on a gluten-free diet. Teff flour can be used in a wide range of recipes, from baking to cooking. It has a mild, slightly nutty flavor that can add a lovely twist to your dishes.
So, whether you're making pancakes, or bread, or even using it as a thickening agent in soups and sauces, teff flour is a versatile and nutritious option that can elevate your culinary creations. Give it a try and explore the delicious world of teff flour in your home cooking adventures!
Teff Flour Properties
Teff flour is a unique and nutritious ingredient with several notable properties:
Gluten-Free: Teff flour is naturally gluten-free, making it an excellent choice for individuals with celiac disease or gluten sensitivities.
Nutrient-rich: It is rich in essential nutrients, including fiber, protein, iron, calcium, magnesium, and B vitamins. This nutritional profile makes teff flour a valuable addition to a balanced diet.
Mild, Nutty Flavor: Teff flour has a mildly nutty flavor, which can enhance the taste of dishes without overpowering other ingredients.
Versatile: Teff flour can be used in a variety of recipes, such as pancakes, bread, muffins, and cookies. It also works well as a thickening agent in soups, stews, and sauces.
Excellent Binding Properties: Teff flour has good binding properties, which can help improve the texture and structure of gluten-free baked goods.
Absorption Capacity: It can absorb a significant amount of liquid, making it useful for creating smooth batters and doughs.
Ancient Grain: Teff is one of the world's oldest cultivated grains, with a history dating back thousands of years, particularly in Ethiopian and Eritrean cuisines.
Low Glycemic Index: Teff flour has a relatively low glycemic index, meaning it has a gradual impact on blood sugar levels, making it suitable for those monitoring their blood sugar.
Rich in Resistant Starch: Teff contains resistant starch, a type of carbohydrate that can have potential health benefits, including improved digestive health.
Diverse Color Varieties: Teff comes in different color varieties, including brown, red, and ivory, each with its own unique flavor and nutritional profile.
Teff Flour Substitute
When seeking teff flour substitutes, you have a diverse range of options to consider, catering to various dietary preferences and culinary needs. Here are some types of teff flour substitutes:
Gluten-Free Substitutes
Almond Flour: Made from ground almonds, almond flour is a popular gluten-free substitute. It imparts a mild, nutty flavor and works well in baked goods like muffins and pancakes.
Coconut Flour: Coconut flour, derived from dried coconut meat, is another gluten-free choice. It has a distinct sweet and nutty flavor and is suitable for recipes like cakes and cookies. Keep in mind that coconut flour absorbs a lot of liquid, so recipes may require adjustments.
Brown Rice Flour: Brown rice flour is a versatile gluten-free alternative that can be used in various recipes, including bread and cookies. It has a neutral flavor.
Sorghum Flour: Sorghum flour, made from sorghum grains, is gluten-free and often used in gluten-free baking. It has a mild, slightly sweet taste.
Millet Flour: Millet flour, produced by grinding millet grains, is gluten-free and offers a subtle nutty flavor. It's suitable for pancakes, bread, and muffins.
Traditional Flour Substitutes
Wheat Flour: When gluten content is not a concern, wheat flour, including all-purpose and whole wheat, can be used as a substitute for teff flour in recipes like bread and pasta.
Barley Flour: Barley flour is another traditional flour option that can replace teff flour in non-gluten-free recipes. It has a nutty flavor and works well in some baked goods.
Rye Flour: Rye flour is suitable for replacing teff flour in recipes where a slightly earthy flavor is desirable, such as dark bread and certain pastries.
Cornstarch: If you're looking for a non-gluten-free substitute for thickening purposes, cornstarch can work as a thickening agent in soups, sauces, and gravies, similar to teff flour.
Other Gluten-Free Grains
Quinoa Flour: Quinoa flour, made from ground quinoa seeds, is gluten-free and can be used in a variety of dishes, including baked goods and pancakes.
Buckwheat Flour: Buckwheat flour is a gluten-free option with a distinctive earthy flavor. It is suitable for recipes like pancakes and bread.
Nut Flours
Cashew Flour: Cashew flour, made from ground cashews, offers a mild, slightly sweet flavor and is used in gluten-free baking.
Hazelnut Flour: Hazelnut flour is another nut-based gluten-free substitute known for its nutty taste. It can be used in various desserts.
Teff Flour Uses
Teff flour is a versatile gluten-free flour made from the tiny teff grain, which is native to Ethiopia and Eritrea. It has been gaining popularity in recent years due to its nutritional benefits and unique flavor. Here are some common uses for teff flour:
Injera: Injera is a sourdough flatbread that is a staple in Ethiopian and Eritrean cuisine. Teff flour is the primary ingredient in injera, giving it its distinctive flavor and spongy texture. To make injera, teff flour is mixed with water and left to ferment for several days.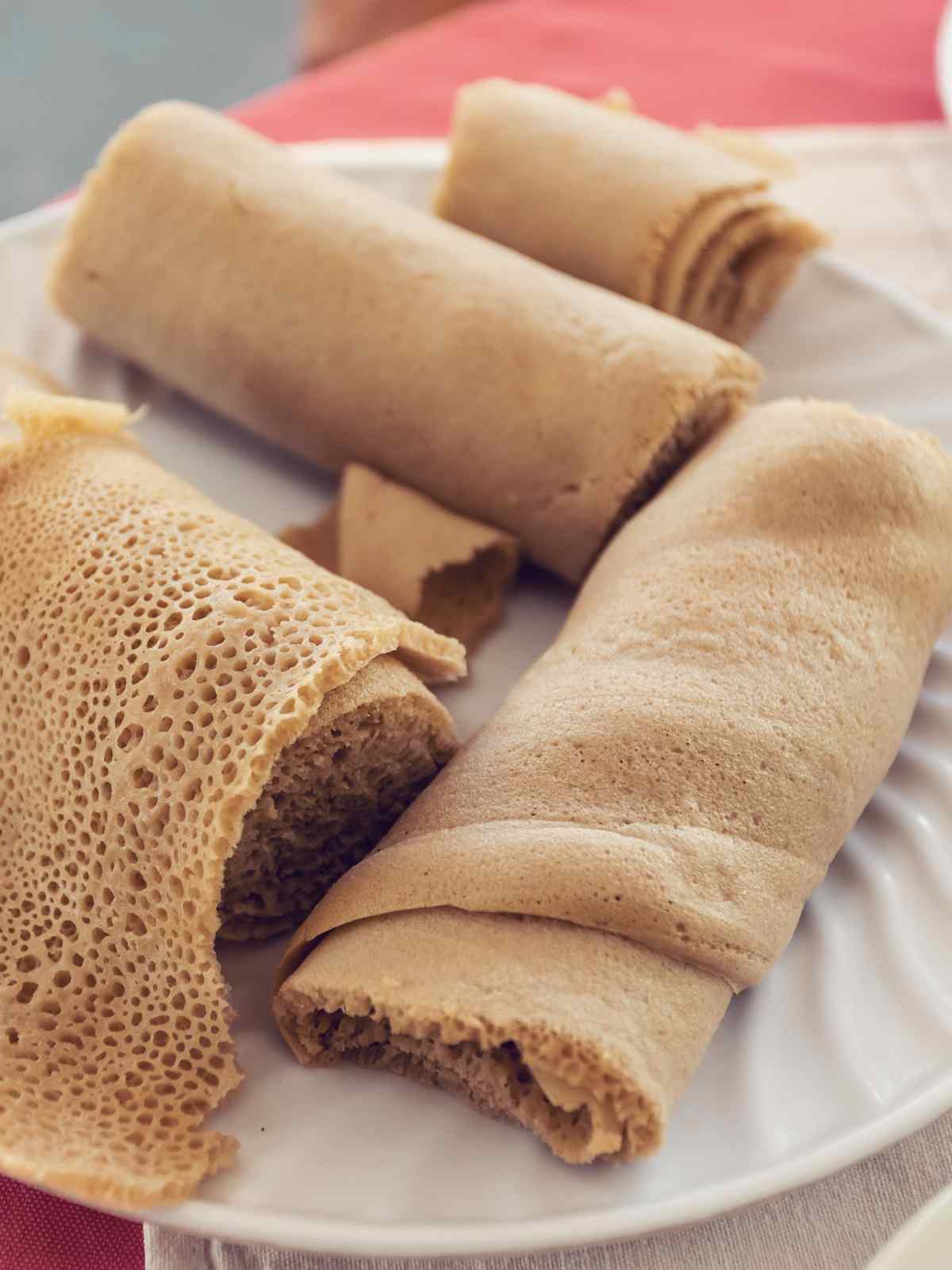 Baking: Teff flour can be used in gluten-free baking as a substitute for wheat flour. It has a mild, nutty flavor and a slightly earthy taste. You can use it in recipes for pancakes, waffles, muffins, cookies, and bread.
Porridge: Teff flour can be used to make a creamy, nutritious porridge. Simply mix teff flour with water or milk, cook it until it thickens, and sweeten it with honey or sugar. You can also add fruits, nuts, or spices for extra flavor.
Thickening Agent: Teff flour can be used as a gluten-free thickening agent for soups, stews, and sauces. It imparts a subtle nutty flavor and helps to achieve a smooth consistency in dishes.
Pasta and Noodles: Teff flour can be used to make gluten-free pasta and noodles. You can either make teff-based pasta from scratch or purchase pre-made teff pasta products.
Smoothies: Teff flour can be added to smoothies to boost their nutritional content. It adds a nutty flavor and provides additional fiber and protein.
Gluten-Free Flour Blend: You can use teff flour as part of a gluten-free flour blend in recipes that require multiple types of flour. Combining it with other gluten-free flour like rice flour, potato starch, or tapioca flour can yield excellent results in gluten-free baking.
Sauces and Gravies: Teff flour can be used to make roux for sauces and gravies. It's a suitable option for thickening these liquids without the need for wheat flour.
Breading for Fried Foods: Teff flour can be used as a gluten-free breading for fried foods like chicken tenders or fish fillets. You can season it with herbs and spices for extra flavor.
Energy Bars and Snacks: Teff flour can be incorporated into homemade energy bars, granola bars, or snack bars for an extra nutritional punch.
Tips for Successful Substitution
Successfully substituting teff flour with another flour in your recipes requires some careful considerations and adjustments. Here are some tips to ensure a smooth substitution:
Understand the Properties: Familiarize yourself with the properties of both teff flour and the substitute flour you plan to use. Pay attention to factors like texture, flavor, and absorbency. 
Measure Accurately: When substituting, use a kitchen scale for precise measurements. Different flours have varying densities, so accurate measuring is crucial for consistent results. 
Combine Flours: In some cases, you may achieve better results by combining the substitute flour with other gluten-free flour to replicate the texture and taste of teff flour more closely. 
Consider the Flavor: Be mindful of the flavor of the substitute flour. Some flours have distinct tastes that can impact the final dish. Adjust seasonings or add complementary ingredients as needed. 
Texture Adjustments: Adjust the recipe's liquid content if the substitute flour absorbs more or less liquid than teff flour. Start by adding or reducing liquid gradually to achieve the desired consistency. 
Binding Agents: Some substitute flours may require additional binding agents like xanthan gum or guar gum to replicate the binding properties of teff flour, especially in gluten-free recipes. 
Experiment: Substitution might require a bit of experimentation. Don't be afraid to try different ratios of substitute flour or adjust other recipe elements to achieve the best results. 
Check Baking Times: Keep an eye on baking times, as different flours may require shorter or longer cooking times. Use visual and texture cues to determine doneness. 
Mixing Techniques: Alter your mixing techniques if needed. Some flours may require different handling methods to achieve the desired consistency. 
Record Your Changes: If you make significant adjustments to a recipe, make notes of what you did and the outcome. This will help you replicate your success in the future. 
Taste Test: Always taste-test your final dish to ensure it meets your expectations in terms of flavor, texture, and overall quality. 
Be Patient: Substituting flours can take some practice. Don't be discouraged if your first attempt isn't perfect. Learning and refining your techniques is all part of the cooking process. 
More Food Substitutes in Cooking
With our complete guide to teff flour substitutes, you'll have the knowledge and confidence to experiment in the kitchen and adapt your recipes to suit your needs. Whether you're baking, cooking, or thickening sauces, these substitutes will help you achieve delicious results. Embrace the culinary adventure of exploring new flours and elevate your cooking to new heights!