Spaghetti squash, with its unique stringy texture reminiscent of pasta, has become a staple in many kitchens. However, it's tough exterior and dense interior can make it seem daunting to cut into.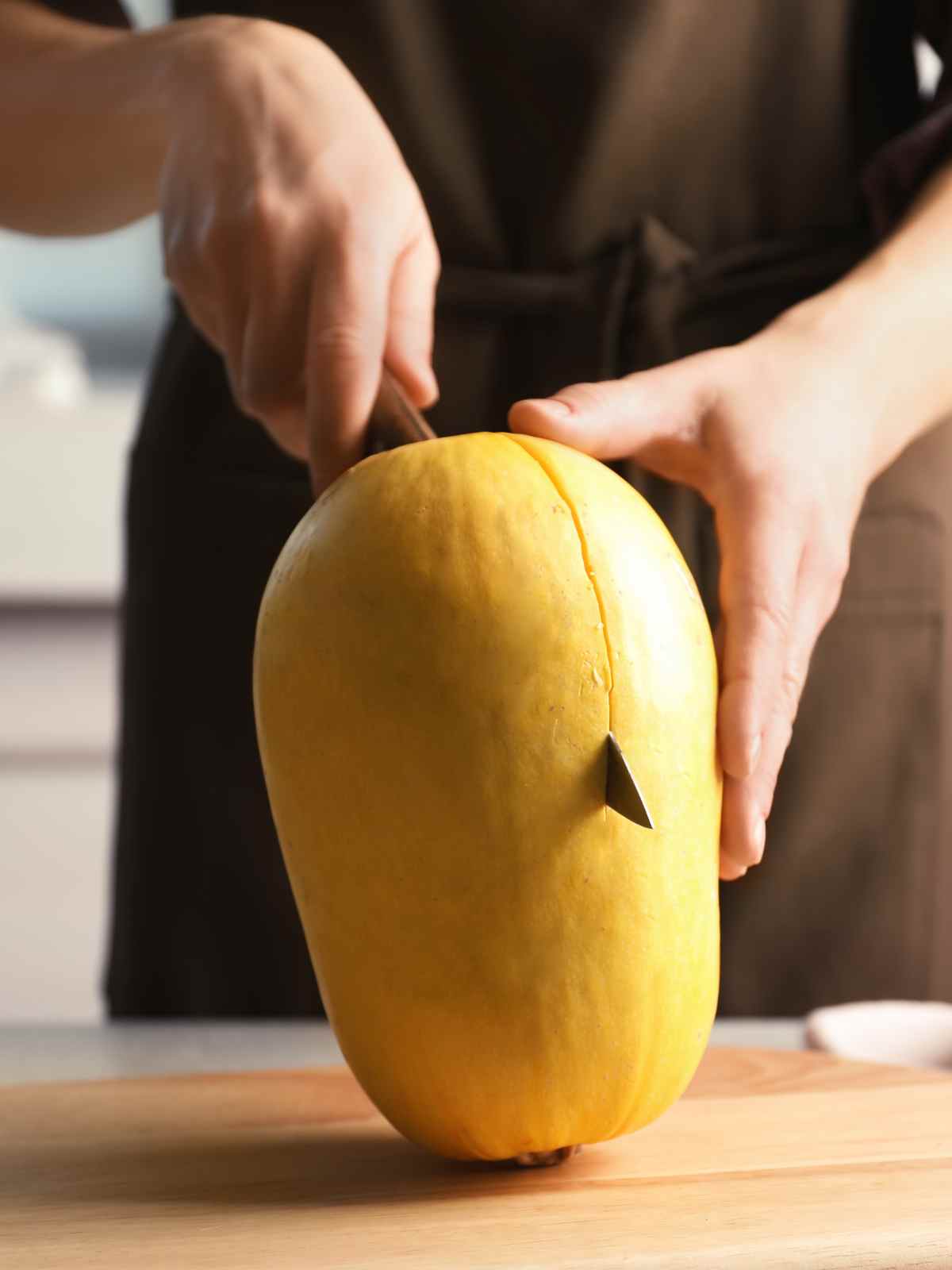 Fear not! With the proper technique and a bit of guidance, you can easily conquer this culinary challenge. In this comprehensive guide, we'll walk you through the process of cutting spaghetti squash, from selecting the right squash to preparing it for cooking. 
Jump to:
Understanding Spaghetti Squash
Before you dive into the cutting process, it's essential to familiarize yourself with the nature of spaghetti squash. This winter squash variety is known for its vibrant yellow or pale orange skin and elongated shape. Inside, you'll find a dense flesh that transforms into spaghetti-like strands when cooked. It's this unique texture that makes spaghetti squash a popular low-carb and gluten-free alternative to traditional pasta.
Tools You'll Need
Before you begin, gather the necessary tools:
Sharp Chef's Knife: A sharp knife is crucial for a clean and safe cut. 
Cutting Board: Choose a stable cutting board with a flat surface to ensure safety while cutting. 
Microwave (Optional): Some prefer to microwave the squash briefly to make cutting easier. 
Spoon: You'll need a spoon to scoop out the seeds and pulp. 
Oven Mitts: Protect your hands while handling hot squash. 
How to Easily Cut Spaghetti Squash
Follow these steps to cut spaghetti squash effectively and safely:
Selecting the Right Squash 
Choose a spaghetti squash that feels firm, heavy for its size, and free of soft spots or blemishes. The stem should be intact and dry. 
Preparing the Squash 
Start by rinsing the squash thoroughly under running water to remove any dirt or debris. Pat it dry with a clean towel.
Softening the Squash (Optional) 
Some people prefer to soften the squash slightly before cutting, making it easier to handle. To do this, pierce the squash a few times with a fork, then microwave it for 3-4 minutes on high. Allow it to cool slightly before proceeding. You can place the squash directly on the microwave tray or in a microwave-safe bowl.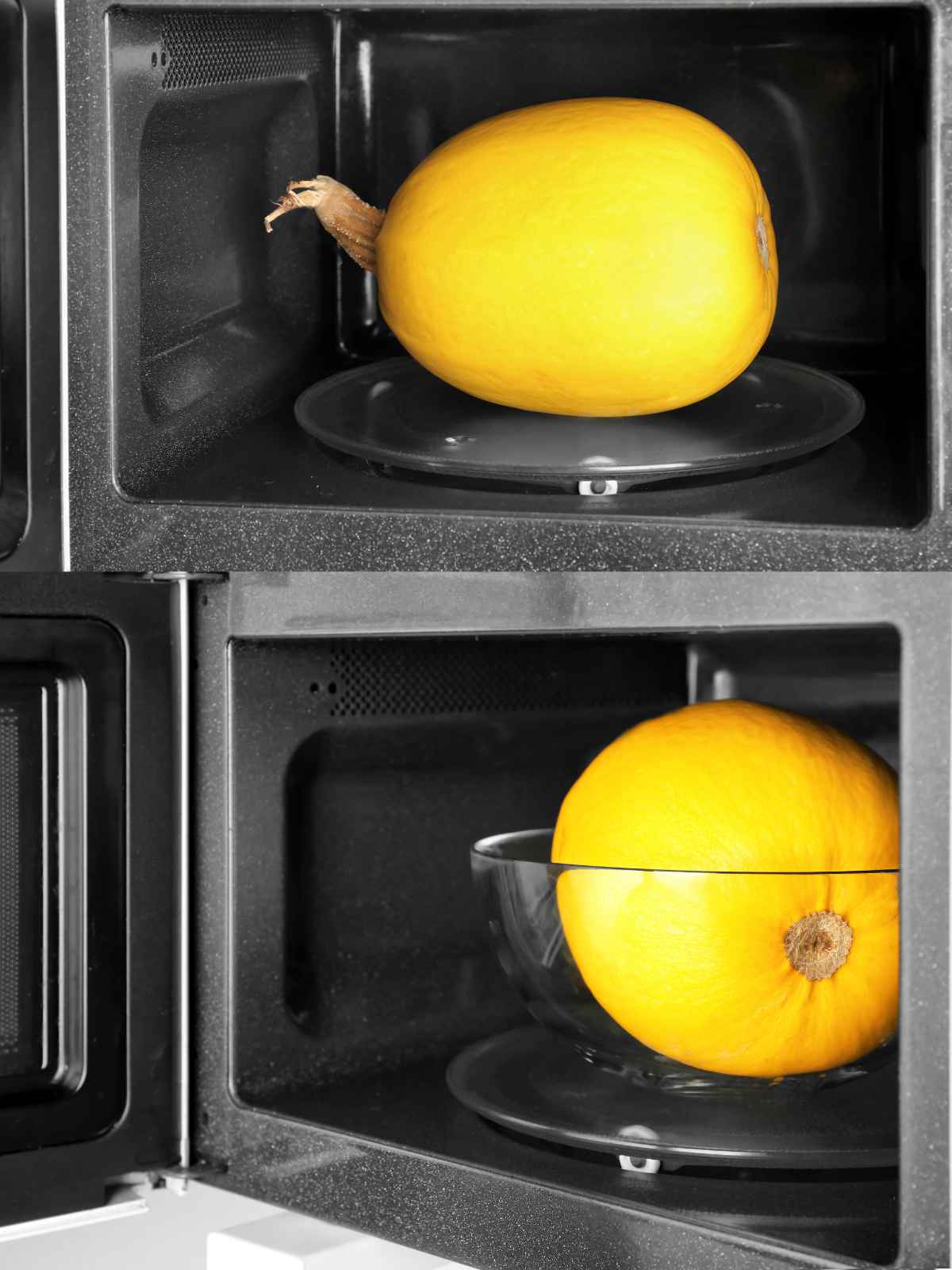 Cutting the Ends 
Place the squash on a stable cutting board. With a sharp chef's knife, carefully cut off both ends of the squash to create flat surfaces. This provides stability and prevents the squash from rolling while cutting.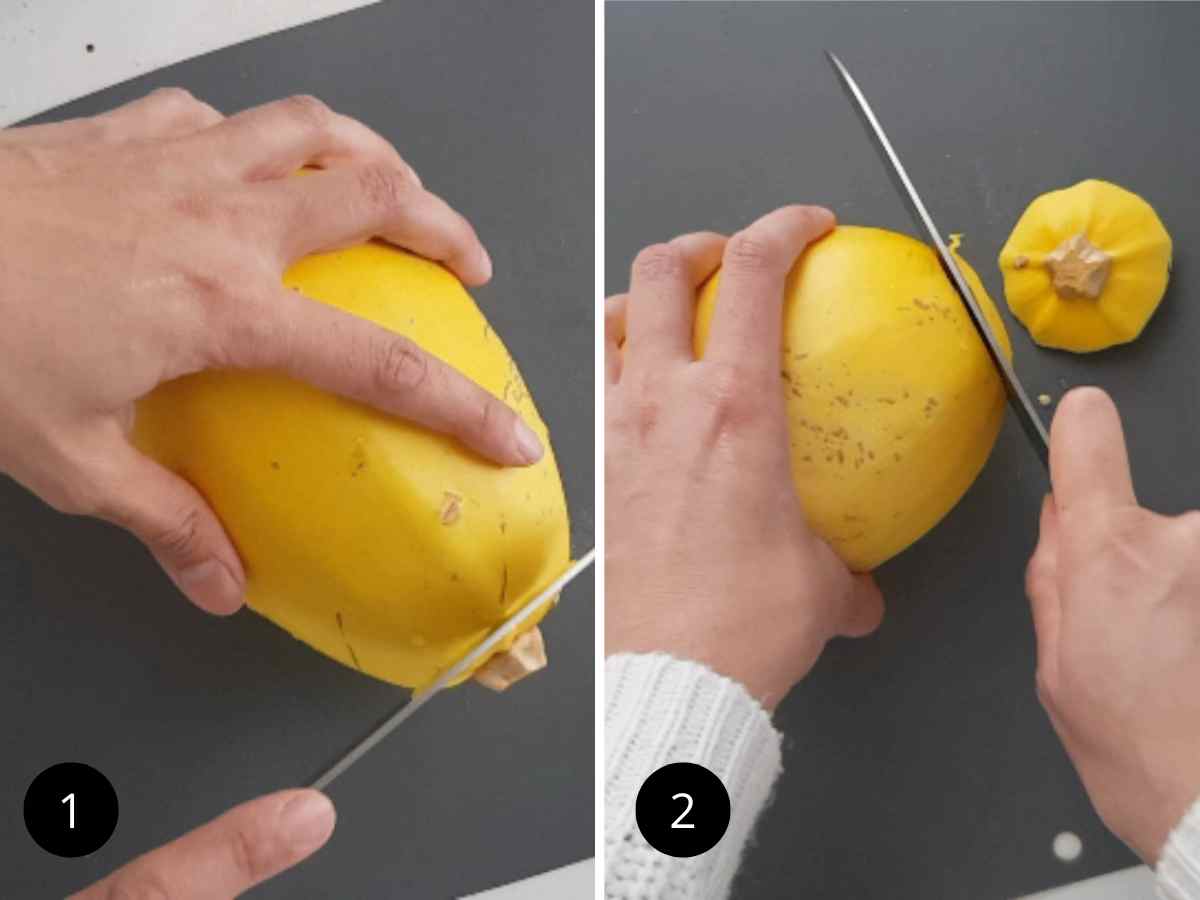 Halving the Squash 
Stand the squash upright on one of its flat ends. Holding the top of the squash with one hand, use the other hand to guide the knife through the center lengthwise. Apply steady, even pressure to cut it in half. This may require some effort due to the squash's dense nature.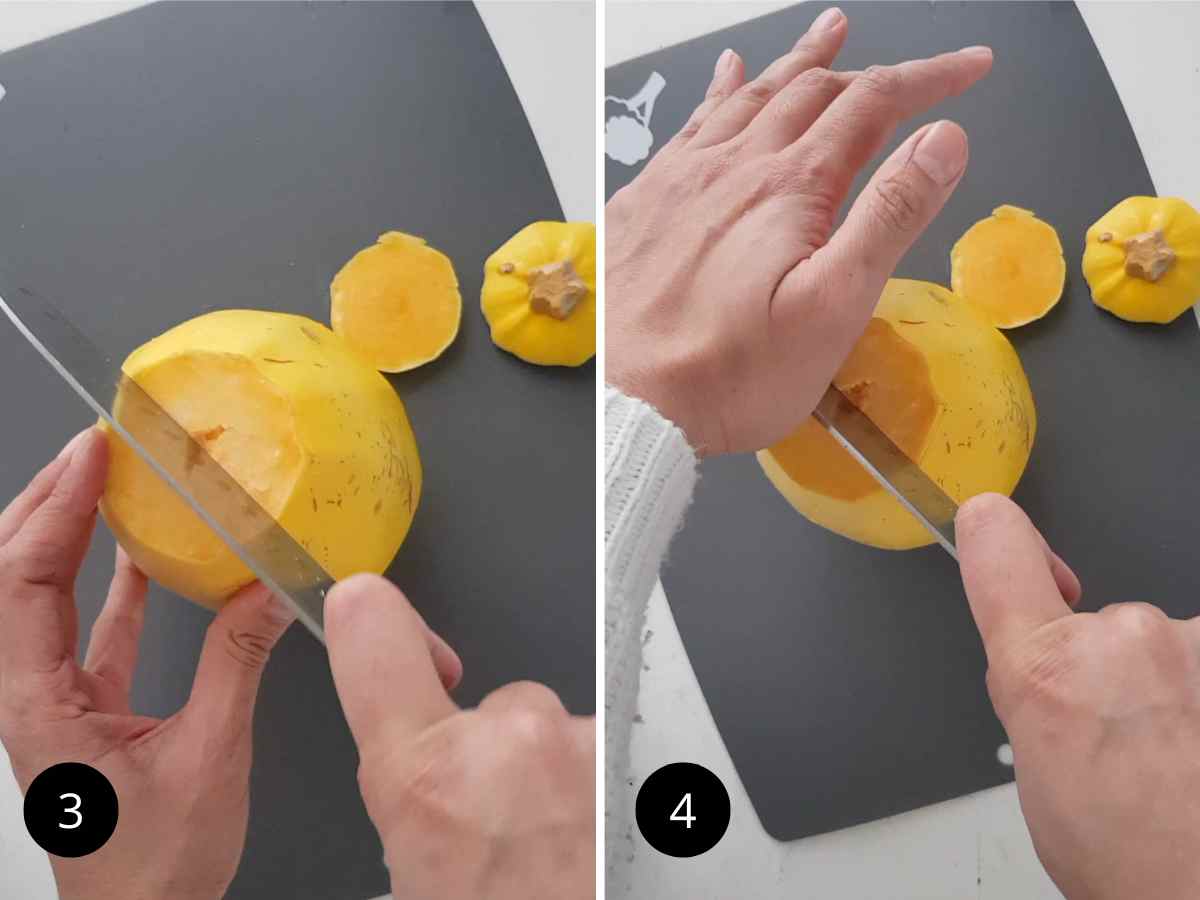 Removing Seeds and Pulp 
With the squash halved, use a spoon to scrape out the seeds and stringy pulp from the center. This creates a hollow cavity where the spaghetti-like strands will develop during cooking. You can discard the seeds or save them for roasting.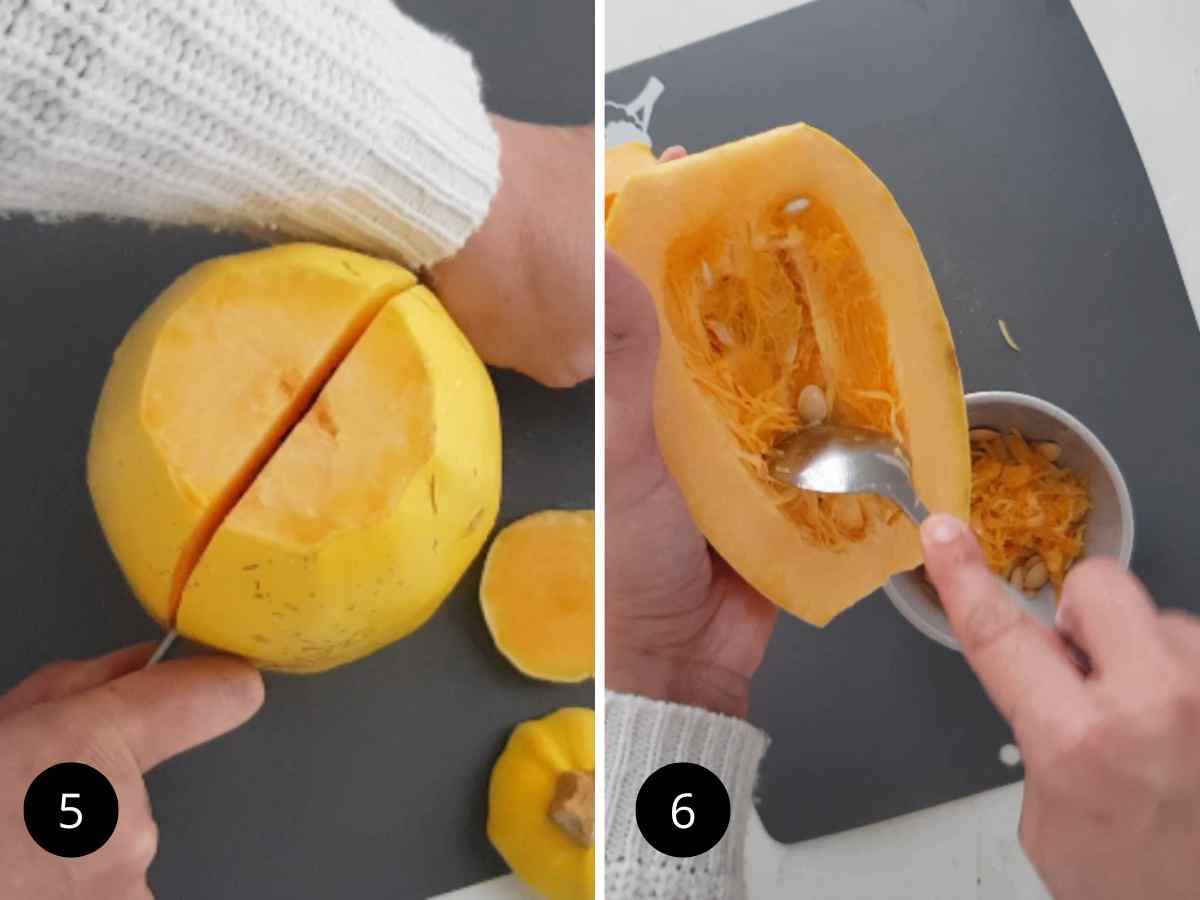 Roasting or Cooking 
At this point, you can proceed to roast, steam, or Air fry the spaghetti squash according to your recipe's instructions. 
Separating the Strands 
Once the squash is cooked, use a fork to gently scrape the flesh. The flesh will naturally separate into long, spaghetti-like strands. Continue scraping until you've extracted all the strands from both halves. 
Safety Tips 
Smaller spaghetti squashes tend to be easier to cut than larger ones. If you're new to cutting spaghetti squash, consider opting for a smaller size to make the process less intimidating.
If you have a rubber mallet or a hammer with a wooden block, you can gently tap the back of the knife to help it penetrate the squash's tough skin.
Always exercise caution when using a sharp knife. Maintain proper hand positioning to avoid accidents. 
Always keep your hands and fingers away from the path of the knife. Pay close attention to your hand placement, especially as you near the end of the cutting process.
If microwaving the squash, be cautious when handling it afterward, as it may be hot. 
Use oven mitts or kitchen towels to protect your hands from the hot squash and baking sheet. 
Instead of trying to force the knife through the squash with one motion, use a rocking motion. This means gently rocking the knife back and forth as you apply pressure. This technique is more effective for dense vegetables like spaghetti squash.
When cutting through the squash, don't rely solely on your arm strength. Instead, use your body weight to apply even pressure on the knife. This reduces the strain on your arms and makes the cutting process smoother.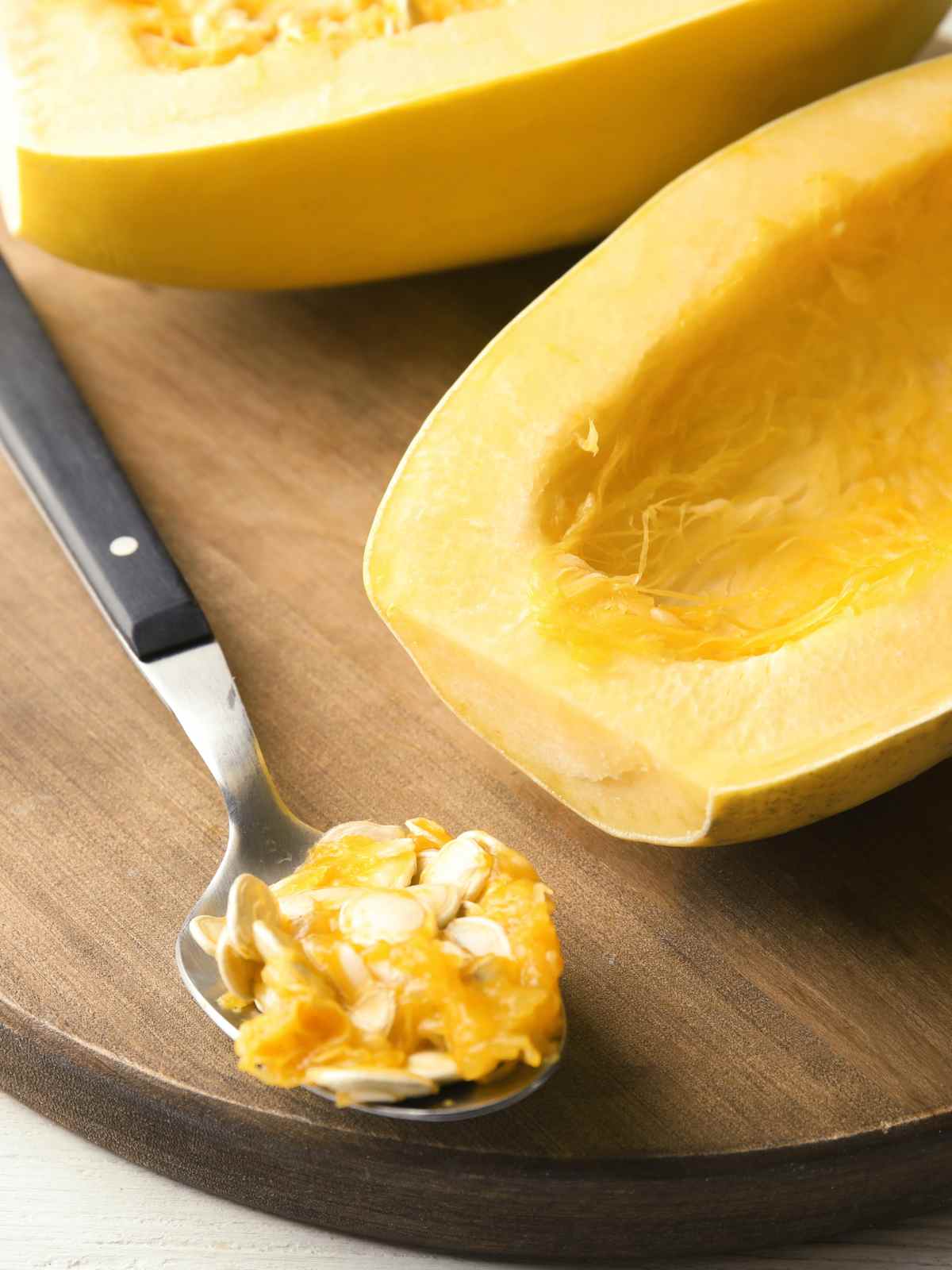 How do you soften spaghetti squash to cut it?
To soften spaghetti squash for easier cutting, pierce its skin with a fork and microwave it on high for 3-5 minutes. Let it cool before cutting.
Is there a tool to cut spaghetti squash?
Not really, You just need an eight-inch sharp chef knife and it will work effectively with the right technique.
Why can't I cut into my spaghetti squash?
Difficulty cutting into spaghetti squash might be due to its tough skin, not softening the squash, dense interior, using a dull knife, or lack of proper technique.
What's the best knife to cut a spaghetti squash?
A sharp chef's knife or a heavy-duty serrated knife is best for cutting a spaghetti squash.
Can you eat spaghetti squash skin?
Yes, you can eat spaghetti squash skin when it's cooked, but it's usually softer and more enjoyable to eat the flesh inside.
What does spaghetti squash taste like?
Spaghetti squash has a mild, slightly sweet flavor and a texture resembling strands of cooked pasta.
Spaghetti Squash Recipes
Cutting spaghetti squash might seem intimidating at first, but with the right tools and technique, it becomes a manageable task. By following this step-by-step guide, you'll be well on your way to enjoying the delicious and nutritious strands of spaghetti squash in your favorite recipes. Remember to prioritize safety, take your time, and embrace the culinary adventure that this unique squash has to offer.