When it comes to preparing a delicious spaghetti squash dish, selecting the right squash is the first step toward culinary success. With their distinct shape and vibrant color, spaghetti squash can be a nutritious and versatile addition to your meals.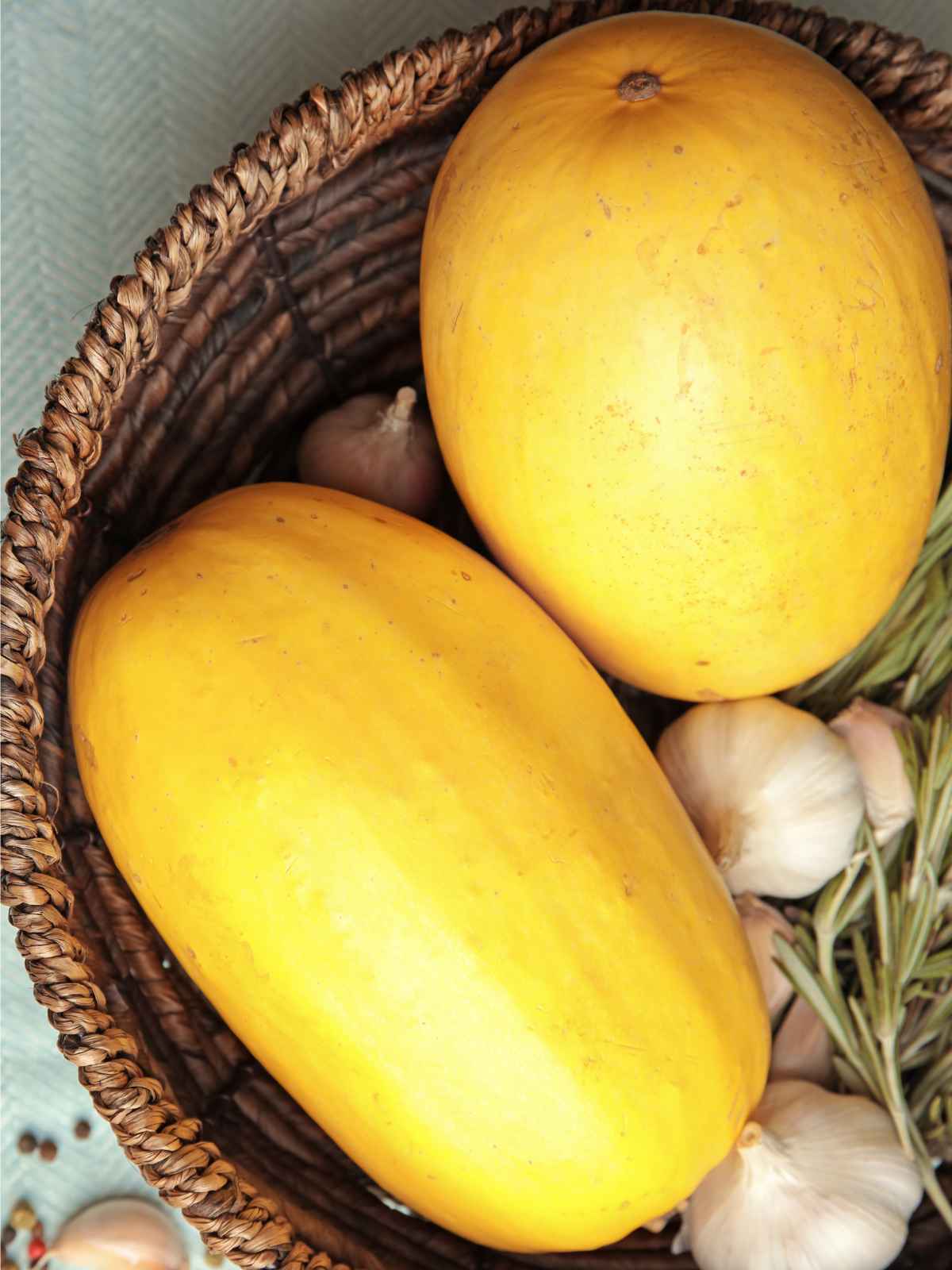 In this blog post, we will provide you with some helpful tips on how to choose the perfect spaghetti squash while shopping, ensuring that you bring home a squash that is fresh, flavorful, and ready to be transformed into a delightful culinary creation.
Jump to:
What Does Spaghetti Squash Taste Like?
Spaghetti squash has a mild and slightly sweet flavor that is often described as nutty or buttery. When cooked, the flesh of the spaghetti squash becomes tender and has a slightly crisp texture, resembling strands of spaghetti.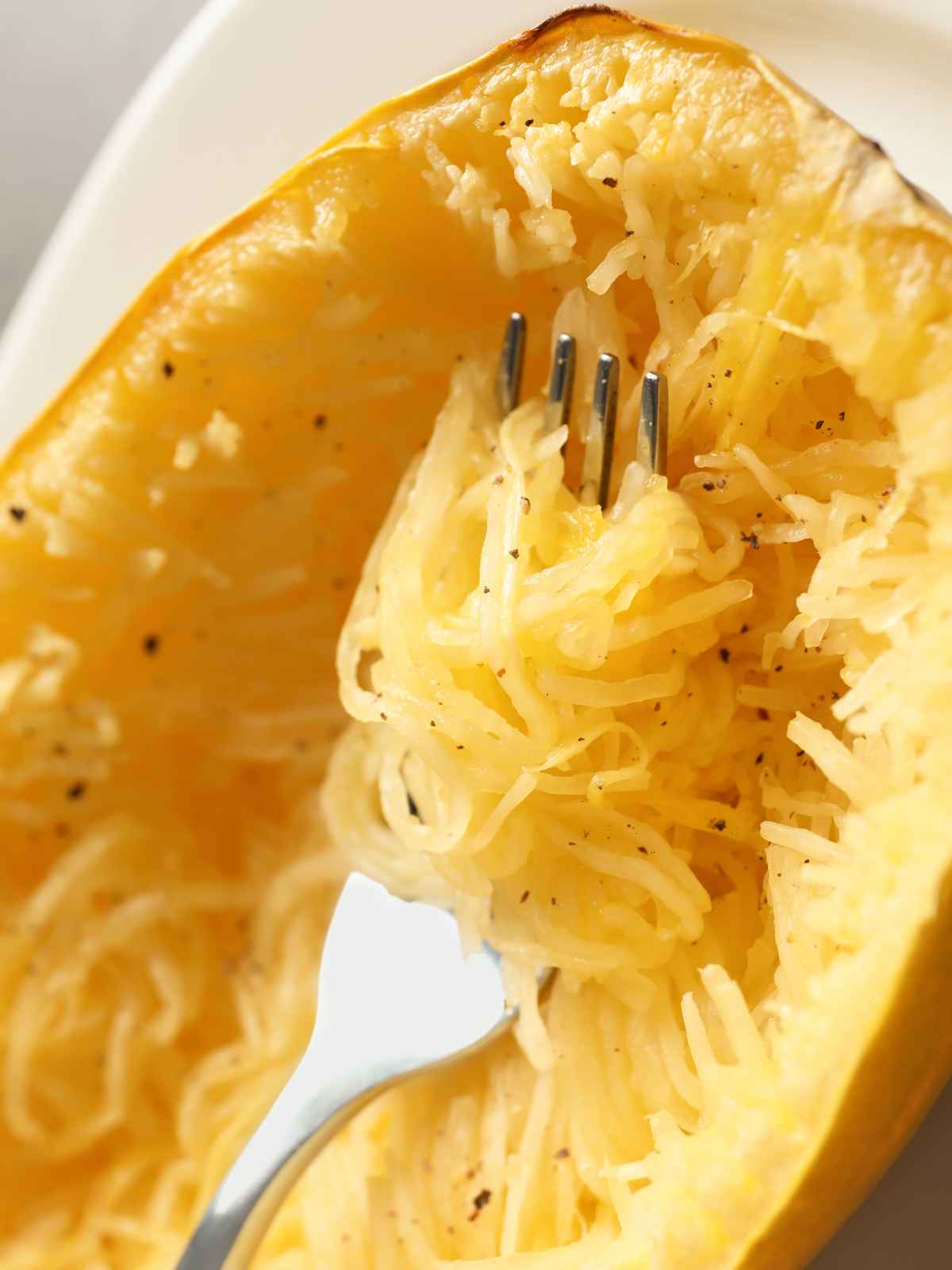 The flavor is not overpowering, allowing it to work well with various sauces, seasonings, and ingredients. Its neutral taste makes it a versatile vegetable that can be paired with a wide range of flavors, whether you prefer a light garlic and herb seasoning or a rich tomato sauce. Ultimately, the taste of spaghetti squash is subtle and provides a pleasant backdrop for other flavors in your dish.
Pick the Perfect Spaghetti Squash Every Time
To pick the perfect spaghetti squash at the store every time, keep the following points in mind:
Look for a Firm and Heavy Squash
When shopping for spaghetti squash, start by picking it up and giving it a gentle squeeze. A good squash should feel firm and heavy for its size. Avoid squashes that have soft spots or feel excessively light, as these signs indicate potential spoilage.
Examine the Skin
Inspect the outer skin of the spaghetti squash for any blemishes, cuts, or soft spots. A healthy squash will have smooth and unblemished skin. While minor imperfections are common, choose a squash with minimal damage to ensure its freshness and optimal quality.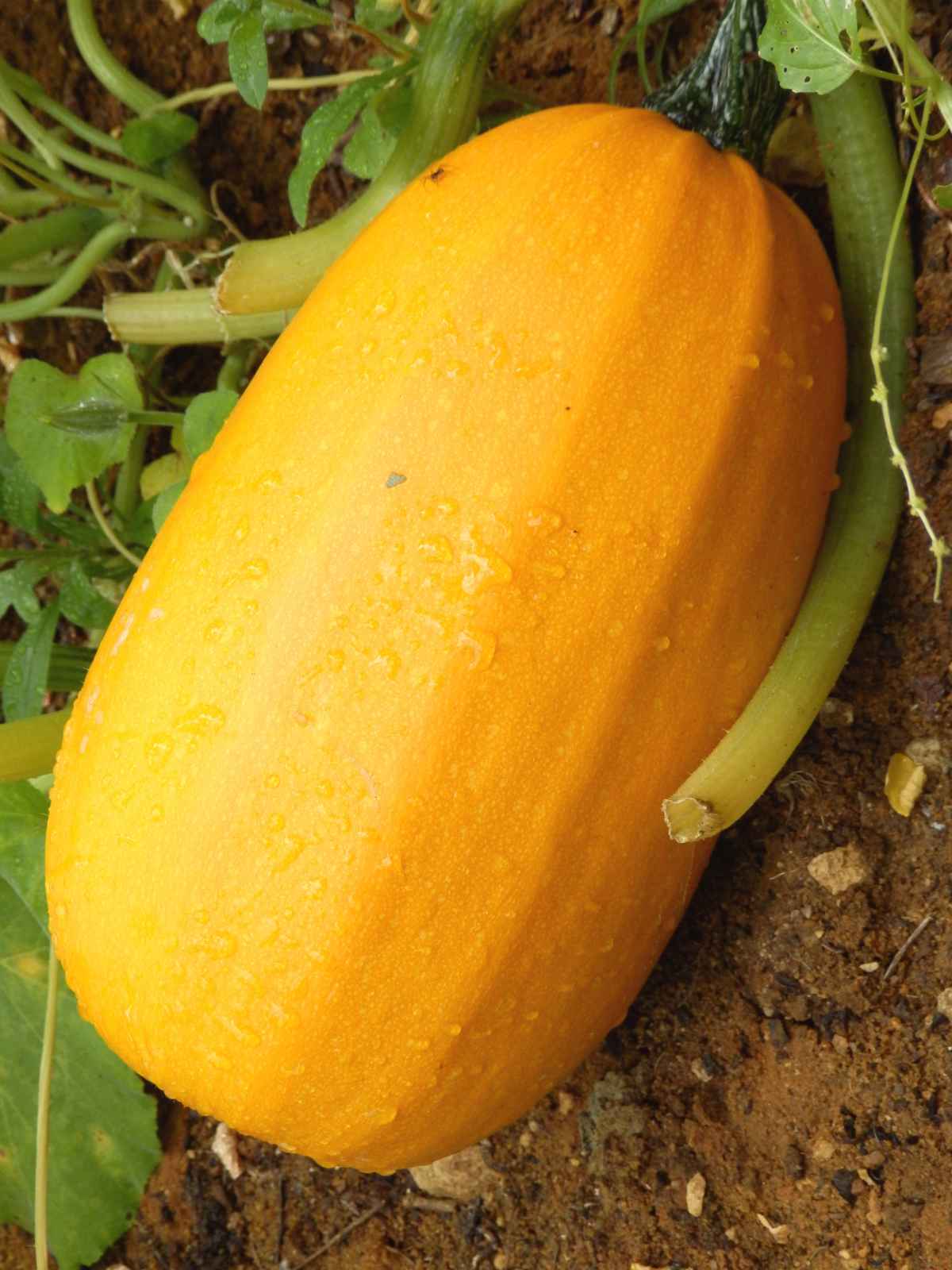 Check for Vibrant Color
Vibrant color is an indicator of ripe and flavorful spaghetti squash. Look for squashes with a bright, golden-yellow, or orange hue. Avoid squashes that have a dull or pale appearance, as they might be underripe or lacking in flavor.
Seasonality
While spaghetti squash is available in most grocery stores year-round, it is typically harvested in the fall and winter months. If possible, choose squash that is in season, as it tends to be fresher, more flavorful, and less expensive. Additionally, shopping in season supports local farmers and reduces environmental impact.
Assess the Stem
Inspect the stem end of the squash. Ideally, the stem should be intact and firmly attached. A loose or missing stem could be a sign of an older squash or improper handling, which may impact its freshness and taste.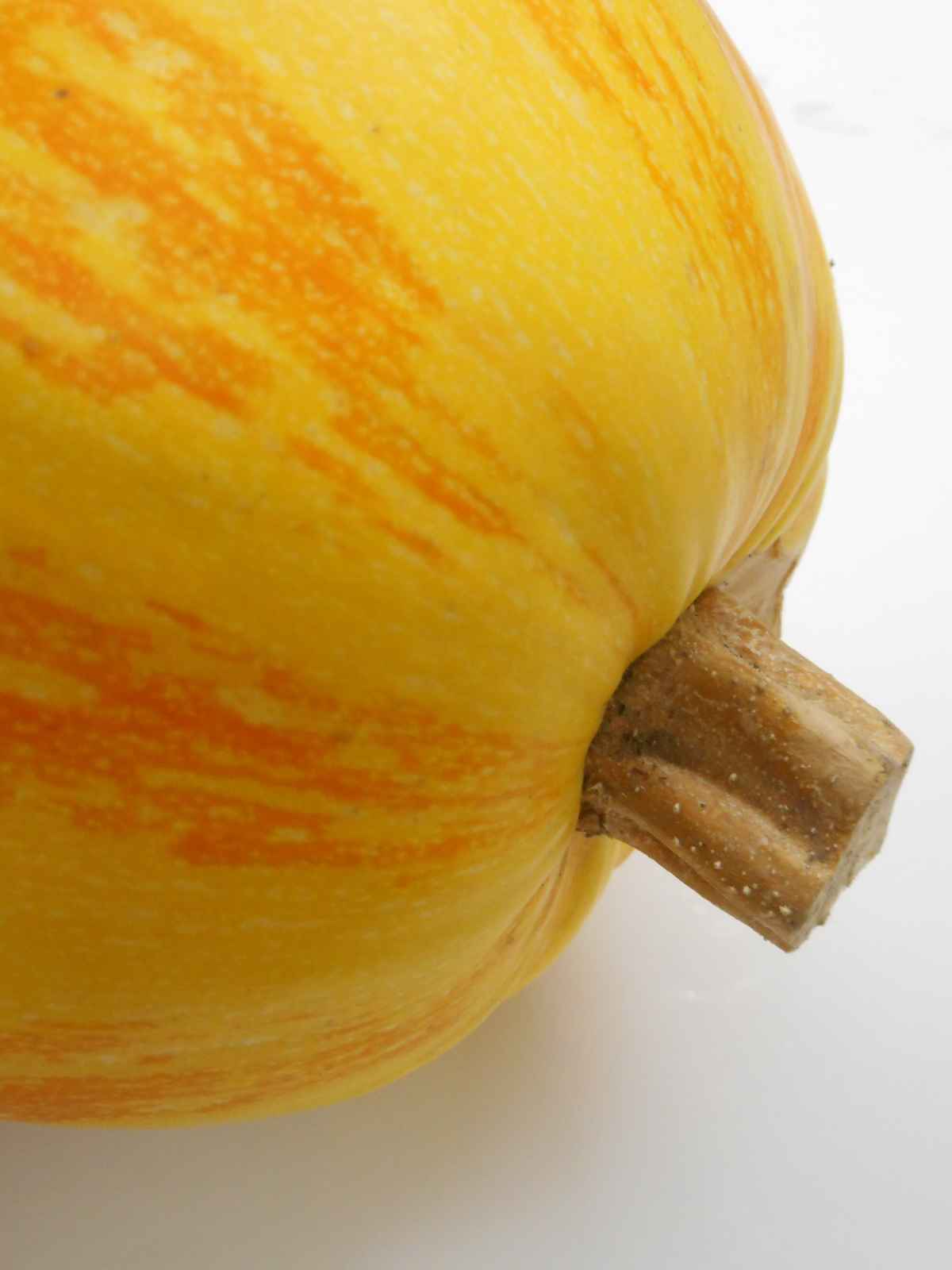 Size Matters
Spaghetti squashes come in various sizes, ranging from small to large. Consider your needs and the number of servings you intend to prepare. Larger squashes will yield more strands, while smaller ones are perfect for individual portions or side dishes. Choose a size that suits your preferences and culinary plans.
Organic and Locally Grown Options
If possible, opt for organic spaghetti squash to minimize exposure to pesticides and support sustainable farming practices. Additionally, choosing locally grown squash can ensure freshness, as it is likely to have been harvested more recently.
How Long is Spaghetti Squash Good
Spaghetti squash can stay fresh for a reasonable time if stored properly. Here are some general guidelines for the shelf life of spaghetti squash:
Whole spaghetti squash
When stored in a cool, dry, and well-ventilated area, such as a pantry or cellar, whole spaghetti squash can last for several weeks to a few months, depending on its initial freshness. Ensure there is no direct exposure to sunlight or moisture, as these conditions can accelerate spoilage.
Cut spaghetti squash
Once a spaghetti squash is cut open, its shelf life decreases. It is best to refrigerate the cut squash in an airtight container or wrapped tightly in plastic wrap. In the refrigerator, it can last for around 3-5 days.
Frozen spaghetti squash
Spaghetti squash can also be frozen for longer-term storage. After cooking the squash, scrape out the strands and allow them to cool completely. Place the strands in an airtight freezer bag or container, removing as much air as possible, and label it with the date. Frozen spaghetti squash can maintain its quality for up to 8-12 months in the freezer.
How to Tell if Spaghetti Squash is Bad
To determine if a spaghetti squash has gone bad, watch out for the following signs:
Visual appearance: Examine the squash for any visible signs of mold, dark spots, or discoloration. If you notice fuzzy patches or significant blemishes, it is an indication that the squash has spoiled.
Softness or mushiness: Gently press the squash with your fingers. If it feels soft or mushy, especially in certain areas, it is a clear sign that the squash has started to deteriorate and should be discarded.
Unpleasant odor: Take a sniff of the spaghetti squash. If you detect a foul or off-putting odor, it strongly indicates that the squash is no longer fresh and should not be consumed.
Slimy texture: Run your hands over the surface of the squash. If it feels slimy or excessively wet, it is likely that bacteria or mold growth has occurred, rendering the squash unfit for consumption.
Excessive wrinkling: While some wrinkling is normal as squash ages, if the spaghetti squash appears excessively shriveled or wrinkled, it is a sign of dehydration and potential spoilage.
These are general guidelines, and the actual shelf life may vary based on factors such as the squash's initial freshness, storage conditions, and individual variations.
How do you know when spaghetti squash is ripe at the grocery store?
To determine if spaghetti squash is ripe at the grocery store, check for a firm texture and a consistent vibrant yellow skin color.
Is it OK to eat unripe spaghetti squash?
While it is not harmful to eat unripe spaghetti squash, the taste, and texture may not be as desirable as a fully ripe squash. Unripe spaghetti squash can be firmer, less sweet, and have a slightly bitter flavor. It is generally recommended to wait until the squash is fully ripe for the best taste and texture.
Can you eat spaghetti squash skin?
Yes, the skin of spaghetti squash is edible and can be consumed. However, the skin can be quite tough and may not be as enjoyable to eat. Many people prefer to scoop out the cooked flesh and leave the skin behind. If you choose to eat the skin, make sure to thoroughly wash the squash before cooking to remove any dirt or contaminants.
What color is a ripe spaghetti squash?
A ripe spaghetti squash typically has a vibrant yellow or golden color. The skin should be consistent in hue throughout the squash, without any patches of green or unripe areas.
Armed yourself with these shopping and storage tips and confidently choose the perfect spaghetti squash for your cooking needs.
Remember that fresh and high-quality squash will yield a more enjoyable eating experience, making your spaghetti squash dishes even more delicious and satisfying. Happy shopping and cooking!