Discover the truth about whether the popular fruit candy snacks in America, Gushers, are vegan or not.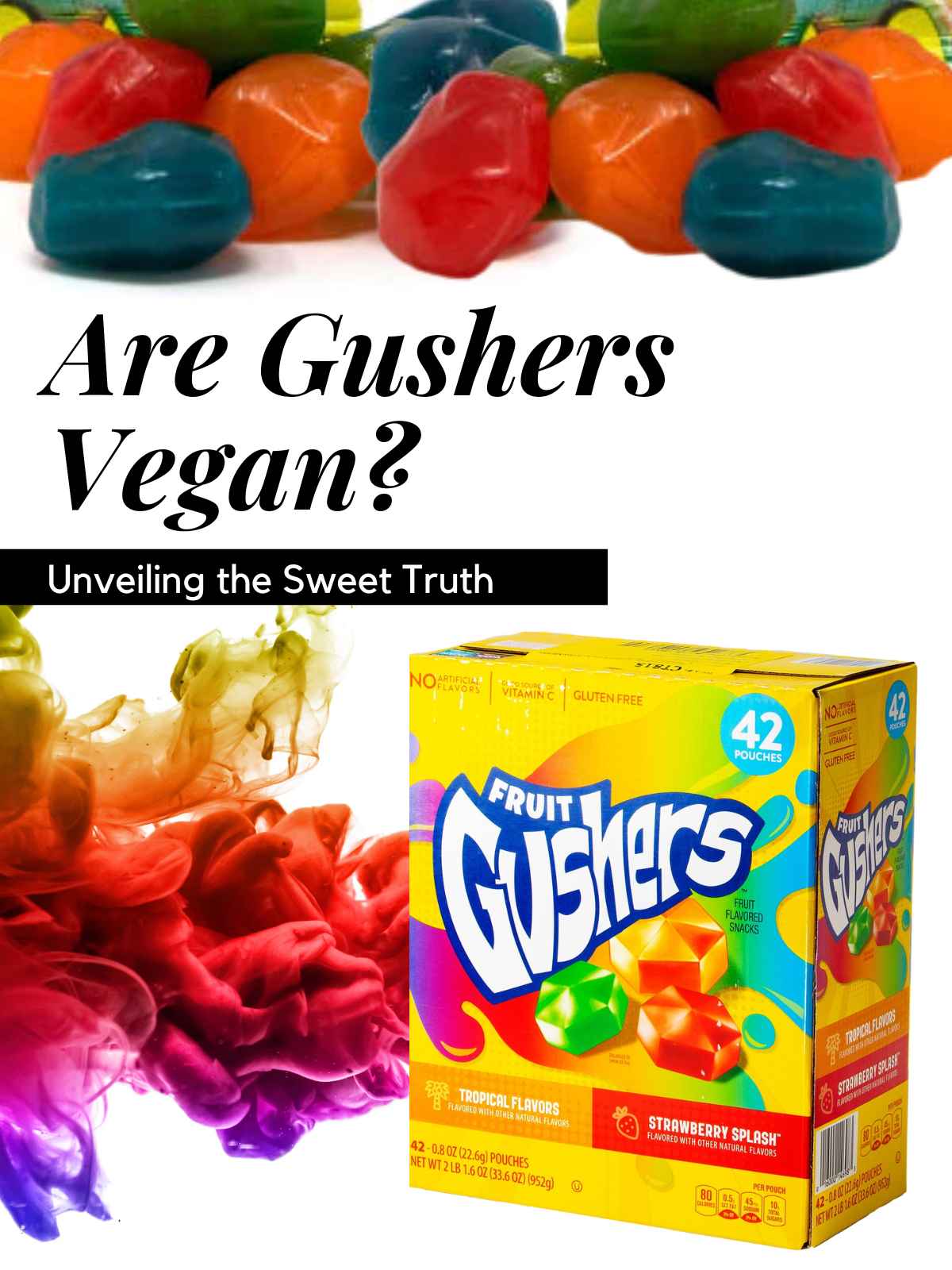 In recent years, the vegan lifestyle has gained significant popularity, driven by a growing concern for animal welfare and environmental sustainability. As a result, many people are seeking clarity on which products align with their dietary choices.
One such product that often raises questions is Gushers, a beloved fruit snack known for its bursting flavors and gummy texture. In this blog post, we delve into the ingredients and manufacturing process of Gushers to determine whether they are vegan-friendly.
Understanding Veganism
Before delving into the specifics of Gushers, let's briefly define veganism. Vegans avoid consuming animal-derived products, including meat, poultry, fish, dairy, eggs, honey, and even ingredients derived from animals, such as gelatin or certain food colorings. They aim to eliminate all forms of animal exploitation from their lifestyles.
Gushers Ingredients Analysis
To determine whether Gushers can be classified as vegan, we need to examine the ingredients list. Typically, Gushers contain several components, including:
Sugar
Sugar is derived from sugar cane or sugar beets, which are plant sources, making it vegan-friendly. (there are some concerns about sugar processing procedure, more about this later)
Corn Syrup
Corn syrup is made from cornstarch and is considered vegan, as it does not involve animal-derived ingredients.
Pear Puree Concentrate
Pear puree concentrate is derived from pears and is free from animal products, making it suitable for vegans.
Modified Corn Starch
Modified corn starch is usually vegan, as it is derived from corn and does not involve animal processing.
Grape Juice Concentrate
Grape juice concentrate is derived from grapes, making it vegan-friendly.
Dried Corn Syrup
Dried corn syrup is a dehydrated form of corn syrup and is generally considered vegan.
Citric Acid
Citric acid is a natural compound found in citrus fruits and is typically vegan. However, it's worth noting that some commercial citric acids may be derived from non-vegan sources, such as the fermentation of sugar with the help of certain bacteria. For strict vegans, it's advisable to ensure the citric acid used in Gushers is from a vegan source.
Vegetable Oil (Palm Oil)
Vegetable oil is sourced from plants and is generally considered vegan.
Natural Flavors
The term "natural flavors" refers to flavors derived from natural sources, such as fruits, vegetables, herbs, spices, or other plant-based materials. However, it's important to note that the specific ingredients used to create these flavors are not always disclosed on the label due to proprietary reasons.
Xanthan Gum / Carrageenan
Xanthan gum or carrageenan are plant-based alternatives to gelatine. This is the major factor to make this sweet jelly vegan as most of the jellies available in the market have gelatine in them.
Ingredients that Cause Speculations
The ingredients mentioned—sugar, natural flavors, artificial colors, and palm oil—may raise concerns for some vegans or individuals who are conscious of animal welfare. Let's delve into each of these ingredients and explore their potential connections to animal cruelty.
Sugar: Sugar itself is derived from plant sources such as sugar cane or sugar beets. In its pure form, it is considered vegan-friendly. However, some refined sugars may undergo a filtration process that involves the use of bone char, which is made from the bones of animals. This process is used to achieve a bright white color in the sugar. While bone char filtration is a common method in the sugar industry, it's important to note that not all sugar manufacturers use this process. To ensure vegan-friendly sugar, one can opt for unrefined sugars like organic cane sugar or beet sugar, or look for products labeled as vegan or certified cruelty-free.
Natural Flavors: As mentioned earlier, "natural flavors" is a broad term used to describe flavorings derived from natural sources. While most natural flavors are plant-based, there is a possibility that they could be derived from animal sources as well. Without specific information from the manufacturer, it's challenging to determine the exact origin of the natural flavors used in Gushers. As a result, it's advisable to contact the manufacturer directly for clarification on the sourcing of their natural flavors to ensure they align with your dietary choices.
Artificial Colors: Artificial colors are synthetic compounds used to enhance the appearance of food products. They are typically produced from petroleum-based sources and are generally considered vegan-friendly. However, certain artificial colors may undergo testing on animals to determine their safety or potential side effects. Some vegans may choose to avoid products containing artificial colors due to ethical concerns surrounding animal testing.
Palm Oil: Palm oil is a controversial ingredient due to its impact on the environment and wildlife habitats, particularly in regions where palm oil plantations have contributed to deforestation and the destruction of animal habitats. While palm oil itself is derived from the fruit of the palm tree, its production can result in negative environmental consequences and displacement of wildlife. It's important to note that not all palm oil production is unsustainable or harmful, and sustainable palm oil certifications exist, such as RSPO (Roundtable on Sustainable Palm Oil). Some vegans choose to avoid palm oil altogether or look for products that use sustainable palm oil alternatives or different vegetable oils.
Does Gushers contain gelatin?
No, Gushers do not contain gelatin. Instead, they use carrageenan as an additive to thicken, emulsify, and preserve the snacks.
What is inside a gusher?
Gushers have a soft gummy exterior that surrounds a liquid center. When you bite into a Gusher, the liquid inside bursts out, giving it the characteristic "gushing" sensation. The liquid filling is typically flavored and provides the burst of flavor that Gushers are known for.
Do Gushers have real fruit?
Gushers are fruit-flavored snacks, but they typically do not contain a significant amount of real fruit. While they may contain fruit juice concentrates or purees.
Is it OK to eat Gushers?
Gushers, like many other snacks, can be enjoyed in moderation as part of a balanced diet.
Conclusion
Based on the analysis of the ingredients found in Gushers, it can be concluded that, in most cases, Gushers are vegan-friendly.
Fruit Gushers can be considered vegan as they do not contain any animal-derived ingredients. The absence of gelatin, a common non-vegan ingredient in gummy snacks, is a key factor contributing to their vegan status. However, they do contain some ingredients that may raise concerns for ethical vegans.
Remember, being vegan is about making conscious choices that align with your values. Whether you decide to enjoy Gushers or explore alternative plant-based snacks, the decision ultimately rests in your hands.
More Vegan Product Guides
If you are interested in finding vegan products in the market you may like