Indulge in the cozy flavors of fall with our vegan pumpkin banana bread recipe. Moist and infused with pumpkin pie spice, it's a slice of autumn heaven. Drizzle with a sweet maple glaze for the ultimate treat!
Warm, spiced, and oh-so-delicious! It's the perfect way to welcome the season's flavors.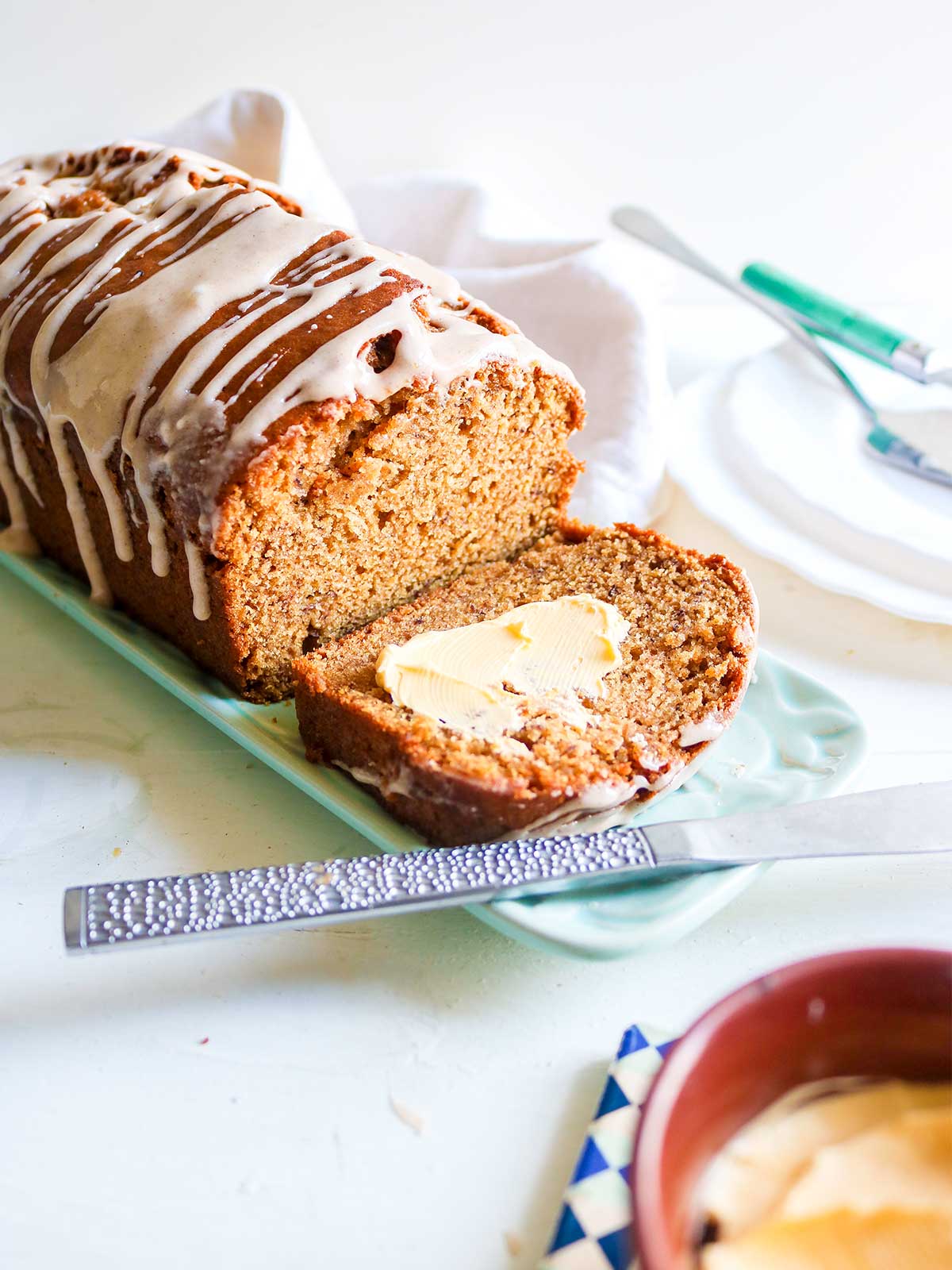 Jump to:
The fall season has a magical way of inspiring baking cravings. There's something about the crisp air, the changing leaves, and the cozy vibes that make us want to fill our kitchens with the aroma of freshly baked treats. Whether it's pumpkin spiced scones, cookies, or warm, hearty babka bread, fall baking is a delightful tradition that brings comfort and joy to our taste buds. 
Here's a delicious recipe for Pumpkin Banana Bread that combines the best of both worlds – the warmth of pumpkin and the sweetness of ripe bananas. It's perfect for satisfying those fall baking cravings. This recipe is vegan and dairy-free. So, let's dive in!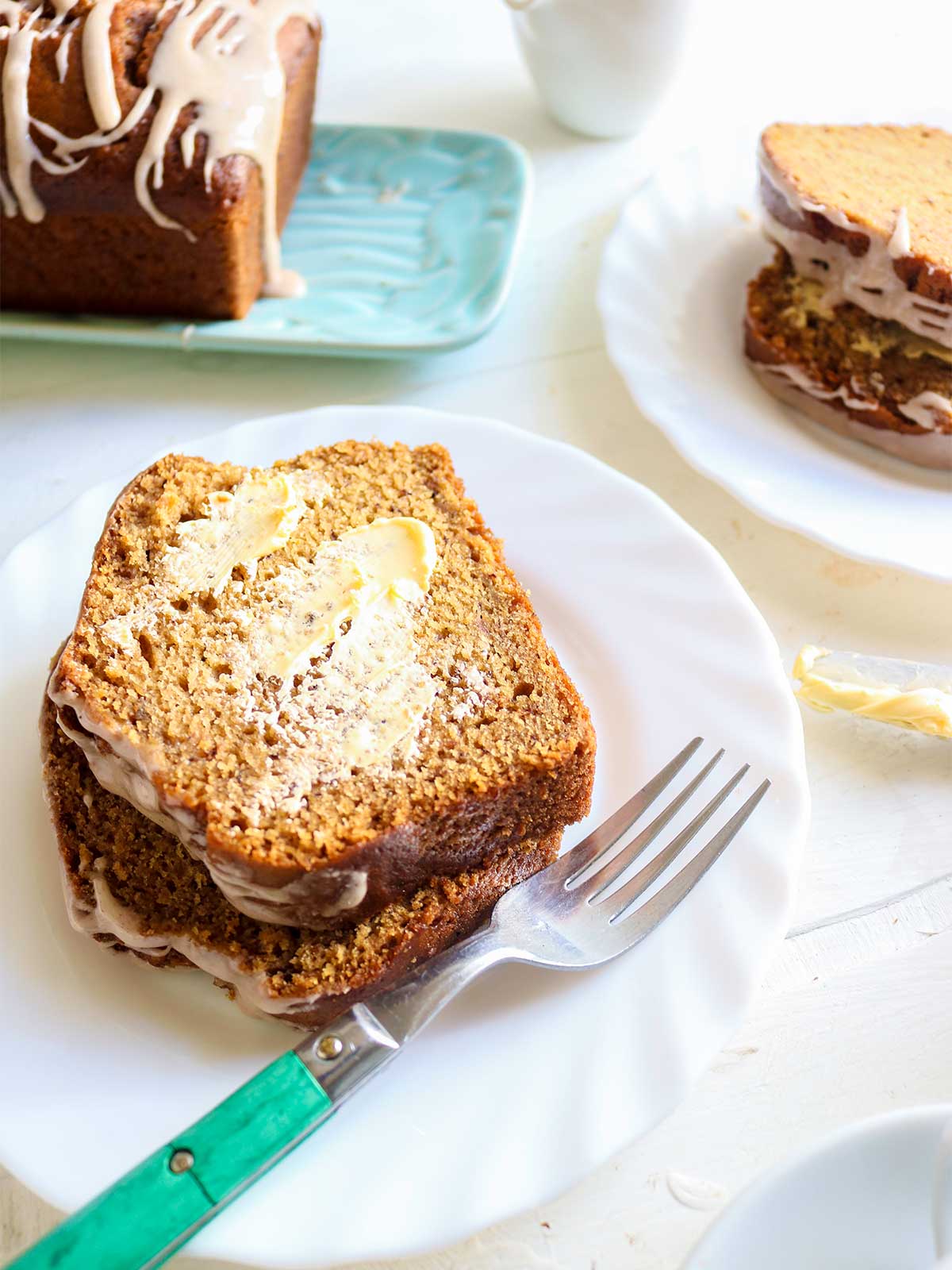 Ingredients You Need
Here are some ingredient notes and alternatives for your Pumpkin Banana Bread recipe:
Bananas: You'll want to use ripe bananas for maximum sweetness and flavor. They should have brown spots on the peel.
Pumpkin Puree: Use canned pumpkin puree for convenience. Make sure it is 100% pure pumpkin without any added spices or sweeteners.
Vegan Buttermilk: To make vegan buttermilk, simply mix 1 cup of plant-based milk (such as almond, soy, or oat milk) with 1 tablespoon of vinegar (white or apple cider vinegar works well). Let it sit for about 5 minutes until it curdles slightly, mimicking traditional buttermilk.
Aquafaba: Aquafaba is the liquid from a can of chickpeas and works as an egg substitute in vegan baking.
Oil: Choose a neutral-tasting oil like canola, vegetable, or melted coconut oil. If you prefer, you can also use unsweetened applesauce as a substitute for oil to reduce the fat content.
Brown Sugar: If you prefer a deeper molasses flavor, you can use brown sugar instead of granulated sugar. Make sure it's a vegan-friendly brand, as some brown sugars are processed with bone char.
Flour: This recipe calls for all-purpose flour for a standard texture. You can use whole wheat flour for a heartier, healthier option.
Baking Soda: This is a leavening agent that helps the bread rise. Make sure it's fresh for optimal results.
Salt: A small amount of salt enhances the flavor of the bread.
Pumpkin Spice: If you don't have pumpkin spice on hand, you can make your own by mixing cinnamon, nutmeg, cloves, and ginger in the following proportions: 3 parts cinnamon, 1 part nutmeg, 1 part cloves, and 1 part ginger.
Maple Glaze: Make a simple maple glaze and drizzle a generous amount on top of the baked banana pumpkin bread. You can also drizzle some Vegan Salted Caramel over your bread for a sweet and savory delight.
Feel free to adapt the recipe based on your dietary preferences and ingredient availability. Enjoy your Pumpkin Banana Bread baking adventure!
How To Make Vegan Pumpkin Banana Bread
To make the perfect bread start with
Preparation
Preheat the oven to 350°F. Arrange a rack in the middle of your oven, this is because bread takes a longer time to cook. Line a 9x5-inch loaf pan with parchment paper and let it hang over long sides for easier removal of bread.
In a bowl, mash the ripe bananas. You can use a fork or potato masher until they are smooth.
In a separate bowl stir soy milk and apple cider vinegar to make the vegan buttermilk. Set it aside, we will use it later in the batter.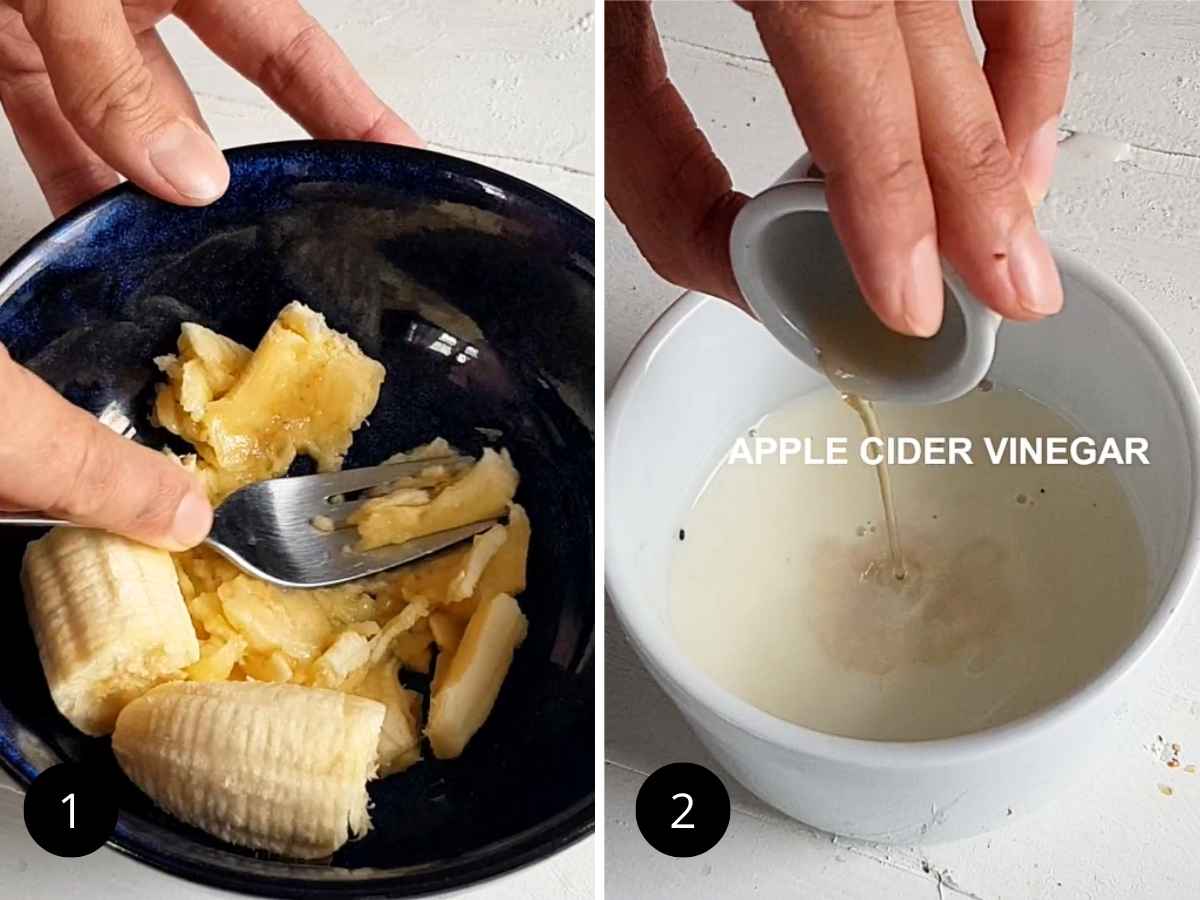 Make the Batter
In a large bowl whisk aquafaba until foamy. Add all wet ingredients mashed banana, pumpkin puree, Oil, vegan buttermilk and mix well to combine. Whisk sugar into the batter until dissolved.
Once done, add dry ingredients to the mixture. All-purpose flour, baking soda, pumpkin spice, and salt.
Mix well with a silicon spatula. Gently fold the dry ingredients just enough to combine everything. Do not over-mix the mixture, some lumps are normal. Just make sure there are no dry flour pockets in the mixture.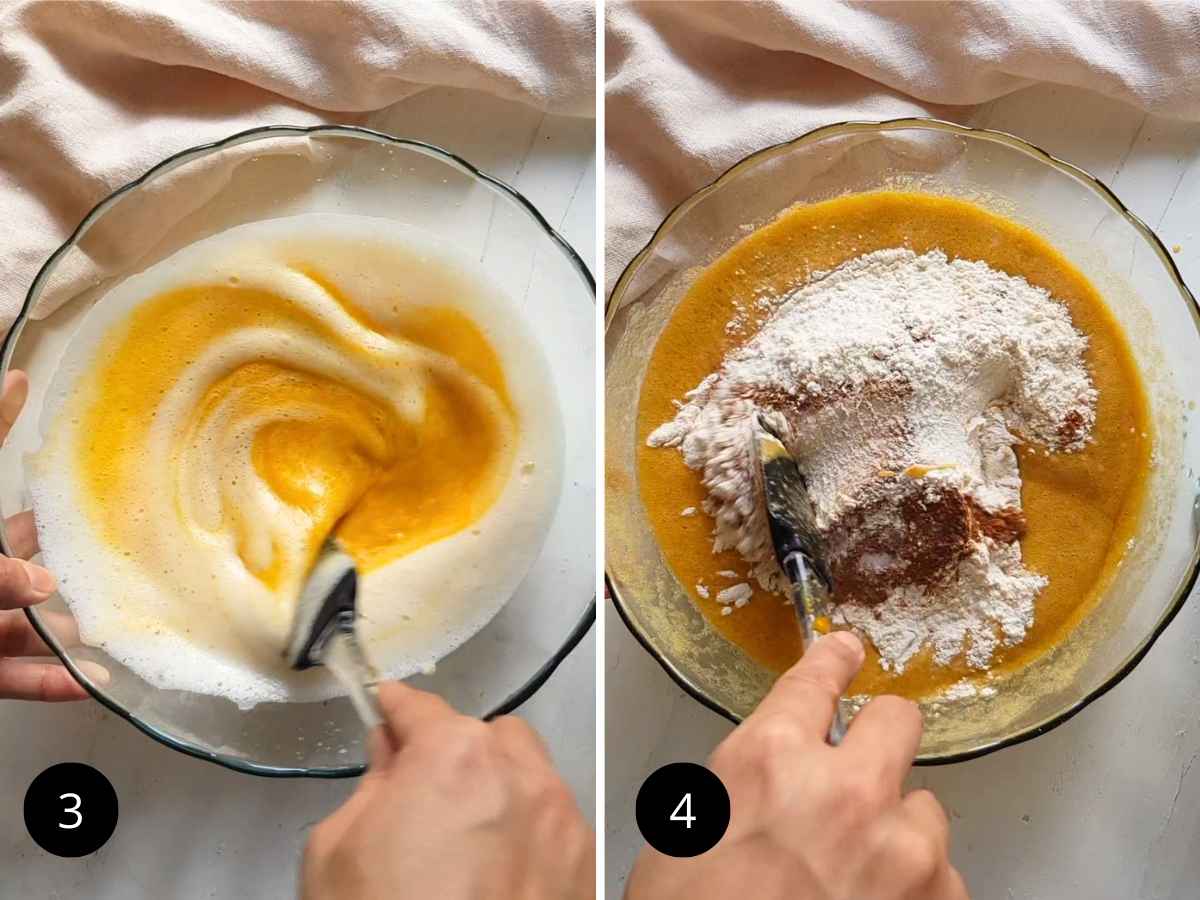 Baking and Cooling
Pour the batter into the lined 9x5-inch loaf pan. Ensure it spreads out evenly for even baking.
Place the pan in your preheated oven and bake for about 50-60 minutes. Check for doneness by inserting a toothpick or cake tester into the center – it should come out clean. Keep in mind that exact baking times may vary depending on your oven.
Once baked, let your vegan pumpkin banana bread cool in the pan for 10-15 minutes. Afterward, remove it from the pan and transfer it to a wire rack to cool completely.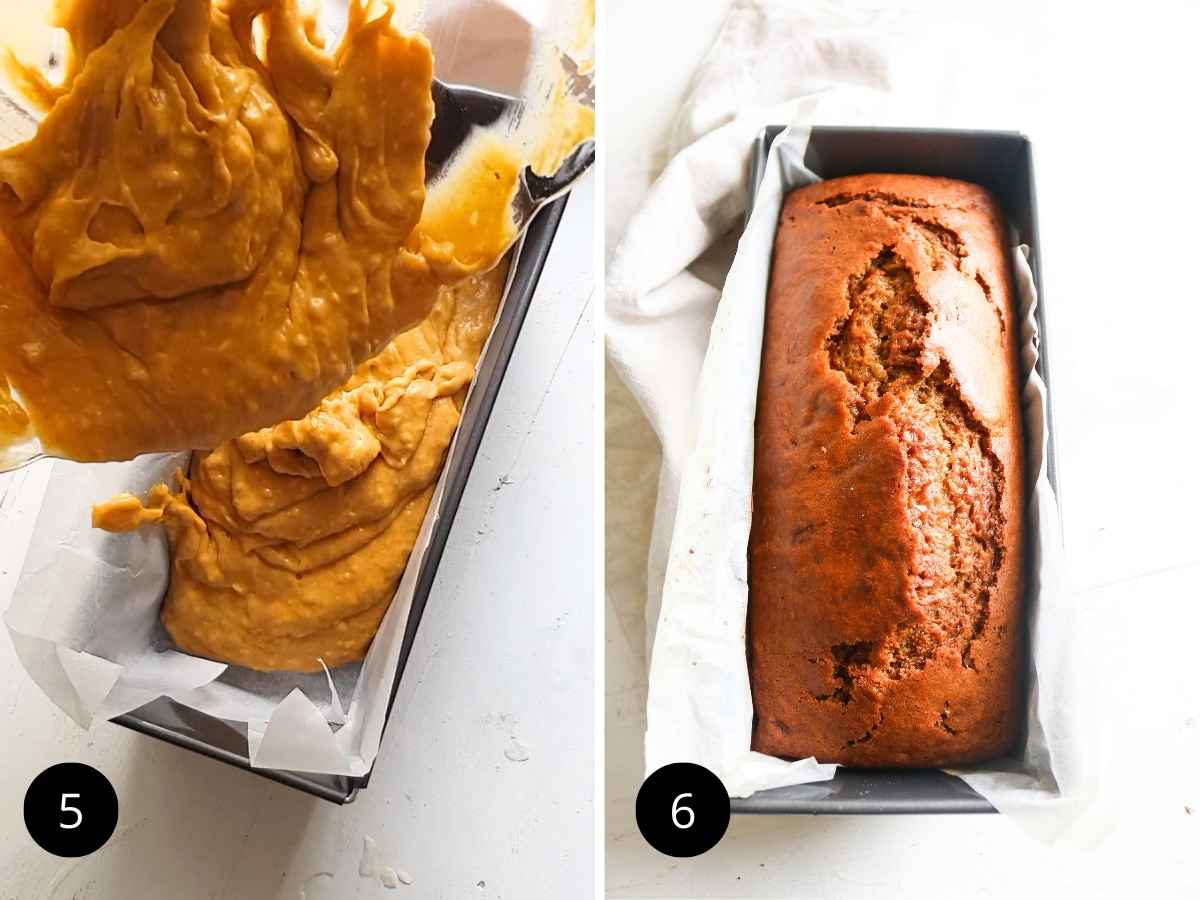 Glazing, Slicing, and Serving
When your bread has fully cooled, it's time to glaze and slice your homemade Vegan Pumpkin Banana Bread.
For an extra touch of sweetness, you can drizzle the cooled bread with a maple glaze made from powdered sugar and a bit of maple syrup. This is optional but adds a delightful finishing touch.
Slice the bread evenly with a sharp knife and serve with a hot drink.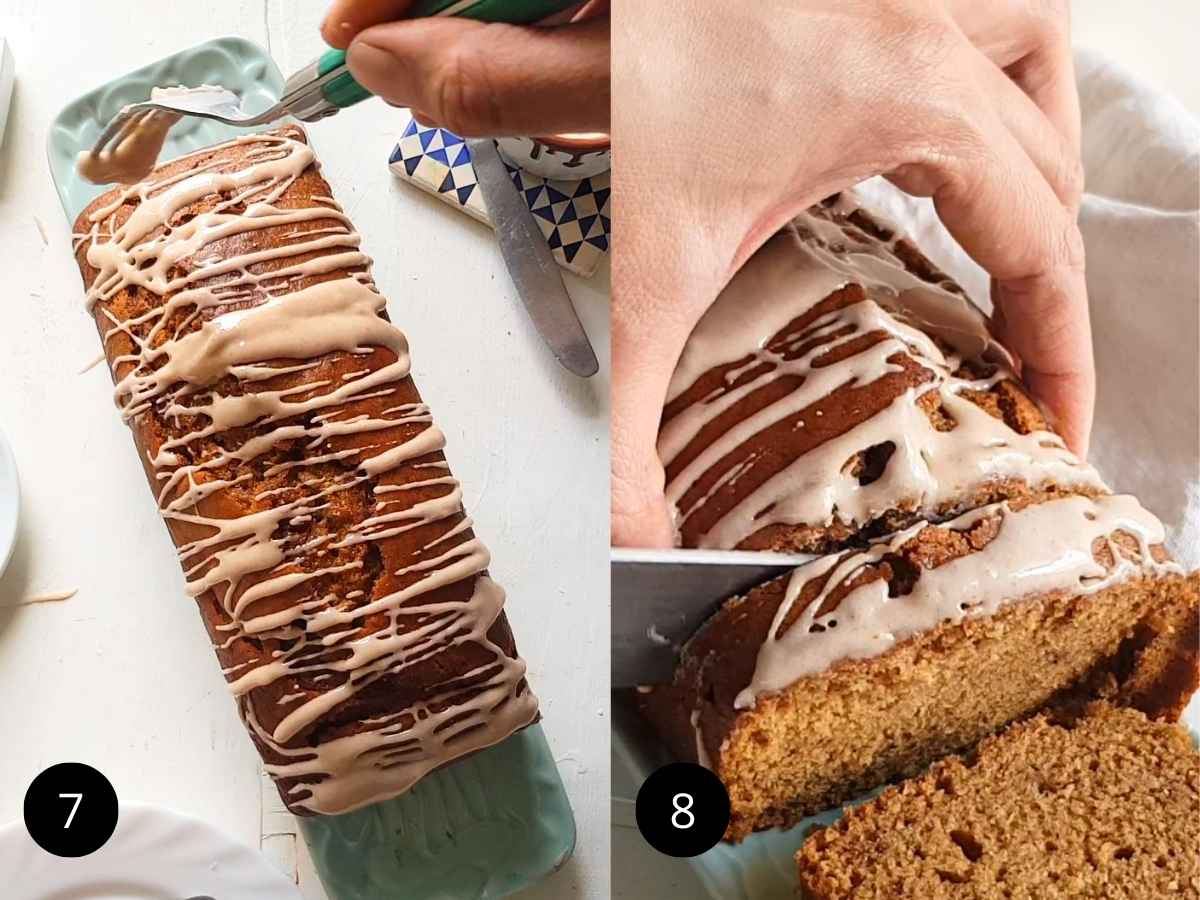 Variations of Pumpkin Banana Bread
You can try some variations with this vegan pumpkin banana bread recipe according to your choice.
Use walnuts, pecans dried apricots, or cranberries to add some extra fall flavors to the bread.
Sprinkle some pumpkin seeds on top of the glaze to add some crunch.
You can add some mini chocolate chips for some extra divine flavor.
Try baking vegan pumpkin banana muffins with this batter. Bake for 18-20 minutes.
Storage
Store the bread at room temperature in an air-tight container and line it with a paper towel so it will absorb the extra moisture. It will stay fresh for up to 2 days at room temperature and 4 to 7 days in the fridge.
You can also freeze the vegan banana pumpkin bread for up to three months in an airtight container or zip-lock bag. Make sure to slice the bread before freezing to get small potions whenever you need them.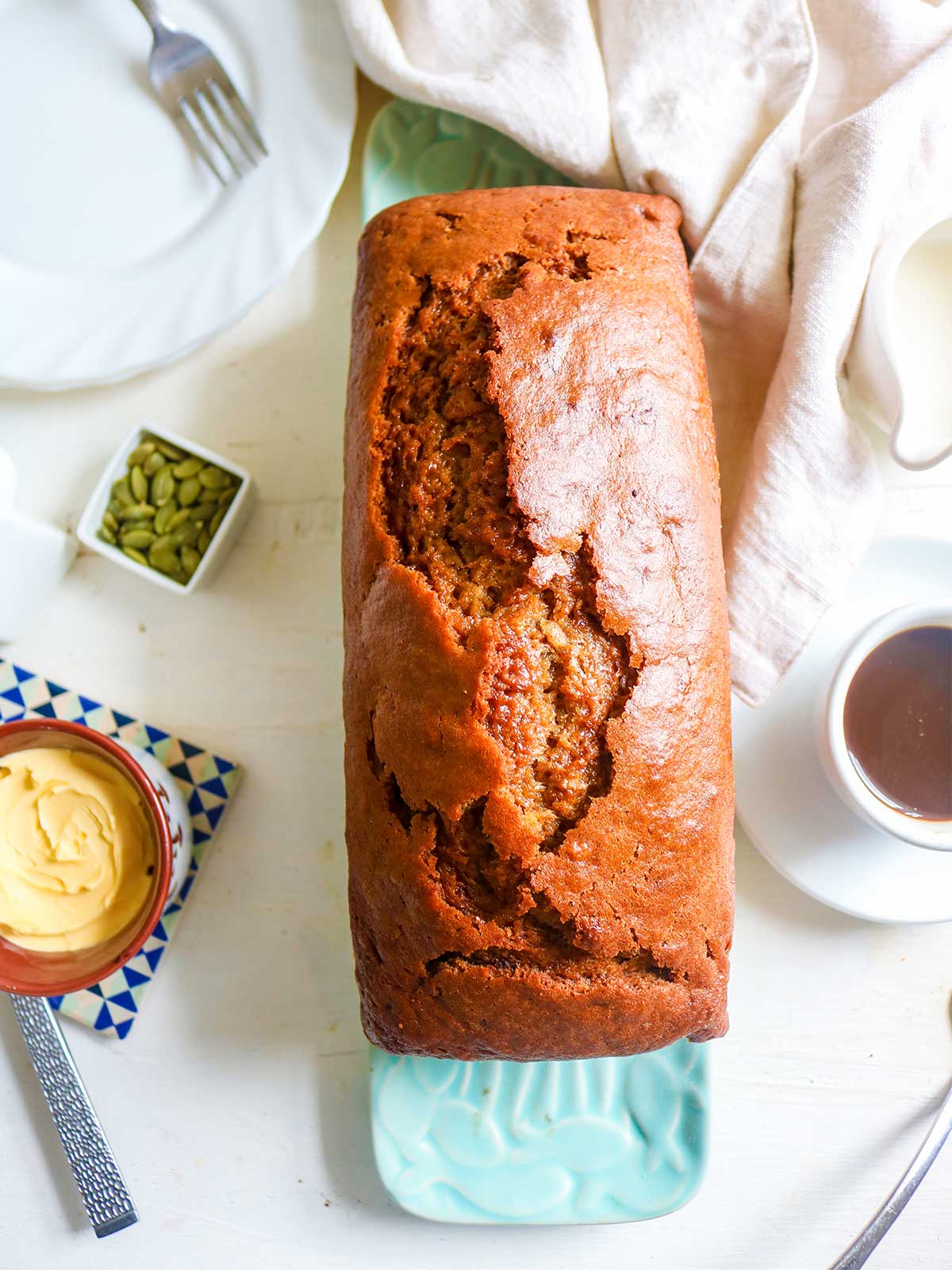 Expert Tips
The key to moist and flavorful banana bread is using overripe bananas with brown spots on the peel. They are sweeter and easier to mash.
Overmixing can lead to gluten development, resulting in a less desirable, tough, or rubbery texture. So, remember to stir the wet ingredients into the dry ingredients until they are combined to avoid overmixing.
If you do not have pumpkin pie spice, use 1 teaspoon ground cinnamon and half a teaspoon of ginger and nutmeg powder.
To make it gluten-free use a 1.1 ratio of gluten-free flour.
Never put the glaze on a warm loaf of bread and never slice the warm bread.
Make sure you let your bread cool down for 30 minutes on a cooling rack. Do not let it rest in the bread tin otherwise, it will get soggy.
The bread often tastes even better the next day as the flavors meld. Consider making it ahead for optimal taste.
If you try this recipe, leave a comment and show some love by rating it in stars. Do not forget to take a picture and tag us @getsetvegan on Instagram. We would love to see this.