Indulge in the flavorful world of vegan loaded fries, where crispy fries meet a medley of plant-based savory toppings. Experience the perfect balance of flavors, textures, and creativity in this guilt-free twist on a classic favorite.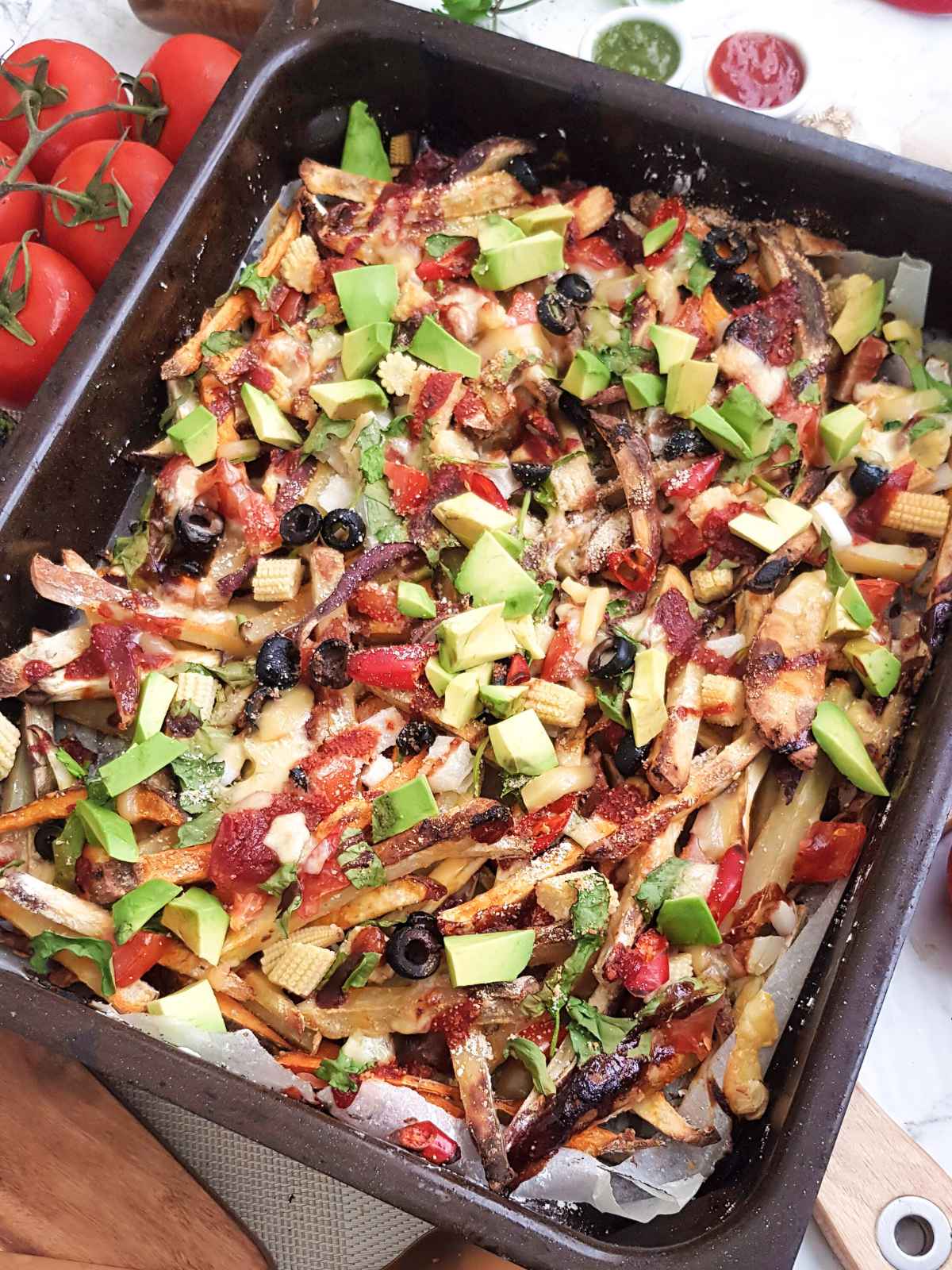 This recipe is a fusion of sweet, savory, and spicy flavors, featuring a combination of potatoes and kumara oven-baked fries for a healthy nutrient-rich twist. They are topped with fresh veggies, dairy-free cheese, creamy sauces, and luscious avocado.
If you are a potato lover like me, try out these amazing Vegan Potato Recipes, and do let me know which one is you are favorite.
Jump to:
Ingredients
Potatoes and Kumara (Sweat potatoes): I am using a combination of potatoes and sweet potato fries for a nutrient-rich texture and flavor variety. You can use both or skip any of them as per your choice. You can also choose to use frozen fries to make the process easy.
Sriracha Sauce: Fries are topped with a generous amount of Sriracha sauce. It will give a delicious spicy and tangy taste to the oven-baked fries base. If you want to make it less spicy or kids friendly you can substitute it with BBQ sauce.
Corn Starch: It helps to absorb moisture from fries and gives them a crispy coating.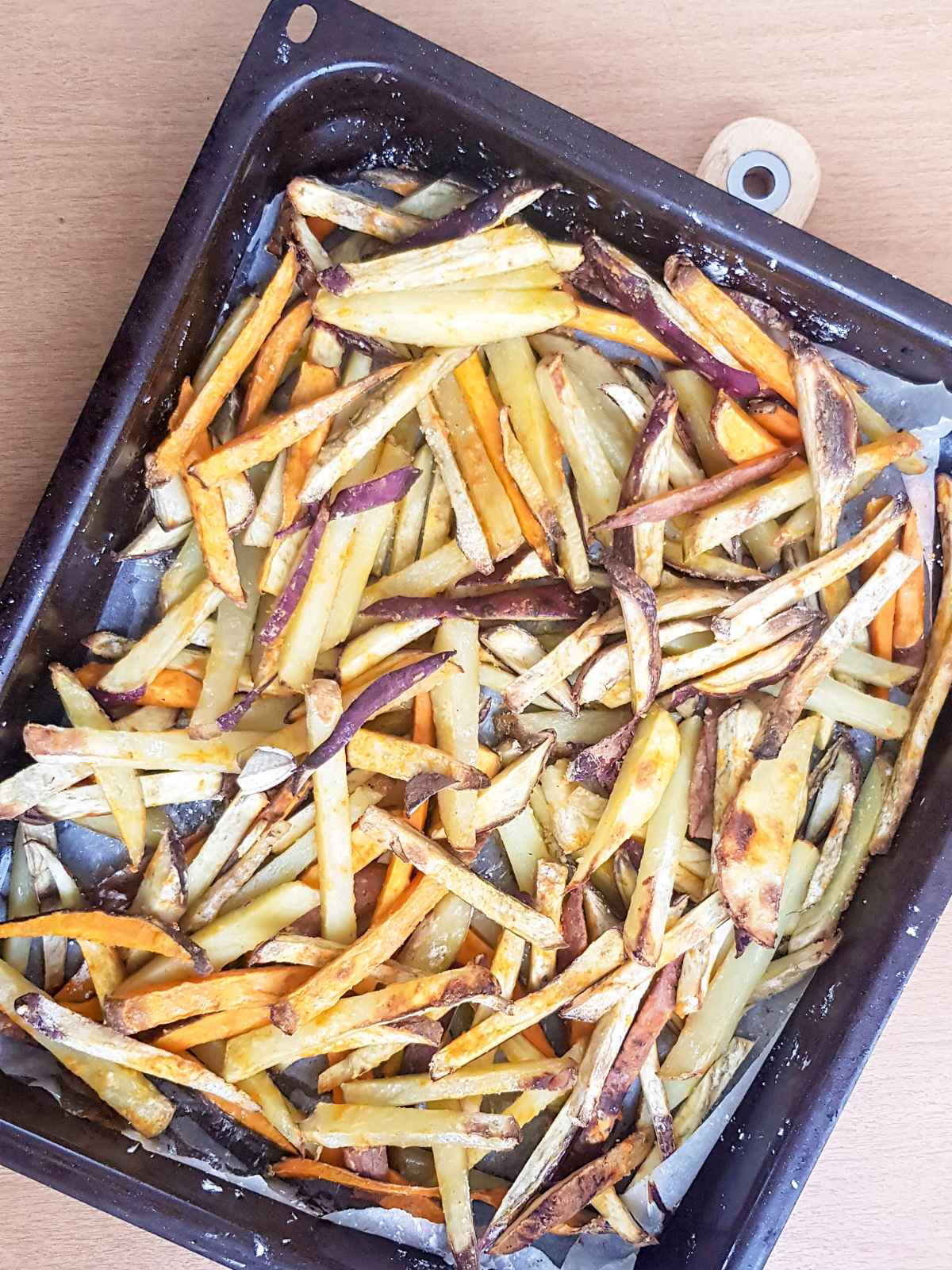 Loaded Fries Toppings
There is never a hard and fast rule for toppings of loaded fries. You can simply put anything of your choice as long as you maintain a balance of flavors and textures. Just keep in mind do not overload it with high water content veggies as it will make your fries soggy. As they are loaded vegan fries so I kept the toppings all vegan. The topping used in this loaded fries recipe are
Onion, Tomatoes, Baby Spinach
Baby Corn, Olives, Jalapeno Peppers pickle
Pizza Sauce, BBQ Sauce
Dairy-free cheese and Vegan Parmesan
Avocado slices or guacamole.
Other Vegan Topping for Loaded Fries
The sky's the limit when it comes to loaded fries. Depending on personal preference and creativity, additional toppings can include
Mushrooms
Guacamole
Salsa
Black beans
Caramelized onions
Bell peppers
Fresh Herbs
Pickles and much more
How To Make Vegan Loaded Fries
To make the perfect loaded fries follow the step-by-step instructions.
Preparation
Preheat the oven to 400F.
Prepare the potatoes and sweet potatoes wash the potatoes and sweet potatoes thoroughly under running water to remove any dirt or debris.
Once cleaned, towel dry them to remove excess moisture. You can choose to peel the potatoes and sweet potatoes if desired, but leaving the peel on adds extra texture and flavor. Cut them into rectangle strips, aiming for approximately ½-inch-thick pieces.
Season the Potatoes
Spread the potatoes over a baking dish, season them with olive oil, sriracha sauce, salt, garlic powder, and cornstarch. This mixture will give the potato strips a delicious and crispy coating.
Carefully and gently mix the fries using your hands. Toss and coat the fries with your hands until you see that the seasoning is evenly distributed. This helps ensure that every fry gets a good amount of flavor.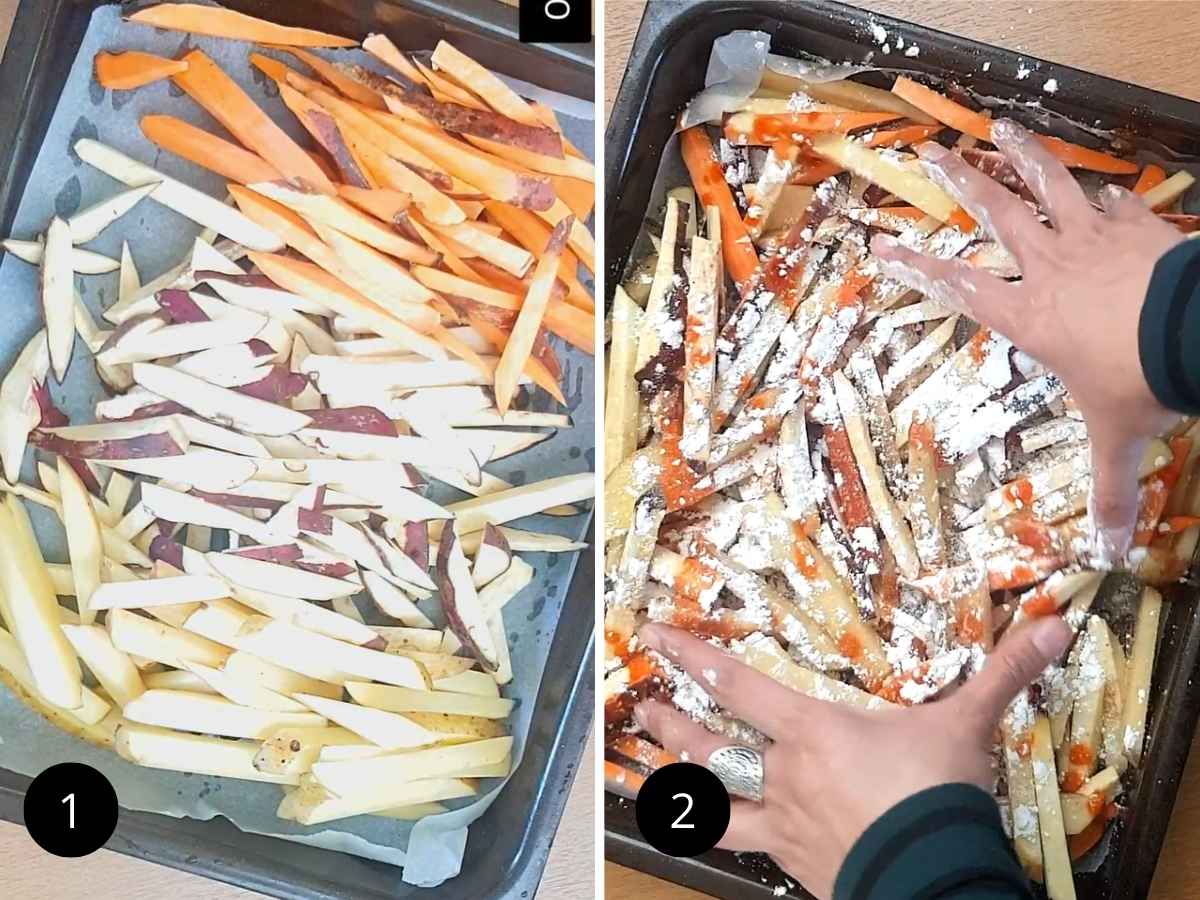 Bake
Arrange the seasoned potato strips on a baking sheet, ensuring they are spread out in a single layer. Place the baking sheet in the preheated oven and bake for approximately 30 to 35 minutes, or until the potato strips turn nicely golden and crispy. Keep an eye on them as baking times may vary.
Add Topping
Add toppings Once the potato strips are done baking, remove them from the oven.
Now it's time to add the delicious toppings. Start with fresh veggies like scattering chopped onions, tomatoes, spinach leaves, and chopped baby corn.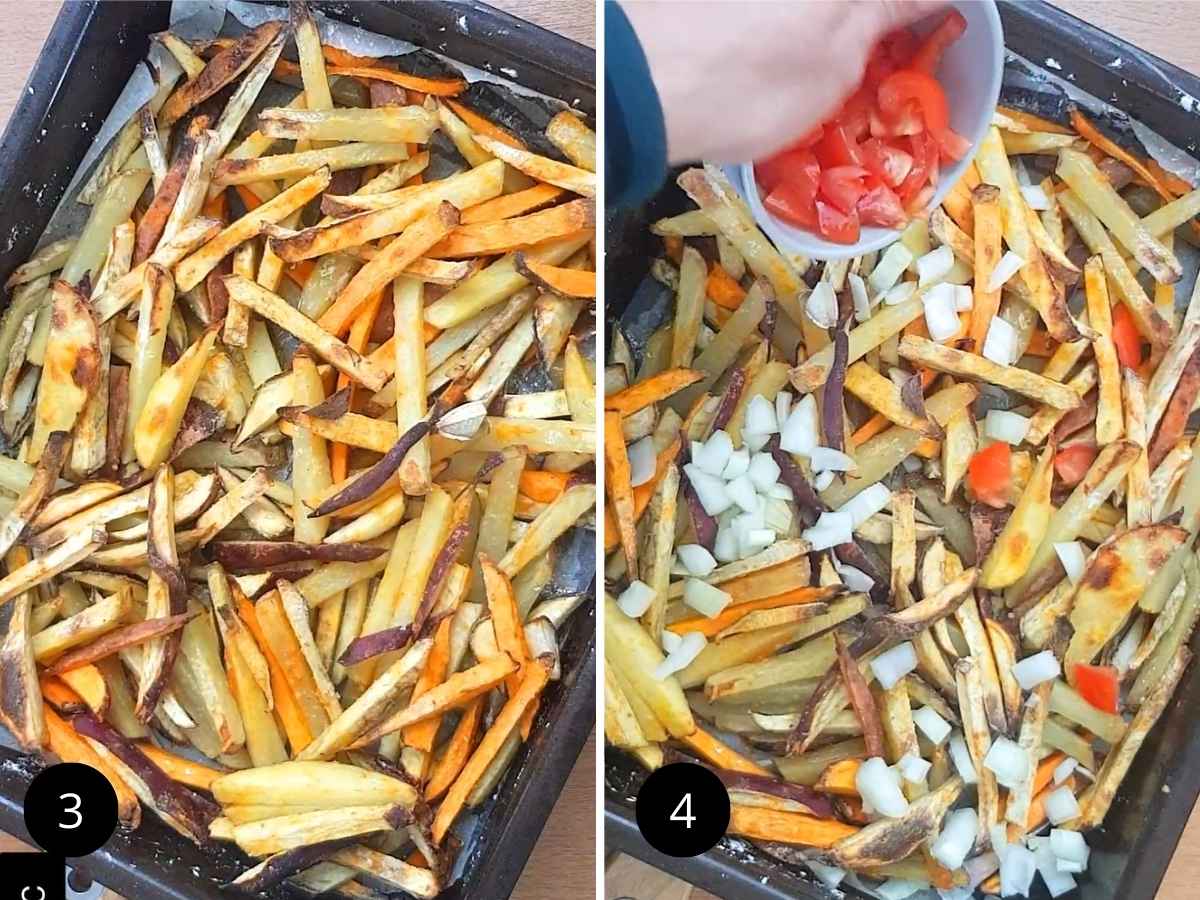 More Topping
Next add more texture and flavors by adding more toppings like sliced olives, jalapeno peppers for spice, and some pickles over the potato strips. You can adjust the quantity of each topping according to your preference.
Flavor with Sauces
Flavor with the sauce you have in hand. We are using pizza sauce, bbq sauce, and ketchup. Squeeze a generous amount of sauce over the toppings, spreading them evenly across the dish.
You can also use mayo garlic, aioli, vegan cheese sauce, or any of the desired sauces you like.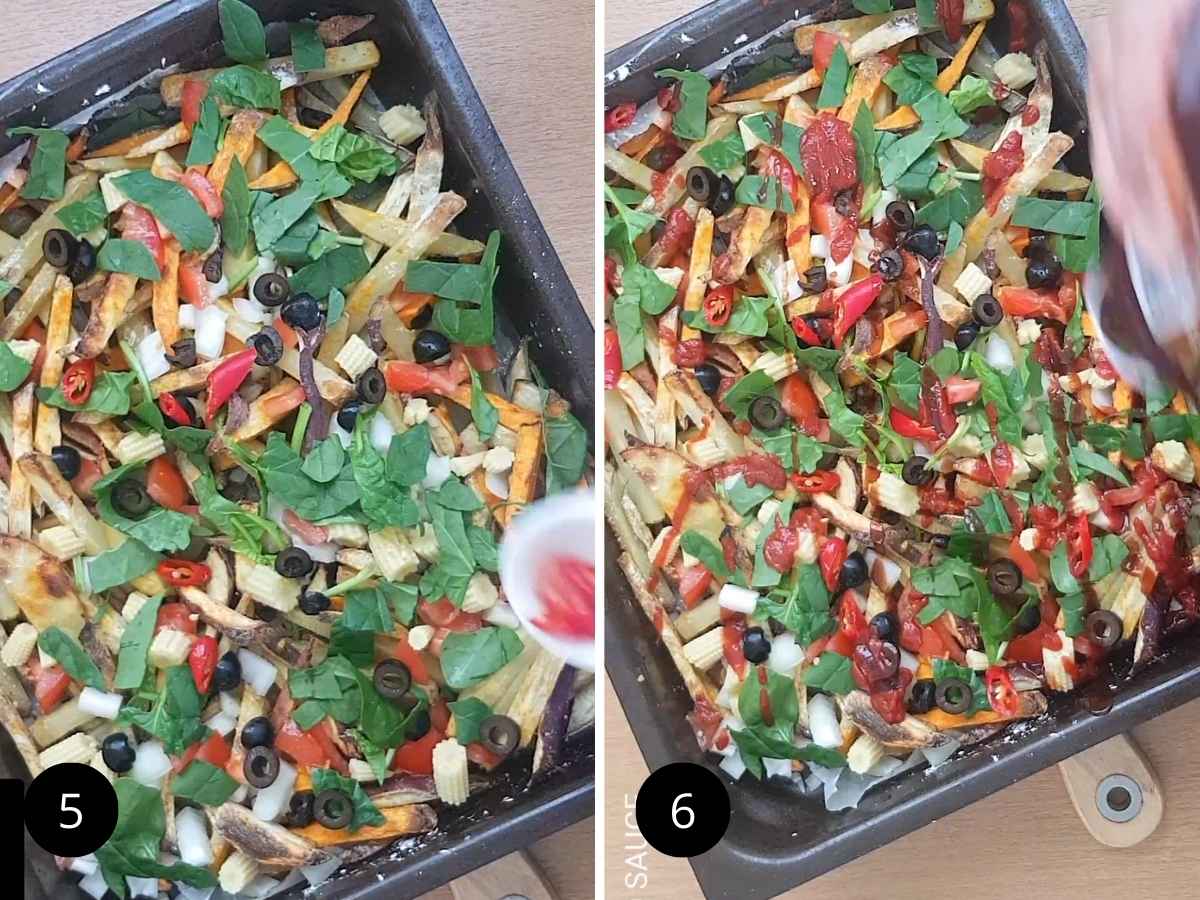 Make it Cheesy
Next, add a layer of dairy-free cheese and sprinkle some vegan parmesan on top. The combination of sauces and cheese will enhance the flavors and create a mouthwatering cheesy and tangy taste.
The Final Bake
Return the baking dish to the oven and bake for an additional 8 to 10 minutes, or until the cheese is fully melted and the vegetables are tender. This will ensure that the toppings are heated through and the cheese has melted and become gooey.
Add avocado Once the dish is done baking, carefully remove it from the oven. To add a creamy touch, top the loaded potato strips with some ripe avocado. You can either slice or mash the avocado and place it on top of the dish.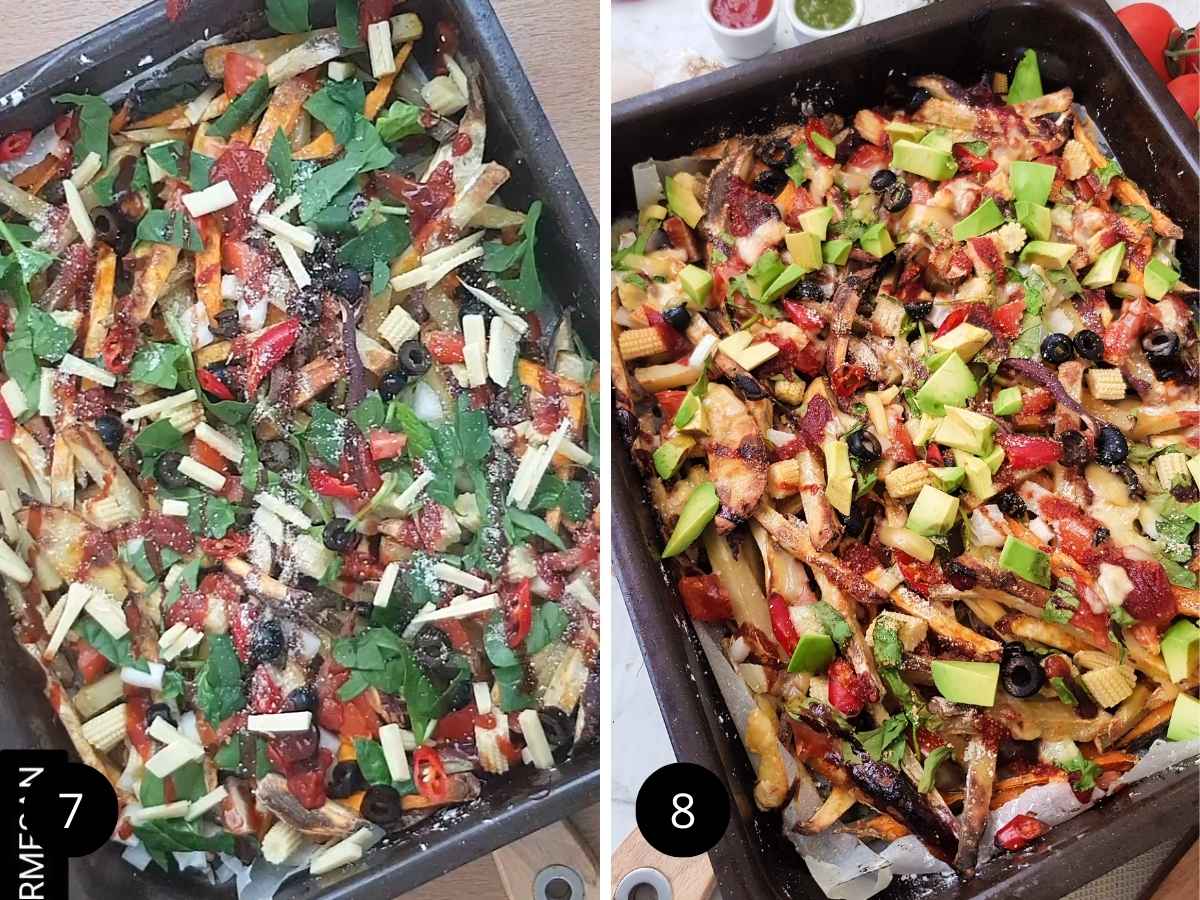 Serve your oven-baked loaded fries immediately while they're still warm and at their prime. These loaded fries make an excellent appetizer for gatherings, a delicious snack for movie nights, or even a satisfying main course paired with a fresh salad.
What to Serve with Loaded Fries
Loaded fries can be a delicious and indulgent dish on their own, but if you're looking to serve them with some complementary items, here are a few suggestions:
Dipping Sauces: Offer a variety of dipping sauces to accompany the loaded fries. Classic options like ketchup, Spicy Tahini, Hot Buffalo, or Garlic Tahini can be great choices. You can also get creative with spicy mayo, chipotle sauce, or barbecue sauce.
Side Salad: Balance out the richness of the loaded fries with a refreshing side salad. Bowl of delicious Spinach salad. A simple green salad with mixed lettuce, cherry tomatoes, cucumber slices, and a light vinaigrette dressing can provide a nice contrast in flavors and textures.
Coleslaw: Coleslaw can be a fantastic side dish to serve with loaded fries. Its creamy and tangy nature complements the flavors of the fries well. opt for a vegan coleslaw with cabbage and carrots or experiment with variations like apple slaw or spicy coleslaw.
Burgers or Sandwiches: If you want to make it a complete meal, consider serving loaded fries alongside burgers or sandwiches. The combination of a juicy burger or a flavorful sandwich with savory loaded fries can be a satisfying and indulgent feast.
Refreshing Beverages: Pair the loaded fries with refreshing beverages like iced tea, lemonade, or soda.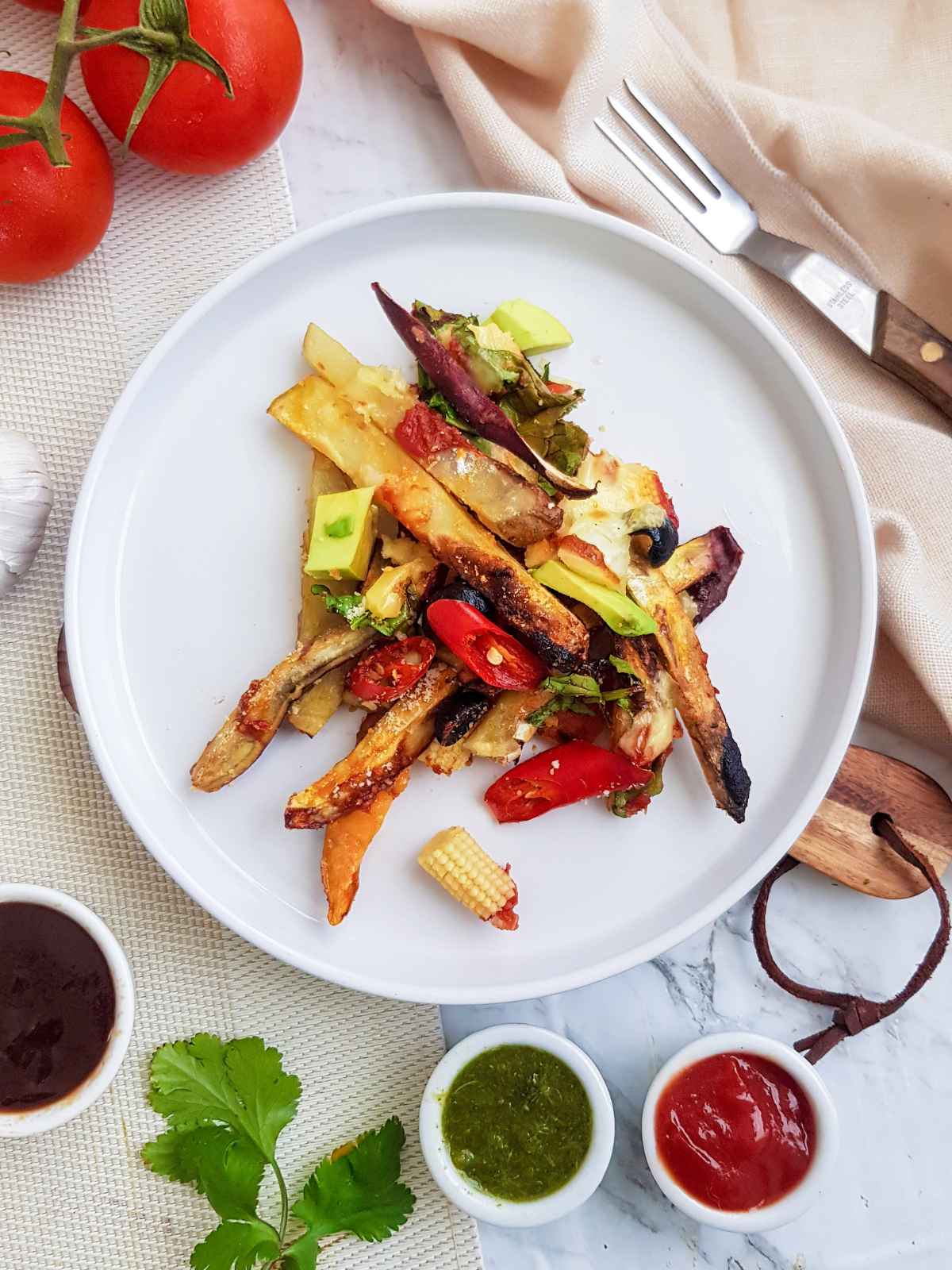 Remember, the choice of sides depends on your personal preferences and the overall theme of the meal. Feel free to mix and match these suggestions or explore other options to create a well-rounded and satisfying dining experience.
Storage and Reheating
The quality of reheated loaded fries may not be as good as when they were freshly made but still, if you have leftovers refrigerate them in air tight jar or in foil paper. Consume them within one or two days.
For reheating transfer, them to a baking dish and reheat them at 350F for 7 to 10 minutes.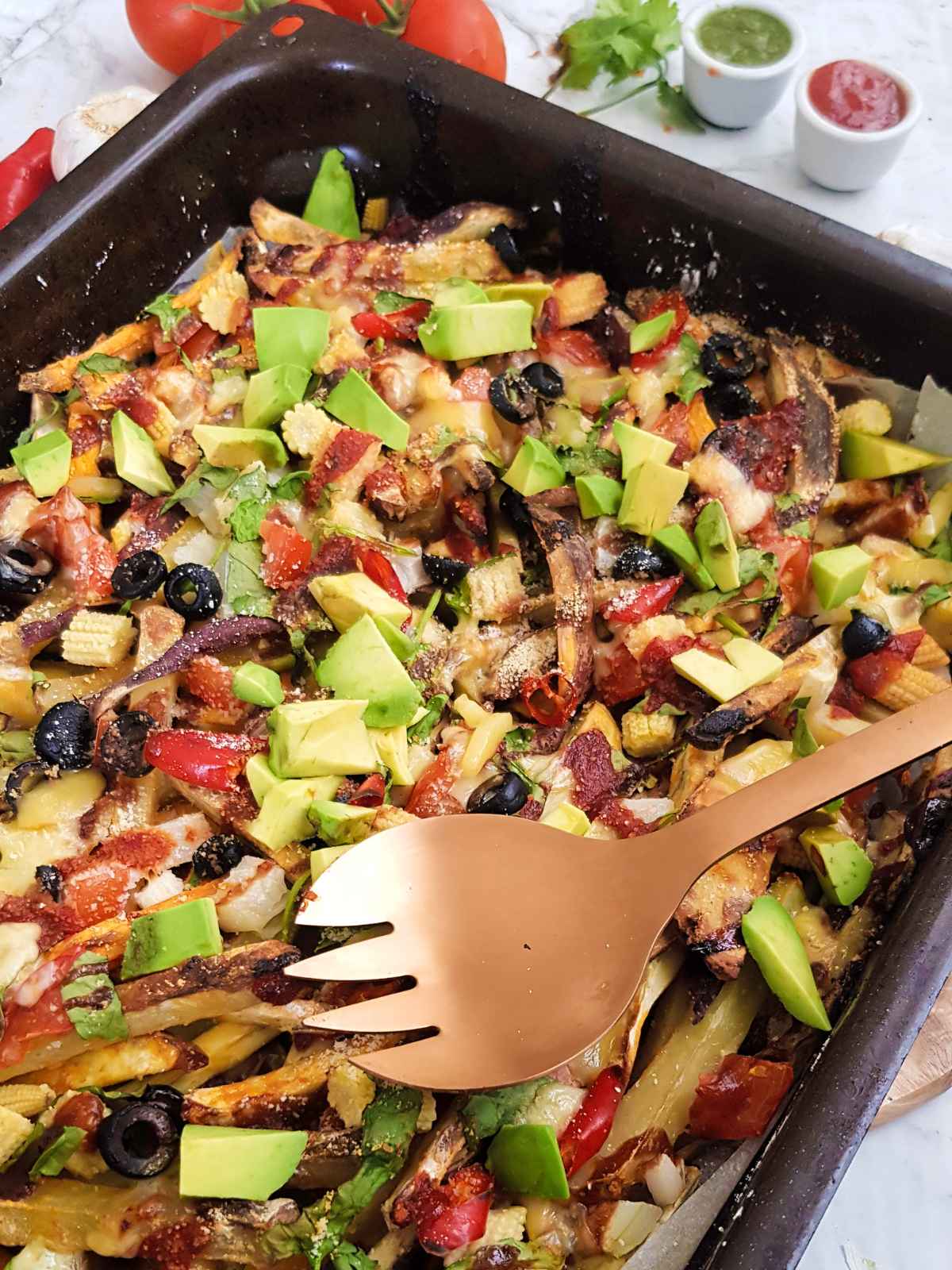 More Vegan Side Dish Recipes
If you like this recipe you may also like
FAQ's
How do you keep loaded fries crispy?
To keep loaded fries crispy, make sure they are cooked until golden brown and crispy initially, and avoid adding any toppings that can make them soggy.
Can you reheat the fries?
Yes, you can reheat fries. However, it's important to note that reheating fries may not restore them to their original crispy texture. Reheating methods such as using an oven, toaster oven, or air fryer can help maintain some crispiness.
Can you make loaded fries in the air fryer?
Yes, you can make loaded fries in an air fryer by cooking the fries until crispy and then adding toppings before serving. Don't forget to use a silicon air fryer liner for a mess-free experience.
Are loaded fries unhealthy?
Loaded fries can be considered unhealthy depending on the ingredients and preparation methods used. The addition of toppings such as melted cheese, bacon, sauces, and other indulgent ingredients can increase the calorie, fat, and sodium content of the dish.
Love this Recipe? Please leave a 5-star 🌟🌟🌟🌟🌟rating on the recipe card below and, if you REALLY like this, consider leaving a comment with your thoughts!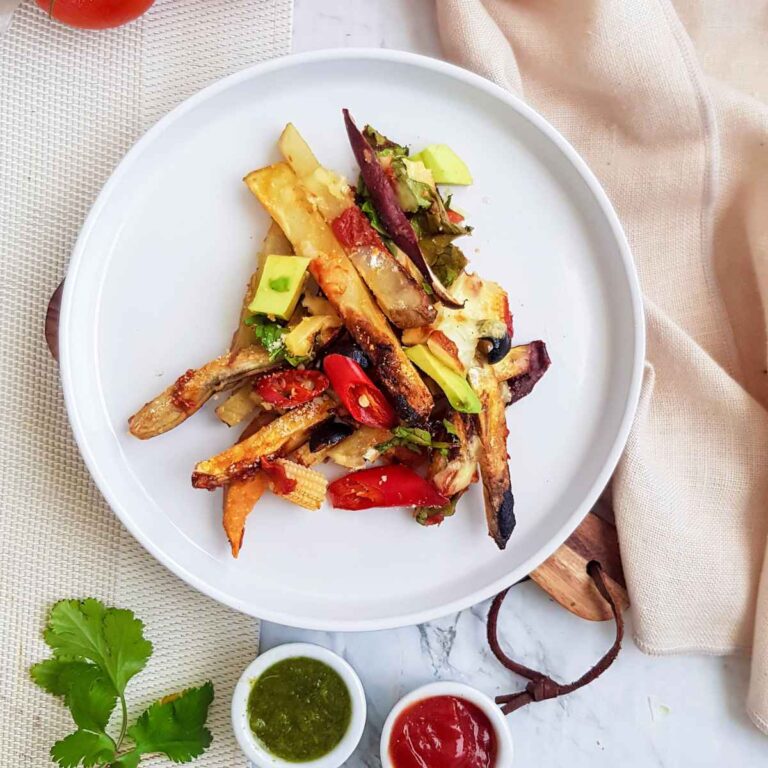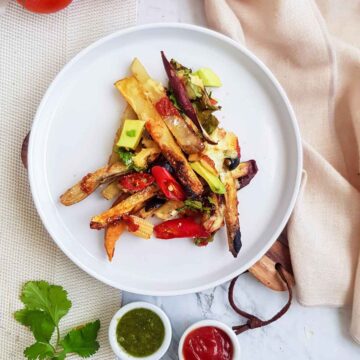 VEGAN LOADED FRIES
Indulge in the delicious world of vegan loaded fries, where crispy fries meet a medley of plant based savory toppings.
Ingredients
2

large

Potato

4

large

Sweet potato

(I used two different kinds of sweet potatoes, to get multiple flavors and nutrients)  

2

tbs

Oil

1 ½

tbs

Sriracha Sauce

1

tbs

Salt

1

tbs

Garlic powder

3

tbs

Corn starch
Toppings
½

cup

Onion

(Chopped) 

½

cup

Tomato

(Chopped) 

1

cup

Baby spinach

(Chopped) 

½

cup

Baby corn

(Chopped) 

2

tbs

Olives

(Chopped) 

1

tbs

Red jalapeno peppers

(Chopped) 

1

sachet

Pizza sauce

(50g)

3

tbs

BBQ sauce

½

cup

Vegan cheese

2

tbs

Vegan parmesan

½

cup

Avocado

(add after baking)
Instructions
Preheat oven to 400 degrees.  

Wash the potatoes and sweet potatoes well and towel dry. Peel if desired (I like to leave the peel on for extra texture and flavor). Cut them into rectangle strips approximate ½ inch thick.  

Pour over oil and sriracha sauce, and toss with salt, garlic powder, and cornstarch.  

Bake for 30 to 35 minutes or until nicely golden and crisp.  

Next, remove from oven and top them with chopped onions, tomatoes, spinach leaves, chopped baby corn, sliced olives, and jalapeno peppers.  

Next squeeze some pizza sauce and BBQ sauce for flavoring and top with dairy-free cheese and vegan parmesan.  

Return the baking dish to the oven for about 8 to 10 minutes or until the cheese is fully melted, and veggies are tender.   

Remove from heat and top with some ripe avocado for extra creaminess. You will surely LOVE IT. 
Notes
Choose the thick-cut fries or steak fries, as they provide a sturdy base to hold the toppings without getting soggy. Avoid thin-cut fries, as they may not be able to support the weight of the toppings.

Whether you're making homemade fries or using frozen ones, make sure they are cooked until they are crispy and golden brown. Undercooked fries can become limp and won't hold up well under the toppings.

Be creative and choose toppings that complement each other.

 Loaded fries are best enjoyed immediately after assembling and heating. This ensures the fries retain their crispiness and the toppings remain warm and flavorful. Serve them as soon as they are ready for the best experience.
Nutrition
Calories:
447
kcal
Carbohydrates:
84
g
Protein:
8
g
Fat:
10
g
Saturated Fat:
1
g
Polyunsaturated Fat:
2
g
Monounsaturated Fat:
5
g
Trans Fat:
0.02
g
Sodium:
1664
mg
Potassium:
1499
mg
Fiber:
12
g
Sugar:
15
g
Vitamin A:
32845
IU
Vitamin C:
42
mg
Calcium:
105
mg
Iron:
3
mg