A Delicious Vegan Coffee Cake that is moist and rich, topped with a thick layer of cinnamon streusel. It is great for your holidays and weekend breakfast, or serve it with a cup of coffee anytime and enjoy the deliciousness with every single sip.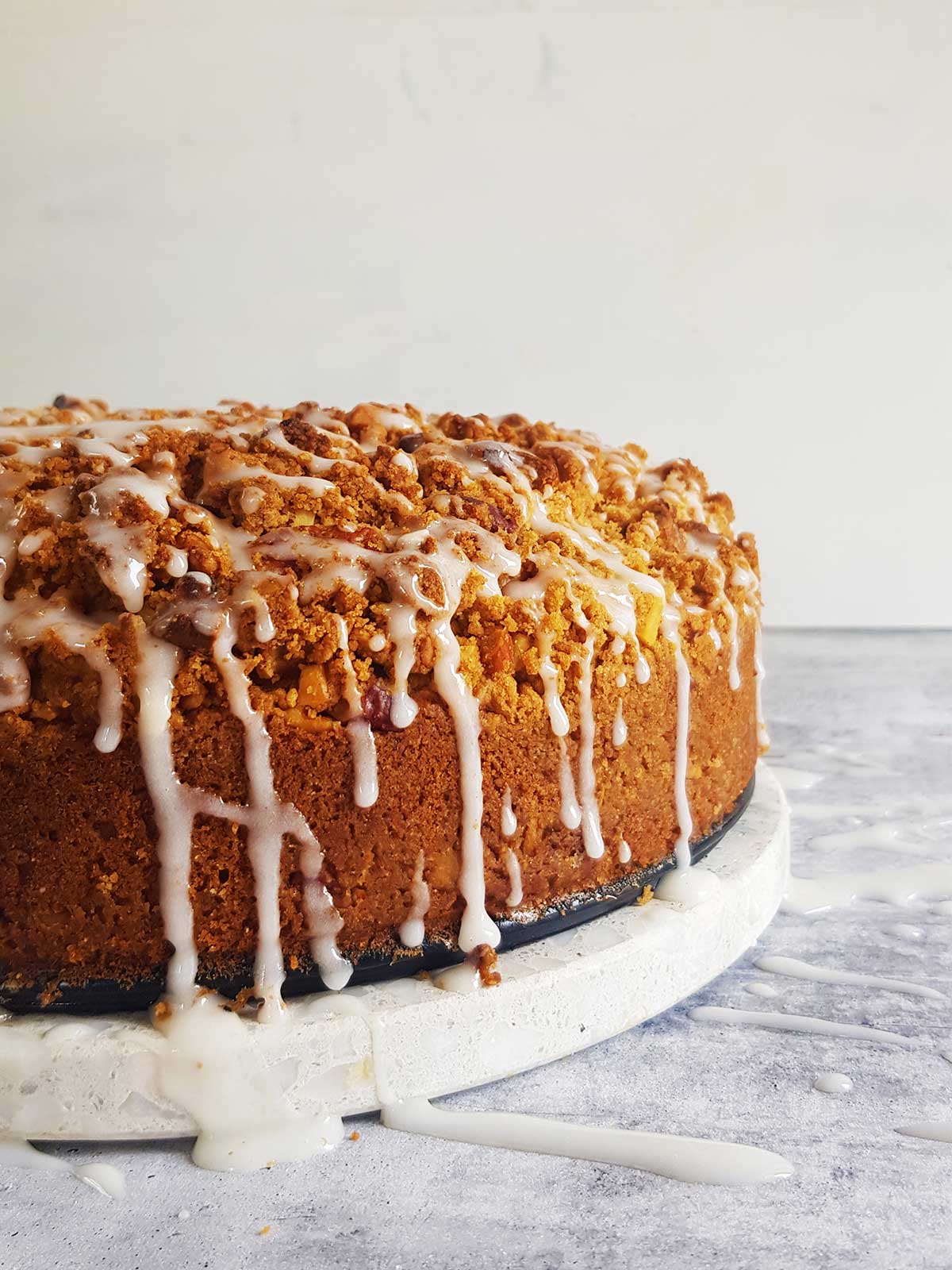 It is an American kind of cake that is not very common in other parts of the world. It is so easy to make because it comes ready to eat out of the oven and no frosting or layering is involved in the end process.
What is Cinnamon Streusel?
Streusel is a crumb-like topping made by combining sugar, flour and vegan butter. In this recipe, crunchy walnuts chunks and cinnamon are used as an add on to the flavor.
Coffee cakes stand apart from other cakes because of their streusel topping. They do not have any kind of frosting and streusel is the final topping of this cake, although some glaze is poured over. Without streusel, this cake is just a simple soft sponge cake. This crunchy crumbly topping is what really makes a difference. It is important to make the streusel by mixing all ingredients with hands and mushing chunks of butter into the flour.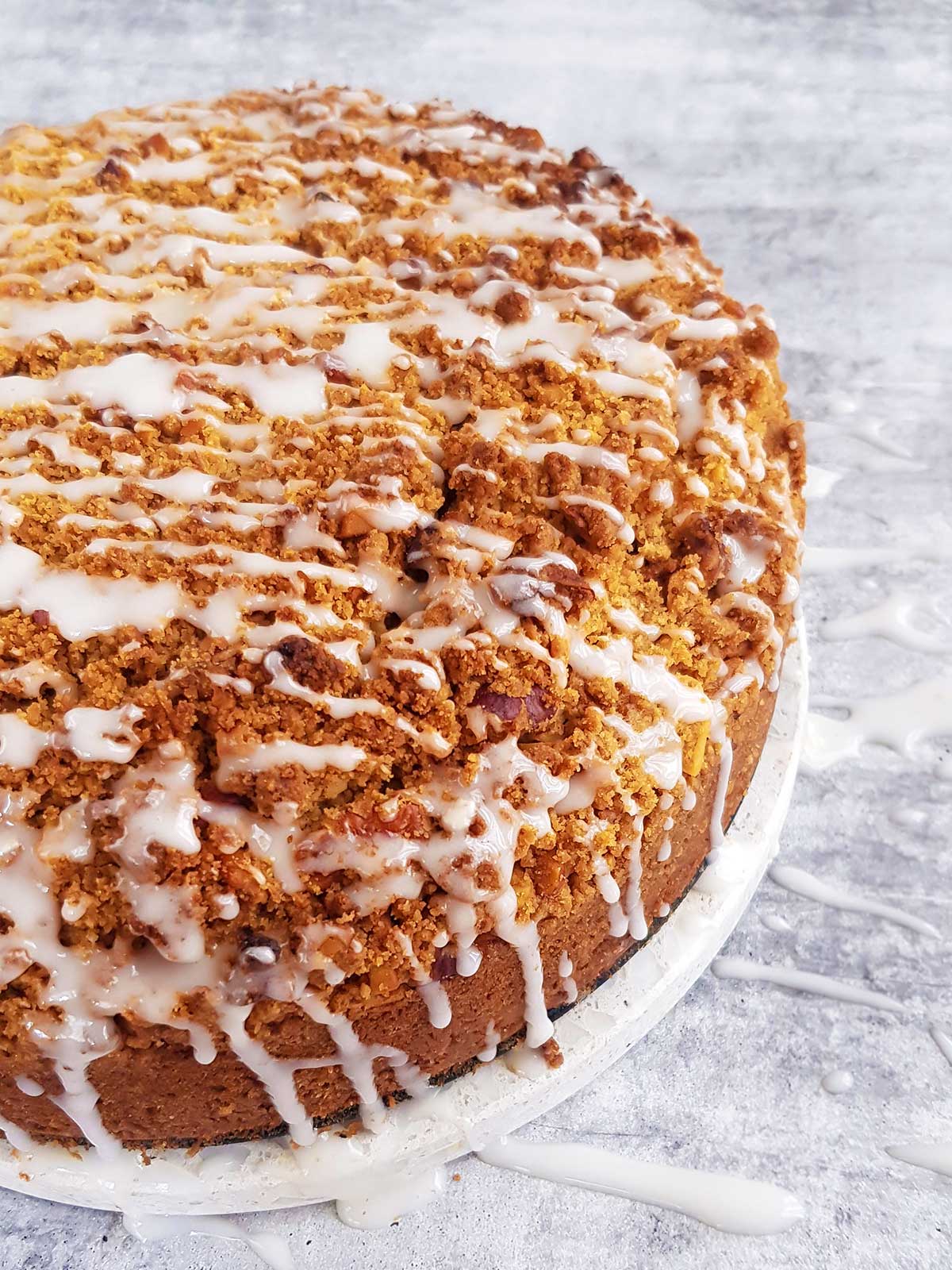 Why is it called a coffee cake?
It is a simple soft cake layered with brown sugar, cinnamon, and walnut streusel. There is no coffee-like ingredient is used in the making of this beauty but the reason behind calling it a coffee cake is because it's the perfect complement to a cup of coffee. For me, Coffee cake is a great excuse to drink coffee, and coffee is an even greater excuse to eat coffee cake! 
How to Make Vegan Coffee Cake?
If I explain this recipe in five easy steps it is as simple as
Combine wet ingredients of cake batter and set aside
Next, combine all dry ingredients together and add wet batter and mix until well combined.
Make the crumble by mixing all crumble ingredients in your hands.
Prepare the baking tin by first adding cake mixture and topping it with a cinnamon streusel and Bake.
Drizzle sugar glaze over baked cake and enjoy.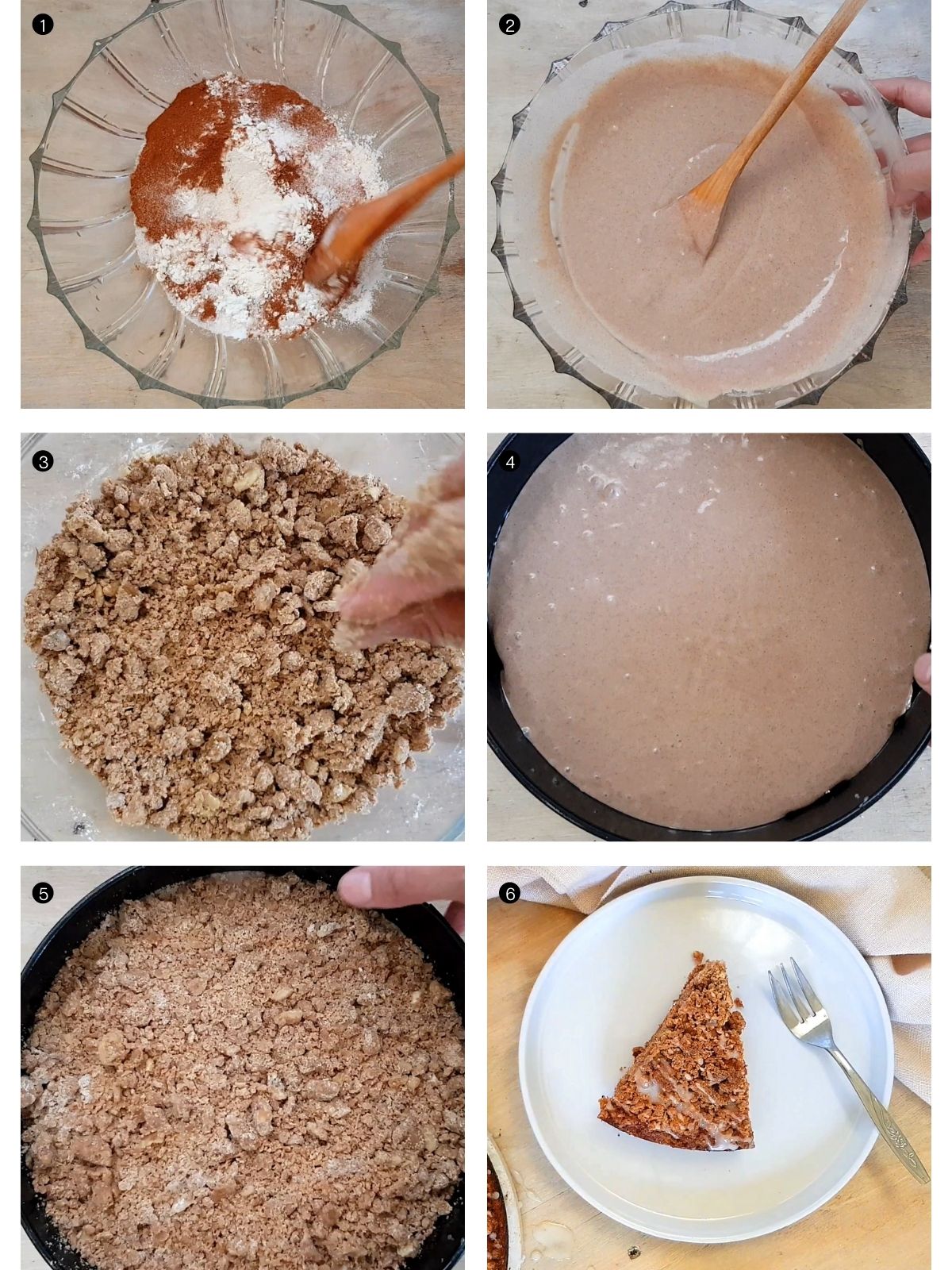 How to Serve the Coffee Cake
This cake is served warm. You can store it covered at room temperature where it will stay fresh for a few days. Or can stay well in the fridge for about 7 to 10 days.
For serving make sure you reheat it in the microwave before serving this will make its flavor more appetizing and texture softer.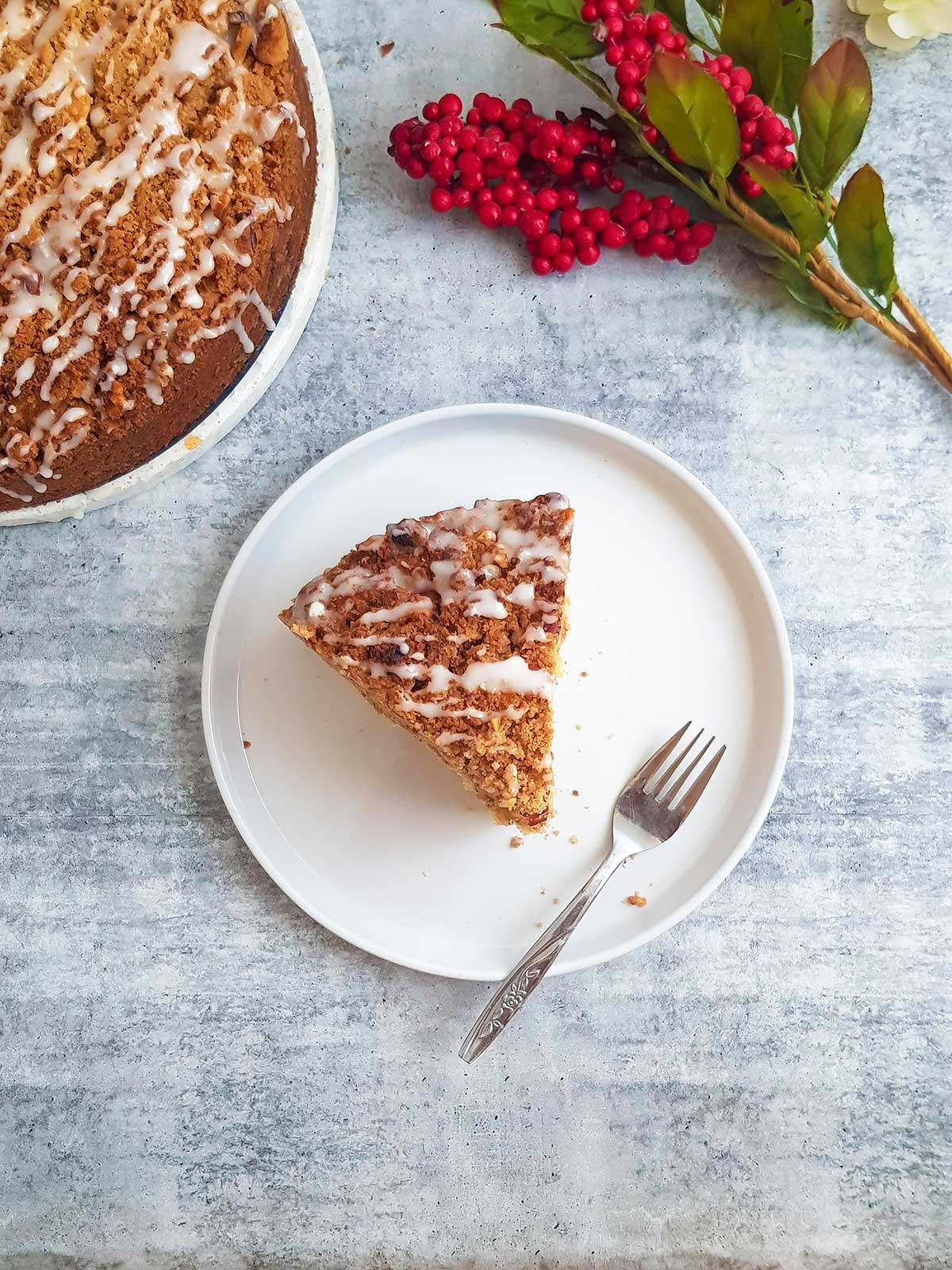 Storage
Refrigerator: You can also store the cake in the refrigerator for up to 1 week. Before storing, the cake must be cool down completely and put into an air-tight container. You just need to cover it properly as it will prevent the cake from absorbing other flavors from the refrigerator.
Freezer: You can also freeze it, for up to 3 months. Wrap the cake in a double layer of clingfilm and put it in an airtight container or ziplock bag. To defrost, unwrap and place on a wire rack in the fridge for about 5 hours. To serve bring it to room temperature and pour over the sugar glaze.
More Vegan Desserts
If you like this recipe you may also like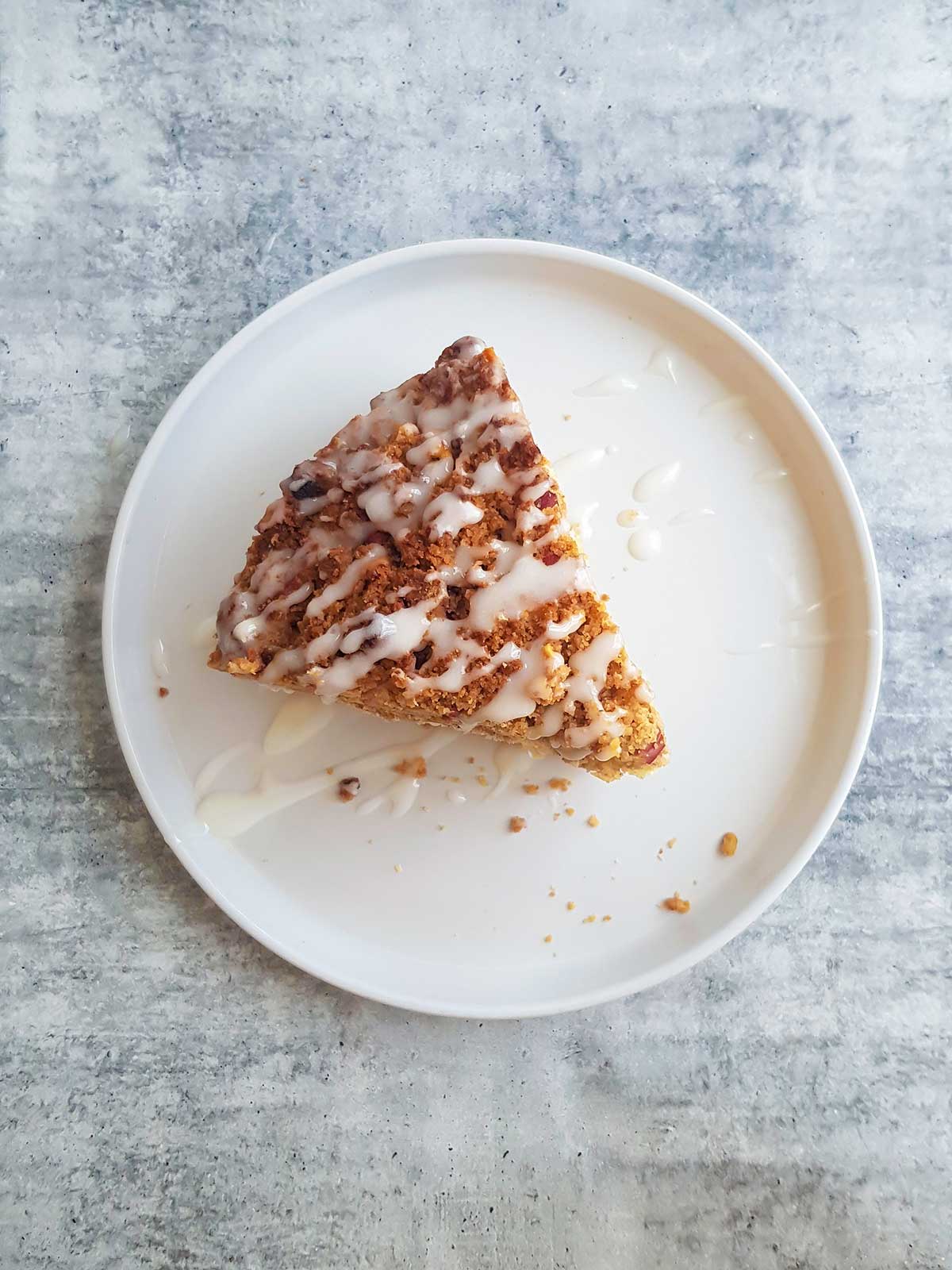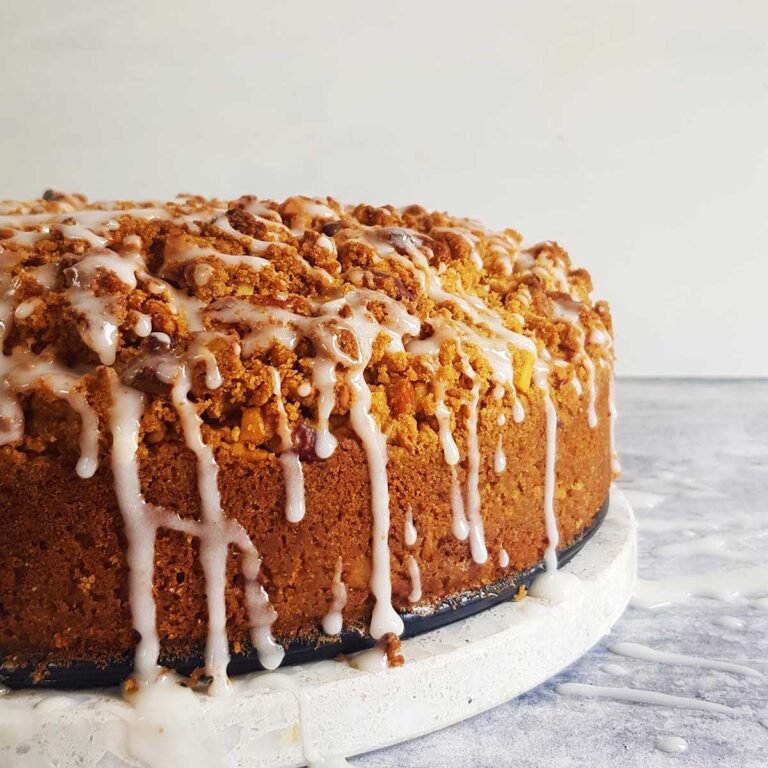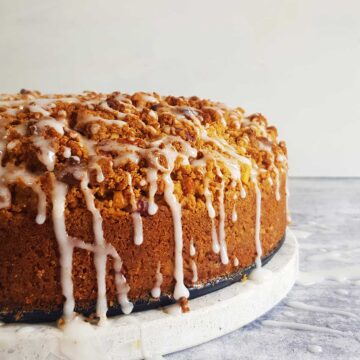 VEGAN COFFEE CAKE
A Delicious Vegan Coffee Cake that is moist and rich, topped with thick layer of cinnamon streusel. It is great for your holidays and weekend breakfast, or serve it with a cup of coffee anytime and enjoy the deliciousness with every single sip. 
Ingredients
Instructions
Preheat the oven at 350F (180C). Spray a 7-inch cheesecake pan with non-stick spray. Cheesecake pan will ensure no damage to streusel while removing the cake from pan. 

To make the cake, combine almond milk, oil, and vinegar in a bowl and set aside. In a large bowl mix together the flour, sugar, baking powder, baking soda, cinnamon powder and salt.  

Add in prepared milk mixture and mix until well combined. Pour into a prepared baking dish. 

To make the streusel, In a bowl combine flour, brown sugar, salt, cinnamon powder, chopped walnuts, and soft vegan butter. Mix well with hands. 

Top the cake batter well with this cinnamon streusel batter covering the entire area. 

Bake to 40 to 45 Minutes, or until a skewer inserted into middle comes out clean. Let it cool on a cake rack. 

Make sugar glaze by mixing caster sugar and almond milk. Add almond milk gradually while mixing and check consistency. You can add some drops of vanilla essence for flavor. 

Drizzle generous amount of sugar glaze over the cake. This cake is delicious if you serve it warm. 
Notes
You can change almond milk to soy or oats milk If you want to make it nut free. And walnuts can be substituted with raisins of coconut flakes.

 

You can double the batter and make a streusel layer in between.

 

You can use wheat flour to make it whole grain.

 
Nutrition
Calories:
428
kcal
Carbohydrates:
70
g
Protein:
5
g
Fat:
15
g
Saturated Fat:
1
g
Polyunsaturated Fat:
7
g
Monounsaturated Fat:
6
g
Trans Fat:
0.03
g
Sodium:
280
mg
Potassium:
113
mg
Fiber:
3
g
Sugar:
40
g
Vitamin A:
7
IU
Vitamin C:
0.2
mg
Calcium:
112
mg
Iron:
2
mg
If you try this recipe, leave a comment and show some love by rating it in stars. Do not forget to take a picture and tag us @getsetvegan on Instagram. We would love to see this.